A while ago (and yeah, I haven't been too consistent with these MHW-posts) I encountered the final boss of MHW's base game, Xeno'jiiva!
In my stream, after we had defeated the three Elder Dragons that I featured in my last MonHunLog, we noticed that the Large Monsters still haven't returned to some of their previous areals… so there must have been something up.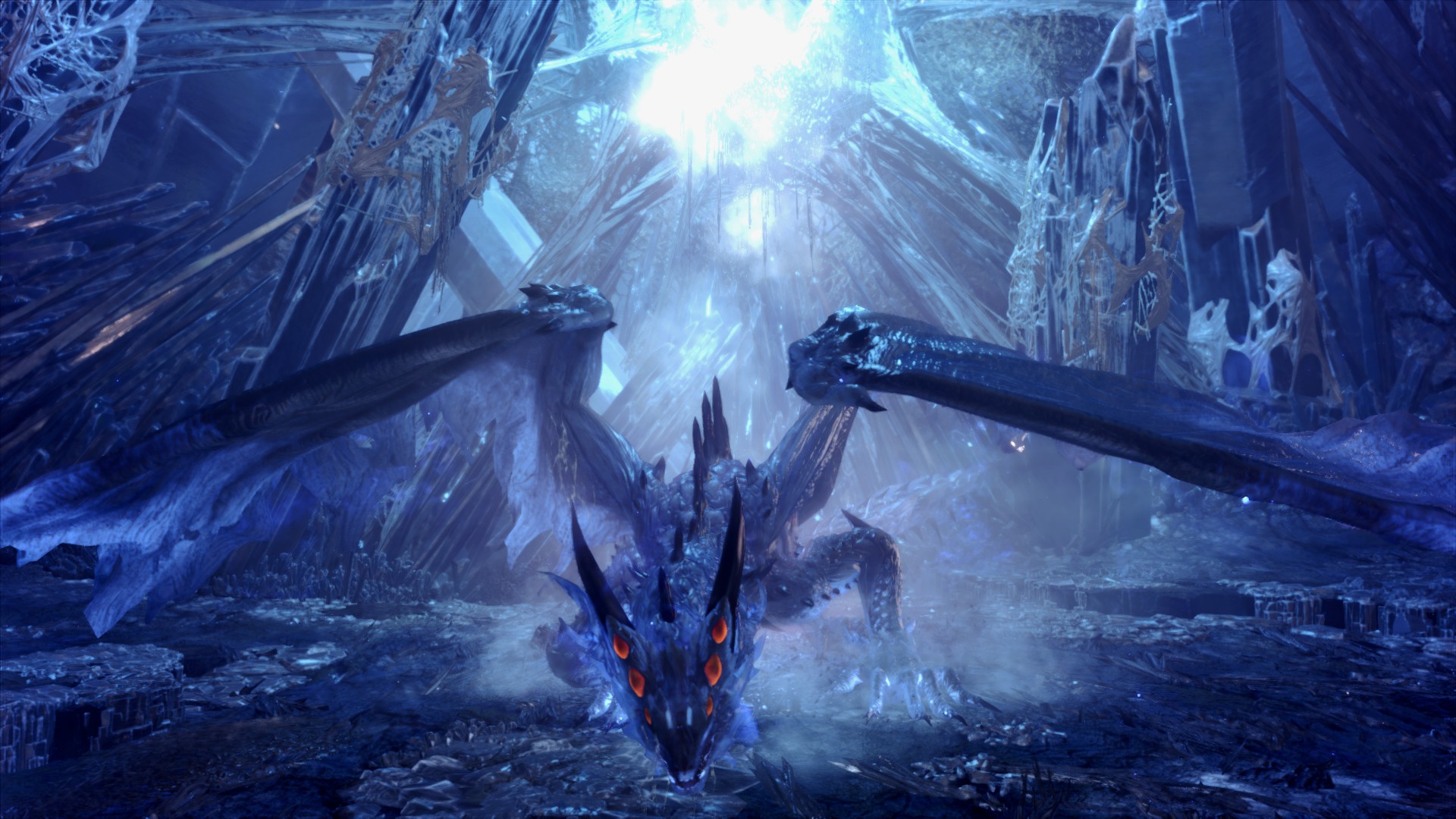 And well, essentially, all the bio-energy that the dying Elders in Elder's Recess have left behind manifested into some sort of living creature – Xeno'jiiva. I've read theories about the Xeno'jiiva being the Saphire Star or having arrived with the meteor called the Saphire Star. Overall, it's a big shining dragon that incubates in some sort of cocoon and even though it just got born, we had to slay it.
If you wanna see my first reaction to meeting Xeno'jiiva, you can do so over here as I created a clip from that stream. I was a bit terrified of the fact that it might have been a spider-boss… yikes!
The fight against Xeno'jiiva is split into multiple sections with us fighting it in one area where it has one type of attacks, and with it going to a second area and to a third area where its attacks change. It shoots a lot of laser beams and is able to deal a ton of damage.
Now with my Insect Glaive, I tried to mount it multiple times but sadly was unsuccessful due to the height difference… Xeno'jiiva is huge!
Overall, it's a tough fight but with Frostilyte carrying us in the first fight against it, we eventually managed to get through it rather well. A lot of the time we'd hit its legs and then dodge the beams and rays it would shoot. When it's enraged, it also does fly out and perform a lethal claw attack. It also makes use of other attacks that inflict dragon and fire blight, so nullberries are a must-have for the fight. When it enrages, it can also perform a stomping-attack that kills you immediately due to the explosions it causes on the ground.
But in the end, it had to die and once we killed it, we managed to hold a huge fest with all the other researchers and hunters! And despite the game's end, there are still more monsters on the loose and more quests to come… such as the special investigations that involve the Witcher, Geralt of Rivia, or Kumuo the Moogle from the Eorzea. But I guess that's something for a different post. :)
I hope you've enjoyed this little update on my journey in the New World! I really enjoyed the fight and just recently we fought it again and it took equally long, so I may actually have grown a bit stronger already!
The armour pieces for Xeno'jiiva looks really dope but I'm not sure if I'll actually use those, especially as they're rather expensive and as there is a different set that I'm crafting up already… but Tammy looks actually really cute in the Xeno'jiiva Armour… so she may get that armour soon :)
Either way, until the next time, cheers!
This post is part of a challenge called BLAPRIL. The goal is to post as much as possible during the 30 days of April. There are different themes during some of the weeks and a lot of mentors, newbies and participants participating. Feel free to check this hub-post out and check out the other participants!