Later Alligator may be one of the cutest games that have come out in recent years and for whatever reason, I completely missed it. In this game, you investigate Pat the alligator, a (mostly) harmless and (probably) innocent reptile at the centre of a conspiracy that could bring down the biggest, scariest family in Alligator New York City: his own! So, we basically go around the city, question the scaled fellas around there, play some minigames, and we try to save Pat before the clock runs out!
Developer: SmallBü, Pillow Fight
Publisher: SmallBü, Pillow Fight
Genre: Indie, Point n Click, 2D, Mystery
Release Date: September 18th, 2019
Reviewed on: PC
Available on: PC, Switch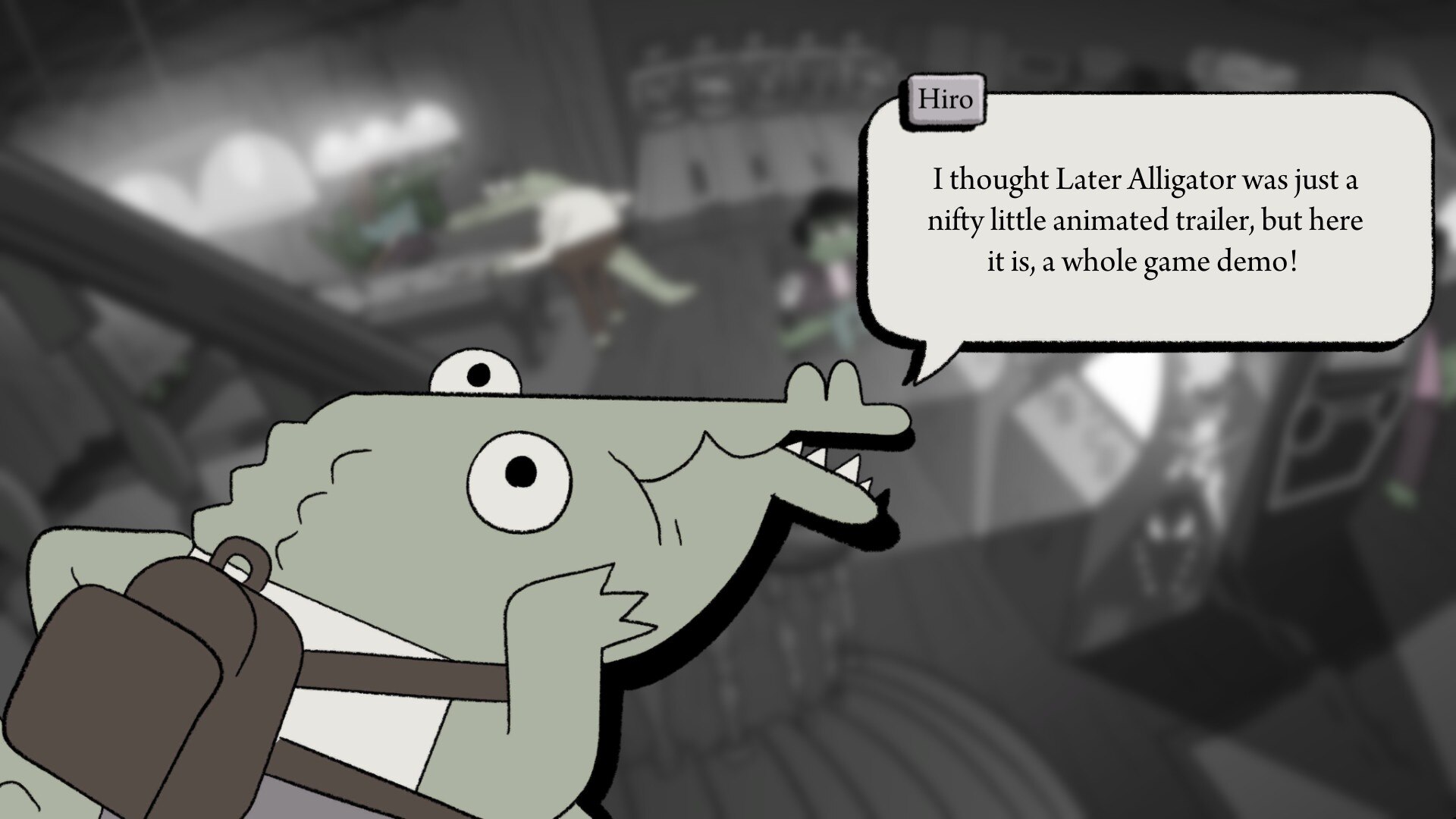 From the getgo, I felt welcome in this game. The demo starts with an opening cinematic of sorts where you can already spot some of the game's cast – and you essentially walk into this arcade for your first round of questioning. The animation is on point and absolutely lovely and adorable, but what's even greater than the animation in this game is actually the jazzy soundtrack that very much reminded me of The Pedestrian's or Ape Out's soundtrack! It's fantastic! And yes, sure, this is just the demo but the full game's soundtrack by 2 Mello is so far amazing and I've been listening to it a lot today even while writing this post here. Check it out!
The game comes to life because of the hand-drawn animation style of SmallBu Animation and I absolutely adore it. The dense areas, the little easter eggs, and the 100+ alligators (and 3+ ghosts) that inhabit this world… It all just works so well together, especially with the black and white backgrounds that give the game a sort of noir vibe while the somewhat colourful figures make it more light-hearted. It really blends in and makes you appreciate the effort and time that has gone into the art and design alone.
In the game, you start off by questioning the characters or eavesdropping on their conversations. You learn about their relationships and habits and get to question some of them. Joanie, a very cool alligator in the arcade that I met early on, didn't trust me at first, though, which is why I had to beat a score of 5000 in the Lizard Wizards pinball game. Once we did that, he gave us an important piece of information aka a puzzle piece for the case and quite possibly a new lead. I feel like this sort of point 'n click detective game feel is quite hit or miss in games but in Later Alligator, the light-hearted presentation really lets you appreciate the somewhat simple yet intriguing story of this game. I mean it when I say that this game is adorable. It's fun to see all the different minigames and easter eggs, the references, the joke-filled challenges, and everything else.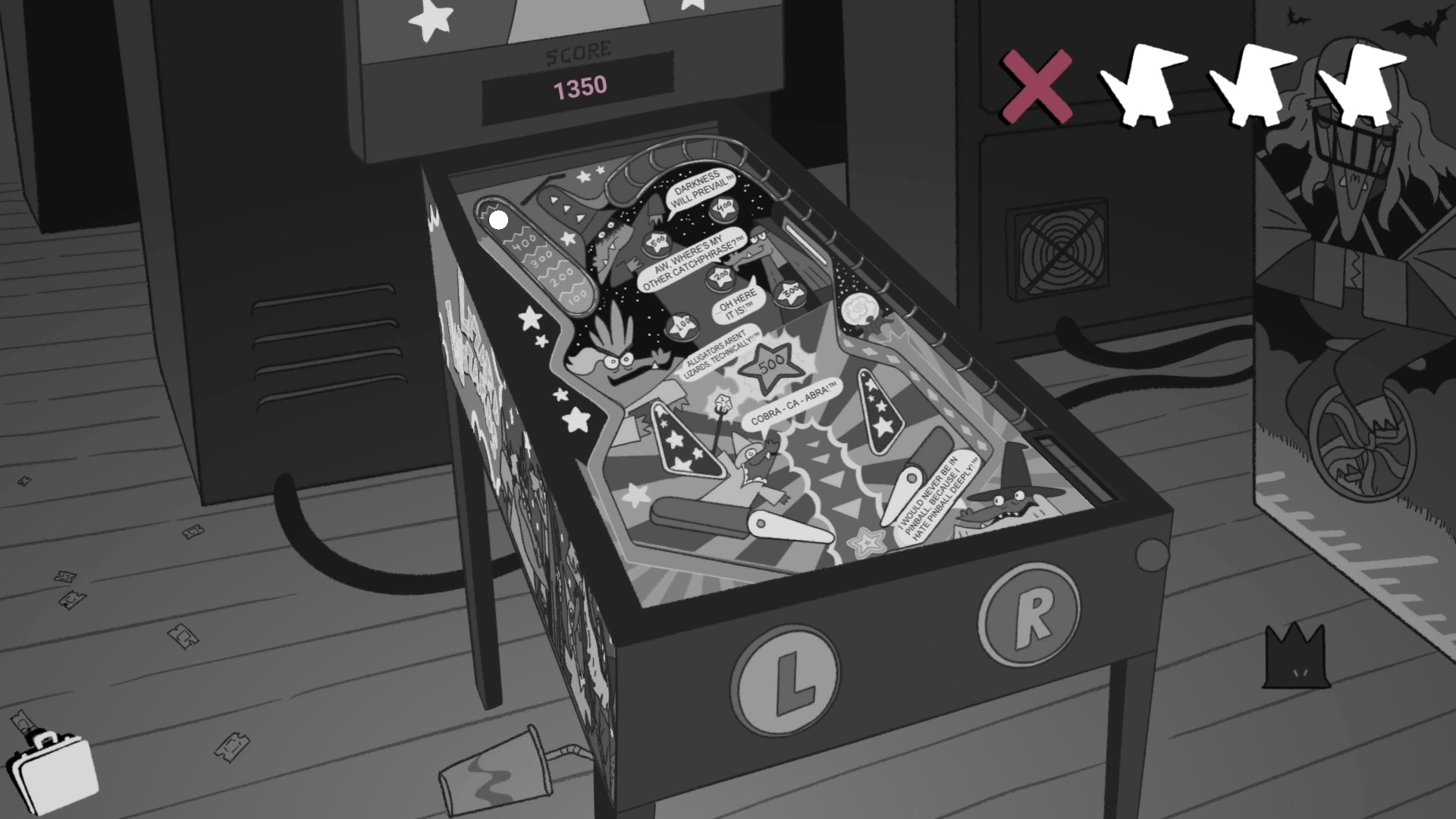 It's cute and wholesome. It's adorable and family-friendly. Multiple endings and "a secret surprise"? Count me in! I'm looking forward to eventually playing the full release of Later Alligator. I mean, yes, it was released quite a while ago but hey, I only just found it and I really enjoyed the demo. If you wanna check it out for yourself, feel free to do so over here. Download the demo to try it out. Let me know what you think about it! Wishlist, follow or buy it over here on Steam. I had a lot of fun with this one and I feel like more people should know about it.
Cheers!
This post was first published on Indiecator by Dan Indiecator aka MagiWasTaken. If you like what you see here and want to see more, you can check me out on Twitch and YouTube as well. If you find this post on a website other than Indiecator.org, please write an e-mail to me. Thank you!