Set in the beautiful world named The Great Ursee, The Falconeer brings you serene moments as you explore a world paired with fast-paced, ambitious dogfighting style combat! What seems to be yet another twist to the air combat formula that you may know from other games is actually an interesting twist that pays homage to old games like Crimson Skies and Panzer Dragoon while still being innovative in its own ways. Soar through skies on the back of your trusty and majestic warbird and explore an oceanic and stunning world filled with dangers and mysteries!
Developer: Tomas Sala
Publisher: Wired Productions
Genre: Indie, Dogfighting, Aerial, Action-Adventure, Exploration
Release Date: November 10th, 2020
Reviewed on: PC
Available on: PC (Win), PS4, XB1, PS5, Stadia, Switch
Copy was played through GamePass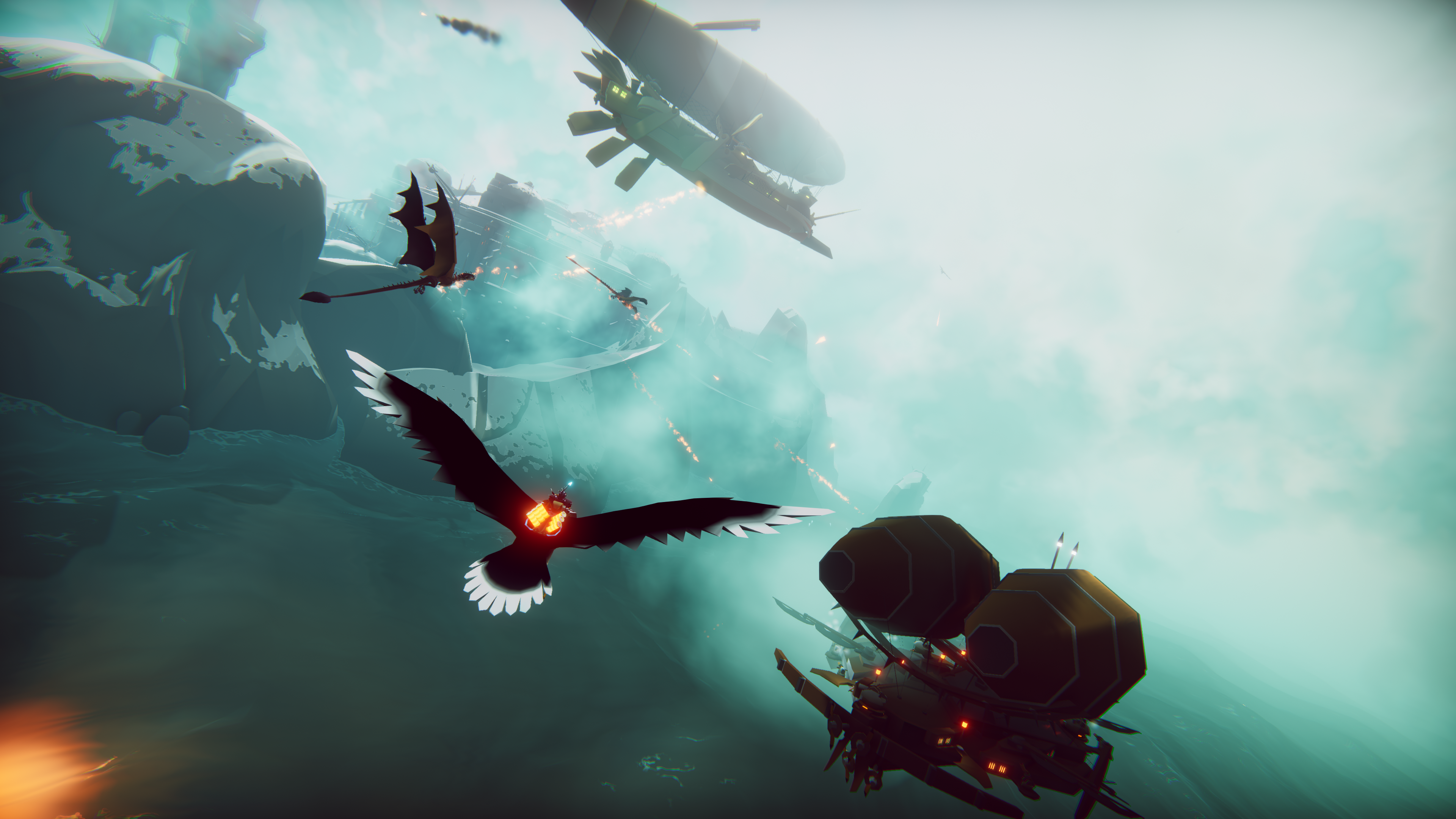 The Falconeer is an incredibly well-executed aerial dogfight Action-Adventure that allows you to feel the escapism of flying through the air, truly free while enabling you to take on pirates and other falconeers as you complete missions. The story is set in this mysterious world of The Great Ursee where pirates threaten merchants and citizens alike and where you have to protect your surroundings at all cost. To do so, you embark on missions that range from eliminating targets, transporting specific goods and even escorting ships to safety, which grants you a plethora of ways to prove your skills. And yes, I know, there's the dreaded escort quests that we all dislike but before you click off this review, I'd love to tell you that they actually feel pretty good and are quite fun!
Combat and Flight feel free and rewarding. It's the most important aspect of every flight game and while it's a lot to take in at first, I found it relatively easy to get into but hard to master, which is a great thing to have in games like this. Being able to express your skills through a high skill ceiling is an important aspect in games like these. Yes, you can just fly around and shoot things but with barrel rolls and other mechanics, you can outsmart your enemies, dodge bullets and get behind them to get a strike in yourself. On top of that, you may utilize your environment by dropping sea mines onto enemies, dealing extra damage in the process, or by letting said mines bounce on top of an enemy base which can be risky but rewarding when executed well. At the same time, there are thunderstorms, updrafts, and other natural phenomena that may entice you to take a dive or be a bit passive at first before going onto the offence, afterwards. The battles feel somewhat strategic in a way and while I find that the action is fun and challenging, I do think that The Facolneer's solo dev could have added more explanations to it. The tutorials can be replayed multiple times but some mechanics just didn't latch on, in my experience. I found it hard to understand what certain mechanics are supposed to do and it was even harder to figure out sometimes what exactly I'm doing wrong. I think the tutorial could have been executed a bit better here.
The world itself though is beautiful and between action-packed combat encounters, you're free to explore a serene world filled with wonders and lore. Between and even in the middle of the action, you may find out more about the world through text boxes that appear and lore that is being read to you. It's interesting how the world as we see it came to be in The Falconeer and while I love the idea of this lore being dotted around here and there, I do believe that the world is a tad too empty for my taste. Yes, you can explore a lot of things but I would have enjoyed seeing more life in the world, which is a bummer, considering that it's just so visually pleasing. With plenty of colour palettes used, a minimalistic art style, and lots of attention to detail, the world is truly gorgeous. It's just that the lifelessness of the world can be a bit unpleasant at times, relieving the impact of the beauty of the world, in my opinion. Regardless, the flight animations and the feel of the flying mechanics themselves seem to have seen more attention in this game which is very much appreciated given that you'll find yourself flying… for most of the game… Yeah.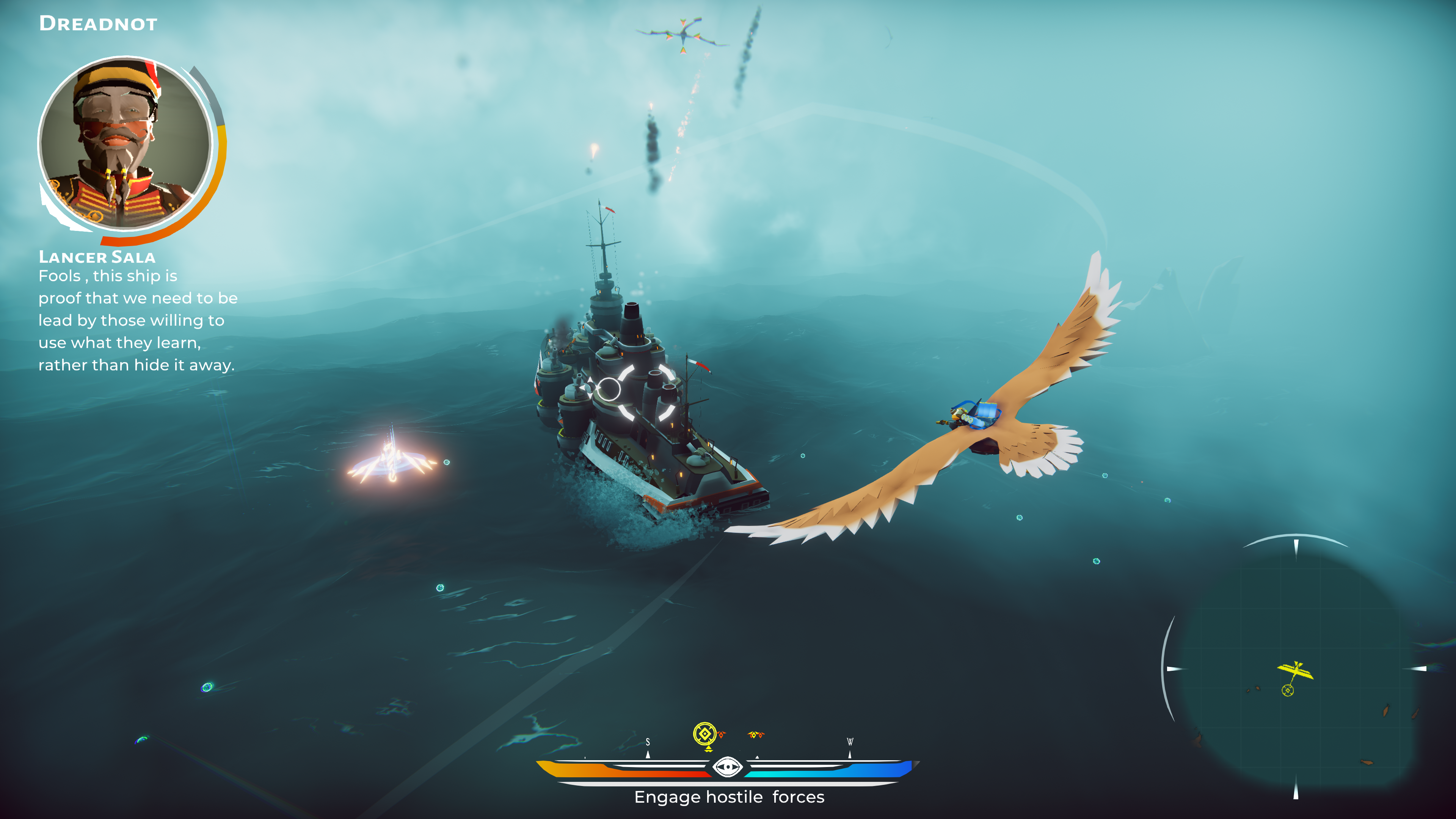 But all of that being said, I'm having trouble with some aspects of the game. For starters, I think that the game needs to also be playable with a mouse and keyboard. Aiming sucks with a controller and while that's kind of fixed with the mouse controls, I found the KBM control scheme unreliable and difficult to get used to. It's similar to Outer Wilds or Moonlighter where the game is made to be played with a gamepad and while you can use other controls, it will ruin your experience. At the same time, I had fun for a few hours but when I got stuck on a mission, I'd get incredibly frustrated. At times, the game felt lacking in content. Freeplay is alright, exploration is fun, fights are great, but what do you do when you're stuck somewhere? No clue. You can't skip it and you can't really get better gear, I guess? Lowering the difficulty may not help and you can't start a new campaign with new characters/Falcons because you need to purchase those in packs… which is also somewhat offputting.
Overall, though, it's a fun game to play around in while it's on GamePass. It will get removed soon and I'm not sure if it's worth the full price tag on Steam but you can wishlist The Falconeer and see if a sale might move you towards purchasing it, potentially? Either way, I can recommend this game because it was part of GamePass. I'm not sure if I'd like it as much if I had paid twenty bucks for it. The art and animations are beautiful, the gameplay works incredibly well in its favour, and the combat has a high skill ceiling. If you're looking for an interesting spin on the air-dogfighting formula (with huge majestic warbirds), this will be the game for you!
Cheers!
This post was first published on Indiecator by Dan Indiecator aka MagiWasTaken. If you like what you see here and want to see more, you can check me out on Twitch and YouTube as well. If you find this post on a website other than Indiecator.org, please write an e-mail to me. Thank you!