This week is full of posts because of creativity and me being bothered by something for quite some while at the same time hyped for the new Riot Games (who still is a small indie company for sure, kappa). A bit after posting that RoL post, my account was activated for Legends of Runeterra, which is awesome! But the post had not have had any views at all at that point, so I doubt that it had to do anything with it.
On to another topic that is a bit heavier than other stuff. Naithin covered it on his blog already, but we basically had a discussion on the Blaugust blog just yesterday about taskbars. It's really bothersome since my taskbar is on the right while apparently, a ton of people use it at the bottom (normies…) while some people use it at the top (hipsters…).. I mean, the right is perfectly fine and makes a lot more sense as you'll be able to read more of your posts that way.
And of course, I'm just joking around. While it is interesting, it's not today's topic.
I recently have posted about what's up and my quick little break and the fact that I haven't posted much and that I said that I was gonna cover three games quite soon: Heartbeat, Guacamelee!, and The Swindle.
This post is about something very bothersome about Heartbeat.
So, Heartbeat is basically an Indie Game where you are a Conjurer who battles feral Mogwais and helps out people in your town. You then embark on a journey to find out about weird wisp that's been stealing the cores (hearts) of Mogwais that are from The Den. To do so, you train, solve puzzles, battle Mogwais, find new friends and allies along the way who will fight by your side or help you out, and do lots of other stuff!
The game is overall very cheerful and happy and embraces ideas and values about empathy, love, lesbianism, friendship and other great things! I love the soundtrack, the fighting system, the story, the characters and my little Mao, a cute little baby moth that you raise and that evolves depending on what you feed it. It's got a ton of cute little system and you can fish in it (which is, as always, the most important reason), achievements, an arena mode of sorts, alchemy, interesting upgrade systems, tons of humour revolving around meta-jokes about it all maybe being a simulation and not real at all, which got me to chuckle quite often, and a lot more reasons why I love it. It has waited for so long in my backlog and I only know had the time and urge to play it, which I kind of regret.

If I had reviewed it in Blaugust, I wouldn't have had this dilemma right now, as it all started in September.
Nicotine, the lead dev's girlfriend, is a TERF. By that, I don't mean the slur or insult (as that'd be super rude, even for a TERF….) but rather the term that describes trans-exclusionary radical feminists, feminists that end up not seeing trans-women as women, excluding them from women's spaces, and fighting against trans-rights.
TERFs are basically shitheads. And while I don't want to make my blog about political or other views, I myself am an LGBTQIA+ ally (apparently you can't be pro LGBTQIA+ if you're straight, so you gotta be an ally) and I've got tons of friends who fall into that spectrum and who had it tough with the coming out and all of that. Even in Germany, there are still people that believe that all gay or trans people have to die or whatever, which is ridiculous.
Thankfully the town I moved to and my uni are great places to be and there's no space for trans, homo and xenophobia and all of that. If you're a misogynist, a transphobe, a homophobe, a racist, or xenophobe, or even a TERF, please don't comment any of that stuff on here or on my blog in general as I don't want this to become a place for that stuff.
Back to Nicotine: She made clear that those things were "her opinion" and that she just listed it and that her girlfriend's game has nothing to do with it. Shepple and Nicotine are in a lesbian relationship and should be fully aware of the hardships of people in the LGBTQIA+ spectrum and yet, they are TERFs. I say "they" but, so far, only Nicotine said stuff like that, right?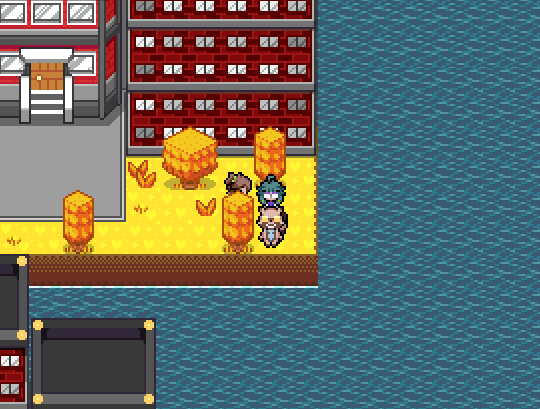 Well,… actually… Shepple herself is getting accused of having said similar things in DMs and in a secret channel on her discord server.
Also, after a statistic came out.
"The American Foundation for Suicide Prevention and the UCLA School of Law's Williams Institute report the attempted suicide rate among transgender people is 41%. The U.S. Centers for Disease Control and Prevention claims 35% of transgender high school students have also reported suicide attempts."
And at the same time, Shepple (apparently coincidentally) put a discount on the game on Steam for 35% and 41% when combined with the game's soundtrack. Absolutely. Disgusting. It can't really be a coincidence, but at the same time, the Heartbeat community is full of transgender people and promotes empathy and love!
So, there's the benefit of the doubt there, but still…
In the end, one dev cut ties with Chumbosoft, the studio of Heartbeat. Other devs and Chumbosoft distanced themselves from Shepple and her views.
My dilemma is the following: I love Heartbeat and really recommend the game. But I can't support a game whose lead dev is a TERF. I can't support a dev who is mocking trans people in such a disgusting way. By recommending it I'd be giving a – rather small but still a – platform to possible transphobic thoughts or people that want to support Shepple or people that also TERFs or shitheads. I don't know if I can do that. But I also cannot not-recommend a game that is so good and those many things that are done well along with the beautiful messages that should also count for trans people about empathy, love and everything.
I planned on listing the shitheaded-ness of Shepple as a flaw. A paragraph on the end of my review but that's not enough, I guess.
"Here's the game, it's great, I love it. But that dev is a shithead and you'll support someone who's transphobic while also supporting people that distance themselves and that aren't."
That felt like the best possible compromise, or just making a post about (which I ended up making). Naithin from timetoloot.com made a post about the matter and I hope that this post about the matter justifies the heaviness of the whole thing. In the end, I cannot not-recommend a game this good to people. I want to write a review on it. But I'll add two disclaimers to it stating a short brief summary of the matter and what happened at the beginning and the end of the review, linking to this post here, before then reviewing the game.
It's similar to the dilemma of artists and their personal life, where you can't support an artist who is also a child abuser as you don't want to support a child abuser, but at the same time you cannot avoid his movie as you'd be missing out on that actor's movies that are "this good".
I'd like to see personal views/life as a completely separate thing from their art and craftsmanship. But it's not possible in every case.
I don't know how many racists have made the comfy pants I'm wearing. I don't know how many homophobes have worked on my jacket, and yet I wear them.
I don't know if really only Shepple is responsible for the whole 35%/41% thing and if there's not a transphobe in hiding at Chumsoft, and yet I love Heartbeat.
I bought Heartbeat a year ago and now this story blew up in September but Blizzard's decisions are covering it up quite well, which isn't good at all.
This post is longer than usual. As a summary: I don't agree with Shepple's or Nicotine's views, I support LGBTQIA+ in every way, if you're a jerk, a misogynist or whatever, please don't comment here, and I will probably review this game in a few days but will put a fat disclaimer about the situation and tell people to not buy it if it bothers them. I guess that's a compromise that I can live with.
My head feels like it's exploding from this migrane that I've got for two weeks now and I kind of think that Heartbeat and my dilemma have been reasons for it but maybe I'll just need to get a checkup at a doc's. Who knows. Anyways,…
Edit: I decided not to cover it.
I wish y'all a good day and hope that you get to live your life to the fullest in every way possible! I love y'all.
Edit: Added hyphens and "phobes" to certain passages for better understanding. Thanks for pointing it out, Nathin!