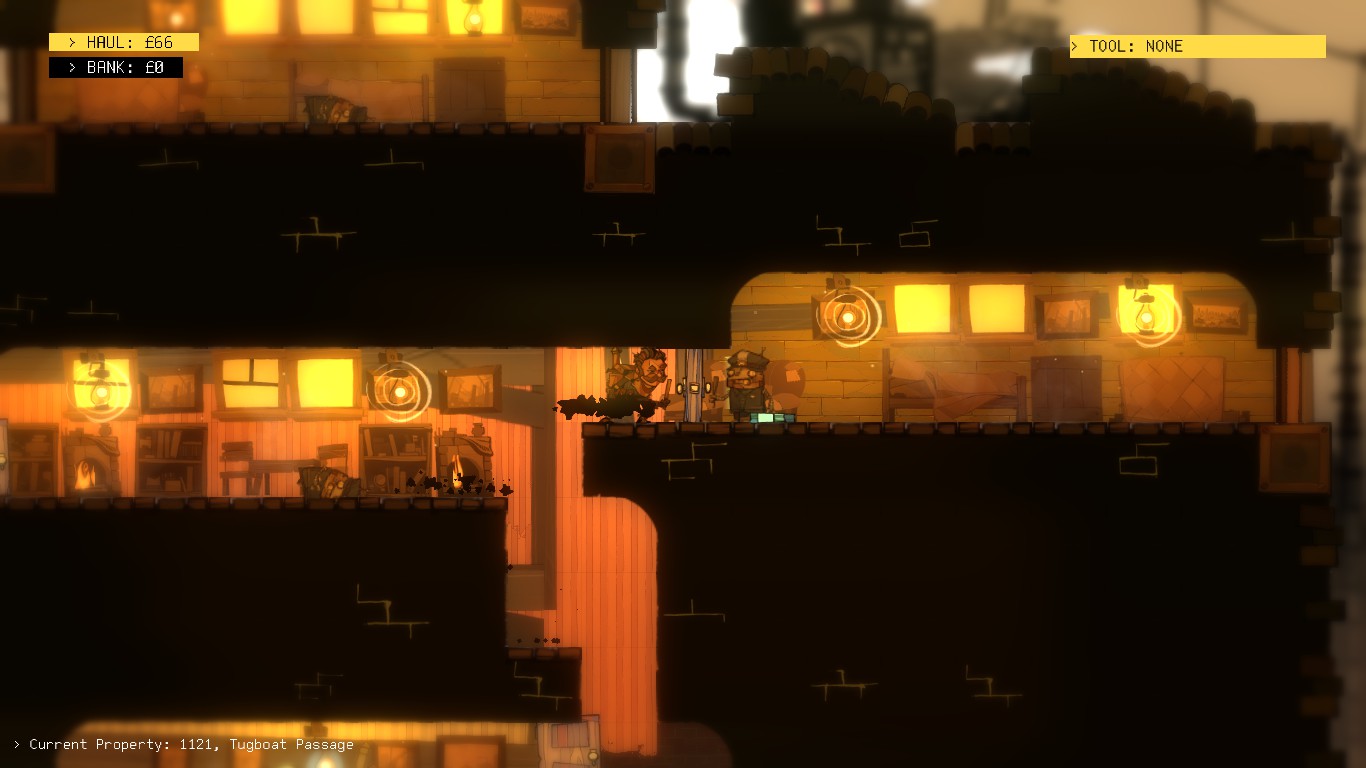 Being a student, I wasn't able to fund my new PC until I found this job here. It seemed rather easy: Scout for flaws in the security systems, watch out for the guards, break in, take everything valuable and leave without getting noticed!
Sadly, I'm not Kaito Kid or Lupin III and, hence, not a good thief.
Therefore, my new PC has still to wait but at least you get a review on The Swindle, a steampunk cybercrime rogue-lite about breaking into buildings, hacking their systems, stealing all their cash, and quickly running away again before the police show up.
Developer: Size Five Games
Publisher: Size Five Games 
Genres: Stealth, Jump 'n Run, 2D, Indie, Rogue-lite, Action, Platformer
Release Date: July 28, 2015 
Reviewed on: PC
Available on: PC, PSV, PS3, PS4, Xbox One, WiiU
Copy was purchased.
> London, 1849_

> In 100 days, Scotland Yard will activate their breakthrough Artificial Intelligence technology,
> codenamed "The Devil's Basilisk"_

> Its surveillance capabilities will be total. If the project is completed,
> your career as a master burglar will be untenable_

> Steal it before that can happen_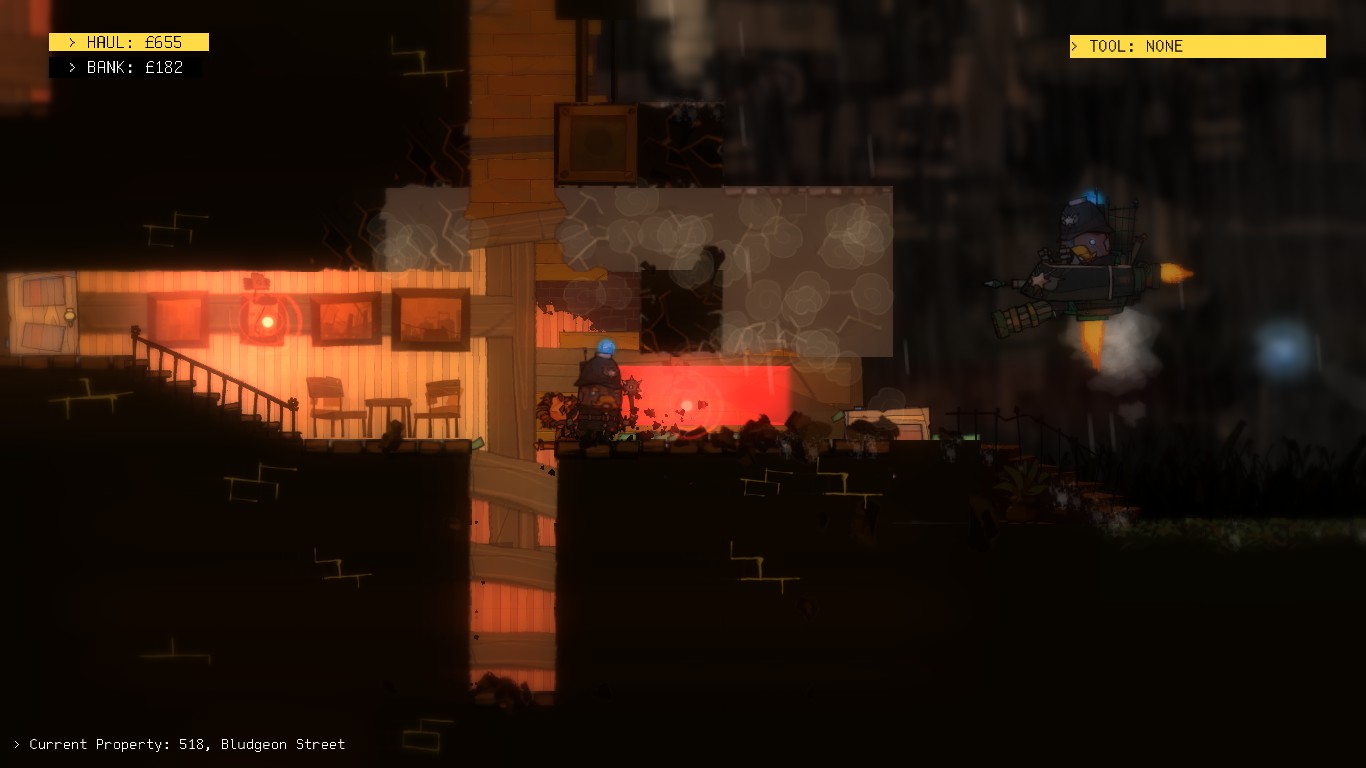 So, off we go onto some heists into the Slums! The clock is ticking before the Devil's Basilisk is ready for Launch!
100 days seems like a long time but it only resembles 100 runs, no matter if we fail or if we're successful. 100 runs to earn money to purchase new upgrades, skills and tools but also 100 runs to increase our affinity to unlock new areas and eventually be able to hack into Scotland Yard itself and win the game.
We're heading into procedurally-generated houses and mansions in a few different areas, each more packed with security and possible loot than the other!
At first, we only have the Slums available – they offer low rewards at relatively low risk. In the beginning, we only have our jump-n-run-abilities available to us and have to try to be sneaky to get into those mansions. There are security guards, walking their routes, but none are equipped with microphones or dangerous guns and they all usually only pack one hit. More often than not, though, I got caught off-guard by some robot or was spotted due to my greed and stupidity. You are your biggest enemy, it seems.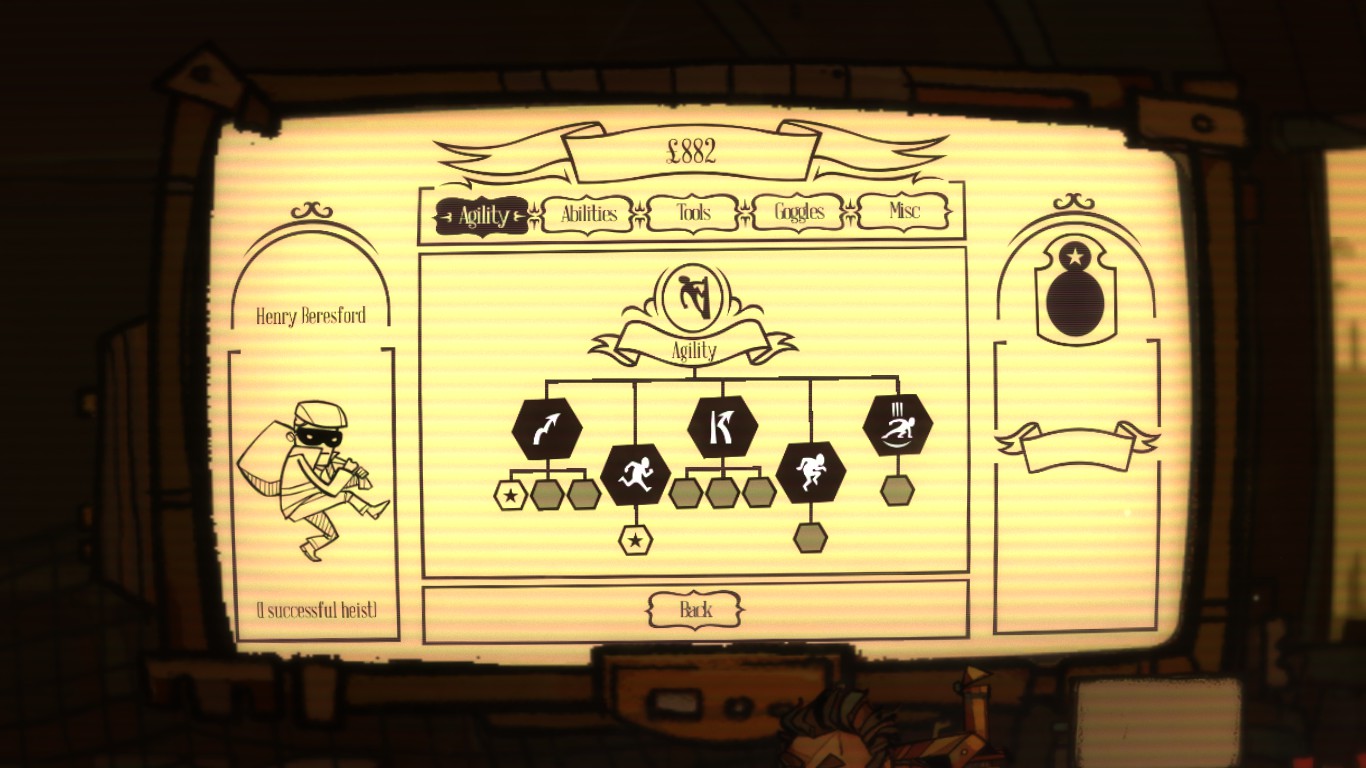 After every run, you get to either go back to your airship and upgrade your characters or just go for another heist.
Getting the level 1 hacking skill is of utmost importance, however, as it quadruples your profits whenever you hack a PC. Once you get that skill, you should try to unlock bombs, as the procedural generation sometimes leaves you with unaccessible rooms and dead-ends. There're also times where the building itself has no visible opening, resulting in frustrating runs with no earnings at all, although that's happening rather seldom.
And then, eventually, you'll be able to go into the Misc-Tree and buy your first upgrade to unlock new areas. Now there's locked doors, mines, enemies that pack multiple hits, and overall it became a lot harder but your profits are doubled as well, resulting in faster upgrades and, in my case, in bigger greed.
Yeah, the greed. The most frustrating part of every game, I'd say. When your teammates throw a won game as they wanted to earn some extra kills on their way, or when you just go for the last few hits on the raid boss and get killed thanks to your stupidity (or rather… mine… I should know better, you probably do).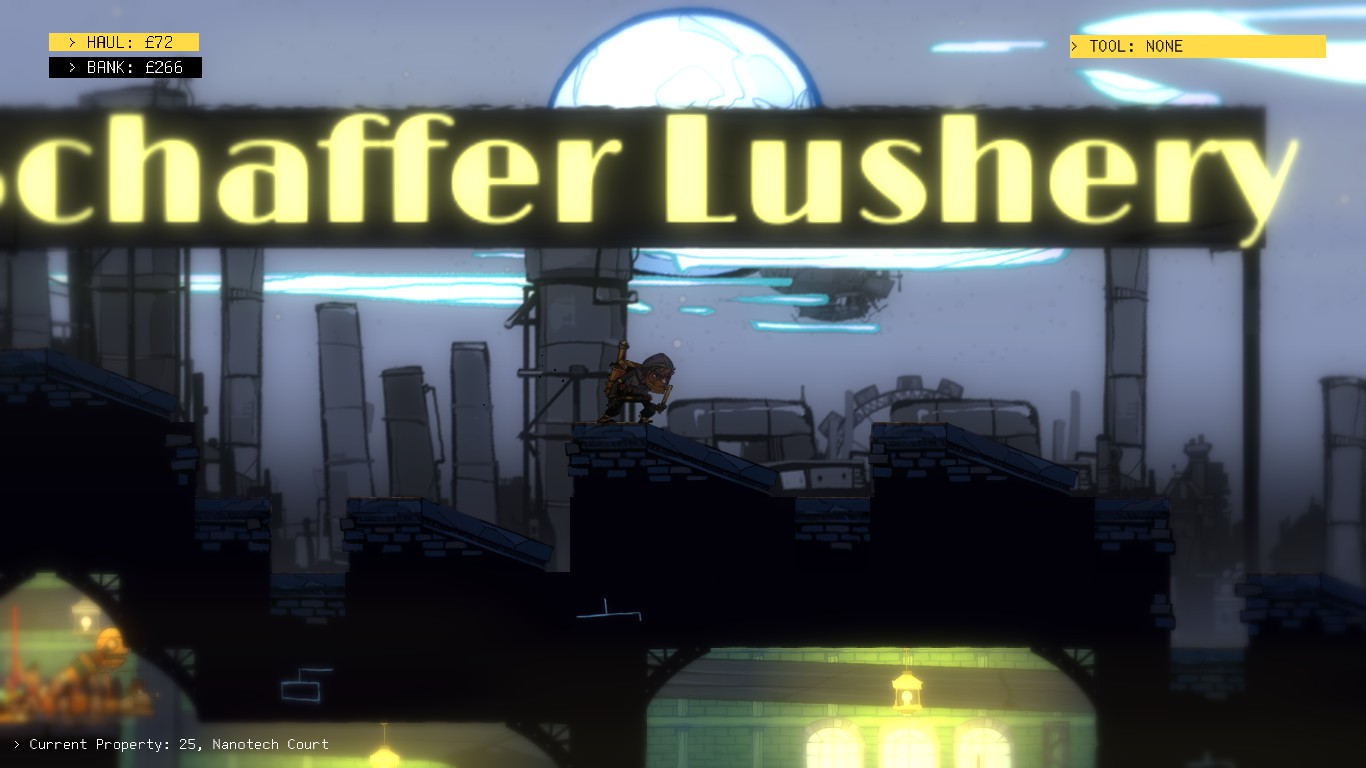 Greed's the reason why the doom-day-counter was ticking faster for me than for everyone else (probably).
Sometimes I died because of me forgetting about fall damage… Sometimes I died because of landmines that I failed to hack… Sometimes I died because of me greeding for another computer-hack instead of just bailing with 3-6k pounds.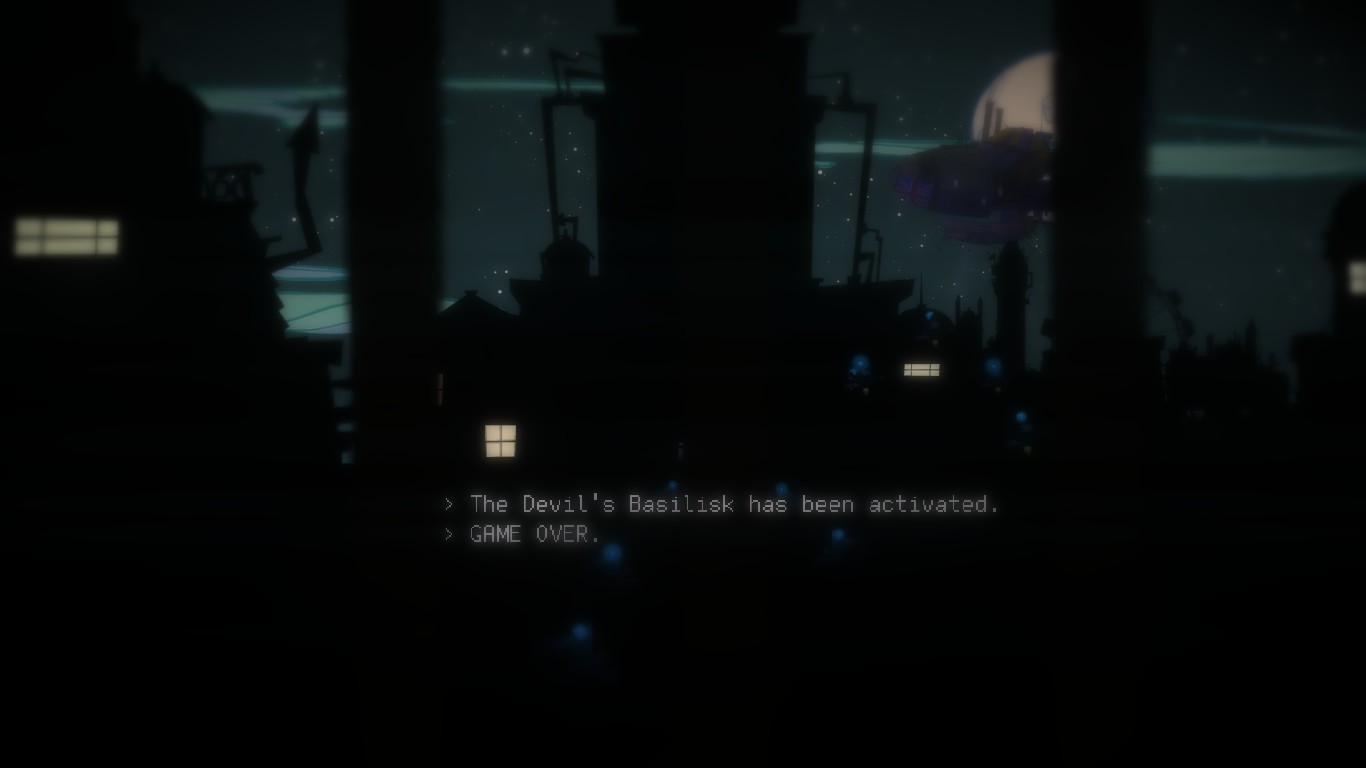 And before I even reached the fifth stage, I already reached Day 0: Gameover.
I had to start anew from Day 100 on, losing all of my progress and upgrades. But while a few heists were frustrating, the overall game wasn't. It's highly challenging, seeing new types of enemies and mechanics is interesting. There is a degree of strategy involved in the selection of upgrades, tools and skills. I liked the game and kept playing for a few more heists – until I stopped due to having to get ready for the Halloween Party I wanted to go to.
The colour-palette and music are interesting, and whenever your character gets caught, you respawn as a new character with a new look and a new name, both randomly generated! There's also the world which is looking cool – but then again my view might be clouded due to my love for Steampunk games!
The presentation is topnotch in my opinion and while the learning curve is rather steep in the beginning, I really wanna become a master thief like Lupin III or Kaito Kid, resulting in me enjoying the game in itself and its challenging aspects.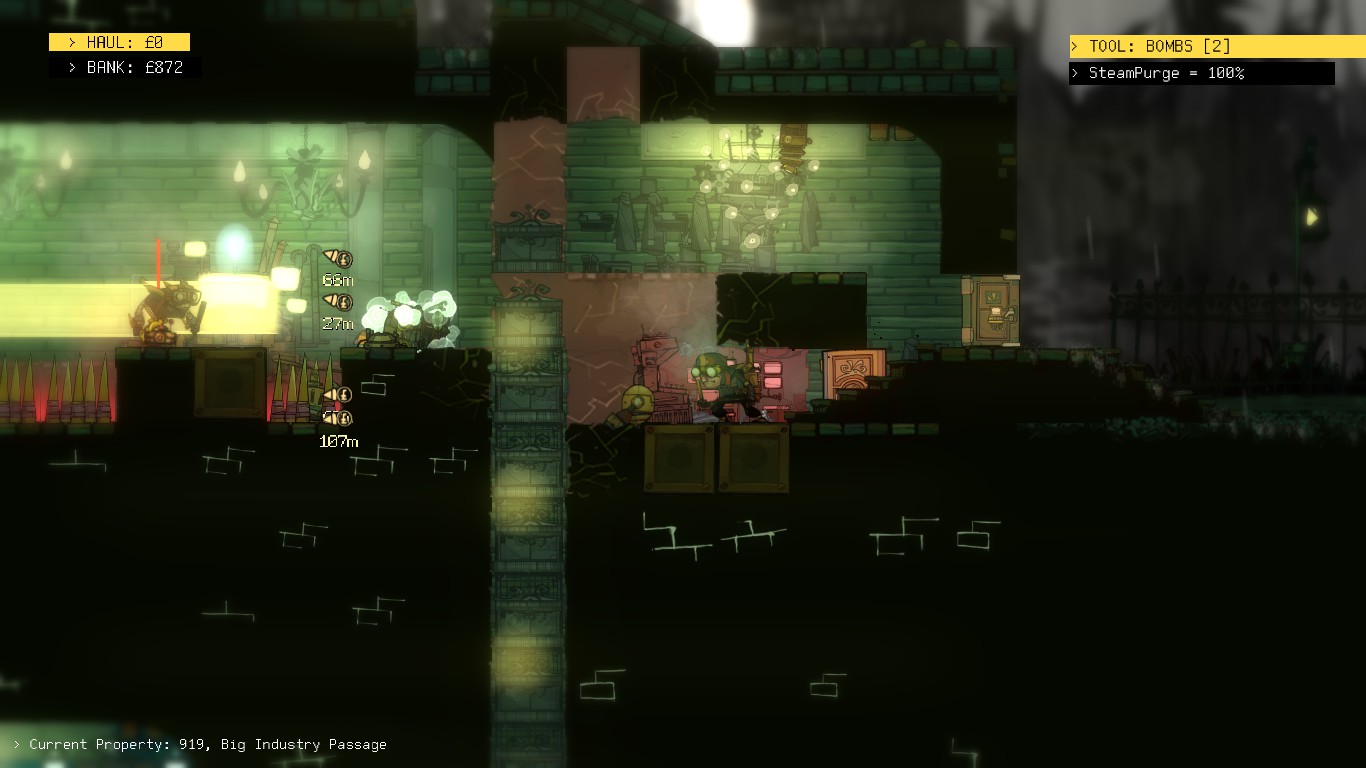 But let's get to some flaws, at last, before rounding up this review:
There is a certain problem with the generation of the levels that I found rather bothersome, even though I only encountered it once in about 230 heists… being locked out of the mansion. There are cases where the mansion you're scouting has been generated in a certain way where it doesn't let you in through any doors, mainly for the sole reason that there are no walls. You either have to bomb your way in or you just leave and start another Heist, which is bothersome for the sole reason of you losing one day.
There's also the fact that explosions should result in big sounds that the guards should notice – but they usually don't notice you, unless they are equipped with a microphone – and even then, they hardly notice. I would like it if they A.I. would pick up on stuff like this but the game is already hard enough as it is, so I shouldn't complain about that stuff!
Apart from that, I didn't encounter any problems or flaws in the game design. And while it surely is annoying when you lose a day or two because of bad level-generation, the game takes care of that by giving you the option of hacking Scotland Yard directly, for a price, of course, to give you a few more days until the Devil's Basilisk is finished.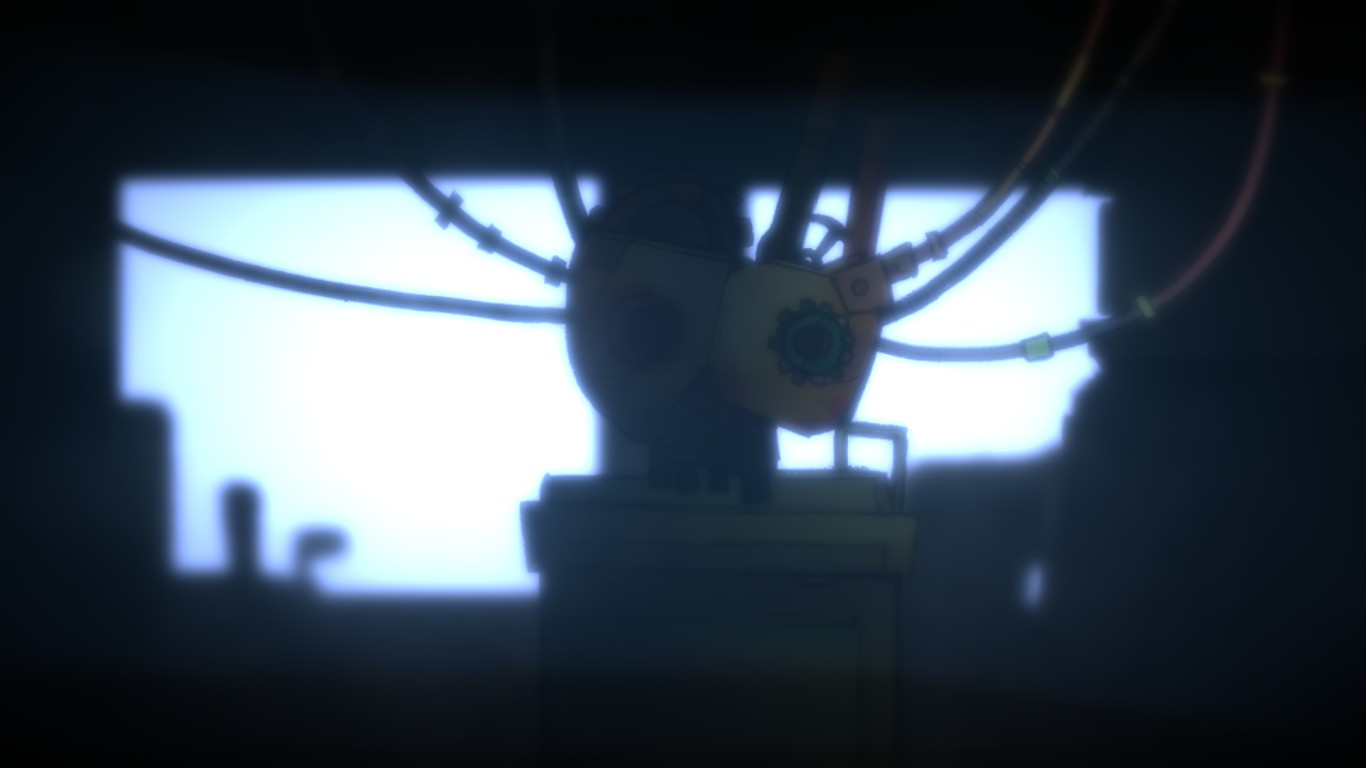 Conclusion-time!
I enjoyed my time with The Swindle and, therefore, really recommend this game. I love the aesthetics, the gameplay and the overall idea of heists and the doom-clock-timer! I hope you enjoy it as well.
Anyways, cheers!
I'm taking part in this year's #IntPiPoMo. If you'd like to participate or get to know the other participants, feel free to check this post out!
Note: I changed the date of this review to November 3rd as it bothered me that I accidentally posted two reviews on the same day. It's a bit of an OCD-thing, so I can't really help it. I'm sorry for that post-edit. Also, I put this little IntPiPoMo-section down at the bottom of this review after having already posted it, as I signed up for it after the day I posted it. Doesn't make too much of a difference, though.
And another note: I did not perform any crimes IRL to fund my new PC parts. That was just a small introduction for the setting, similar to a small exposition. Please don't call the cops. Thank you.
This post was first published on Indiecator by Dan Indiecator aka MagiWasTaken. If you like what you see here and want to see more, you can check me out on Twitch and YouTube as well. If you find this post on a website other than Indiecator.org, please write an e-mail to me. Thank you!