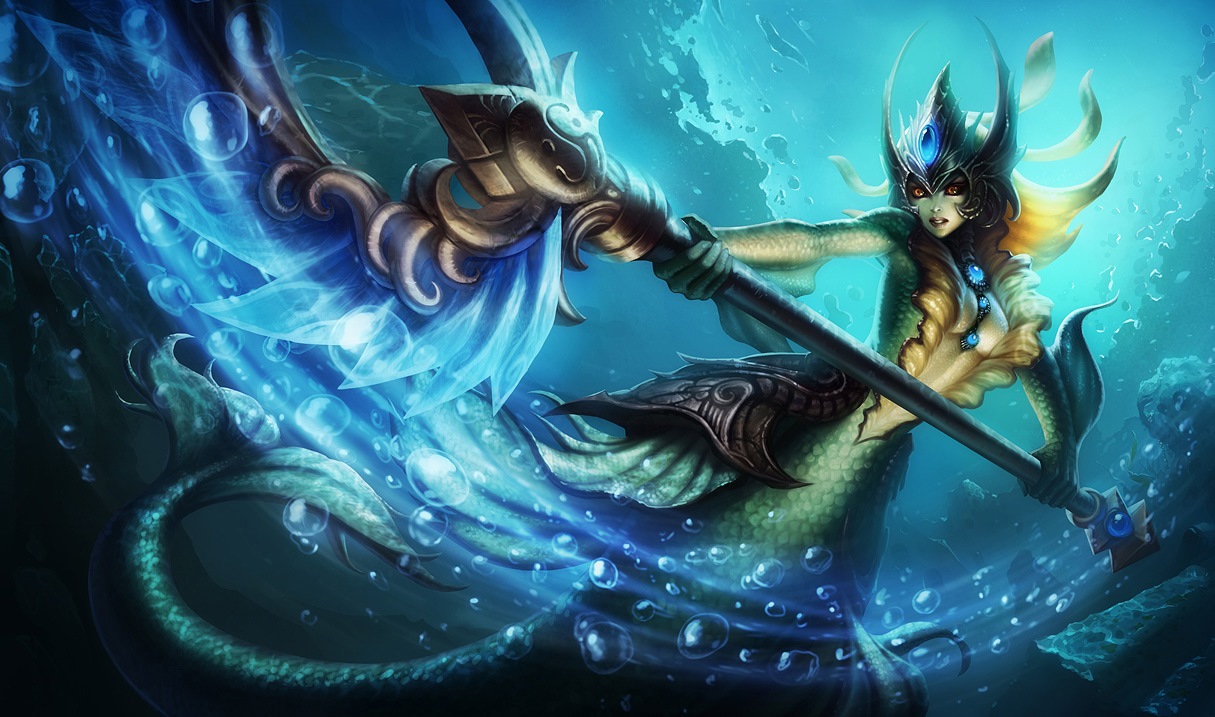 League of Legends turned 10! And although the event has already ended and although you cannot receive any more rewards, I'll continue my series of posts, showcasing my favourite supports from each year. Seven years ago on December 4th 2012, Nami, The Tidecaller, was introduced into the Summoner's Rift. She's a vastayan Enchanter from the tribe of the Marai, who's able to control the tides to protect her allies and punish her enemies.
I already talked about Nami in an early Stray Sheep but I haven't talked about her Lore yet, so if you want to, you may as well look that post up but this post is only about Nami while that other post just mentioned her on a side note.
Lore
In the seas to the west of Mount Targon dwells a tribe of Vastaya known as the Marai. Long ago, these mermadic creatures discovered a rift in the depths. The rift bore a horrible, creeping darkness which sought to exterminate all forms of life.
At the center of their village, the Marai placed a glowing rock known as a moonstone, which is said to be infused with the celestial magic of the heavens. Its haunting, ethereal light protects the Marai from the creatures that crawl from the abyss.
Every hundred years, the moonstone begins to dim which is why the Marai choose their fiercest warrior to retrieve a pearl from the rift and exchange it for another moonstone from a luminous wanderer from Targon's peak.
The Marai were only able to send out one warrior, though, as the creatures of the Rift feast on their energy and would grow stronger if they'd send out whole armies to the rift. While whole armies would get wiped out immediately, a single warrior equipped with the legendary Tidecaller's Staff, capable of controlling the tides, would be able to possibly elude the dangers long enough to return with the pearl safely.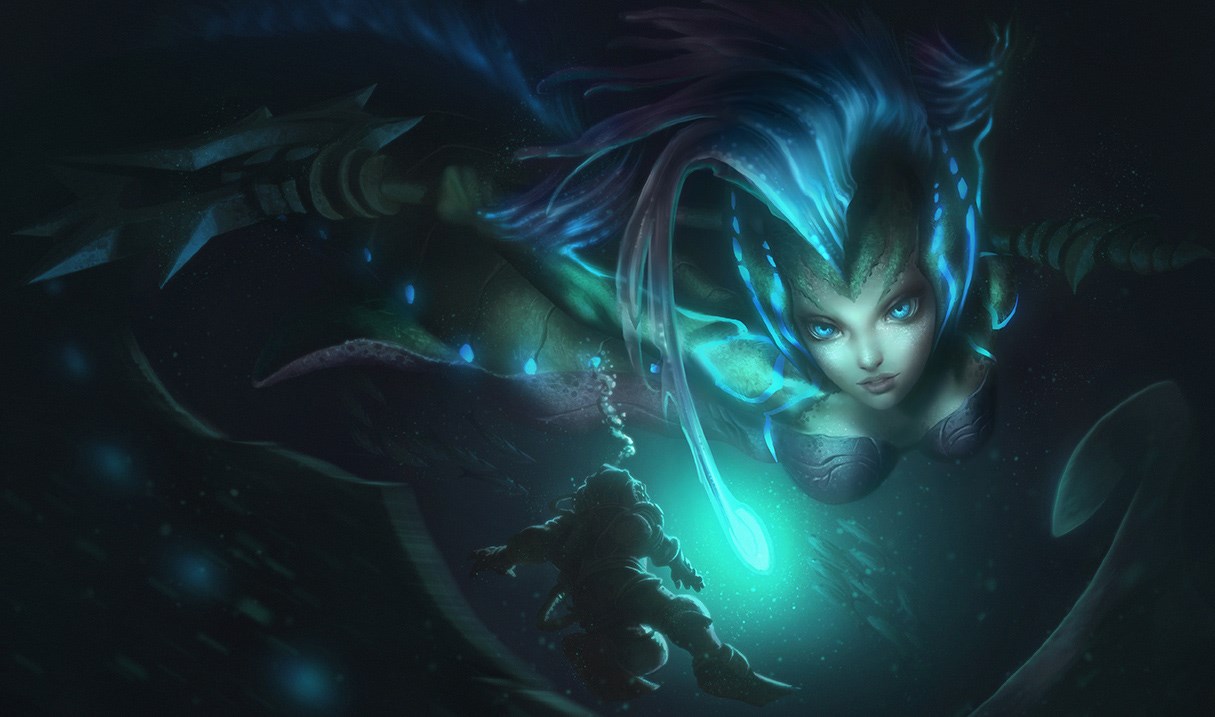 Nami always wanted to be a Tidecaller but since she's quite impulsive and young, she didn't pass the trial, which lead to a different warrior, called Rasho being chosen as the Tidecaller instead of her.
Rasho dove into the depths of the abyss. A week passed, then another. An entire month the Marai waited for their Tidecaller's return, but there was no sign of Rasho. No Tidecaller had ever failed to return.
Since someone had to return with the pearl, Nami ventured into the Rift on her own, returning after several days with the pearl, the fallen Tidecaller's staff, and a look of quiet horror in her eyes.
Though furious at her impertinence, the village elders nonetheless admired Nami's bravery and officially designated her Tidecaller. Nami ascended to the surface and rode the tide to shore to meet the landwalker.
The landwalker, however, was nowhere to be found. Nami instead found an elderly woman whose grandparents saw the last moonstone exchange. She explained that there was no moonstone as the Aspect of the Moon who's the only one to conjure a moonstone has fled Mount Targon.
Nami was unwilling to accept this. She vowed to find the Aspect and retrieve the moonstone. The lives of her people depended on it.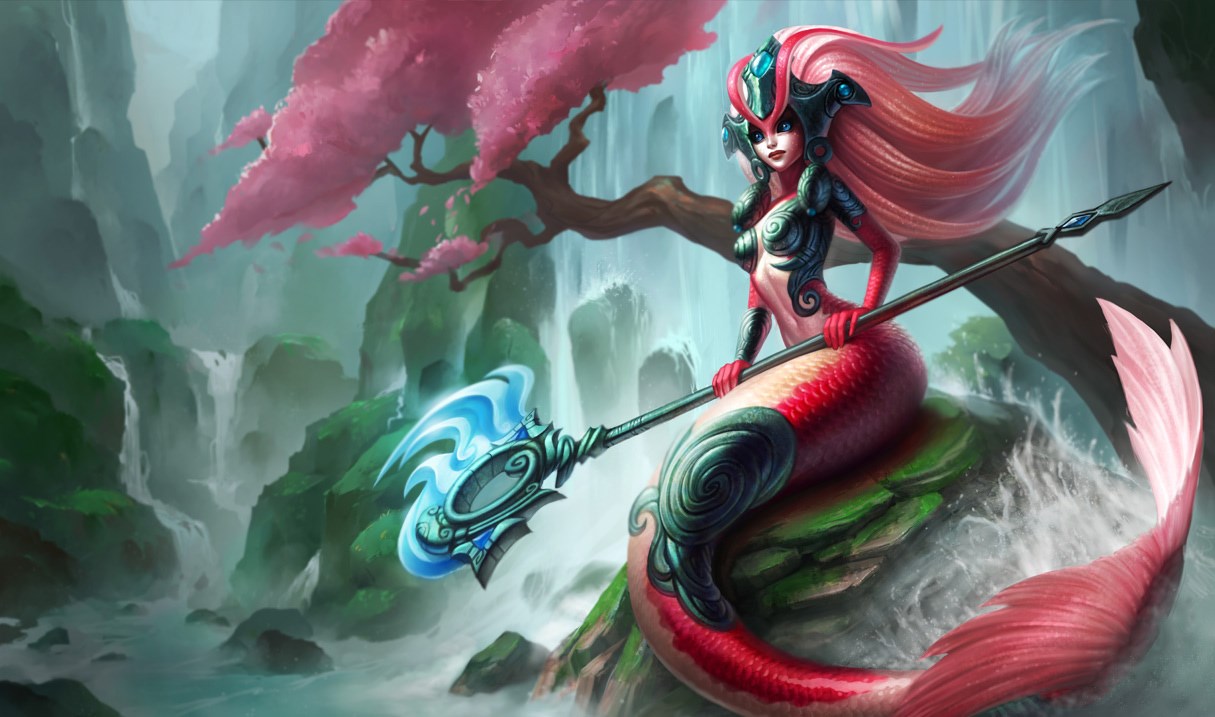 Using the power of the mystical Tidecaller staff to summon a perpetual pool of moving water beneath her fins, Nami took to land to continue her quest.
Determined, the Tidecaller swam into a brand new world.
---
So, that's her Lore basically. You may want to check out the comic that got made for this store. It's really well made!
Lore vs Kit?
Passive: Surging Tides
All allies (and Nami) gain movement speed when being hit/targeted by her abilities. This bonus is doubled when Tidal Wave is being used.
Q: Aqua Prison
Nami sends out a bubble into the target direction damaging, revealing and suspending all enemies hit.
W: Ebb and Flow
Nami unleashes a stream of water onto the target champion or herself, which then bounces to nearby unaffected champions up to twice, alternating between enemies, allies and herself.
Ebb and Flow heals allies and damages enemies.
E: Tidecaller's Blessing
Nami blesses herself or a target ally, causing her/their next three basic attacks to deal bonus damage and slow the target hit.
R: Tidal Wave
Nami sends out a tidal wave, dealing damage, knocking up and slowing all enemies hit. As mentioned, allies hit by Tidal Wave receive the Surging Tides bonus twice. The slow scales with the travelled distance.
---
Nami's kit makes her a great enchanter for all kinds of situations. You're able to set up ganks, kills and teamfights, using Aqua Prison and Tidal Wave, while also using these skills to disengage. You've got decent utility and healing in your kit when playing Nami on top of a lot of slows, two knock ups (though Aqua Prison's knockup's lasting a lot longer than Tidal Wave's for instance), and some damage for both your team and you.
Runes and Builds
For runes, I generally use a similar setup to Sona's. Nami is super squishy just like Sona and Janna. Especially since she's also immobile, she's often at the risk of falling prey to assassin's and enemies with CC and gapclosers. Hence, you've got to watch out for those and be careful of how you spend your mana, as you will always need enough to cast your Aqua Prison or your Tidal Wave to disengage. Nami already has a lot of mana-regen built into her kit, which fits as she's an aquatic champion and water and mana… and you know? Anyways, Manaflowband, Biscuit Delivery and her items still help her out a lot, with Biscuit Delivery granting her three cookies with increased Mana Regeneration on top of more Maximum-Mana while Manaflowband grants you more mana regeneration based on how much Mana you're missing. With Nami, I usually build Ardent Censer into Athene's Unholy Grail into Redemption and then go for some tankier options based on how the game goes.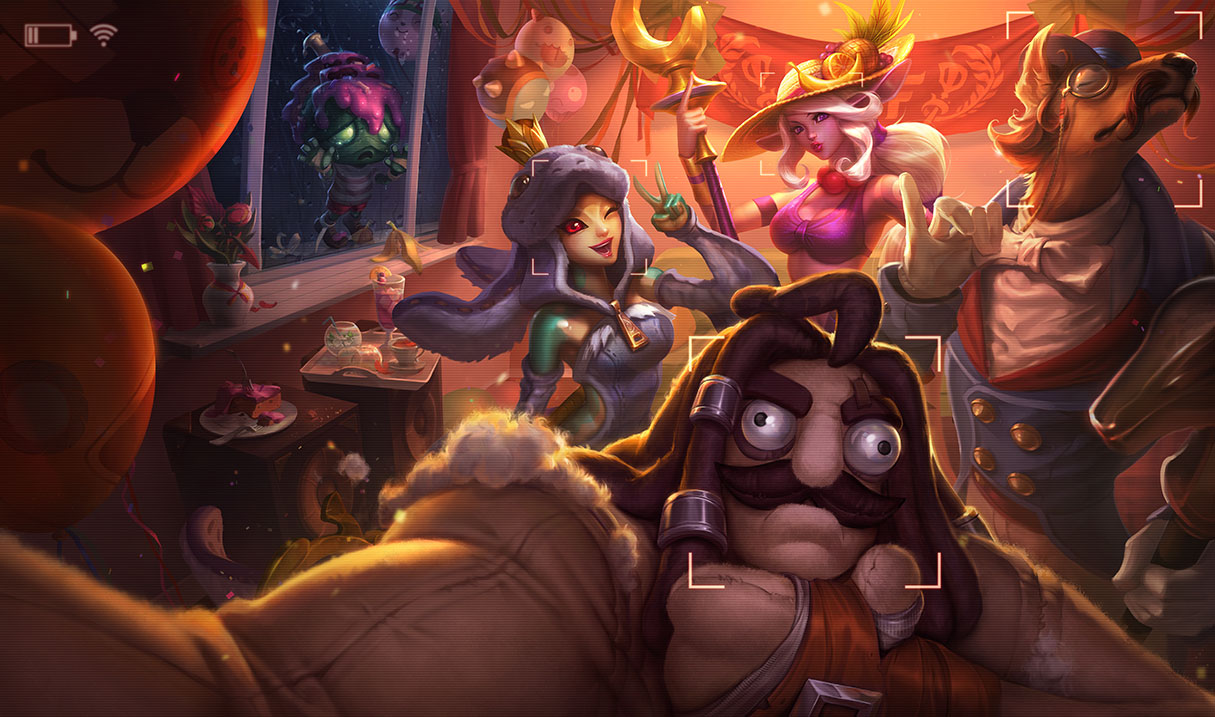 In patch 9.23 (the preseason-patch), however, Shurelya's Reverie is getting changed so that it builds out of a Forbidden Idol and so that it grants increased healing as well, so I may swap out Redemption for Shurelya's Reverie, depending on the game's state as Shurelya's Active offers even more movement speed on top of your Tidal Wave which is great for some chases, disengages and other maneuvers.
As mentioned earlier, I try to build up as much AP as possible with my Enchanters using the Mana Regeneration that gets converted into AP with Athene's Unholy Grail and using the Cooldown Reduction that also gets converted into bonus AP with Transcendence. This way I'm getting more ability power without really building damage, so I won't be able to run out of Mana all that easily in the late game while still spamming my abilities out and healing allies, buffing them up, CC-ing enemies and pushing forward in general.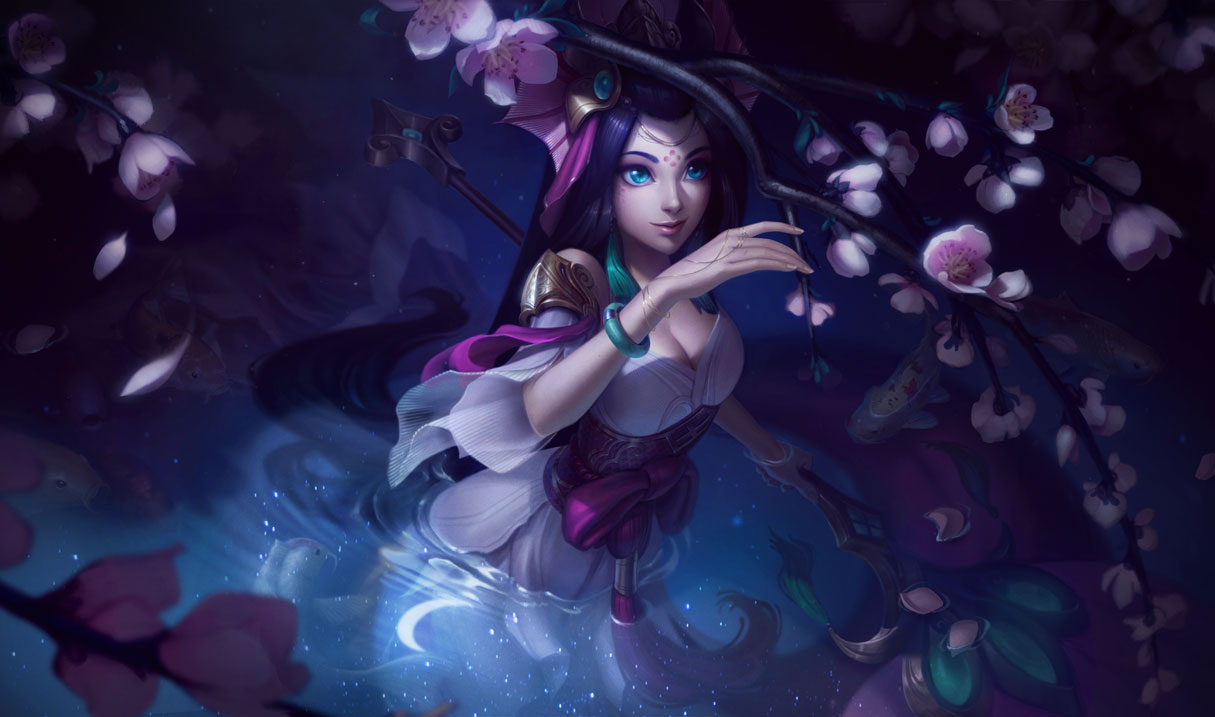 Nami is my favourite champion of all time as she has a diverse kit, some great utility and is overall just a lovely champion. I play her a ton and can't wait to try out new runes and builds with her in this preseason! I hope that this little post showed her best sides to ya and showcased her well. Anyways, this is it for today. I wish you a great time.
See you in the Rift!
I'm taking part in this year's #IntPiPoMo. If you'd like to participate or get to know the other participants, feel free to check this post out!
Edit: I know, I've said that I'll make one post per year of League's existence but I also said that I'll feature the ones I'm actually playing and only one per year, which makes the next few years rather hard to choose from as I don't really play all that many Support Champions that came out past 2016, apart from Pyke, I guess? So, in the end, there will a few less posts than the total of ten posts I've planned but this format of showcasing champions, explaining their lore and abilities and strategizing about them, will return for sure! Eventually.