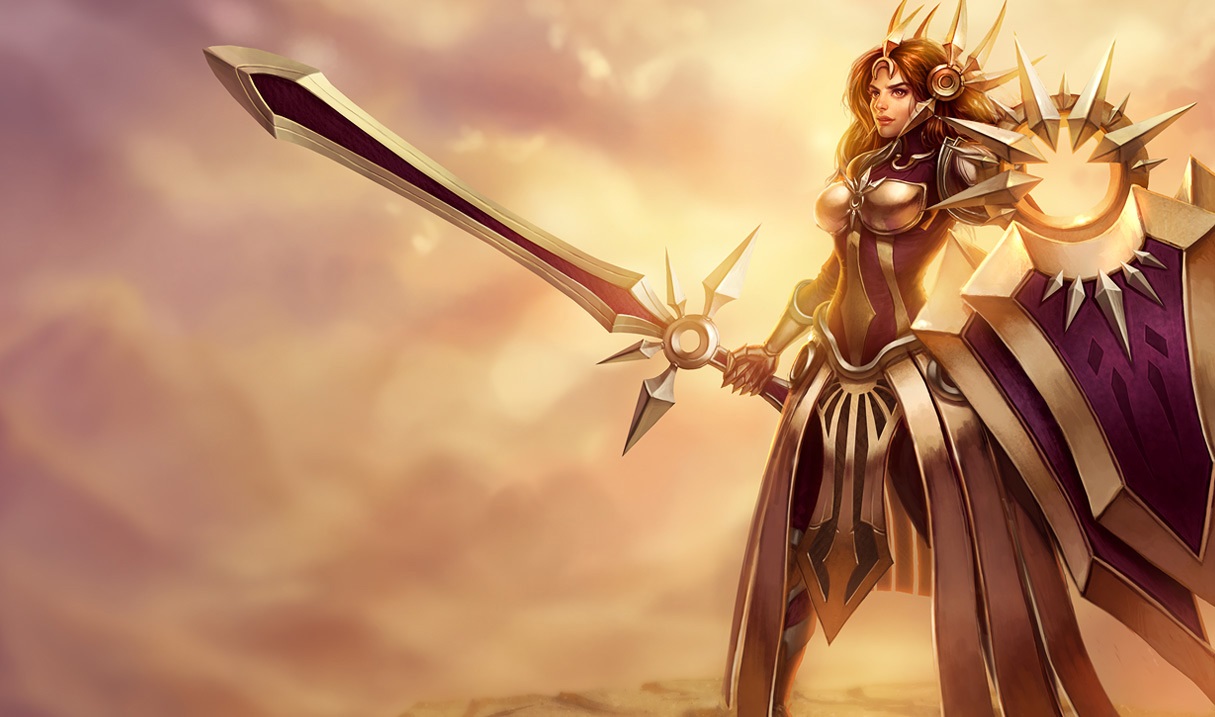 2011 was the year where one of the first aggressive supports were introduced. Leona, The Radiant Dawn, is Vanguard from Mount Targon that provides her team with both CC and a frontline that is able to increase her allies' damage on targets hit by her abilities. So let's just get into it with his showcase!
---
The Lore behind Leona, The Radiant Dawn
"Imbued with the fire of the sun, Leona is a warrior templar of the Solari who defends Mount Targon with her Zenith Blade and Shield of Daybreak!"
Leona was born in the tribe of the Rakkor, a warrior tribe that's honing their skills to fight "the war at the end of the world". "Rakkor" means "Tribe of the Last Sun" and they believe in the existence of many worlds before this one though those earlier ones have been destroyed by a great catastrophe. Their seers teach them that this Sun will be the last and that they have to protect it at all cost, fighting all of those that threaten its existence.
"To the Rakkor, battle is an act of devotion, an offering to keep the sun's light shining."
As soon as she could walk, Leona learned to fight, mastering the skills of both sword and shield rather fast. Her tribe expects of their warriors to fight and kill with no mercy, and Leona was no exception. Leona was fascinated by the mists wreathing the summit and often wondered what was beyond it, which lead to her often fighting those vile creatures and entities coming down from the summit.
One time, however, she encountered a golden-skinned and shimmering boy with bat-like wings and horns who didn't speak her language nor knew how to get to safety, obviously being lost and frightened. Although her teachings told her to attack instantly, she couldn't do it and instead helped him find a pathway to the Summit.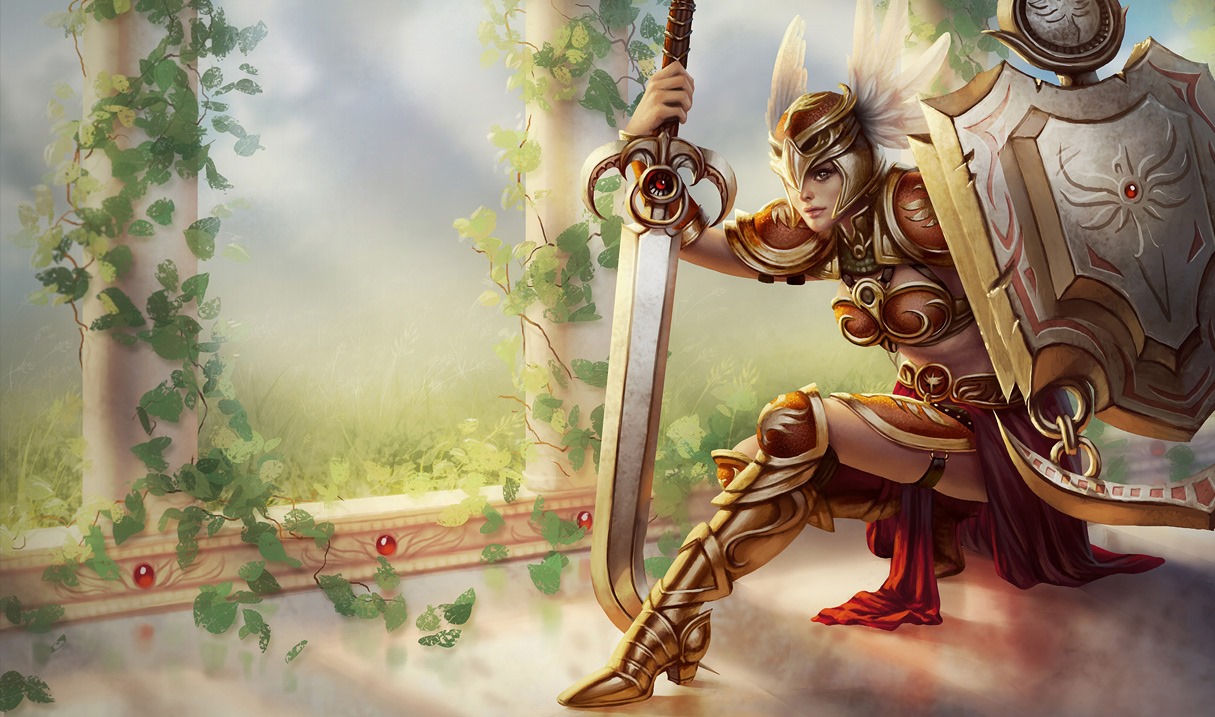 Once back at the tribe of the Rakkor, she, however, got accused of failing her duty of the sun, as a boy called Atreus saw her leading the creature of the mountain to safety instead of killing it. She didn't deny this fact and was soon to be punished in a trial by combat. Her opponent was none other than Atreus. They both fought well but nobody was able to deal a death-blow, resulting in a long and evenly-matched fight. Leona fought with her sword and shield while Atreus was well-equipped with his spear – and nobody could predict the outcome.
As the long fight dragged on, the Sun started sinking into the horizon. At that point, an elder of the Solari marched into the Rakkor-camp with three golden-armoured warriors, calling a halt to the duel. The Solari were adherents of a martial faith in worshipping the Sun. The elder was lead to the Rakkor-camp by dreams and an ancient Solari prophecy of a "warrior whose fire burned brighter than the Sun, a daughter of Targon who could bring unity to the celestial realm". The elder believed in Leona being said daughter of Targon and upon learning about her offence, his beliefs were strengthened.
"The tribal seers warned against interfering in the duel, but the elder was adamant; Leona must come with him and become one of the Solari, to be fully instructed in their beliefs. The Rakkor were fiercely independent, but even they paid heed to the holy decrees of the Solari. The warriors lifted Leona from the pit and bore her wounded body from the Rakkor toward her new life."
At the Temple of the Solari, Leona learned the ways of the sacred order and how to worship or even praise the Sun. In time, Leona rose to command the "Ra-Horak", the Followers of the Horizon, becoming known around Mount Targon as a just and zealous servant of the Sun.
Her life changed forever when she was ordered to escort a young member of the Solari, Diana, who vanished months before but now returned to the Solari and who had great news that could shake the Solari's foundation and that shall only be revealed to the elders of the citadel.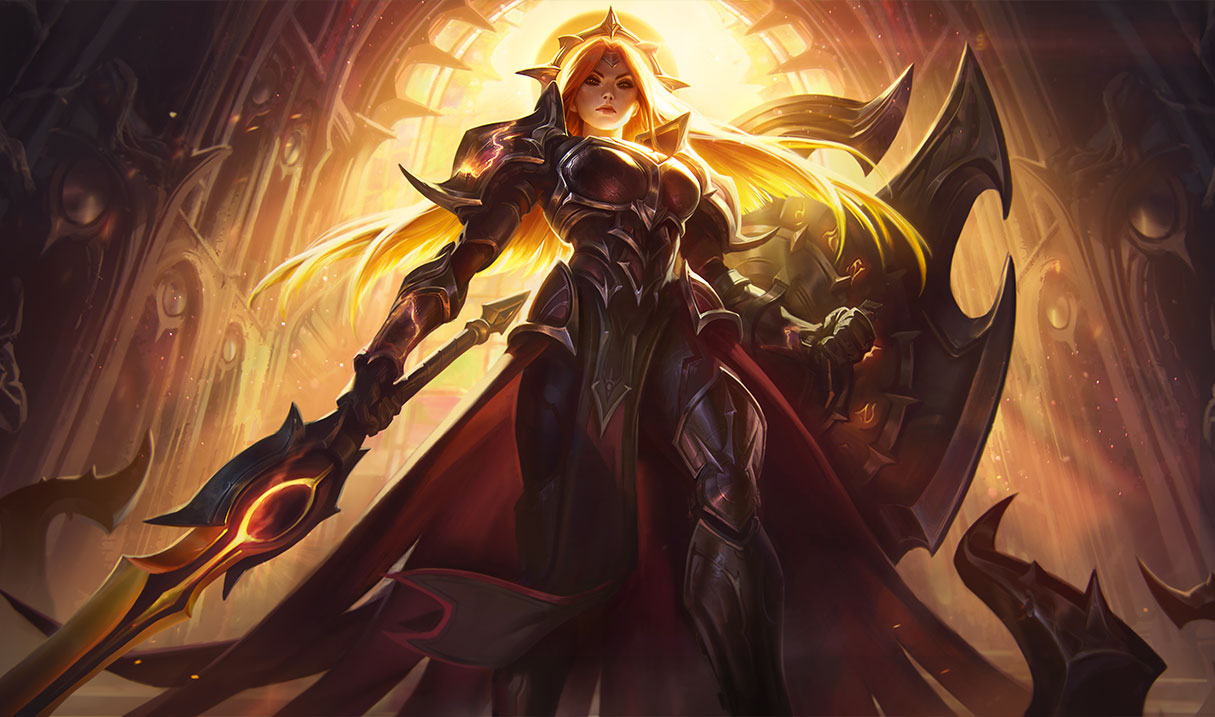 When presented to the elders, Diana spoke of the Lunari, an ancient and proscribed faith that venerated the moon, and how all the truths the Solari clung to were incomplete. She described a realm beyond the mountaintop, a place where the sun and moon were not enemies, where new truths could show them fresh ways to look at the world. When the elders rejected her words and named her a blasphemer, Leona knew that she'd be the one to end the heretic's life.
Leona noticed the incredulous fury that Diana built up at the elder's denial, but before being able to react, Diana already flung forward, burning the elders with orbs of silver fire in the blink of an eye. A hurricane of cold lightning was surged by white flames, blasting Leona away from the chamber. Once she regained consciousness, Diana was gone and the Solari were leaderless. Leona made it her mission to end the heretic's life for killing those that she couldn't protect.
"Diana's trail was easy to find. The heretic's footsteps were like shimmering mercury to Leona's eyes, leading ever higher up the slopes of Mount Targon."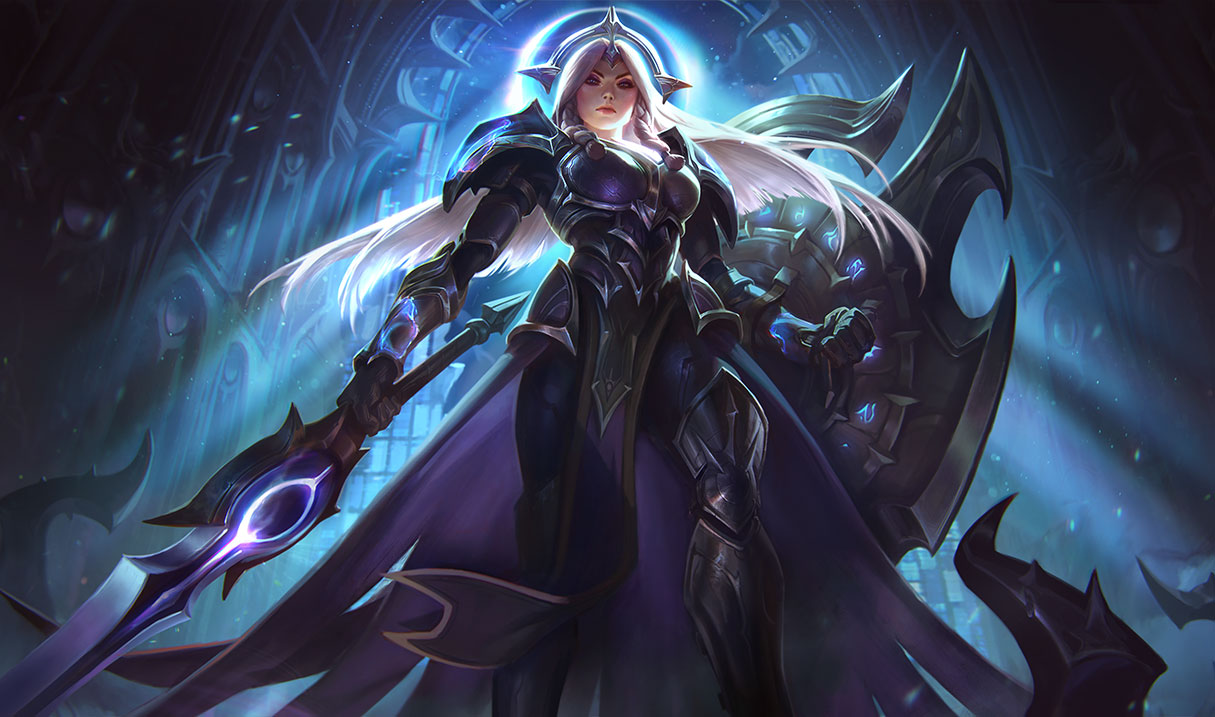 "Eventually Leona reached the top of the mountain, breathless, exhausted, starved and stripped of all thought save punishing Diana. There, sitting on a rock at the top of the mountain was the same golden-skinned boy whose life she had spared as a child. Behind him, the sky burned with blazing light, a Borealis of impossible colours and the suggestion of a majestic city of gold and silver. In its fluted towers and glittering minarets, Leona saw how the Solari temple echoed its magnificence and fell to her knees in rapture."
The golden-skinned boy spoke in old Rakkor-tongue and told her that he's been waiting for her to follow him ever since she saved him. He offered her miracles that would lead her to know the minds of gods. Without hesitation, Leona took the boy's hand and was engulfed in a column of searing illumination that stabbed down from the heavens.
"The warrior who came down the mountain looked the same as the one who had climbed it, but inside Leona was much changed. She still had her memories and thoughts, was still master of her own flesh, but a sliver of something vast and inhuman had chosen her to be its mortal vessel. It gifted her with incredible powers and awful knowledge that haunted her eyes and weighed heavily upon her soul; knowledge she could only ever share with one person.
Now, more than ever, Leona knew she had to find Diana."
So, that's the story of how Leona came to praise the Sun and earn her powers in pursuit of the Lunara, Diana. As with the other champions that I've featured in this post, the kit fits rather well with this overall theme of justice brought by and for the Solari.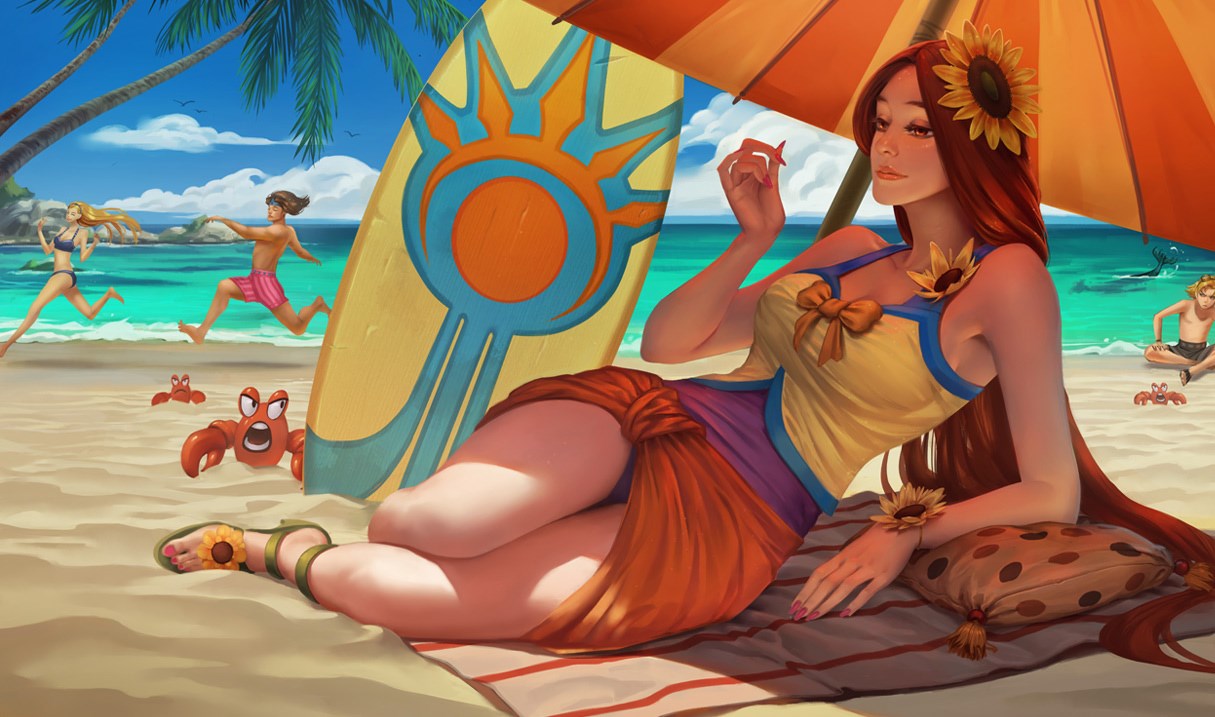 Kit vs. Lore?
Passive – Sunlight:
Leona's abilities inflict sunlight to enemies struck by it for 1.5 seconds. Allies (other than herself) consume the Sunlight, dealing bonus magic damage upon those marked by it.
Q – Shield of Daybreak:
Leona's next basic attack gains 50 bonus range, deals bonus magic damage and stuns her target for one second.
W – Eclipse:
Passive: Leona gains bonus armour and magic resistance, scaling with her own bonus armour and MR.
Active: For three seconds, Leona takes reduced pre-mitigation damage from each tick of damage for up to 50% damage reduction. She also gains bonus magic resistance and armour (on top of the passive part's).
Then, she explodes, dealing magic damage in the area around her. If she hits an enemy, she retains her bonus resistances and reduced damage for another three seconds.
E – Zenith Blade:
Leona projects a solar image of her sword, dealing damage to all enemies hit by it. If she damages an enemy champion, she will dash towards the last enemy struck and root them for 0.5 seconds.
R – Solar Flare:
Leona calls down a beam of solar energy to the target location, dealing magic damage to all enemies it hits and slowing them for one second. Enemies hit by the flare's centre are instead stunned for the same duration.
My thoughts on her (take it with a grain of salt, I've only reached Gold this season)
Leona's kit makes a great vanguard for those scenarios where your team doesn't have a tank or all that much CC yet. Of course, you can never have enough crowd control, which is probably one of many reasons why op.gg ranks her currently at Tier 1. Her passive provides some good amounts of magic damage to your team's abilities and attacks in team fights, while your Eclipse and Solar Flare are great abilities to apply Sunlight to as many enemies as possible. Earlier I mentioned how she was one of the first aggressive supports back then. That's mostly because of her ability to aggressively engage into fights at level 2 with her E+Q combo and more of than not secure blown sums or even kills on the bot lane. Her ability to dash onto the backline and lock them down with crowd control makes her great against squishy supports, but she may also get threatened by poke-supports that will try to constantly harass her (as she's a melee-character) and narrow down her health to the point where she can't all-in anymore.
Rune's and builds:
For runes I usually go with Aftershock into Font of Life for Leona, followed by Conditioning and Overgrowth on top of Cosmic Insight and Biscuit Delivery. I enjoy having the attack speed in there but you may as well change that for scaling cool down reduction or go for adaptive force.
Aftershock gives us some bonus resistances and extra damage (similar to Leona's W) after we lock someone down with our CC, giving us some bonus survivability when going in. Font of Life marks enemies whose movement we impair, resulting in our allies' basic attacks healing them for a portion of our health. Instead of FoL, you may also want to take Demolish to take down some early tower plates/towers. For me personally, Conditioning is a must-have, as it grants you free resistances and a bonus percentage of resistances that scale well into our W and Aftershock, but when facing poke-heavy teams, I'd recommend swapping it out for Bone Plating. Overgrowth grants us bonus health, whenever a minion dies near us. Instead of that, you may as well take Unflinching, when facing against CC-heavy teams, as you gain more tenacity through that.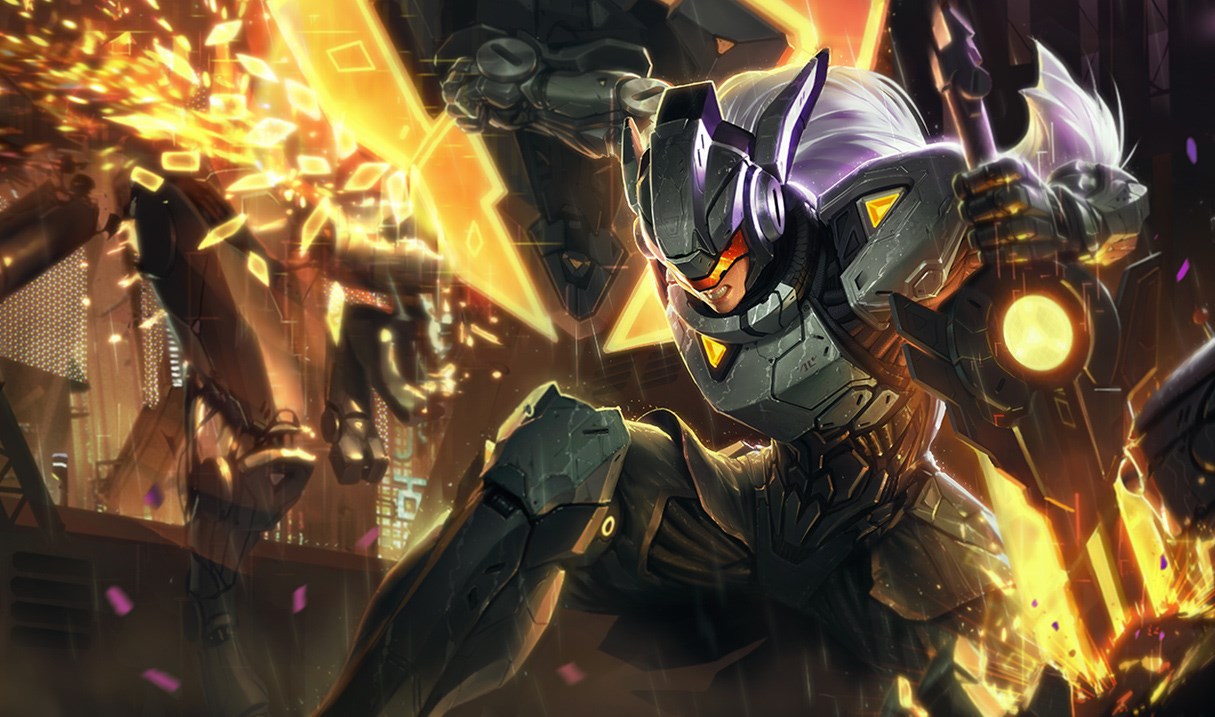 As for builds, I usually upgrade my support-item (relic shield) to the last level as fast as possible, as it not only grants as more tanky stats and cooldown reduction but also more (frequent) stacks (up to a maximum of 4), hence better pushing and more gold, but also better healing from Relic Shield stacks! Afterwards, I usually build Zeke's Convergence if my ADC uses a ton of basic attacks. If he doesn't (aka if he's more of a caster) than I take Knight's Vow as my second item. Knight's Vow grants us more survivability as we get healed by a portion of our ADC's damage dealt to champions but also take a portion of their damage, which results in our ADC not dying as fast. If you need the survivability, go for Knight's Vow. If you're ahead, go for Zeke's. Afterwards, I usually build the Locket of the Iron Solari (for obvious reasons). It also gives us a nice shield for all allies near us and some extra resistances. I usually stack health and resistances on Leona to make her as tanky as possible, so you've got to watch out that you don't build MR against a full-ad team and just match your items to your enemies.
---
Anyways, this was my post on Leona. I hope you enjoyed this one! I have a ton of fun writing about characters I play a lot and going into this guide-ish style of writing while also exploring and summarizing the plot for people that may not know it. I vaguely know bits and pieces of different characters' lore but I never actually sat down and read all of it (or rather most), so this is a new for me as well. In hindsight, I noticed that I got quite a lot over my estimated 1.3k words and managed to write up 2k words, so this post is a lot longer but I didn't really know how to summarize the plot even more.. Oh well!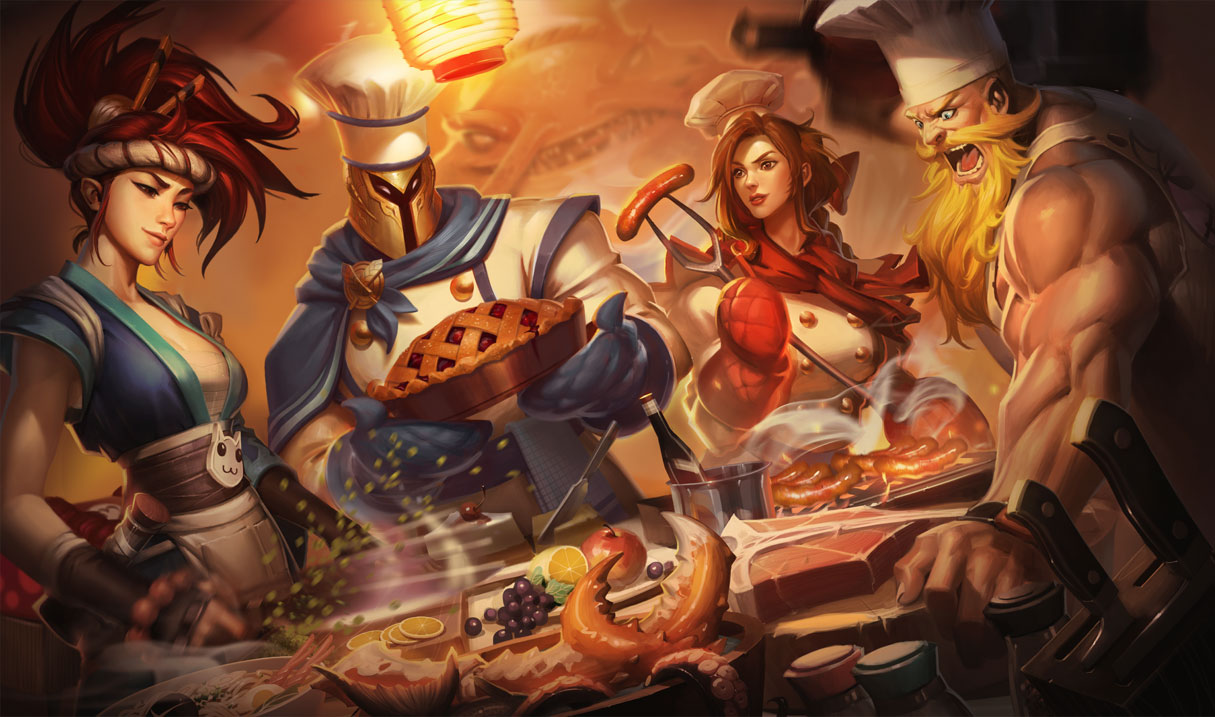 Have a nice day :)
I'm taking part in this year's #IntPiPoMo. If you'd like to participate or get to know the other participants, feel free to check this post out!