There are some games out there that probably everyone has already played or that people would deem "Classics". It's games that get spoiled constantly since everyone already played them… Games that are the milestones that started entire franchises and genres. Games that are so great that it's a miracle that I haven't played them yet!

And that's what this format is about. Welcome to Late to the Party #3 where I talk about my first impressions of Assassin's Creed 1.
In the past, we already took a look at The Witcher 1 and Asheron's Call, so check those games and posts out. Some people abbreviate Animal Crossing "AC"… some do the same for Assassin's Creed… but Asheron's Call… that's the true AC, with Animal Crossing being AnCr/Anchor and with Assassin's Creed obviously being AssCreed/AssCreek. Anyone who says something else is obviously wrong. So shut up. (That's a joke.)
AssCreed is a game where this barkeeper called Desmond Miles gets kidnapped by Abstergo Industries. These guys want to use the so-called "Animus" to deep dive into Desmond's ancestor's memories that are saved in his DNA in order to find out where the "Pieces of Eden" are.
Aaaand that brings us to the Third Crusade where we play as Altaïr ibn-La'Ahad, an assassin that gets demoted to a "Novice of the Assassin Brotherhood" by their leader Al Mualim, after essentially messing up a lot of things in the first few cut scenes. There's this creed, the Assassin's Creed, and he broke it so now he's got to restore his former rank by getting rid of the nine Knight Templars.
So, uh, yeah, we're climbing houses, throwing knives, stabbing people, eavesdropping strangers and try to attain intel before eventually killing someone and colouring a feather with their blood as proof of their death. There are a lot of side quests, though you've got to do only a few of them before every main assassination, and on top of that you can run around and explore a few different areas like Masyaf, Jerusalem, Acre and Damascus. There are a lot of historical figures in the story which is rather interesting… and the parkour and climbing and free running, as well as the assassinations, the stealth and the combat in general, are super cool!
So we played this on a few different Fridays over here on my Twitch channel and I really enjoyed the game… but then it somehow came to an end when I just didn't feel like playing the game all that much. (Spoilers from here on, so skip to the end if you're interested in the story.)
I stopped playing the game for a lot of reasons. After eighteen hours of total playtime, I ended up quitting Assassin's Creed due to its gameplay-formula. The story outside of the Animus was super interesting but we got way too less of that… meanwhile, the actual game is rather repetitive!
You get a target to kill. Do three side missions. Go there. Kill the guy. Come back to HQ. Get some ability. Get another target. Do three side missions. Go there. Kill the guy. Come back to HQ. Get another ability. Rinse and Repeat.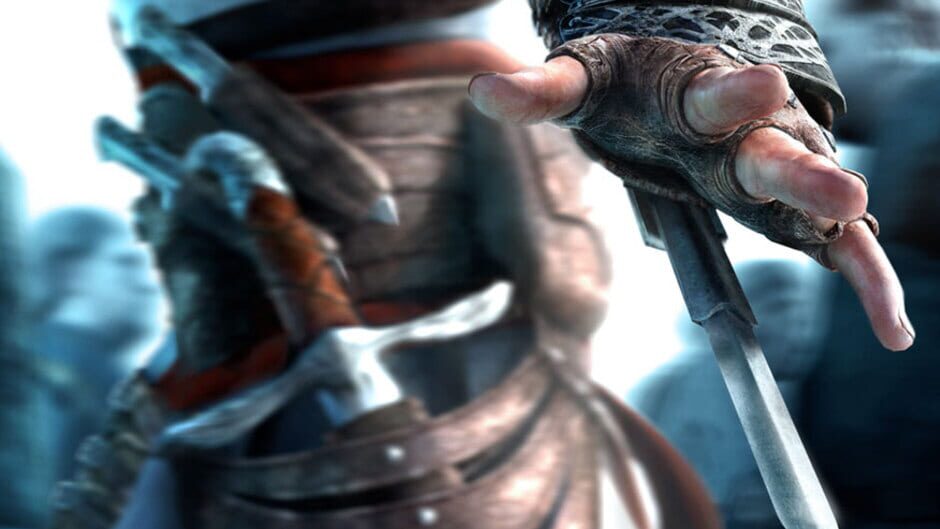 It's just boring at some point. It never changes. There are barely any new mission types in the game and the collectables and the watchtowers are rather boring. There is no "unlock" for the collectables. You find all 100 flags in an area but you don't learn anything new from it. Meanwhile, the towers unlock more parts of the map, so you get to see the different missions and stuff… but none of the towers is particularly hard to get on top of.
And then there are parts of the story that just feel generic and boring. "There is a traitor in the Brotherhood. Find him to restore your former rank."
I mentioned on stream that it's probably going to be the leader himself. He's a templar of sorts and we will have to turn on him to become the leader ourselves.
But since I don't want to play more of it, I just read up on it and… I was right. Nothing too drastic. Nothing too new. Oh wow, the teacher is your end boss? The student beats the teacher? So innovative! Wowsers! I can't contain my excitement about this glorious twist that I haven't seen anywhere else before yet, at all! I'm so mad at myself for spoiling the "good" part of the story!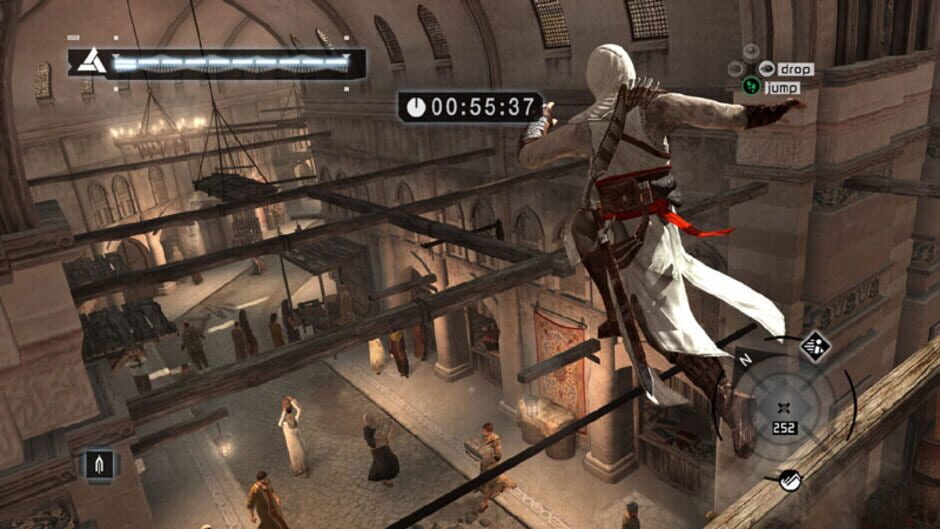 Alas, Assassin's Creed feels like more of a disappointment than anything else. The free walking and parkour and everything else I mentioned is a lot of fun and seem to stay in the whole franchise, so I'm looking forward to actually playing the second game and the rest of them… but I'm not going to play more of the first. We've killed like three or four of the templars already and there are way too many hints that Al Mualim is the traitor… so, in the end, it was just a disappointment.
I didn't get to see the Pieces of Eden yet but according to Wikipedia, the game ends with us having access to a map showing the remaining pieces on a world globe of sorts. Those pieces will allow Abstergo to control the thoughts of all living creatures. So, uh… the franchise consists of Abstergo finding the location of the pieces by using the memories of the different assassins all over the world… I guess?
Assassin's Creed is a franchise that can be fun, probably, but I don't like the first game. The first game seems to be like a setup for the rest of the franchise. A test of sorts. In the end, it worked out. I own all the games. I don't know why I own them all. I'll play through a bunch of them and I hope that it gets better with the gameplay variety. I think I still enjoyed AssCreed more than the first Witcher game but whatever.
Starting next week we'll fill in the Friday-Slot with a different game. Possibly with Portal 1 since I haven't played that game in ages… We'll see.
Either way, I hope that you liked this quick little trip into the world of the famous AssCreek. Have a wonderful day!
Cheers!
This post was first published on Indiecator by Dan Indiecator aka MagiWasTaken. If you like what you see here and want to see more, you can check me out on Twitch and YouTube as well.