At this point, thirty minutes ago, StuffedWombat, the developer of Gutwhale, asked on Twitter what long term effect this 1000+ game bundle will have on the people that will buy games/that have big gaming backlogs already… and well,… here's my answer to that.
When I speak of "this bundle" I mean the Bundle for Racial Justice and Equality that the itch.io people put together featuring tons of great games and other lesser-known titles. For the next few days, you get about 1637 items by 1304 creators at a price of $5… instead of a regular price of $9,083. For only five bucks you can not only support the charity but also unlock DRM-free copies of MidBoss, Night of the Consumers, Odd Realm, Beacon, A Short Hike, Celeste, Overland, Night in the Woods, Long Gone Days, Tonight We Riot, Catlateral Damage, Nuclear Throne, Minit, Death and Taxes, OneShot, The Stillness of the Wind, a bunch of RPG assets, Fossil Hunters, Last Word, Crest, Pyre, Mon-Cuties for All, Octodad, and many more!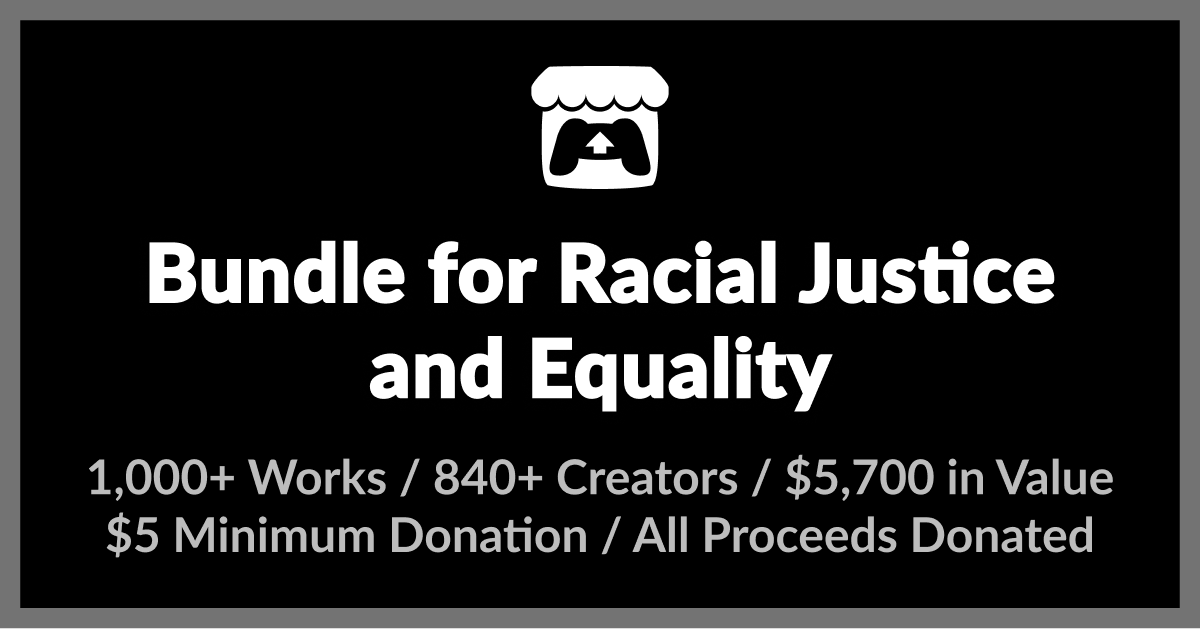 There are a ton of titles in there that I've got wishlisted on steam for a while now or that I've seen screenshots of over on Twitter and that I wanted to review for my blog and now I've got them all… for five bucks. Sure, I own a lot of them already and some of these titles (like the RPG maker assets) are probably not going to get installed any time soon… but regardless of that there's a ton of value in this package as well as a great cause as all proceeds will be donated to the NAACP Legal Defense and Educational Fund and Community Bail Fund split 50/50! Isn't that lovely?
But now, back to the original post idea: StuffedWombat (jokingly) said that people won't buy any small games any time soon as they already have so much to play, which leads to the question of if that's true.
I personally have a fixed budget for each month that gets spent on free-time-activities, be it new books, games, going out with friends or games. With the lockdown being a thing "going out with friends" is not much of an option for me personally and with my backlog of books being a thing and exams coming around the corner, I don't really need new books, to be honest, so naturally, I spend a lot of it on these kinds of things. This month, for instance, I've purchased this bundle, used my twelve bucks on Humble Choice, and bought Sea of Thieves, so that leaves me with little to nothing else.
By limiting myself to a certain amount of money I don't get to go on these spending-sprees when the different sales are around the corner, like the upcoming Steam Summer Sale.
…and since I didn't spend all that much last month, I decided to donate twenty bucks to the Trevor Project as part of our recent charity-stream and donate some money to some other projects. I feel like that's a good cause and ever since I quit smoking two months ago, I've got more money available for games, which is a good thing. It's a bit of a motivational thing.
Now that I own this bundle, I obviously won't need to spend too much money on titles in this bundle, right?
Well,… technically yes. I guess I won't have to buy titles like Pyre or Tonight We Riot as I already own them… but I kind of want to also have them on Steam, if that makes sense?
Nuclear Throne, for instance, was one of my first purchases on Steam. Regardless of that, I also own it on the Epic Game Store and (now) twice on itch.io thanks to huge bundles. Do I need this game four times? No. Is it worth it? Hell yes. It was free on Epic Games but Epic Games doesn't feature a lot of the features that I like in Steam like Achievements or INGAME SCREENSHOTS, FFS. WHY THE FUCK IS THAT NOT A THING YET? – sorry, I lost my composure.
And well, itch.io is something I browse now and then, but I haven't made any purchases on here apart from the bundle for racial justice and equality as well as the COVID-relief bundle.
And there are still plenty of games on my steam-wishlist like Firewatch that I really want to play someday that we don't have in this game yet. If it ends up to be in the upcoming steam summer sale, I'll happily grab it if my funds allow it. And that although I already own 700+ unplayed games. I'm already spending a lot less on games and my backlog is shrinking slowly (if you don't look at the pile of 1000+ games from itch.io that I now have) but regardless of that there will be times where I'll buy releases that I find interesting, simply for the sake of owning and eventually playing them.
Of course, eventually, I'll have to limit the funds that I can spend on free-time-activities. When I have to deal with taxes and kids and pets and stuff, I'll have different priorities. When I have a cat, I reckon that that cat will get a separate set of funds dedicated to its food and toys and whatever… and whenever I need to, I'll reassign the game-funds to it or my food-funds or whatever. Yup, sounds like a fool-proof plan to me. Obviously, the game-funds would have to decrease… but I'd also have a job then, so that'd mean… more money! Maybe I'll be able to work through my backlog and review more games, that way, but for now, I think my limited funds are alright. It's an alright measure.
And to get back on track, people will always spend money on games. Even if some of us will spend less in the future, we will still spend now and then and support the (Indie) Game industry in one way or another.
And that's fine. I doubt that any devs will have to fear that they'll go extinct eventually. And I'm sure among all the hoarders and buyers there's plenty of indie game promoters that have to buy games to get their blog posts and youtube videos and whatever out, so at least those will fuel that ever-raging and never-ending fire called the "backlog".
Either way, I hope you've enjoyed this post. It's a bit of a silly prompt, I guess, but I wanted to give my two cents to the topic and also mention that I plan on getting a cat once I'm done with my studies. Lovely.
I wish you a wonderful day.
Cheers!