What does it take to become a good mercenary? What does it take to outwit your opponents, to survive? What does it take to escape the Sergasso Nebula?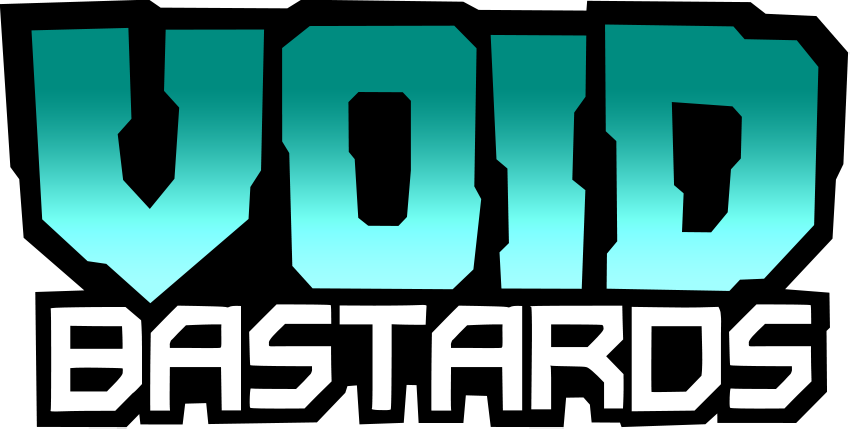 Well, according to today's game, Void Bastards, it only takes water, prisoners, and a whole lot of sneaking.
In today's Indietail we're taking a look at Void Bastards, a rogue-lite Stealth-Shooter that could probably be best described as FTL meets System Shock. You play as one of many prisoners that get sent through the Nebula to eventually just escape its fangs. On your way, you've got to manage resources, fight or outwit enemies, chose between different paths to take, and routes to walk through.
Developer: Blue Manchu
Publisher: Humble Games
Genres: Stealth, First-Person, FPS, Action, Rogue-lite
Release Date: May 28, 2019
Reviewed on: PC
Available for: PC, Switch, Xbox One, PS4
The framework gameplay revolves around you navigating your tiny little escape pod through the nebula by choosing different paths and ships that seem to be procedurally generated. This aspect reminds me heavily of "FTL: Faster Than Light", which was quite pleasant as it directly contrasts the seemingly action-heavy inner gameplay-loop that revolves around sneaking and shooting. There are a lot of different ships to explore from shopping ships, manned with only gun-point-turrets at max, to medical bay ships or cargo ships. Each of these come with different supplies, loot tables, allies, and enemies.
When you board these ships, you've got to find the next exit and loot the ships for items, resources, and materials. Obviously, you can also just move past the ships and skip out on potential dangers at the cost of loot but I usually ended up just going for the looting-experience as I felt that it would be too much of a waste.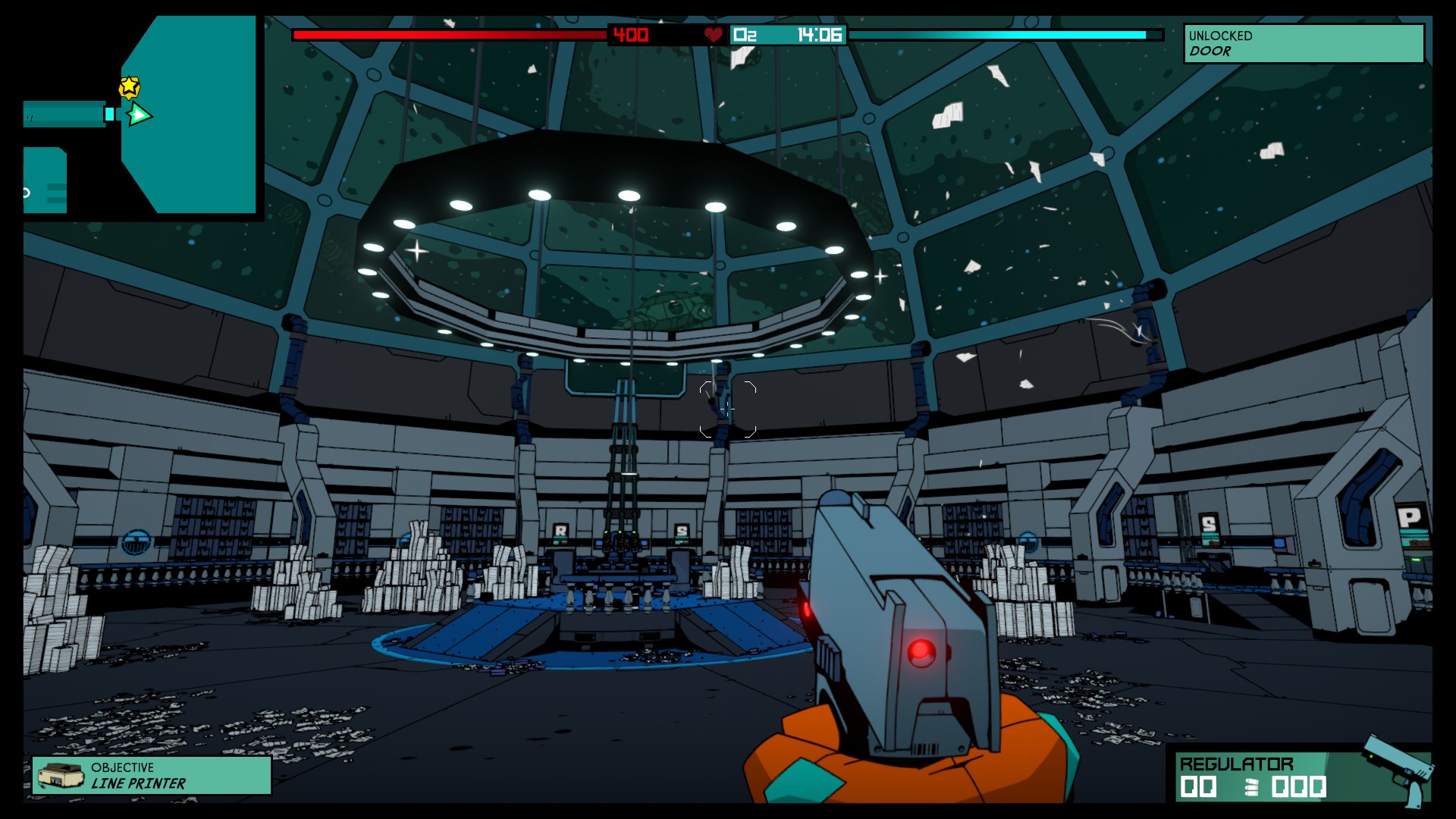 The different ships all feel different.
There are different musical pieces as well as different layouts that these ships can have, resulting in a unique experience whenever you board a ship.
In the beginning, you're only equipped with limited ammo as well as weak(er) guns but over time you'll upgrade them – and throughout your runs, you're able to keep all the upgrades as merely your player dies and as there are plenty of other convicts to send out in the Nebula, each equipped with their genetic traits, making the experience rather unique similar to how your genes make you taller or colour blind in Rogue Legacy.
While I used to just run and gun every ship, trying to get as far as possible with my limited ammo, I quite often ended up dying prematurely due to missing ammo and/or drastic actions, but that's not what Void Bastards is about. In the beginning, I also didn't see the comparison to Bioshock but over time I came to realize:
It's a stealth game.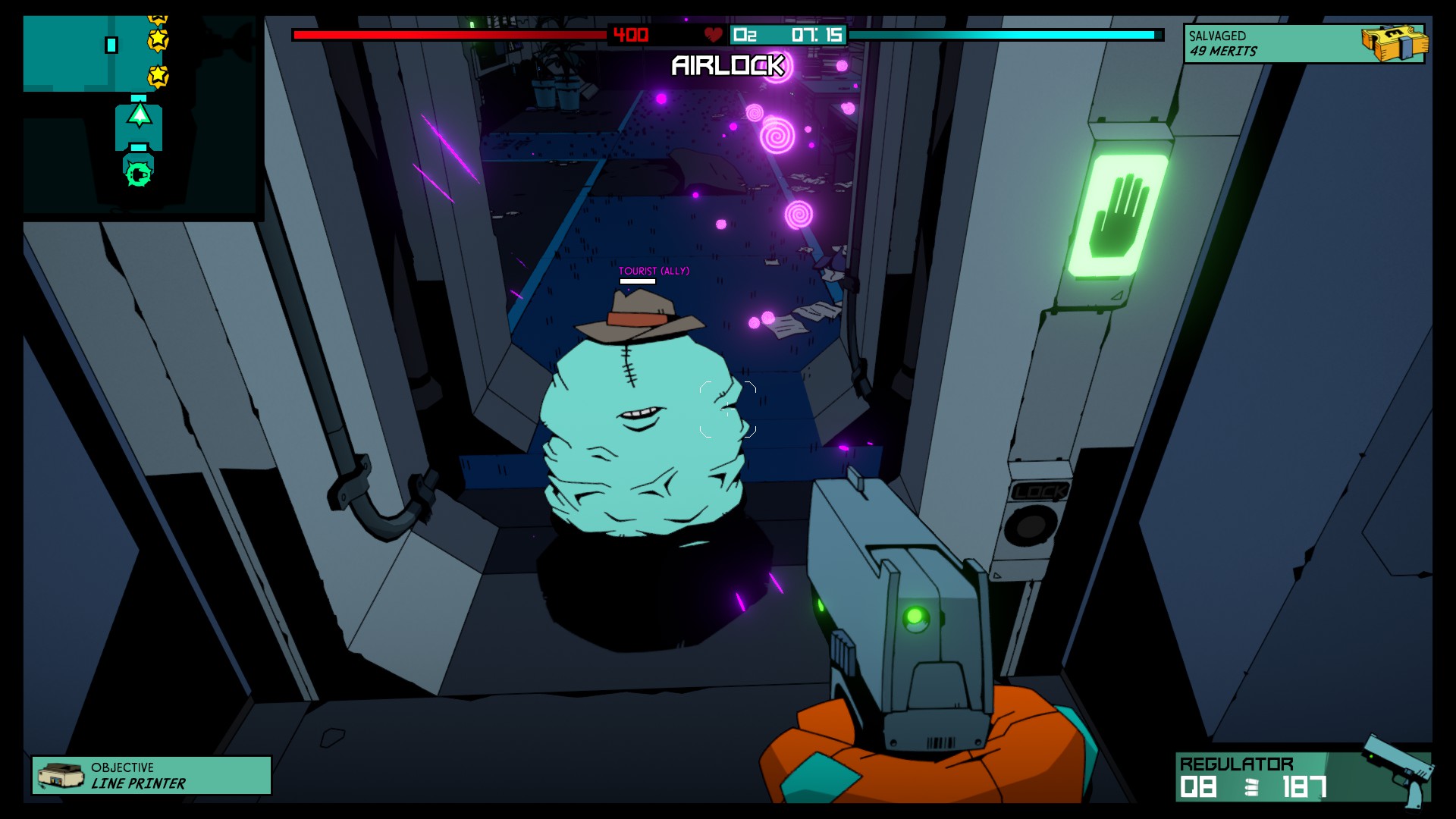 Just because you have a gun, that doesn't mean you've got to use it.
You don't have to kill most people and usually, you'll end up getting killed if you take on too many or the wrong enemies. Essentially, the best way to survive in this game is to sneak past enemies, to lock doors, potentially trap enemies in different rooms while looting ships and making it further and further into the void. Your gun is your friend but more often than not you should just rely on sneaking and immerse yourself into the unique atmosphere that each ship has.
Every sound you make can be the last sound you make. A neat little gimmick that the game has is the fact that it displays sounds made by you or enemies on the screen. Thump, thump, thump… Step, step, step… BAM! BAM! You get the idea! It felt similar to XIII, a game for the original XBOX that used to utilize a similar comic-gimmick with the sound-displays, the cell-shading and generally the vibes that this game has as well.
But despite being able to take a trip down nostalgia-road with all the gimmicks and references to System Shock, XIII, or Bioshock… the game still has flaws that can't get ignored, in my opinion.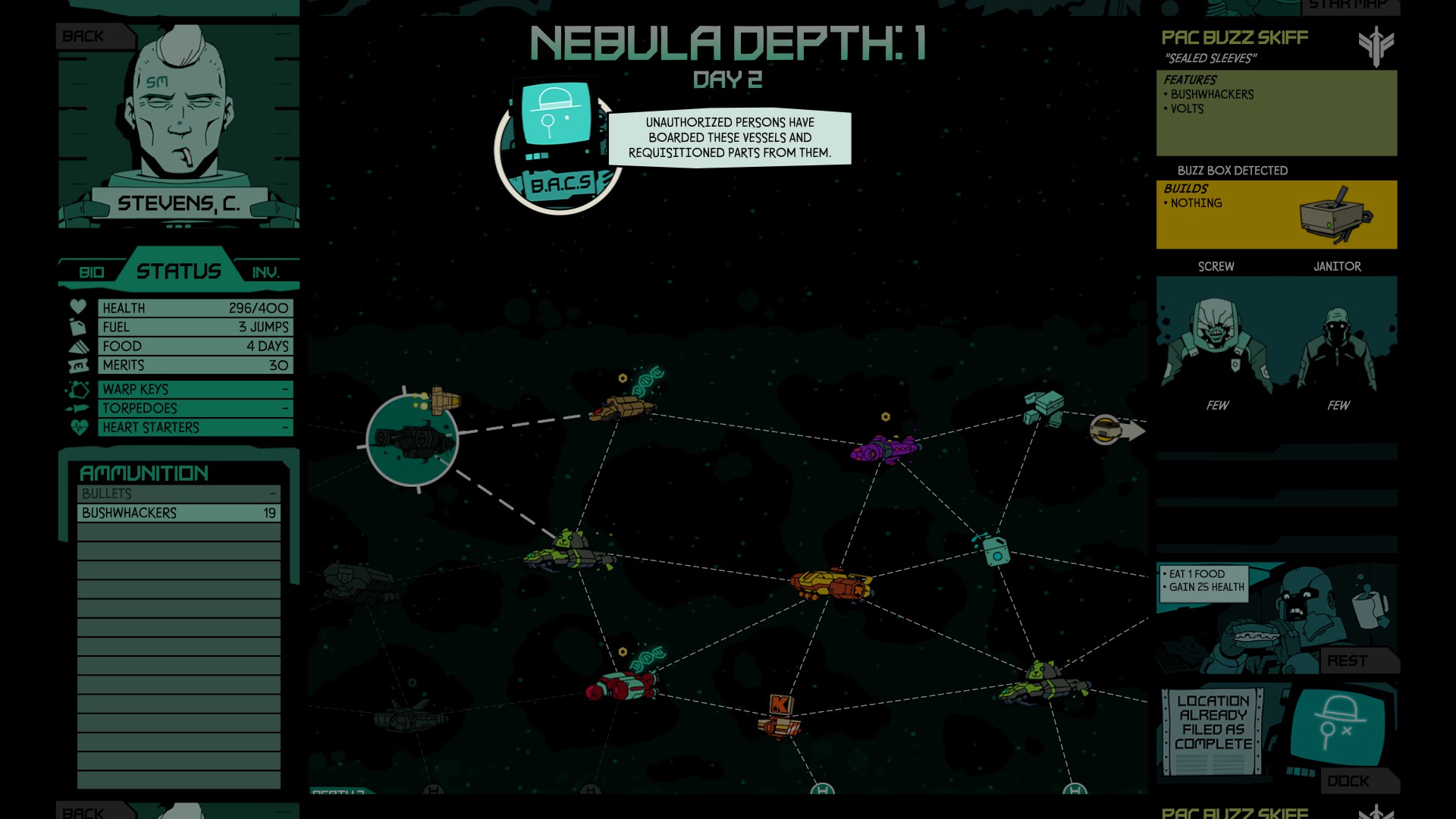 For instance, the game gets rather monotone and repetitive over time.
Monotony-wise…
The soundtrack is monotone and seems to be lacking something as it only features 23 different tracks that all sound way too similar. The game doesn't shine when it comes to the music, which is – in my opinion – a bummer as it really could have done more there and as it really could have been more fun if the soundtrack accompanied you during stealth- or action-passages.
As far as repetitiveness goes…
Part of the reason why I always wanted to rush through the levels was the fact that I felt rather uncomfortable having to face a game like this with its monotone music and all the stealth going on without any action at all. Once you realise that Stealth is your best friend, you have to get married to the idea of being sneaky. Sneaking through ships, looting caches while not getting seen… it's the most successful way of playing this game and essentially you've got the whole game figured out if you get to that point.
And well, the whole gameplay loop may be flawed at this point…
I know that every run can't be completely different when it comes to rogue-likes but I personally found that there wasn't much replay-value there past the first few hours. You already have seen plenty of the game after a few hours of gameplay. Same goes for the campaign… I didn't find it too entertaining for something that is supposed to take "12 to 15 hours", resulting in a bit of a negative experience for me personally. The humour and the initial impressions with the comic-like presentation are rather cool and entertaining, I'd say, but they don't outweigh the other issues in my opinion.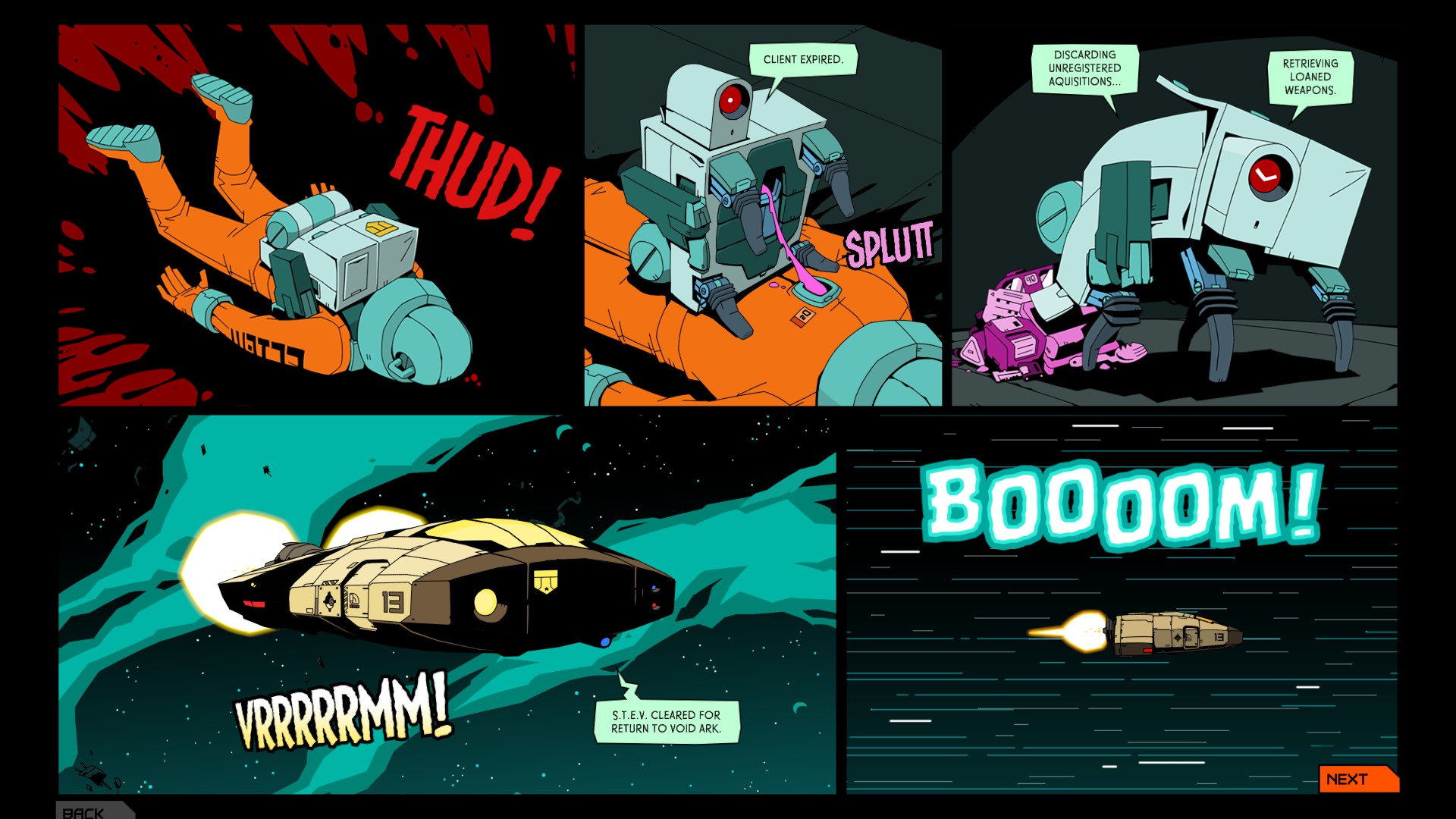 Alas, I don't think that I really can recommend this title. For a game that costs thirty bucks without any discounts on Steam, I would have expected a bit more. If you aren't bothered by repetitiveness in stealth-rogue-lite-shooters, I'd say go for this game… at a discount.
Either way, I hope that you enjoyed this post and I wish y'all a wonderful day. I was really excited about playing Void Bastards but in the end, I got a tad disappointed as the game became stale over time, which is a bummer.
Oh well, cheers!
This post was first published on Indiecator by Dan Indiecator aka MagiWasTaken. If you like what you see here and want to see more, you can check me out on Twitch and YouTube as well. If you find this post on a website other than Indiecator.org, please write an e-mail to me. Thank you!