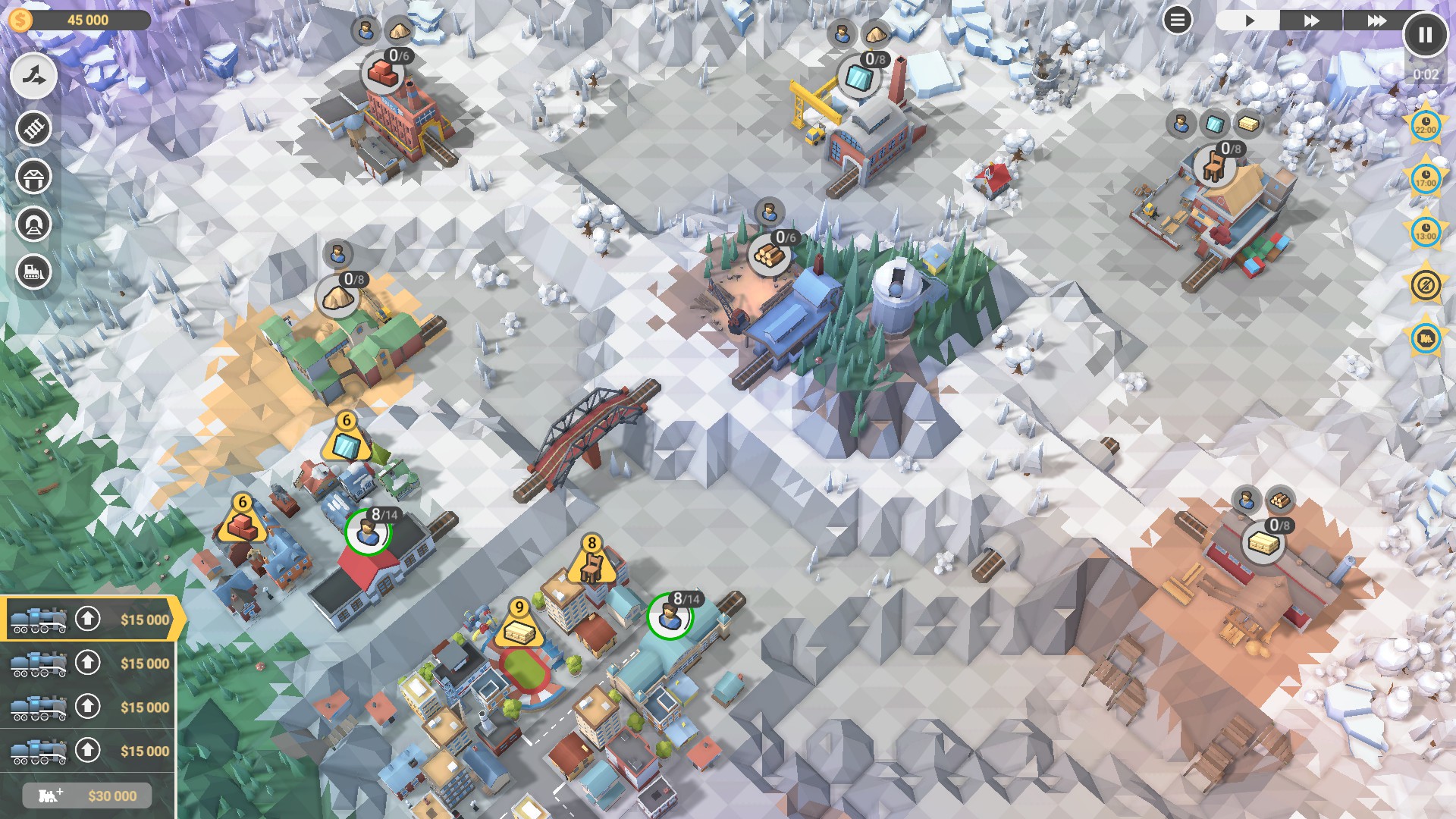 Do you like trains? Do you like simulations? Do you like resource-management-puzzles? If this introduction reminds you of yesterday's post, then you'll probably realise quickly that we're reviewing Train Valley 2 today and that I'm still as uncreative as yesterday!
Developer: Flazm
Publisher: Flazm
Genre: Trains, Strategy, Simulation, Puzzle, Casual
Release Date: April 15, 2019
Reviewed on: PC
Available on: PC
Copy was purchased.
Train Valley 2 is a puzzle-train-sim developed by Flazm, the developer of the prequel, Train Valley 1. Alas, the premise is still relatively the same. You've got different stations that need to be connected using railroads. Building tracks, bridges and tunnels as well as destroying houses and other objects costs money that you earn by successfully guiding trains from one station to the other stations.
The main difference is probably the fact that you don't have the semi-random tunnels, bridges and stations popping up everywhere.
Instead, you've got the task of constructing those yourself. Apart from that, you now have to deliver resources from one station to the next, to get processed resources that then need to end up at different towns. You transport workers from trains to the fields to work on grains. You then deliver the grains and more workers to the farms to get cows. At last, you bring the cows back to the towns to complete the production goals.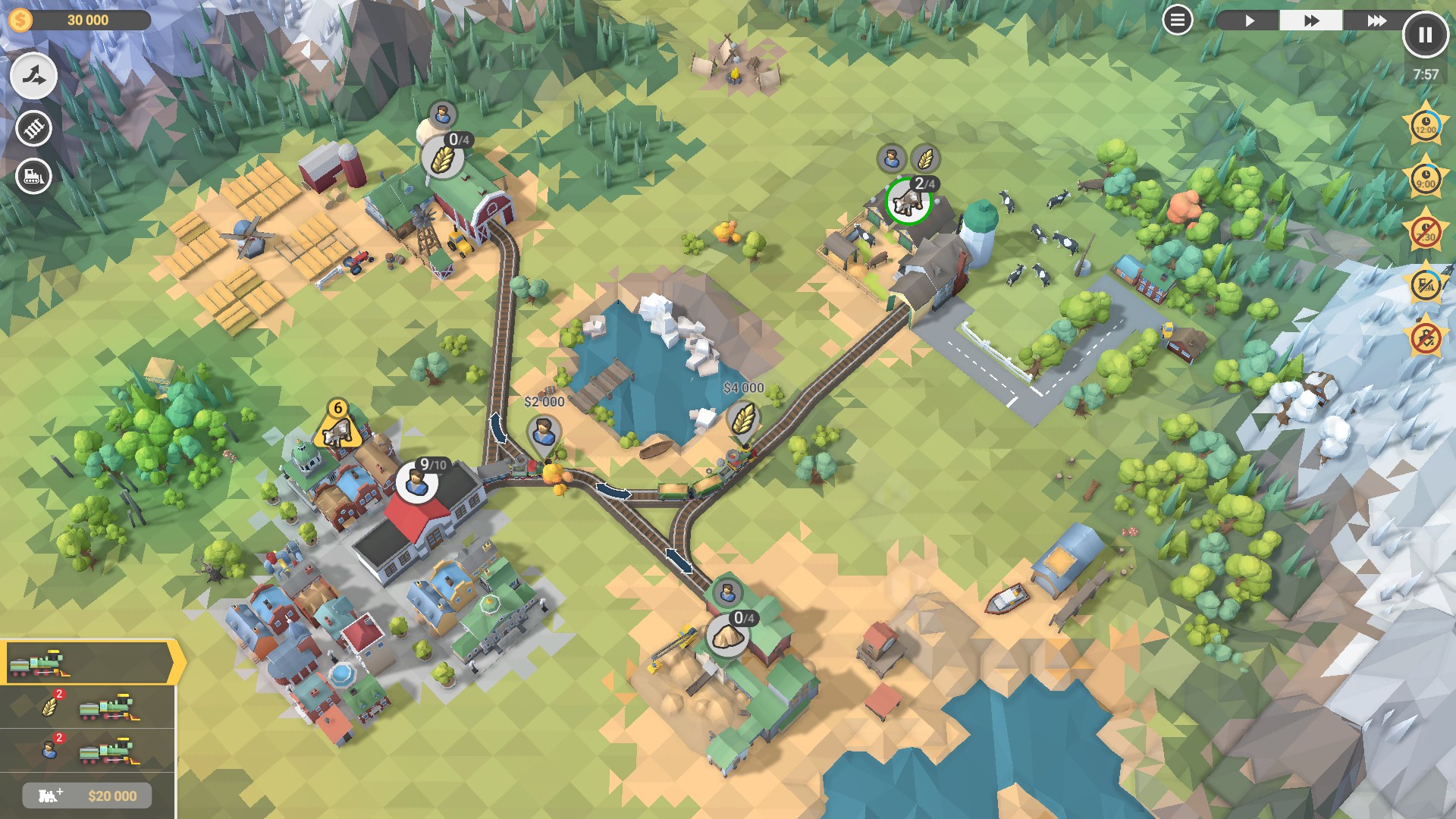 But the game's not limited to only workers, grains and cows but also features a plethora of other resources and processed items that need a lot more steps to get produced!
In the first game, trains started driving off into the distance, causing chaos and destruction, if you took too long. Meanwhile here you have full control, alas having to send them off on your own in a slower-paced fashion, which is rather relaxing and quite a bit of an improvement. The game doesn't get easier, though, as it's more about the decisions you make. You need to manage your funds and decide on which station to build from and to, first, before taking action. Alas, Train Valley 2 can create a relaxing and less frustrating experience while still featuring logic puzzles that are as satisfying and difficult as the ones featured in the predecessor!
Overall, it seems as if the developer, Flazm, stocked up on the quality of life improvements while also adding a lot of features that make the game more entertaining. Challenging yourself in the levels and collecting stars now enables you to unlock different train designs, for instance. Things like these make the challenges worth it, while also providing completionists with some better rewards!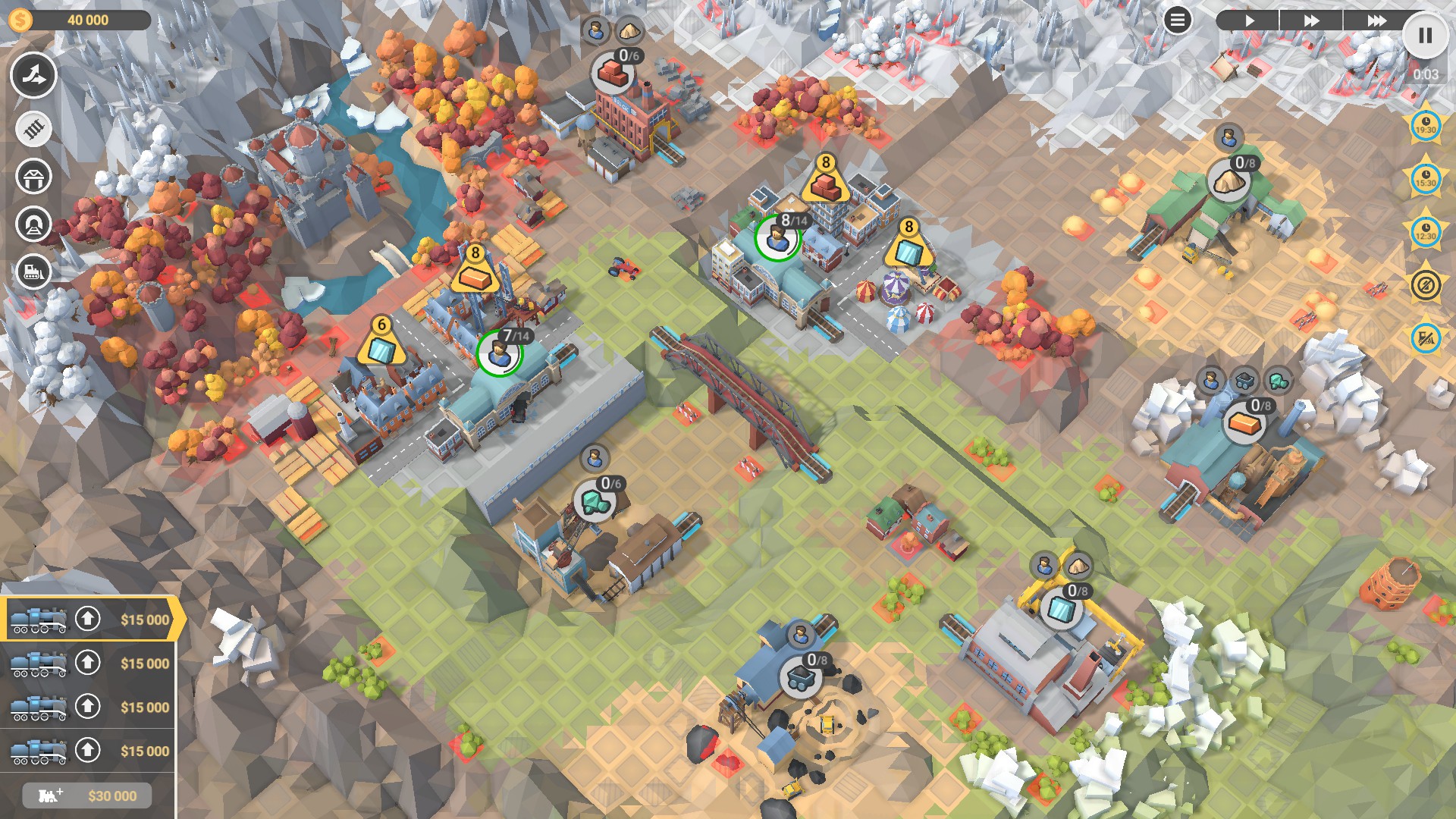 In contrast to the first game's more realistic art style, Train Valley 2 features a rather vibrant colour palette as well as a less detailed poly-based art style.
When delivering materials to the different towns, these towns get upgraded, just like in the predecessor, but it seems to be overall more rewarding. Levels aren't tied to themes, eras and locations anymore but, instead, feature a more general approach, named by some landmark, like "lighthouse" or "Eiffeltower". Despite that, the cities and towns still develop in different styles that aren't necessarily "European" or "Asian", which I personally really dug.
Another new change: You don't go through a century per level but instead work yourself through different ages from the steam age to the electrical era to, finally, the age of space. You can find a total of 50 levels in Train Valley 2, and you have access to infinite more levels due to the Steam Workshop and the player-created levels.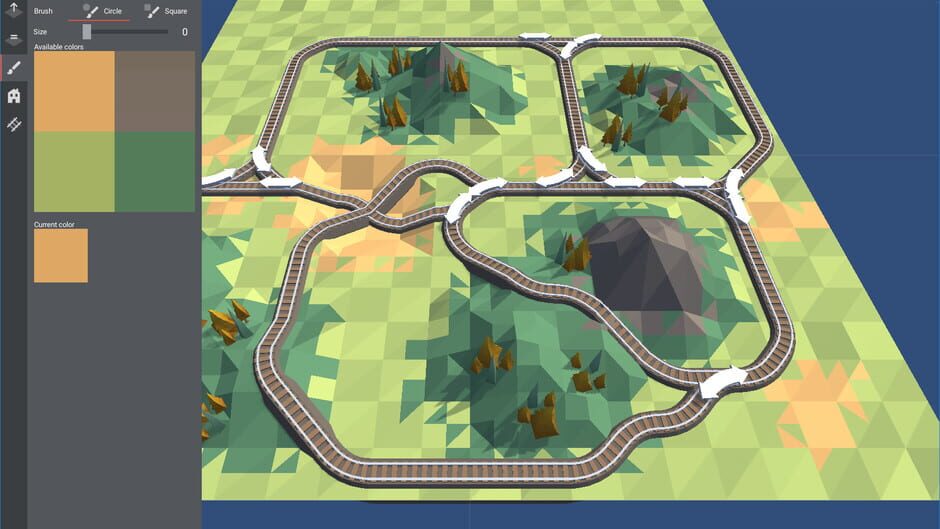 The music, however, is still not my favourite part of the game…or even the franchise.
In the beginning, the soundtrack seems to fit the game, but over time you can't listen to it anymore. The tracks (pun intended) are all way too relaxed and calm. At some point, I got so tired of the soundtrack that I ended up turning it off and listening to some other music that fits the game just as much but is a lot less monotone. The problem with the soundtrack is probably the fact that it all sounds similar if not even the same. If someone played the Train Valley soundtrack, I wouldn't be able to recognize it at all, which, in my opinion, is what makes a great soundtrack great. It either fits the game atmospherically or it adds more value to your experience. Train Valley 2's soundtrack seems to fit but gets annoying over time and alas, in my opinion, is not good.
On top of that, there are some issues with the bridge/tunnel-construction.
It's a tad difficult to see the terrain differences and where you can lay down tracks. In some places, you need to create bridges and tunnels although it may look like you're able to just place tracks up the slope. When you want to construct bridges or tunnels, it can also become rather fiddly, to the point that it almost becomes frustrating.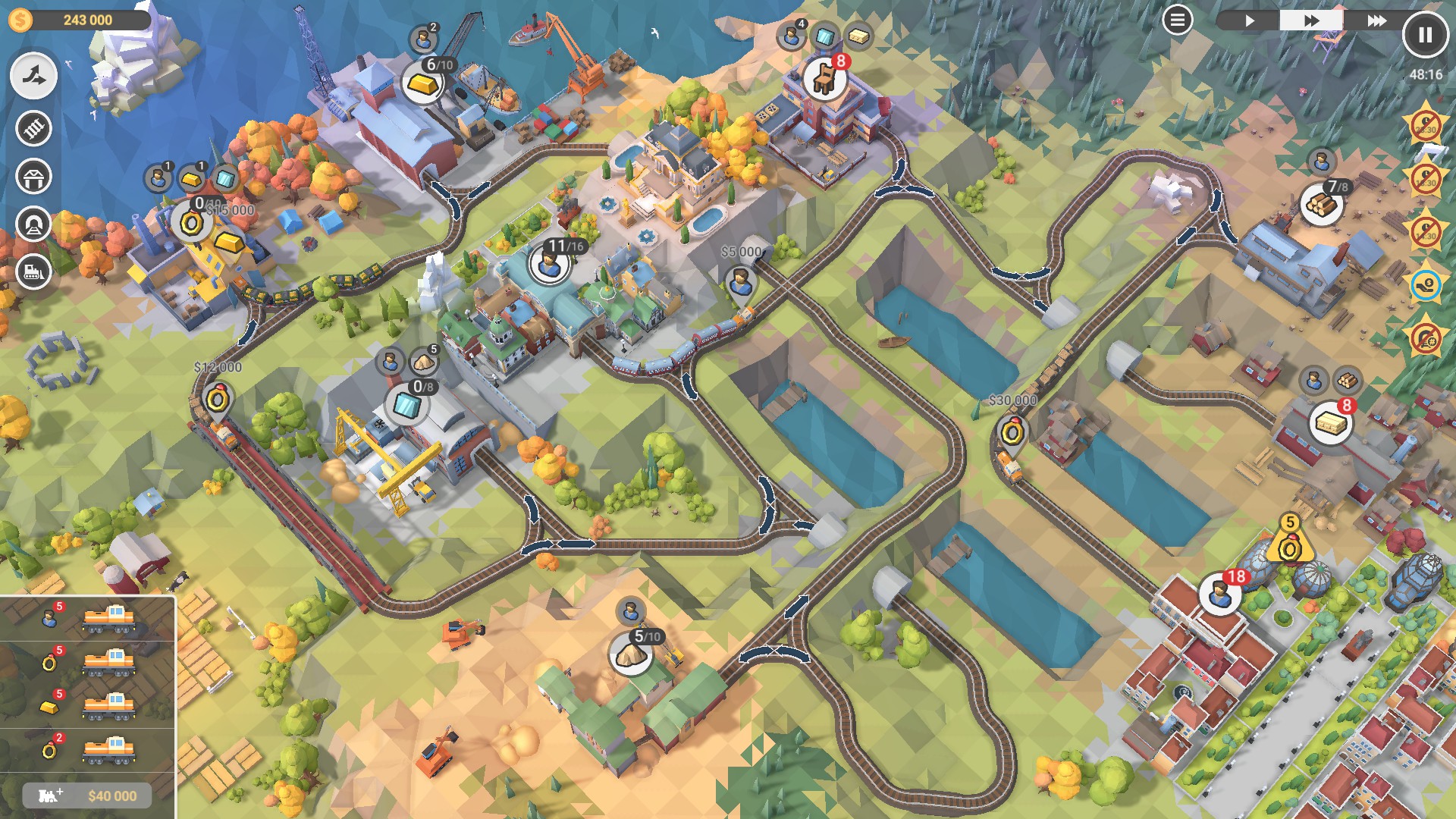 That being said, I don't think that this is a major flaw and while it can be a bit annoying in the beginning, you'll get used to the controls over time and eventually learn how to use it just fine. My overall experience with the game was really satisfying and I did enjoy my time a lot, especially since I noticed the improvements from the first game.
Both Train Valley and Train Valley 2 are great games that you can get for around ten bucks. Train Valley 2 brings a lot of value to the table on top of the workshop content, which is just fabulous for games like this. If you like puzzle games and/or trains, I'd say go for it.
Cheers!
This post was first published on Indiecator by Dan Indiecator aka MagiWasTaken. If you like what you see here and want to see more, you can check me out on Twitch and YouTube as well. If you find this post on a website other than Indiecator.org, please write an e-mail to me. Thank you!