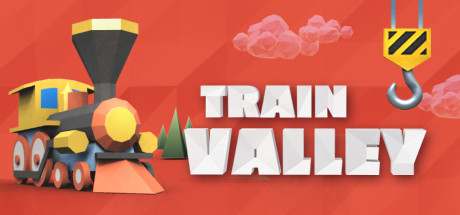 Trains are quite cool, aren't they? They look cool and they're fast and it's a disaster when they crash into each other and I lost my train of thought, so I'll just say that today we're taking a look at Train Valley, a casual train-sim-puzzle by Flazm!
Developer: Flazm
Publisher: Flazm
Release Date: September 16, 2015
Genres: Puzzle, Trains, Simulation, Casual, Strategy
Reviewed on: PC
Available on:  PC, iOS
Copy was purchased. 
The overall premise of the game is rather simple.
The player has to build railways in order to connect different stations within a plethora of cities and times. They then have to manage the increasing traffic by creating crossroads and switches and by destroying old or building new tracks… and while the player is doing all of that, they also have to try to not go bankrupt while fulfilling different goals such as "no train crashes" or a certain amount of money that needs to be earned or others.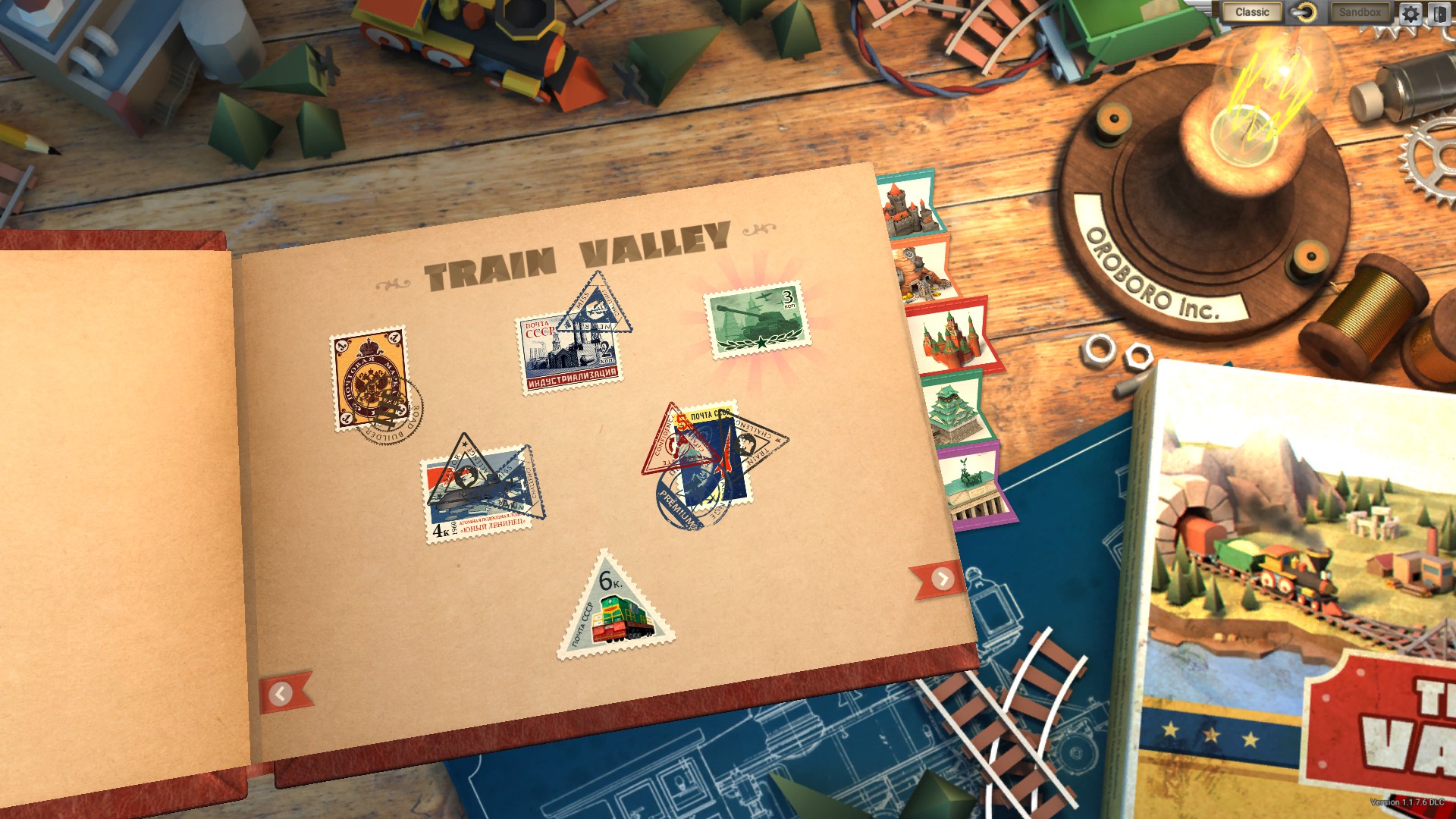 The 2015-title features four different chapters with six levels each, letting you construct train-tracks in a total of 26 different levels and in four different eras and areas:
Europe (1830 – 1980), the United States (1840 – 1960), the USSR (1880 – 1980) and Japan (1900 – 2020). You also are able to get Germany (1880 – 2020) as a DLC for a total of 30 levels.
The different areas are insanely adorably designed feature a lot of details like different build styles and landmarks that the areas are known for. On top of that, the buildings also change their shape and style the longer the level goes on, indicating the progressing time, which is an interesting detail.
And well,… you control trains. It's quite cool.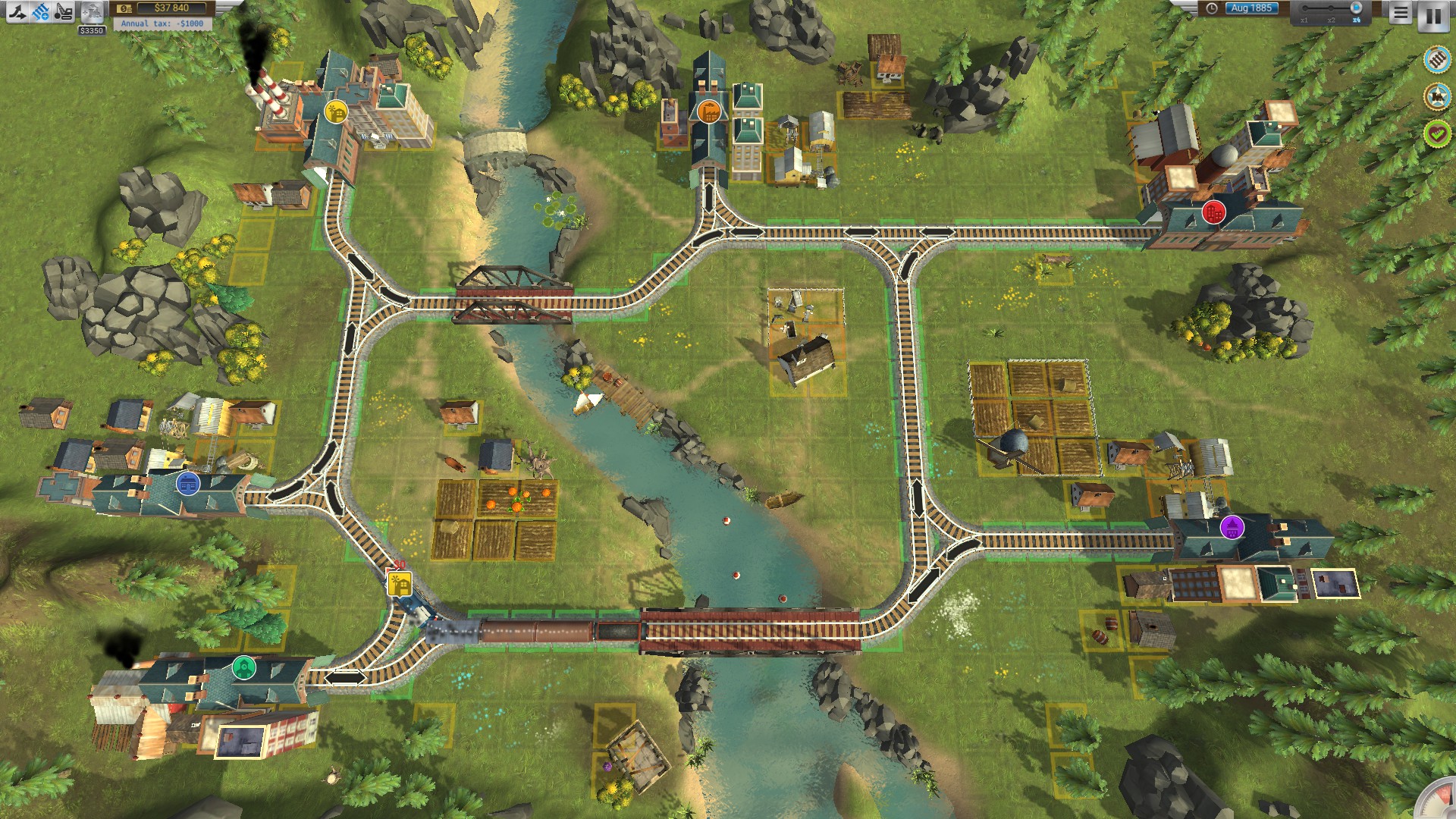 By sending trains to their destinations you earn money while you lose money yearly or when the trains arrive late. By sending out trains to different areas, you also seem to develop those areas, resulting in villages turning into towns and towns turning into cities, which is quite neat. I really enjoyed this part of the game as I was able to see big skyscrapers rise when we just had small houses a while ago.
And while the premise is rather simple… the game can be quite tough actually.
There are some levels that are hard to crack as your funds are limited and as you have to watch so many different things. Destroying buildings costs you a ton, so you have to be careful or you end up bankrupt again, which is essentially your biggest enemy in the game.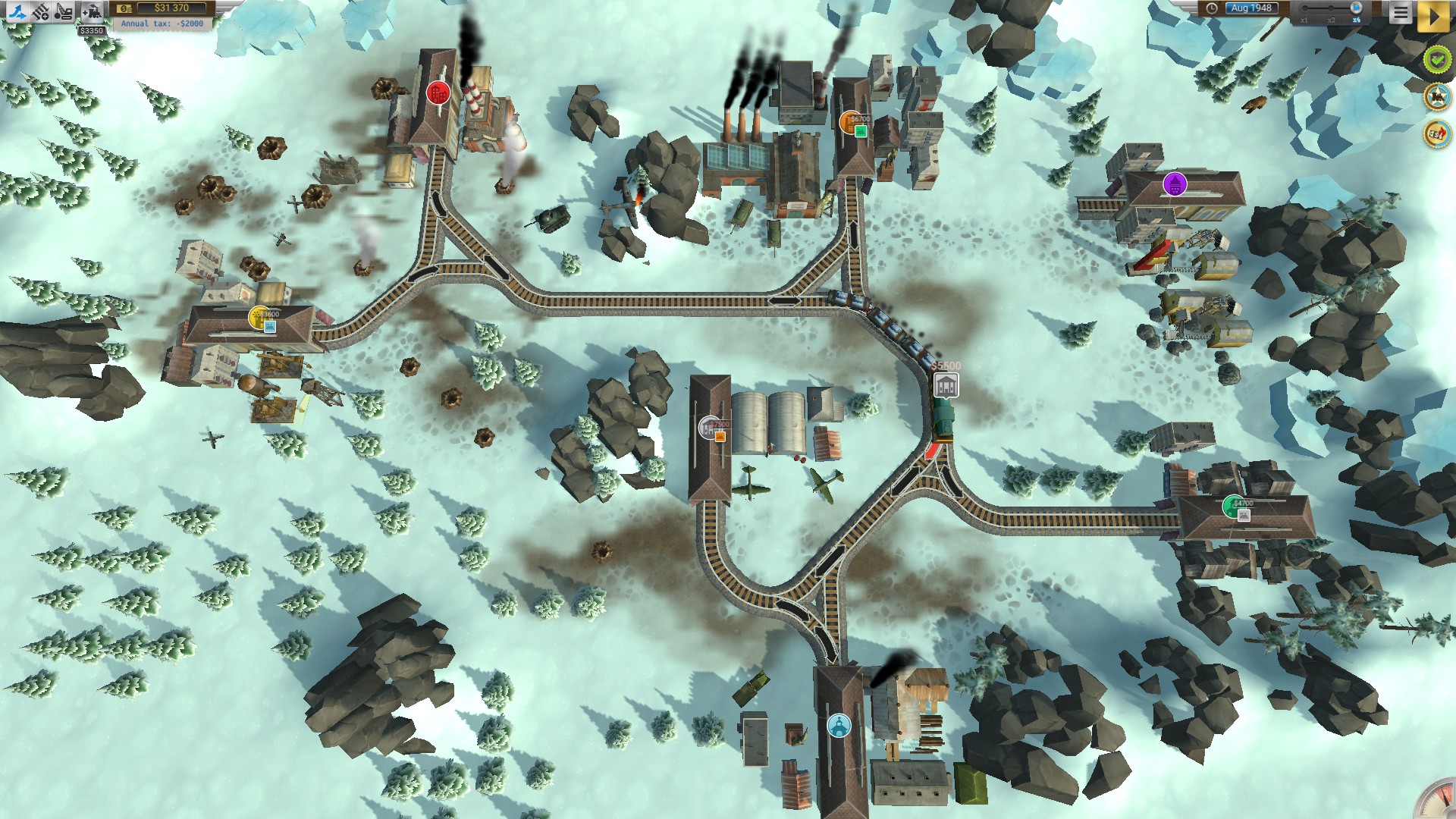 If you're not that much into puzzling but you still very much enjoy train games, fear not, this game has got you covered!
There is a sandbox mode for this game. Alas, you can create tracks and send out levels without any pressure on every level of the game, resulting in a rather pleasant experience. You can't create your own levels, from what I've seen, but it's still rather relaxing and enjoyable.
The experience is further enhanced by a total of fifteen different types of trains from steam-powered locomotives to modern-day high-speed-trains… and there are also eighteen different types of cars as well as a lot of other details hidden in the game, resulting in an overall rather pleasant experience.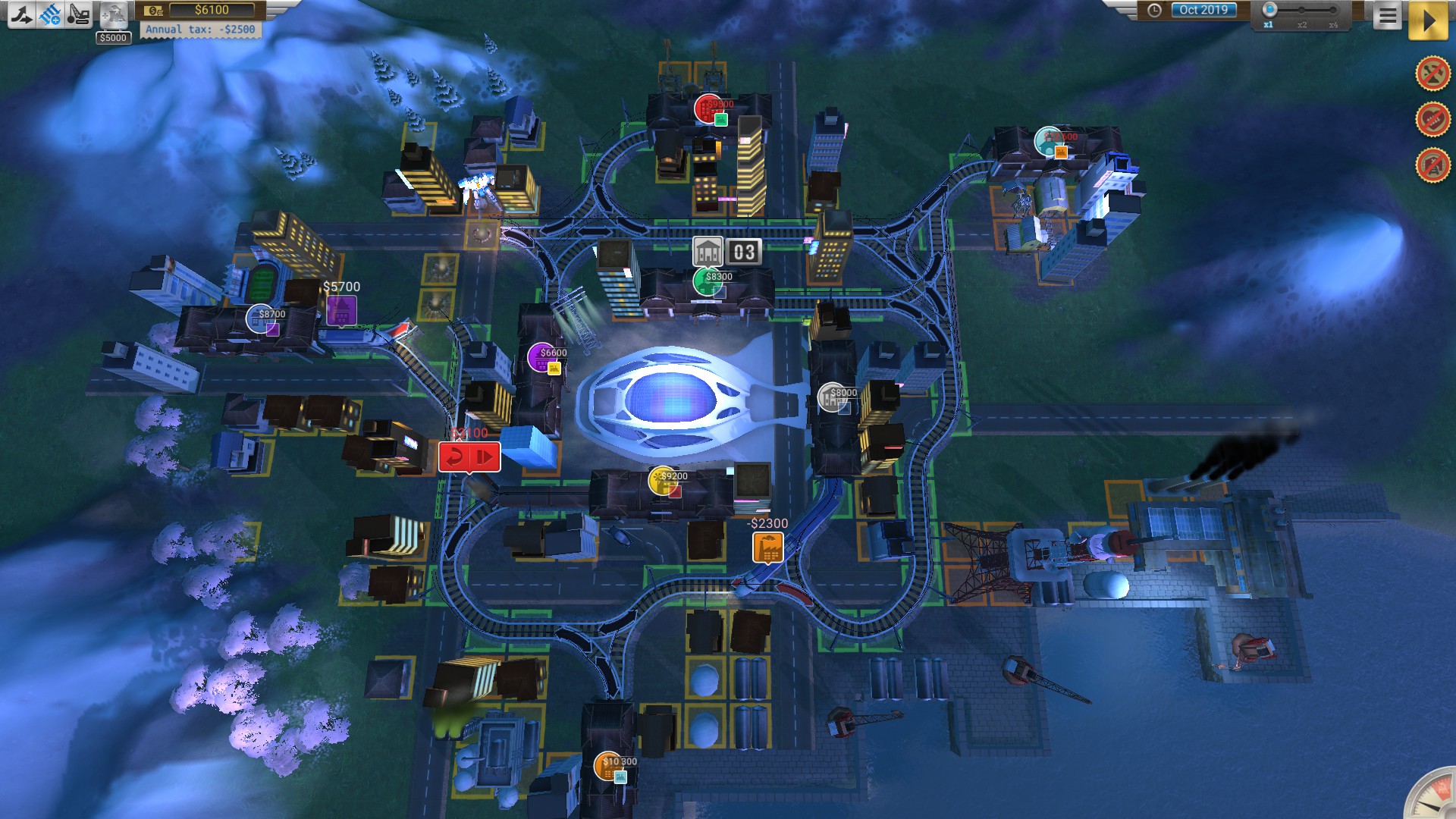 Despite the initial praise, however, I've got to say that there are some issues here and there.
The music, for instance, is rather annoying once you played for a while. Each area has a different soundtrack and while it is quite neat in the beginning, I had enough of it after only two hours, resulting in me muting the game…
And then there are some levels that seem a tad too frustrating… I would have liked a "hint"-button of sorts and I would have enjoyed it if you could access the next level even without playing the level before that. Sure, the next level is harder than the previous one… but I really hate that one Tokyo level, so I don't want to play it anymore and just go for the next one. Sadly, I can't do that, which I personally find annoying.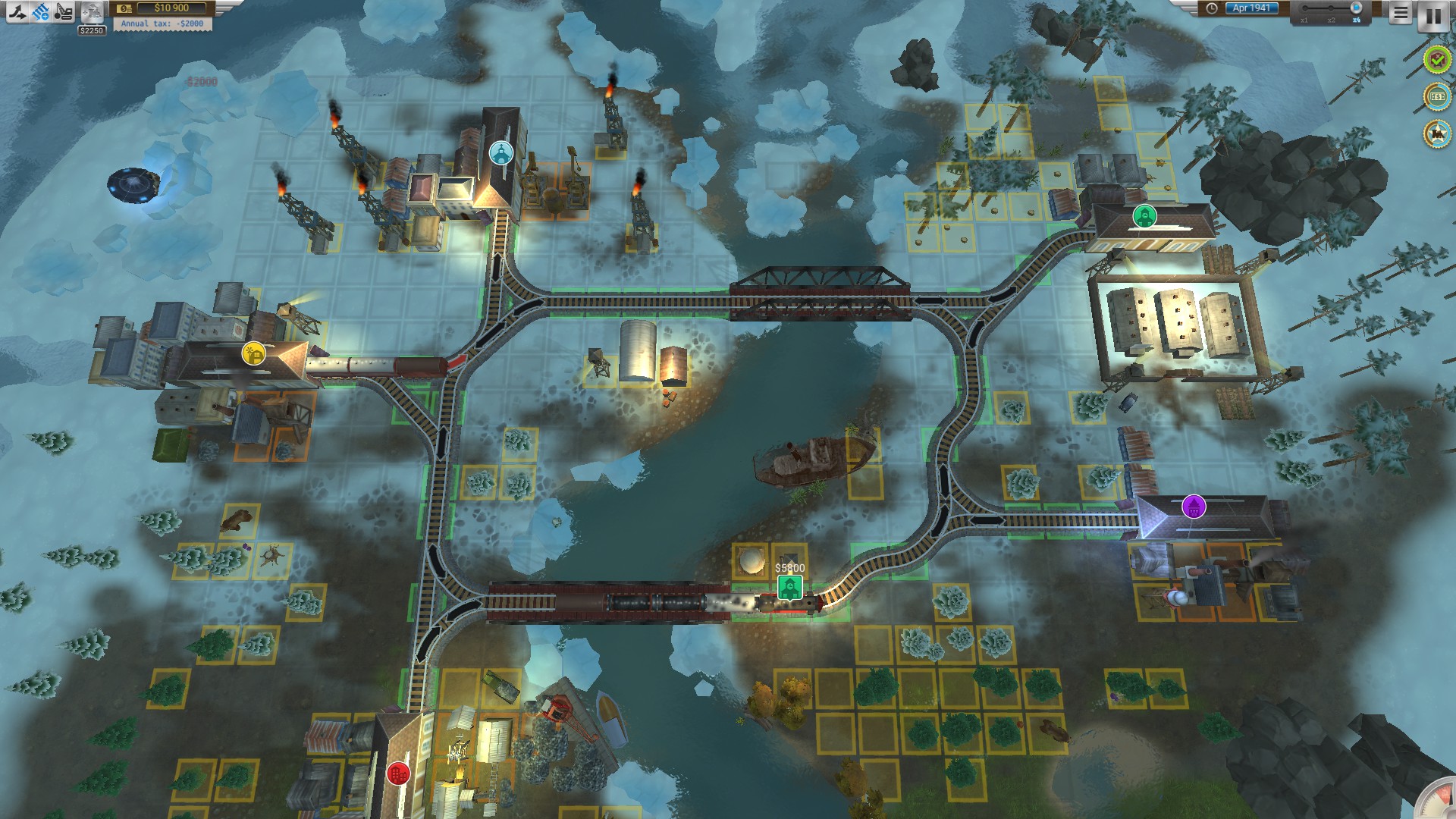 Apart from that, there aren't any other flaws, in my opinion. I played the game for a total of ten hours and really enjoyed my time, despite it being so simple. For ten bucks you get a bunch of value out of it. It's quite relaxing and adorable, the presentation is nice, the puzzle-parts can be tricky and despite my rather long playtime for such a short game, I'm still not done with it!
Therefore, I can really recommend this game to everyone who likes trains. It's a fun puzzle game with very relaxing train-sim-aspects to it as well as a super adorable presentation, only flawed by the music that I personally didn't really like.
I hope you enjoyed this review. It's a tad shorter but in the end, that's alright, isn't it? Have a nice day!
Cheers!
This post was first published on Indiecator by Dan Indiecator aka MagiWasTaken. If you like what you see here and want to see more, you can check me out on Twitch and YouTube as well. If you find this post on a website other than Indiecator.org, please write an e-mail to me. Thank you!