I'm not exactly a dog person. I always thought that I'm not fit and active enough for dogs and hence I never considered if I wanted to have a dog. Obviously, with how the market is, it would be hard to find a flat or anything that would be dog-friendly and alas, I'll have to rely on other media to maybe live that experience of owning a dog and taking care of it. One of these mediums is Best Friend Forever, an attempt to mix the genre of dating sims and management-types.
Developer: Starcolt
Publisher: Alliance
Release Date: August 27th, 2020
Genre: Dating Sim, Visual Novel, Management
Reviewed on: PC
Available for: PC, Switch
Copy was provided by publisher.
After having worked at a big corporation and after some other experiences, you, the protagonist, decide to move to Rainbow Bay. Rainbow Bay is the dog-friendliest place in the world (?) and essentially, the to-go city for everyone who's searching for a cute little doggo and potentially even happiness, success and other good things. At least, that's what the city means to our main character.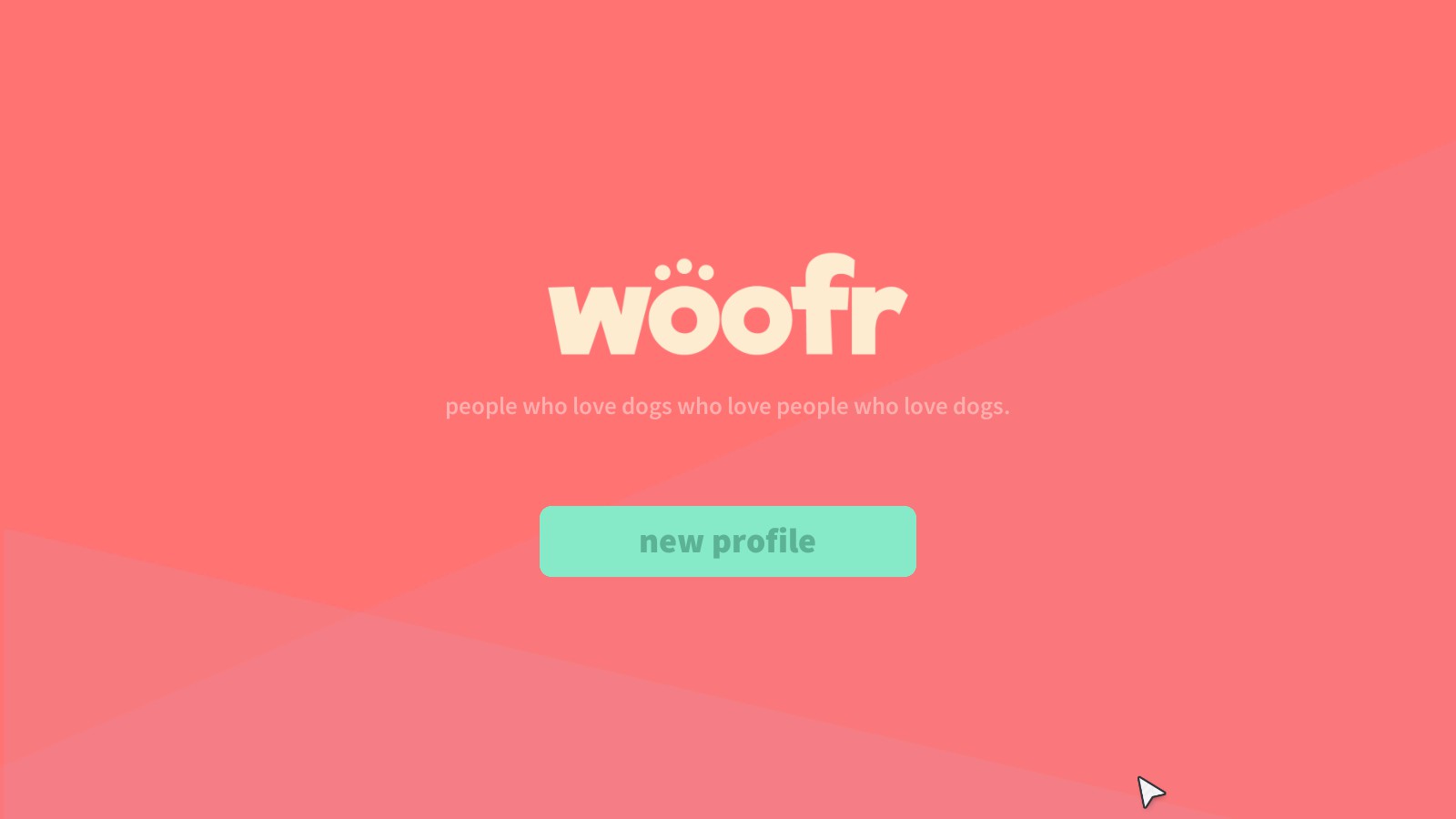 Early on, you're prompted to type in your pronouns, blood type, Zodiac, and name before you're getting unleashed into this short Visual Novel where you adopt a dog, take care of it, and where you try to find love… or something like that. On top of that, you also get to meet a vast cast of different characters that are all quite special in their own ways! Awoo!
From the get-go, I noticed that this game is quite different. We had some weird questions that we needed to answer for our Woofr profile, at the beginning. It's a Visual Novel after all that is all about your little bowwow. You spend a lot of time picking up and throwing away your dog's faeces or petting it or training it. Yes, you heard right: You can pet the doggo. It's an interesting mix and I kind of like that about this title:
You get to date all kinds of characters and you get to min-max your dog's training schedule to pass the dog school's exam! Hell yeah!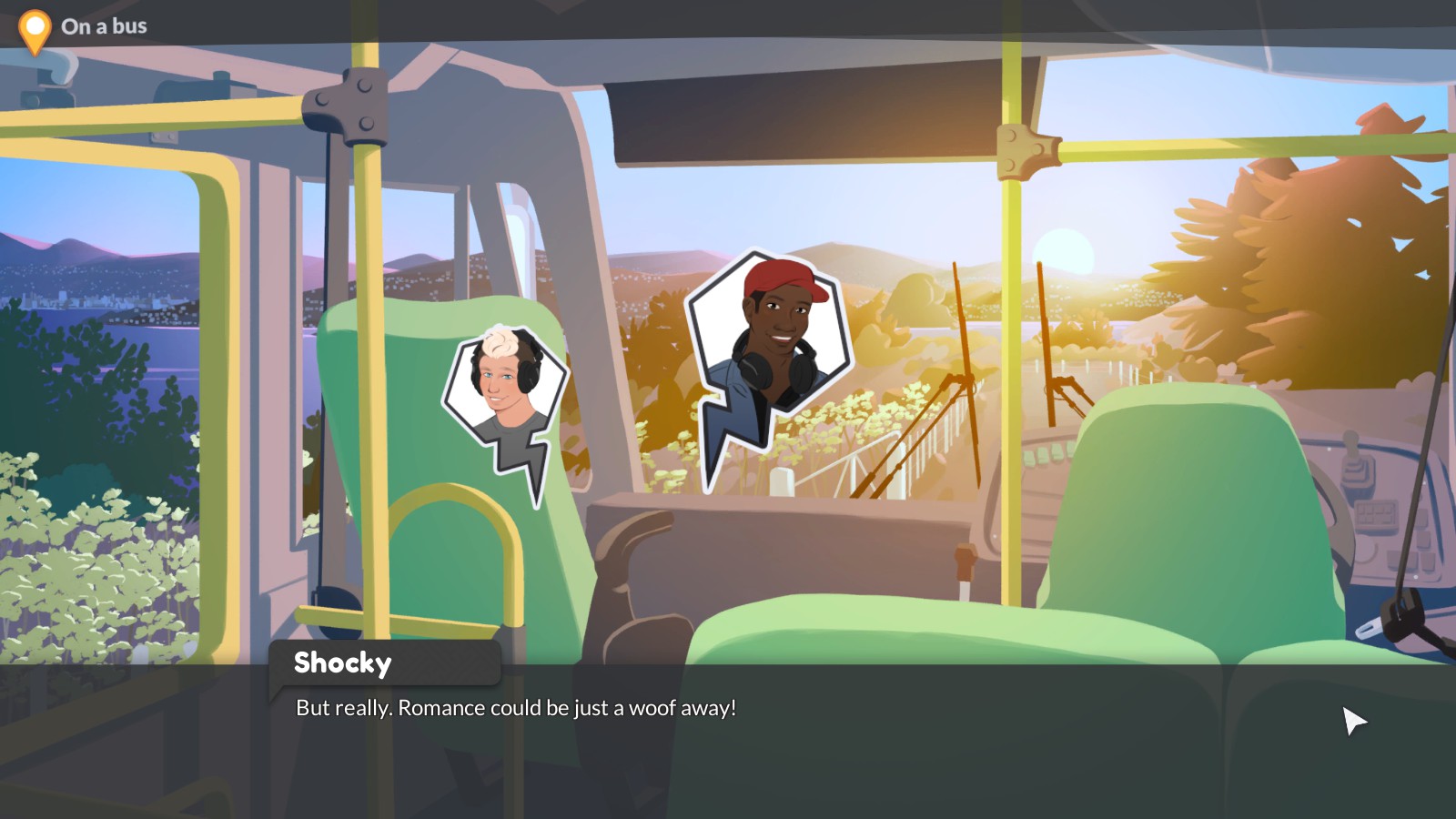 While getting to know the characters, you stumble across different events and you have to decide where the conversation goes. Picking one of the options available to you usually results in people liking or disliking you – but you can also chicken out and go for a neutral approach that is somewhat boring, I guess.
And the game spans around 15 weeks that you have to spend training your tail-wagger. To do that, you plan your days with them by either going to encounters with the different people or by participating in Pawspirational Events (that have a chance of raising certain stats) or by participating in randomly-appearing Dog Events.
These Dog Events range from your furbaby getting scared to it leashing out a bit or to it pooing on the floor… usually, you have to either move your mouse cursor in certain motions or comfort it by petting it – and these events tend to award you with experience for the different stats:
Manners, Smartness, Trust, Sociability, and Fitness.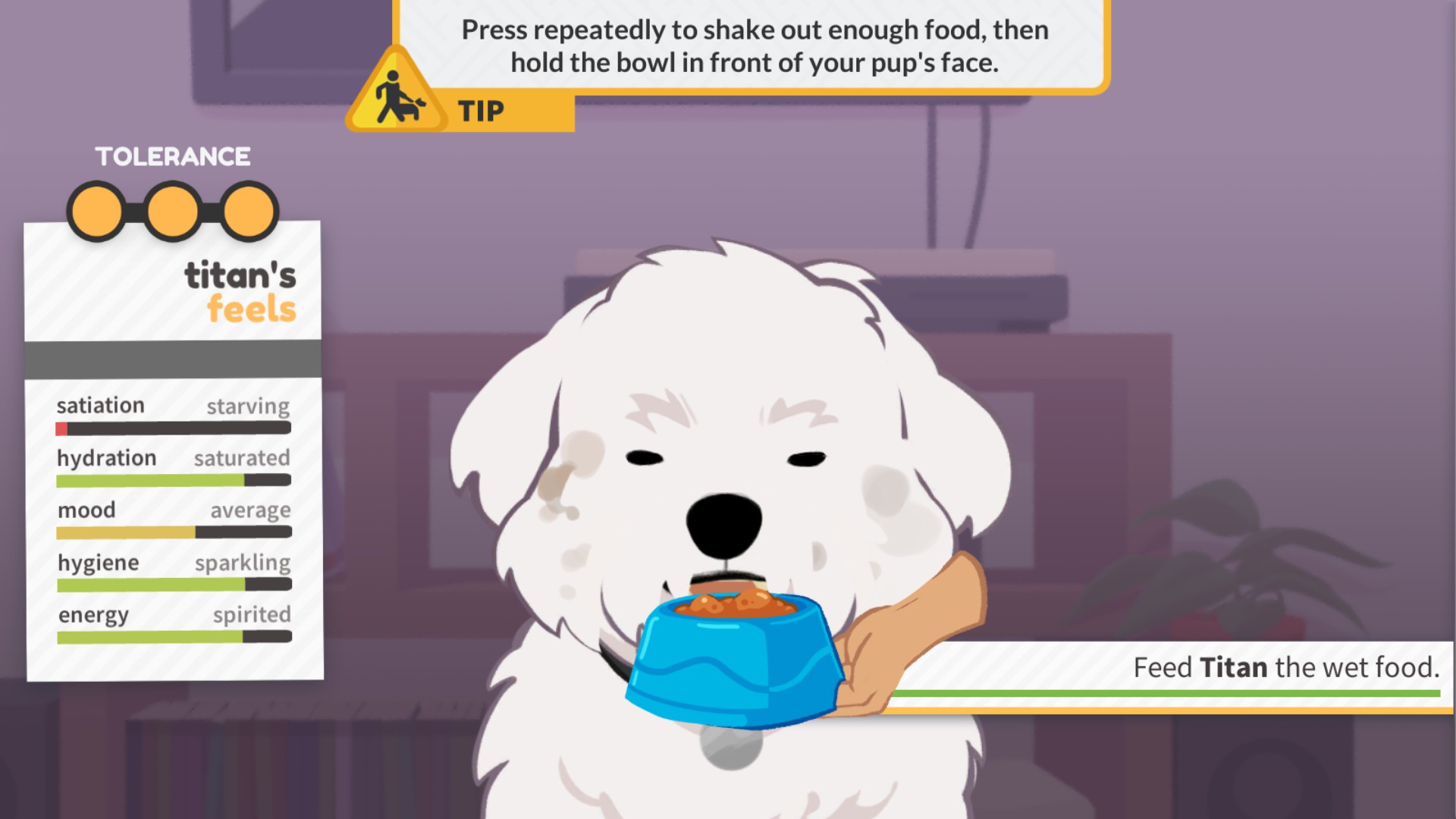 Apart from that you also have the training schedules that you can set for them where you essentially can choose to work on two different stats at the same time by IE going for a walk, cuddling, playing, and many other options. Afterwards, you need to take care of your good boy's (or girl's!) needs (see above) by feeding or tending to your mutt… Generally, all of this is quite fun at first but later it feels somewhat… pointless?
The story is light-hearted and short. It took me 2.5 hours to get through the game for the first time and to play through Astrid's romance route. There are a whole bunch of other options that I could take or romantic partners that I could ask out next time, so there is some replayability to it, as well… but the flea circuit isn't really involved in this. Your doggo is just there in the corner to brighten up and lighten up the game at times… and the management-aspects that are required to pass the exam at the end exist… but they do not really involve your pupper too much. You plan out events and sometimes people comment on your furry friend's behaviour but effectively, it's just there to be petted. As far as the exam goes… at the beginning I got mostly silver and gold medals and as time went on, I noticed it going down to bronze medals…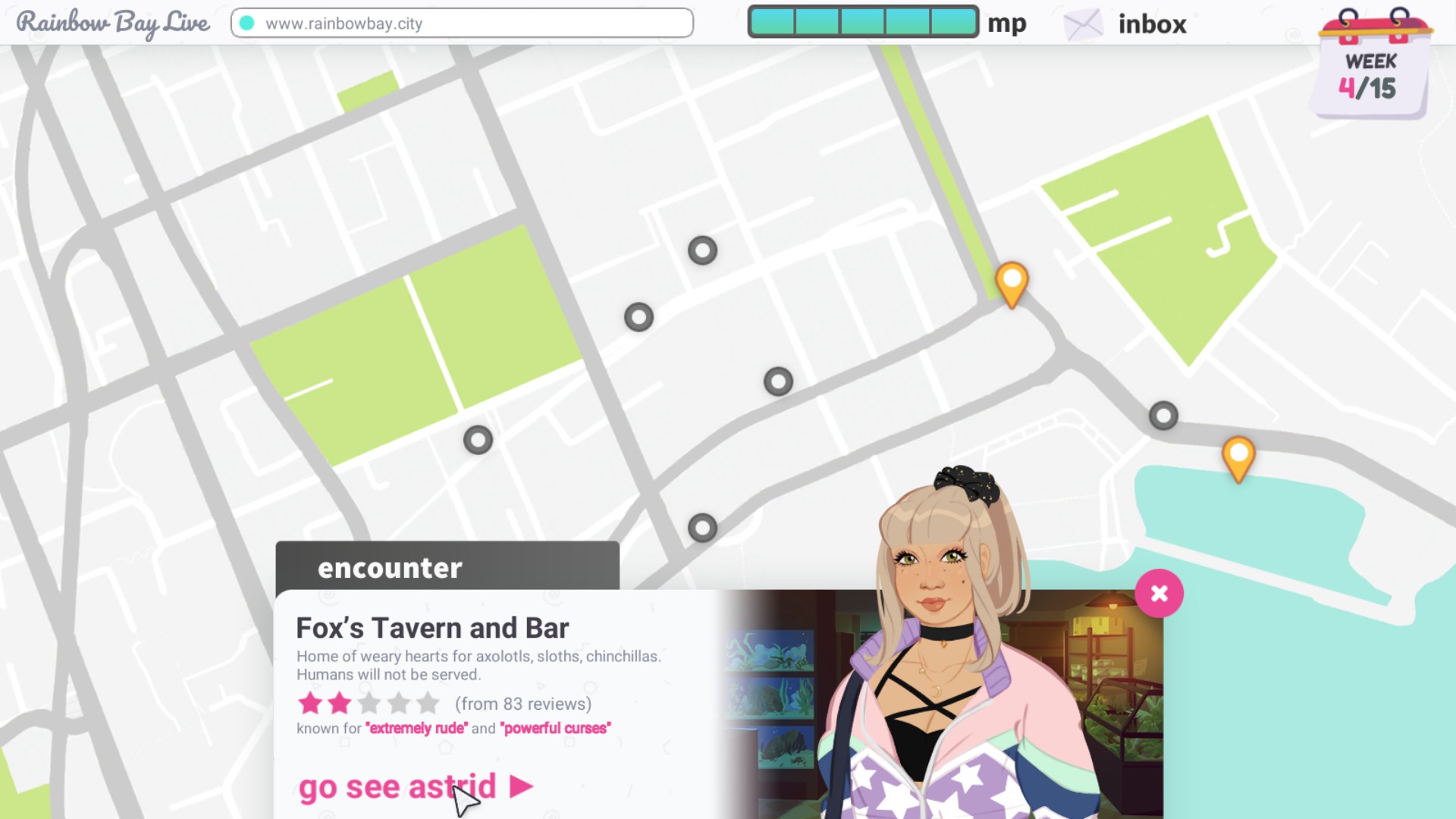 Regardless of that, I got my passing grade, which I found somewhat weird. I get that the Academy is only there to determine whether or not it's alright for you to own a dog and I get that it is a very light-hearted game but it seems odd to me to just pass it like that. I would have loved more of a challenge or maybe an extension period and supplementary classes instead where you make up for the missing training, maybe get to know a nice dog coach that you can fall in woof with, and unlock more dialogue options. It would have been quite nice… and while I don't know if you can fail the Academy, I don't really wanna try it out as I don't want to my pupper to be taken away from me. On top of that, it would be interesting to see what happens if you neglect your pawl's needs… but I can't let my little bowwow starve or get ignored just like that… Some horrible human out there will probably have tried it out… so uh… check there?
I didn't notice the dog pooping less indoors when the manners stat got up, for instance, so that's something that I would have liked a lot: Actually seeing the results of the training.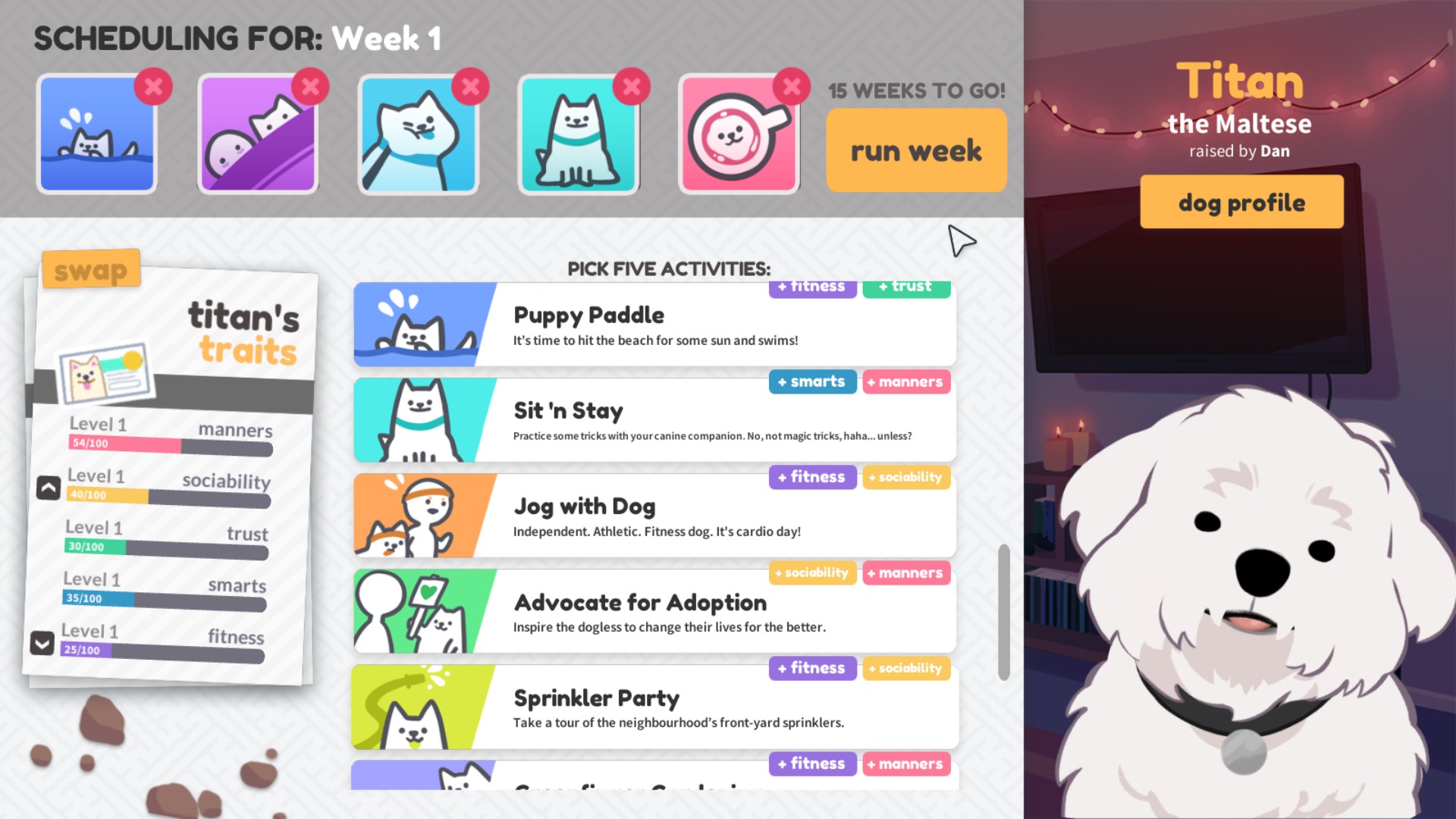 Your little fuzzball (She was called "Titan" in my case!) essentially just provides you with a minigame of sorts that to pass the time for a bit or to stretch out the game, which was somewhat disappointing… And I loved the idea at first and everything but midway through the game, your dog is just there while the focus switches to the other characters, which I found quite bothersome. It's "best friend forever" but suddenly, it's more of a dating sim – your dog is secondary. Or rather it feels like it's not about the dog anymore, which I found actually rather add… tending to your dog becomes a chore while obnoxious people step more into the foreground. (I really don't like Sascha at all… can we kick him? Like out of the city? Just push him off the edge of the world?)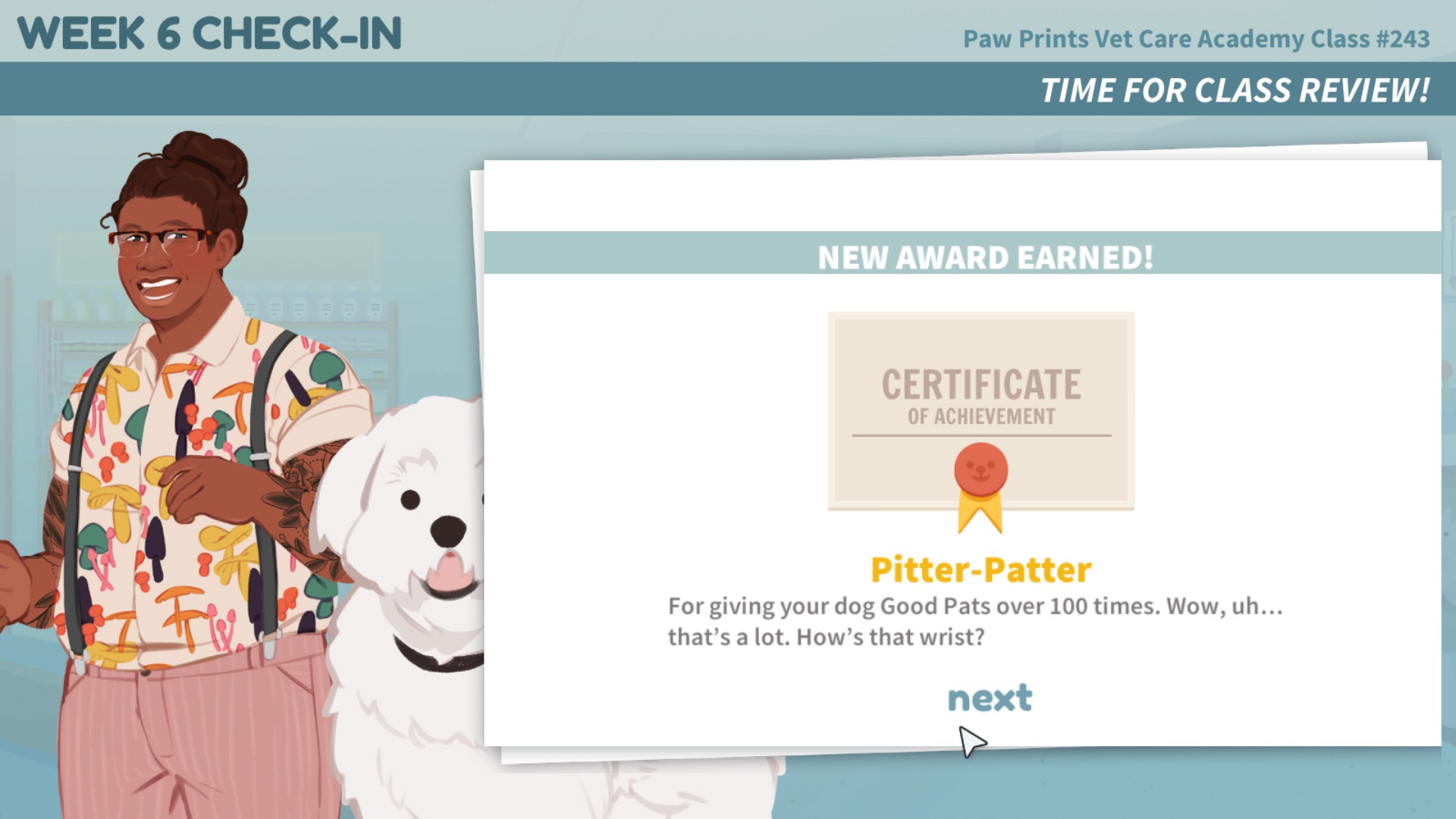 Another issue that I was facing was that I had a hard time dealing with the writing at the beginning. The game is at times mocking the whole hipster culture or ridiculing it to the point where I thought that it's not taking itself seriously – and yet, there are characters that talk about their actual fears and their actual problems… and some of the joking and obnoxious characters (the secretary and your neighbour, for instance) just end up breaking that feeling of intimacy that you had with your partner. You talk about problems and in the next instance, you get to talk to Sasha again, which is just painful at best.
I couldn't really handle some of the writing at the beginning due to the in-your-face-hipster-ness. It was a bit too much for my cup of tea but I guess some people could enjoy that.
Towards the mid-game, it was acceptable and tolerable. I had fun with some of the references and stuff… and your relationship moves relatively fast forward, which is quite interesting as well.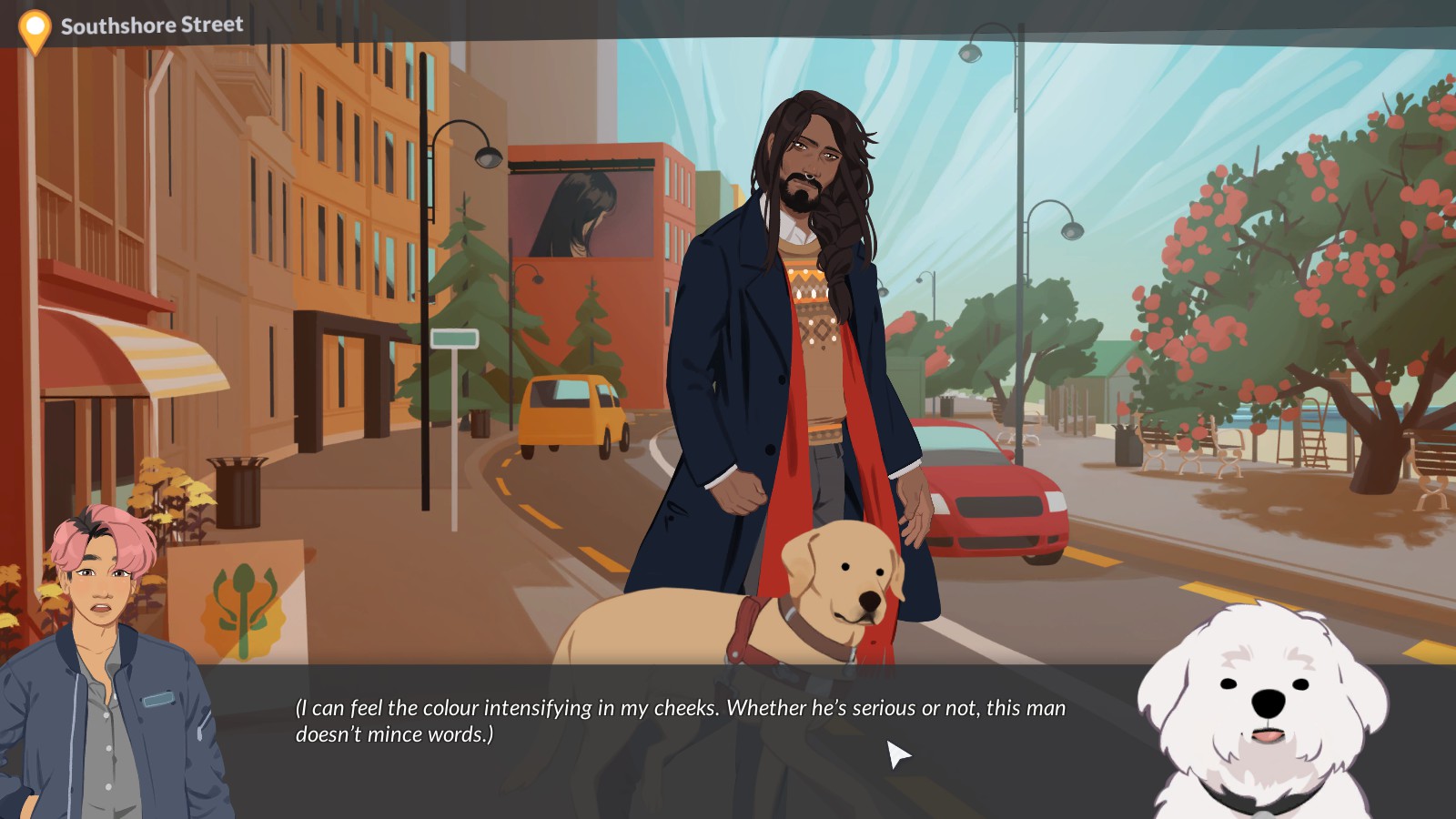 And at last, I reached the end and it just didn't feel alright or finished yet. I would have loved to continue past the 15 weeks but instead, we see the "what happened to these characters later?" trope before the credits roll. Quite annoying. And again, the dog gets less important later on despite it filling in a key role in the game.
But while that was a bit bad, I guess, I really enjoyed the game overall. It was fun, it was cute. It conveyed a message of sorts that you don't buy a dog but rather adopt it since it's very close to you. It's like a family member of sorts, you could say – not your property or anything like that.
On top of that, the game is really inclusive as it not only lets you chose your character model and pronounce but it also enables all relationships to you whenever you want them and while your sexuality never gets asked for, it is made really well in a way that your past partners, as an example, get named with "they/them" to allow any kind of interpretation.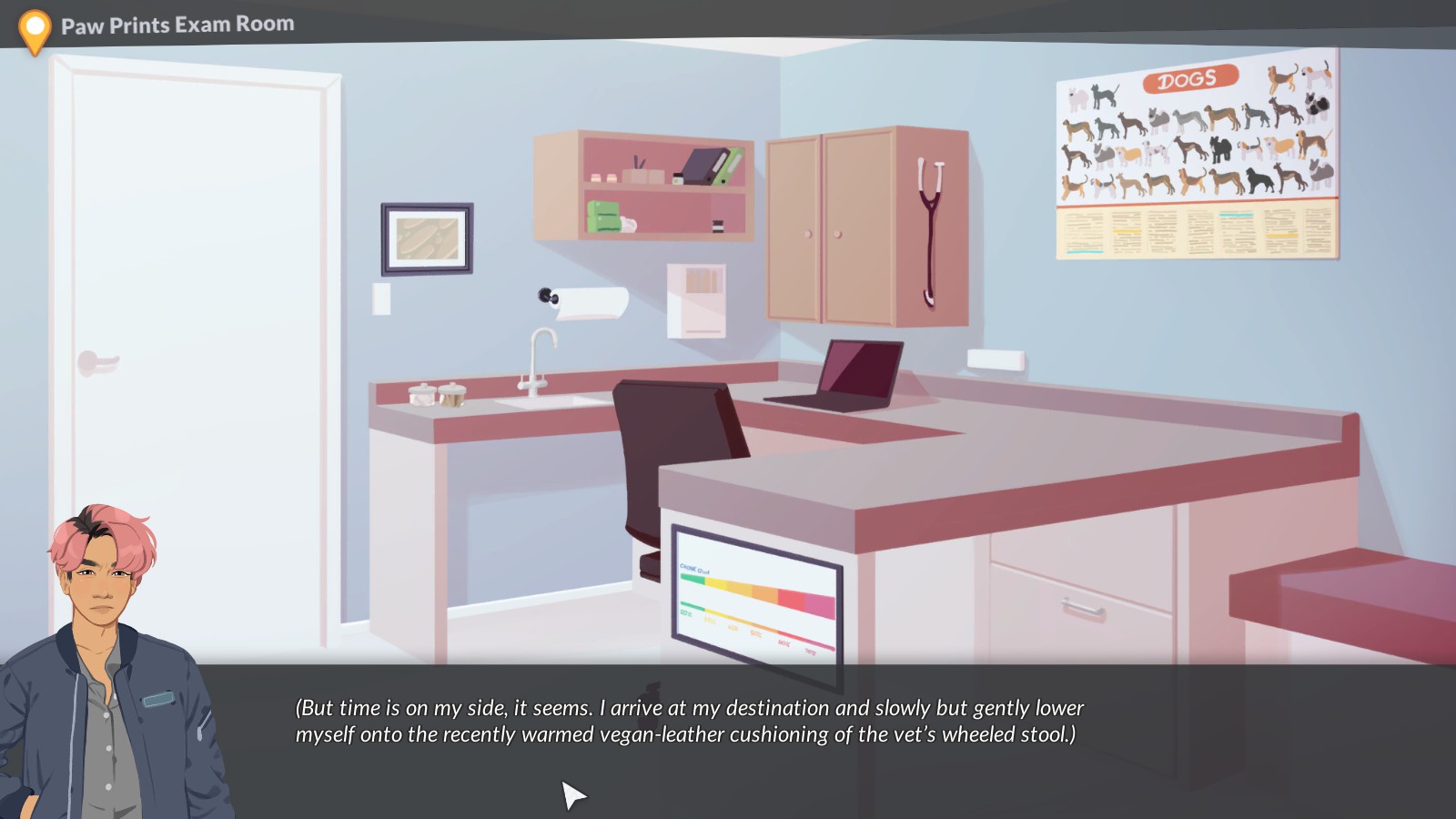 So, what can I say about Best Friend Forever… it mixes two things that are somewhat different and is hence quite innovative, in my opinion, but it fails to convey the importance of your Woover as it doesn't give it more credit or more special scenes. Instead, it's just about you training it while you're doing stuff with your love encounter. I would have loved to see more CGs of the Barksy to make things, right… in fact… CGs and a CG gallery are features that are missing completely! Especially, considering that you're a photographer in the game…
The inclusive aspects, however, are really well-made, the soundtrack is alright, the characters all are somewhat quirky but feature a lot of nice traits and conversation options, and overall, it is a well-crafted game, in my opinion, even when the management aspects fell somewhat short. The short length of the game makes it possible to play through different routes and try out different things in several relaxed sessions. And yes, you can, of course, pet the pupper. Hence, this must be a great game.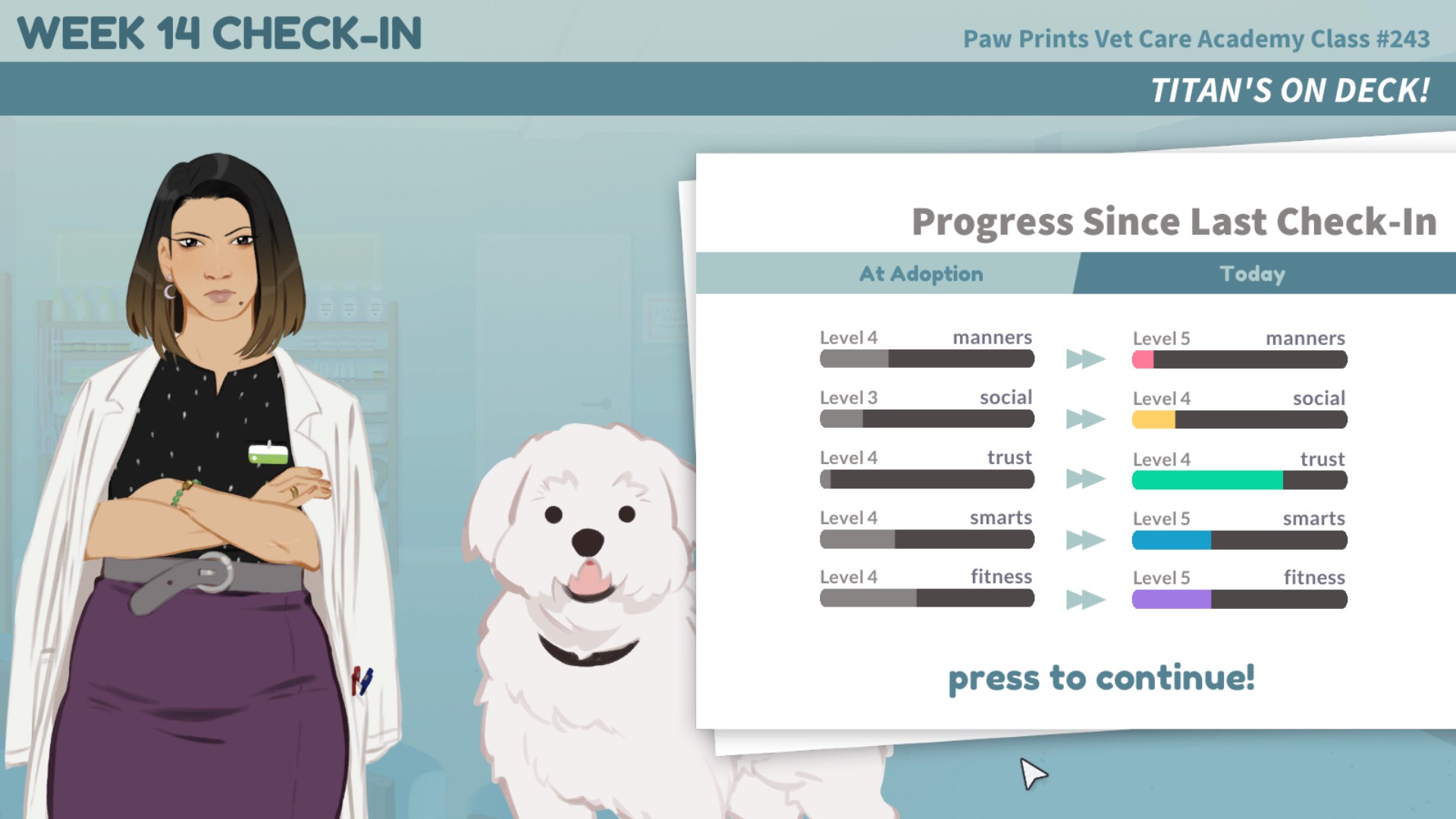 I'd recommend this game to people that want to play a wholesome, cosy and rather short visual novel that has dogs in it. I wouldn't recommend this to management fans as those would not be happy with this title. If you're a cat person like me… it might take you a while to fall in love with your four-legged new family member… but once you get there, it's super lovely. Despite some issues, I had fun, though, so I'm definitely recommending Best Friend Forever to anyone who's looking for a short but lovely experience.
Cheers!
This post was first published on Indiecator by Dan Indiecator aka MagiWasTaken. If you like what you see here and want to see more, you can check me out on Twitch and YouTube as well. If you find this post on a website other than Indiecator.org, please write an e-mail to me. Thank you!