The Steam Game Festival is here!
This time it's the Autumn Edition, so strap on for a bunch of demos that I found intriguing! All in one post! Kind of! As you can see by the title of the post, there is going to be a second part and potentially a third part about the Steam Game Festival (if I end up finding even more demos to play), so uh… enjoy!
First up, I'd like to say that the Steam Game Festival is available until October 13th, 10 AM PDT! So, if you want to check out any of these or other game demos, be sure to grab them while they're here! You can also check out the Steam Game Festival page on Steam to see some live streams, dev talks and other interesting things, available for a limited time!
So, while we did cover a whole bunch of games in a whole bunch of solo-posts in the past about the Steam Game Festival, I wanted to try something different and post about them while I've played all of them and summarise my thoughts a bit more precisely. The problem with the way I handled it last time was that a lot of the posts about the games came out AFTER the Steam Game Festival was over, resulting in you potentially not having played some of the titles. This time around, I heard about it a lot earlier and got to play the demos a lot earlier as well, resulting in me being able to work on this post *on time*. Hence, you'll get a long post about the games that I played and that seemed interesting… and some recommendations!
Natural Instincts
Natural Instincts is a God-Sim where you manipulate animals into moving to different places, eating, drinking, mating, and essentially, living. You can do your best to protect the environment and save it from harm… or you're just a normal human who's effectively ruining the environment since forever and doesn't give a fuck about nature.
The demo only lets you play in and observe the European Forest where you get to see and influence Boars, Rabbits, Deers, Wolves and Bears. There are lush forests, long rivers, some small lakes and only limited resources available and overall, I enjoyed the experience there. Just observing these rabbits has been wonderful although I would have hoped for more quality settings since my PC can handle a lot more and since I would have loved to see the animals up close! Apart from that, it looks solid so far, although I'd love to have more information available on the screen as well as potentially some options to influence the climate, let stuff grow or let rabbits take over the world and whatever.
The full game will feature the European Forest alongside the Arctic, Savannah, Pacific Ocean, Tropical Forest, and the Gulf of Mexico, so there is a variety of places to observe and to meddle in. You can find the game over here where DreamStorm Studios has yet to announce a release date.
Carto
Honestly, this was the title that I'm looking forward to the most. It's an insanely adorable 2D Puzzle-Adventure where you find card pieces and piece them together to shape the world around you. By talking to people and interacting with different landmarks in the world, you get hints that tell you how to find new landmarks and people in the world.
In one instance a fisherman got lost and only remembered that his house was on the West. It's our task to guide him home, so we just quickly pop into the Card-Screen (Tab) and move his tile to the West to then unlock his house on the map tile. Obviously, we can still move everything around but we have to be careful as not all pieces fit together. There are different biomes, quest lines (sorta?) and a whole bunch of exploration fun – all tied up in a very cute and charming art style, an adorable soundtrack and an interesting mechanic about world-alteration and finding your family.
I'm wish-listing this game for sure and I highly recommend checking out the short but charming demo for yourself over here! Sunhead Games' title comes out on October 27th, so not too long until you get to piece together more of this wholesome game!
Garden Story
Speaking of cute games, there's also Garden Story! It's amazingly cute and looked like just the right game for me in these times. You play as Concord, the youngest grape in "The Grove", and as the newly-appointed Guardian, it's your job to help restore the island!
But since that's a huge task for a young grape like you, you've got to rely on your friends, consisting of shrooms, frogs and other fruits! The demo lets you explore the first part of the game a little bit and explains the basic mechanics with combat, loot and items. There are a lot of different characters and overall, I was a bit overwhelmed at first but as time went on, I kind of got the gist of it. We have to cultivate our home, foster the community, explore the world, fight the "Rot" and solve puzzles – and we have to do all of that to connect the different towns and repair old ties! Hooray! While I felt as if I got thrown into cold water at first, I actually learned to swim quite fast and really enjoyed my short stay in this vibrant world.
Picogram's title is going to come out at some point in 2021, so be sure to play the demo yourself and wishlist the game right here!
Calico
And since I already covered two cute titles, why not also talk about Calico? Well, I'd like to talk about this game but… I'm confused.
You essentially are tasked with rebuilding the town's cat café. The demo, however, runs super poorly, gives you little to no tutorial information and is full of bugs. At one point, I wanted to decorate a cake (as I had to, mostly) and the whole world got coloured weirdly, resulting in some trippy experience for me where I had to restart the demo. This happened a few times, so I then just decided to explore the seemingly hand-drawn world and play with kitties… but the controls feel janky and overall, my experience with this demo was more than frustrating. Personally, this game should be a good pick for me as it combines cats, a cutesie art style, and managing your own café. I like the way the world looks and the idea behind it but the execution is more than lacking and while the demo isn't the full game… I would have wanted to play a more polished version of the demo to actually want to play the full game.
More than anything, I really wanted to play with cats in this game and bake cakes and try out different features but it feels very Early Access to me. Bugs, janky controls, crashes, and the fact that there are no sound effects whatsoever (apart from the same loop of the same song) is just a giant turn-off, in my opinion. Idk, if you wanna check the game out for yourself, click here… and if not, then don't.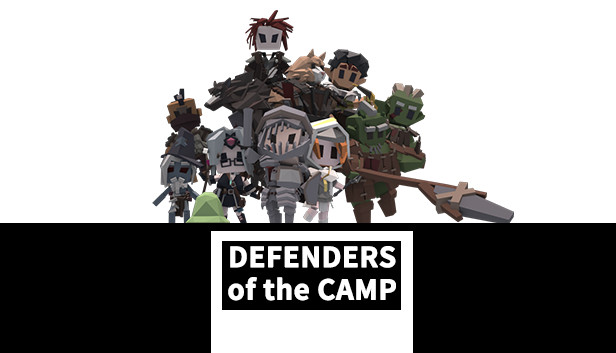 Defenders of the Camp
With Defenders of the Camp, I thought that we had a sort of promising candidate at our hands. The idea behind leading a party of adventurers into forests, deserts and other places isn't new or innovative but I thought that its style looked quite cool and expected a bit more.
Just like with Calico, however, this is a barely playable demo. DotC seems to be a prototype where you can check out the base characters: A mage, a knight and a priest. Each with their own distinct roles: DPS, Tank, Support. They each have different skills but it all felt quite janky. At one time, my priest pulled a Leeroy Jenkins on me and charged into goblins who then slew the priest. My knight walked into a wall and got stuck so that the goblins were able to fight them off. Honestly, though, my mage did enough damage to mess everyone up, so I didn't really think about it too much. Who needs a tank anyways? Who cares about the Support anyways?
But as time went on, and as I wanted to progress, I clicked on the different menus only to see that nothing's really implemented. The skill tree menu is there but it's not in the demo/prototype and while the stats are great and all… you have no way of moving faster. Alas, try it out if you wanna but personally, I found it frustrating to move at a snail's pace, especially when you wanna kite enemies or when you want to actually enjoy the gameplay.
Ecosystem
Just like Natural Instincts, Ecosystem tasks the player with taking care of a natural environment, with the difference that you actually create it yourself and observe the creatures as they evolve over time.
You generate some terrain, add mountains, hills, caves and other formations into the map, then you add plants and animals and… after the spores grow up, you get your first few species! Play GOD as you decide who dies and who lives! You can boost some creatures using points and overall, you strive to protect the environment you created and to see what crazy creatures are born. The strongest and fastest survive and reproduce while others with their own mutations and evolutionary steps end up dying. You can also edit the creatures yourself and see how they fare.
Originally, I really liked the idea but thought that it may be a bit frustrating to play as your favourite creatures may not fair so well while your fewer favourite creatures end up triumphing… but that fear wasn't justified at all. I really enjoyed meddling with all of these monstrosities, creating long predators and growing caves and other formations to make plant life possible. In the end, I had a blast and you should definitely check it out yourself!
Rawmen
Rawmen is another title that I tried out and honestly, it's a lot of fun.
Rawmen could best be described as a fast-paced Arena-Shooter where you fight other players using kitchen utensils and ingredients. There are a lot of fun items as well as a lot of puns in the game. The different game modes seem entertaining but what's bothering me is that you queue up for a random game mode but during the queue time you get to see what mode it is. So, if you don't like climbing a tower by bombing yourself to the top using exploding tomatoes… then you just leave the queue and queue up again. Especially as it's a demo, it's a bit rough to find players to play with. Hence, while it can be fun when you get into a game, it's a bit rough when you have to wait for a while or when people decide to just leave the game when they start losing.
Overall, though, it's a lot of fun. Especially as you get to customize your character a fair bit, play with different items in different modes and it's just hilarious in its own way. You can find the game over here.
A lot of demos this time around…
…and we're still not done with them. The problem with the Steam Game Festival is that just like in Summer, there are way too many titles to play. Alas, I've made one post now and I'll play more demos later and publish a second post on this season's Steam Game Festival. I hope you enjoyed this post and be sure to recommend some demos to me as well. As for Part 2, I'd like to take a look at a bunch of titles, including Undungeon, Ponpu, Neurodeck, Monster Prom 2, F.I.S.T., Xuan-Yuan Sword VII, Webbed, Superliminal, Castle Flippers, Ruin Raiders and maybe I'll make yet another post about Ring of Pain! There are a bunch of other demos that I wanted to play but haven't downloaded yet… but those will have to wait until I'm done with these posts. Time's limited and the Steam Game Festival is over soon, so be sure to check at least some of them out!
To keep up-to-date with all of my posts on the Steam Game Festival, you can visit this link here where you can find all posts with the "Steam Game Festival" tag! So, check out the other posts, if you want to!
Anyways, stay healthy! Happy Gaming!
Cheers!