Last time in the New World, we noticed that we're a bit too weak to fight Velkhana. The goal I'm aiming for? The Nether Vajra! I need that dragon elemental damage and the elder seal to properly fight Velkhana! But first… someone else needs a powerup, and that's our Palico, Tammy.
Tammy was rocking the Vaal Hazak armour for the most part and it looked fancy but the armour values weren't that great, especially since it was only an HR armour set. Luckily, Velkhana dropped a few materials already when I first attempted slaying it. Hence I was able to craft the Felyne Rimeguard Mail Alpha+ already, which looks quite good as well, sadly, the helmet had to wait for a bit until my next attempt, at least.
Apart from that, Tammy has been using the Vigorwasp Spray and the Coral Orchestra for most of our journey, but I felt that I should try and get those other tools. So that's what today's MonHunLog is about!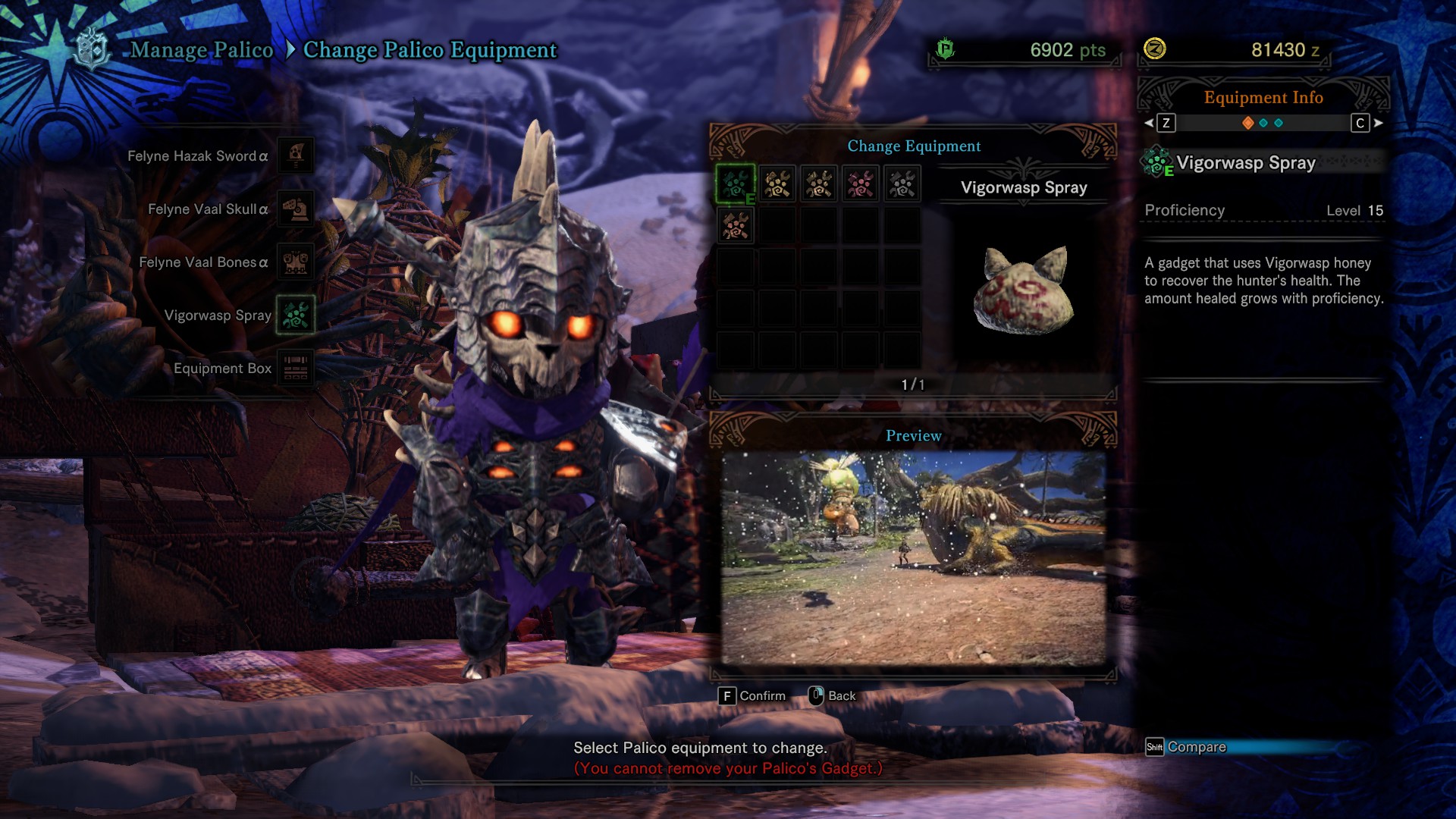 At the beginning of the game, our Palico is only equipped with the Vigorwasp Spray. It allows your little furry friend to heal you, using Vigorwasps. Levelling it up increases the healing due to the proficiency increase. As you level it up, you unlock the Vigorwasp Station and the Vigorwasp Delivery. At last, it will also allow your Palico to revive you once on the spot with half your health, which can come in quite clutch!
Generally, for most of the unlocks, you'll have to find Grimalkyne Doodles in the different areas and then talk to the Lynian Researcher. Sometimes, you'll have to complete some quests in the area, progress with the story, unlock campsites or just recruit some of the Grimalkynes when you encounter them.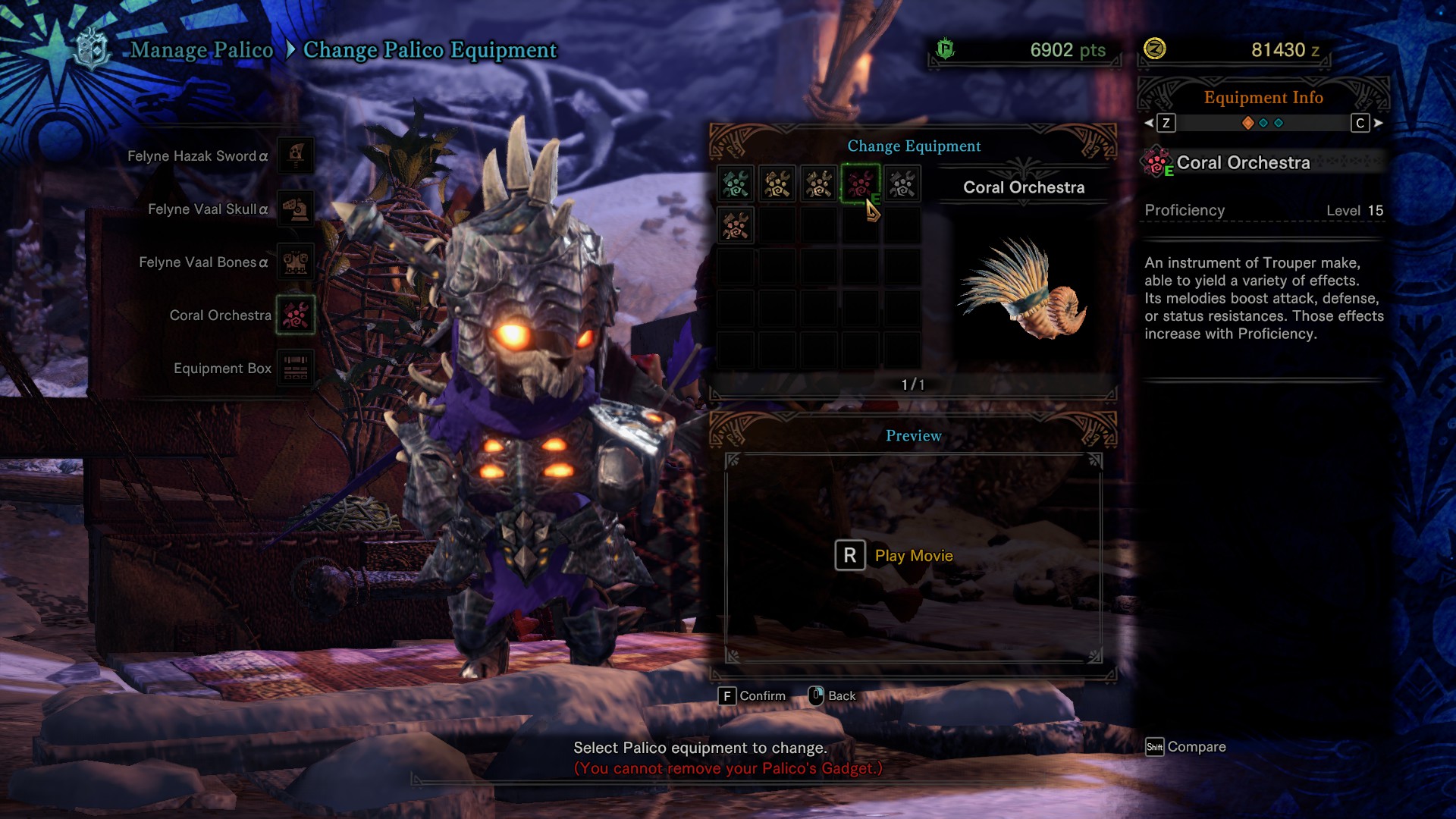 I unlocked the Coral Orchestra that I already levelled up quite a bit from a quest that the Grimalkyne in the Coral Highlands issued. We were supposed to hunt two Tzitzi-Ya-Ku as part of the quest called "Troubled Troupers". The Coral Orchestra is similar to the Hunting Horn in that it grants you attack, defence, and status resistance buffs. At level 5, your Palico can use a wind instrument, and at Level 10, you can call your Palico to use a drum instrument. There is also the gong that essentially stuns a monster for a short duration, which can be useful, but I mostly make use of the other instruments.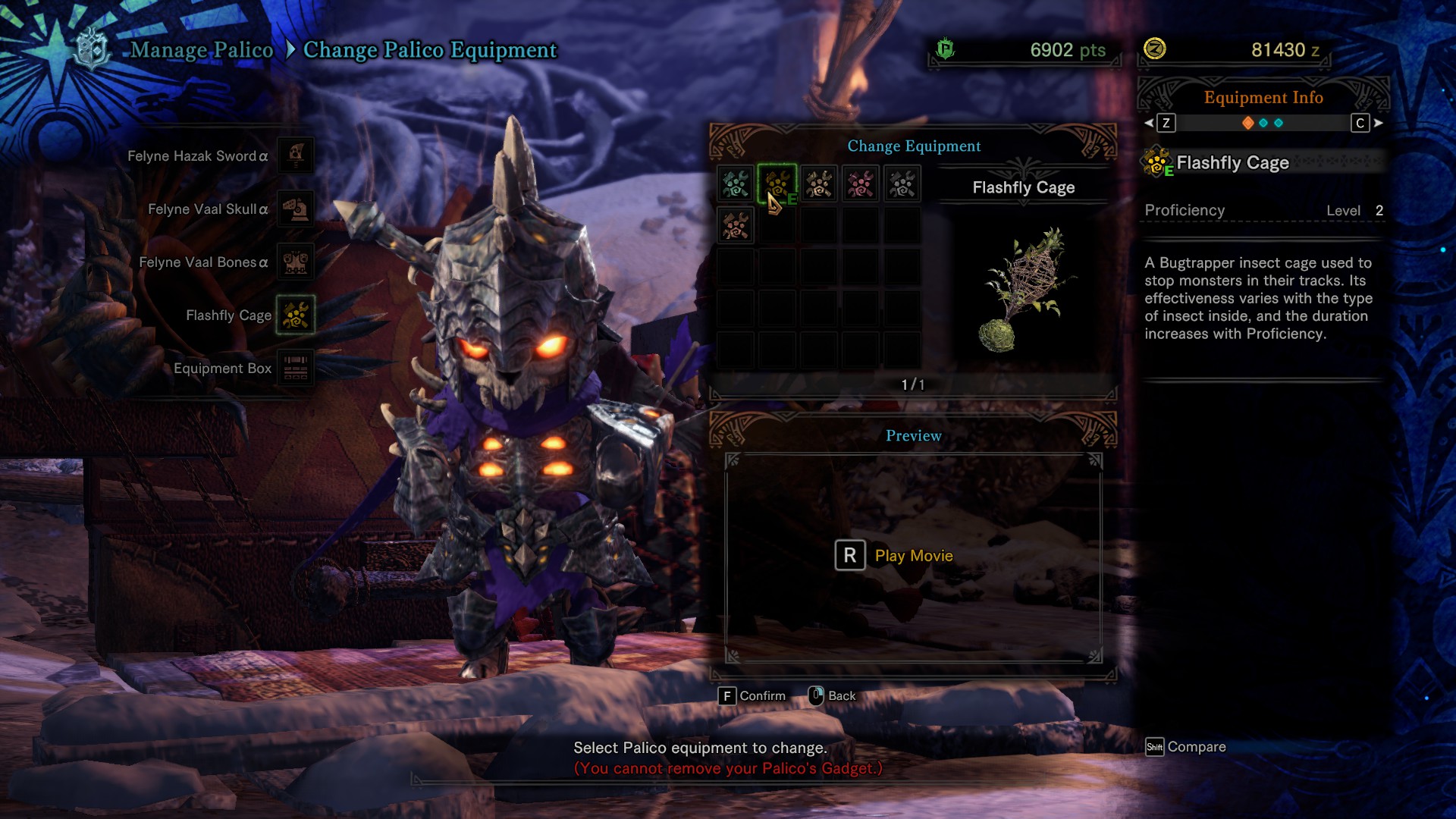 So, for the Flashfly Cage, I actually had to visit the Ancient Forest again! In Area 17, you can find a Bugtrapper and by following it, you essentially are rewarded with the Flashfly Cage that basically enables your Palico to blind large monsters for a short time. At later levels, you can manually summon a Flashfly and have your Palico place down Shock Traps. It also does that on its own, although those traps seem to be a bit weaker… Overall, a nice gadget to take with you, especially since you can only carry one Shock Trap per hunt unless you restock at a camp.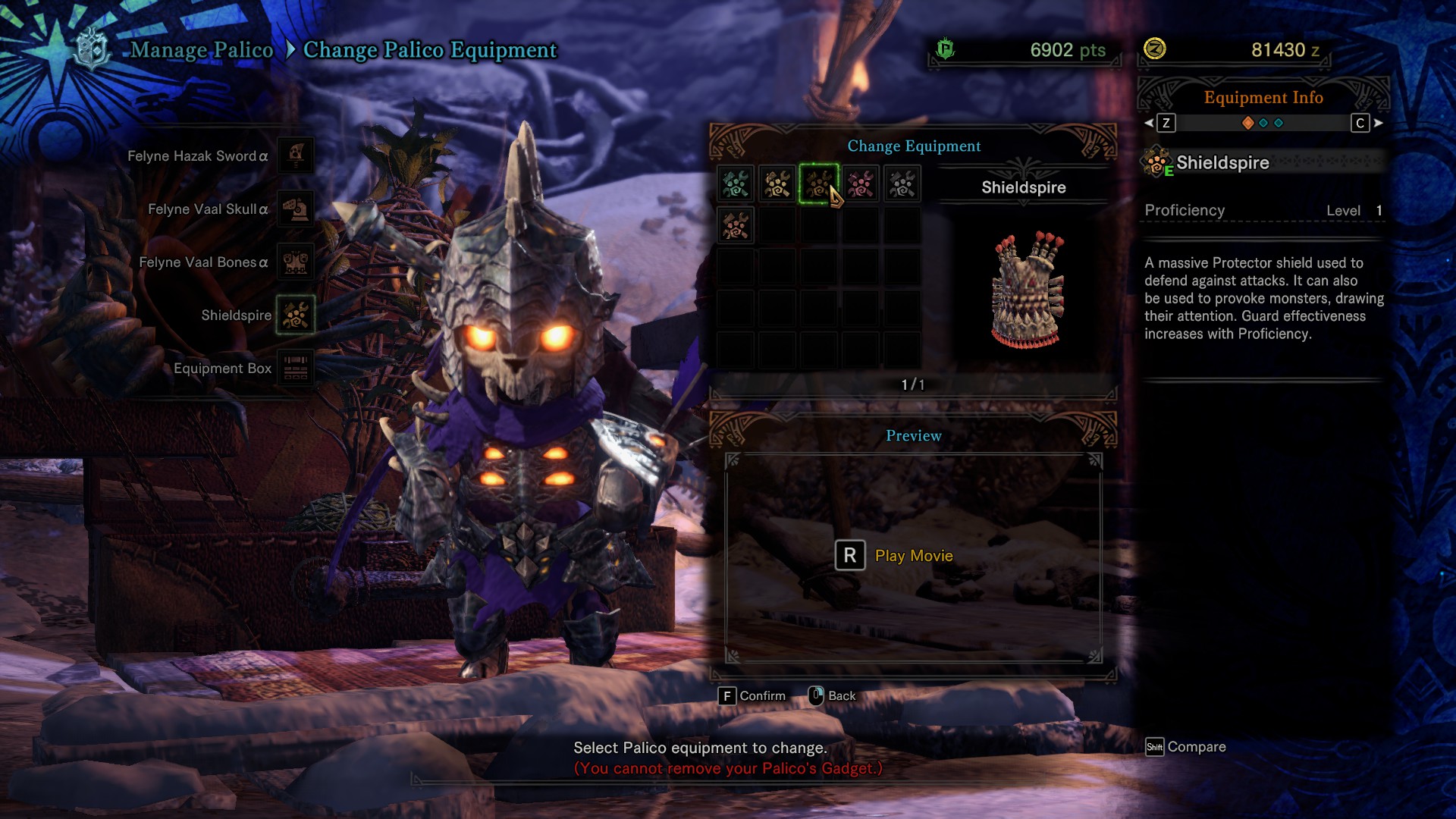 Over in the Wildspire Waste, we have the chance to unlock the Shieldspire gadget. Essentially, we need to find the Grimalkyne tribe in the lower levels, near the big cave where you find Diablos. They tell you that their friends are in danger and that you need to rescue them. You then need to sneak up to them (the Ghillie Mantle really helped me) and then capture them using your Capture Net gadget. Then you deliver the cats and earn yourself the Shieldspire, a defensive Palico gadget, that allows your Palico to taunt monsters and block damage… but I haven't levelled it up too much just yet.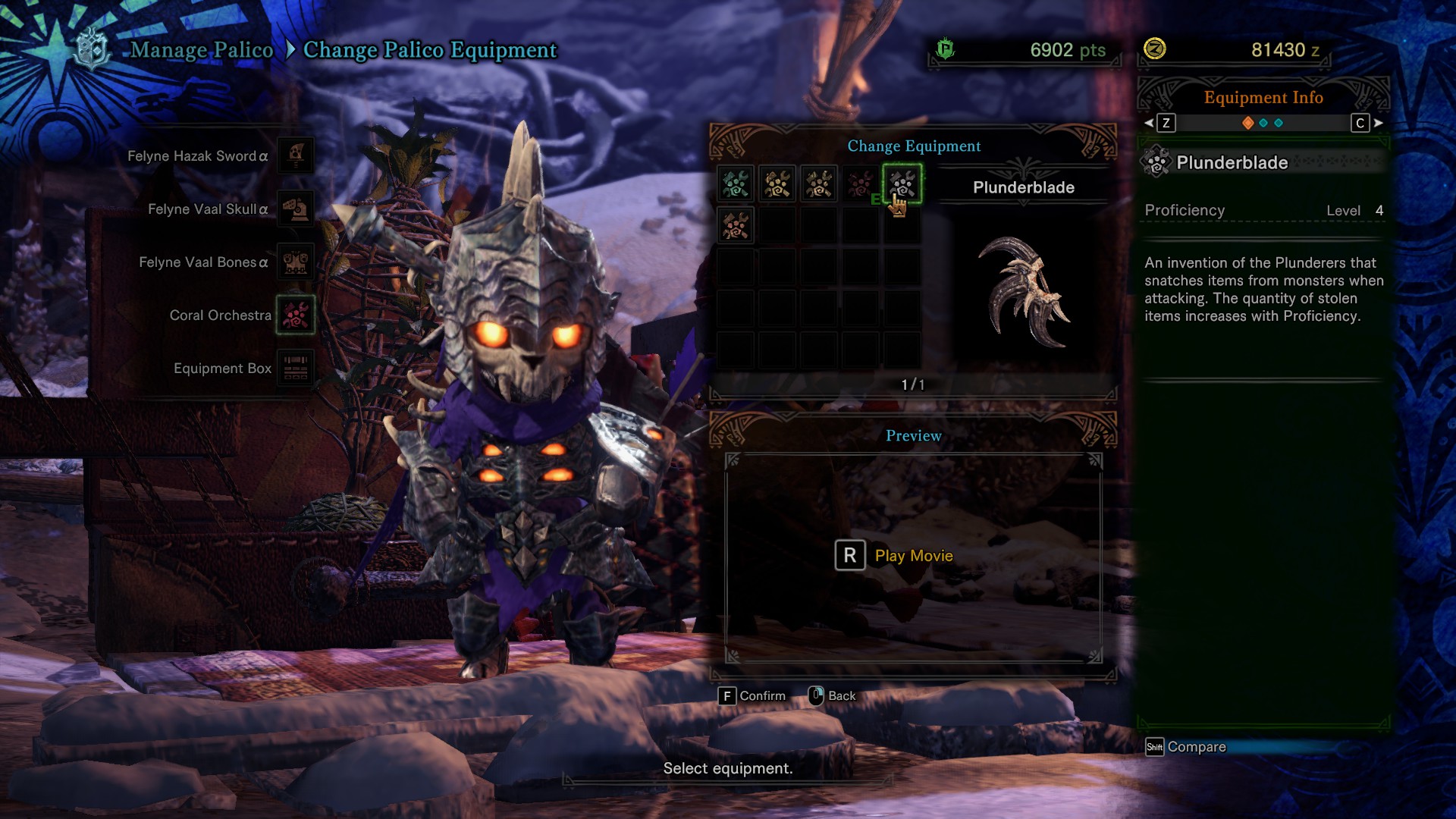 Down, in the Rotten Vale, you can get the Plunderblade that my friends have been recommending to me… despite me not having it unlocked yet. So, uh, to get it, I needed to head to some semi-secret area near Area 12 or Area 13 and find a big chunk of meat that was laying around there. Essentially, the Odogaron in the area tends to carry some with it. You let them drop it off, take some of their meat with you and try to not drop it. Then you try to look for the Grimalkyne in the area who first will get lured out by the smell of your meat (heh) but who will then run away. After a while, they won't be reachable, so essentially, you just drop some normal raw meat and wait for them to come out on their own. They thank you with the Plunderblade which is used to farm materials and items that can be sold or used for crafting.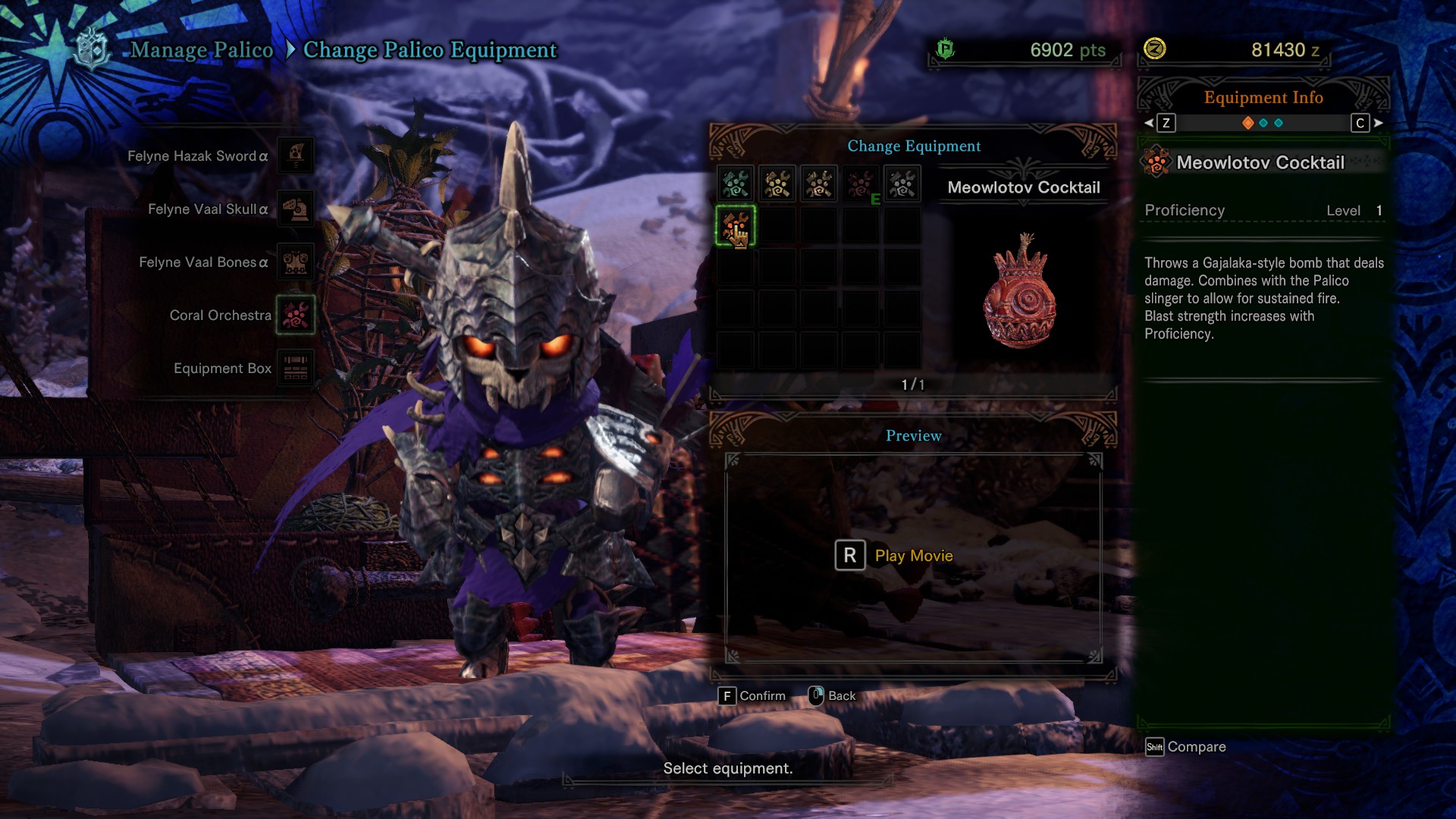 At last, there's the Meowlotov Cocktail (I love the name)! After unlocking the previous items, the Lynian Researcher wants you to find Gajalaka doodles and report to him. Essentially, Gajalaka are also Grimalkynes and he wants to establish a cultural exchange and friendly relations with them as well. To do that, we have to find Gajalaka doodles on all the different areas, including Elder's Recess. For this, I just sorted through the map using the endemic life filters and searched for the spots with Gajalaka, since there are doodles nearby, usually. After visiting three locales, I ended up having enough doodles and talked to the Lynian Researcher again who wanted us to come to Elder's Recess with him at night. There, you can see the Gajalaka dancing and you'll have to try and sneak around them to get access to their hideout. Using a Ghillie Mantle is something that I'd recommend since it makes it a lot easier. They can't spot you! Once you're in their hideout, they'll grant you the Meowlotov Cocktail which essentially deals damage to monsters that is based on the element of your Palico's weapon. This can be really nice to add some more DPS to your hunt in case you don't need the other gadgets…
Originally, I thought of using the Meowlotov Cocktail against Velkhana and have Tammy use a Fire Weapon (since that's one of Velkhana's weaknesses) while I'm using my Nether Vajra (that I still don't have) to apply dragon damage, especially with the dragon damage bonus that I get from my Kinsect… but the Vigorwasp Spray with the extra healing and the utility seems just too good to not use in that fight. Also, I didn't want to level up the Meowlotov Cocktail just now.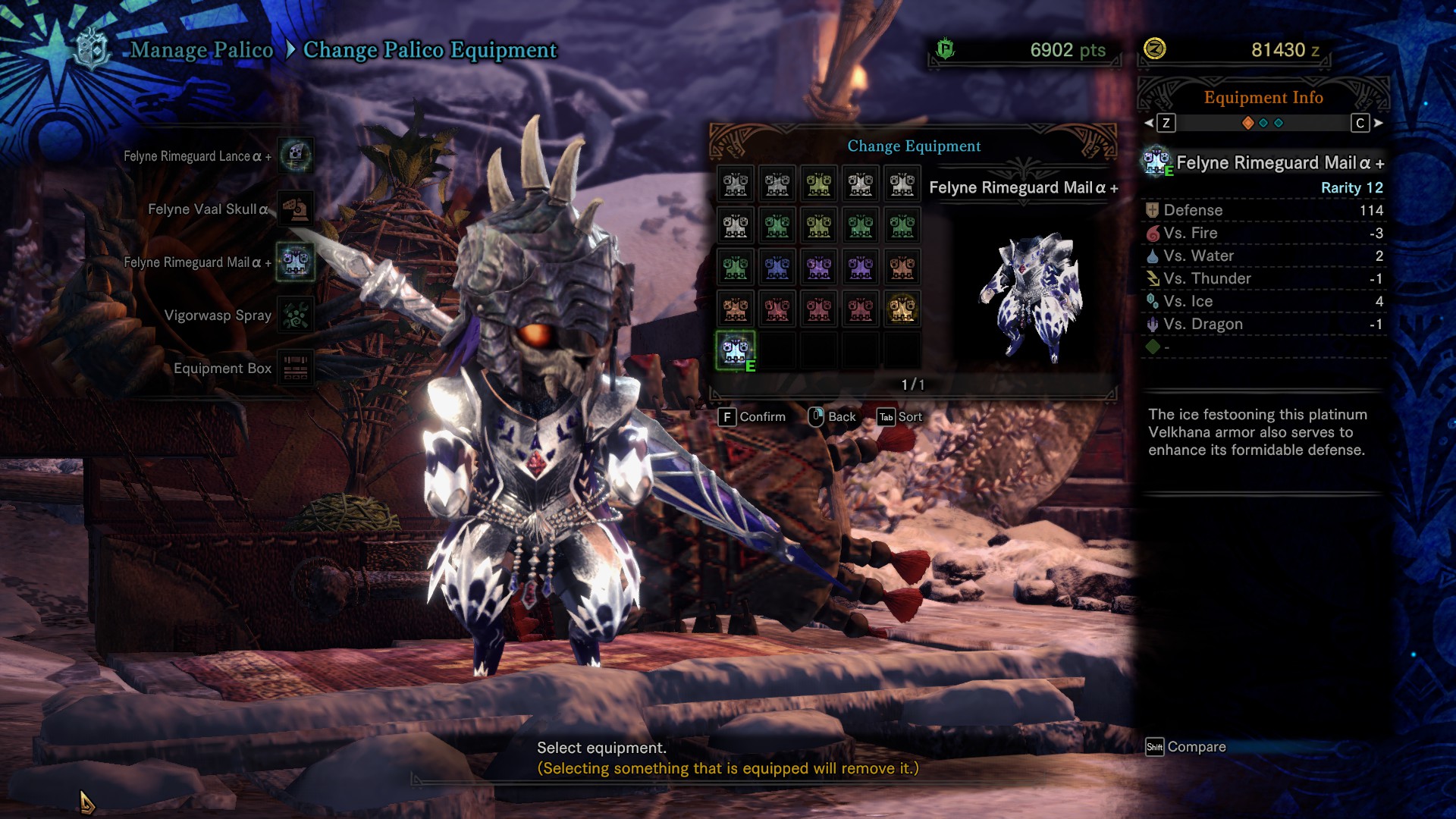 There is still one more Palico Gadget that you can grab after this, but I haven't gone for it just yet and you'll have to unlock the other gadgets first before you're able to grab that in Iceborne.
Unlocking these gadgets granted us another two nice perks: The ability to recruit Gajalaka and specific small monsters to fight alongside you and your Palico as well as the ability to use the tailrider gadget to move swiftly across the map and visit a target monster or go to certain other points of interest really quickly. I love it. Much needed, especially with fleeing monsters or monsters that use tunnels that aren't accessible to you.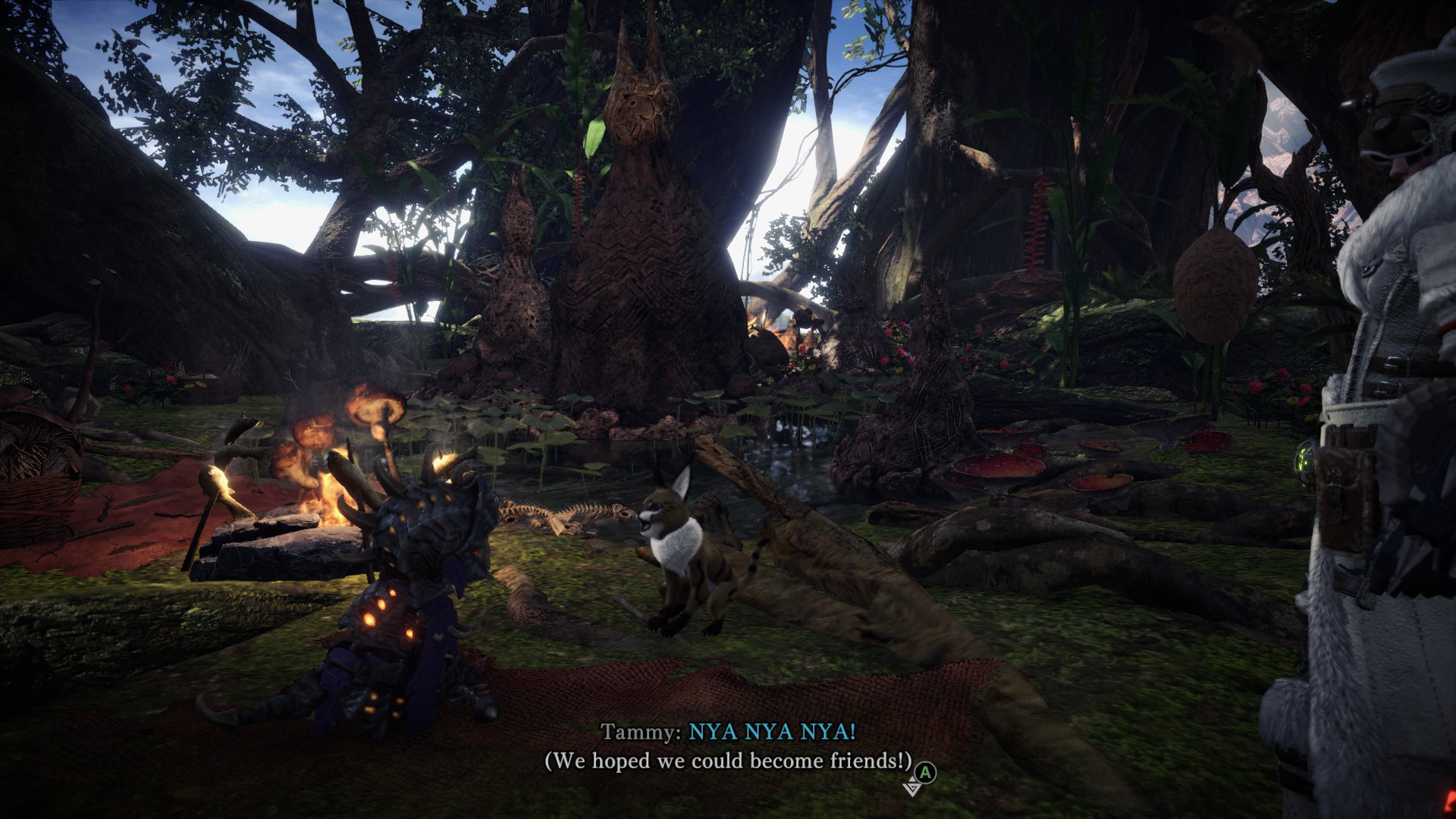 For the next MonHunLog, I wanted to grind some Odogaron (potentially, using the Plunderblade) to get that Nether Vajra! We may also upgrade our equipment further and get some extra defence. We'll see!
Hope you enjoyed this one. The gadgets are somewhat tricky to unlock. Most of the time, I just didn't bother with them since I was so happy about the Coral Orchestra – but I can see that they can be quite useful for different scenarios. The Shieldspire is going to be great against Barioth, Diablos or Tigrex if I ever decide to hunt those again. The Meowlotov Cocktail might come in handy as well eventually against some monsters with multiple weaknesses. The Plunderblade is going to be great for later fights and for grinds while the Flashfly Cage is going to be useful to blind fast enemies that are more difficult to hit or flying enemies that I wanna bring down to the ground. They all have their specific uses so I'll level them up eventually along the journey.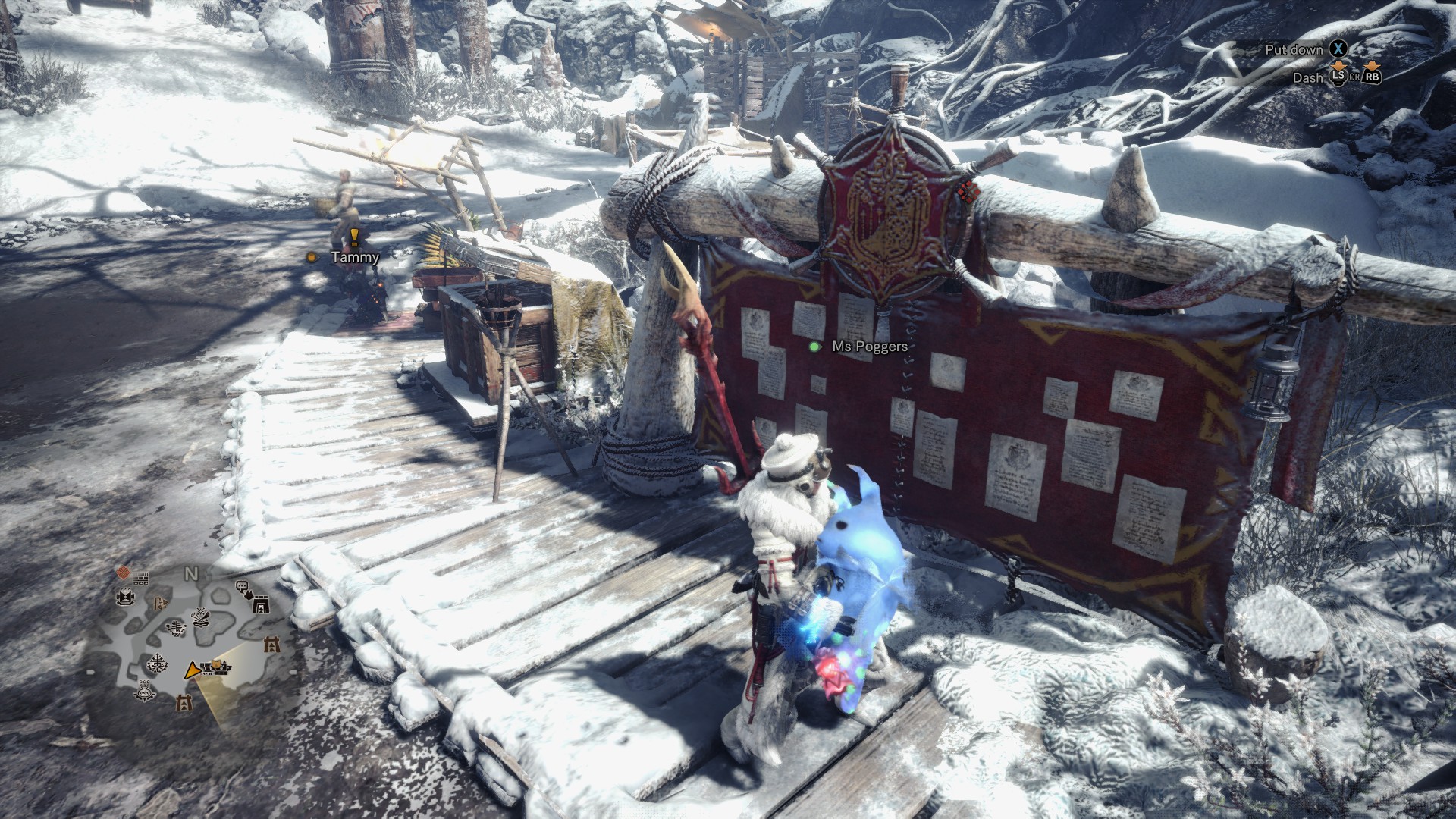 Have you unlocked all the gadgets, yet? What's your favourite gadget? Do you dislike one by any chance?
The Iceborne gadget allows you to call upon Grimalkynes to help you out, I've been told, so I'm looking forward to getting that one eventually! More hands are always nice to have… or rather paws in this instance.
Cheers!