I remember my first day at work as if it was yesterday. It wasn't at some weird office job with construction going on or whatever but in an old mill that got transformed into a restaurant. I wanted to make a quick buck by working as a waiter on top of getting some experience in. I got the job immediately but it caused me a lot of anxiety having to start in a new environment. This sense of anxiety got even worse when my coworkers would bark at me for no reason while an Irish man called me a "fish out of water". And while I'd never like to get back to that sort of anxiety again, I thought I'd dive into the corporate horror that Yuppie Psycho presents us with.
Developer: Baroque Decay
Publisher: Neon Doctrine (formerly known as Another Indie)
Genre: Survival, Horror, 2D, Stealth
Release Date: April 25th, 2019
Reviewed on: PC
Available on: PC, Switch
Copy was purchased.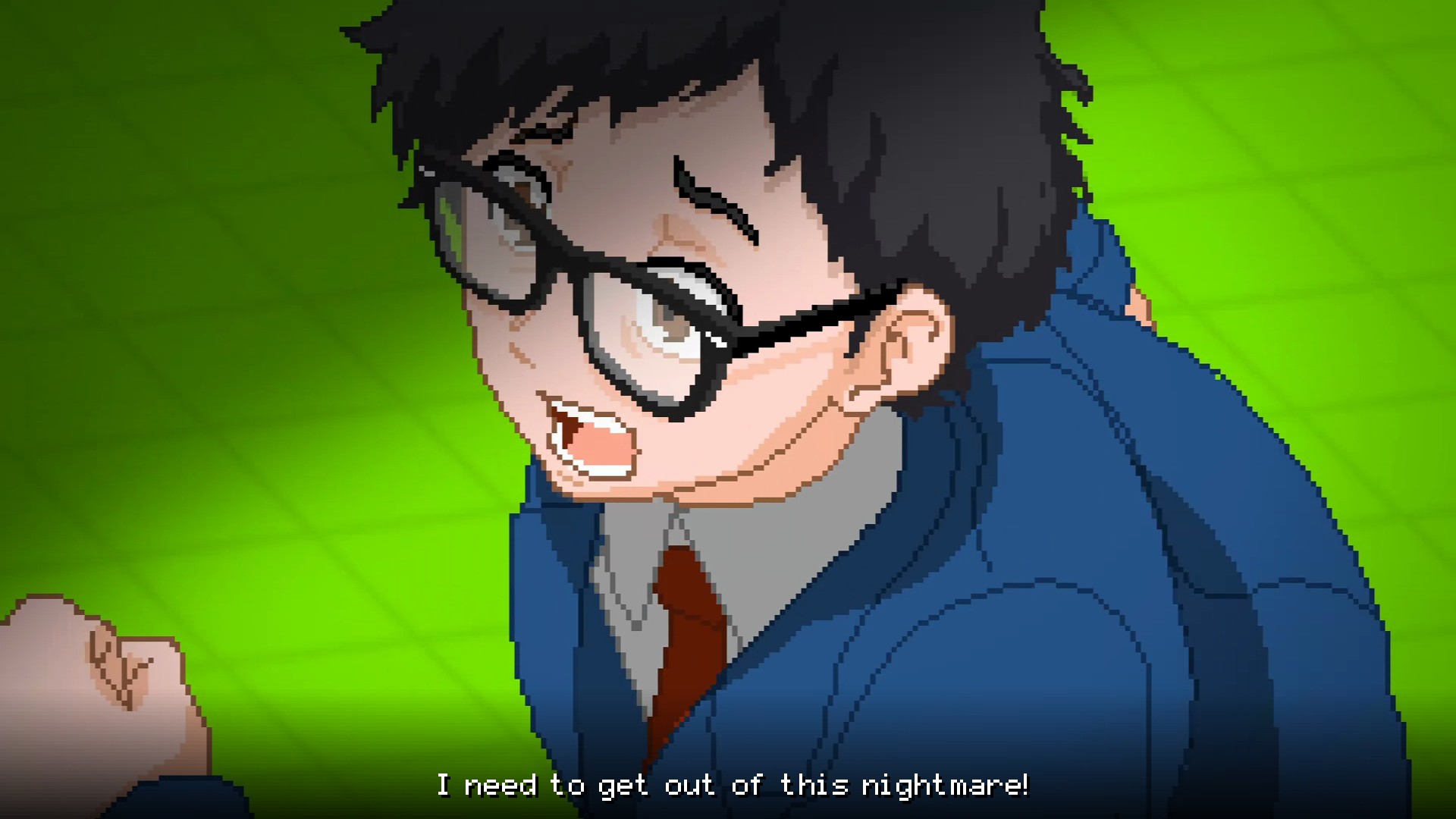 Yuppie Psycho is a Survival Horror Game developed by Baroque Decay where we take control of Brian Pasternack who is about to start his first day at Sintracorp. "Uncertain, unprepared, and massively unqualified" we'll try to rise and shine in Sintracorp's hierarchy. Our first assignment? Kill the witch that is influencing the workers around here in a negative way.
In Sintracorp, there are no supervisors! Do whatever you want to! Work whenever you want to! Explore the area whenever you want to! Yuppie Psycho doesn't really give you instructions but hints you at directions. In the beginning, you need to find the Hexenhammer in the Archives on Floor 7. Alas, you go there and get riddles and puzzles to solve. Later, you just have to figure out where you can unlock abilities or new ways to access older levels. The game hints you at directions but you're free to go wherever you want to! The whole world is open to you… Well, apart from the exit door that you literally cannot go through since Sintracorp needs you and it's only your first day of work.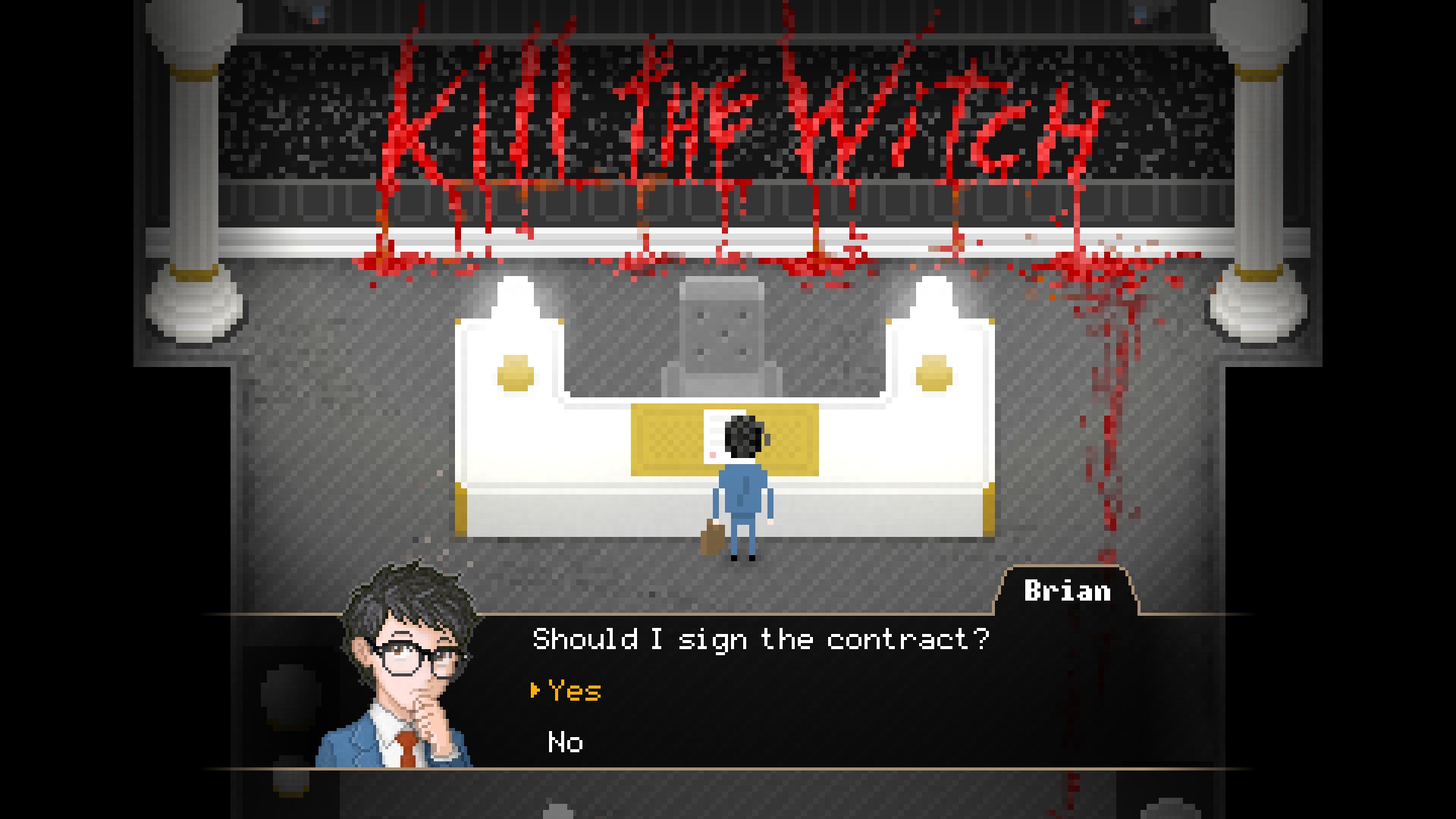 Something that I really liked about the game was the tongue-in-cheek humour that you encounter. Saving the game is done by copying your face using Witch Paper, for instance, and coffee heals you. Albeit these examples not sounding too original, there are a lot of other moments in the game that made me chuckle out loud more than just once. Sometimes, I'd just remember that one event where we got our nickname and I'd just be chuffed to bits. Obviously, I cannot spoil those.
The art style is rather detailed for a 2D-title featuring impressive cutscenes and fun pixel-art that really made the game seem grotesque and scary at times but also kind of cute in a bizarre way. On top of that, the game confronts you with a very fantastic soundtrack that just gives me the creeps and fills me with joy whenever I think back at it. Honestly, I'm in love with the presentation and the absurdity of the whole game.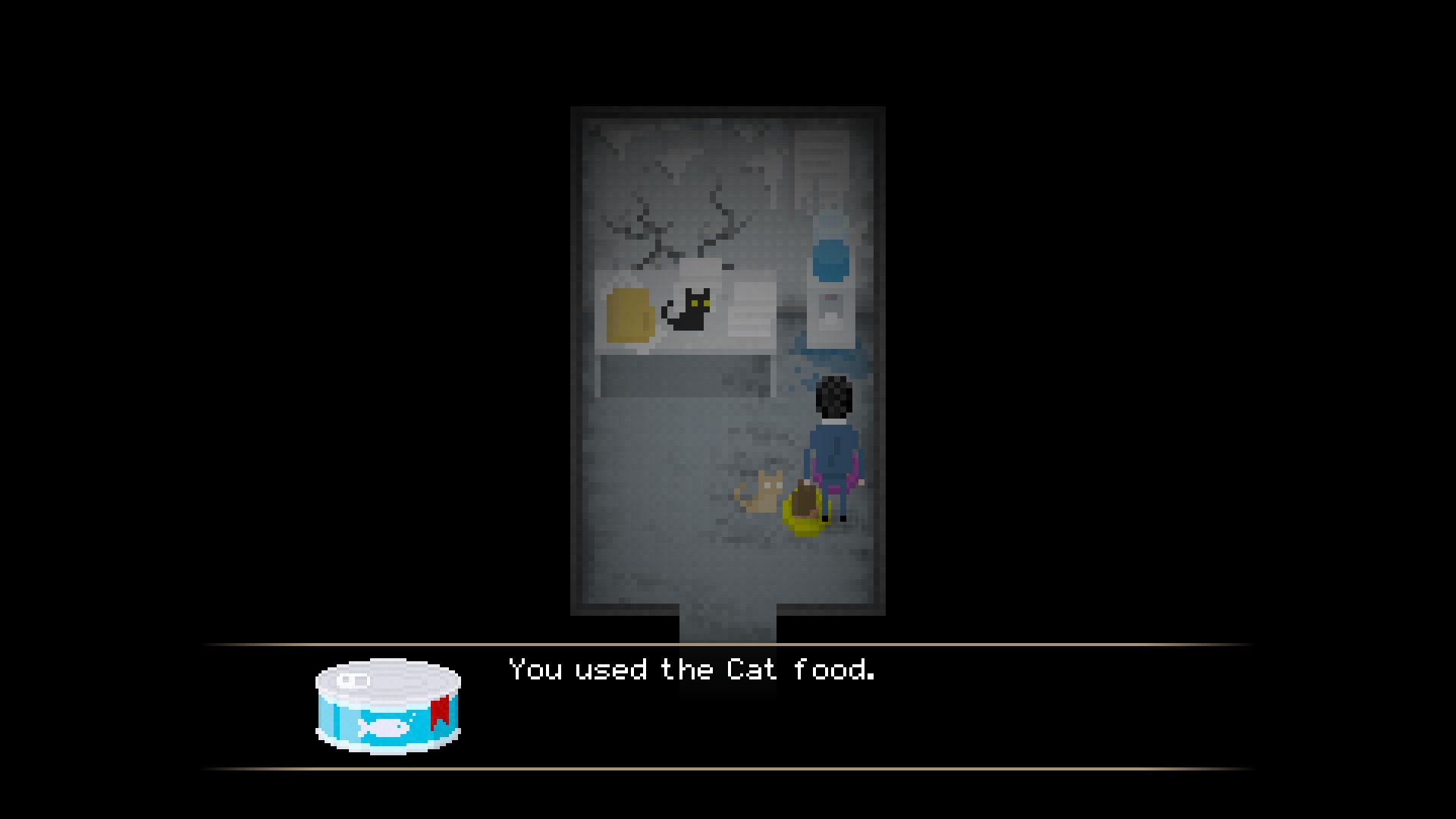 So, back to gameplay, a lot of things are trying to kill you and to prevent them from doing so, you essentially need to make cup noodles, sandwiches, and coffee, grab snacks and water, or stick items into other objects to solve puzzles. A lot of the boss fights seem kinda intuitive. You see stuff that hurts you and use it to hurt the boss instead. I feel like I did the first boss in an intended way… but I'm not entirely sure just yet. I feel like the game is giving the player a lot of freedom in how they can and want to play the game.
This stretches even further when you take a look at how the game is built up. You have different areas that are accessible through the elevator. You check out all of the different floors and see where you need certain abilities or items to get through but you don't know what items or abilities you need until you find them. Brian, the main character, is sometimes giving you hints but more often than not you're left alone and while that may leave people wondering on how to produce results, you're never really forced to. You always tend to have enough time to figure it out on your own and the puzzles don't feel too far-fetched. Instead, Sintracorp really lets you be your own boss. And that's great.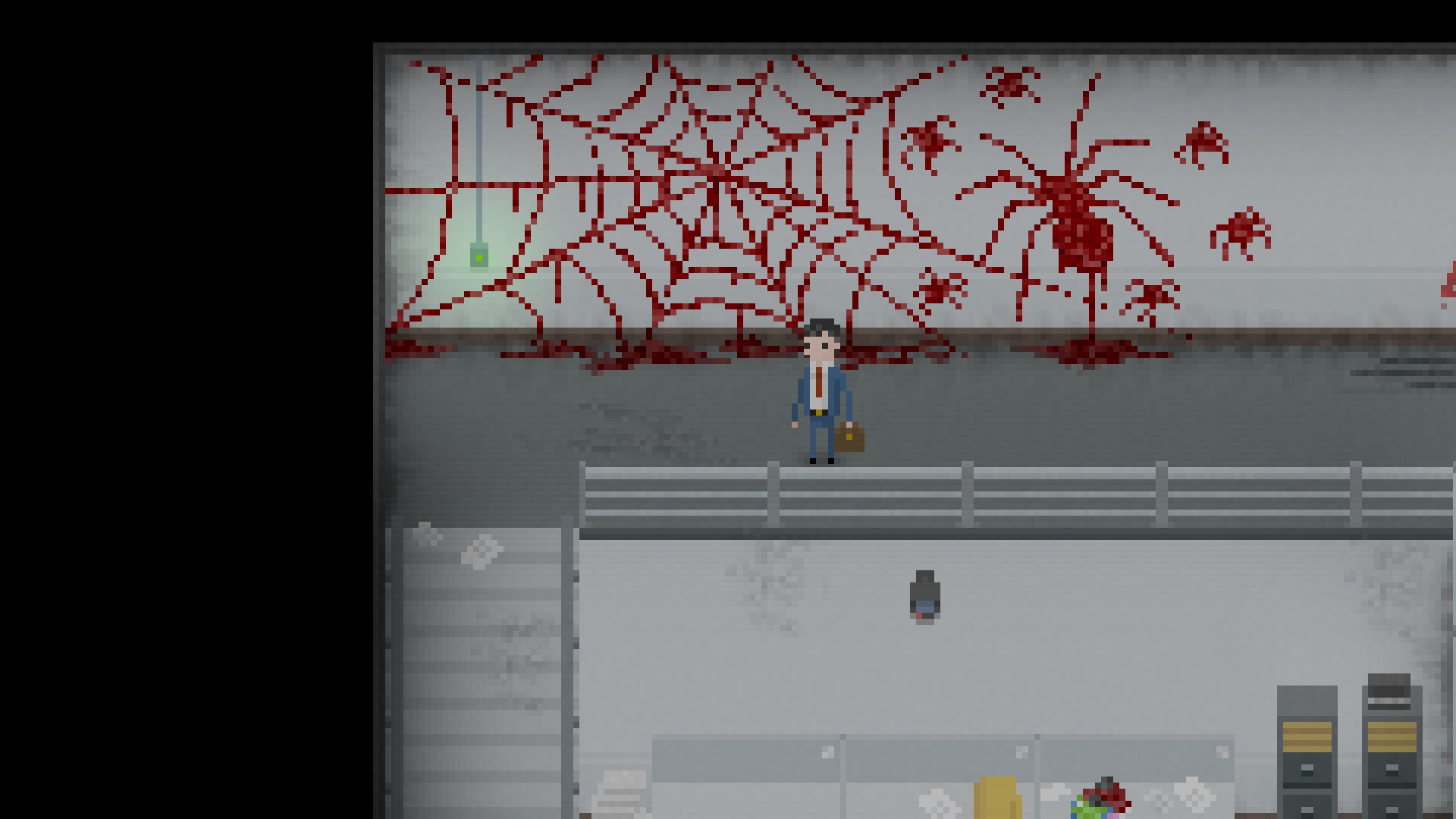 Now, as far as things go that I got bothered by, I'd like to mention how the saving system of using Witch Paper and Ink Cartridges kind of feels a bit too complicated. I don't like it when you cannot save whenever and the overall system is just a bit too "eh". Also, I would have liked at least one auto-save in the beginning after getting to your office, as the game crashed there twice and as I had to redo the beginning twice, which was a tad annoying. To be fair though, crashes didn't seem common. On the contrary, my streaming of the game probably took a hit on my computer, so I'd let that pass.
Apart from that, I wasn't really bothered by anything. I would have maybe enjoyed having more accessibility options in the menu like turning off flashing lights and replacing it with a dimmed option or something like that. On top of that, it could have been nice to get some options to highlight interactable objects or make the game easier for people that have a hard time with survival horror titles, to begin with.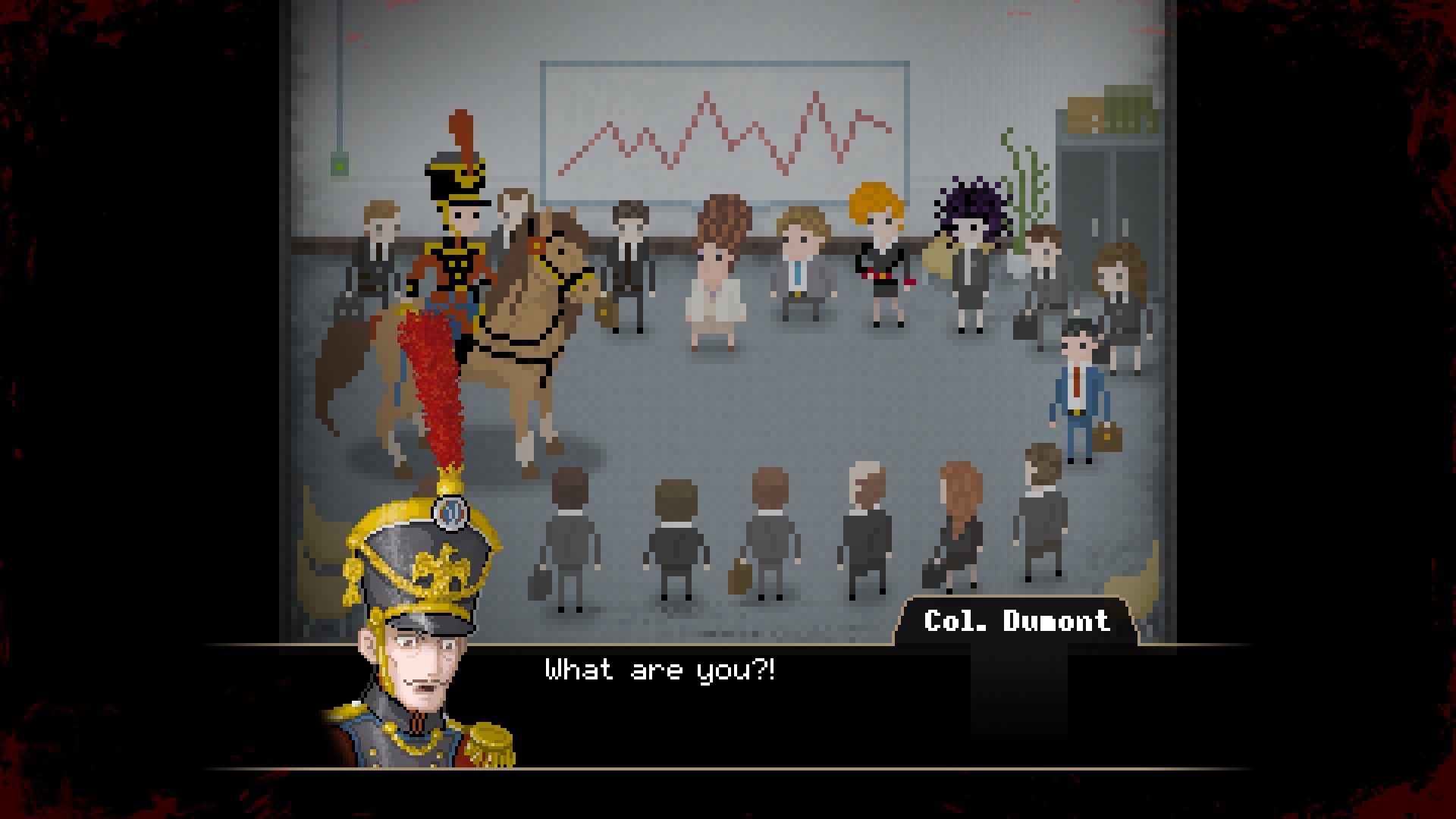 Yuppie Psycho, in essence, is a game that surprised me in a lot of ways. It's a fantastic game with a great art style, story and soundtrack. The puzzles mostly feel good to solve and more often than not I had to chuckle instead of getting scared. I'm not a huge fan of Horror games but this game was actually quite bizarre and fun with fewer scares and more creeps going on. On top of that, choices matter as well to a degree here and sinfluence the ending considerably, so I'm looking forward to going through it again, eventually, as there is a lot of replayability with these seven endings, all of the collectables and the amount of things to do in the game. To sweeten the deal, Yuppie Psycho also got a free DLC upgrading the game to the "Executive Edition" adding new bosses, areas and more stuff overall neatlessly into your game, so that's quite cool, in my opinion.
Now, I don't give scores but I definitely recommend this game to fans of the genre that want to experience true corporate horror. If I was to give a score, it'd be a solid 9 out of 10, I think. It's a great game but the missing accessibility options turned me off a tad.
Don't get fired, stay healthy, and be kind to others!
Cheers!
This post was first published on Indiecator by Dan Indiecator aka MagiWasTaken. If you like what you see here and want to see more, you can check me out on Twitch and YouTube as well.