Outer Wilds is one of my all-time favourite games. It's an exploration-based game that is essentially all about the bigger picture: What is happening? Why is it happening? Can we stop it from happening? – You can answer all of these questions (and a lot more) by exploring a distant universe as part of the Hearthian Space Program, Outer Wilds Ventures! I did review it before but since Echoes of the Eye is nearly as large as Outer Wilds' base game in its scope, I figured that a review is definitely warranted. Before that, however, I'd argue that you don't want to read this review. I will talk about some of the game's mechanics. Hence, there's going to be a TLDR here, something I don't usually do, since I don't want to spoil the game for you.
Developer: Mobius Digital
Publisher: Annapurna Interactive
Genre: Mystery, Exploration, Horror, Adventure, Indie, Space
Release Date: September 28th, 2021
Reviewed on: PC
Available on: PC, PS4, XB1
Copy was purchased.
So, TLDR of this review is… Outer Wilds' "Echoes of the Eye" not only brings the game together as a whole but also enables the already amazing story from the base game to become even greater by giving it some context and explaining how it happened in the first place. On top of answering questions, Echoes of the Eye also adds a whole new location with new mechanics, systems, puzzles, and, well, content that is nearly as large in scope as the base game. I can highly recommend this to any vivid fan of Outer Wilds, although the DLC also has some weaknesses to it, like.
Alright, so, from here on onwards, there will be minor spoilers, including pictures! I won't spoil the actual story or gameplay systems but I'll talk about stuff to a degree, so consider yourself warned.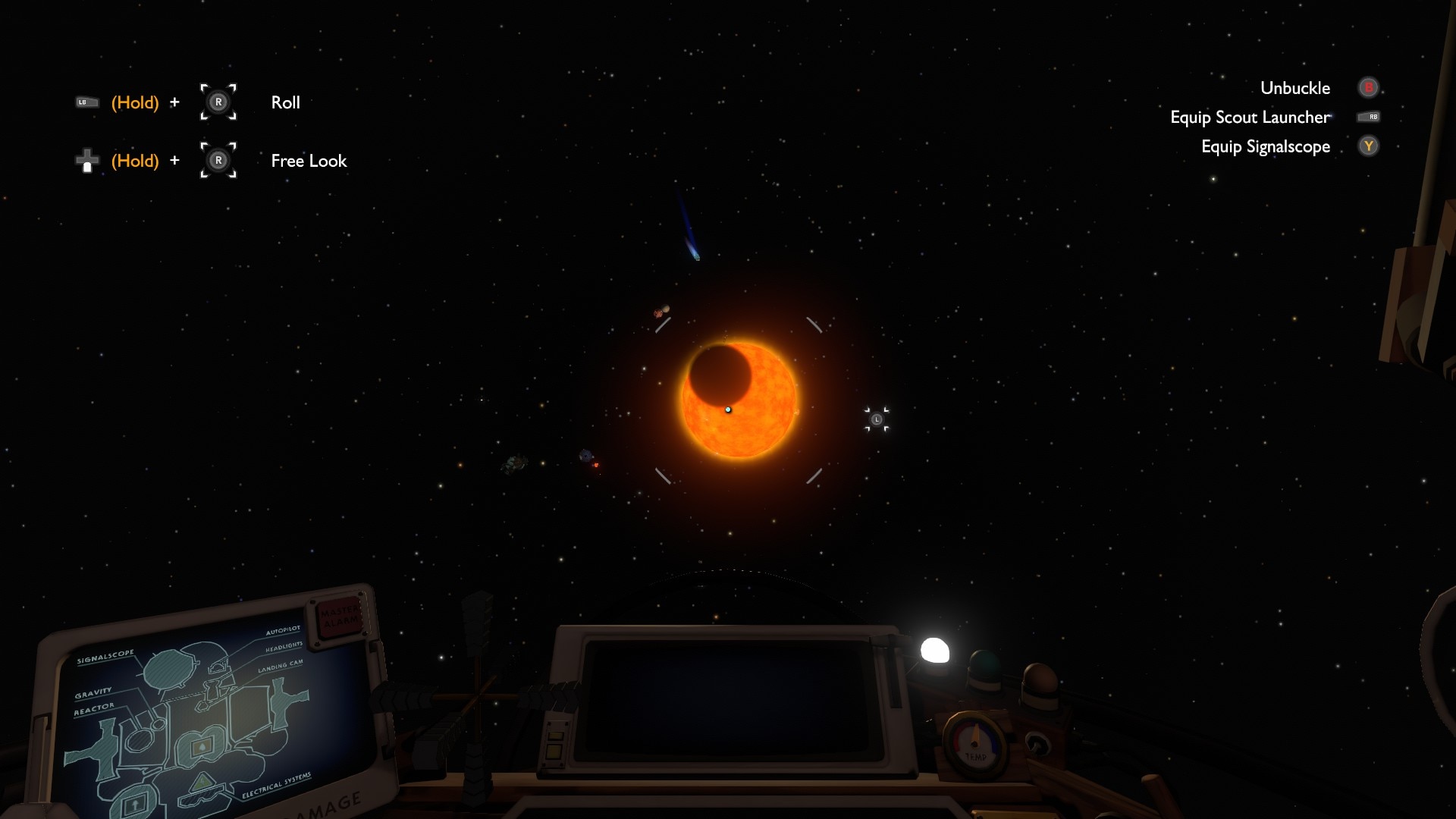 Echoes of the Eye is a DLC that can be accessed at any given time. It's an interesting concept where they added a new exhibit to the museum on Timberhearth and you'll effectively have the means of getting to the new location in the system at any given time. The new location known as The Stranger is hidden away in the system and has its own mechanics, systems, and events. The whole DLC as a whole is based on the idea of "projection", which is why it's incredibly dark and I won't say anything about how you'll actually find The Stranger but… it's a terrifying place.
The place itself is inside of a disk-shaped object that is rotating around. On a river, you'll use a raft to navigate to different islands. These islands were once inhabited by The Stranger's inhabitants, a species much older than the Hearthians or even the Nomai! Strange things happen on The Stranger, though, as the light flicker, the dam breaks, and there are slide reels around that you'll need to utilize to access this object's inhabitants' nearly-lost knowledge! It's an amazing place really and it's incredibly creepy to see the paintings, furniture and other objects left behind by this civilisation, much more than in the base game.
If you thought Outer Wilds' Brittle Hollow and Dark Bramble were creepy… wait up for The Stranger! There are many secrets to uncover on The Stranger and they are all about the Eye of the Universe. Just like in the main game, this old civilisation that we discover here was chasing after the so-called Echo of the Eye which also caused the Nomai to migrate towards it. What's this about? What did they do? Why are they no longer alive? There are questions among questions and little to no answers unless you dive deep and shine your flashlight on things to discover the things hidden in the darkness.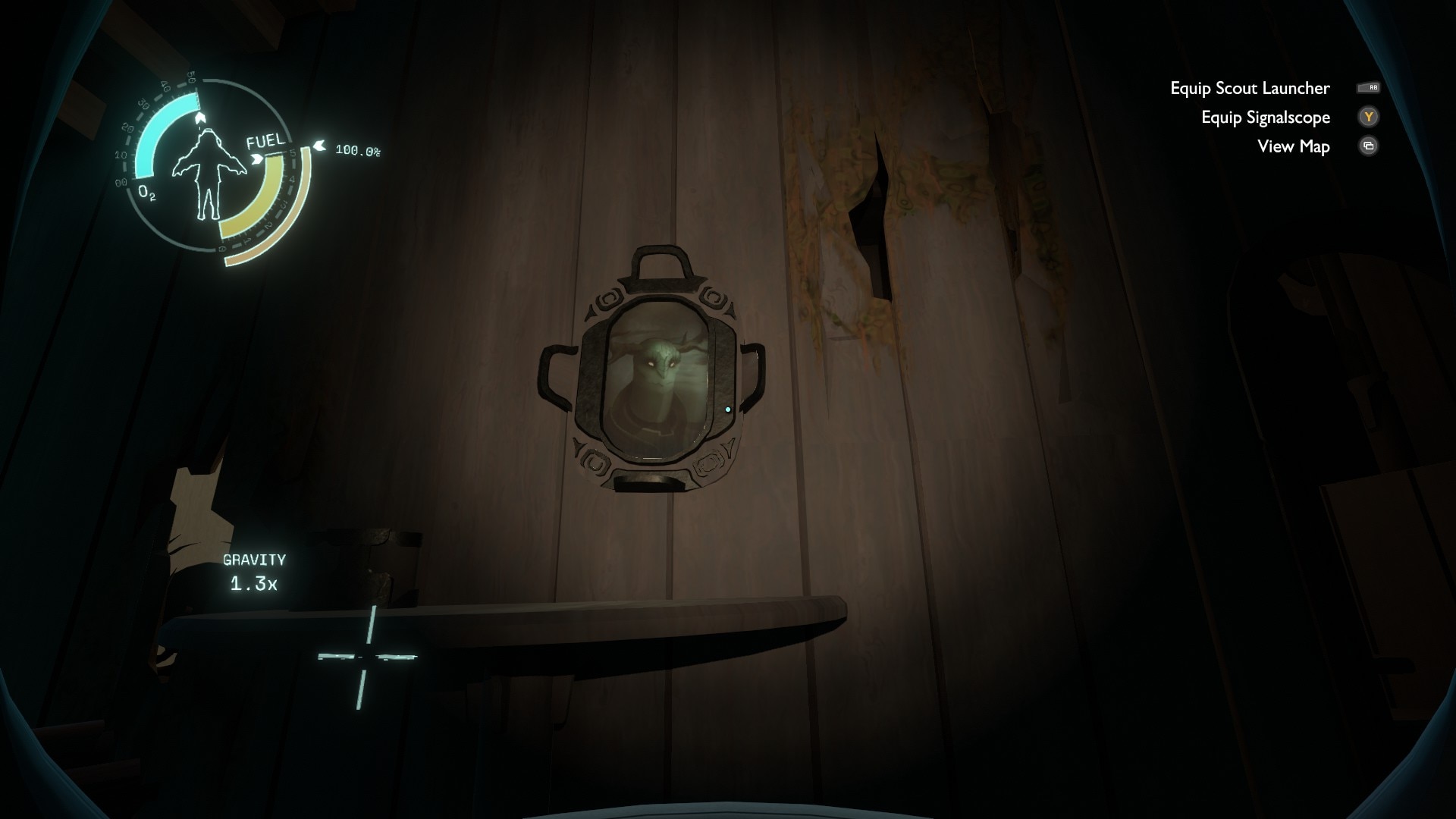 The core gameplay mechanics are similar to Outer Wilds' base game, although it's less about Quantum mechanics and more about Light and Shadow. Instead of utilizing the gravity crystals on Brittle Hollow or following signals in Dark Bramble, you instead use your flashlight and scout to open doors while dozing off at fires and telling creepy stories to your friends. And once you stumble across this one secret place, the game becomes even more eery with potential threats much worse than the Anglerfish or Giant Deep's tornadoes! The way you find out about these mechanics is the same as before: You explore places, learn about them through exploration and combine the clues given to you to piece together the giant puzzle that is this wonderful game. I love the way it made the game feel fresh and I love the way that Echoes of the Eye's story enables the main game's plot so much.
One of the issues that Echoes of the Eye has, however, is that it's incredibly scary at times which hindered me from progressing sometimes… But luckily, there is a "Reduce Frights" setting that makes it a bit less terrifying in those cases but it doesn't help completely, especially when you're not sure where to go. This is a flaw that the board computer fixes a little bit but it's still a bit much when you first dive into it and especially as a newer player, it can be a bit difficult to navigate this huge place! Another issue that I had, however, has to do with one specific section of the game. It has to do with one specific location that you need to explore and get to so that you can find a clue about how to solve the rest of the game… It's one of three key information pieces that you need and this one part was quite difficult, frustrating and frankly annoying. I feel like it's a flawed level design and frankly, I'd recommend looking it up on Reddit or something if you ever come across some section that is very difficult because… it probably could have been handled better. Just know that there are videos of it out there and Reddit is a great place to look up small pieces of information without getting completely spoiled!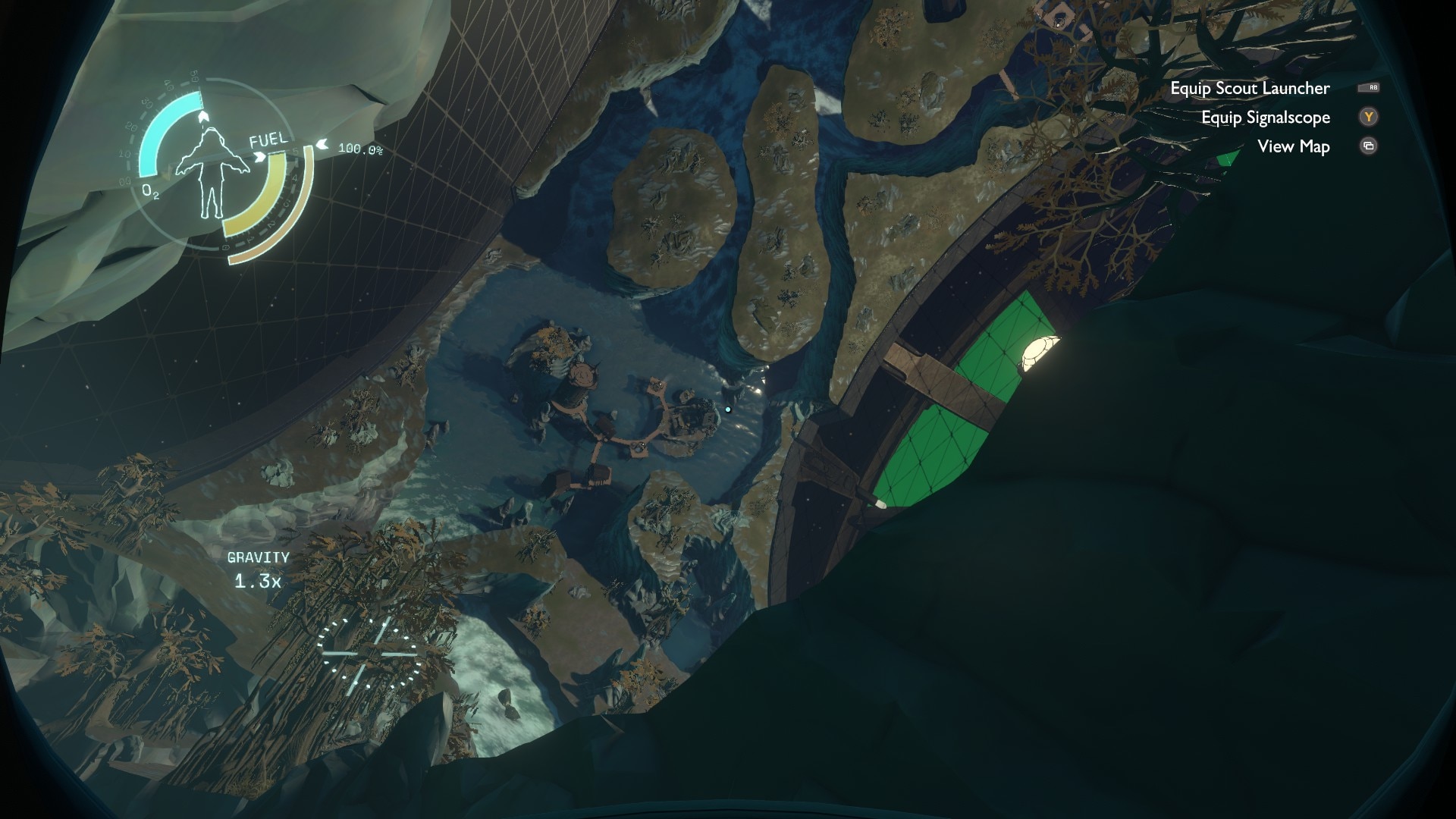 Overall, though, the game is amazing. Outer Wilds is a masterpiece that is sadly underappreciated by the greater gaming community. I'd argue that Outer Wilds is a masterpiece of a game and the DLC further added to that quality with its amazing new soundtrack pieces and new graphics, the new locations and the additions to the plot. I'm in love with The Stranger and everything around it, even if I found it a bit too creepy at times. And I can highly recommend this to anyone that is looking for a good mystery. Really check out Outer Wilds, if you haven't yet, and get the DLC for yourself if you want to add a bit of horror to your mystery. :)
Cheers!
This post was first published on Indiecator by Dan Indiecator aka MagiWasTaken. If you like what you see here and want to see more, you can check me out on Twitch and YouTube as well. If you find this post on a website other than Indiecator.org, please write an e-mail to me. Thank you!