I don't usually write about games that I haven't played at least a demo of but I honestly am just incredibly excited about this upcoming release! Cult of the Lamb is developed by Massive Monster and published by Devolver Digital – and ever since it was announced, it has garnered a cult-like following indeed. Today, I'll talk a bit about the game as well as about why I'm anticipating this so much.
At its core, this adorable Indie title is an action-roguelike game with base-building and colony sim elements where you play as a Lamb that was meant to be sacrificed by a cult but ended up becoming a cult leader themselves instead. The action-roguelike and dungeon crawling aspects of the game will take you to a land of false prophets where you'll enact your true power as you rescue followers and punish those heathens. In between runs, you'll also work on your own cult and tend to your needy followers as you build up a base and feed these hungry mouths. And well, throughout the game, you'll have the option of deciding what sort of cult leader you'll be as well, swinging between good and evil, tending to your followers or going for a darker path of sorts.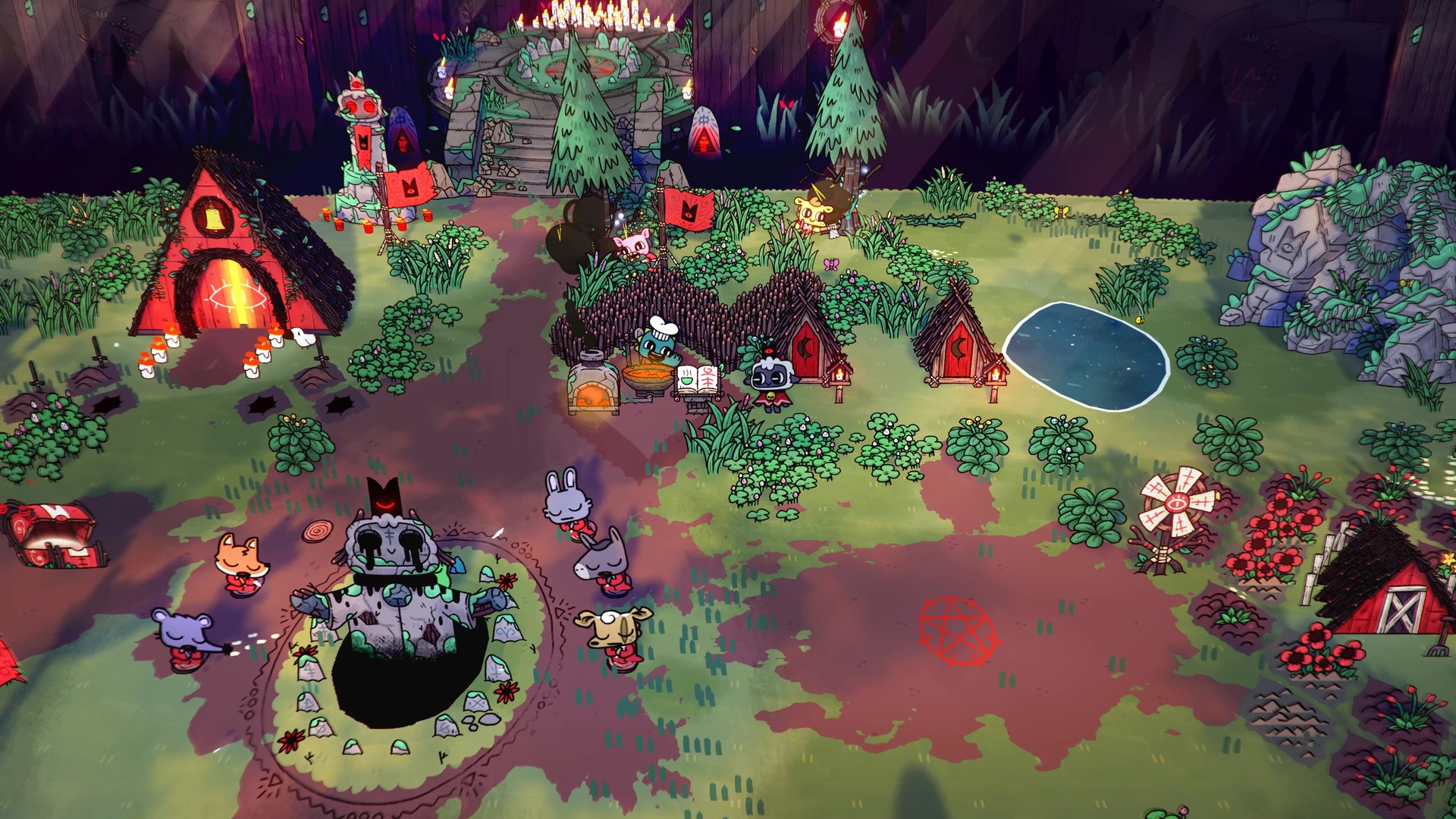 I'm incredibly excited about this premise as it not only combines two "genres" that I truly enjoy – Base-building and Action-Roguelikes – but I'm also looking forward to the thematic of the game. Leading a cult and being able to be "evil" without it being too disturbing sounds incredibly fun and I always wish for more games that embrace evil protagonists more, as I mentioned in the past. I have high hopes for this as combat looked incredibly fun (kinda like in Hades?) with you having to dash and dodge around, swinging your weapon and unleashing your fury onto the enemies standing in your way. That paired with the 2.5D perspective and the incredibly adorable art style is bound to make some heads turn… and if you combine cute animal followers with mature topics, you practically can't do anything wrong, right?
What's more, is that I'm a sucker for great soundtracks and Cult of the Lamb will feature original tracks by none other than River Boy himself! In a video, he and the Creative Director (Julian Wilton) talked about the soundtrack and how it came to be, which is incredibly interesting. If you have five minutes of time, I'd recommend giving that a watch!
There is no set release date yet for Cult of the Lamb but if you want to, you can give it a follow or add it to your wishlist on Steam right here. I'm incredibly excited for this and I can't wait to see how you build up faith, what combat is like, if there are any upgrades of sorts, and what direction I'll be able to take my cult into!
Cheers!
This post was first published on Indiecator by Dan Indiecator aka MagiWasTaken. If you like what you see here and want to see more, you can check me out on Twitch and YouTube as well.