Gladihaters is a Dystopian Prison Management Game where you train clones of historical figures and let them fight against each other. The premise is that there's a big championship coming up in a year. To qualify for it, you'll need to train up your clones, manage a prison, generate revenue, and be victorious in twelve tournaments scattered throughout the continent! The premise very much sounds like a Cyberpunk version of Domina, a game developed by a prick, and hence I figured it would have a lot of potential. I got sent a key for it to playtest it but I must say that it's lacking in polish.
Developer: Aden Interactive
Publisher: Aden Interactive
Genre: Dystopian, Cyberpunk, 2D, Fighting, Management, Early Access
Release Date: February 21, 2022
Reviewed on: PC
Available on: PC
Copy was provided by the developers.
You're the warden of a prison arena in a dystopian future and within 365 days, you'll need to win the "Prison Arena of the Year Award" – or face resignation. Hence, you need to excel at managing your prison, hiring employees for each department, making money by training clones and having them fight against other clones, and ensuring victories in the stadium.
Combat itself is rather simple. Your Gladihaters/clones fight against other enemies but you can shout commands at them by pressing several keys, which gives you semi-control over them. There are, however, restrictions to this as your fighters may not actually listen. Some, in fact, aren't even able to due to traits like "deaf" or "blind", meaning they can't hear commands or see the opponent. Combat's difficult and it often is decided once either you or your opponent pick up a weapon thrown into the arena… but you can certainly tip the fight into your favour by utilizing different traps and weapons you can install into your own arena. A laser, for instance, can be directed at your clone or the enemy to deal a lot of damage. You can erect barriers or take control of the enemy or your clone directly. All of these cost money, though, and have a cooldown, so it's a matter of do you want to use these right now or do you want to surprise the enemy with them later and first try to win by using your fists.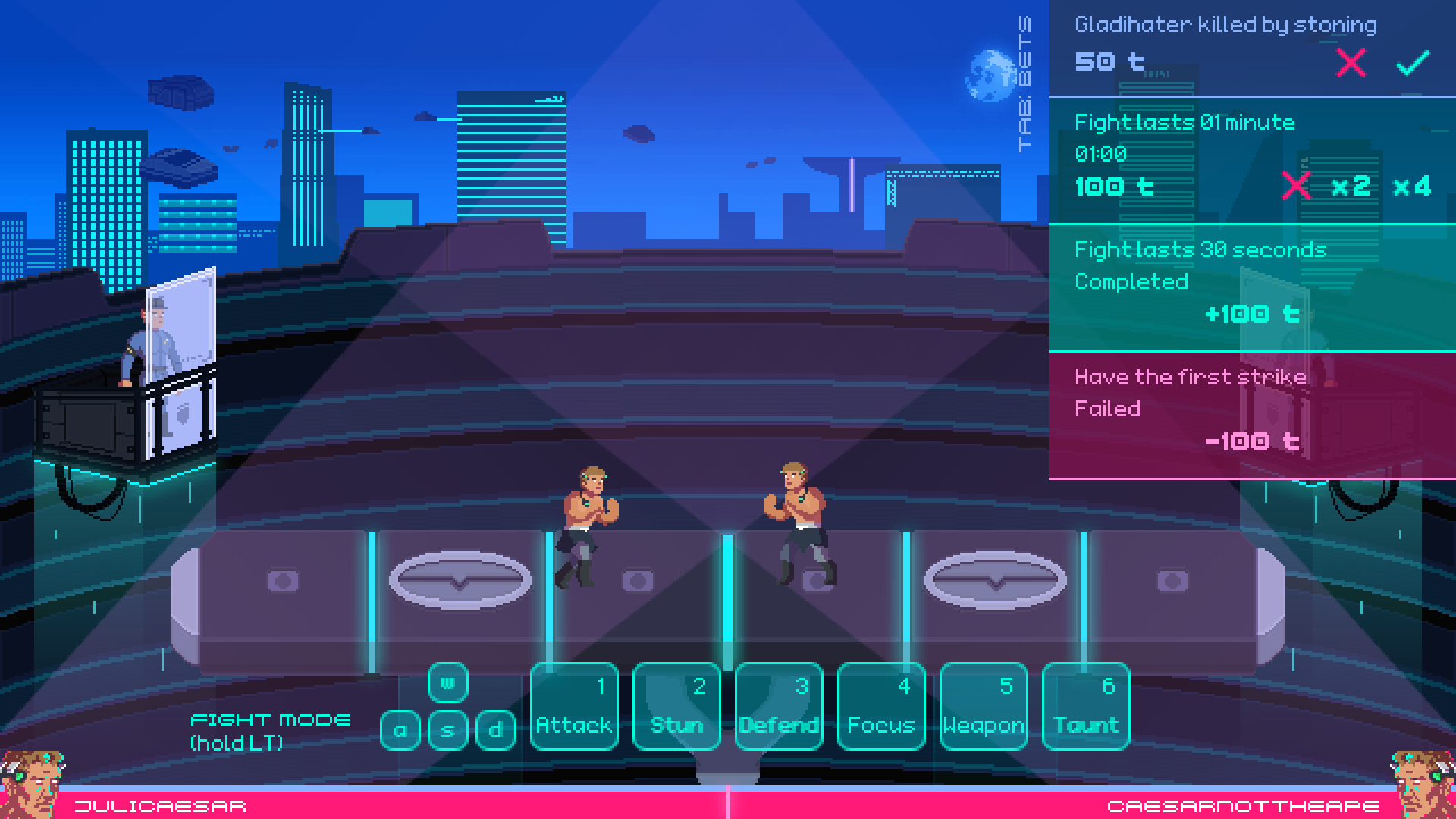 Apart from that, the game seems unfinished though. It's in Early Access, yes, but I believe that releasing a game in this state isn't quite acceptable even in Early Access. Usually, you have a working prototype of the main aspects of the game but right now, a lot of the management aspects aren't actually implemented. I don't even know what the prison does apart from passive income, so why would I upgrade that? Meanwhile, the gladihaters are actually in the game and you use them to fight others but you can't interact with them, upgrade them, train them directly, or do anything of the like. If anything, you can clone better versions of Abe Lincoln or Julius Caesar to get stronger stats on them but fights may limit what tier is actually allowed and what isn't.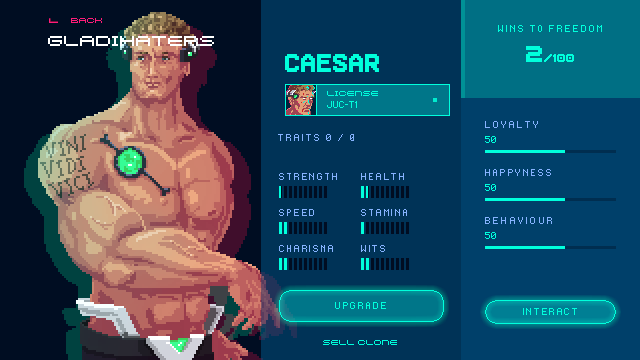 Meanwhile, the game feels incredibly messy and unfinished. The sound settings don't work correctly which is a huge bummer given the great soundtrack. The game doesn't even navigate well. Despite not having gamepad support, gamepad button prompts are shown on the screen when you navigate between the prison, your achievements, the cloning centre, the area, and so on. My gamepad at least didn't work and even with the mouse + keyboard controls, I had a hard time navigating the menu as it would often need me to click on exact spots instead of the general area for the menus… At the same time, the scroll speed was incredibly slow and frustrating. The tutorial breaks and at times doesn't even explain everything. And what's worse, is that once you had, you can't even quit out of the game unless you use the Task Manager.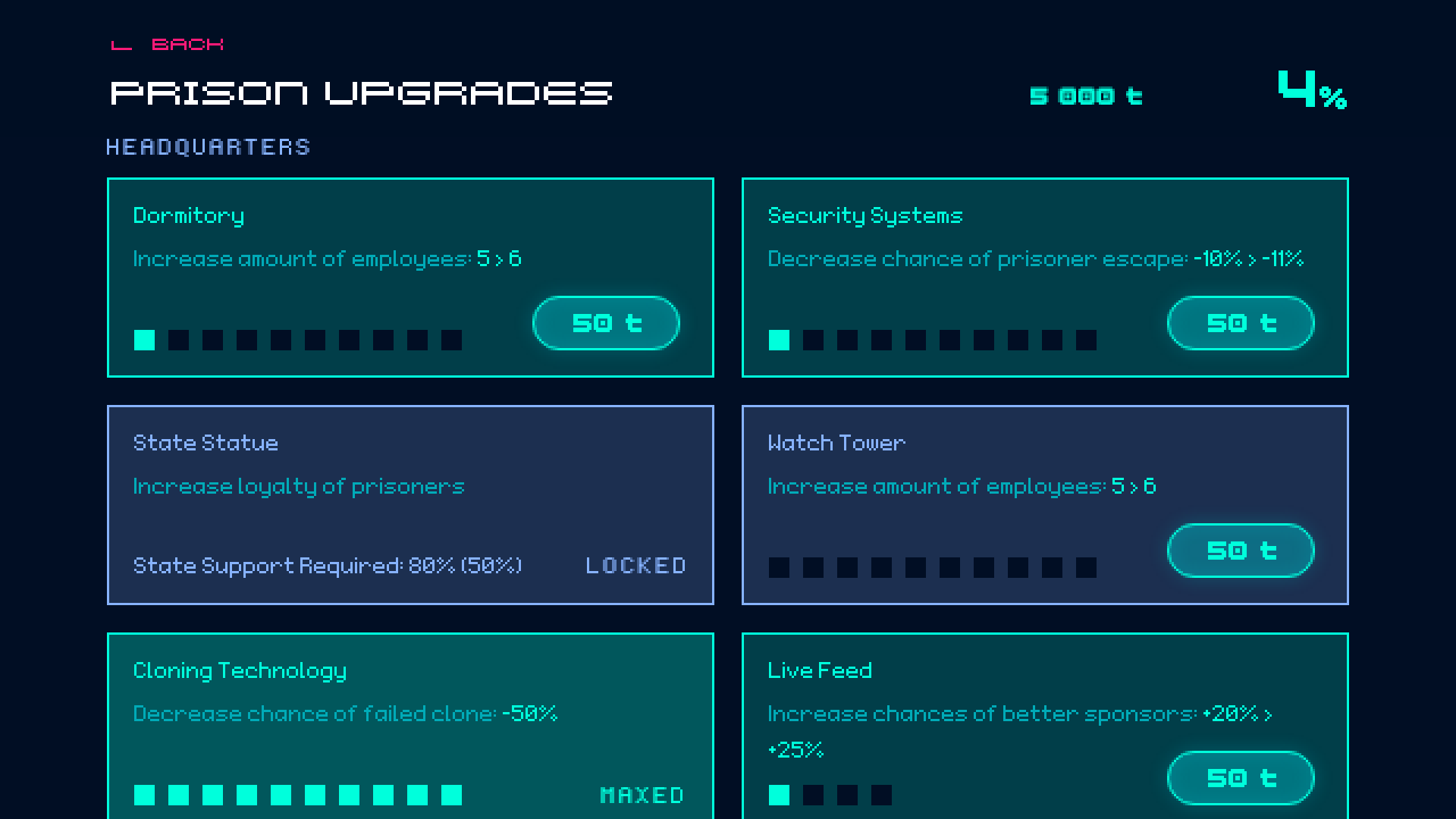 Still, I believe there is potential in the premise and the game. Management games like Punch Club, Domina, and Chroma Squad are incredibly interesting and have usually a lot of possibilities. Each of these games mentioned is different in its premise. Punch Club is about boxers, Domina is about Gladiators and Chroma Squad is actually a turn-based game but I included it in the list there because of similar mechanics. Gladihaters isn't a bad game and it doesn't have a bad premise either. It's just lacking polish and a lot of patches to fix some of its issues, add updates and just create a game that is more solid overall. Right now it's the husk for a good game so it needs a bit more. When asked about the roadmap, the developers actually provided me with information and were very acceptant of the feedback I gave them.
Frankly, I'll probably talk about Gladihaters again in the future once it received more
This post was first published on Indiecator by Dan Indiecator aka MagiWasTaken. If you like what you see here and want to see more, you can check me out on Twitch and YouTube as well. If you find this post on a website other than Indiecator.org, please write an e-mail to me. Thank you!