Back in 2021 (during the Summer Game Fest 2021), I was pretty darn excited about this title. Behind The Frame: The Finest Scenery is an atmospheric puzzle game, telling the story of an artist and his cat. It's part of this month's Humble Choice and hence, I figured I'd grab it for myself and check if it lives up to my expectations.
Developer: Silver Lining Studio
Publisher: Akupara Games, Akatsuki Taiwan Inc.
Genre: Indie 2D Story-Driven Puzzle, Interactive Fiction
Release Date: August 25th, 2021
Reviewed on: PC
Available on: PC, Switch, PS4, Android, iOS
Copy was purchased through Humble Choice.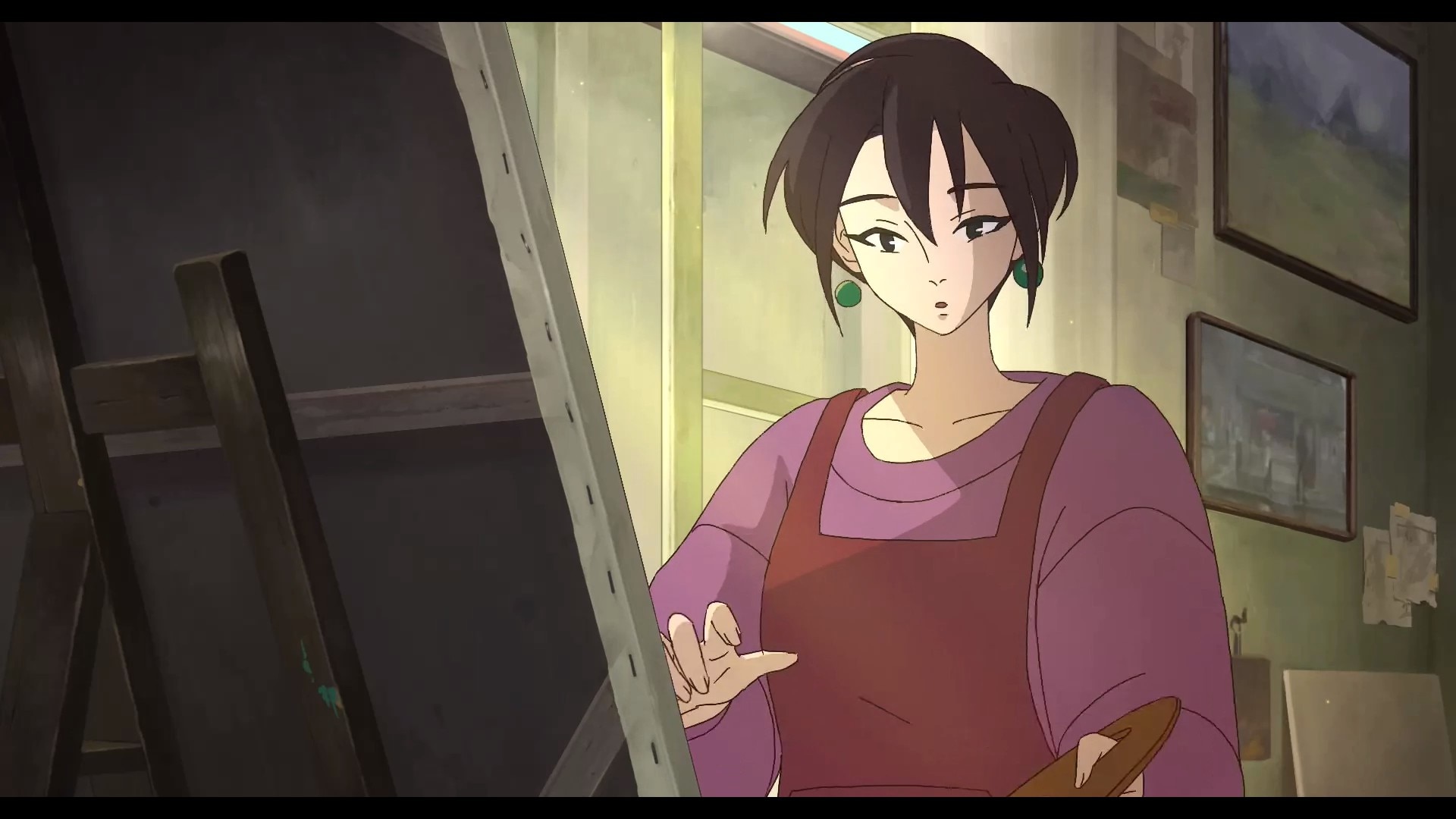 Behind The Frame puts you into the shoes of an aspiring artist that is working on her new painting for an exhibition. The game has you guiding the brush strokes, slowly completing the painting, as you go on and collect the missing colours… but something is always amiss and when you've got everything you need, there's just something else to be done entirely.
While you prepare the painting, you'll also have to do various other tasks. From making food and coffee to writing an application or chasing after a cat, Behind the Frame just doesn't let you get to the canvas. There are colours missing, so you solve puzzles to get to them, but in the process you find notes by people that you don't appear to know.
Who is J? Who's Amber? How do they relate to each other? What's up with the old artist on the other side of the window? The game leaves you guessing more and more before it eventually just ends up falling in place.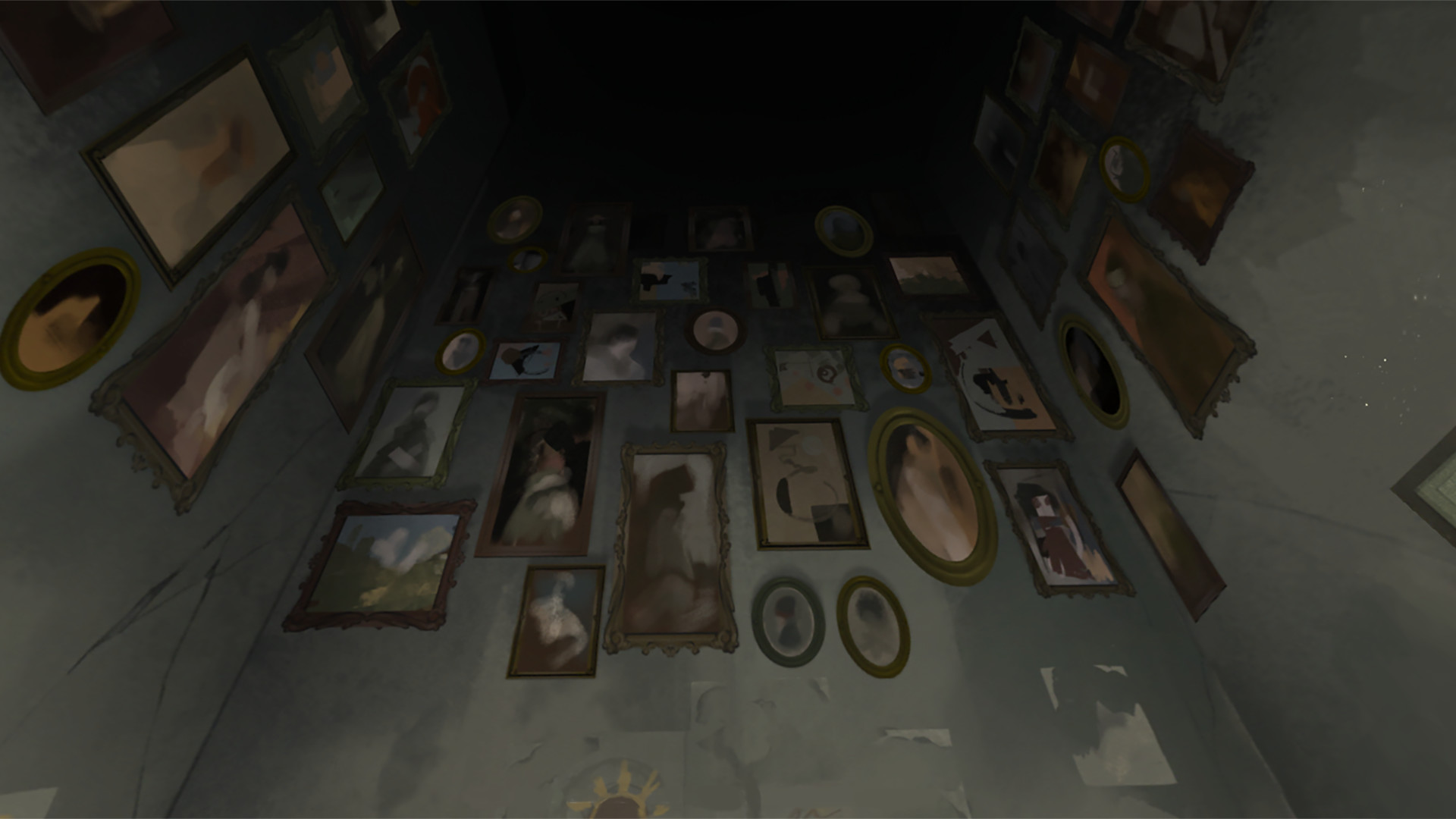 Behind The Frame isn't a particularly lengthy game but it certainly makes up for it in terms of the way it tells its story and the way puzzles are presented in. Rather than holding the player's hand, you'll need to figure out a pattern in paintings around the apartment and connect the dots yourself. Even the ending, as suddenly as it appears, does require some more thinking to fully compute. The main story takes roughly 45 minutes and is divided into a bunch of different chapters, making short sessions quite possible.
When you're done playing the main story and when you're still unsure about what the ending actually means… there's "Jack", the free extra chapter that is accessible through the main menu, telling the story of a man and his cat, tying it all together really well.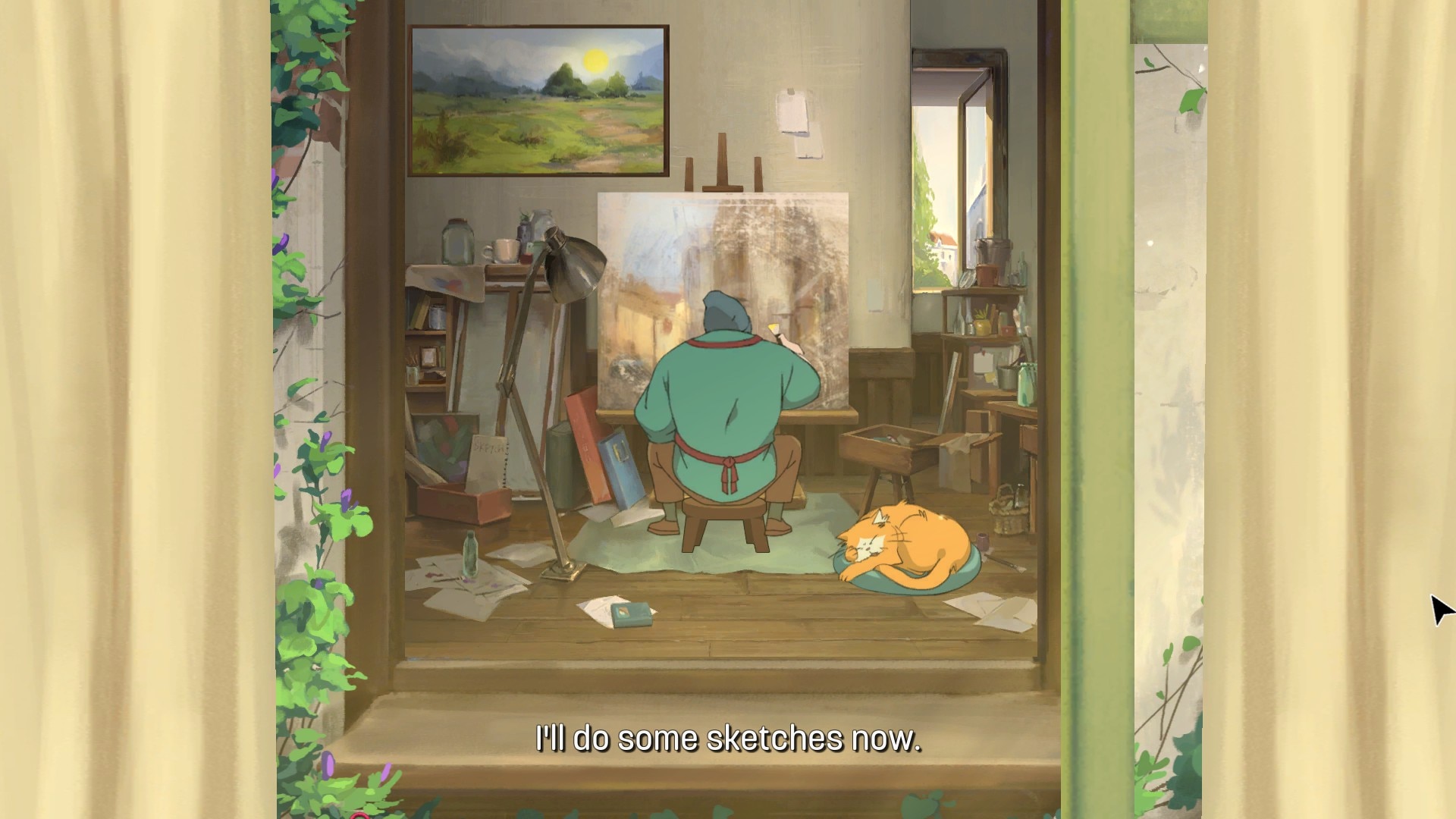 Honestly, I found the story to be quite beautiful and while it took me a while to figure it out, I really appreciate the game not trying to give it all away just yet. I hope that you, dear reader, will have the same experience as me in that regard.
The game is accompanied by a wonderful soundtrack, btw, as well as beautiful hand-animated and hand-drawn visuals, very much inspired by Studio Ghibli films. The art itself is what actually drew me to the game in the first place. It's really good!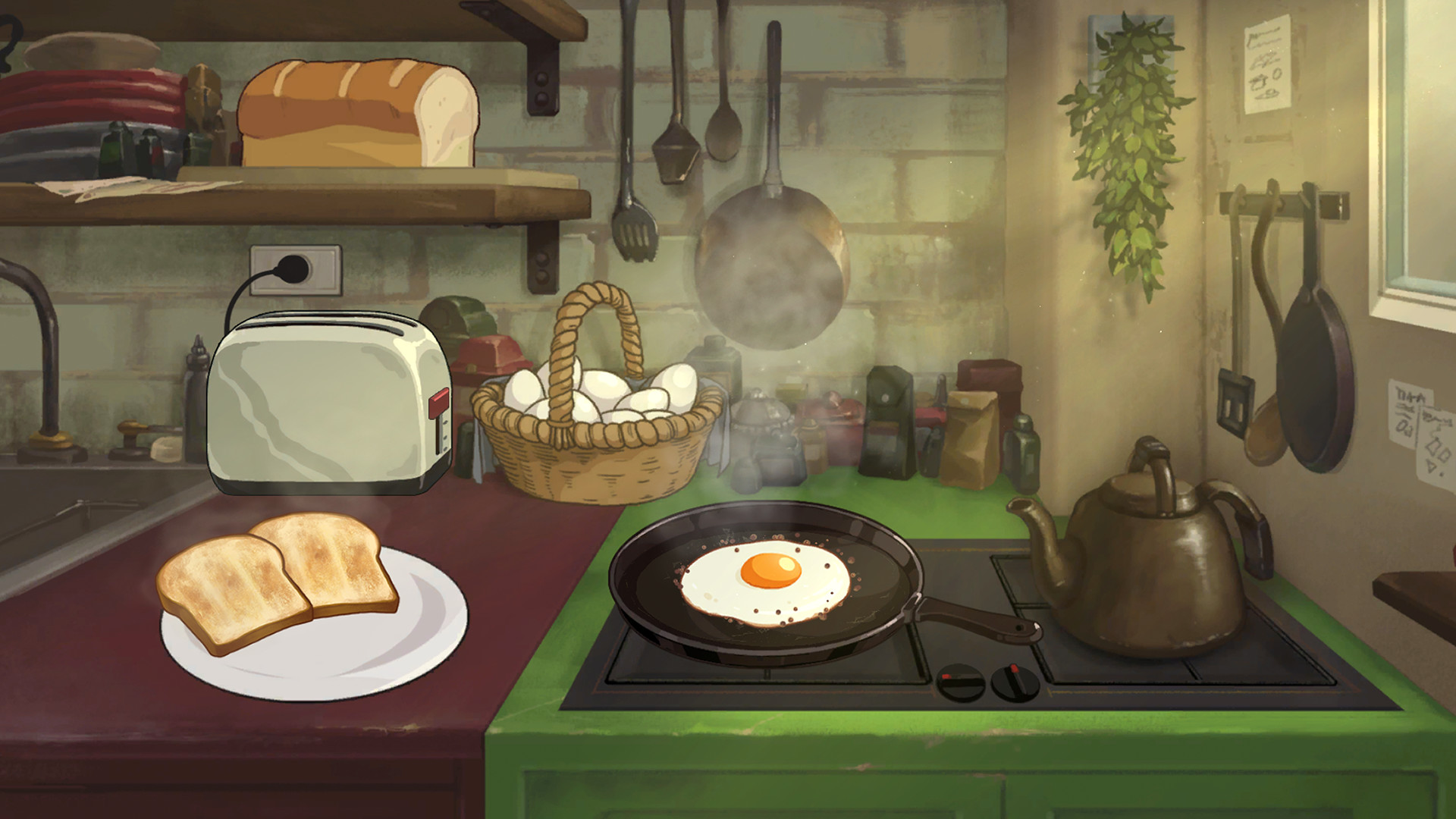 That being said, the game also features some things that I personally really dislike. The lack of settings and the amount of missable achievements are kind of annoying. It's not a huge deal since the game isn't demanding or anything but I'd still like to see more options in titles like this, especially when it comes to showing plain text for letters.
The missable achievements are also technically a non-issue since you can replay chapters but Behind The Frame sometimes just doesn't want to start up the chapter in question, meaning you need to restart… which can be rather annoying.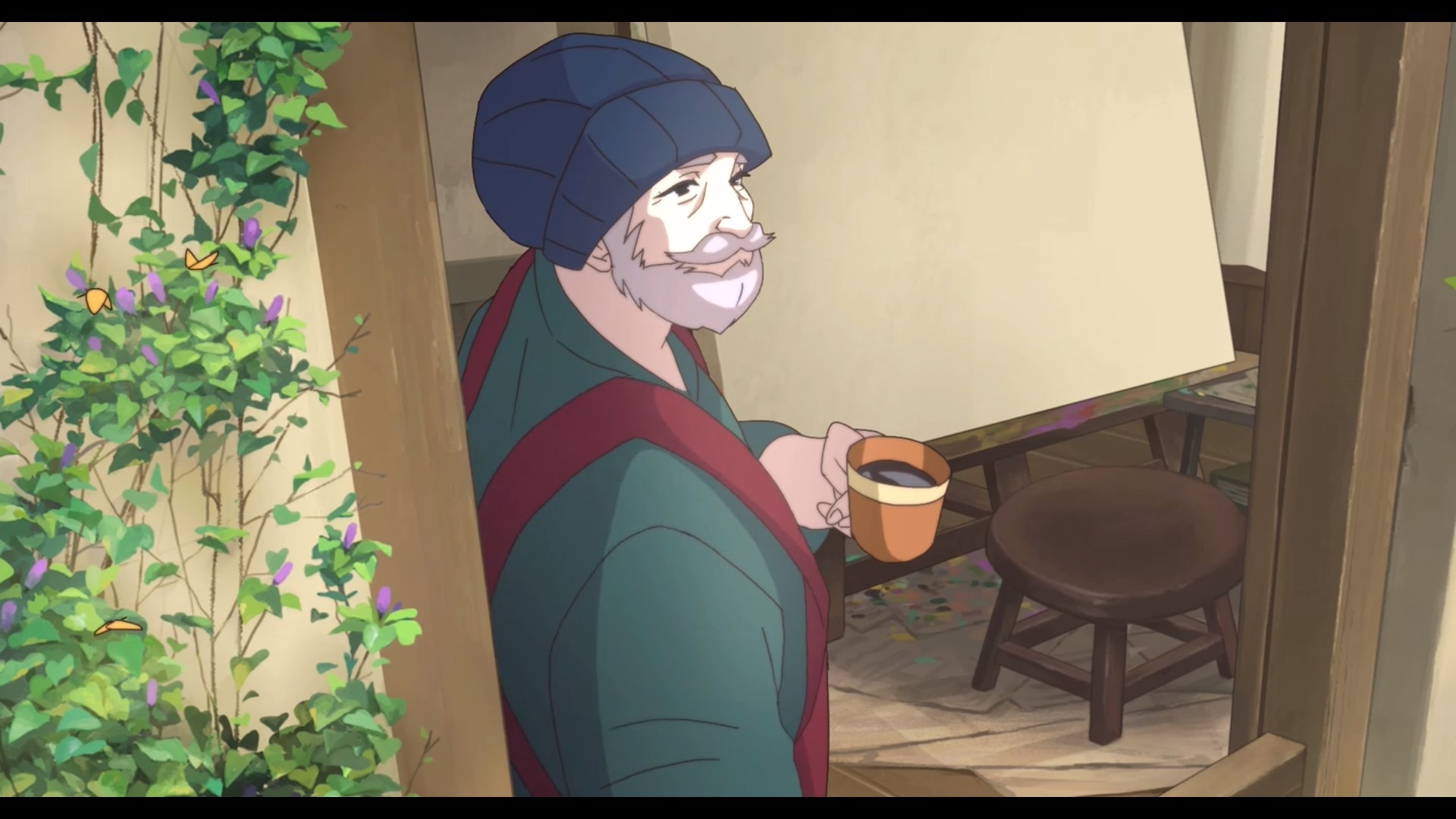 And then there's the UI… or rather, clickable areas are sometimes not registered correctly, something that should be easily fixed but the game is two years old by now and it's sad that this is still in the game. Sometimes the painting didn't work correctly and a lot of the time, I honestly was just annoyed by the mechanic.
Overall, though, Behind The Frame: The Finest Scenery is a pretty short yet beautiful puzzle game that you may wanna pick up during this month's Humble Choice. The story and animations are lovely; you can even pet the cat, which is pretty great – frankly, it's a nice little title to experience at least once and it lends itself very well to shorter sessions!
This post was first published on Indiecator by Dan Indiecator aka MagiWasTaken. If you like what you see here and want to see more, you can check me out on Twitch and YouTube as well. If you find this post on a website other than Indiecator.org, please write an e-mail to me. Thank you!