In today's review, we're taking a look at Forager, "a 2D open-world game inspired by exploration, farming and crafting games like Terraria, Stardew Valley and Zelda" by HopFrog.
Developer: HopFrog
Pubslisher: HumbleBundle
Genres: Survival, Open-World, Adventure, Indie
Release Date: April 18, 2019
Reviewed on: PC
Available on: PC (Windows, Linux), PS4, Nintendo Switch
Copy was purchased.
I actually planned on posting another format called "The Chase for Closure" where I try to get all achievements (in Forager, that's 6 remaining for me!) but then I saw that I needed to have all achievements in one file for the last one and there's one achievement that I can't get in my other file and yadidadiyada. You get the drill. So, I created another save file and started anew for that last achievement… before I realised that there's the Combat Update coming out soon that includes new skills, items, bosses, a whole new biome and also new achievements. So… I gave up on the chase for the 100% (for now!) and instead decided to release another review. This time on Forager.
At the start, you spawn on an island, only equipped with your basic backpack (with not that many slots) and a basic pickaxe. On the island, there are resources that you've got to mine, forage, etc. to proceed. By doing so, you gain experience points and, well.., the resources (trees -> wood, rocks -> stone, bushes -> berries, etc.), duh. Once you've earned enough experience, you level up and have to spend a skill point on one of four different available skill trees: Economy, Industry, Foraging, and Magic.
The different skill trees unlock new items, buildings, enemies, resources, equipment and overall make your life easier. For instance, I struggled a lot with coal at the beginning, which is necessary to smelt ores into ingots. Hence, I burned wood to gain coal instead before then burning that coal for the ingots. This, however, resulted in me struggling with wood at the beginning. But once I advanced far enough into the Foraging-Skilltree I earned a skill that lets coal drop from all rocks! And I never struggled with stone again.
The foraging-skill-tree is about grinding, mining, and foraging those resources, while the industry-skill-tree is all about machines and technology, granting you improved work speed, automation and other goodies that are quite neat! When you get into magic, you're able to forge swords, brew potions and craft scrolls that have all kinds of effects! The economy-skill-tree gives you more coins, helps you with storage, improves the number of resource-drops, and overall is also a great addition to the game.
Speaking of coins, they're very important! As I said, you're on one island at the beginning. To gain more land, you need to craft up coins that then can be used to buy more islands. There're also markets where you can buy and sell items with and for gold! Coins and materials are the heart of Forager but at some point later, you just won't have to worry about them at all.
The map is divided into five areas: The Grass Biome (where you start), the Winter Biome (North), the Graveyard Biome (West), the Desert Biome (East) and the Fire Biome (South). Each area/biome has different enemies and resources, as well as many different Quest-NPCs, Puzzles, and even a Dungeon each! When you complete Quests, Puzzles or Dungeons you gain a reward.
The dungeons were my highlight in Forager as they felt really Zelda-ish! The Quest NPCs are also quite cool as some of them have great dialogues. There's a ton of references and jokes in them as well as a whole lot of quests. For instance, there's this old guy at a giant tree in the Grasslands who warns you about this small guy with a pickaxe who's exploiting nature! Naturally, he asks you, not knowing that you're the guy who is exploiting nature, to help him protect nature by capturing a few torch bugs and bring him other stuff so that that madman can't harm them anymore. Quite paradox and fun! I had to chuckle at that quest.
While the levelling and grinding are a bit slow at the beginning, it picks up the pace quite quickly. Once you skill the right skills, you don't have any struggles regarding stuff like coal, wood, food, etc. There's even one skill that allows you to eat rocks! The next update will remove some of the skills that are "useless" while adding new skills in the skill trees that unlock all kinds of new items like trains and portals. There's also going to be new bosses.
I've been playing Forager for quite some time. I've got about 23 online-hours on Steam but I also played the Alpha-version on itch.io that didn't have that many features, yet, but was still really addicting. Forager is a nice game with many features, that has been improved a lot over time. There are weather effects, a day-night-cycle in place, new boss enemies and even hats – a ton of hats – in the game, that make the game quite fun.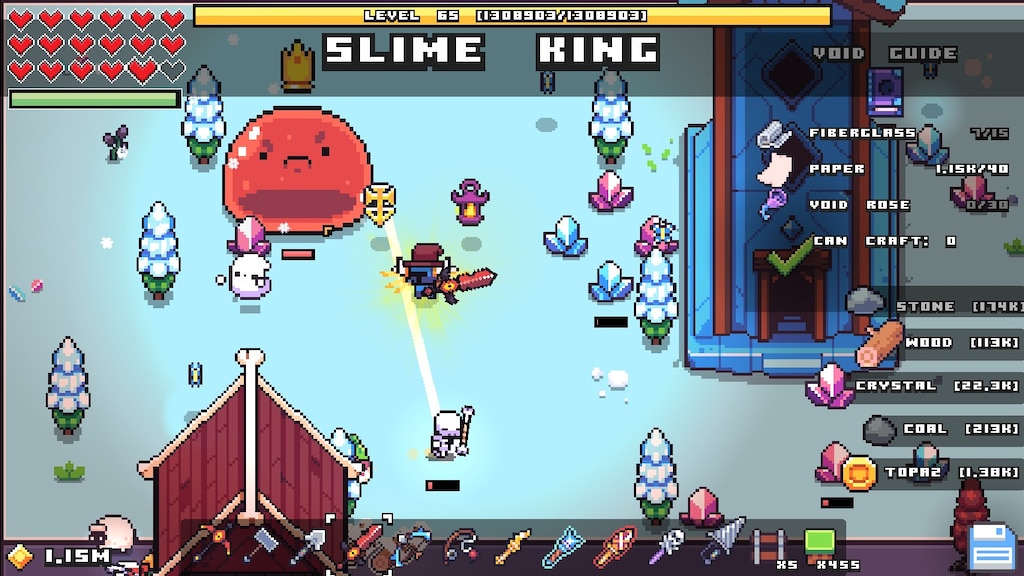 I guess you can criticize that there's not much end-game-content once you've upgraded all your gear, skilled every skill tree to the fullest, done all the dungeons, and built on every island, but the new item tiers and the new Void Dimension in the upcoming update should fix that quite neatly. The slow pace at the beginning feels necessary as you're always "this close" to levelling up or advancing which makes you want to keep on playing "for just a little bit more". So, I actually don't have anything to criticize. I like the style, the music, the humour and all the frequent updates. Therefore, I'm recommending the game, duh. But then again, I should mention that I enjoy the grinding and levelling aspects of this game and am a big fan of the Zelda-ish dungeons and puzzles and an even bigger fan of games like Harvest Moon, Stardew Valley and Graveyard Keeper. This game might not be something for you when you don't like games like those but you probably got an insight on this game by reading my review.
UPDATE: Mariano/HopFrog is facing allegations for mistreating and not crediting his hired co-workers. He also threw them under the bus for "messing up his game" after he didn't work on it for two years. So, read up on my post on that if you haven't already and it may or may not influence your opinion on the game. I do recommend the game still… but right now in its current state I wouldn't recommend it at the full price due to a lot of balancing issues and stuff… as well as the transphobia and as for how Mariano treats his programmers and other team members.
Anyways, feel free to leave feedback! Have a nice day :)
This post was first published on Indiecator by Dan Indiecator aka MagiWasTaken. If you like what you see here and want to see more, you can check me out on Twitch and YouTube as well.