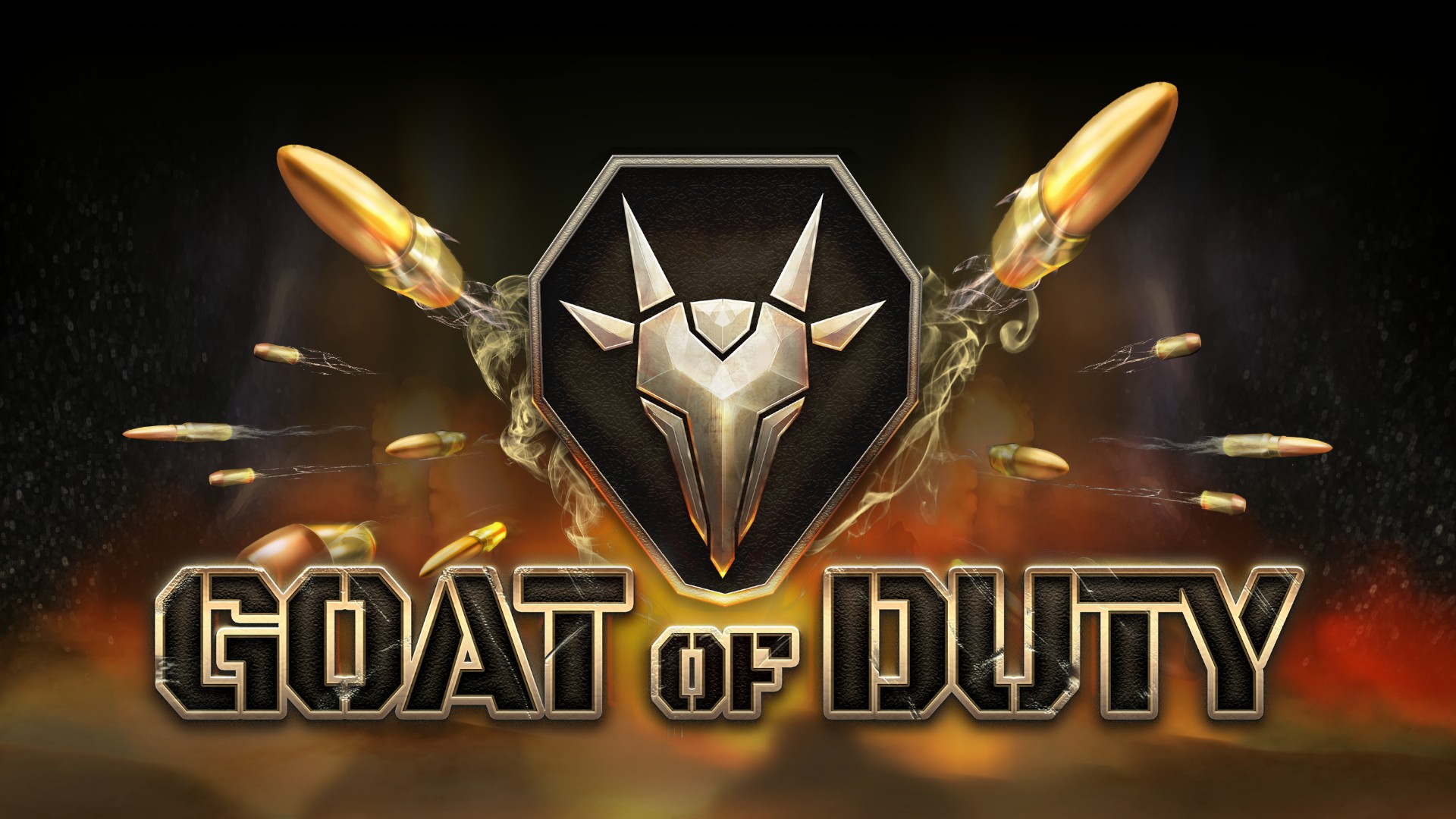 In today's Indietail, we'll be looking at Goat of Duty, a fast-paced-FPS Game featuring Goats. Yup. A lot of them in all kinds of variations.
Developer: 34BigThings srl
Publisher: Raiser Games
Genres: Early Access, Action, Fast-Paced, Arena-Shooter
Release Date: July 10, 2019
Reviewed on: PC
Available on: PC
Copy received for free in a giveaway.
What first started as a "joke-review" for April Fool's and BLApril2020 later turned out to be a game that I'm recommending heavily. I enjoyed this game quite a lot, despite the stupidity of the overarching premise of the game.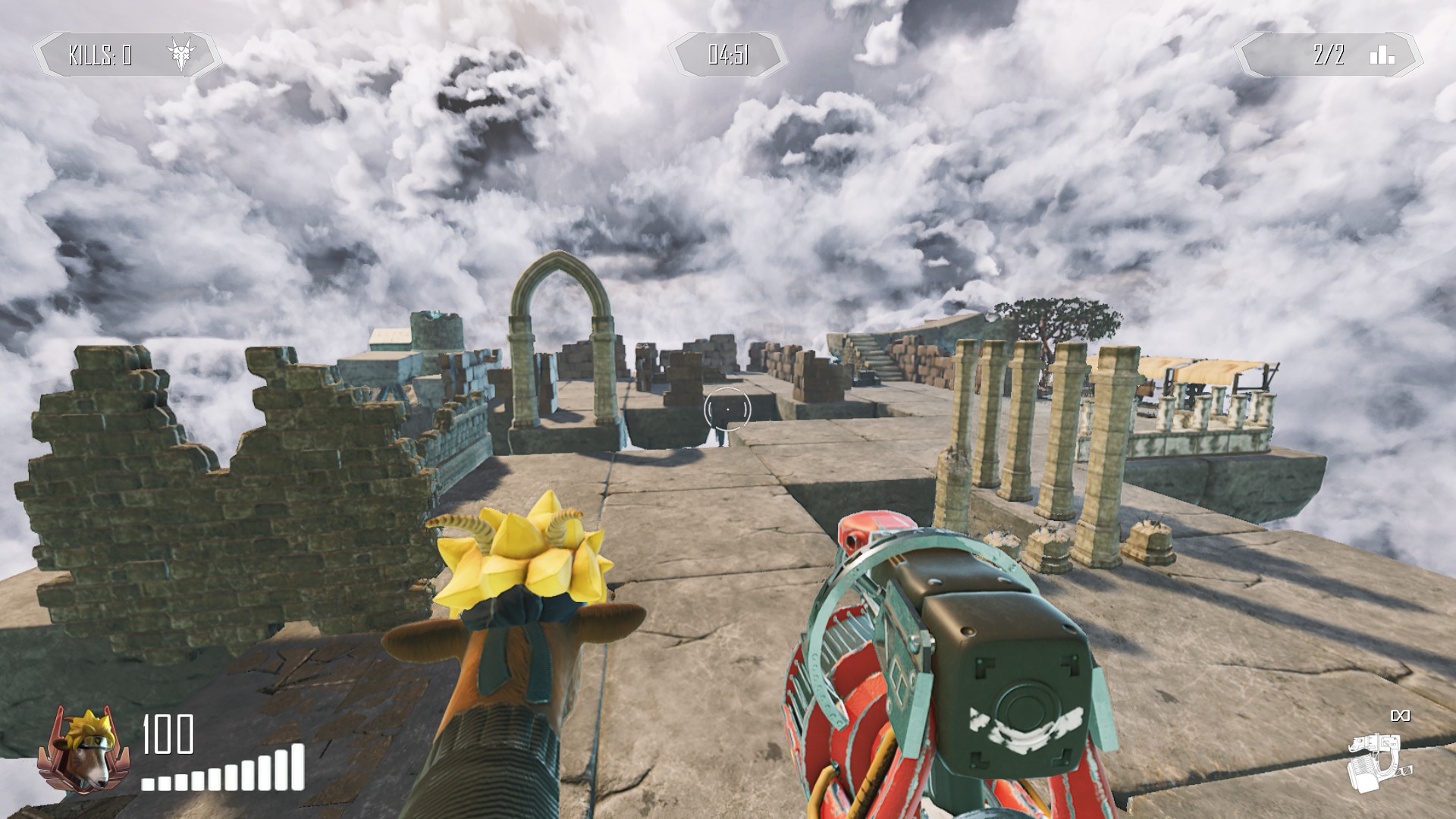 We are goats and are fighting each other in an arena while equipped with not only horns but also a large arsenal of weapons.
There're a bunch of maps and unlockable costumes, and lovely game-modes that you can join into. And despite the humoristic nature of the game, it demands a lot of you. In Fus Ro Arena, for instance, you need to watch your surroundings a lot more, as you're trying to push off enemies into deadly pitfalls and even more deadly traps.
Using the ram-function or your guns, you can deal a lot of damage to goats before finishing them with a mighty bleat. Just hilarious. Again, it's a rather stupid premise and meant to be a parody of sorts all kinds of shooter-games, including Call of Duty, but I feel like it's got a lot more potential than other games with the fun that you have. There are no gimmicks. No fancy skills. No classes. No micro-transactions. Just you, your skill and a lot of other goats.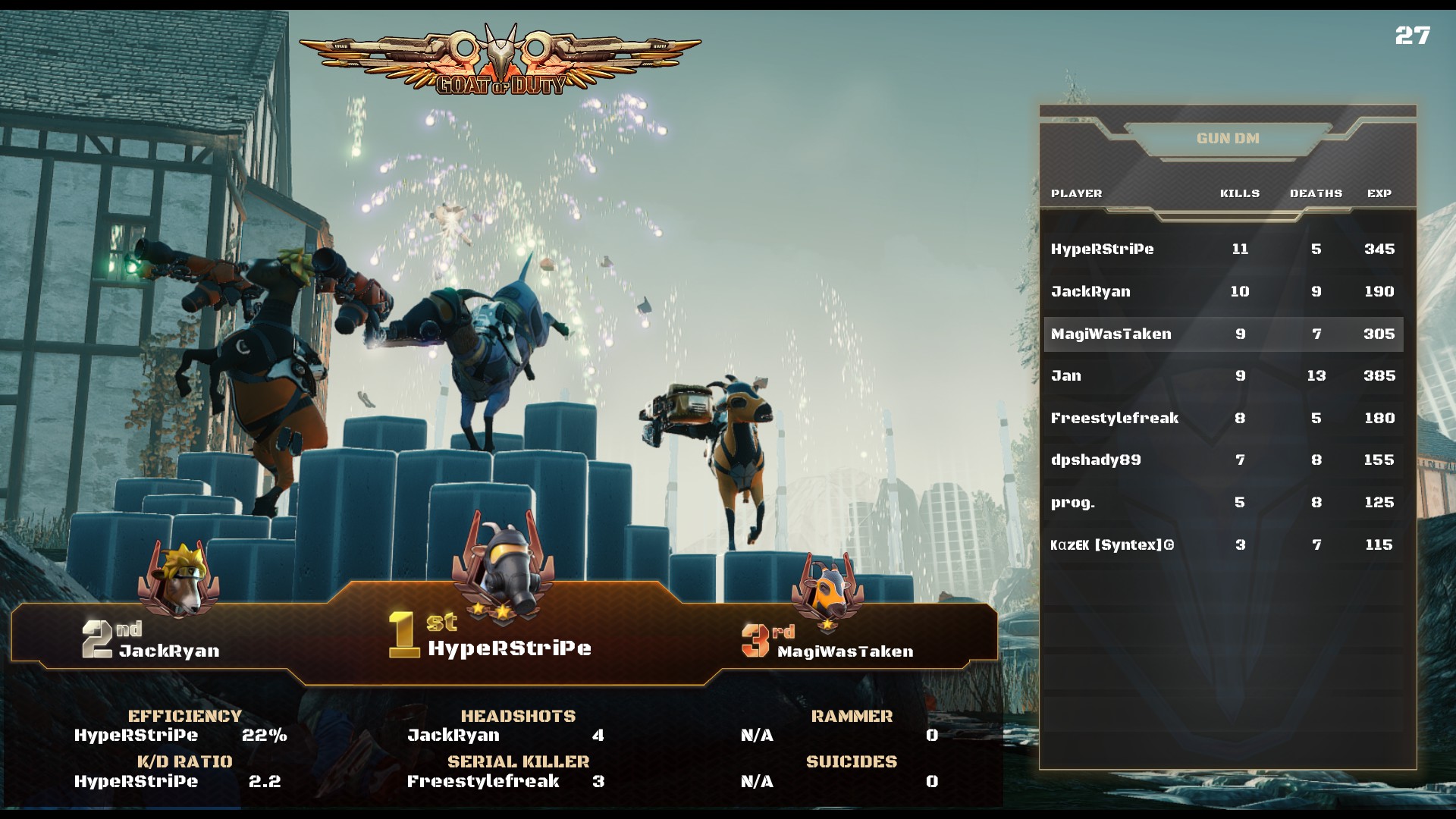 Finding a match doesn't that long but I feel like there are plenty of issues with the Peer-to-Peer-hosting as your ping can vary from a good and steady 40 ms to a very annoying 400+ ms, which bothered quite a lot.
The community also doesn't seem to be that big, which can cause you playing with the same people repeatedly, but then again… maybe that will get better once people stop playing Animal Crossing all the time.
I just find it hilarious. There are an awful lot of goat puns in there. It's fast-paced. Very gore-y. The learning curve was steep for me at first, but over time I even placed third in one match, which I – as a non-fps-player – am proud of. And then there's a bleat button as well as a play-dead-button, allowing you to confuse your enemies while you move around and ambush them from behind. Crazy!
Apart from that the graphics and the music, or rather the overall presentation, is quite fitting and not that demanding. I didn't encounter any bugs, despite the devs pointing out that those are "intentional features" in one of their loading screens. I found it pleasant to see actual music in the game and to hear In-Your-Face-Metal on the main menu. The graphics are alright – I expected a lot less from a game like this.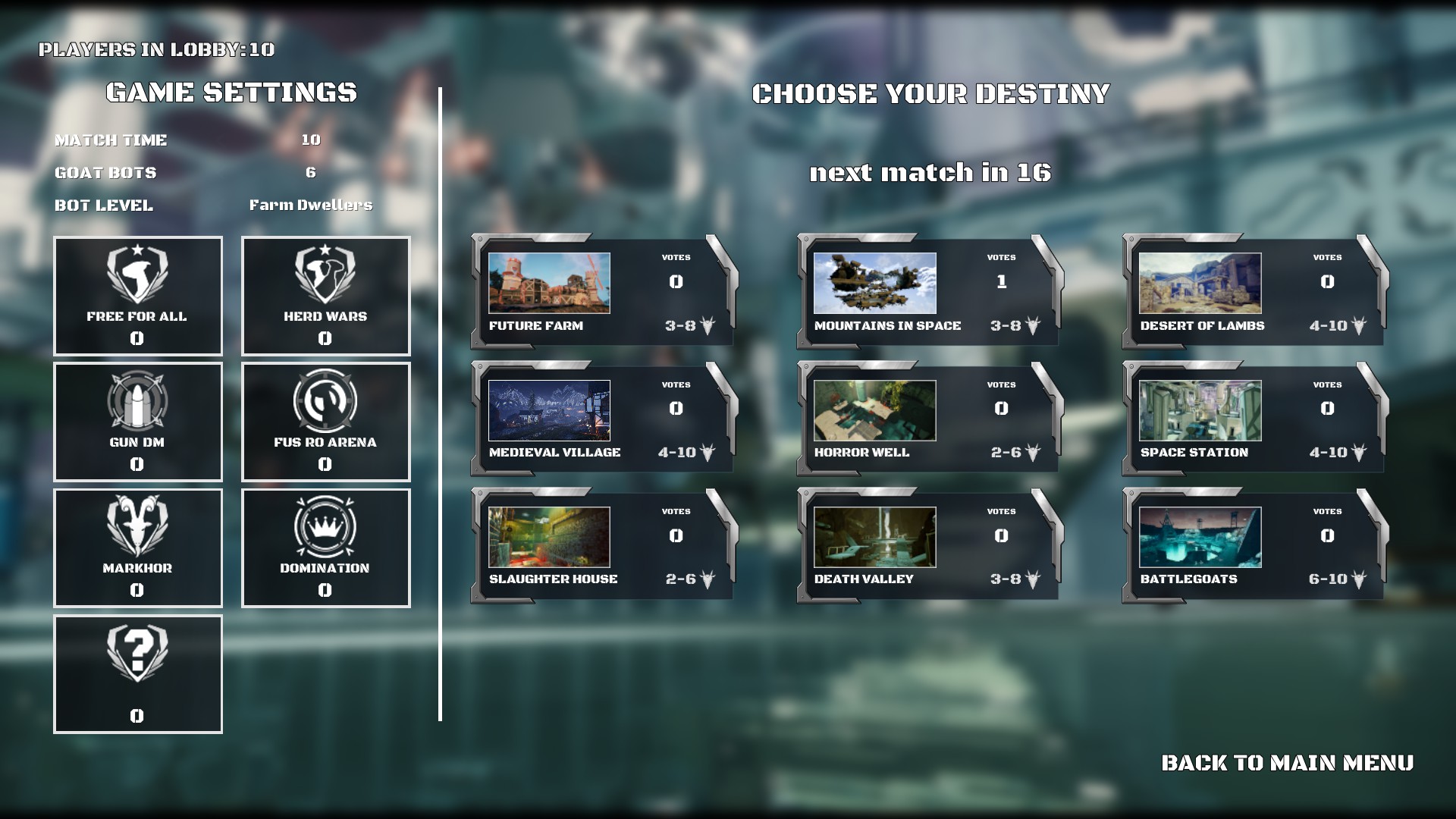 Overall, I was quite pleased with this game. I enjoyed it quite a lot and may play more soon. Sure, the Peer-2-Peer-hosting is crappy but you usually can find a match with a reasonable ping after a few reconnects and stuff, so I wouldn't bother counting that as too much of a flaw, especially as everything else seems to work.
Thus, I'd say that I'd recommend this game a lot to everyone who likes stupid games that are a lot of fun without putting too much effort into the story or unnecessary features and micro-transactions.
I wrote this post up on March 30th on my Twitch Channel and we had a bit of an off-topic-discussion there about Kotick, Activision and micro-transactions on top of enjoying the game together on stream. That's why I feel like this works out just fine overall, and I might do more streams like this one in the future.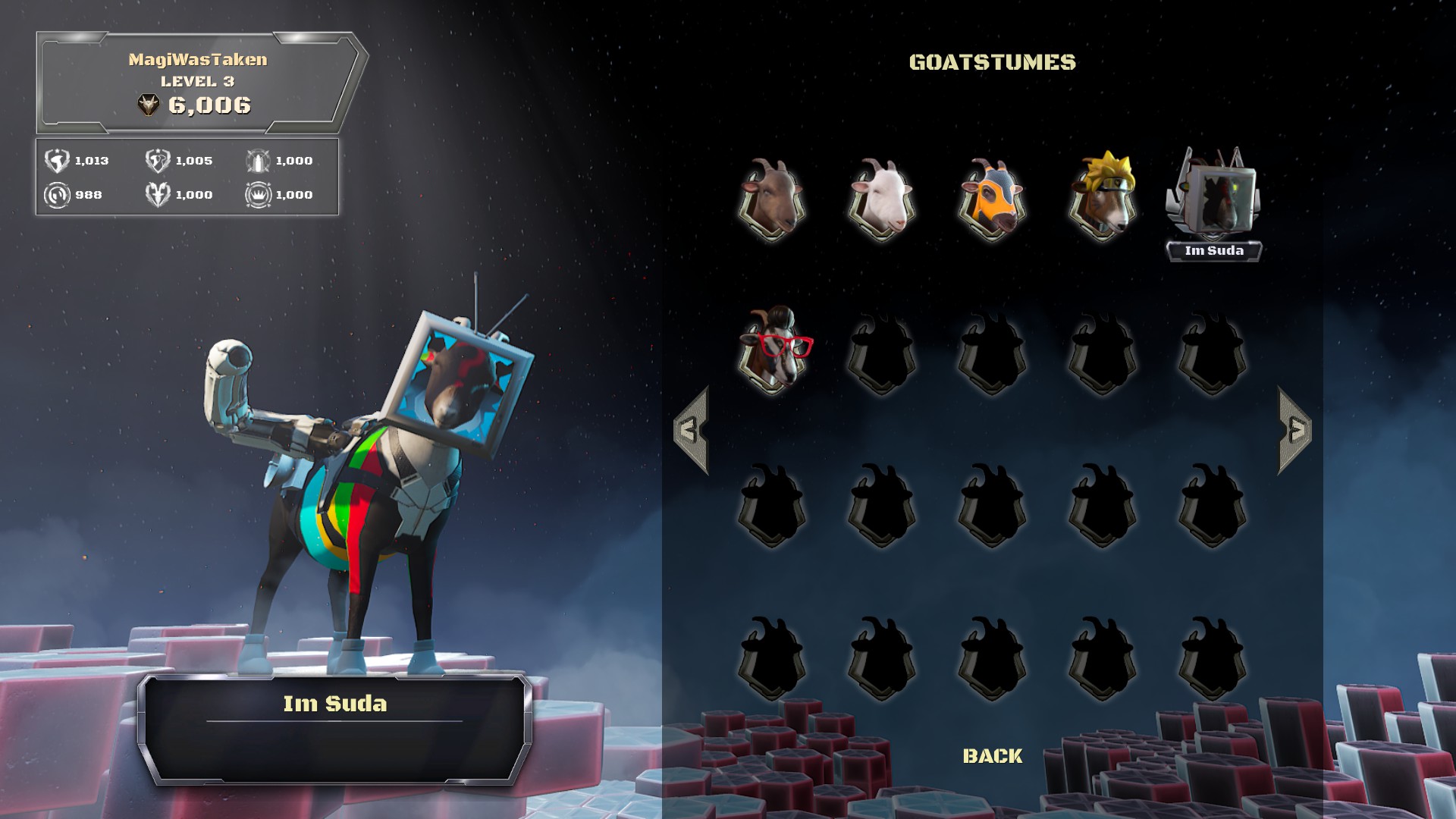 If you'd like to join in or if you've GOAT any questions regarding the behind-the-scenes of my reviews or other blog posts, feel free to join in over here on twitch and ask ahead or message me directly on Twitter or Discord. Either way, I hope that you enjoyed this review and I wish you a wonderful time.
Stay healthy, stay safe. Cheers!
This post is part of a challenge called BLAPRIL. The goal is to post as much as possible during the 30 days of April. There are different themes during some of the weeks and a lot of mentors, newbies and participants participating. Feel free to check this hub-post out and check out the other participants!
This post was first published on Indiecator by Dan Indiecator aka MagiWasTaken. If you like what you see here and want to see more, you can check me out on Twitch and YouTube as well. If you find this post on a website other than Indiecator.org, please write an e-mail to me. Thank you!