It's springtime… for spiders… in Germany! (Uh, I hope nobody minds that reference…)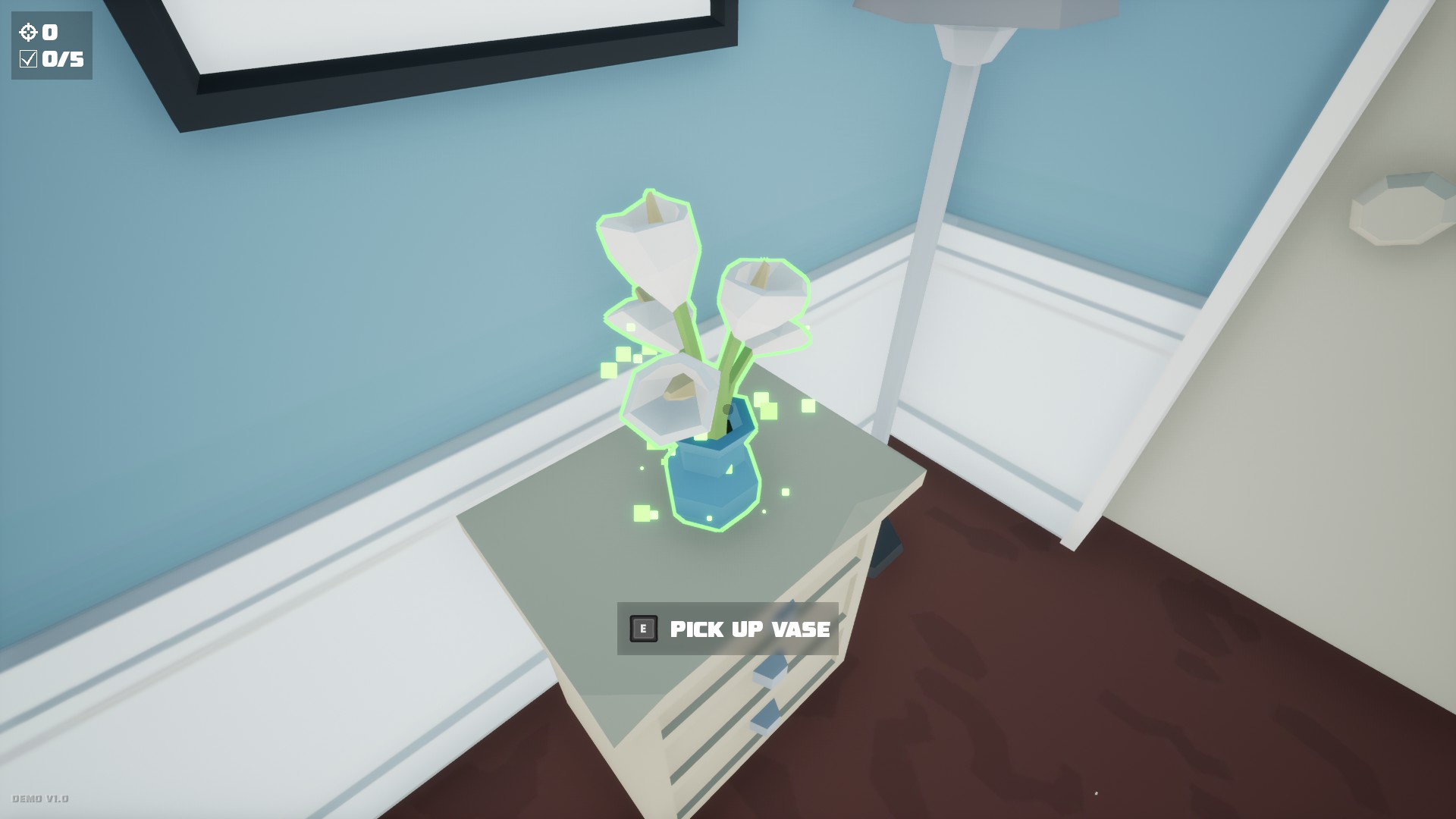 Yeah, spring has already kicked in with its sweet scent of flowers and lawns, with pollen flying through the air (I'm not bothered by it), wasps bothering me on my balcony, with sunny and rainy days and generally a forecast that leaves me wondering if I'm dressed too warm or too cold. It's springtime! And you know what that means:
I'm getting spooked by our dear eight-legged friends and even now I'm constantly in a state of panic as the last spider was bigger than the other one… and as I hated it so much when it came down from the ceiling Mission Impossible style and nearly landed on my hat before I swatted it with a roundhouse kick against the wall and started burning down my flat… again…
But all jokes aside, I really hate spiders and ever since having gone to that spider convention nearby, my fear of spiders has been brought to new levels. Luckily, I haven't encountered any of these critters in Winter… but now that it's getting warm again, these spiders are crawling out of their holes again and I'm just not good at all with them. At my SO's place, I was tasked to capture this horrifying creature with a glass and a piece of paper – after all my girlfriend's flatmate is vegetarian and doesn't want to shed any animal's blood… so, I essentially did it but it took me ages to approach this monster and eventually release it into the wild… Meanwhile, the two spawns of hell that have shown themselves in my flat were not as lucky… they did suffer my full wrath on top of my barbaric YAWP as I smashed them with my house shoe of DOOM and then vacuumed them with my vacuum of FATALITY.
And essentially, that leads me to today's game which goes by the title of "Kill it with Fire" or in case of this demo (the game has yet to release!) "Kill it with Fire: Ignition"! A game that I'd describe as a demolitionist's wet dream that allows you to kill these ugly critters with a flamethrower, bombs, shurikens, a shotgun and essentially everything that is lying around in your house.
Developer: Casey Donnellan Games LLC
Publisher: tinyBuild
Genres: Casual, Indie, Action, Destruction, Simulation, 3D
Release Date (demo): April 28th, 2020
Reviewed on: PC
Available on: PC
Copy was available for free as it's a demo. 
At the beginning of the game, you'll spawn into your low-poly-house and are tasked with picking up your vase and opening a few drawers but little did you know that a spider was awaiting you in a spot nearby to spook you! Naturally, you follow it into the living room where you find the clipboard. Not only does this weapon smash spiders but it also shows you your different tasks.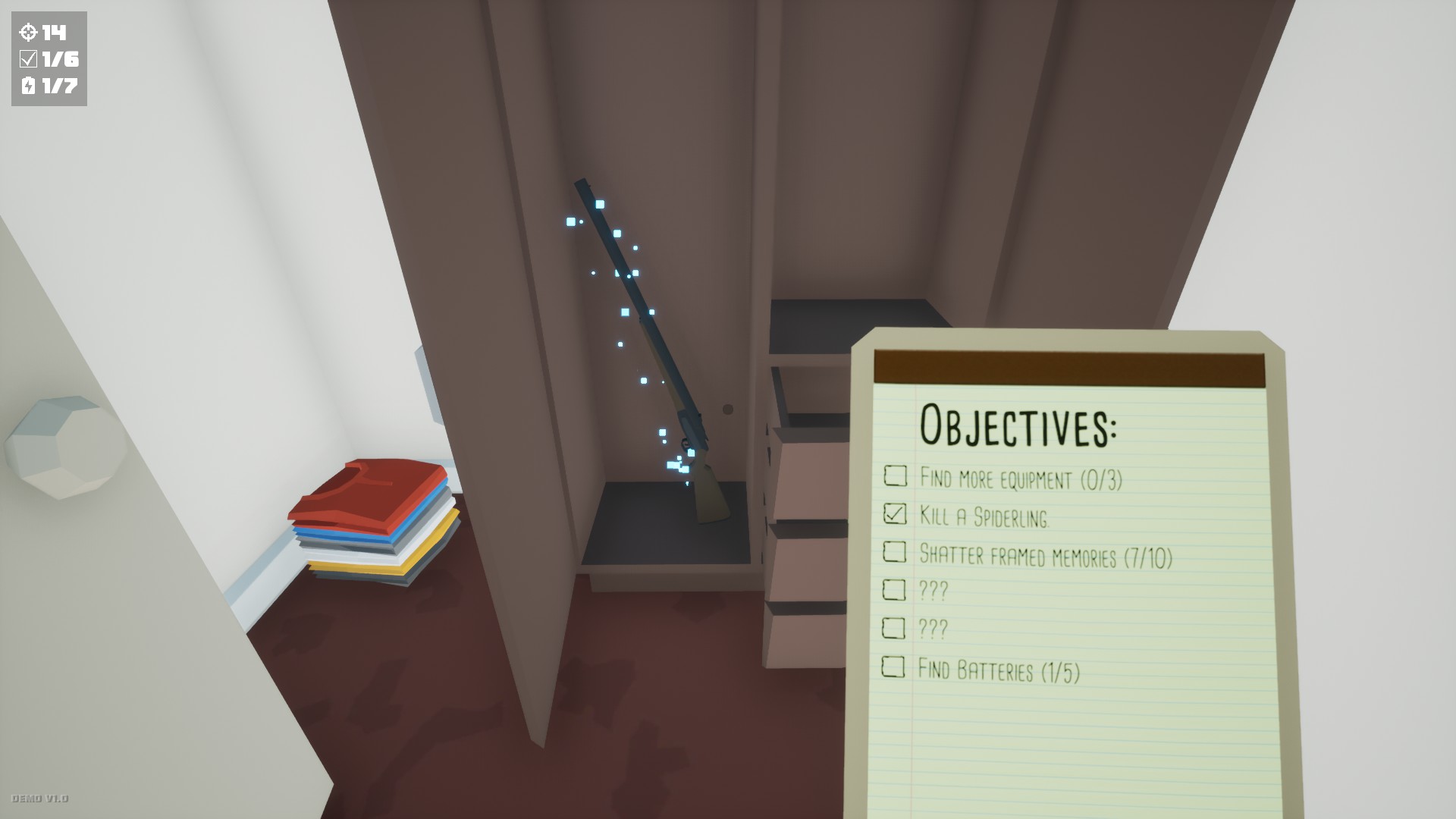 From there on, you'll essentially figure stuff out on your own. There are drawers that require you to complete tasks from your clipboard in order to unlock new weapons. There are doors that require a certain amount of spider kills in order to unlock more areas (with more weapons and more spiders) and eventually, you'll end up causing more harm to your sweet home than to actual spiders.
The game constantly accompanies you with a piano track that reminds me of Untitled Goose Game in a lot of ways. When you're close to spiders, however, you end up hearing a very dramatic and threatening track that reminds me quite a lot of the JAWS theme. Once you've actually killed monstrosity, you get to hear a nice little tune that further underlines the wonderful comedic nature of this game. Lovely!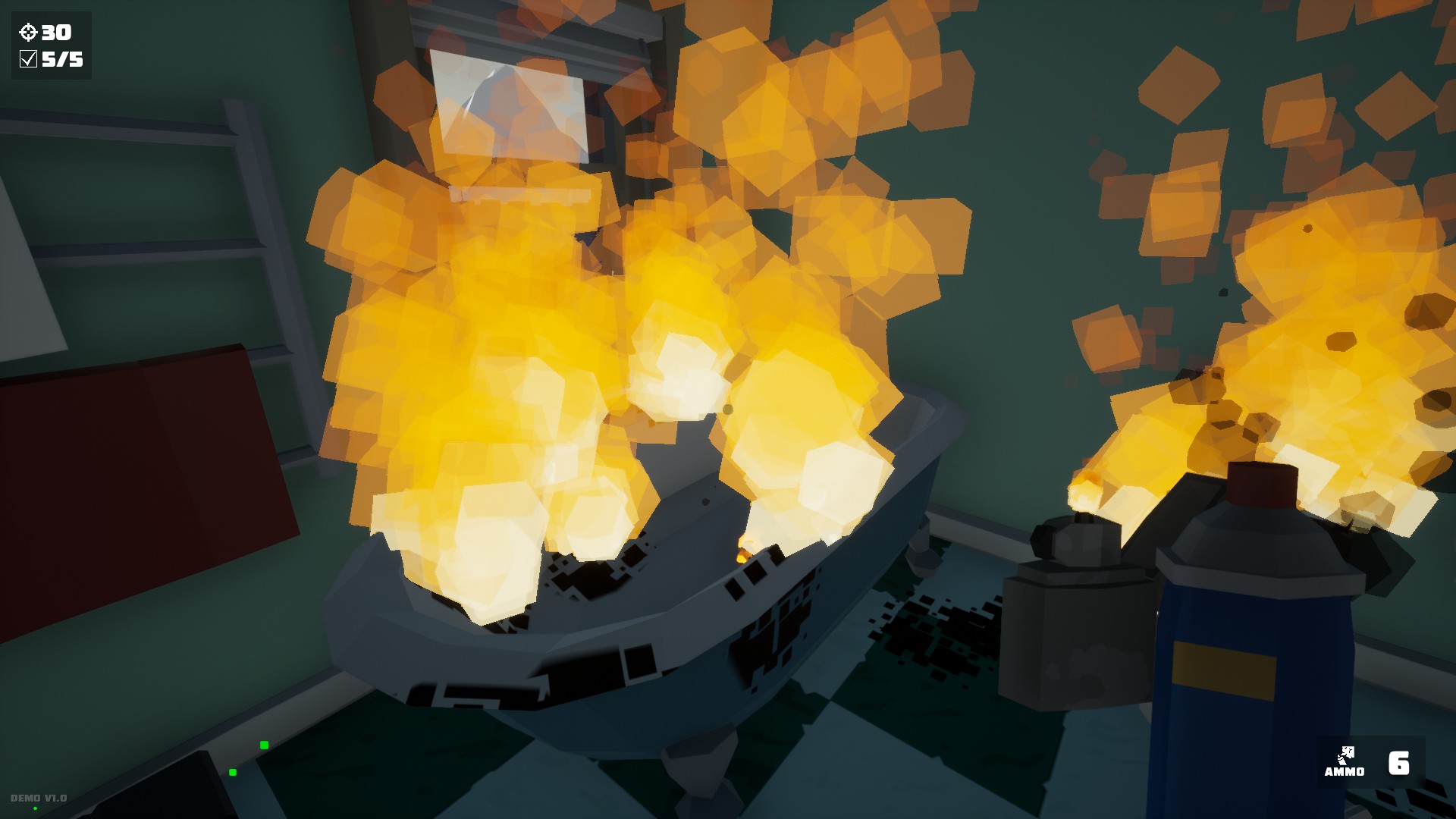 The game also makes use of sounds to show you where the spiders are! They usually are hidden behind or underneath objects, so you've got find out about the general direction by either listening to the spiders' sounds (which are utterly disgusting!) or by using the spider-tracker that you can also use to crush these ugly foes.
The art style is quite colourful and really seems to convey the feelings of this being a nice and family-friendly game, until you eventually see those disgusting spiders that are actually rather big and really terrifying. When they survive your initial hit, they usually speed up and become even more terrifying, which results in quite a lot of moments where I noticed myself jumping. While the game itself is quite entertaining, I noticed that I'd get startled rather often, which is not necessarily a bad thing. I really enjoyed this thrilling experience.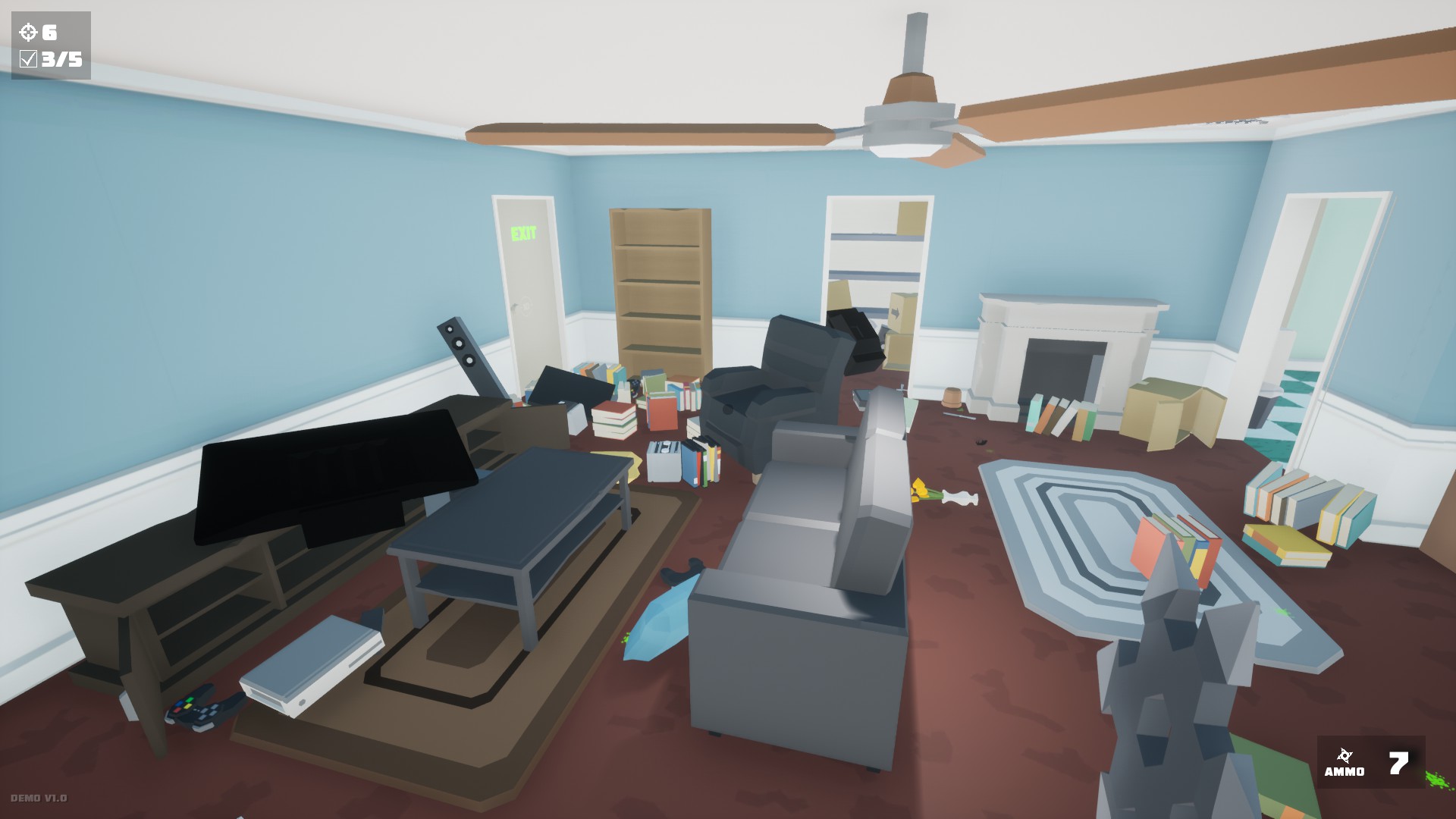 But what about flaws? Well, the fact that there're spiders in the game should be considered a flaw in itself… but as you are exterminating these hideous lifeforms from Earth's face in the most drastic and absurd ways, I'd say that one may be able to look past that fact… Of course, if you like spiders, then this game may not be for you… and if you hate spiders like I do but you don't want to get spooked by them, then you may not like this game either… but overall, I really enjoyed this game so far.
The demo did amuse me for about an hour, challenges included. After that, I stopped playing as the demo didn't have to offer all that much more apart from these few weapons and two apartments. The full game will be available in Summer 2020 and I definitely recommend checking out this demo if you found this review entertaining. Also, you may consider wishlisting the game so that you get to know when it releases!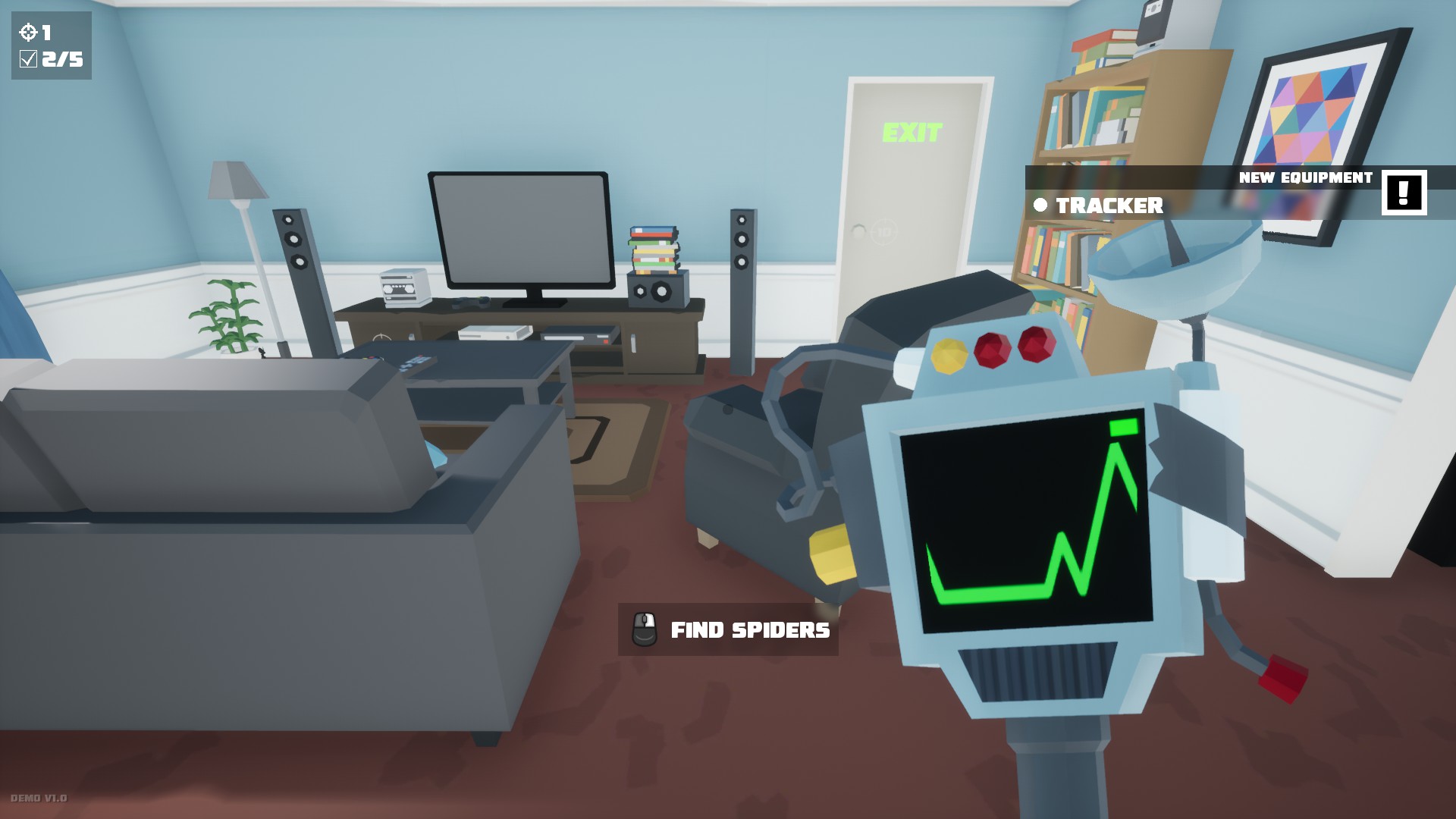 But for now, I wish you a wonderful day without any spider encounters in your homes and I hope that all of you stay safe.
Cheers!
This post is part of a challenge called BLAPRIL. The goal is to post as much as possible during the 30 days of April. There are different themes during some of the weeks and a lot of mentors, newbies and participants participating. Feel free to check this hub-post out and check out the other participants!
This post was first published on Indiecator by Dan Indiecator aka MagiWasTaken. If you like what you see here and want to see more, you can check me out on Twitch and YouTube as well.