There are all kinds of games out there with all kinds of presentations and premises. A lot of games in the Indie scene feature unique premises that may have not been explored all that much, just yet, and often also present us unique and interesting design choices that you either hate or love.
Today we're talking about ClusterFobia, a puzzle-shooter by Ganin, that features exactly that: Interesting and unique design choices that are really hit or miss.
Developer: Kirill Azernyi (Ganin)
Publisher: Kirill Azernyi (Ganin)
Genres: Puzzle, Bullet Hell, Shooter
Release Date: December 10, 2019
Available for: PC
Reviewed on: PC
Copy is available for free.

In ClusterFobia you are some sort of creature that seemingly was drawn in paint and you shoot out bullets that travel from the left side of the screen to the right side of the screen. Your bullets hurt you. So do enemies… and walls. Hence you need to find a way to destroy walls and enemies with your bullets while dodging everything and surviving a bullet hell that you created yourself.
And that's essentially all I can say about this game without getting into too much of a rant… which is ironic since there is more to this post than just that part, but uh… I tried to be friendly or just informational but I feel that I should rather be honest and give my honest review, listing the short-comings of a game that is… like this. The premise is interesting, I guess, but it's really unripe and I'm still not entirely sure if the dev, who e-mailed me with a request to review his game, is serious about this.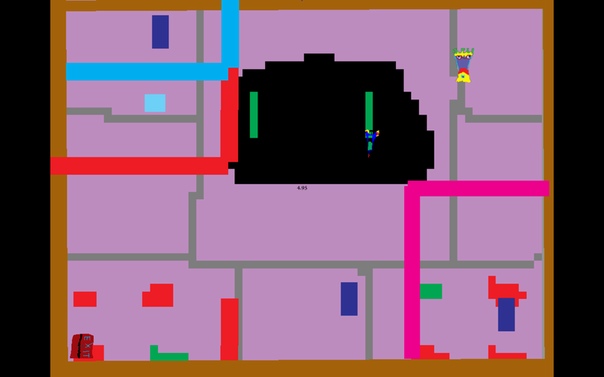 But what's the problem with the game?
Well, mostly it just feels like one big troll of sorts. You dodging enemies and your own bullets seems like an interesting idea. Hell, the concept is nice! It kind of reminded me of Gutwhale where you have to manage the space between your enemies, you and your bullets. While you have to recollect your bullets in Gutwhale, you've got to dodge your own bullets in ClusterFobia… but sadly, the execution is just a mess. It feels painful to play something where everything seems to work and not work as intended.
Not being able to aim all that well, results in you connecting events to the wrong cause like it did for me. I thought I killed an enemy with my bullets but it actually didn't get killed by that but by the wall. It just touched the wall and the bullet at the same time. That's frustrating. Some walls kill you upon touching while others require you to touch them to actually go away. It's super weird and just annoying. I finished the first level. The second one is just annoying bullet hell… without the fun part of being a bullet hell. The third one? Didn't bother with anything past the second level…
And I did boot it up multiple times. I really did. I did try to give it a second chance… and a third chance… and a fourth chance… and even a fifth chance, although I had to mute the game on the fifth attempt while blasting other music through my headphones to make the game at least a tad enjoyable. But no matter how many times I tried to play the game, I always ended up with the feeling of regret: Regret that I really did try to give this game a chance.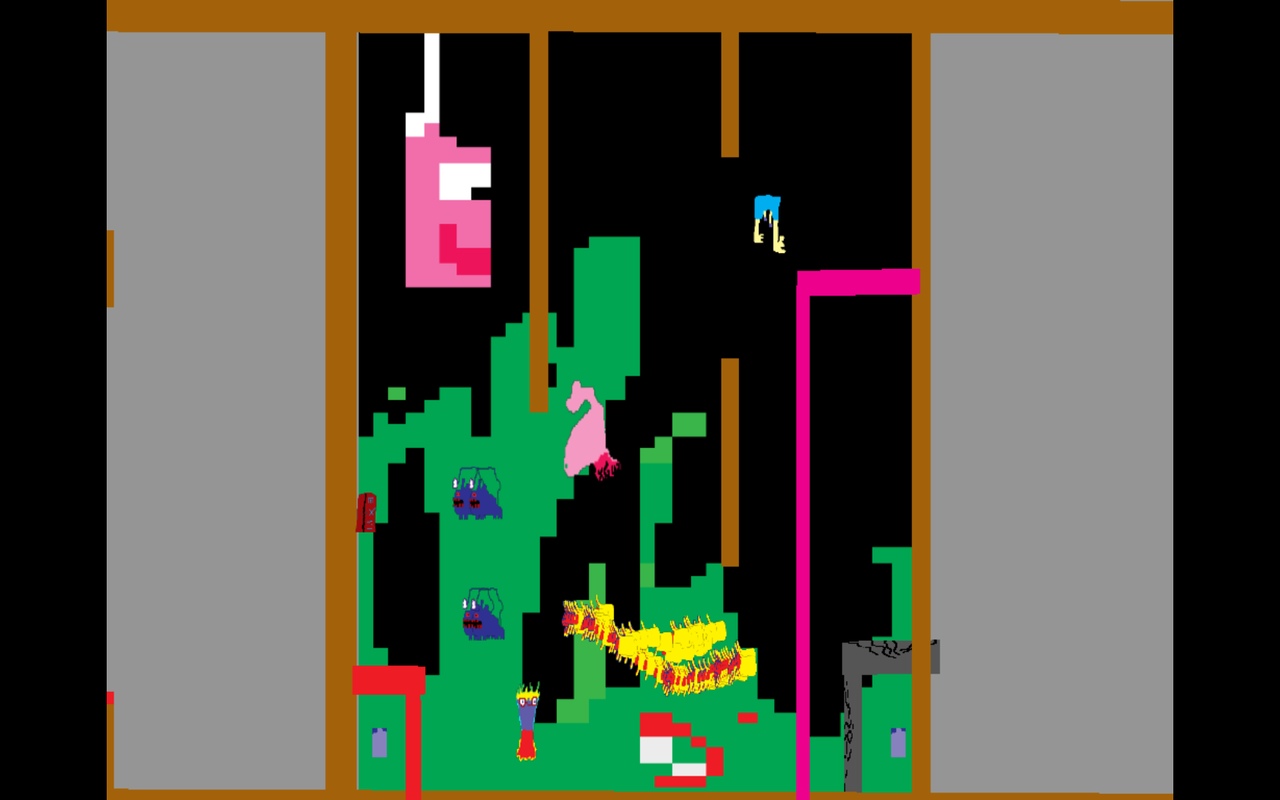 The game's presentation is a mess as well. Objects that seem to act the don't look the same. They change the colours on random, to the point that you might think that there should have been an epilepsy warning at the beginning. Nothing is polished. Everything seems to have been directly extracted from Paint. It's hurting in your eyes.
Meanwhile, the soundtrack is so loud and noisy that your ears might as well bleed while playing the game. Shooting out bullets causes more noise on top of the noise while the whole presentation is just sad to look at. If you want to turn music off, you'll have to use the audio mixer after all, your game closes when you hit Escape and the actual settings don't provide you with anything to change.
Sometimes games fuck with you. Sometimes they really do. Sometimes games are made for you to figure them out and eventually get over the obstacles that are blocking your way. In "Jump Knight" you need to reach the top by jumping through a rather difficult parkour part starring some unforgiving jumps that set you back a bunch! In "Getting Over It" you also need to make use of a pickaxe to reach space and beat the game while risking to lose footing during all of those jumps, only to eventually get set back while the narrator makes fun of you in one way or the other.
The "Dark Souls" franchise or even the whole SoulsBorne genre is known for difficult and challenging but also frustrating gameplay that tests your patience and skill, and, well, it's successful.
And I only just started to play the third game and died nine times at the tutorial-boss, the Iudex Gundyr, who taught me important lessons about the game that I probably will need in future boss fights! But I'll post on that, too, so expect more Dark Souls in the future.
Meanwhile, ClusterFobia is just frustrating. You may consider it "challenging" as well but I'm not sure if there is a way to beat that level. I'm not sure if you can actually get past the first level and even if you do… there are apparently more levels to it and I'm not sure if anyone really wants to play through all of those as well.
Other games can be frustrating or challenging, too, but at least you see how you're supposed to do it. At least you get to figure it out. At least it always seems "this close!!" so you try again… in ClusterFobia you just get tired of trying. You end up losing your nerves as you try more and more; as you try to not quit this game. I quit the game multiple times but always thought that I'd have to try again and get more info on the game for the sake of a review. "After all, the dev seems to be really proud of his piece here, so I should do my best!"
I'm quoting the dev here:
"ClusterPhobia is maybe all about figuring out where to shoot and how the objects relate to each other (…) and also about knowing exactly when and how to shoot so that you don't get killed by your own bullets and don't destroy something critical for solving a level. If ClusterPhobia had a philosophy, that would be: [The] player is not supposed to know much about how [the] game works beforehand, but rather understand it out of his or her own experience – and yes, at first it might be annoying, but once the connection between objects is understood, and all actions are smoothly performed, it might get satisfying."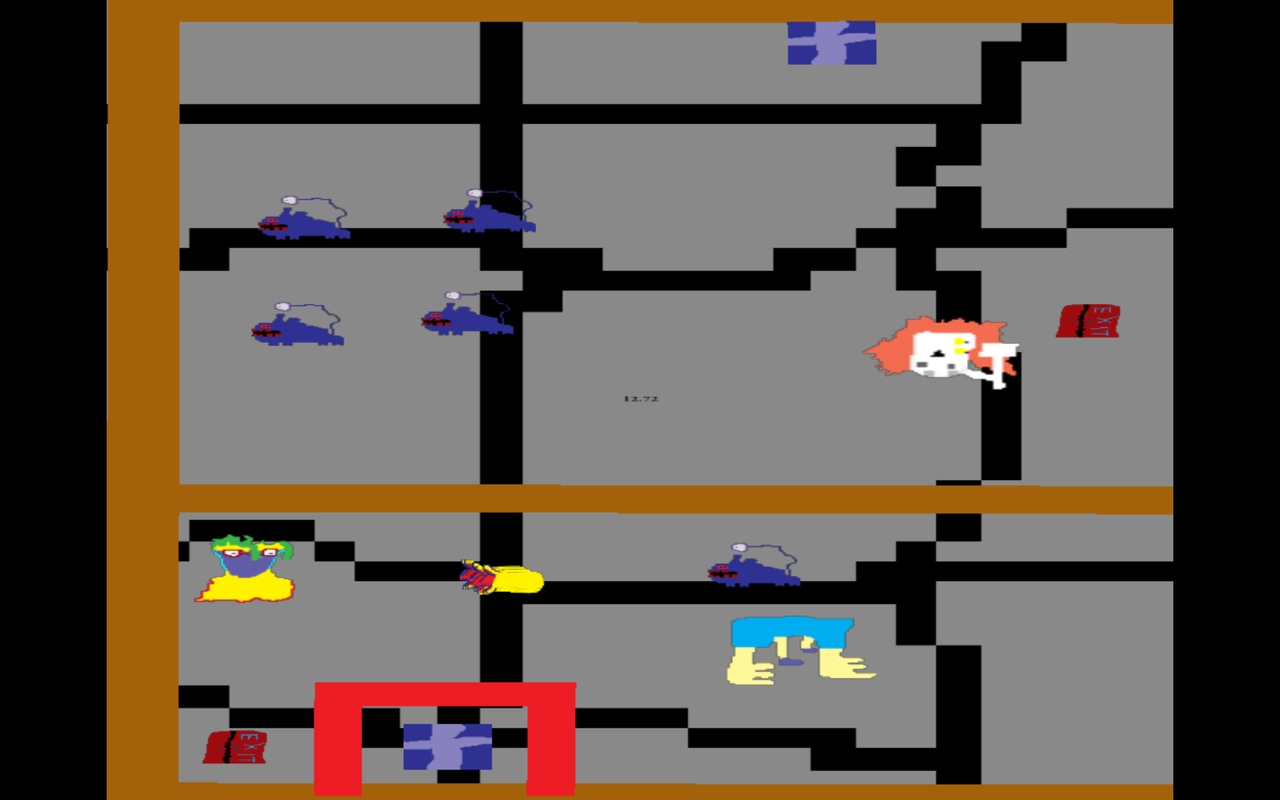 But here's where the problem lies:
It's not healthy for a game if you can destroy a level by shooting at something critical to the solution of said level. It's not healthy for a game to have no correlation between different events in the game. If you shoot a wall or an enemy and it gets destroyed, you'll think that all walls or enemies of that type would get destroyed… but if the game doesn't stick to that, the game becomes stale, frustrating and painful to play.
If there is no pull for the player to keep on playing, they'll stop playing. If you don't give a damn about explaining mechanics and sticking to your own rules, then the player won't play the game. "Trial and error" is not fun. It's frustrating. Learning patterns of sorts while some game is shitting into the player's ears is just bad game design.
In the end, I'd have to say that this is poor game design. When a game is so frustrating and painful to watch and play that you'd rather kill puppies than play more of it, then it's a bad game. Hence I can't recommend the experience, despite it being a free game…
Cheers.
(Note: The dev calls the game ClusterPhobia but the actual game is called ClusterFobia in the installer and in the URL to the gamejolt side, so I'm not sure whether or not it actually is spelled like this or that.)
This post was first published on Indiecator by Dan Indiecator aka MagiWasTaken. If you like what you see here and want to see more, you can check me out on Twitch and YouTube as well. If you find this post on a website other than Indiecator.org, please write an e-mail to me. Thank you!