I used to be a waiter, as I previously mentioned a couple of times, and, well,… I wasn't all that great at it. I wasn't the fastest but I cared about my guests. Sometimes I wished I could have hit "space" and restarted, only to add some extra servos, wheels and hinges… maybe some blocks here and there… and to top it off… a moustache. A glorious moustache! But I can't just do that unless I hop into RoboCo, the cute little Robot-Building Physics game where we build adorable little robot waiters and stuff!
Filament Games did a great job with this one. They really did! There is only one challenge in the demo and it's about serving a sandwich to a guest. Yep, that's right! We have ONE job! Are we going to fail it? We'll see.
When I started the game, I already an idea of how I wanted my robot to look like. He'd be rolling around on one wheel or a small platform with a few wheels while only being held up by one rod to which his body is attached to. He'd also be very classy and demand tips for his services.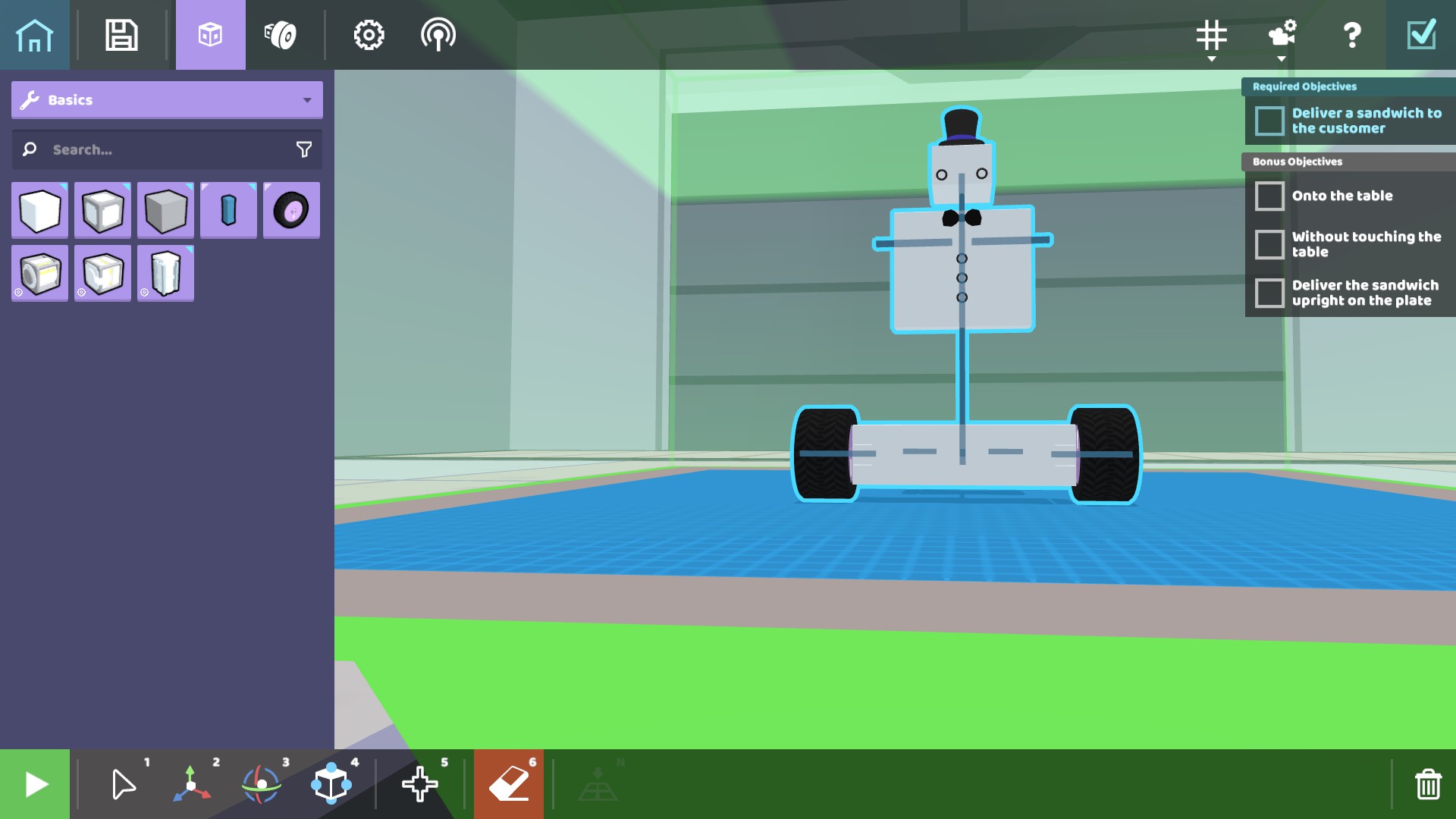 Naturally, I started building and already had to realise that not only it's hard to manoeuvre around on only two wheels… but it's also hard to stop with four wheels only, so I need to do some balancing… or find a different solution!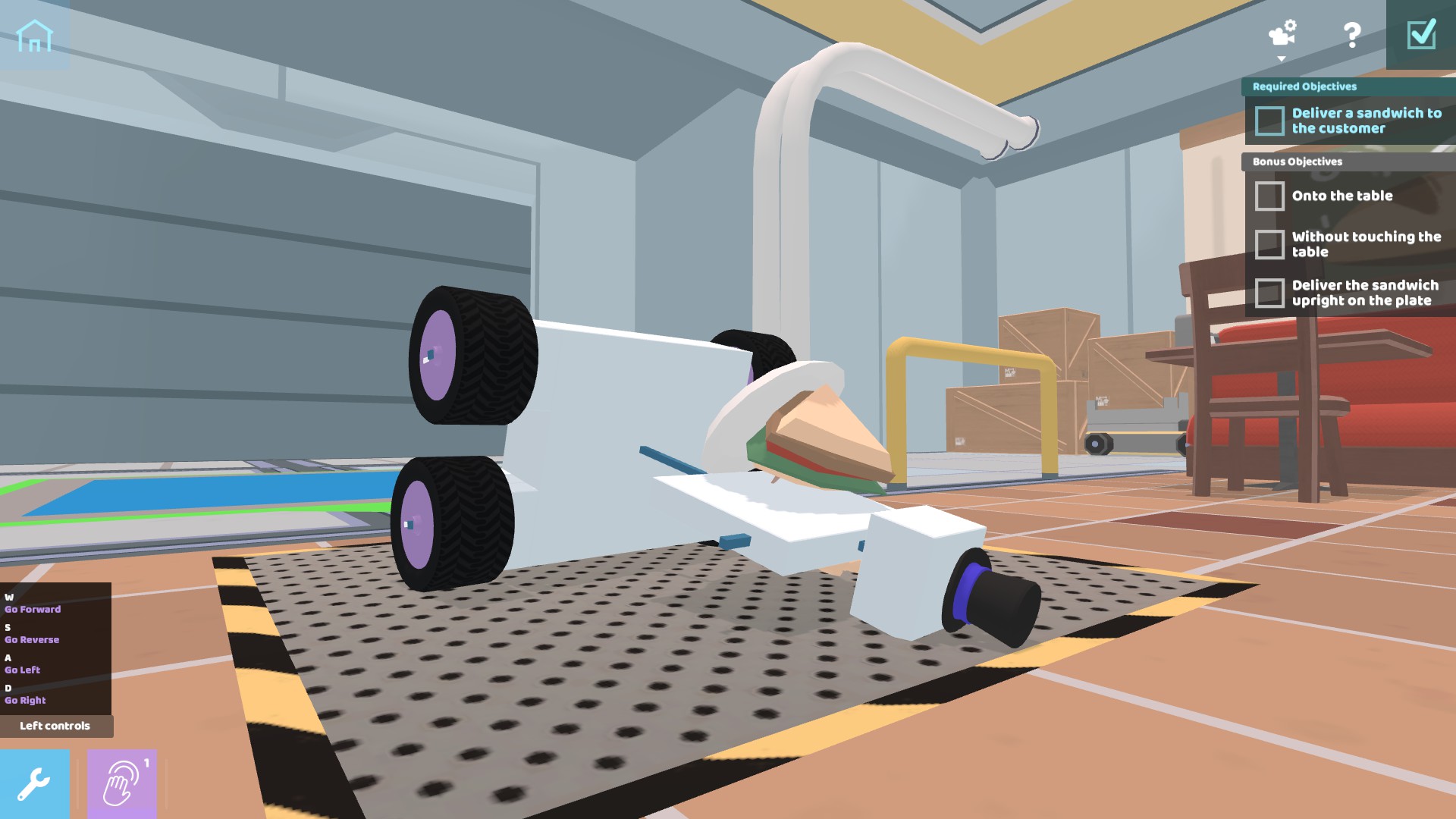 I present to you: My solution! Four extendable pistons that essentially stop us from falling onto the ground… we always fall at an angle and get to get up again. While this worked well as a solution, I couldn't figure out how to assign controls… until much later! Alas, I could have also used four rods for this instead… or one in the front and one in the back. Oh well!
Sadly, the plate breaks when it falls onto the pistons, resulting in property damage, which is always tough to deal with as a waiter… be it as a human or as a robot.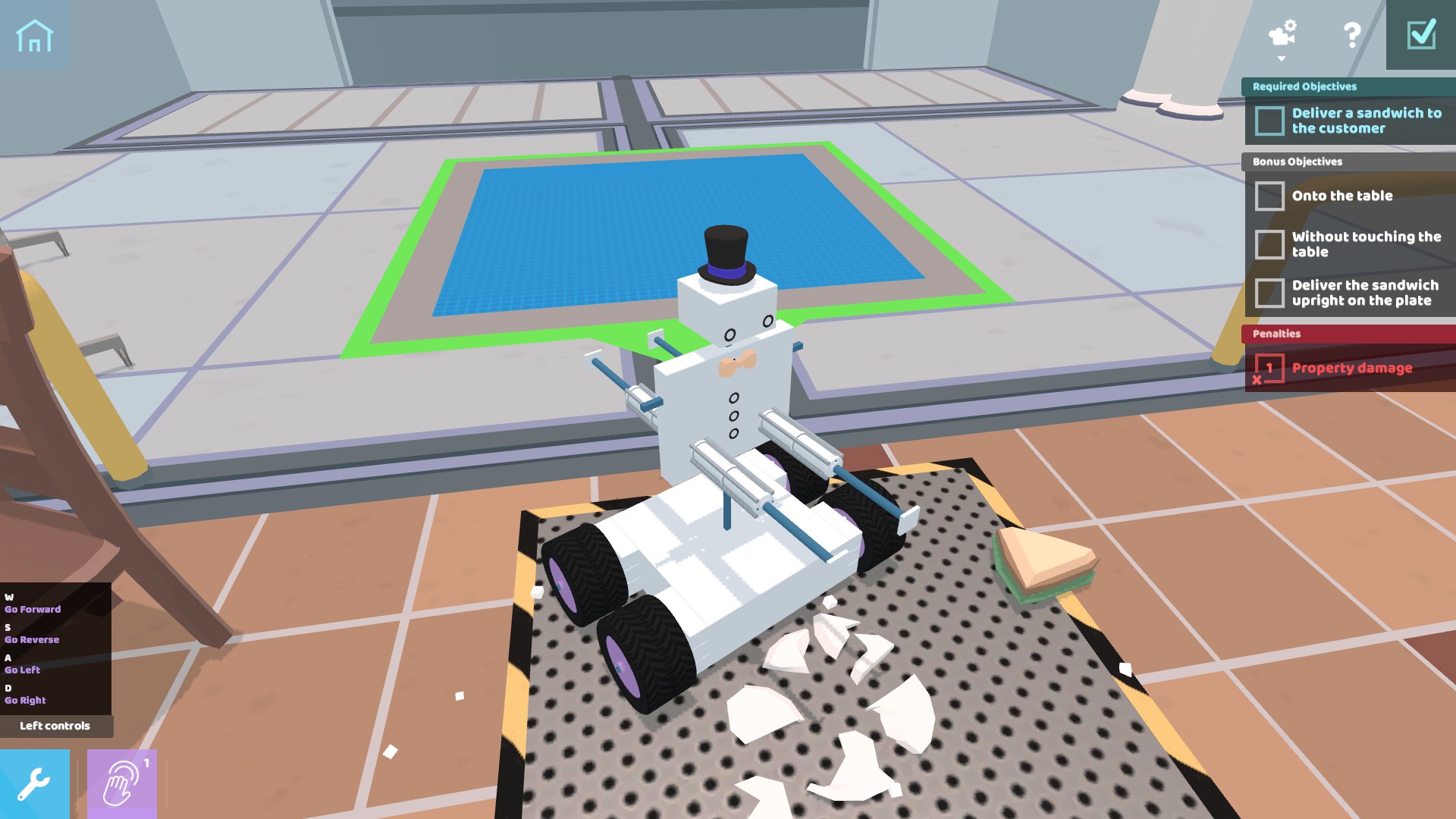 Next up, I added two arms to the robot to make him look friendly… on top of adding a platform of soft blocks to his pistons… These essentially catch the plate but in case of falling, the plate would get smashed, too, so I ended up spacing out the wheels a bit for a stable ride… which rendered the pistons useless but whatever.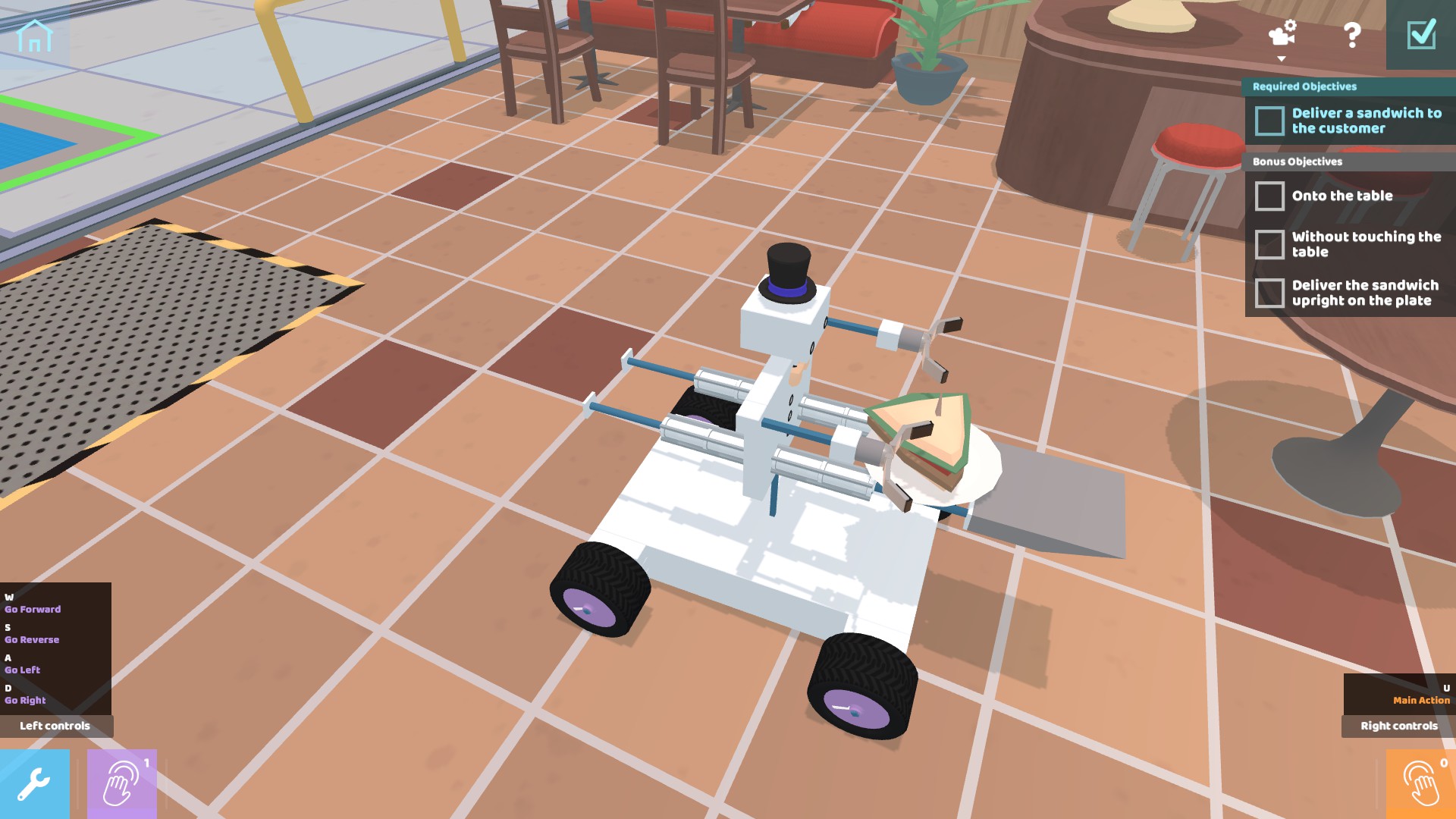 Since the "plate" was a tad low, though, it couldn't reach the table… Furthermore, the plate with the sandwich would constantly be on the verge of shattering and/or falling, hence ruining our chance to get a tip! Alas, I had to take some actions to tackle both of these issues.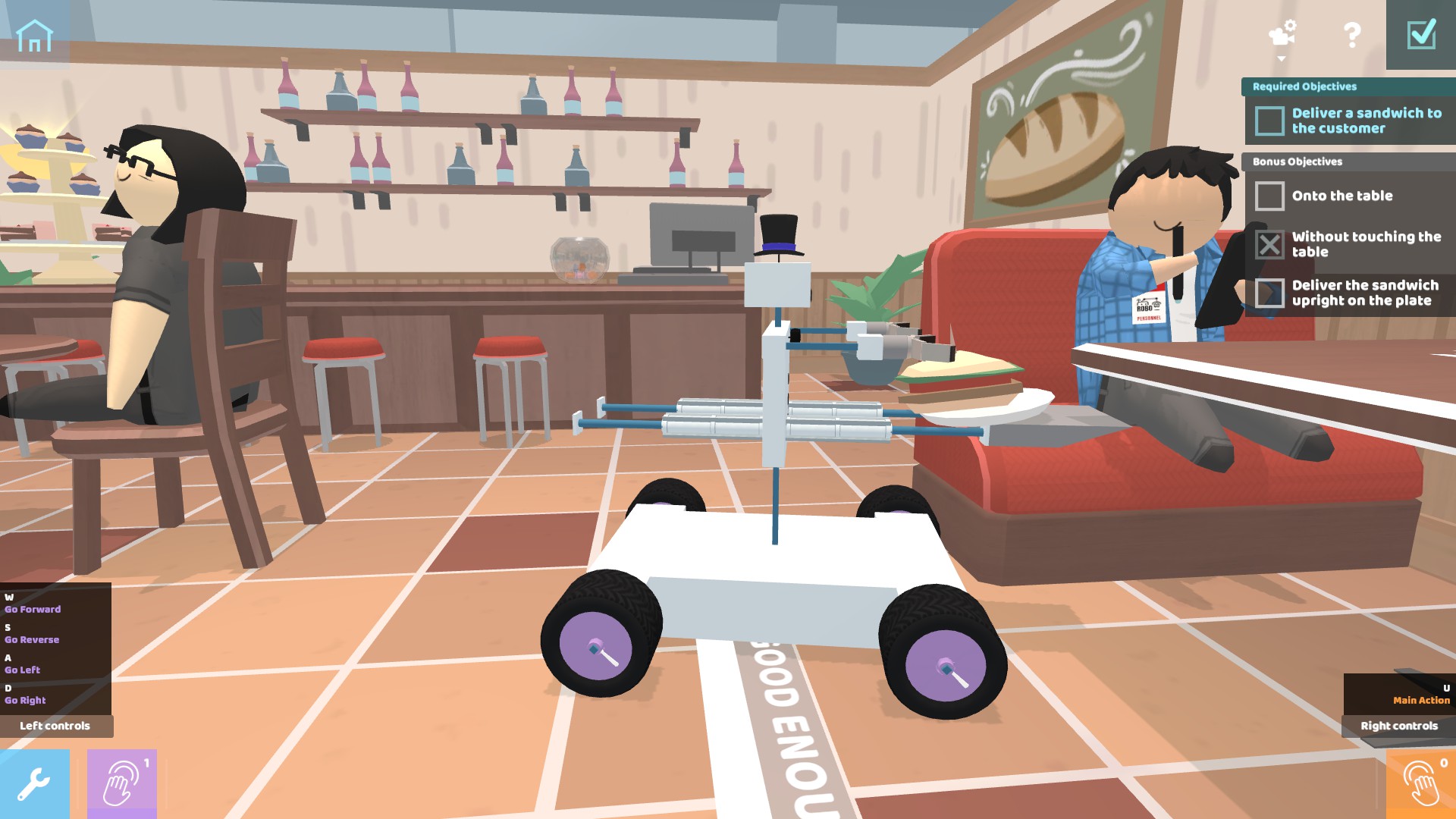 My solution? First up, we've got a piston that moves the soft tablet up and down, using Q and E, to adjust to the table's height. The tablet also features an increase at the back of it, so that it doesn't fall off the tablet before reaching the goal. Alas, there was still the problem of softly placing it down, so I added a rotating part to the tablet that would then softly tilt the tablet using I and K. This way we could ensure that we're able to balance out the tablet while walking to the table… all while also ensuring that we can slowly drop off the plate with the sandwich UPRIGHT on the plate and without touching the table. This ended up only requiring one arm, so we built a second arm in the same anatomically correct fashion. It features the HANDinator-1337™!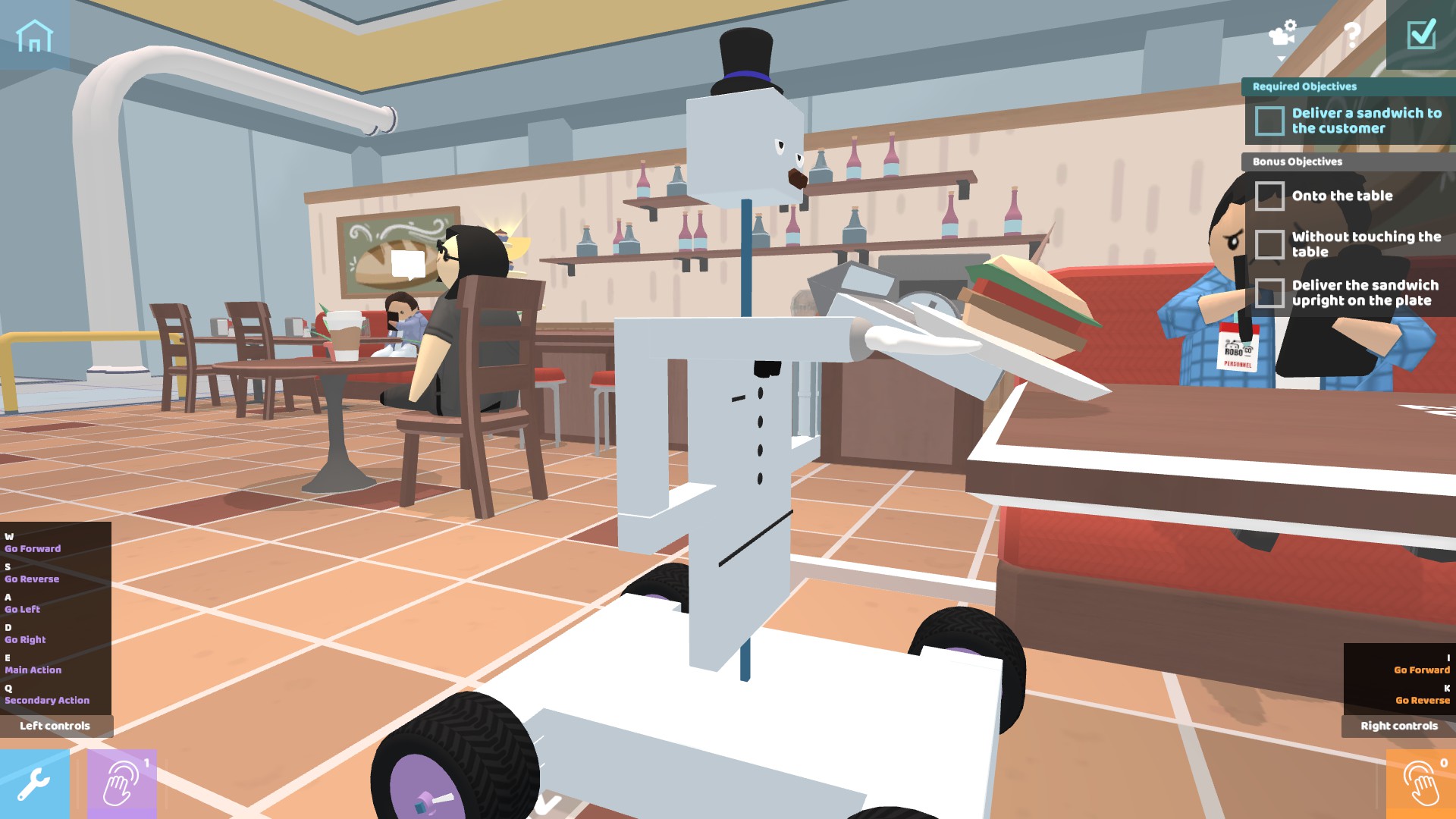 ---
Before we proceed with the end of the demo-challenge, I'd like to talk about my overall impressions:
The game is insanely cute and derpy featuring all kinds of cute little details and customizability-options. The demo let me build up this robot however I wanted. I got a bunch of blocks, wheels, hinges, motors and other objects to construct this beautiful lad here. The technical side of things is a bit hard to approach at first… but once you try some stuff out, you get the bigger picture of how things work.
The game was a ton of fun (the fact that I spend more than an hour building up this waiter-bot should testify for that) and the music and style are quite pleasant as well, which results in a great experience overall. Worth checking out! I'm going to wishlist this one! :) It's coming soon as well, so that's a pleasure!
---
And here we are… after nearly two hours of work done on this robot… we created a lovely waiter, able to catch, deliver and place a sandwich without any problems. The guest, as you can see, is terrified about the fact that his sandwich could fall any minute…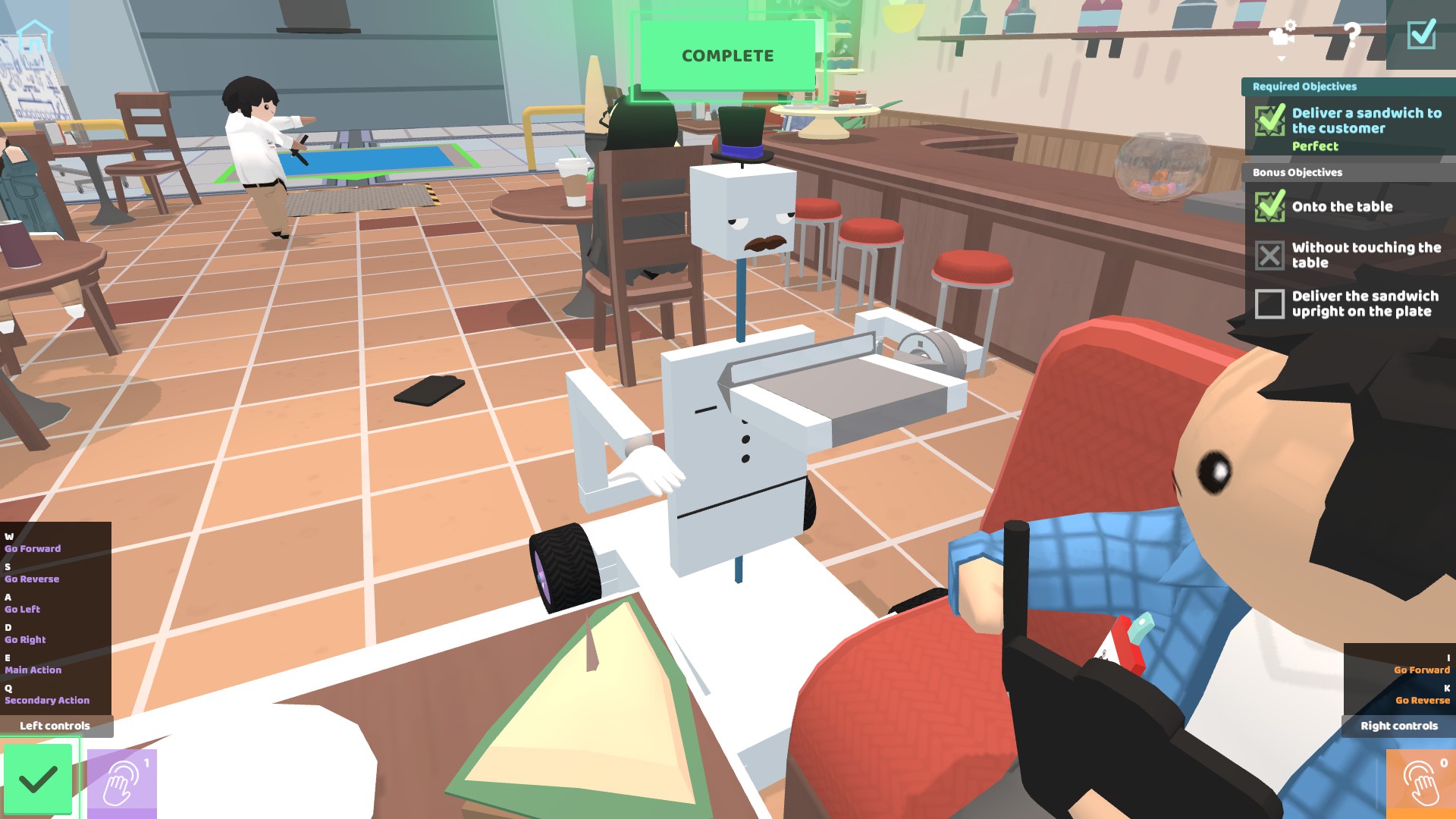 But in the end, it all worked out! Hooray! Eureka!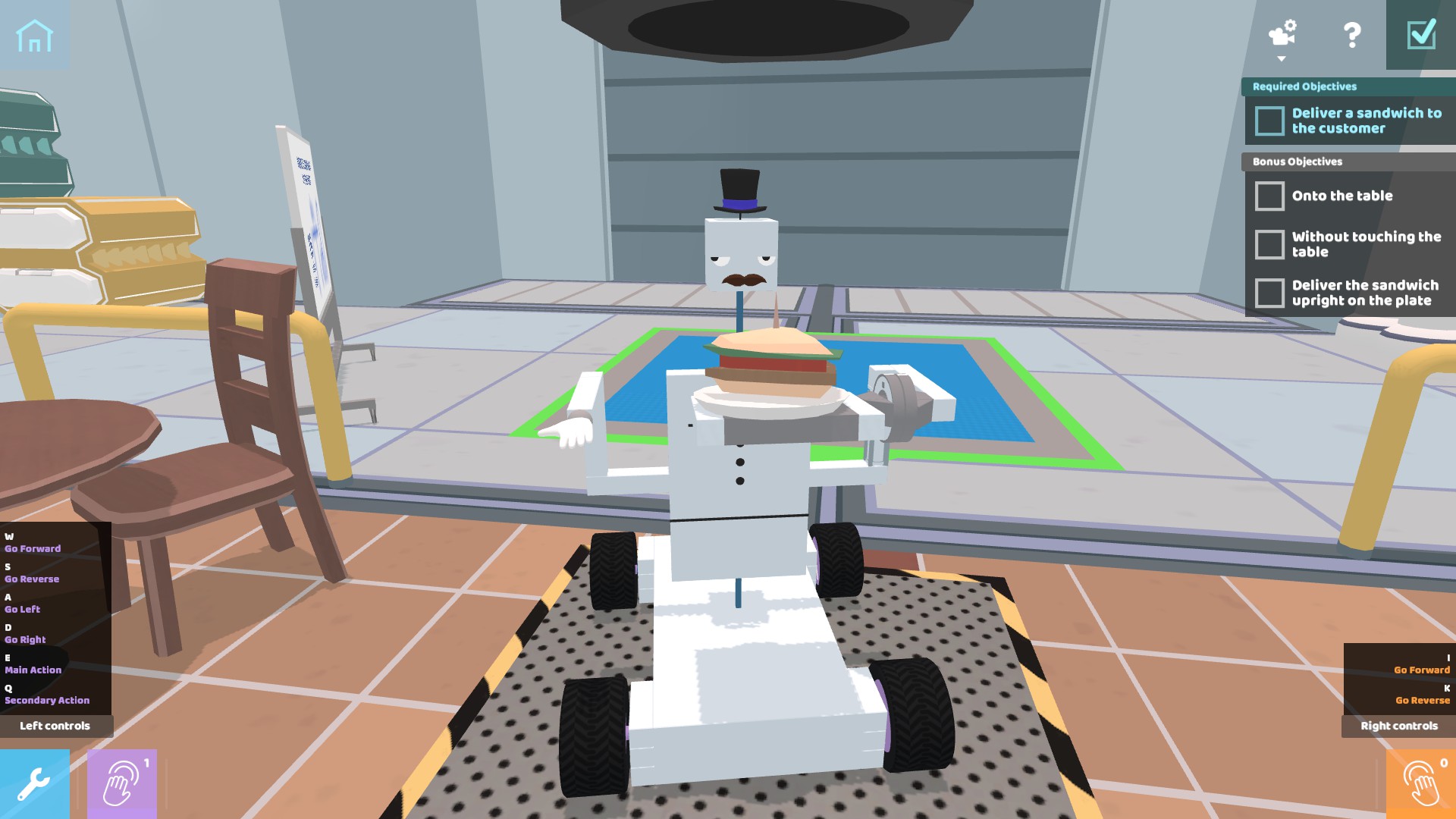 Now, pay me. Thank you.
I'm serious.