Starmancer looked like the closest thing to any of the games that I'm usually enjoying and all the demos I've seen on the Steam Game Festival. It's getting published by Chucklefish which fits most of my favourite games… it's a strategy, base-building simulation game based in Space and you essentially play as a powerful A.I. who's controlling a base while researching, expanding and upgrading everything.
You try to survive starvation, sabotage and other threats – and worst case, you'll just regrow your humans.
Developer: Ominux Games
Publisher: Chucklefish
Release Date: "Coming Soon"
Genres: Simulation, Strategy, Base-Building, Space, Indie
The idea of either "following protocol or going rogue" was really interesting to me, so I thought I'd give Ominux Games' "Starmancer" a shot and I'm pleasantly surprised.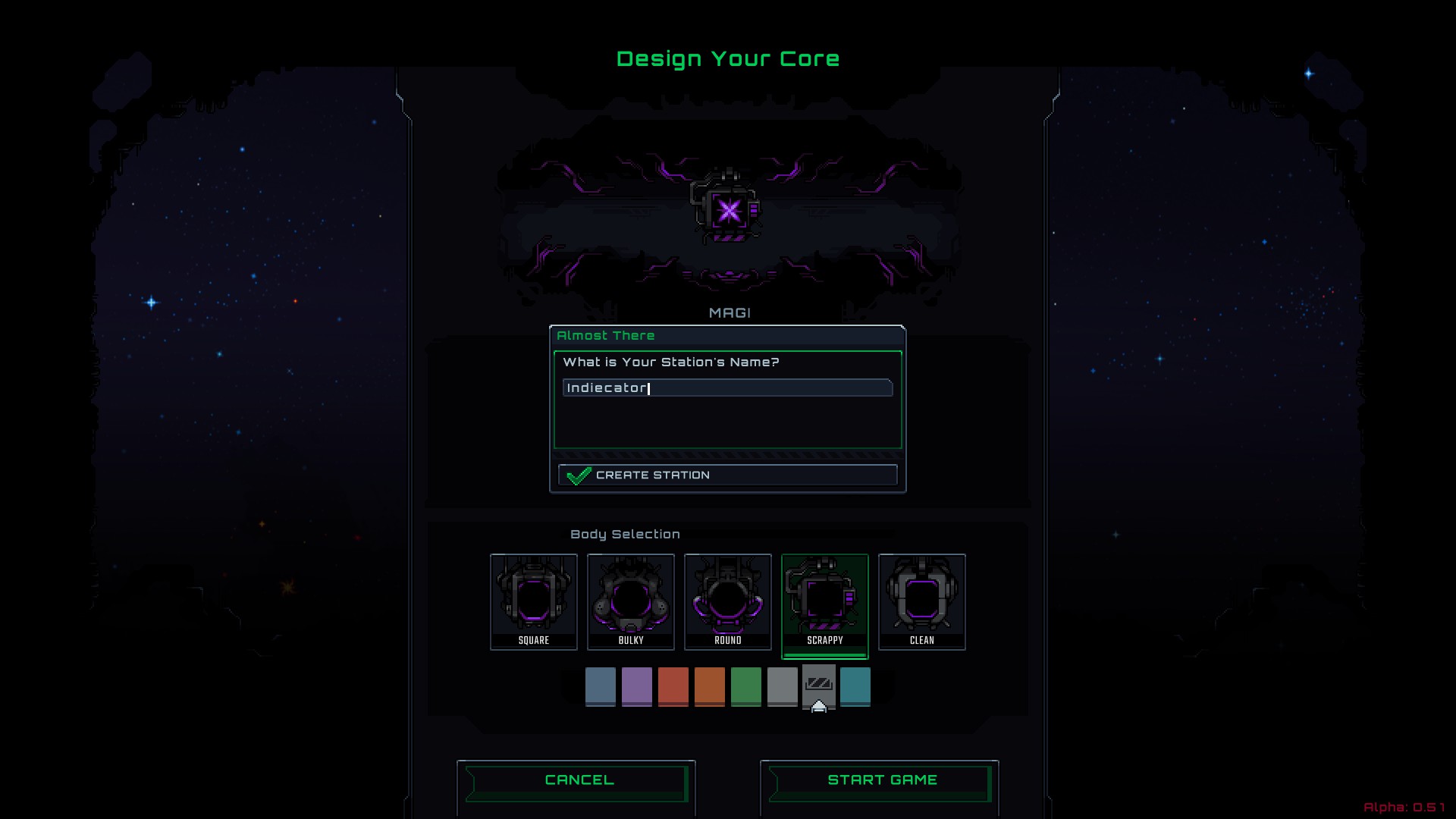 You start up with researching some technologies and building up biomass synthesizers that fuel your production and are essential for your success. You then link up your machines with pipes and wires while managing your colonists.
You send out humans on missions, make money and advance your production further to ensure a happy life to your colonists.
The full game will feature diplomacy, exploration, and modding support as well as the features that are already in available in the demo like personal relationships, memories, rumours, jobs, unique colonists, procedural generation, Insanity and Mutiny.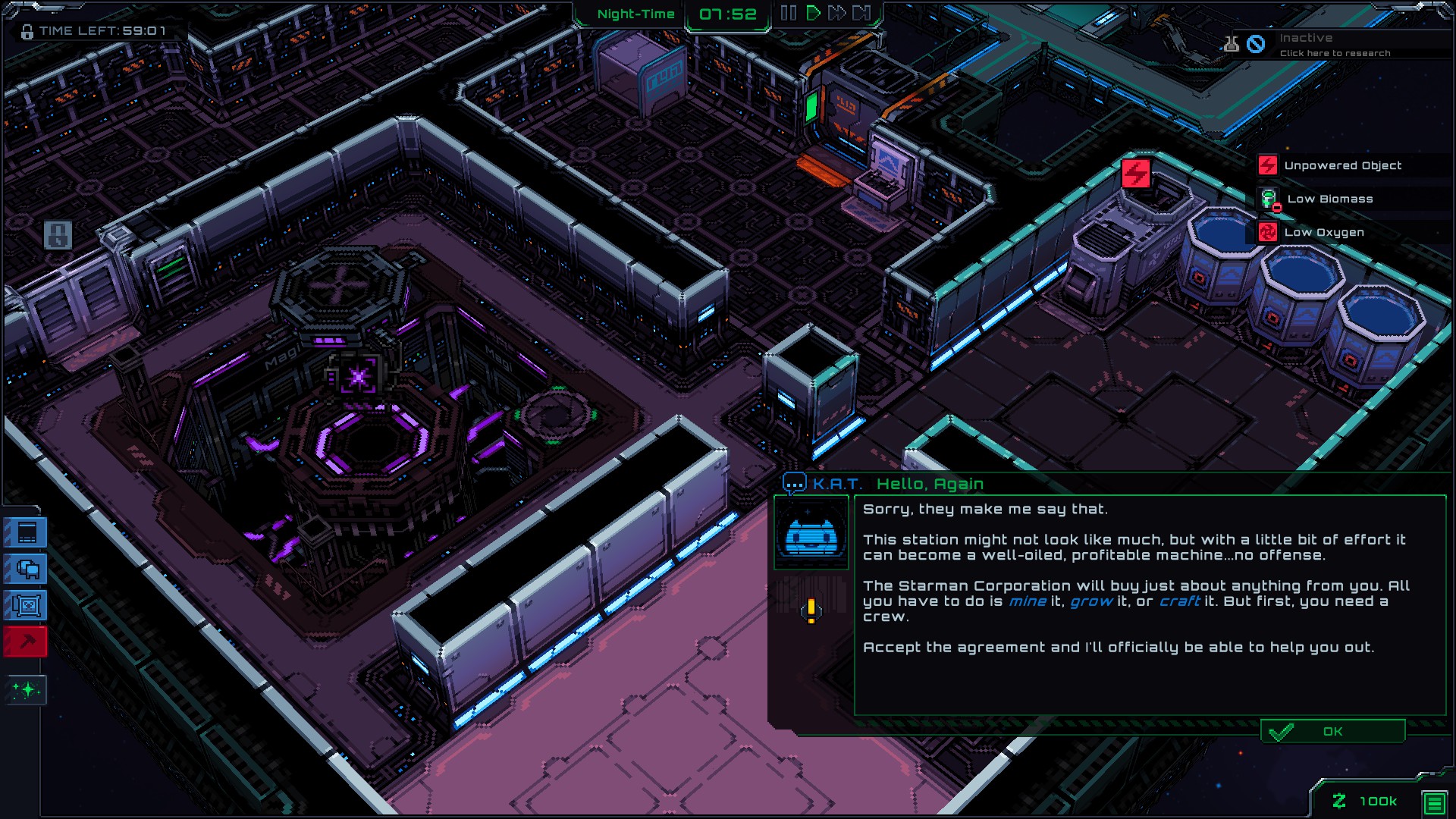 All the good stuff!
The demo features 60 minutes of gameplay, although you may restart it whenever you want. You're also granted a lot of starting money for the sake of exploration, as well as unlocked misc items to ensure your colonists' happiness.
It all plays surprisingly well for an Alpha. There are no bugs from what I've seen, yet, and the mechanics work rather well. I still need to create a successful colony to date as I'm always failing in the worst possible way.
In one run, one of my colonists started picking fights with everyone as they were hungry. This lead to them making enemies out of everyone and eventually it started to pick fights with all the other colonists (who were all pacifists), resulting in two dead and one living colonist.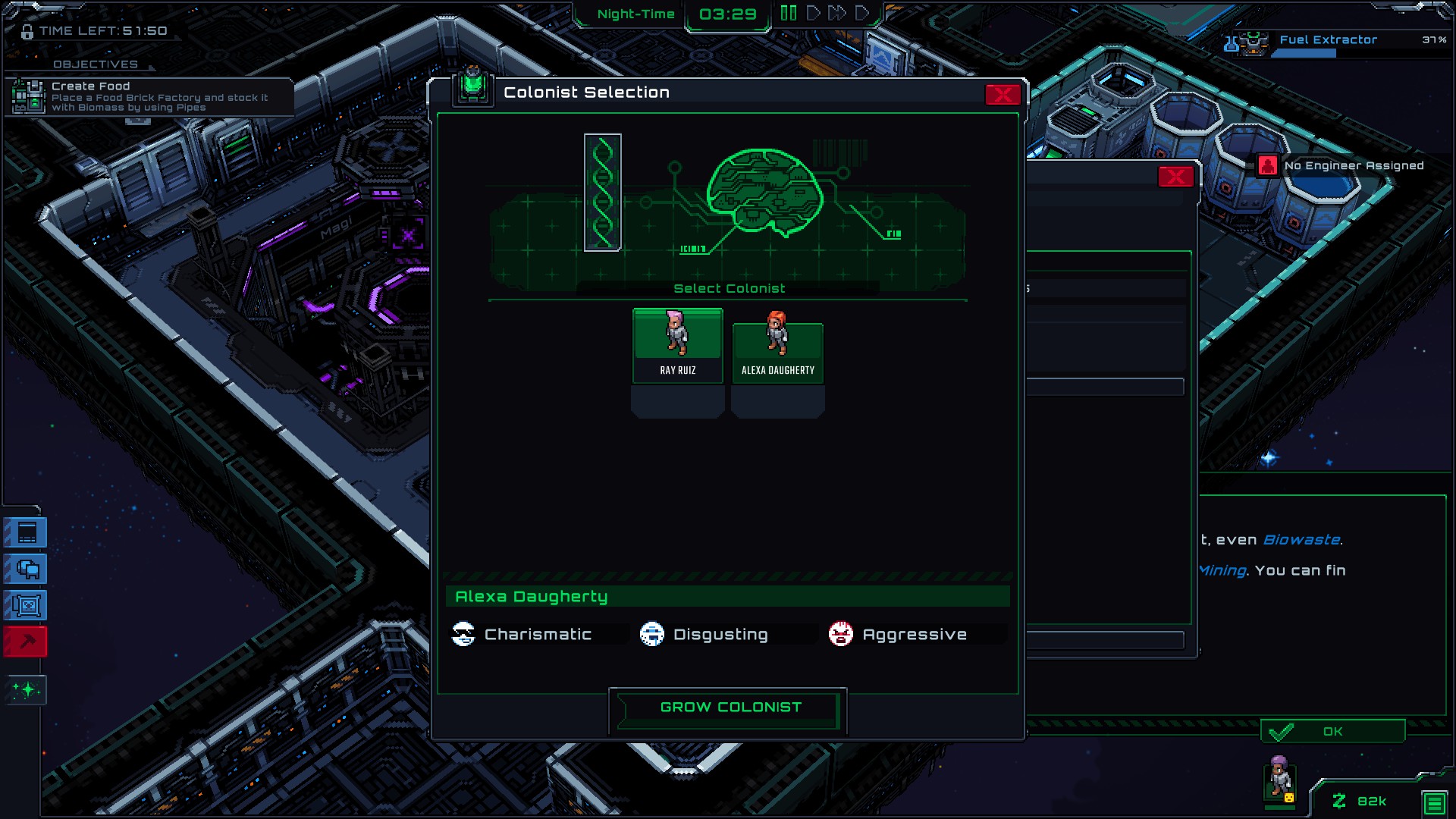 I wanted to revive both colonists but sadly the mad one also turned into a cannibal and started eating them while having this urge of bloodlust… So, I had to starve the mad cannibal out until I could regrow the other ones. Starving her out didn't work out well… So then I just vented the oxygen into space, so that she suffocates and dies that way. That worked.
When I generated more oxygen a fire started spreading and destroyed the human growth machine, resulting in no way for me to grow more and alas one run ending.
In the next one, I ran out of money and had no way to recover… and in a different one, I ran out of time and had to restart the demo as I played it for yet another hour.
So, I guess, you could say that I had a blast! I really enjoyed this game. I'd describe it as a mix of Oxygen Not Included and RimWorld.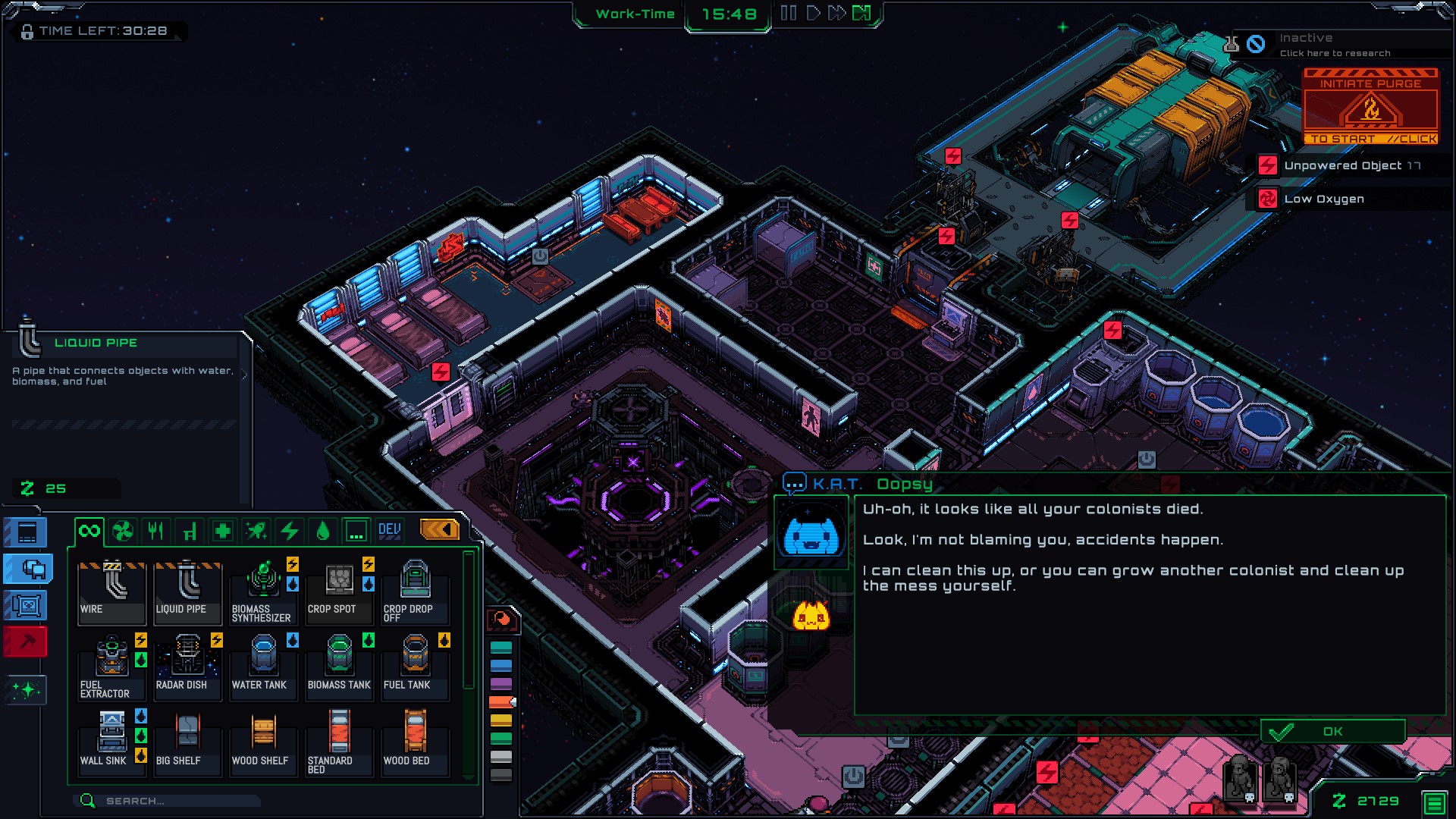 I really liked the fact that your colonists can get better at the jobs they're doing which would then unlock more research options and alas more blueprints and items! I would have liked it a tad more if I had a better way to see the colonists happiness and if there were more ways to increase their happiness, like giving them some rest here and there or even changing their schedule completely.
So, this is essentially a winner. I'm really looking forward to the full release which is "coming soon".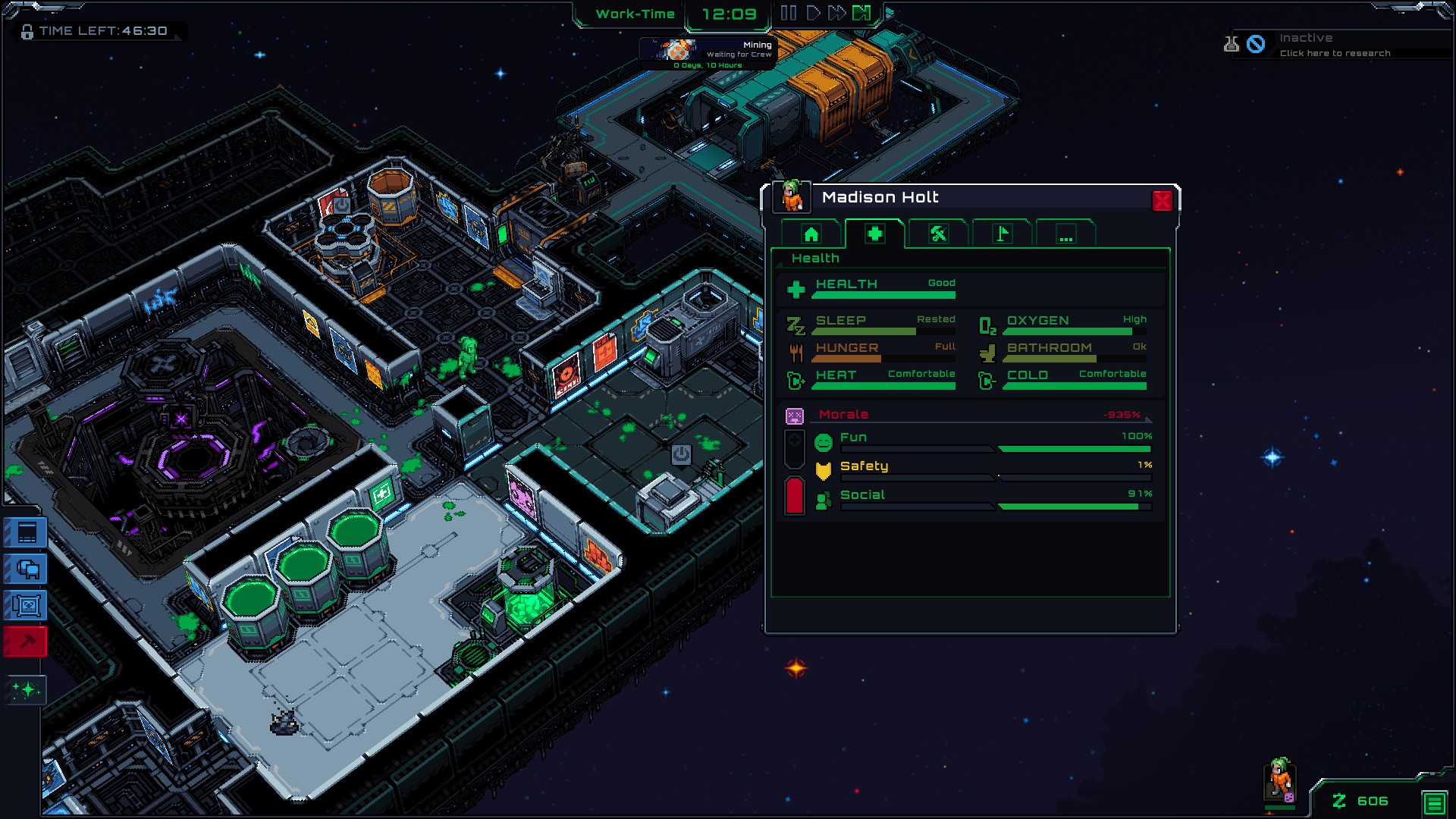 Wishlist it and get notified when it comes out! The Alpha Demo is also still available for download on Steam, so try it out if you want to! :)