Critters for Sale is… interesting. It's a weird and mesmerizing experience. I don't exactly know what drew me to it when I saw it on the demo page but without really knowing anything about it, I installed it and started it up only to find myself in some surreal ride full of events that I'm not sure I really comprehend.
"Experience death from the comfort of your seat", the Store description says. Sonoshee, the dev behind Critters for Sale, is also known for Rym 9000 but apart from the equally mesmerizing soundtrack and some weird symbols here and there, I couldn't really draw a connection between the two games at all.
Critters for Sale is a text-based Noir Adventure… I think?
It features Gore and Violence on top of a lot of different symbols and metaphors as well as a story that I'm not quite following at this point in time. The demo lasts about 13 minutes as you play until a certain point of time of the first chapter, "Snake". You play as Sergei, a taxi-driver, who gets messaged by… Michael Jackson? You're supposed to come to the Limelight Club that is nearby.
Do you get out of the comfort of your bed or do you stay asleep? Do you take the bait or do you stay paranoid? Do you believe the man who's looking like Michael Jackson? Do you listen to his crazy story of the future and your connection… or do you doubt it all and throw it all away? And what do you make of the weird sculptures and the people in the club?
It's honestly a wild ride from start to end.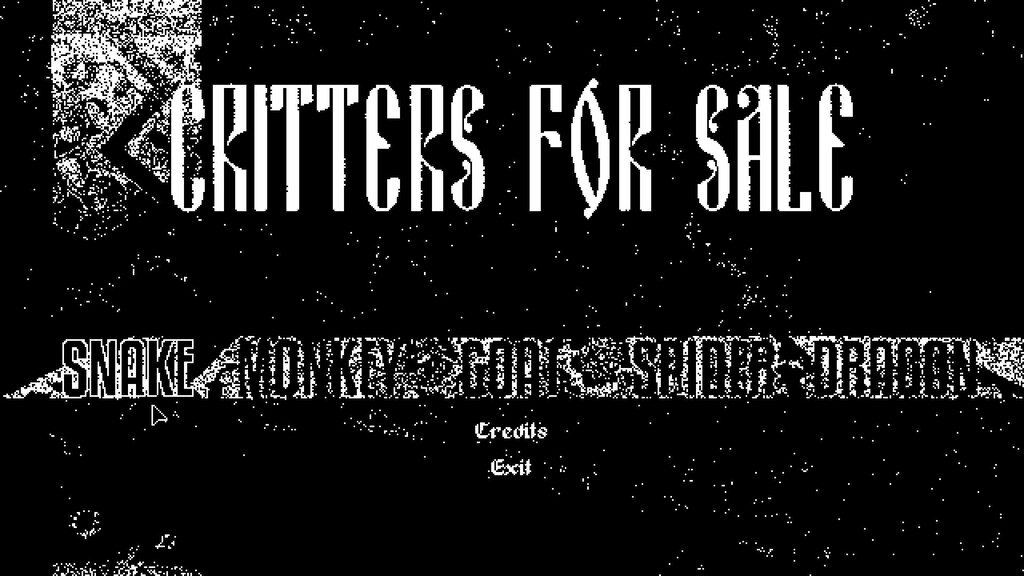 The sounds, the music, the aesthetic… it's just insanely mysterious, mesmerizing and weirdly alluring. The different parts of the screen feel satisfying to click on. There are different parts and different ways to go through the story. You may leave the club early? You may find some interesting new detail? Who knows?
It's sinister and grainy. It's weird and grotesque. It's unhinged and… I'm not sure but I think free describes it quite well? It doesn't try to be overly scary or funny or dark or sad. It just does its thing. It's not too sad, it's not too funny. The game's doing it right without trying too hard.
Critters for Sale looked "interesting" but caught me off-guard as I expected nothing and was flat-out overwhelmed.
I'm not sure what to say about it all. I love it. I'm excited. I'm hyped. I wanna play more. I wanna see where this goes. I want it now… but it's getting released in 2021, so I guess we'll have to wait for that…
If you don't mind a little gore and a little violence… check this title out. Wishlist it on steam. Follow the game's development. Check it out on itch.io as well! Definitely recommended!