Exploration is one of those key features used by a lot of video games these days. Usually, you end up exploring an area for secrets, collectables and shortcuts, which – when done right – can be very satisfying and essentially encourage you to do it more. In today's review, we're talking about a game that is all about exploration and that doesn't rely on any of those features but rather makes the player piece together all the different clues and information in order create a bigger picture of sorts. Today, we're taking a look at Outer Wilds.
Developer: Mobius Digital
Publisher: Annapurna Interactive
Release Date: Jun 18th, 2020
Genre: Space, Exploration, Puzzle, Mystery, Adventure
Reviewed on: PC
Available on: PC, XBOX 1, PS4
Copy was purchased.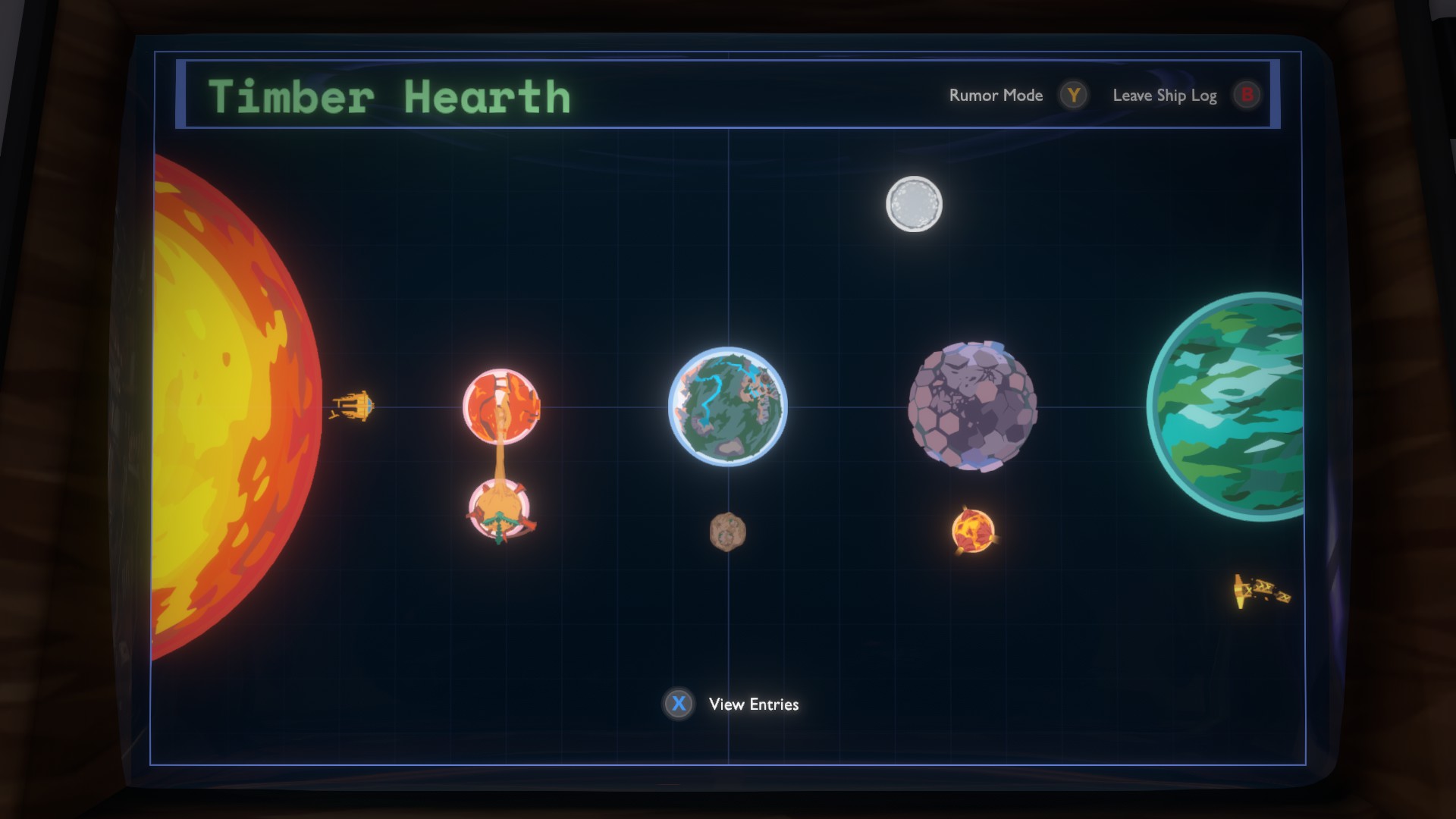 In a distant Solar System, we are tasked with finding out clues about an ancient civilisation only to find ourselves in a time loop similar to Majora's Mask and Minit. After 21 real-time minutes, the sun is bound to explode, leaving us with the mission of finding out why this is happening.
Why does this universe end?
What do the ancient Nomai have to do with this?
How can we stop it?
To do this, we set out to different planets, solve a variety of puzzles, translate scrolls and ancient scriptures, so that we can get closer to the truth, one step at a time.
This is where the game shines. You retain all of your information whenever you die or whenever you reset. Hence, at the start of every loop, you get to lift off from the launch pad on Timberhearth, after having seemingly just dozed off at the campfire.
By scanning and translating different scriptures on walls and ancient ruins, you find out more about this ancient civilisation of the Nomai, who at first seem quite noble and distant but later become rather relatable and "normal". You end up learning more about different tribes of Nomai that all worked together for Science and that all lived on different planets after they crashlanded in this universe.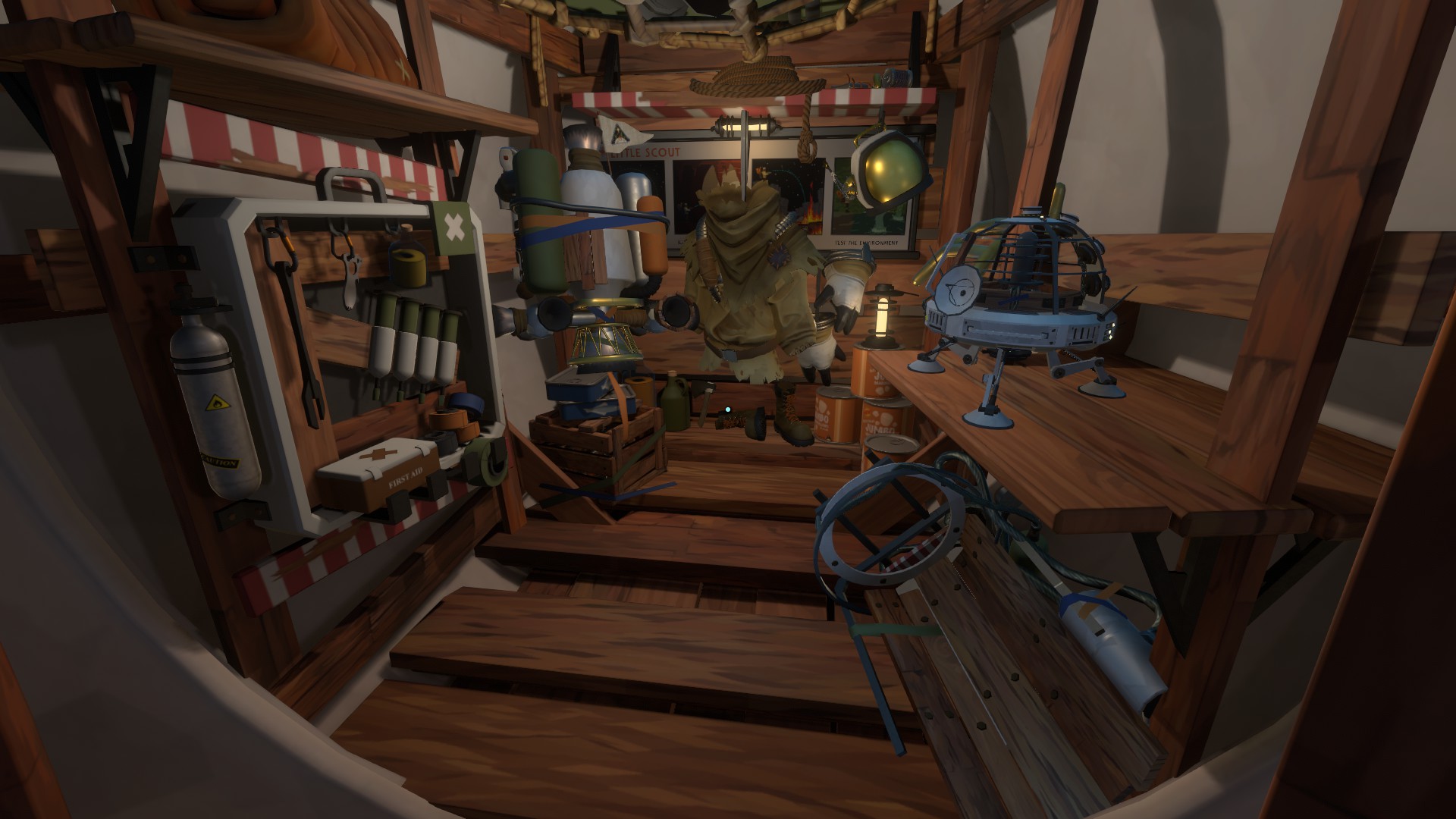 While the leads and clues may, at first, seem daunting and overwhelming, your ship log usually tends to help you out by telling you if there's more to explore in certain areas. It also displays the clues, all linked together, hence giving you some sort of lead to explore, if you ever find yourself in trouble.
There are two "modes" of movement in this game. You either travel from planet to planet and manoeuvre around the planets' surfaces with your small little ship. Or you explore by foot, relying on your jetpack to reach high places if the gravity allows, and scanning things using your transcriptor. When you have a rough landing, you have to repair certain parts of your ship, like its oxygen tanks, electrical systems, the landing gear and other ones that are essential for safe travels. When you travel on foot, on the other hand, you have to watch your health and oxygen but also be sure to not get stuck somewhere without fuel. This makes for some interesting mechanics as different planets come with different hazards and gravity levels. On top of that, you, at times, have to reach certain places before your oxygen supplies run out, hence adding a little bit of pressure to you.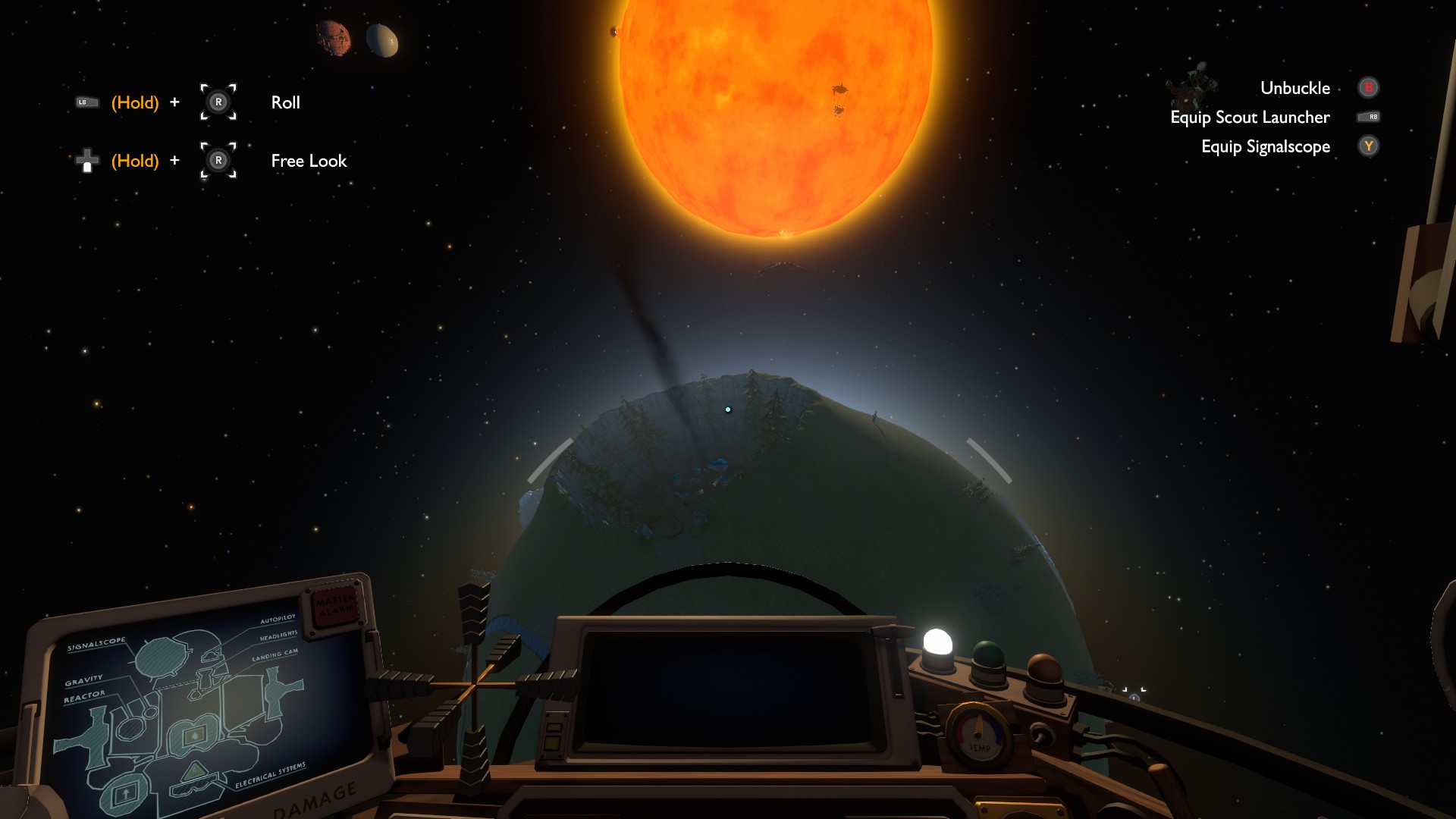 The different planets all shine in their own way. While Brittle Hollow has a black hole at its centre and while Dark Bramble is an enigma of its own, Giantsdeep features high gravity and a very harsh climate that allows vortexes on its surface to lift your ship and even islands into the air. I could assure you that every single planet and planetary body features a unique experience and that every journey to different sites and locations feels unprecedented and adventurous! At least, that's something I fancied in my playthrough. Since there is no set starting point for every planet, though, you have to figure every planet out yourself and understand its systems, although you should have plenty of times for that – being trapped in a time-loop gives you a lot of time to think, eh?
Making use of a time-loop mechanic gives every 21-minute long adventure a unique vibe, that I really dig. At first, I felt a certain rush to find out as much as possible in every single loop, but then I noticed that it's alright to take a breather at times and to enjoy the views. After all, Outer Wilds is a charming and gorgeous game, featuring a great score, some lovely dialogues, and a lot of clues, secrets and easter eggs to find in the ruins of the "old world".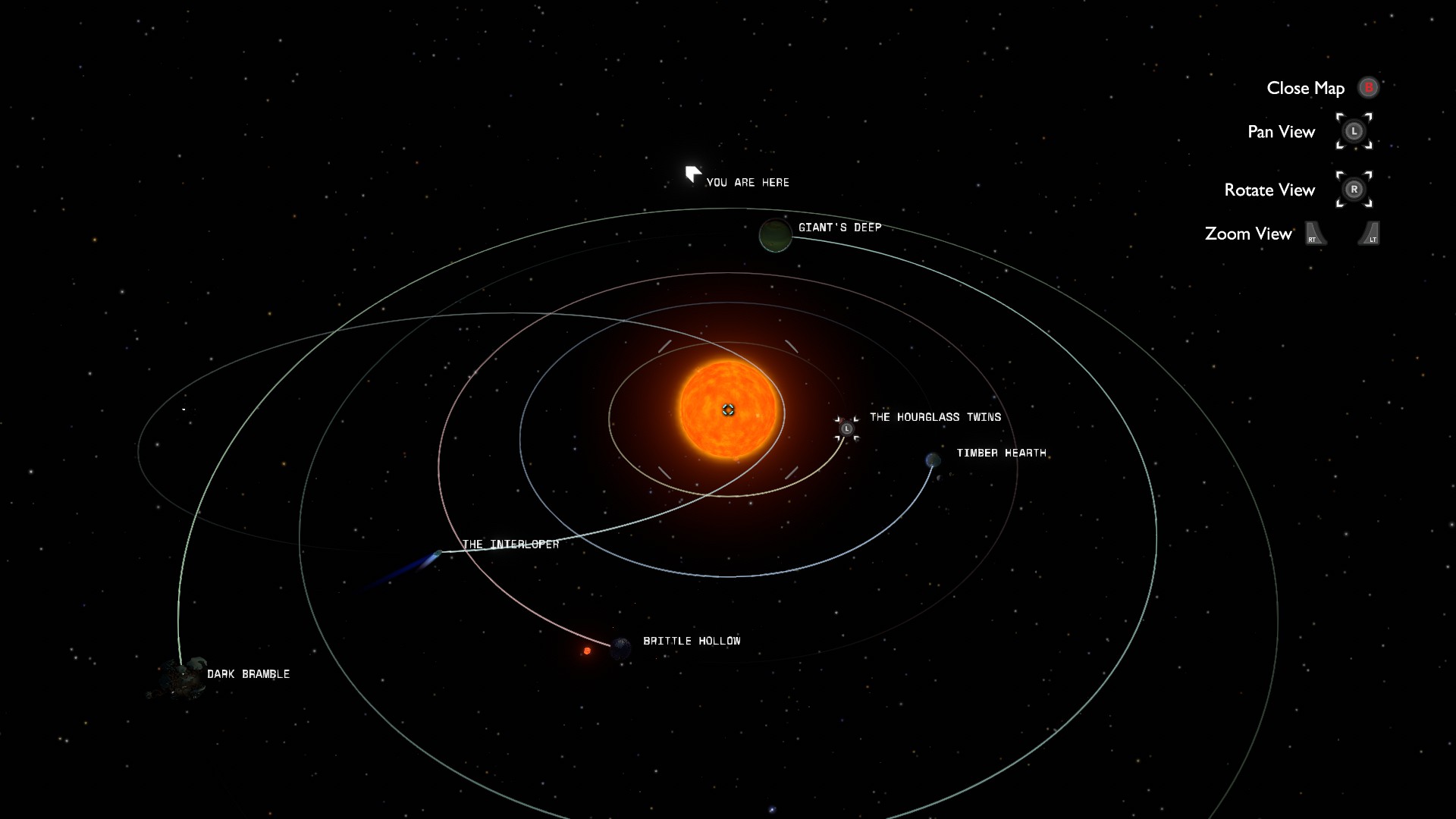 The soundtrack, composed by Andrew Prahlow, gives this title a certain adventure-vibe that helped me enjoy the ride a lot better. Different places feature different tracks while some other tracks get played when you're getting close to your inevitable death, creating a rather fluid and non-linear experience every time you venture out into the Outer Wilds.
I love the soundtrack. I love the graphics. I love the gameplay. I love the story.
In summary, I love Outer Wilds.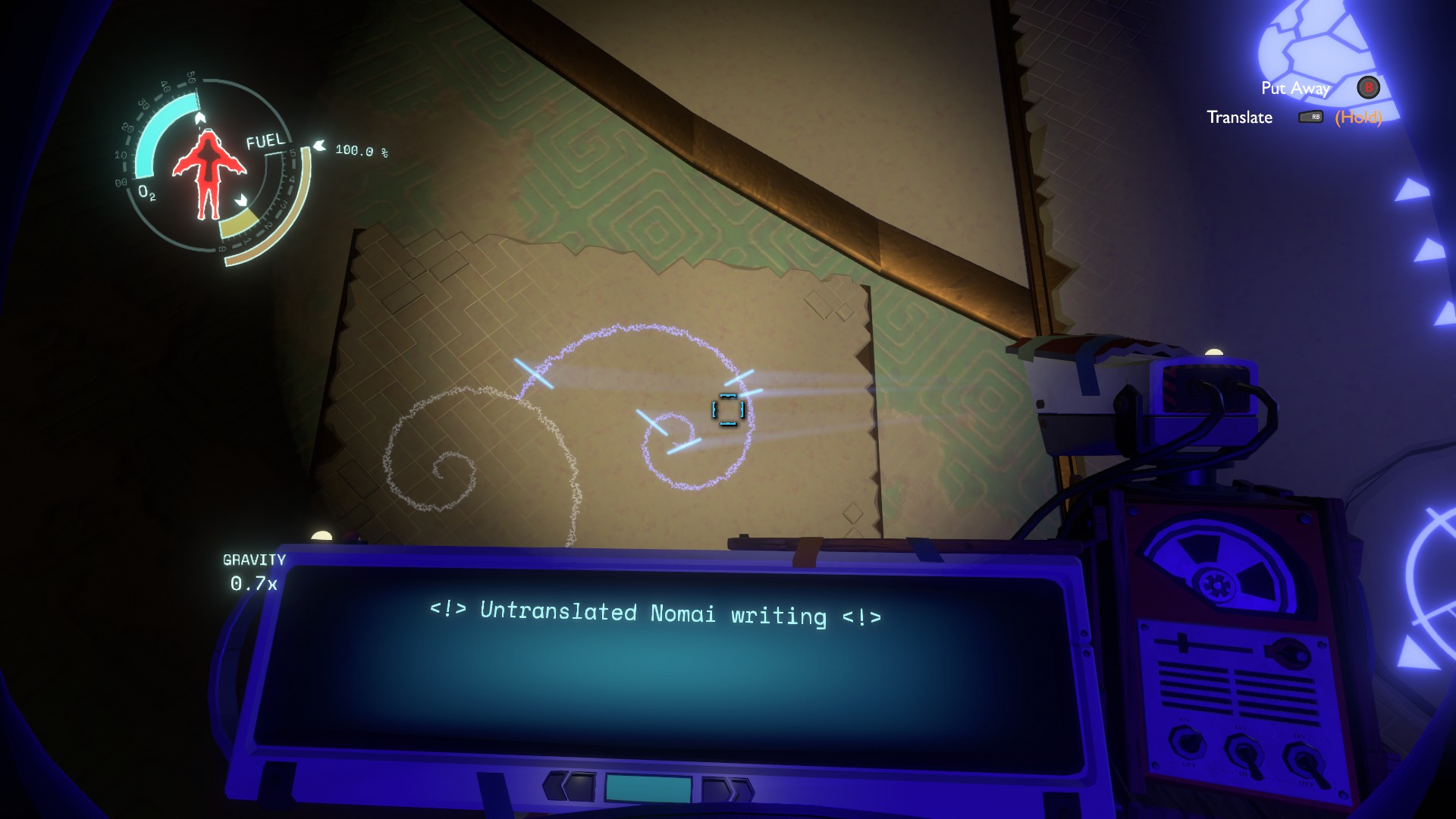 Outer Wilds created a novel experience for myself, even when it has some shortcomings here and there:
Your experience at the beginning can be somewhat slow, for instance, as you try to figure out how certain planets work, where you have to go, what you're supposed to do. I enjoyed that, myself, but I'd be able to see how this would influence other people's experiences and how it could bother others.
You don't have a lot of directions given to you, although there are other astronauts on every planet that you can visit to ask them for "interesting places". Based on where you land on a planet, you get to see different places to find out other clues. At times, this can mislead you into thinking that you found out everything about a planet, resulting in you seemingly "getting stuck". At other times, you may just be wondering how an end-game location like the Hourglass Twins tie into the whole story and what you're supposed to do with these "timed locations".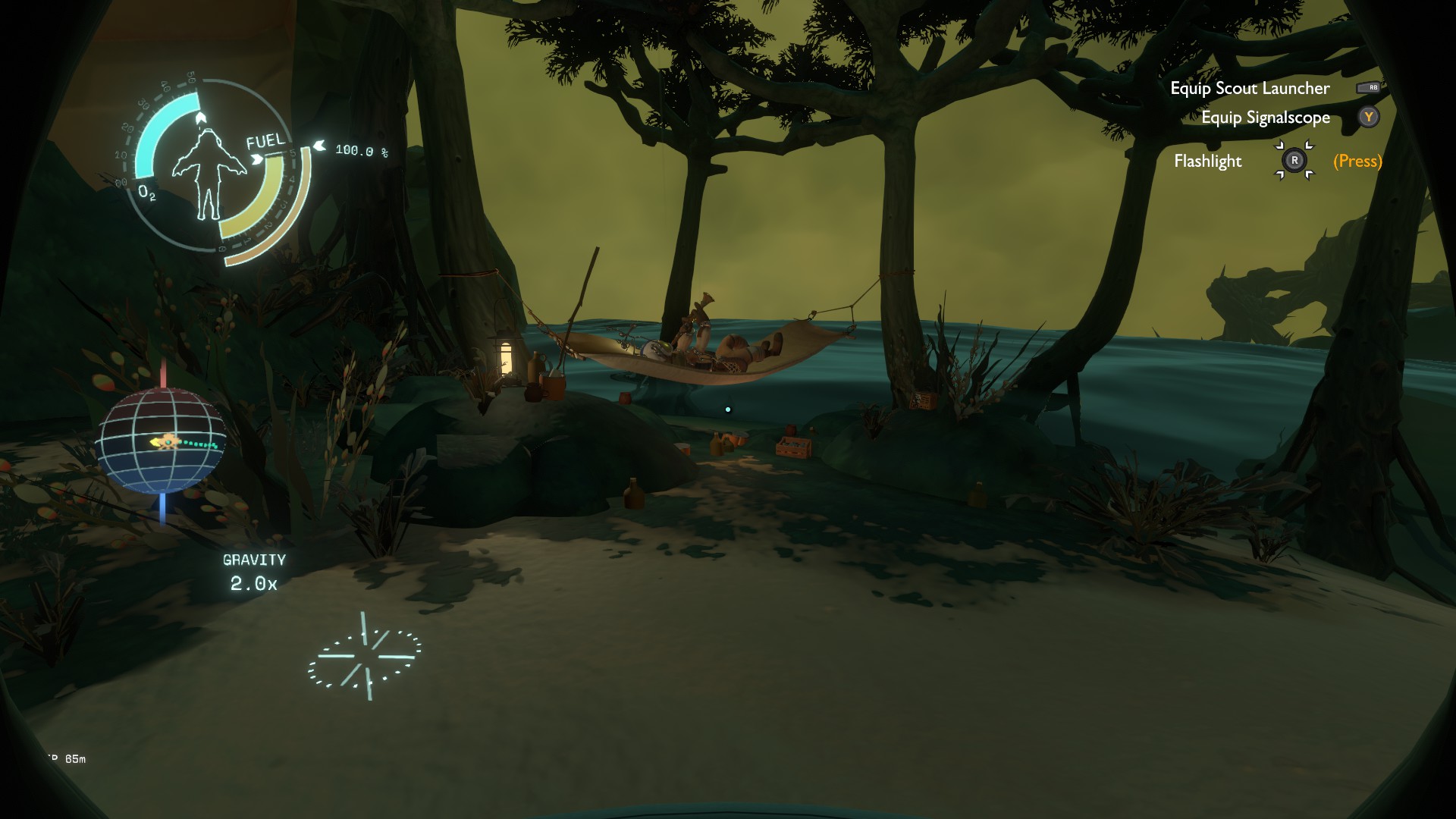 Overall, I wouldn't deem this too much of an issue though. By revisiting places and by making use of your ship log, you should be able to get "unstuck" in no time and figure out new leads whenever you try out a different location or find out a new piece of the puzzle.
Another issue that I found with the game is the fact that there are some issues in the PC version of it. Your ship can seemingly take way too much damage when bumping into certain objects and at other times, you may just die from a fall that you usually would make, which I found a bit frustrating at times. Bugs are, however, very few and very rare, so usually, this just left me in confusion and didn't make me suffer too much.
Alas, my verdict is that Outer Wilds is an exceptional game that is worth checking out if you're interested in a "true" exploration experience with a non-linear time-loop-based story. The presentation is just magnificent and charming, the story and the end of it are just more than grand, and I'm really glad about having played through it after 24.4 hours. That whole day that I spend in there was 100% worth it!
Cheers!
This post was first published on Indiecator by Dan Indiecator aka MagiWasTaken. If you like what you see here and want to see more, you can check me out on Twitch and YouTube as well.