Today, on the Lookout Post, we're taking a look at an up-and-coming game developed by Alter Games and published by Daedalic Entertainment called Partisans 1941. In Partisans 1941, you explore WWII from the side of the Polish partisans – an occupation resistance movement on the Eastern Front.
In this game, you discover how the story of Captain Zorin and his comrades unfold, how they battle the Nazi invaders and how they help the people while struggling to survive from day to day. While the story and its characters are purely fictional, the setting is very real and doesn't always get explored in games, which is why I found this game so alluring.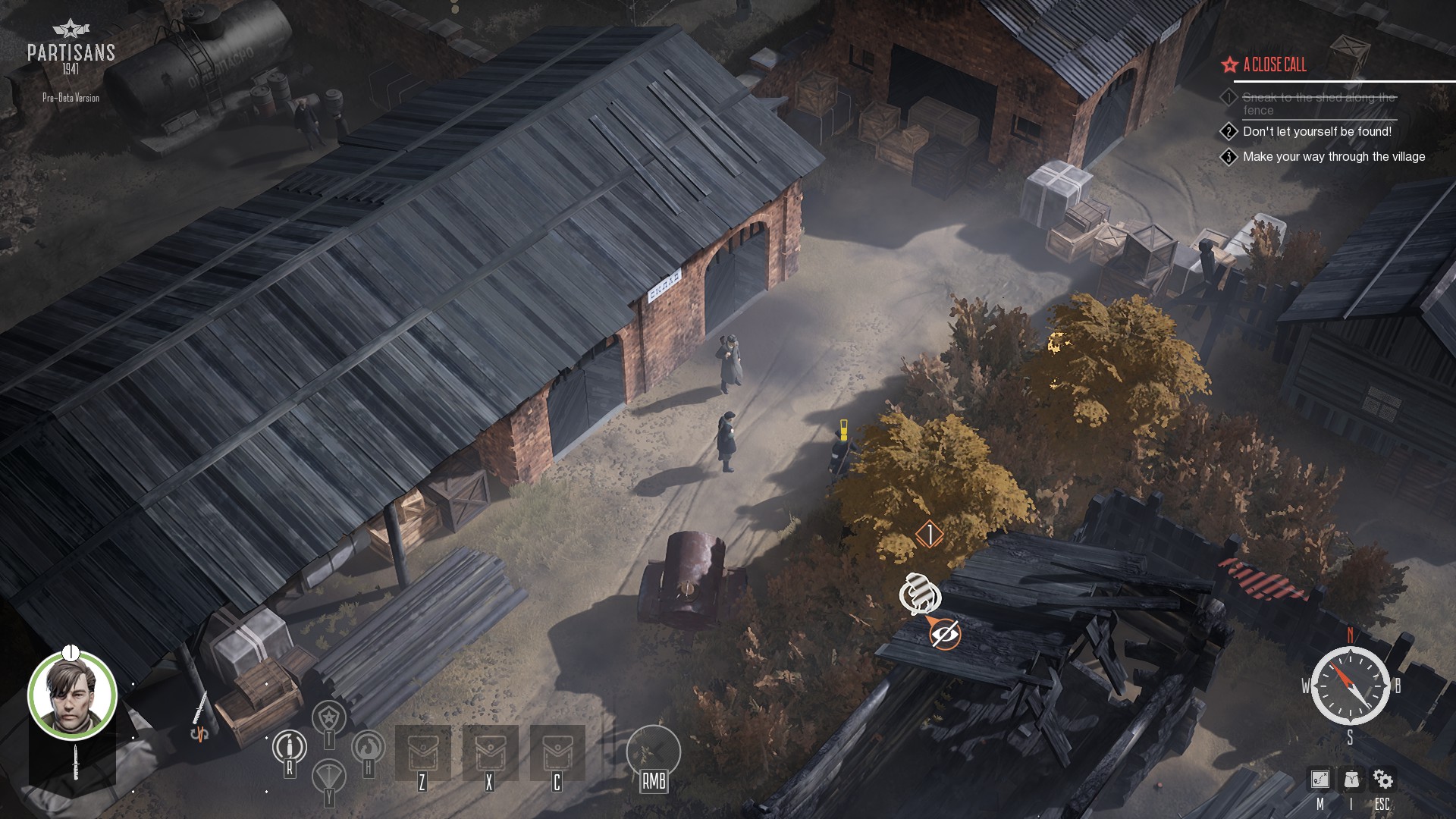 To write this post, I played the Demo available on Steam. Check it out yourself to get your own opinions of it. The game comes out on October 14th, so be sure to wishlist it!
As Commander Zorin, you escape the enemy – known as the "Polizei" – and try to flee with your comrades. You have to sneak away from enemy soldiers, find loot and weapons, equip yourself and use your wits against the enemy to make sure that everyone makes it out alive.
Gameplay-wise, Partisans 1941 combines Real-Time-Tactics with Stealth mechanics, allowing you to sneak around and set up ambushes. Of course, you can also just storm the castle and try getting them that way but more often than not, you're at a disadvantage on top of them being better equipped than you.
I really enjoyed being stealthy and sneaking around, spectating and observing the enemies movements and their paths. Right-clicking on enemies shows their vision cones. Pressing Alt allows you to see doors, loot, and places to hide in. You can silently kill enemies, drag their bodies away and hide them in the bushes before making your way through levels, and it's actually quite well done. It doesn't feel slow or too easy at any given time. While still giving you a hand and explaining things to you, the first few levels left me impressed at how challenging the game can get and how nice it feels to make it without casualties.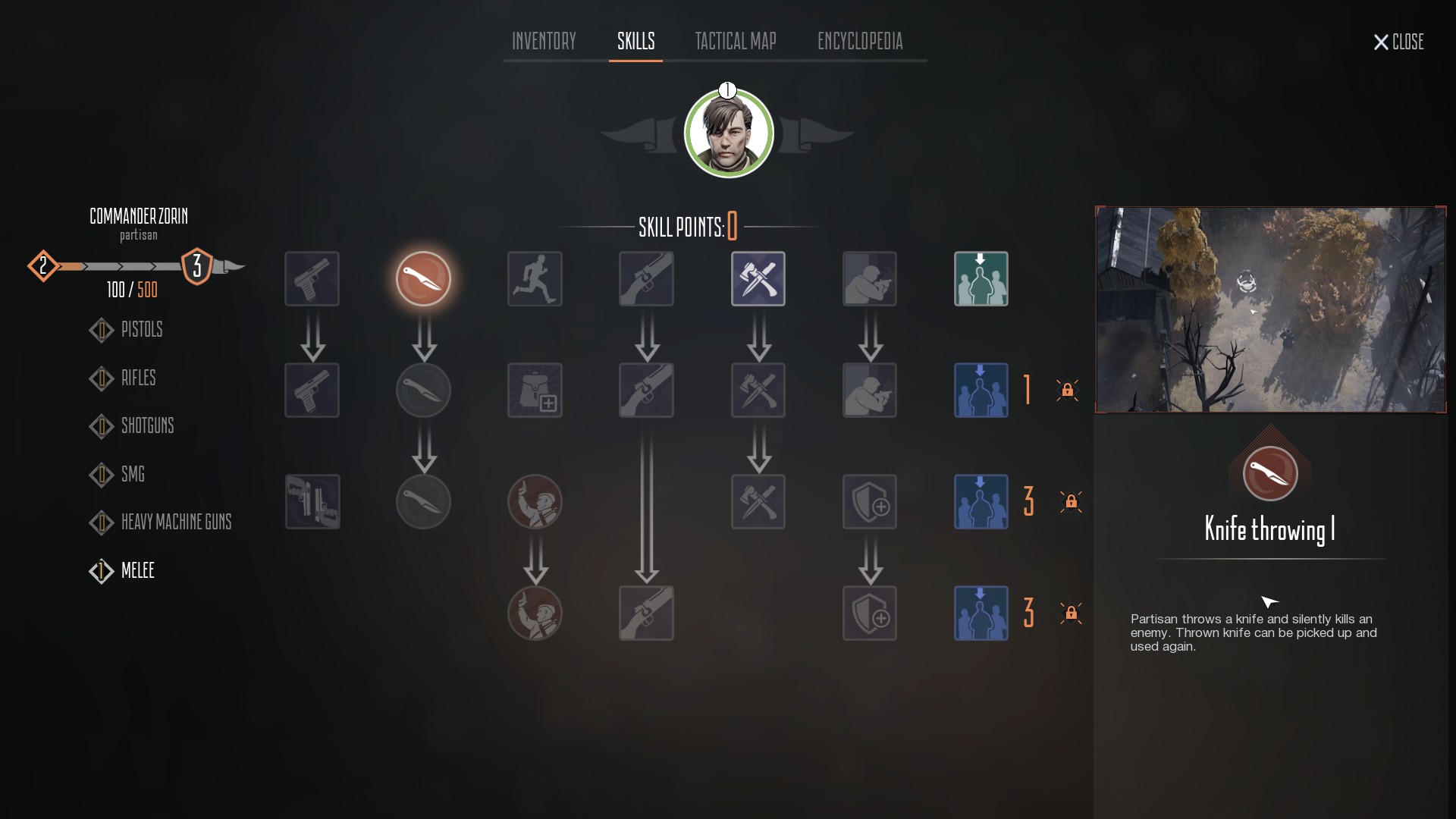 Each character features their own skill tree with abilities and passive bonuses that improve their ability to wield certain weapons or give them better chances of survival overall. Zorin's able to throw knives, for instance, making for an easy stealth kill at times, although you'll have to retrieve your knife afterwards.
The demo lasts about 90 minutes (at least, in my case) and features the first few levels. I noticed no bugs yet and was impressed with the quality of the demo. I can't wait for the full-release. The music and visuals have been really nice and overall, I really did enjoy the voice acting and how the game felt.
The full game is going to contain 20 unique mission scenarios, 8 different characters with unique skills, a large variety of weapons, armaments and equipment, on top of a moral system, side missions, errands and the resistance base. The latter being used for preparations, crafting and treatment but also to help your allies survive. Judging from press screenshots, you'll be able to accumulate a vast variety of weapons on top of preparing your allies according to different needs.
Overall, Partisans 1941 seems to be a promising title.
Cheers!