Lamentum is a pixel-art survival horror game set in New England in the mid-nineteenth century. I played the demo of it and honestly, I really liked the vibes that I got from it. Here's why I enjoyed it so much!
Developer: Obscure Tales
Publisher: Neon Doctrine (formerly known as Another Indie)
Release Date: 2021
Genres: 2D, Indie, Survival, Horror, Action Adventure, Lovecraftian
After no conventional method was able to cure Alissa's deadly disease, the young aristocrat Victor Hartwell turns to unconventional methods and Grau Hill Mansion's Earl, Edmond Steinrot, to find a treatment for his beloved wife. In Lamentum, we guide Hartwell in his desperate journey but nobody could have fathomed what unimaginable horrors were waiting for us over there. This is a story of love, sacrifice, and sacred otherworldy entities.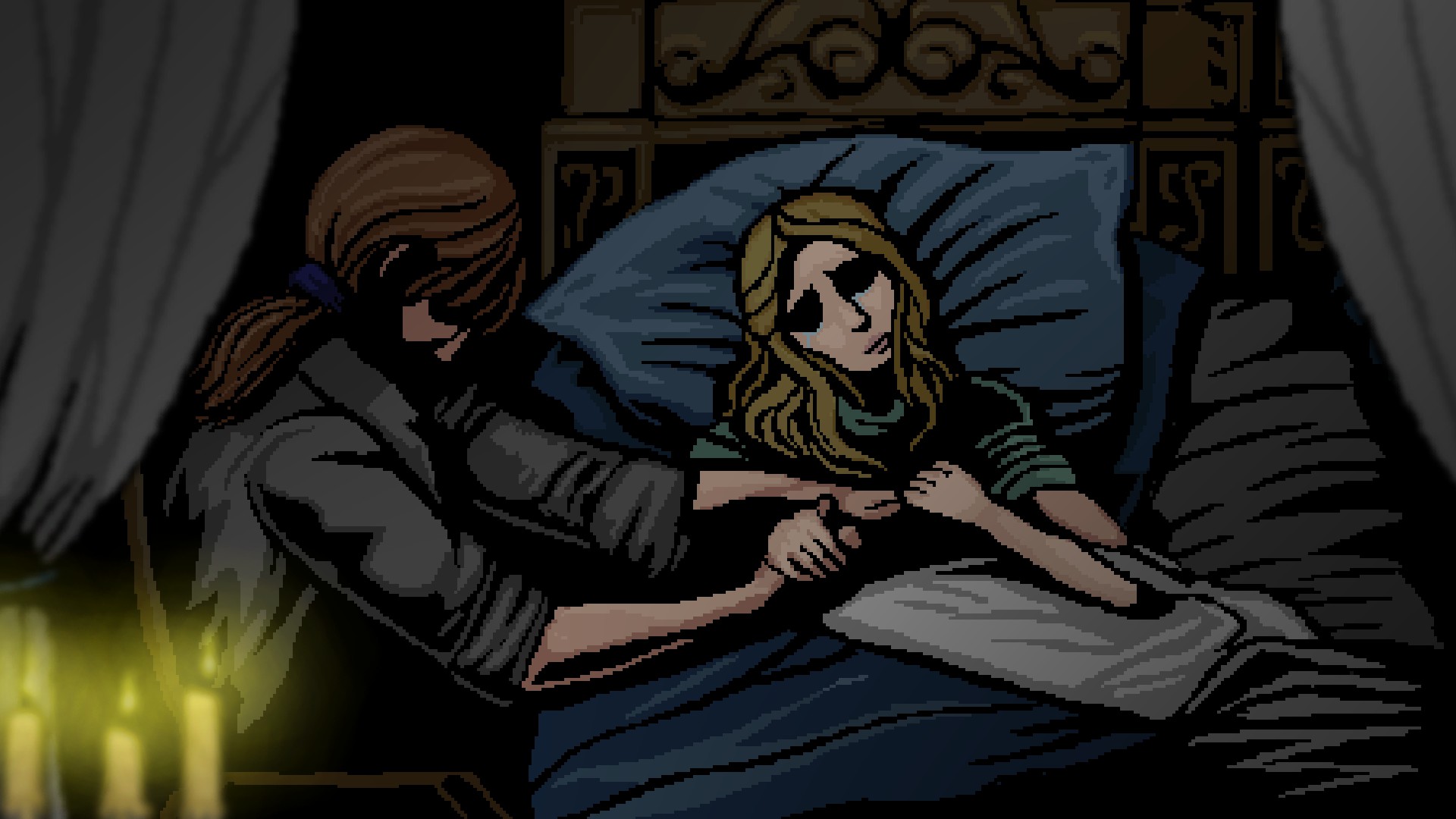 Lamentum takes inspiration from classic survival horror games like Resident Evil and Silent Hill along with cosmic horror masterpieces, like the Cthulhu mythos and other works by Lovecraft.
Obscure Tales is very much able to capture what makes the Lovecraftian horror stories so great: The fear of the unknown and the fear of the things that mankind shouldn't have known.
Terrible, terrifying creatures are lurking in the shadows while the Mansion has changed over one night. The paintings and statues have transformed into a terrible and grotesque state… and worst of all, there is just no trace left of Alissa!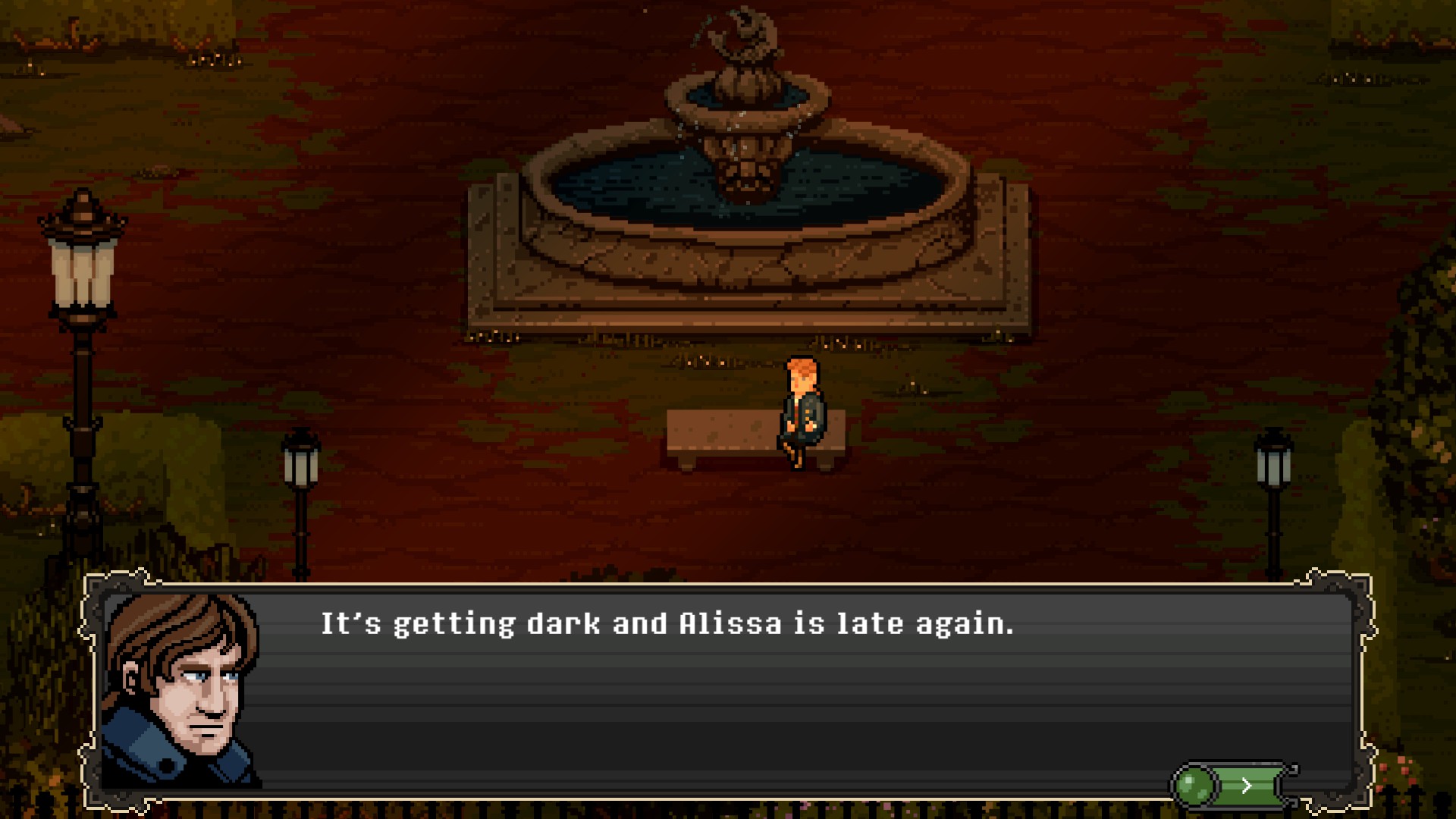 That's where the story really picks up. A note in the room that we wake up in reveals that Alissa made her way into the Earl's office but the door's locked from the inside and we don't have any other way in. Hence, we have to go deeper and search other rooms for clues and useful items. In one room, we find a small box. In another, we find some mysterious runes. Alas, there's a room with a sword but there is something off about it as well. It all feels like one big puzzle where you have to figure out how different pieces fit together and how you're able to combine different items or use certain items.
The controls feel quite good, although I prefer the controller over the keyboard controls. When I found a gun, I had to get used to the aiming and the fact that you need to reload after every single shot, despite enemies moving towards you, which makes sense since mid-nineteenth century weapons weren't automated or anything like that. Combat usually consists of figuring out the enemy patterns and kiting them while landing a hit or two in between their attack phases. With only one enemy or two, in the beginning, this can be rather easily done but over time, more and more enemies show up, so you really have to wage whether or not it's worth it to risk damage or if you want to move past them. Generally, I've been trying to sneak past enemies as healing items and ink (to save the game) are rare in the game and as I wanted to try a more cautious approach, but if you're good at kiting enemies, then you certainly can go for a more action-heavy approach!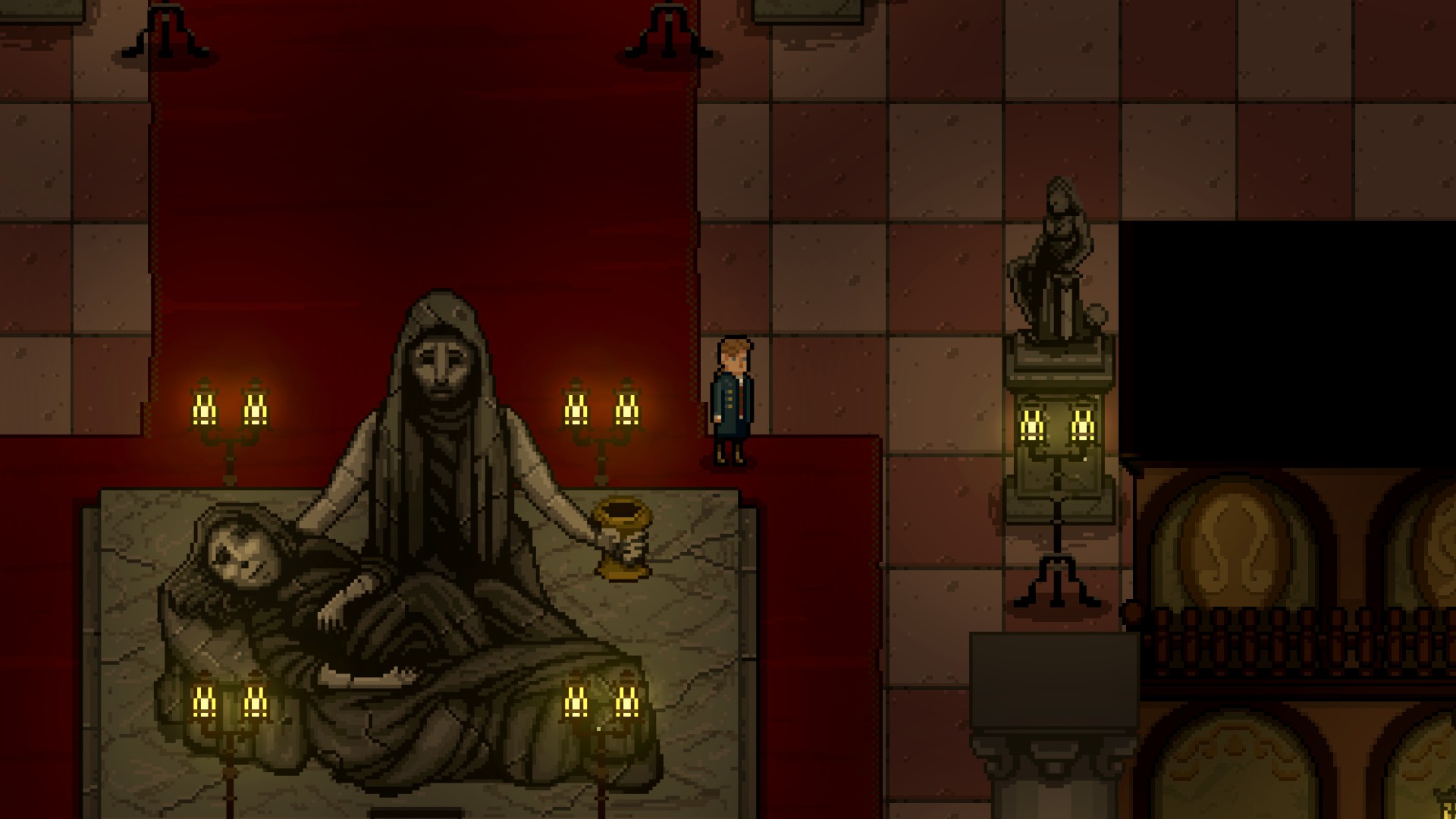 The game allows you to assign three items to slots so that you can use them at any given time with just one button-press. Otherwise, you'll have to move into the inventory and equip items manually, which can be a bit annoying at first as you're still figuring out what you exactly need, but you'll get used to it eventually. Generally, I kept my weapons in those slots as well as the lamp that I found somewhere but you can use them however you like. The inventory is limited to nine spaces but there are storage crates that share their inventory where you can put in a lot more items. Alas, you'll have to manage your inventory space and be careful as to what you can bring with you and what you cannot. If you come across an item that you want to take but your inventory is full, you'll obviously have to go back to a storage trunk and remove some of your items and go back to said room, if you can find it. I found that mechanic quite intriguing as a lot of the games I played tend to give you tons of inventory space or even inventory upgrades at the beginning, making the game a bit easier.
Taking multiple trips back and forth is something that I tried to avoid as much as possible but due to the inventory situation, I sometimes had to do exactly that. The mansion is huge and despite having a map, it is actually quite easy to get lost in it, especially with all the doors that aren't all accessible. And with enemies spawning in some rooms as you travel through them, multiple trips bear a lot of risks. This added a bit of difficulty to the game as I needed certain items for puzzles, such as keys and shards, but also didn't know if I'll need the runes and teeth in upcoming rooms.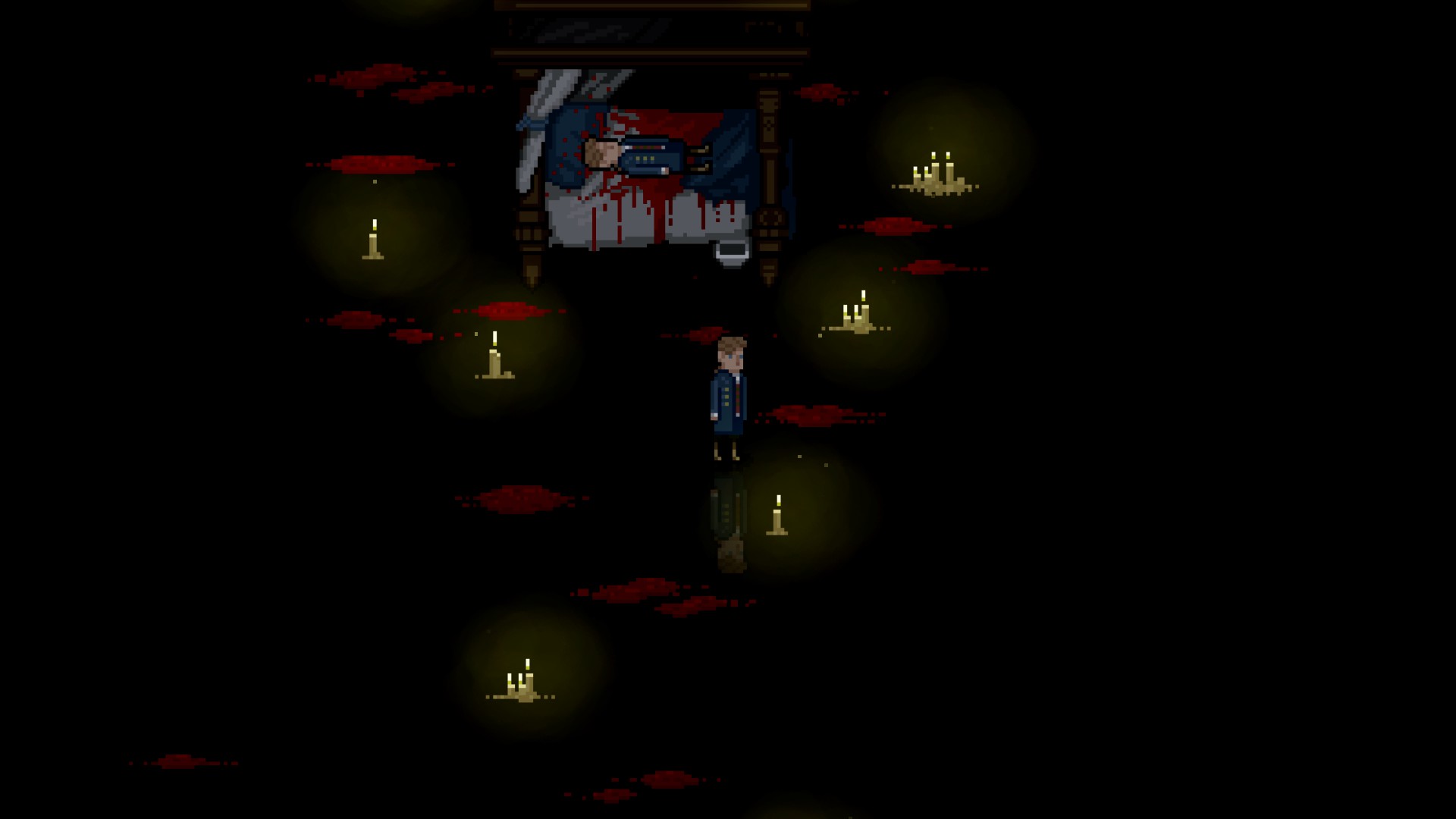 When you figure stuff out, you get that short moment of satisfaction that I really enjoyed in this game. When you're stuck, however, it can be a bit frustrating but the game never really leaves you clueless. Certain doors are closed, so you have to search for something to do in the accessible rooms and hallways.
At last, I'd like to say that the art style is wonderfully dark and detailed. The Top-Down-ish view highlights the art style as you get to see a lot of the big rooms and small details that they feature. The animations are fluid and unique for all of the different enemy types and I love to see the different cut scenes in the game that depicted the horrors of the nightmare that we've found ourselves in. The dark and gory beauty of the game gets complimented by the beautiful and ominous music that switches from enigmatic and sad sounds to darker and creepier tunes.
The full game will feature an array of 19th Century Melee and Ranged weaponry that isn't just limited to the pistol, the knive and the sword found in the demo. Apart from that it will also include branching paths and multiple endings on top of "a terrifying plot for a mature audience".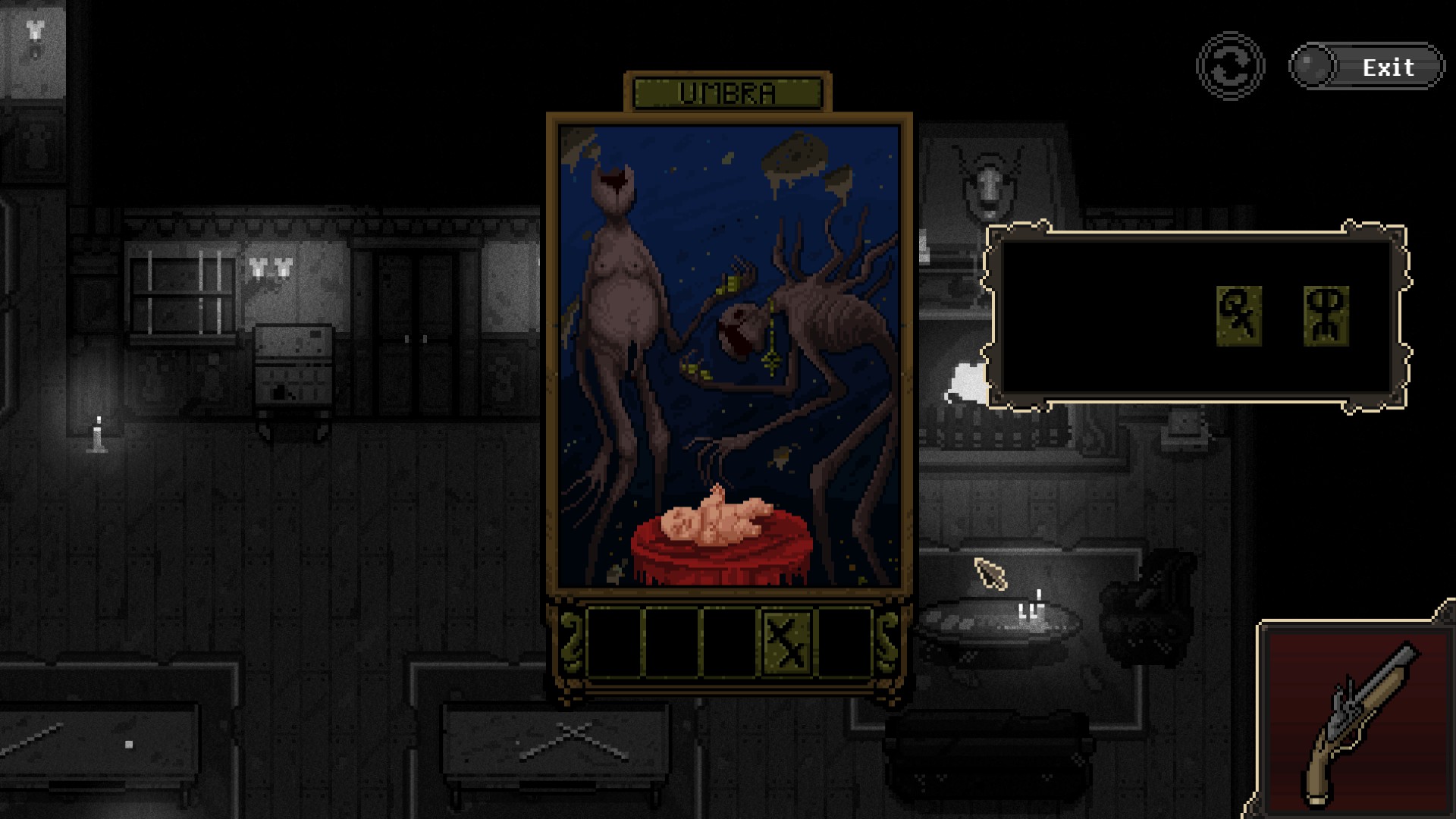 If you're looking for a Horror Game to play, then I'd definitely recommend checking out Lamentum's Demo over here. The game fully releases in 2021 but I really enjoyed the demo that is actually rather long for a demo. In case you want to get notified when it launches or in case you want to support Obscure Tales already, you should definitely wishlist the game on Steam. Personally, I'm really excited about this title, despite being more of a scaredy-cat.
Either way, that's it for the post. I meant to write this post for a long time already but ended up not really being able to do so, due to university stuff, exams, paperwork, family stuff, and all of the things that stop you from doing what you really want. When I got to write it, I really enjoyed the process. The beginning part of this post was a bit hard to work out without spoiling anything but I think I did a pretty good job at it (feedback appreciated!).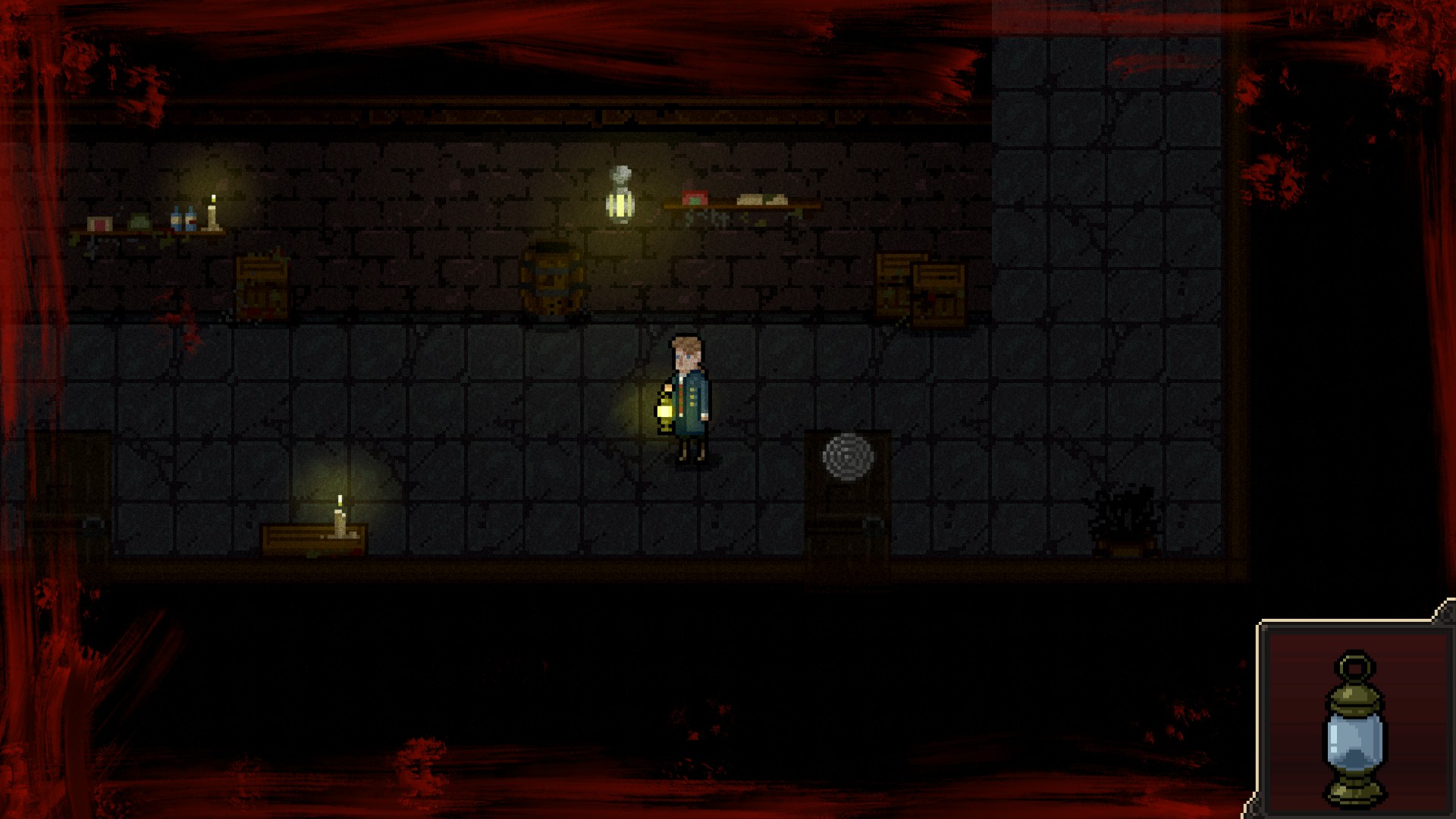 This post wasn't meant to be a review, especially as this is a demo but in the end, it offered a lot of entertainment, so the post turned out a lot longer than originally planned. Generally, I try to just go with my first impressions and thoughts on games and their systems in these types of posts and since I didn't play the full game just yet, there's obviously no telling what the endgame looks like or future bosses or how the story unravels, and I can't quite judge the whole of the game solely based on the beginning. Alas, take this post with a grain of salt until I'm able to write an actual review on the game. I hope you enjoyed my thoughts on the demo and I hope that you're checking out the game yourself.
Again, I highly recommend it!
Cheers!