"Roguelike flavour, card game pacing, 
dungeon crawl, chaos embracing. 
Shadows cast a truth to see. 
In the darkness, you can visit me." 
Join me as I venture deep, 
fear not you don't have to take a leap. 
Since if you're looking for something to play that's new, 
I've got you covered with my Ring of Pain review.
Honestly, Simon Boxer and Twice Different did such a great job with the rhymes, so I shouldn't really bother with it and just leave it to them. Oh jeez, that sucked. Anyways, welcome to yet another Indietail!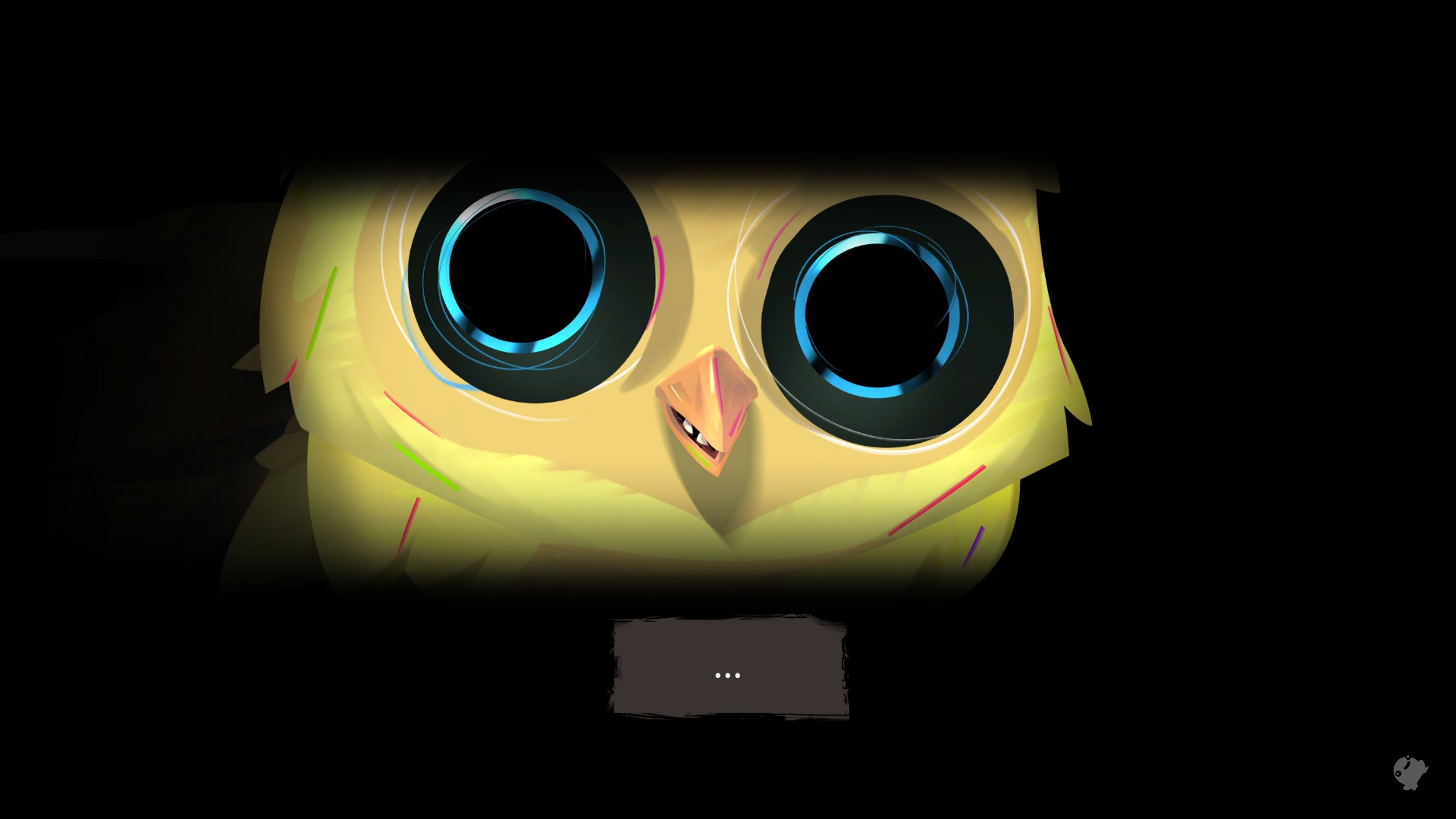 Ring of Pain, a title that I've been excited for quite some time, has come out just a few days ago and honestly, I love it. It's dark, mysterious, and creepy. It leaves you in the shadows so that you learn on your own and essentially, it really gives me that "one more run" feeling whenever I die, which is glorious and something that I've been missing from other titles that I've played lately.
Developer: Simon Boxer, Twice Different
Publisher: Humble Games
Genre: Dungeon Crawler, Roguelike, Card Game, Difficult
Release Date: October 15th, 2020
Reviewed on: PC
Available on: PC, Switch
I received the copy by the devs but the opinions are my own.
But what is Ring of Pain about? After awakening, an owl greets us from our slumber, handing us a candle to light at the depths of this ominous place that we find ourselves in. Hence, we venture deeper and deeper, facing more and more challenges, getting stronger and eventually, we reach the depth of this place and have the choice of engulfing the world in shadows or enlightening it to change it forever. Apart from that, we also get to meet a dark entity of sorts that advices us to do the opposite of what owl says and to not trust owl at all… although the owl says the same about that dark fellow, so there are a lot of rhymes, lore snippets and other information to be gathered in the game as you go on but after a few hours, I know basically nothing about the game, to be honest.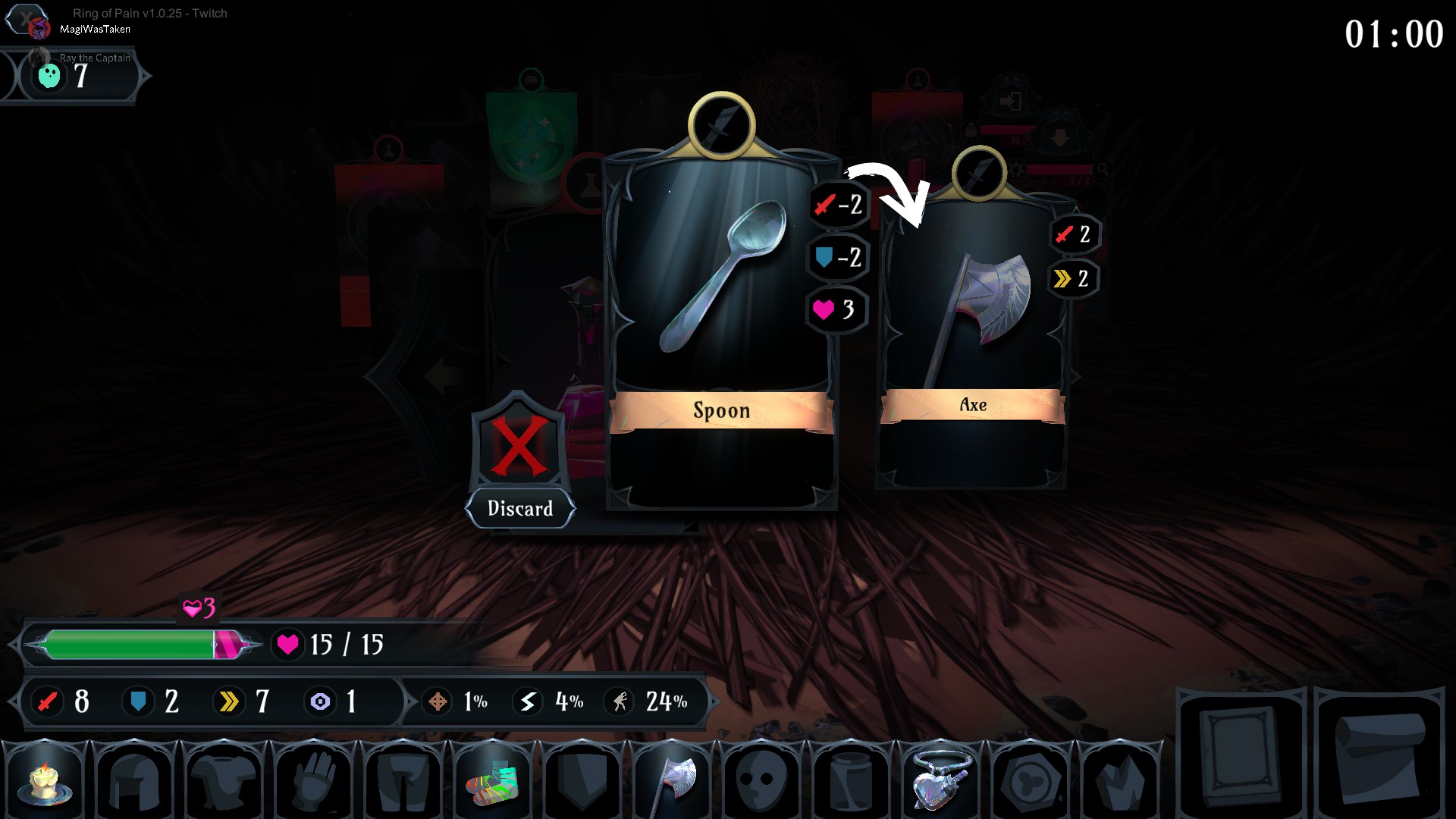 When you start off, you're essentially only equipped with a candle that grants you some clarity and improved stealth chance. You venture deeper into the dungeon, fighting foes by clicking onto them, finding items to get stronger and essentially improving your stats to fare better against your foes. The better your stats and your build, the better your chances of survival – but mostly, you need your wits.
Enemies come in all kinds of forms with their own patterns and stats. Some of them explode on death, dealing damage to you and foes alike. Some other enemies attack you relentlessly, some attack you only when they pass you, while others don't allow you to pass at all, essentially blocking the road. There are all kinds of enemies and once you discover them and learn how to deal with them, the gameplay becomes very tactical and strategic, which is something that I really enjoyed.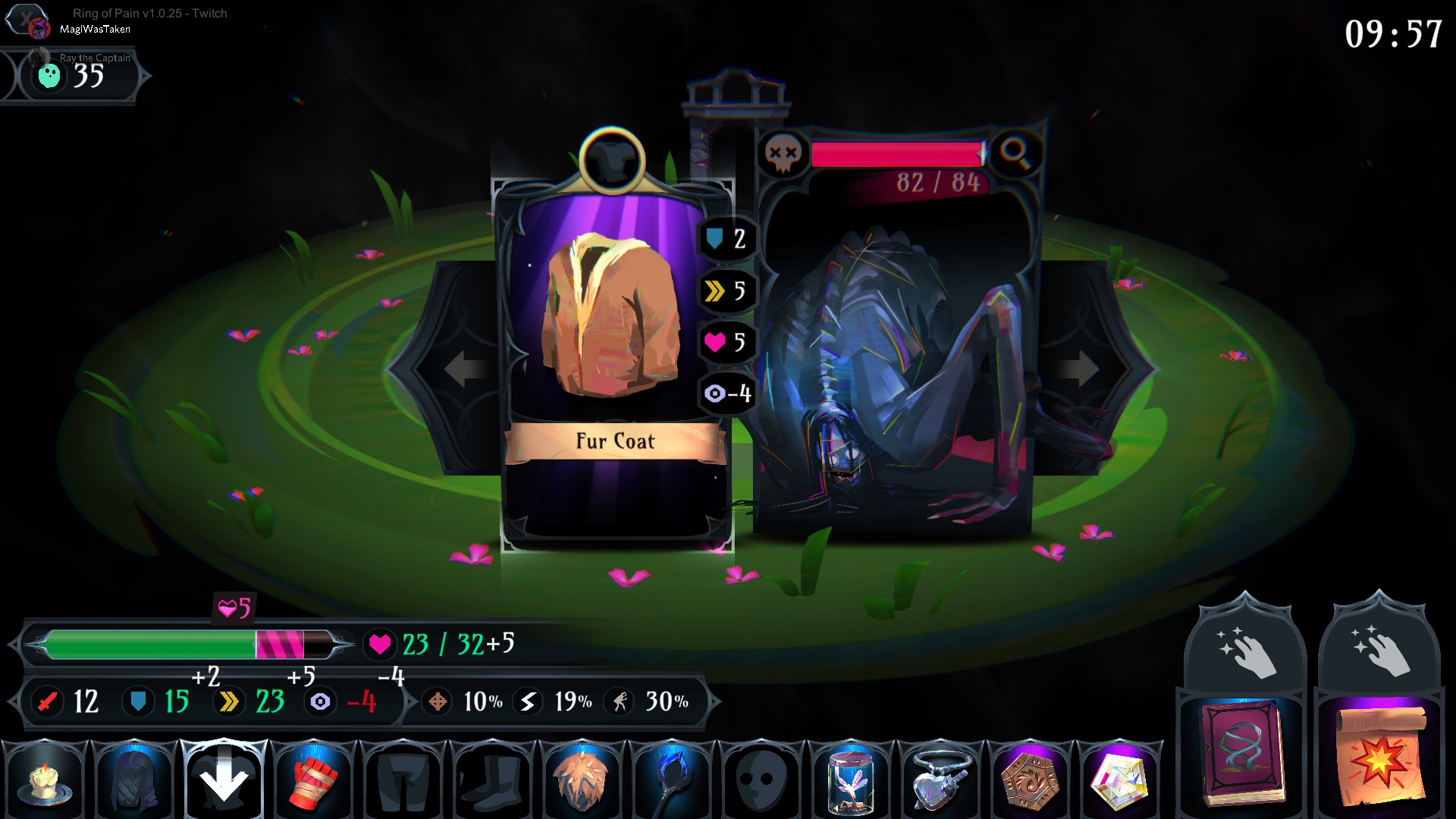 Do you move to the right to prevent that exploding fellow from blowing up in your face but risking that that right fellow hits you, or do you take the hit but kill the right fellow in the process? Do you take the risk of reducing your defensive stats by taking the Glass Shield, only for better dodge chance and more attack damage? Honestly, at times it feels like a huge gamble when you go through the dungeon and pick up items and later come to regret them. Sometimes you have to calculate and take risks but more often than not, these risks paid out for me, which is why the game is so much fun to me. Personally, I'm more of a careful and tactical player in other games but Ring of Pain makes it easy for me to take risks at times as it never fails to project the consequences for my actions. Enemies show their intentions for the next turn while damage numbers are reflected on my health bar when I hover over the options available to me. This damage projection in the game feels really good as it lets you plan out your next, if not "your next few", moves.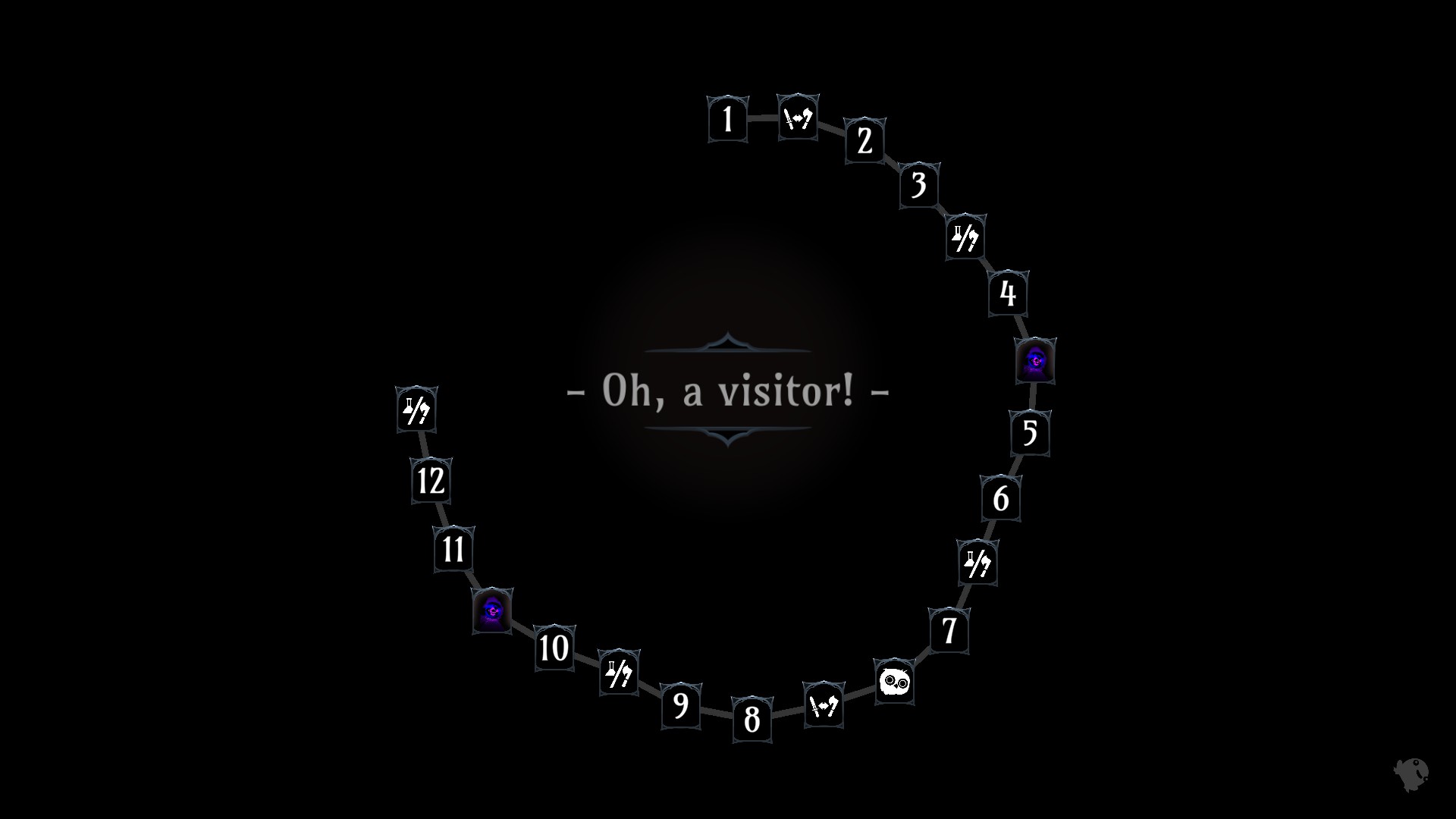 And while I could mention how the stats work, I don't really have to because it's as simple as it gets. You strike harder when you've got a high attack stat, for instance, and the other stats are quite self-explanatory as well. The game systems make sense and the game teaches you those systems quite well. If you hover over the stats and card-keywords, you learn about them, too, which really helps beginners get into the game while helping veterans freshen up their memory. On top of your "standard" stats, Ring of Pain also features a chance to perform critical strikes, dodge damage or potentially sneak away, all influenced by either your items, your speed stat or your clarity stat, which I found quite neat.
The game is easy to get into but hard to master. The UI being very intuitive is essentially necessary for a game like this that punishes you for every wrong choice you make.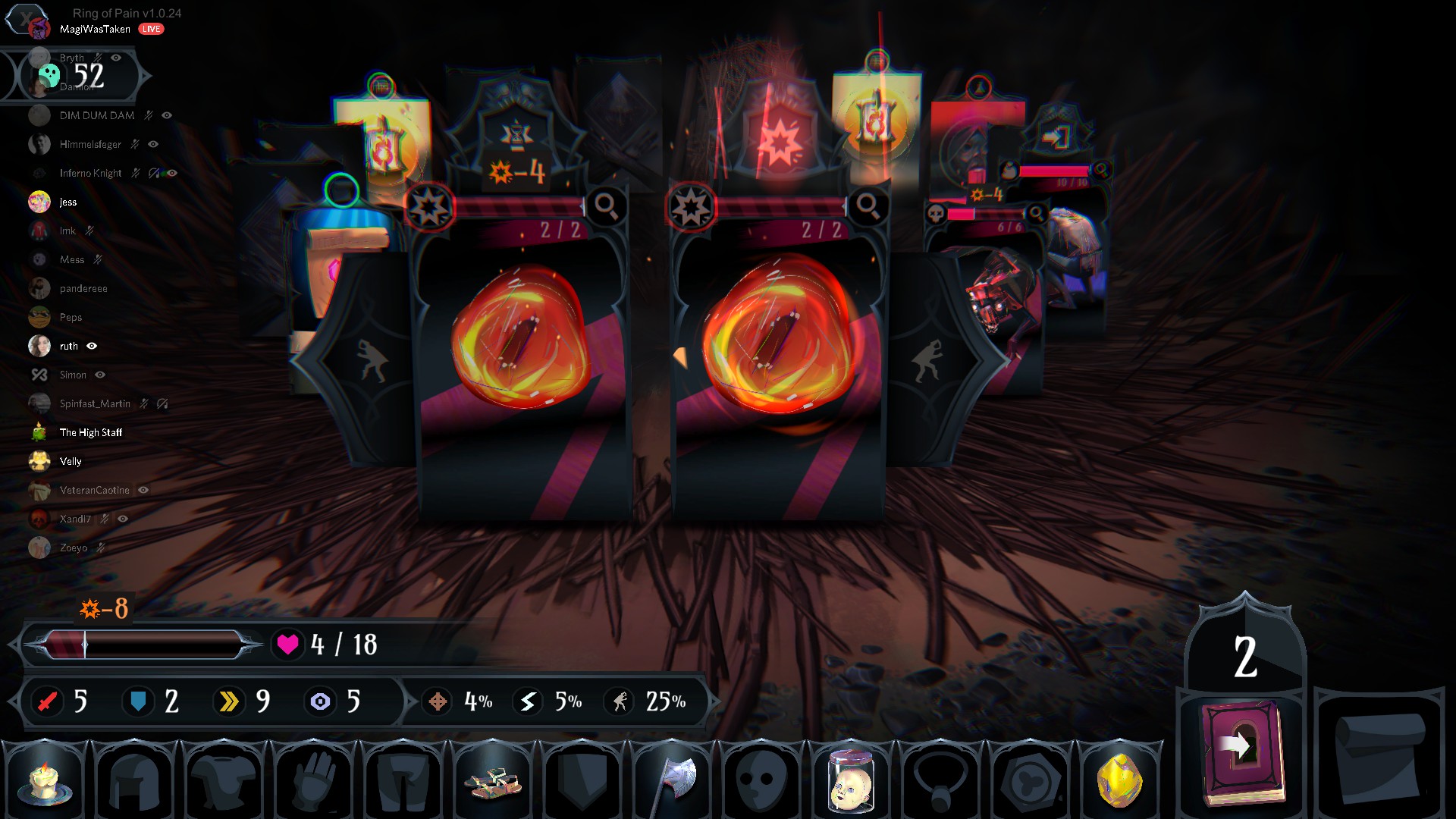 So, I really enjoyed the gameplay side of things and the countless runs that I had so far and could go on and on about builds that I tried out and about why the spoon is so overpowered… but there's more Ring of Pain. The whole aesthetic of the game, the enemy design, the writing and the art of the game, created by Simon Boxer, on top of the phenomenal soundtrack created by Belinda Coomes, and the spine-chilling and terrifying sounds made and implemented by Damion Sheppard really give this game this certain dark and creepy vibe that I just love. I love Ring of Pain for the specific reason that it's fun and creepy. It's dark, it's gritty. At times, it's horrifying. I love it.
But despite loving it so much, there are some flaws here and there. For instance, there are the monument rooms that just never really seem to pay out? The fountain of life, as an example, reduces your maximum health but heals you fully, which is something that works but the game never tells you that it does that. You have to figure it out yourself. Another monument room seems to destroy your gems and give you a stat payout but the game – that is otherwise really good at projecting the consequences of your choices – doesn't really tell you what happened after it happened, which made me just avoid those rooms.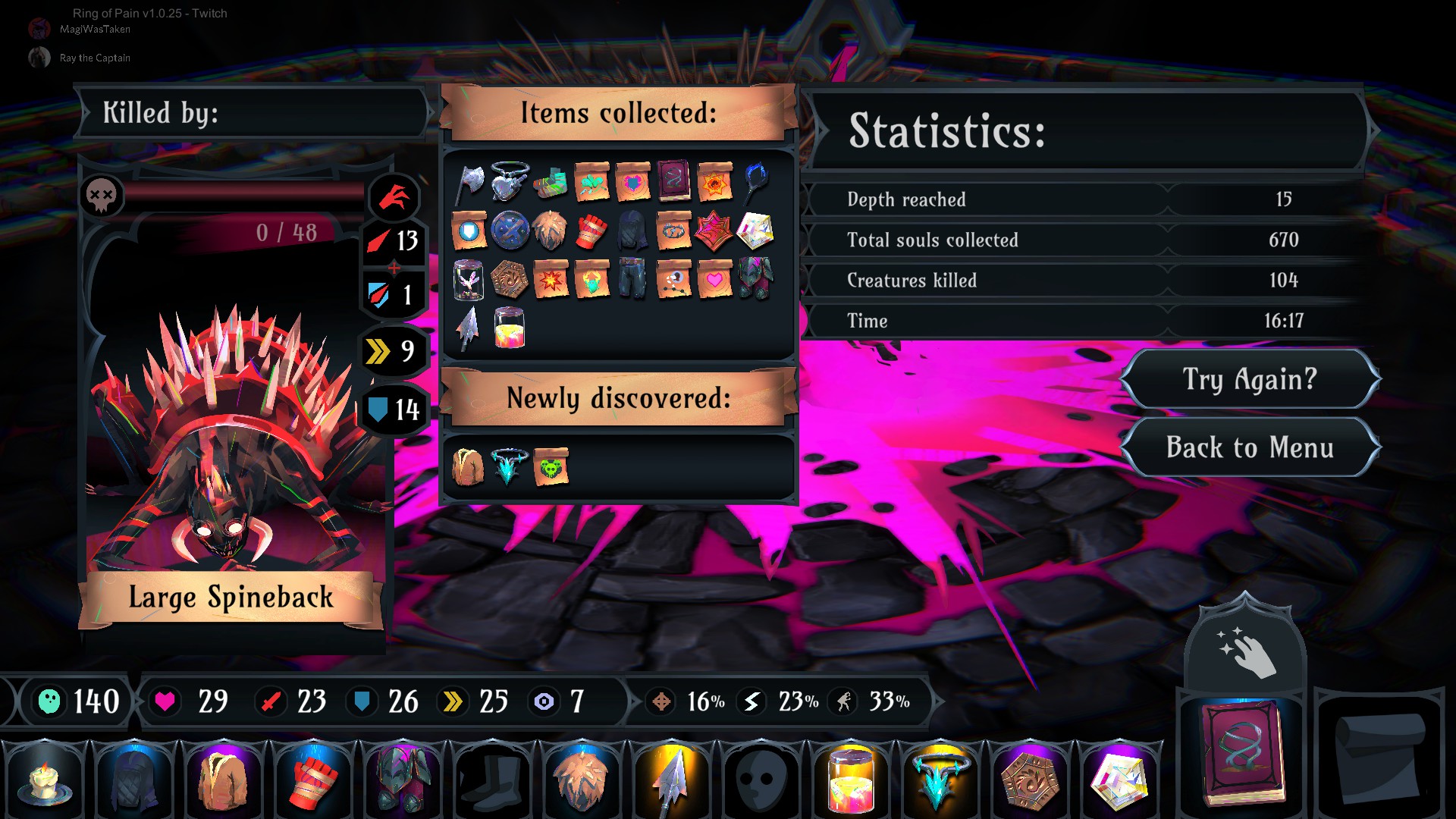 Another flaw in the game is the difficulty curve after the candle-room where you make your choice. One of the choices leaves you with a boss-fight that I found rather hard to deal with… the other choice brings you into a new area with stronger enemies and it's also a bit hard to get through, compared to what came before, so essentially I didn't enjoy how steep the difficulty curve turned out to be near the end of the game, resulting in me having to yet finish a run all the way through. But the time will come when the stars align, and eventually, I'll be able to beat the Ring of Pain…
…and when that time comes, I'll play another run. And another one. Because I like this game a lot. While the flaws are there, they probably will get balanced eventually and there are updates to come, from what I've gathered, so there is still a lot to do. On top of normal runs, you also can unlock items for your future runs or play daily challenges that are seeded and feature over 25 modifiers. You can essentially compete with other players in those for the leaderboard, which I found interesting, although not exactly my cup of tea. Being a roguelike, Ring of Pain offers a lot of replayability with its 150+ items and 50+ creatures to discover, a story to unravel, 25+ special rooms to find, a branching ending, hard mode, 50+ achievements, and a bunch of other features that make the game more fun as you go on.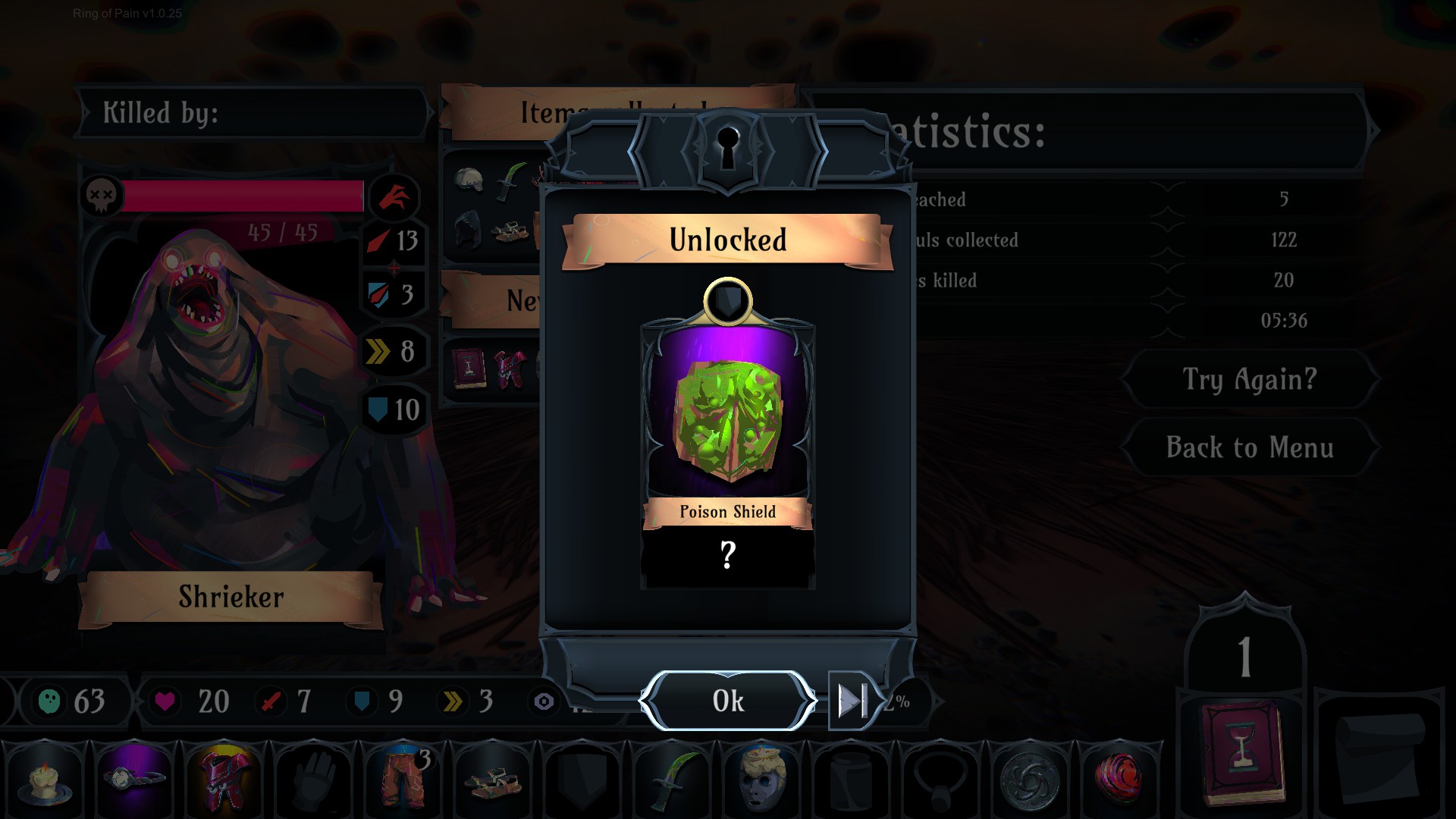 Hence, I'm recommending this game to everyone who's in search of another roguelike to play in Spooktober or afterwards. It's creepy, it's ominous, it's glorious. The gameplay is fun, I haven't encountered any bugs and overall, it's great.
Cheers!
This post was first published on Indiecator by Dan Indiecator aka MagiWasTaken. If you like what you see here and want to see more, you can check me out on Twitch and YouTube as well. If you find this post on a website other than Indiecator.org, please write an e-mail to me. Thank you!