So, it's been a while since I last posted anything related to the Late to the Party series. The main reason for that is the fact that I've been busy playing games that aren't that old On-Stream while not playing as many games Off-Stream.
Either way, in March, I started playing Bioshock 1 (Remastered) for the very first time during a 24-hour-stream (the kind that I don't do anymore) and I really enjoyed playing it for about six hours. After that, we didn't touch it again for quite a while since I soft-locked myself. It's a rough time when your save file is soft-locked, no matter which save-file you're trying to load. But more on that later.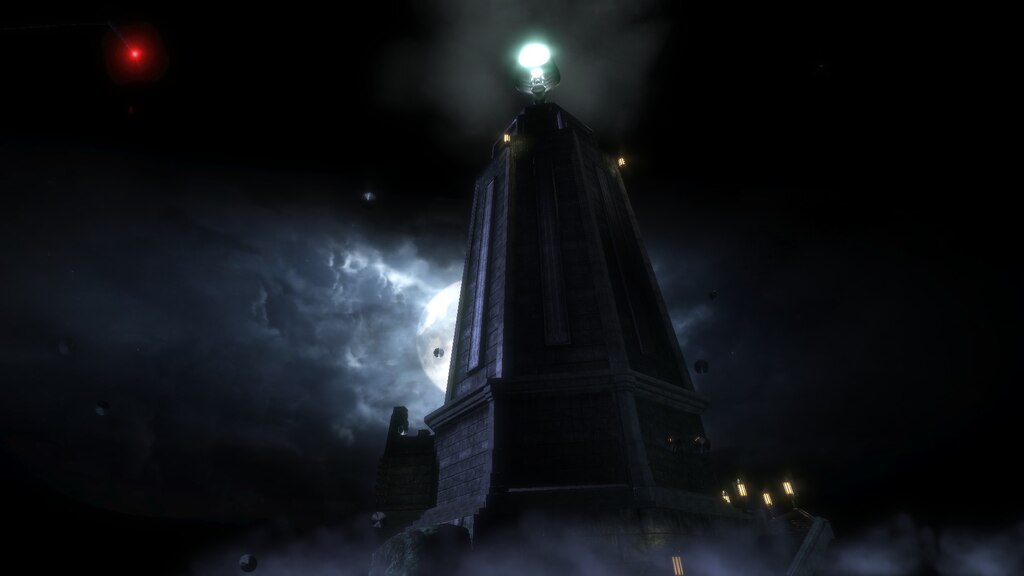 So, what is Bioshock? Why did I want to play it? Why haven't I played it yet?
Bioshock 1 is an Atmospheric Horror-Action-FPS game by 2K Boston in which you're playing a man named Jack in the 1960s that is exploring the world of Rapture, an underground city, trying to find out what conspired there. You have a wide range of weapons available to you but you're also forced to modify your DNA to become an even deadlier weapon, slinging fireballs and summoning bees and doing that kind of stuff.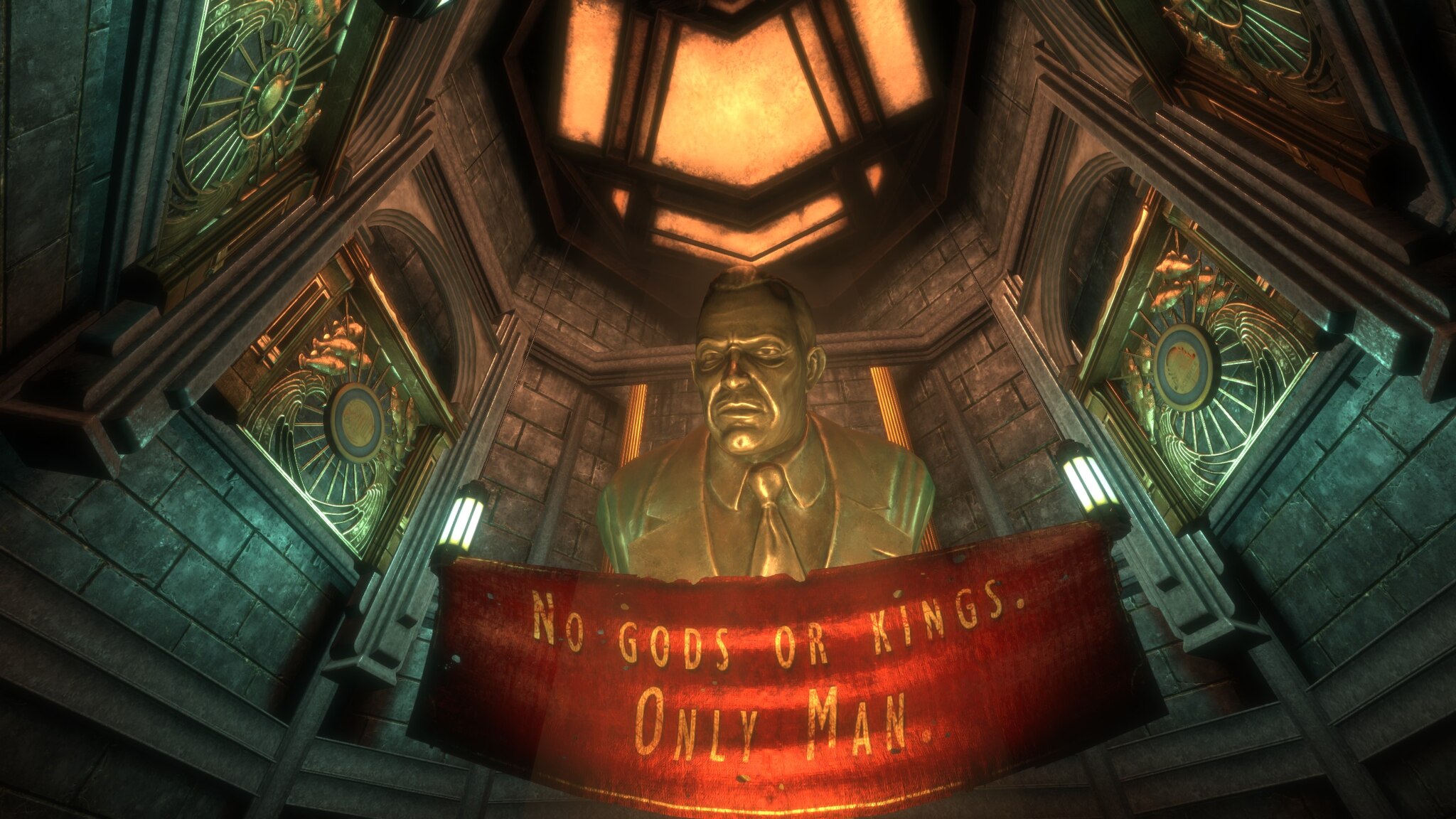 But first things first, after a plane crash, we get to swim to safety to an island with a light tower where a capsule of sorts leads us deep into the sea. Once we arrive in the destroyed city of Rapture, we get to meet our first Slicers, enemies that are going crazy to receive more Adam (which is the stuff you pump into yourself to get stronger) and they attack anything and anyone. While you make your way through the world of Rapture you find out about Andrew Ryan, a businessman and objectivist, that wanted to create a utopia for society's elite to exist outside of the government's control and limits. Through several audio clips and tapes found in the world, we learn more about the world, while acquiring more powers (through Adam) and trying to progress further and further into the game, intending to eliminate the mastermind behind all of this!
What I really liked about the game in the first six hours of my playtime was that you were able to see that something obviously wasn't going great with Ryan's plan. This place called Rapture was supposed to be a utopia but ended up in ruins with flooded and destroyed areas as well as corruption, elitism, and a lot of danger. We find out more about the source of Adam, the science and research behind it, the world and what happened, as well as how the few sane people in the world are managing to come by. We go on errands, completing missions, and we can do so however we want.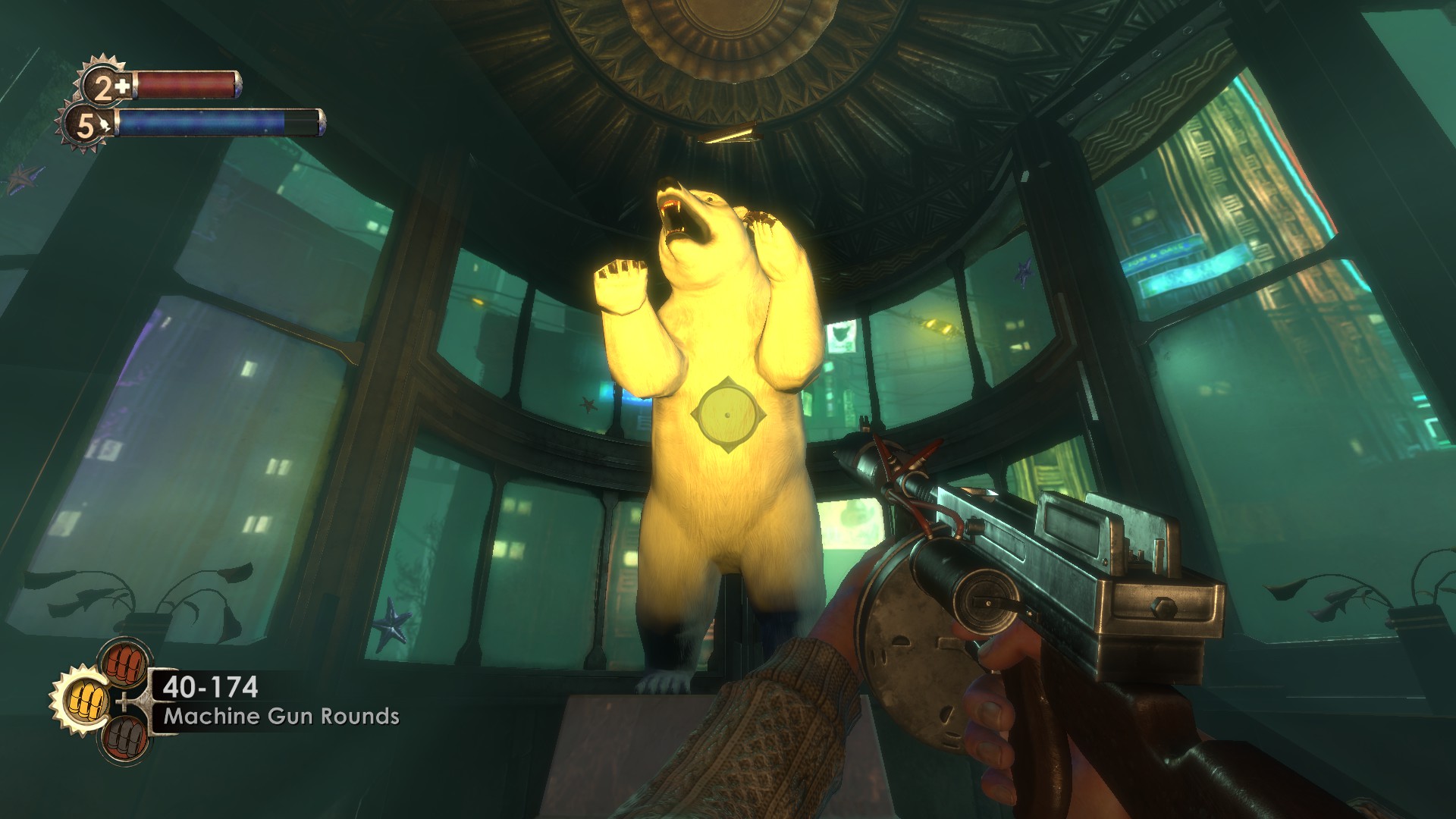 I loved it.
We were able to be stealthy or more like Rambo. We can shoot our way through the game or play a spell slinger of sorts. The game gives you a lot of freedom which eventually transitions into the choices as well. Jack is trying to find a way to escape Rapture and obviously, needs to get his hands on more Adam. To do so, we need to defeat the iconic Big Daddies (that even I knew about) and either harvest or rescue the Little Sisters. Harvesting gives you more but it will kill the Little Sisters. Saving the Little Sisters grants them a life free of Adam and risks but you'll end up with less Adam, though you may get some other rewards. This whole thing is completely optional most of the time and the morality behind it influences the ending.
But then I got stuck and didn't play it again until October the 7th and October the 8th where I played through the game during a Spooktober stream.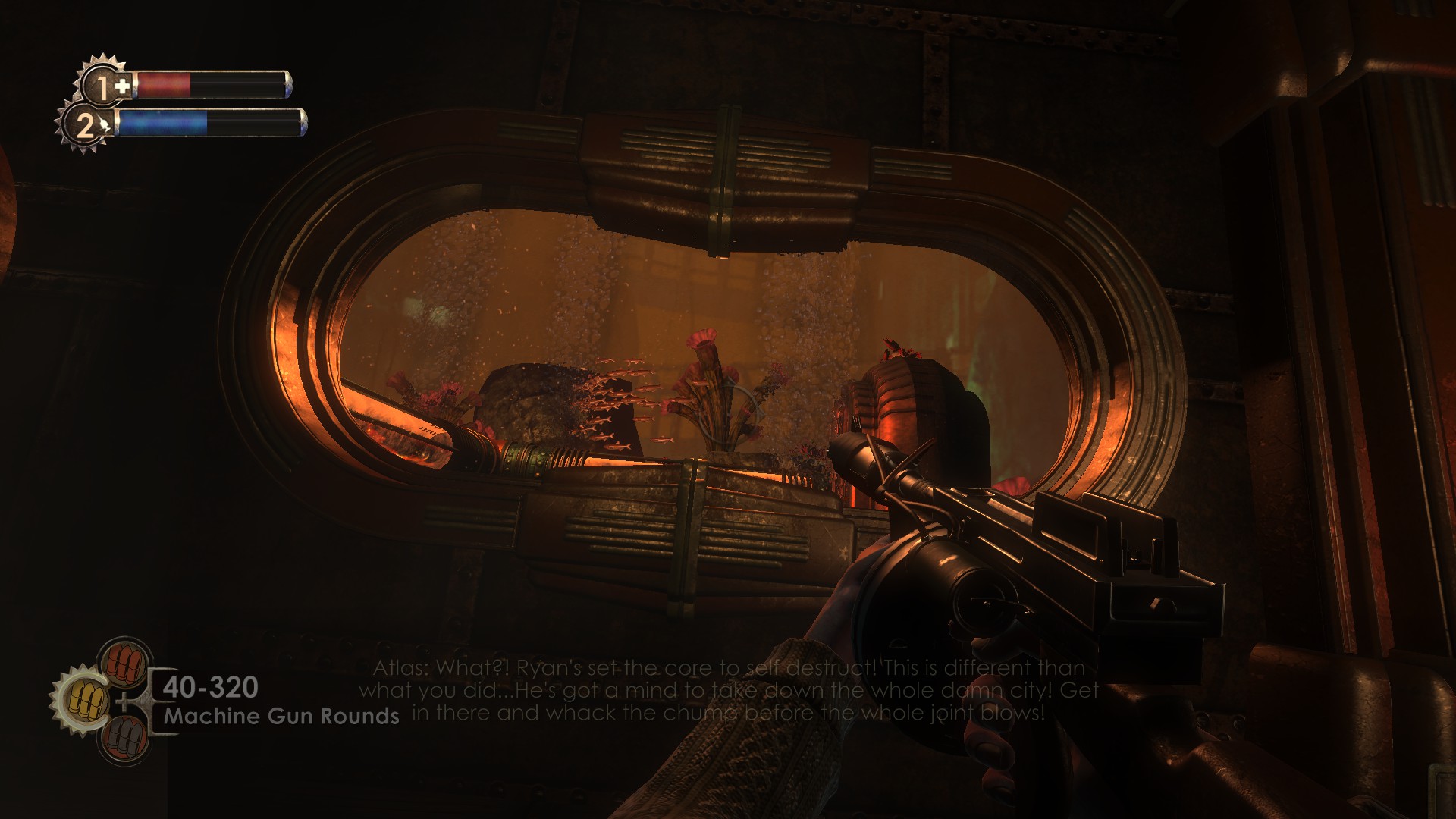 The whole dark and gritty aesthetic that Rapture presents to you is just lovely and scary. I got goosebumps from some of the score's tracks alone, while the enemies are beautifully gruesome, scary and just creative. The Big Daddies, for instance, are bio-engineered humans in diver suits while Spider Slicers jump and crawl away, shooting you from the ceiling. Overall, enemies like that seemed super fun to me and I really enjoyed battling them in most of the scenarios while using these 60s weapons, magical powers, and using a water puzzle of sorts to hack turrets, vending machines and other objects.
Now, the issue I had with Bioshock was that there's a postal office of sorts with a hotel and stuff where I was supposed to photograph one of the Spider Slicers… but that Slicer was stuck in the ceiling, so I didn't have the chance to take a snap from it. Alas, I needed to restart the last save file – a file from over an hour ago.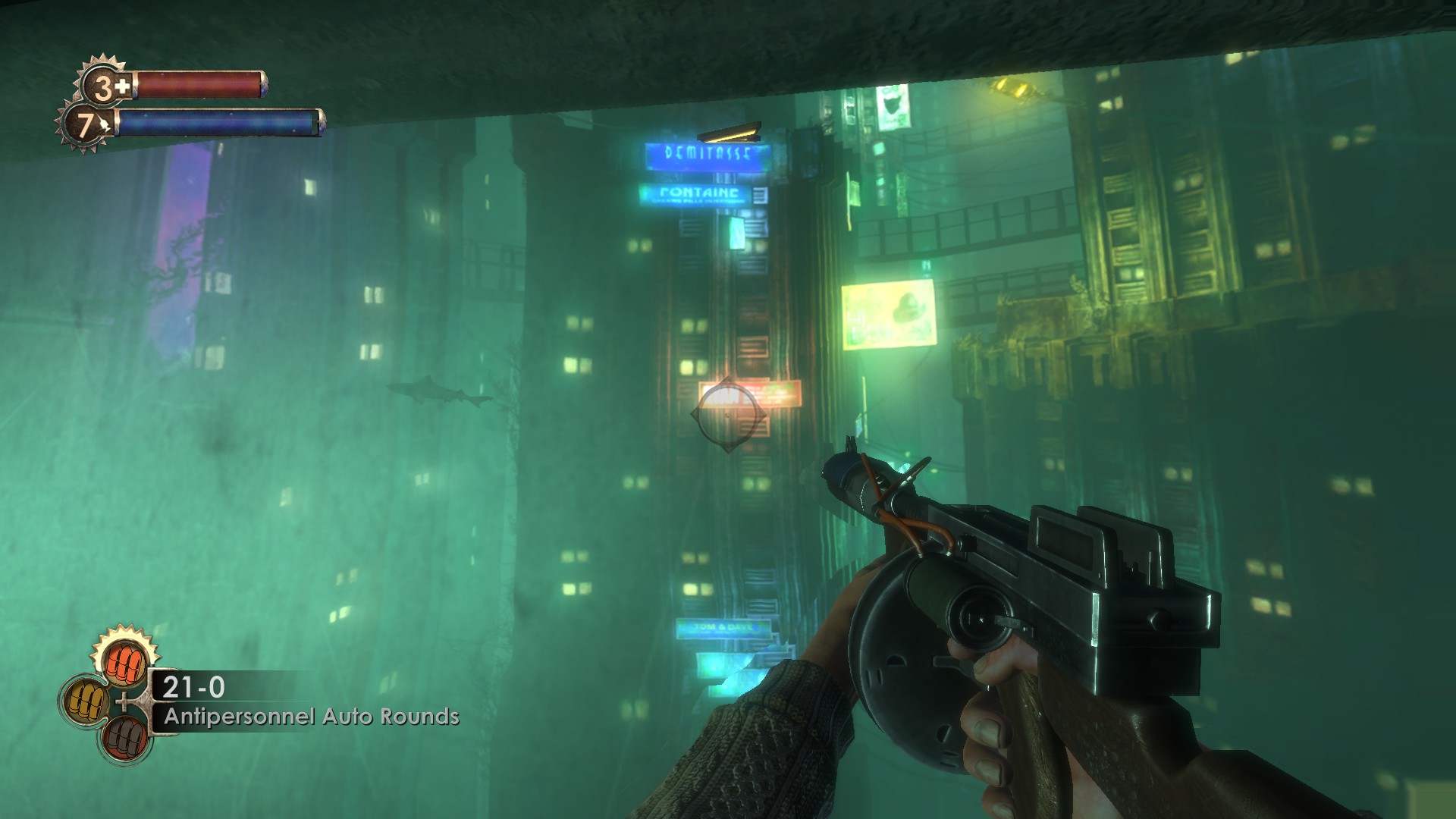 And then I didn't play it again until the beginning of October… but when I reloaded and made sure that I'd take a few snapshots of the enemies that I needed, I actually was able to progress smoothly with only one crash or two in total. The story progresses quite nicely and while a lot of the "missions" felt like errands, I did actually enjoy the game a fair bit.
Ammunition and EVE (your mana) are limited, so you cannot always just fight everyone and everything. This made the game rather fun, especially as I was able to customize perks and skills to fit my needs!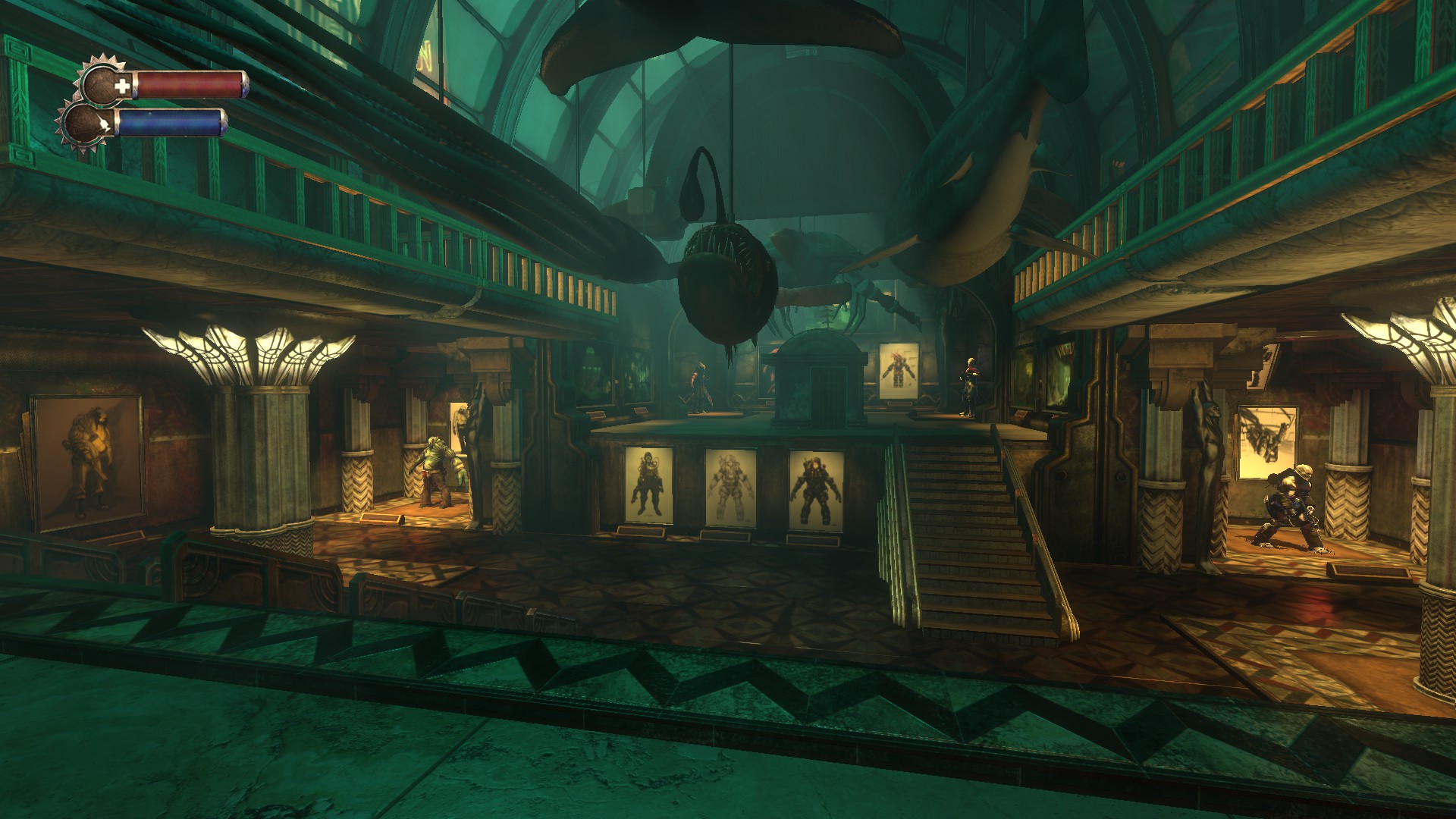 Honestly, I wish I had played Bioshock earlier. I'm looking forward to playing the second game eventually! Bioshock is a great game and 2K really outdid themselves with it!
What has your experience been with the Bioshock franchise and the first game? Did you play the games/this game? Did you like it? Can you recommend the franchise as a whole or maybe just certain titles? Let me know!
Cheers!
This post was first published on Indiecator by Dan Indiecator aka MagiWasTaken. If you like what you see here and want to see more, you can check me out on Twitch and YouTube as well. If you find this post on a website other than Indiecator.org, please write an e-mail to me. Thank you!