These are dark times with God having left us and Zombies swarming our beloved town of Darksburg. Alas, it is our duty to rid this town of this plague – if not for our beloved fellow citizens, then at least for the sake of survival. Alas, let us dive into this adventure with up to three other comrades and… kick some Zombie Ass.
Today we're taking a look at Darksburg, which is an isometric and cooperative Action-Roguelite in a Medieval setting and with Zombies. It has a bit of an ARPG style going on with hack-and-slashy combat, hordes of enemies and perks to level up your abilities with. 
Developer: Shiro Games
Publisher: Shiro Games
Genre: Isometric, Co-Op, Action, Roguelite, Hack n Slash, Zombies, Medieval
Release Date: September 23rd, 2020
Reviewed on: PC
Available on: PC
Copy received via Humble Choice.
The game features five different characters ranging from Damage Dealers, Tanks, Supports, and other characters with their own unique characteristics. Every character has a normal attack, a passive ability, as well as four abilities, with each character playing around different mechanics. Varag, for instance, is a wild wolfman that can dish out damage but at his core, he is very tanky and blocks damage for his allies with his shield, only to then unleash a powerful counterattack once he has absorbed enough damage. My favourite characters, however, are Abigail and Dr Dolorosa. Sister Abigail is another melee-character that can deal a lot of damage but she also features a great utility-spell called "The Bell" that draws nearby enemies' attention towards the bell. Meanwhile, Dr Dolorosa is all about her experiments and is embarking on this journey to find a cure for Zombies,… although her experimental cure mostly kills them. She utilizes poisonous knives and her kills allow her to collect samples that decrease her Asphyxiant's and her Experimental Cure's cooldown. At the same time, she applies a lot of damage over time, making her a great damage dealer, in my opinion.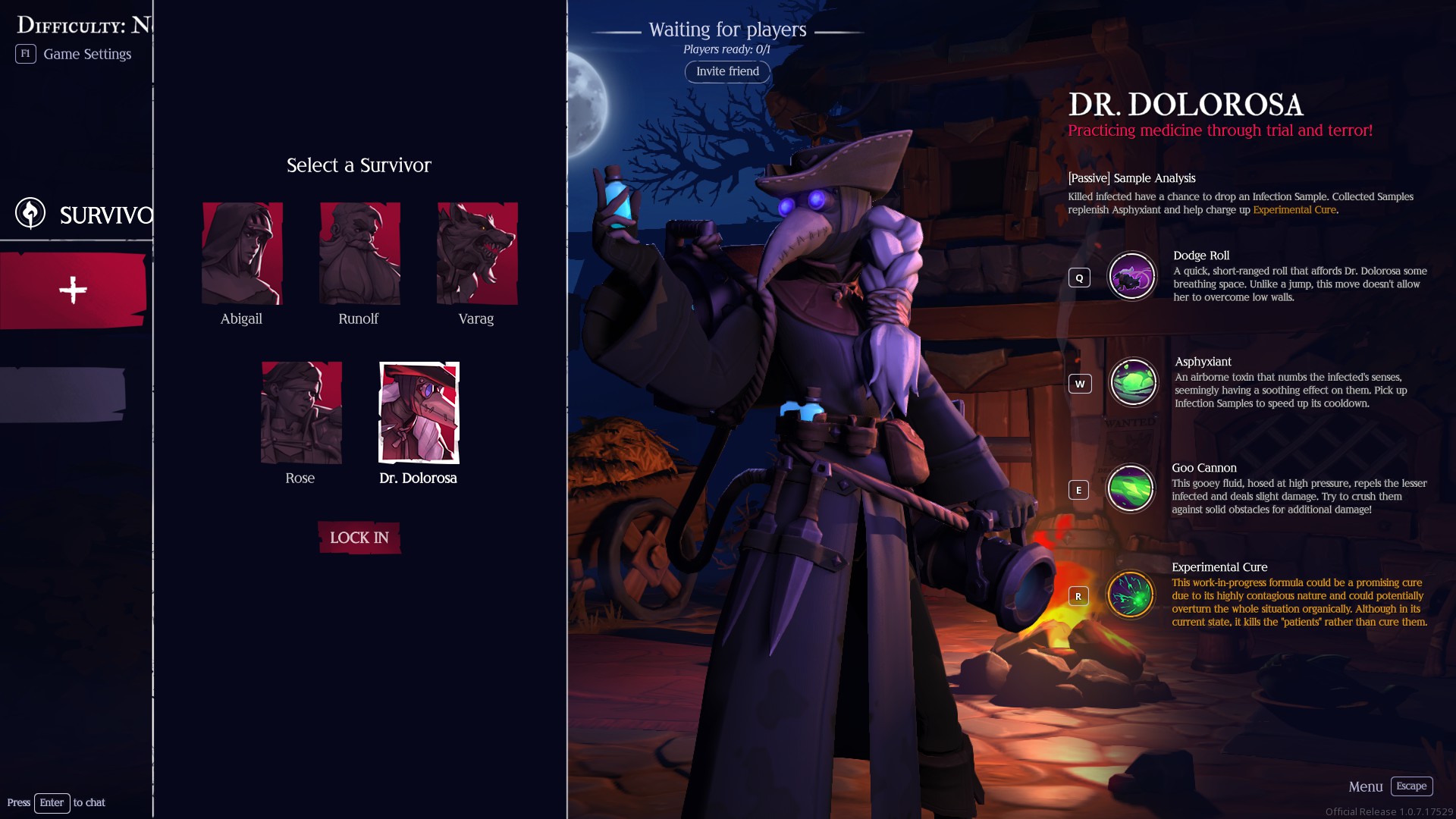 On level up, you get to select one of three perks, each upgrading some aspect of your kit differently. This allows you to create your favourite build and experience a different playstyle that might suit you better than what others might recommend. So, while you may enjoy an auto-attack or ability focused build on Rose, you could also enjoy going for a build revolving around Rose's pet squirrel Twig, adding more utility to that ability or increasing its damage. You get nine level-ups throughout each run by killing enemies, and alas can create countless of different builds with other priorities based on how you're doing. This was something that I really enjoyed in my runs so far and I'm not done yet with experimenting more in this game.
When you embark on your run, alone or with friends, you spawn in an area of Darksburg that is swarming with enemies. There are four areas in the game: The Harbour, the Marketplace, Faubourg, and the Graveyard. After that, you'll have to face off against Baron Manfred von Darksburg himself who has been infected himself and must be defeated to rid Darksburg of this plague. To get through areas, you need to defeat the Infected and Revenants, achieve side-goals like blasting open walls, lighting fires, finding items, and more, and eventually, you'll have to get to the end of the level. While the beginning is rather easy, new enemies have introduced every few levels as well as traps and other events that happen, which is why you'll have to explore and find so-called artefacts that you can use on top of your kit. Artefacts can be upgraded by picking another artefact of the same type, unlocking new abilities. These can enhance your build even more and grant you mobility, more damage, utility or even survivability based on what you get.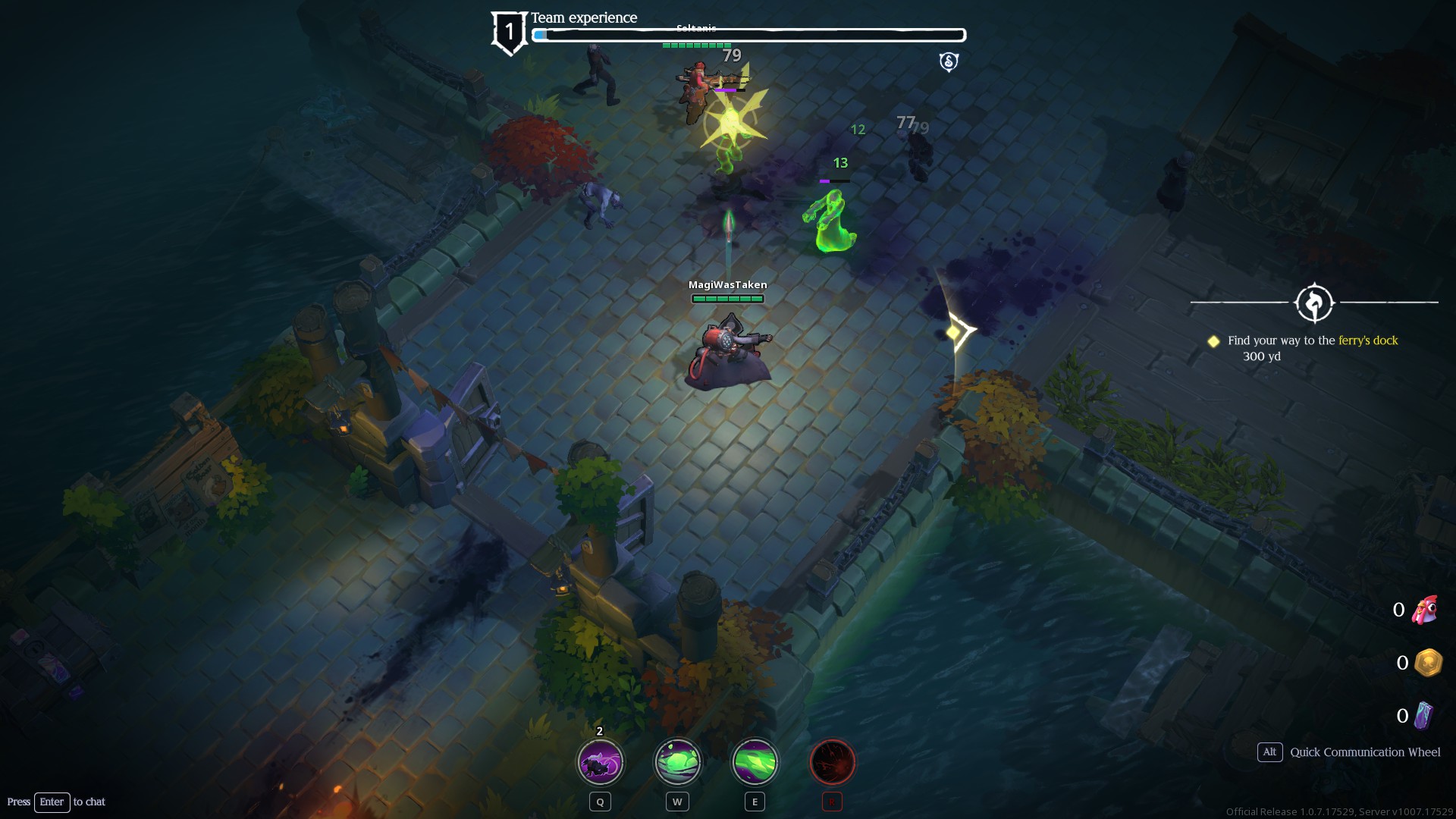 On top of that, you also find chickens in each of the levels that then can be used to unlock skins for your survivors, as well as Dreadium Ingots that you use in the Cabinet of Curiosities where you exchange the ingots for so-called "Curios" that further enhance your build. This adds a bit of permanent-character-progression to the game, although it probably is more of another way of customizing builds.
But while the gameplay itself offers a lot of creativity as far as your build goes and while it is fairly accessible with the amount of remapping and control-customization that you can do, I still find the game kind of lacking. Once you beat the final boss, you unlock Ascension levels, granting you more challenging runs, but apart from that, there isn't much to do. Don't get me wrong, I enjoyed myself so far, partly thanks to friends I've been playing with but also because a lot of builds make you feel quite strong… but at the same time, the game definitely is lacking content for a game that costs 20€ on Steam Store at full price. On top of that, the loading screens at times are stuttering, the audio can bug out as well, and while bugs are a thing, I just feel like the game isn't optimized too well, especially with these graphics.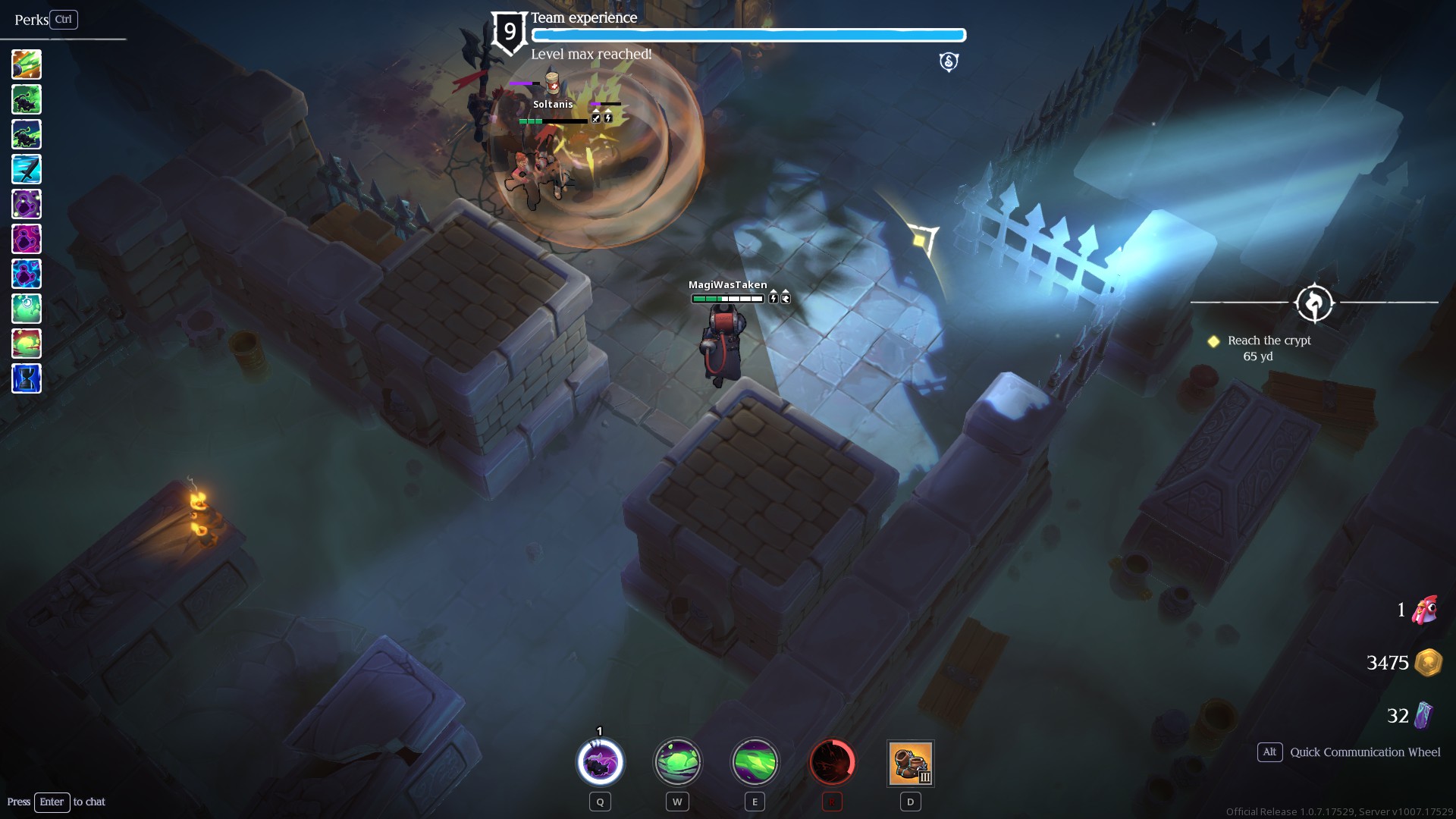 Another issue I found was that the voice lines that the characters use get repeated quite often, which loses its charm after the first few times. More variety here couldn't have harmed the game that much… and while the levels are procedurally generated, I would have loved seeing more areas, different enemies from time to time, as well as some variety as for the colour-scheme and the soundtrack. The music of Darksburg is alright but I wouldn't call it "great", simply for the fact that I hardly remember any songs from it. It just doesn't stick to your ears that well and you wouldn't immediately recognize it unless its the only game you're playing, I guess.
In the end, the lack of content and bad optimization are the biggest drawbacks here. The game only came out in September of 2020, so maybe they'll add more characters, more levels, more enemies, and more bosses to the game as well but for a game that costs 20 bucks at full-price, I feel like it's not worth it. I'd recommend this game if you're looking for a fun challenge to go through with your friends. I wouldn't recommend this at the full price. We may revisit this in the future again if there is another update coming in that adds more levels to each run or other content but right now, I just don't really see how this would be worth 20 bucks.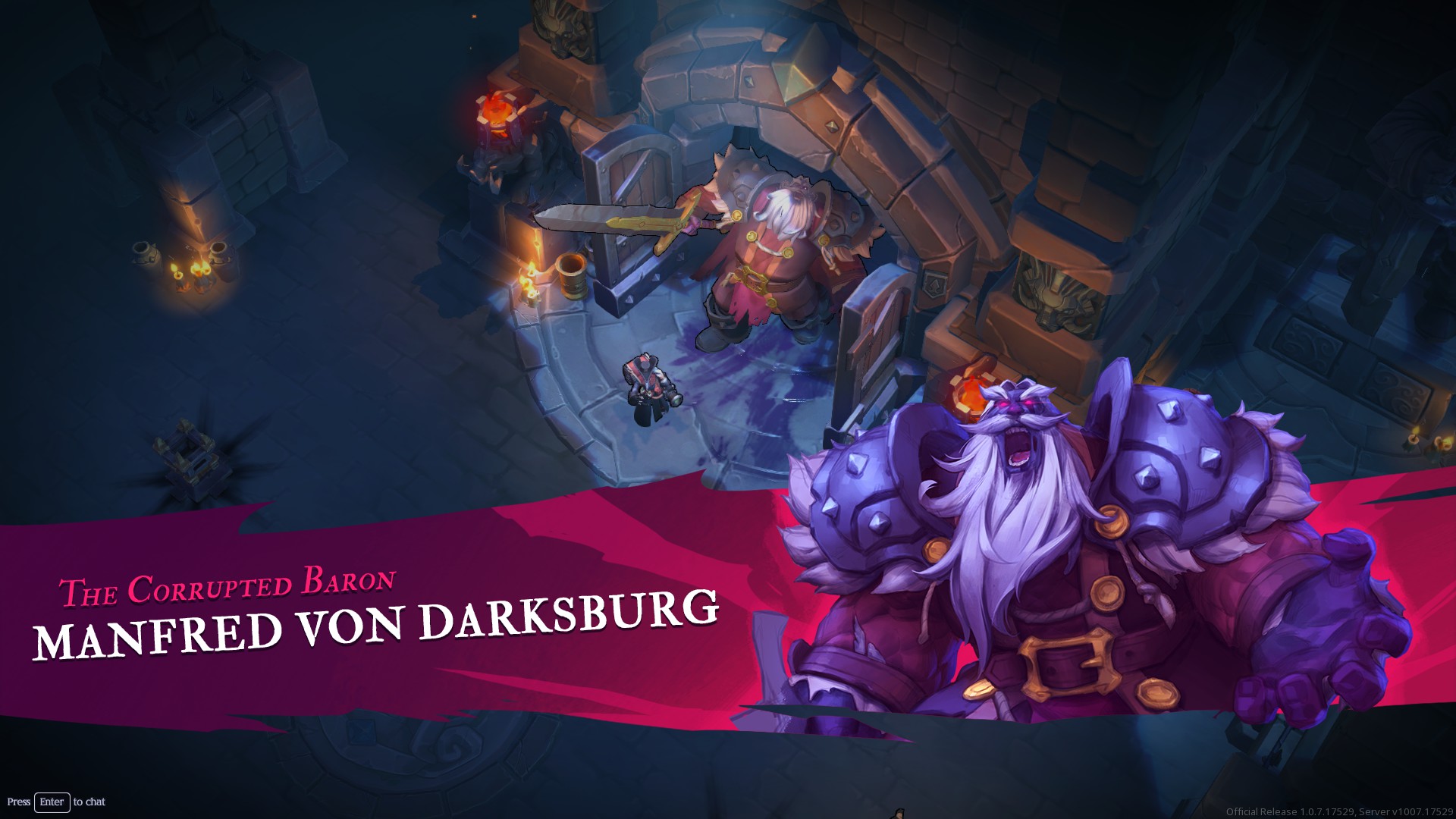 Hope you enjoyed this review! If you grabbed November's Humble Choice, you may actually already own it, so let's play some time! Do you feel similarly about this game if you already checked it out? Let me know!
Cheers!
This post was first published on Indiecator by Dan Indiecator aka MagiWasTaken. If you like what you see here and want to see more, you can check me out on Twitch and YouTube as well. If you find this post on a website other than Indiecator.org, please write an e-mail to me. Thank you!