Recently, I've asked people if they were interested in writing a guest post for my blog. Today's review is written by Quietschisto from RNG and features a game called "Do Not Feed The Monkeys", which is a dystopian digital voyeur simulator where you watch strangers through surveillance cameras. You invade their privacy and witness their most intimate moments… but you shall not interact with the subjects as anything could happen if you dare feed the monkeys! If you enjoy this post, make sure to check out Quietschisto's Blog for more video-game related content. His posts mostly focus on how the games he played could be improved but Quietschisto also writes about food around the world and cocktails.
Alas, enjoy Quietschisto's review:
My name's Quietschisto, and I'm super stoked to be here! Our host, the gracious Dan, has offered some spots for guest posting, and I was more than happy to oblige. Today I bring you a short review of a fun little game called "Do Not Feed The Monkeys".
Originally, Do Not Feed The Monkeys was just one of many observation-based games (like Beholder or Orwell) I wanted to try out. However, I ended up playing through it in a single night…twice. That alone should tell a lot about the game's quality since none of its main features are things that I normally would enjoy.
Developer: Fictiorama Studios, BadLand Games Publishing S.L.
Publisher: Alawar Premium
Genre: Simulation, Choices Matter, Resource Managment, Voyeur
Release Date: October 24th, 2018
Reviewed on: PC
Available on: PC, Switch, PS4, Android, XB1
Copy was purchased.
For example, I couldn't care less about pixel-graphics, I'm usually not a fan of slapstick humour, and resource management/survival mechanics and time-limits are things I try to avoid most of the time. But "Do Not Feed The Monkeys" carefully balances all of its elements to deliver a fun, streamlined experience that lasts around two or three hours, plus more if you want to see other cages and more monkeys.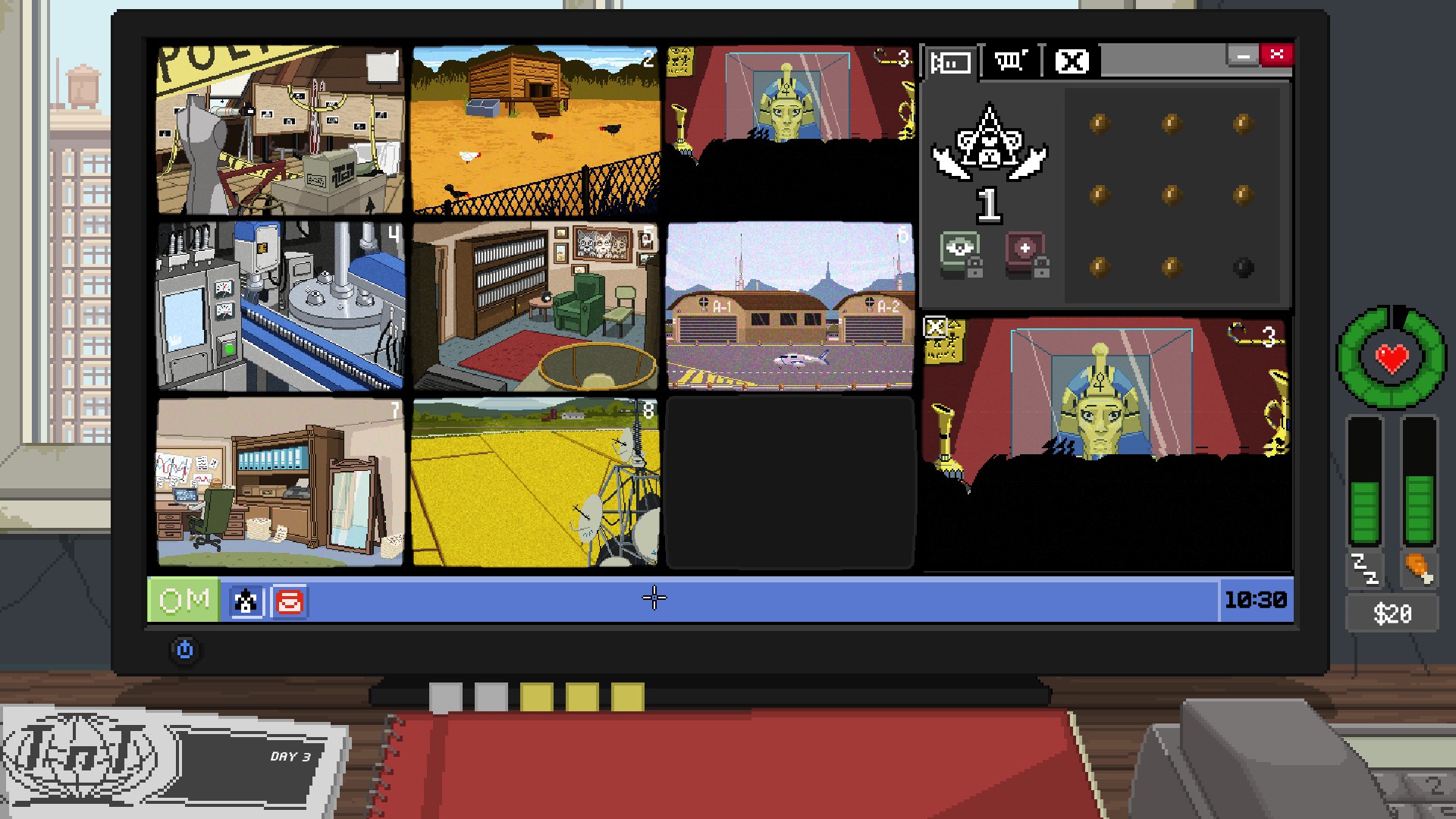 The core gameplay-loop is always the same: You obtain information mostly by watching the monkeys in their cages at certain times, listening to their conversations, and writing down keywords. Through making connections on your own and "googling" the correct combination of phrases you gain more and more information that you can use to affect the outcome of the situation, for better or for worse.
At the same time, you have to manage your sleep, hunger, health, and money, all while continually buying more rooms/cameras. For adversaries of resource management, this might seem off-putting at first, but these mechanics essentially only boil down to managing a single resource: Time. These mechanics and time-limits are pretty bare-bones, however, and I believe they are only in place so players can't "farm" resources at the start of the game and then just breeze through the whole experience.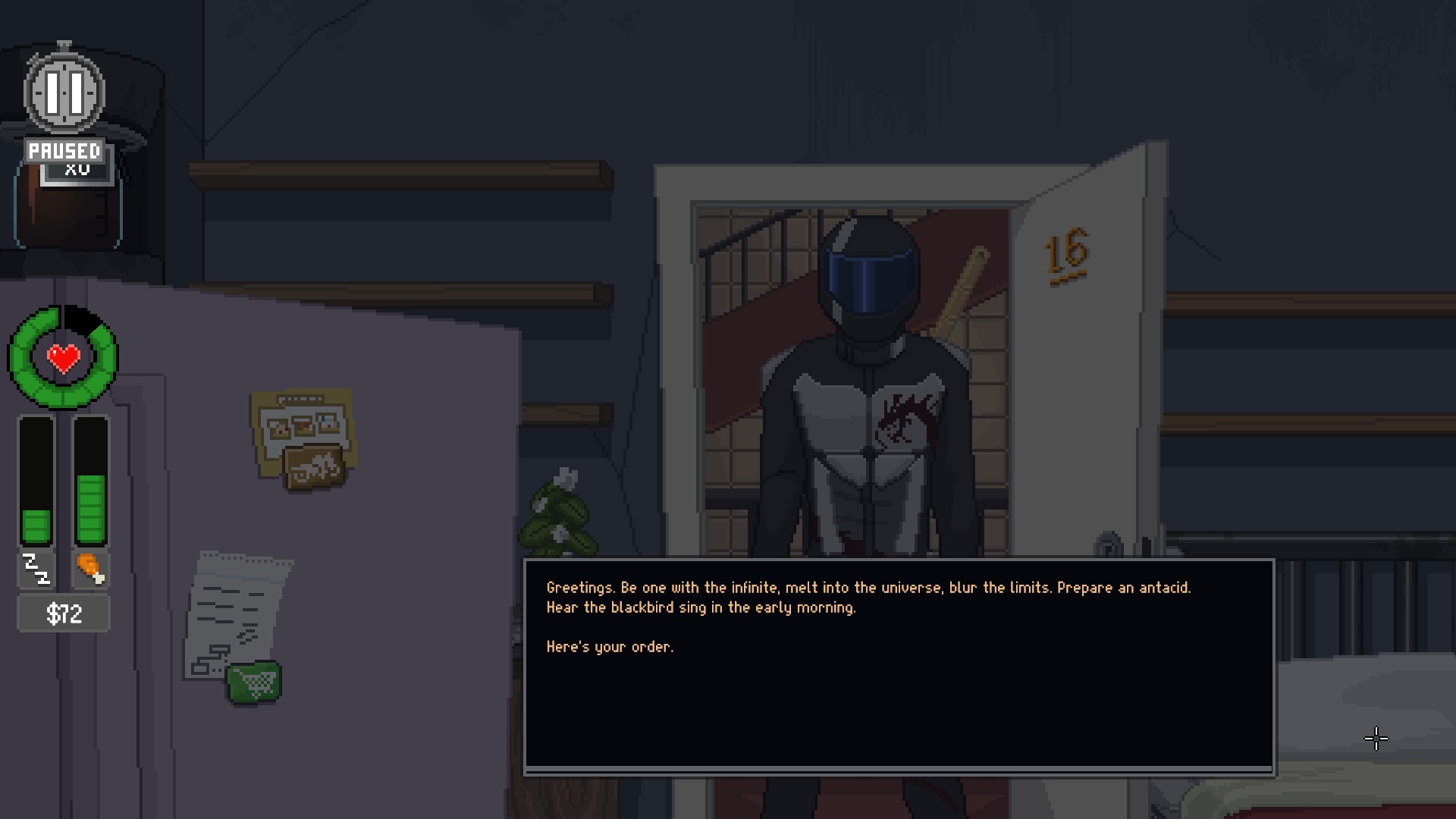 I don't think the resource-management aspect adds a lot to the game, as I personally am against creating an artificial sense of urgency. Instead, additional cages could unlock automatically, and the optional objectives could have been mandatory. This way, I feel players could have been enabled to spend more time interacting with the interesting part of the game, watching the monkeys.
There is a game mode where your resource meters drain significantly slower (and achievements are disabled) as some sort of "easy mode" but I think this is a relatively weak solution since making a potentially unattractive feature less important makes players wonder why it is in the game in the first place.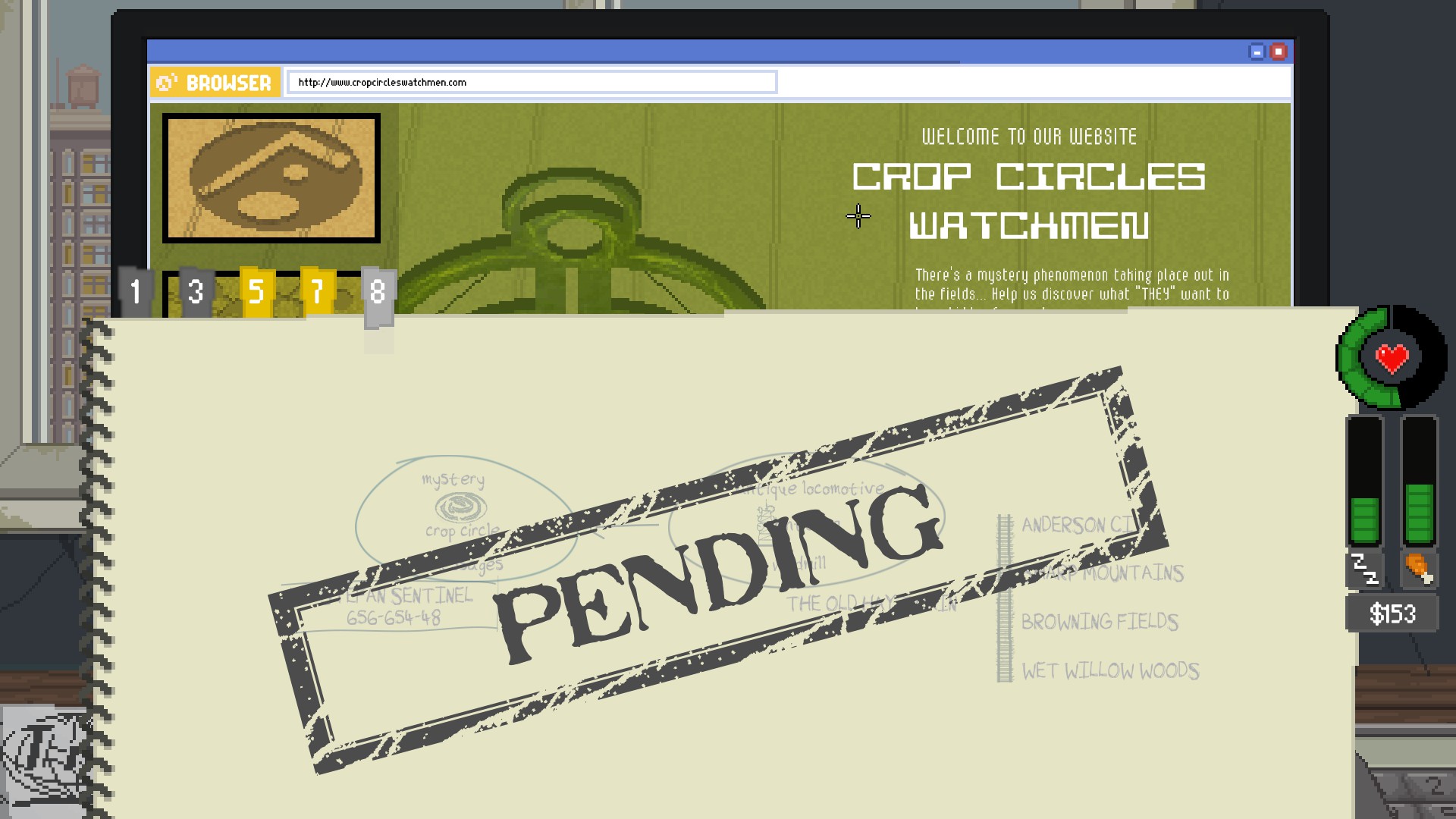 Despite their simplicity, the puzzles or "cages" offer surprising depth and encourage multiple playthroughs. Due to the short nature of the game and relative density of the lore (as well as multiple endings for all rooms), Do Not Feed The Monkey never overstays its welcome, even when the player inevitably will revisit the same rooms over and over again.
Notice how I said density of lore instead of depth. While not connected, every room has its own short story going on, ranging from comedy classics (although some might call them "cheap jokes") like a paranoid alien-conspiracy theorist, a discount Hitler, or a mind-controlling plant, all the way to more serious topics like an astronaut trapped on an abandoned space station or an ageing rock singer who suffers from a terminal disease.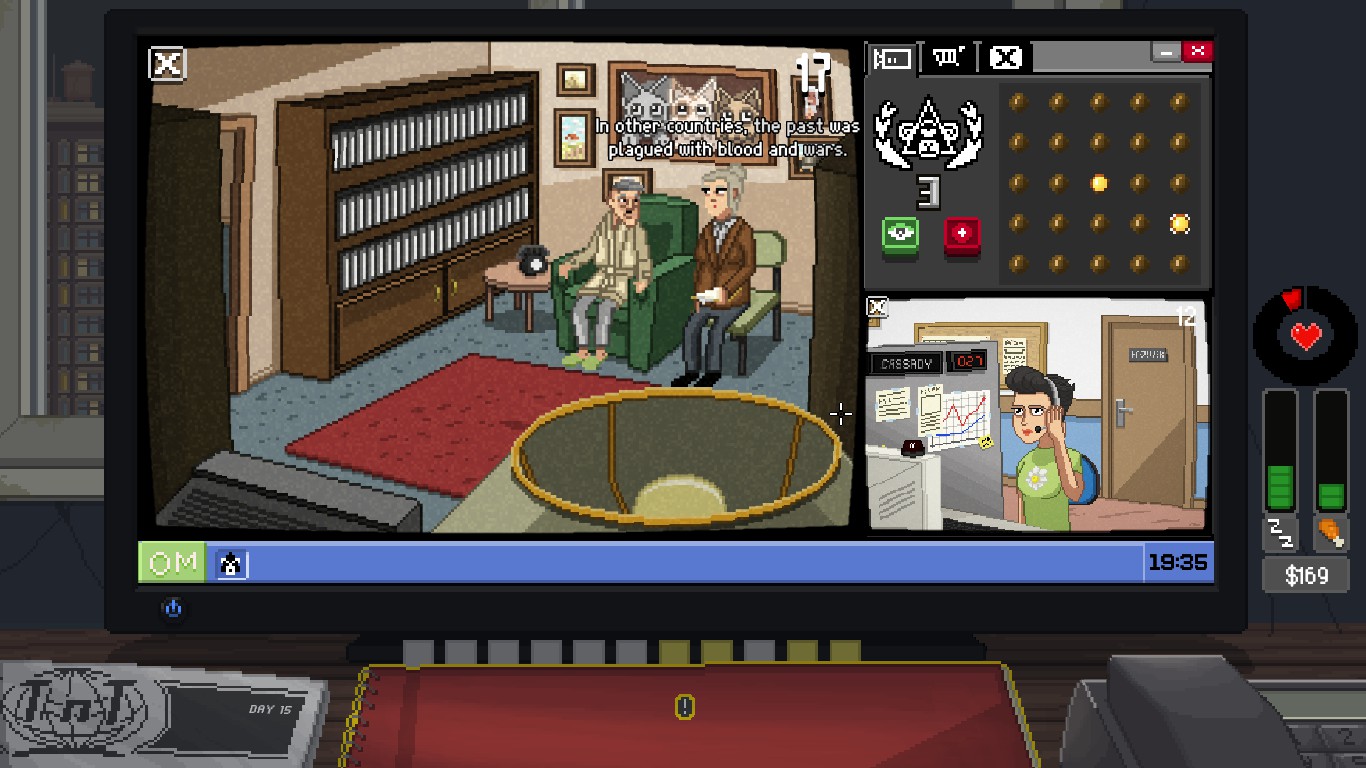 First and foremost, Do Not Feed The Monkeys is a comedy game, so the jokes are always in the foreground, although the "lighter" comedy elements were sometimes a bit too hamfisted for my taste. What impressed me was the elegance with which the "heavier" topics were handled. A lot of the rooms have at least one or two moments that can make you stop and think about what's going on and what you're doing there. At the same time, the game made it easy to ignore all that and just stroll along for some laughs if that's more to your liking. Part of this definitely is due to the pixelated art style, which helps with the comic-like presentation and softens the blow a bit for the more serious (or gross) bits.
Do Not Feed The Monkeys further adds to the comedy of the game by displaying the protagonist as a run-down lowlife, barely making ends meet through dead-end jobs. He's unwittingly getting ripped off by his landlady and lives in a filthy apartment, yet he still believes himself to be above other humans. Even the sound design is used to reinforce this portrayal. You see, there is no soundtrack in the traditional sense. Instead, your "neighbours" are blasting distorted music throughout the day and even the night, adding a bit of a muffled sound to your observation while other times you get to listen to crickets, cars and other "sounds".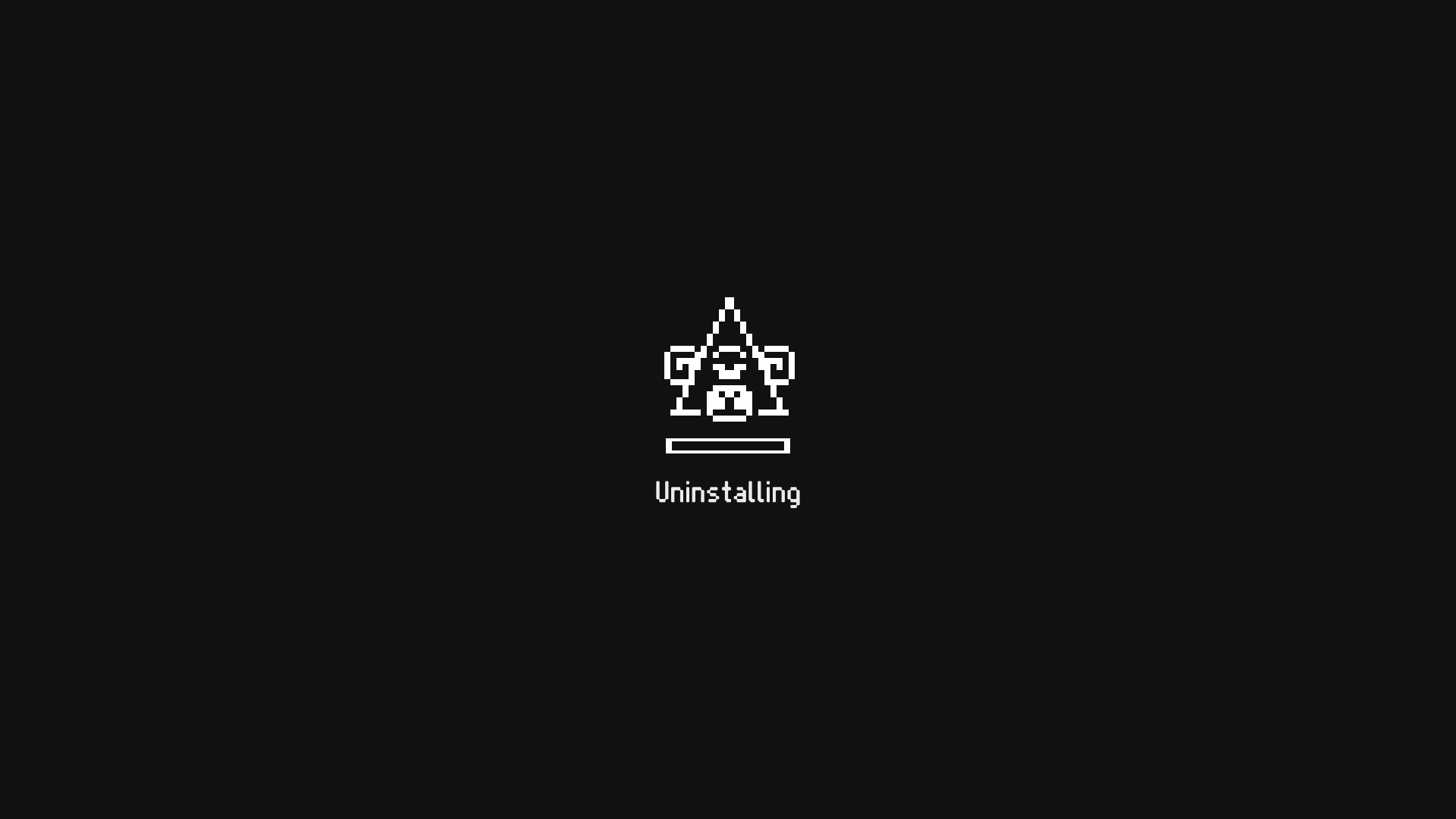 All in all, I don't think that Do Not Feed The Monkeys will make you see the comedy genre with new eyes but be prepared for a few all-nighters. The game is serious enough to make you stop and think about morality and empathy and other topics while it is also lighthearted enough to simply serve as a fun experience. Hence, I recommend this game to you.
Editor's Note: Magi here. I personally really enjoyed Do Not Feed The Monkeys but haven't had the time yet to review it or write about it. I honestly have some drafts on topics featured in the game but thought I should review it first before I could write about it. Alas, I'm glad that Quietschisto got to write about it. Make sure to check him out if you haven't yet! He's a great friend of mine and blogger that more people definitely should check out, in my opinion.
Hope you enjoyed this post! Got any thoughts on Do Not Feed The Monkeys? Got any feedback for the guest post format? Let me know!
Cheers!
This post originated on Indiecator and was first published on there by Dan Indiecator aka MagiWasTaken. This post was written by Quietschisto from RNG.