I honestly wanted to write about this title for a while now… In fact, you may have actually read my post on the demo before and then after I published it, the developers hit me up and I got a review key for the full game… and then I've been playing it for a few hours… and then I tried other classes… And now we're here, way too late, and I'm lowkey-addicted to Osteoblasts. That's a good thing. I like playing RPGs but I've been a bit burned out from the genre since it always seemed like the same thing being made with different storylines… and Osteoblasts does appeal to me on a lot of levels and makes it seem new and fresh.
Developer: Moonana, Anglerman
Publisher: Moonana
Genre: RPG, Turn-Based Combat, Adventure
Release Date: February 12th, 2021
Reviewed on: PC
Available on: PC
Copy was sent to me by the developer.
I mean, the premise is simple. You're a skeleton, you get revived by a Witch Cat, and now you… do stuff. You fight against dogs, skeletons, ghosts, demons and elephants. You level up your character, equip new randomised gear, fight enemies, crawl through dungeons, and eventually, you'll still understand nothing. The gameplay is satisfying, the story not so much. My issue with the story is that it's just super confusing. On the one hand, the dialogue sometimes is hard to understand and whenever there is supposed to be a revelation of sorts, the NPCs just drop more riddles and mysteries onto you, making the story less of a satisfying experience, in my opinion. The gameplay, on the other hand, is excellent and while some of the dialogue can be hard to understand, most of the jokes and puns actually land and made me chuckle.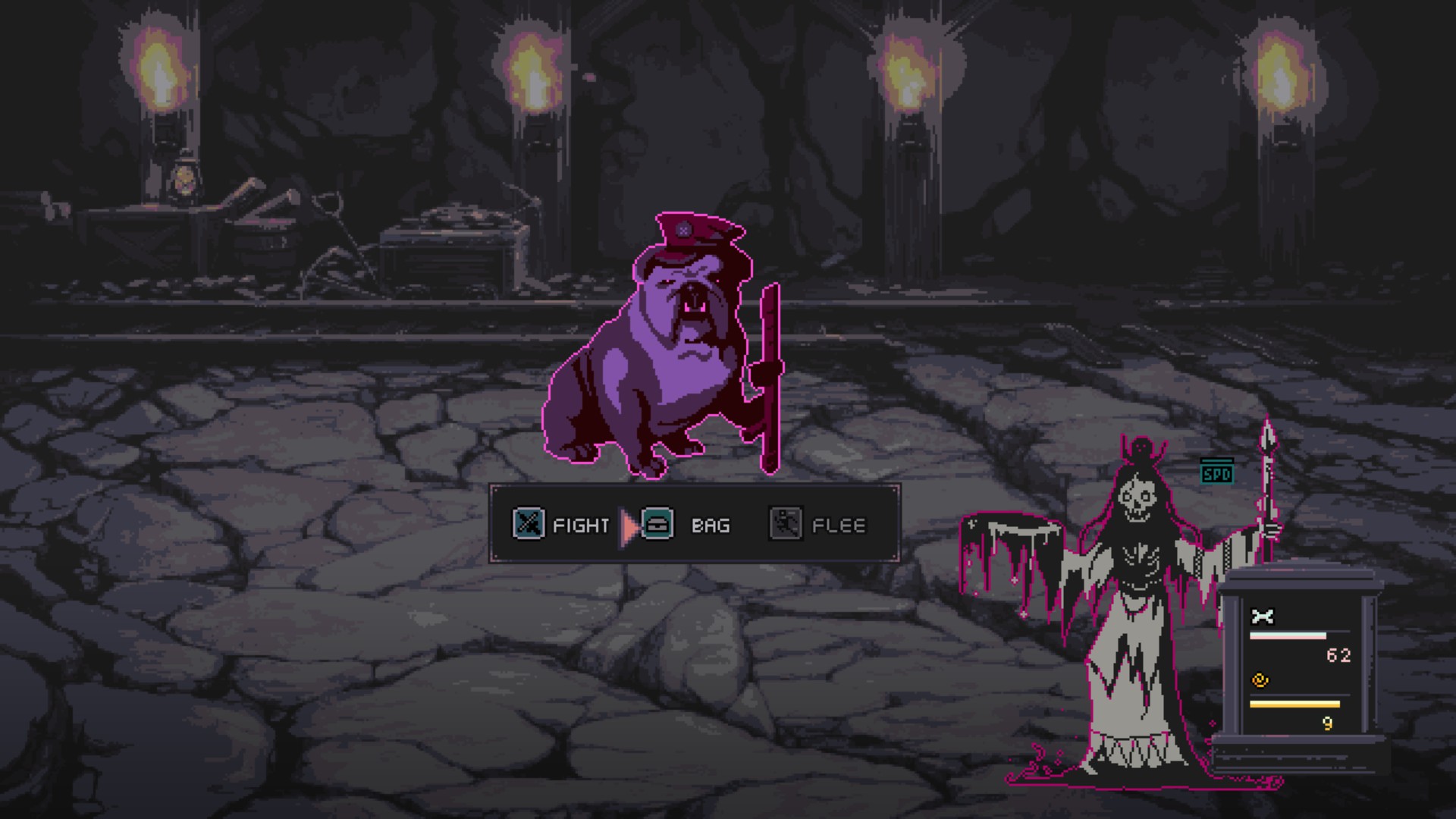 As you rise from your grave, you get to choose between six different classes ranging from the Shaman to the Scavenger to the Stranger. I would have liked it if you were shown example skills or maybe more info on the different characters. The game certainly is lacking in the clarity department and leaves you hanging when it comes to explanations regarding your class or skills. I noticed that weapons would have similar names but have randomised skills and stats. This is a great thing, in my opinion, as it adds replayability and lets you customise your class a lot more. In the same way, you have a lot of different stats that influence combat in a plethora of ways from enhancing your attacks to letting you counter attacks or making you heal more. Stats also determine whether or not you can draw out the full potential of your weapons. Skills often are tied to certain stats. Buffing up stats in combat using spells, however, can also enable you to use the according skills. Overall, I like that mechanic a lot but it took me ages until I figured it out. The manual didn't really help me in-game and I feel like the tutorial should've given me more of a helping hand, even if I hate tutorials that hold your hand too much…
Being able to use your skills only when you meet the requirements is interesting since it also influences how you gear up for certain encounters. Equipping different gear shapes your character in a lot of ways, giving you more attacks and helping you out stat-wise. If enemies use debuffs on you, you may lose out on the stat-requirement for certain attacks, which adds a bit more depth to combat. Just like how they can stop you from bashing their heads in, you can also debuff enemies and reduce their stats, preventing them from returning the favour. It's interesting and fun. I like that a lot about this game. Similarly, you attack enemies, they have a chance to counter you. They attack you, you get to counter them. It's great to see that rules apply to all characters in the game and it's refreshing that they have the same chances at taking jabs at you, raising the difficulty a bit more.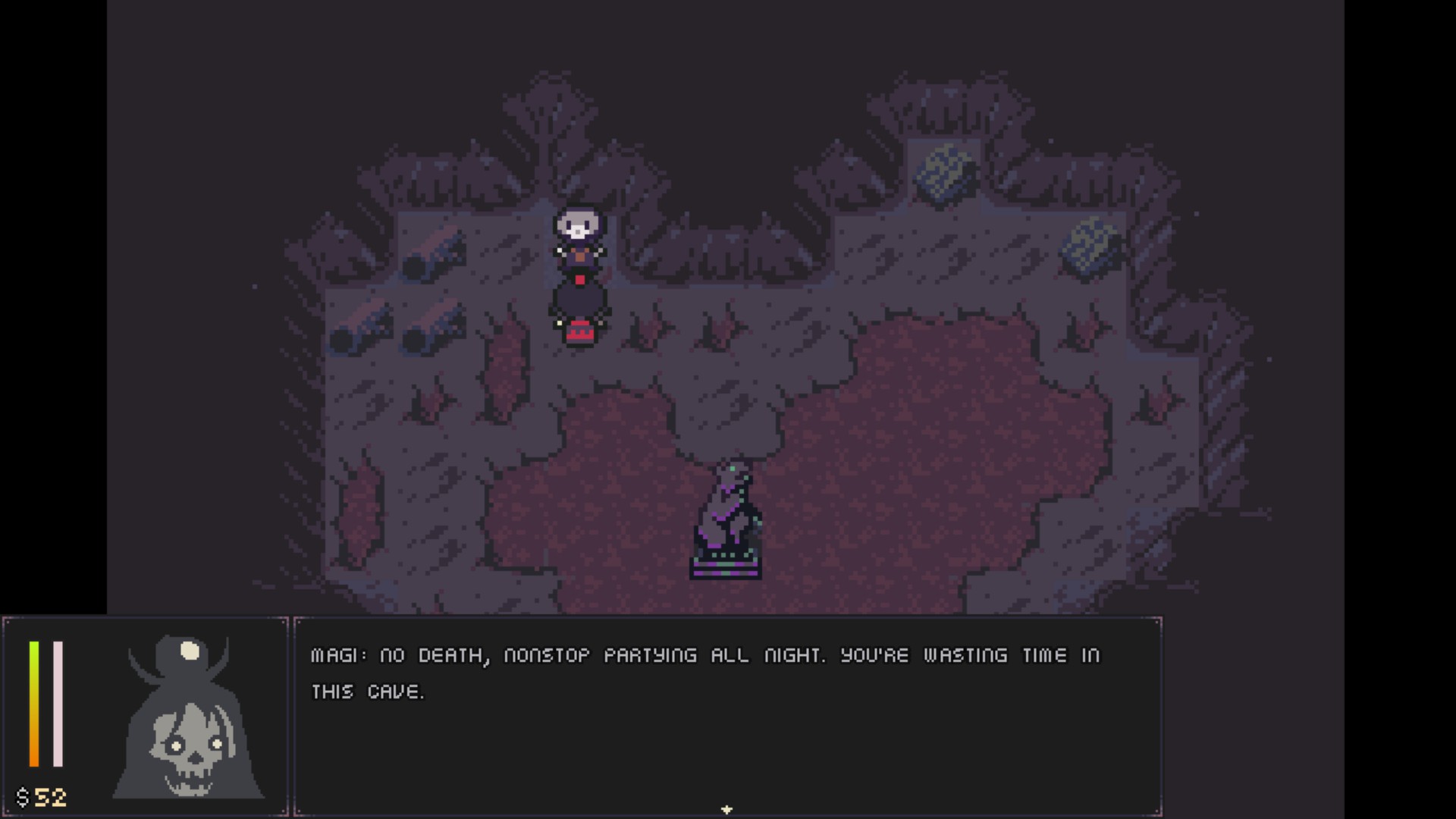 Exploration is fun. You don't need to travel far away to get to different parts of the world and friendly villages. There are a lot of Metroidvania-ish roadblocks in the game that urge you to find other ways to get to the next area like keys that you get from different boss battles or boulders you need to mine with pickaxes. It's interesting and exploration gets generally rewarded since you'll unlock shortcuts as well along the way. Through Exploration you also find statues of the old gods. There are six different gods that you can pray to earn bonuses to your stats. On every level up, you get to pray to one of three gods that each grant you two stat increases. Meanwhile, the aforementioned statues grant you those regardless of the level up and also can give you passive bonuses, a checkpoint, fast travel points or even shops, making them quite the reward for exploration.
My favourite part about Osteoblasts, however, is the presentation and the personality that comes with it. The game's soundtrack is amazing and adds a lot to the atmosphere, especially since the world's tracks play in battles, too, making the changes from exploration to battle not too abrupt. Similarly, the art style is phenomenal with abstract background art in battles, cute pixel art in the overworld and amazing pixelated character models in the actual turn-based battles. The animations for the different attacks range from simple sword swings to spell effects that appear on the target. The sound design is fun and adds a lot to the game.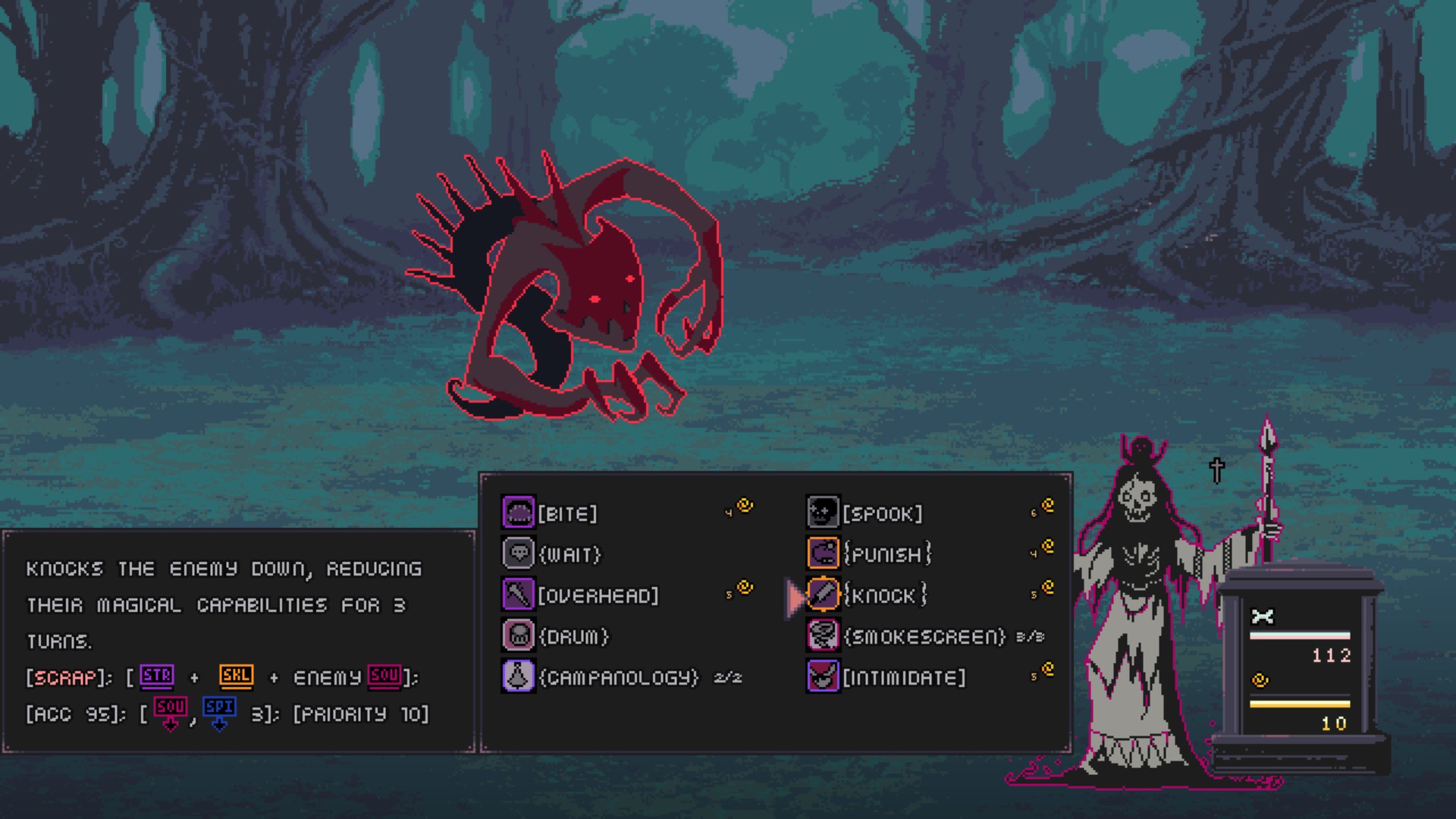 But yeah, clarity is the big downside to Osteoblasts. I had to try a lot and fail at it until I figured out that my stats are the reason behind me being able to use a specific spell… or not being able to use it. Similarly, I'd love to see the debuffs and explanations about the enemy by hovering over it, so that I can plan the battles even more… but the game doesn't have that. And I'd love it if I could get more information on items but, again, the game doesn't have that. Once you find out about things, you can have a great time,… but until then it can be frustrating unless you catch on quickly about how things work in this game.
Still, despite the clarity issues, I had and am still having a great time with this game. Osteoblasts breathes life into a genre that has been quite dead to me for quite a while now and is delivering a satisfying experience despite its shortcomings in terms of clarity and plot. I would say that you're making a grave mistake (pun intended) if you don't at least try out the demo. The full game certainly has a lot to offer and I can highly recommend it.
Cheers!
This post was first published on Indiecator by Dan Indiecator aka MagiWasTaken. If you like what you see here and want to see more, you can check me out on Twitch and YouTube as well. If you find this post on a website other than Indiecator.org, please write an e-mail to me. Thank you!