When I created my Steam Account in 2014, I spent a lot of time playing a game called Really Big Sky. It came out in 2012 and since I was really into Indie Games at the time, I spent a lot of time with this game in particular. I only have fond memories of this title, hence today's question is whether Really Big Sky is just benefitting from the Really Big Nostalgia or if it's actually a Really Great Game! We'll see!
Developer: Boss Baddie
Publisher: Ripstone
Genre: Shoot 'Em Up, Space, Bullet Hell, Action, Arcade, Indie
Release Date: February 24th, 2012
Reviewed on: PC
Available on: PC
Copy was purchased.
The premise is simple. Just like in other Shoot 'Em Ups and Bullet Hell games, you're aiming for the high score and nothing but the high score. Try to survive as you're flying through space debris, planets and gas giants and basically upgrade your ship to the max while you face off against alien invaders.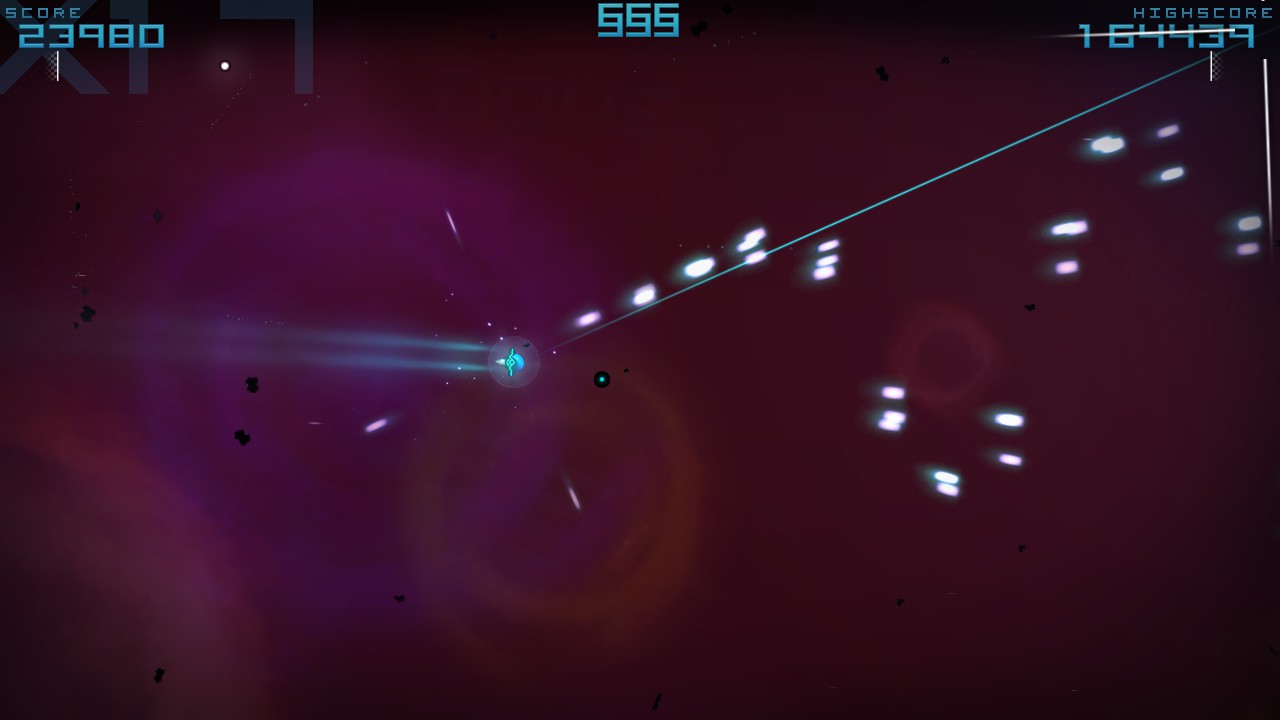 I mean, it's really just that. There are a lot of different variables to the game, though, like different boss fights and special events that include black holes, wormholes, and other things. The game is hard as it tests your reflexes and your decision-making. You'll have to dodge bullets, enemies, asteroids, lasers, and other projectiles. It's quite literally bullet hell, which is fantastic. There are powerups in the game as well as space bits that you collect to upgrade your ship. Upgrades include random shoots at various angles as well as shield, speed and weapon upgrades. It adds a little bit of extra fairness to the game as you can upgrade your ship more and more throughout runs if you need to… but you can also make it harder for yourself by playing without that. Similarly, different game modes disable these features or play around with other aspects of the game like unlimited lives and a timer to get as many points as possible… I used to love to do the boss rush mode and challenge myself to get better and further into the game…
And the environments that you see are unpredictable and nearly random. Every run is procedurally generated from the way you play the game, meaning that everything changes based on your playstyle and how you do. If you're getting better at the game, the game will get harder as well. Similarly, there will be fewer enemies and projectiles early on if you're still not that good at the game. Really Big Sky analyses your movements and adjusts the game as you move on, giving you a rather interesting experience. As I moved on and on and got further into my runs, the game adapted and it got a lot better, going from an easier to difficulty to a much harder and more challenging experience within minutes. Once I started to lose more runs, it started to adapt slowly and change back, which is quite nice. On top of that, you can check out your data yourself after every run and compare your last run to the ones before that. It's super detailed and there is probably more data in there than you'll ever need but it's quite motivating to see small improvements along with your playthrough and it kind of makes you want to strive forward and reach new highs!
The boss fights and special events are a lot of fun actually. One of them is a huge ball inspired by the death star and you'll have to activate your drill to get inside and shoot the core… meanwhile, there is a different one that is literally too big to fit on the screen while another fills the screen with bullets making it harder to decide whether or not you want to aim at him or rather watch your step and dodge stuff right now. It's interesting and dynamic. It feels satisfying to battle against these foes and eventually bring them down… and every run feels unique with the different events and the changes in the environment.
Those environments are generally bright and full of life and colour. There are a lot of different filters and particle effects that work really well with the space-theme within the game and its levels. The issue is that the constant flashing and some other issues with the rapid changes between filters and colours could cause issues for people that are sensitive to flashing lights. This is bad. There aren't even any settings for it. You can turn down the quality of everything which kind of has an effect on the brightness of these effects, but overall, I'd just recommend not to play this game if you can't deal with flashing lights. Even for people that aren't photosensitive, this can be problematic since it sometimes is a bit hard to see where you are on the screen or what is actually damaging you right now. Clarity is important in games, in my opinion, and in that regard, this game certainly is lacking. I'd like it if your space ship would always be in the foreground so that you can basically always see it and detect danger. With the fog and the clouds and all of the other filters in the game, it can get very hard to dodge everything, which can get annoying or even frustrating.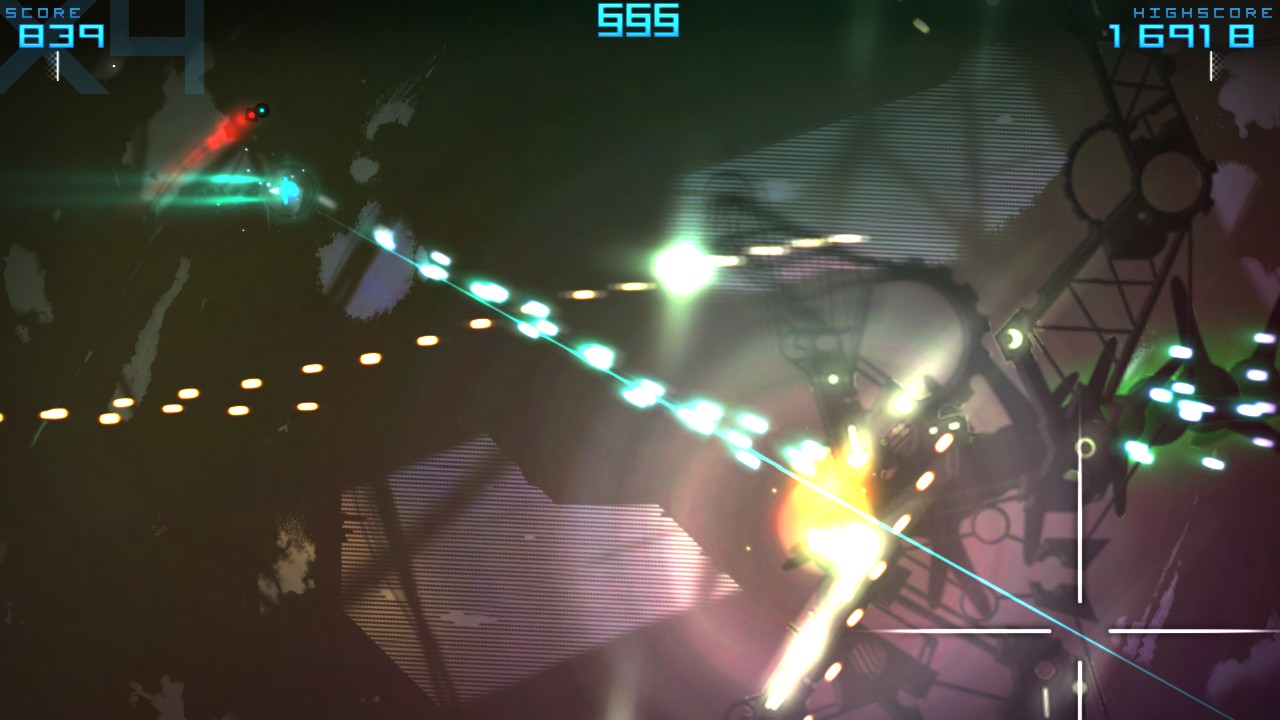 At the same time, the game seems to have some issues with the menus and the resolution. If you play in 720p/fullscreen, you should be fine, but the game tends to struggle in 1080p a lot, even if that's your normal resolution. Despite that, however, I've really liked the game and I enjoyed playing it again. I last played it in 2015 and really liked it back then, and well, even in 2021, I really am enjoying it. It's a great game to play on and off… Part of the enjoyment comes from the amazing soundtrack. It's a bummer that it has all those flashing lights with nothing really to do against it but other than that, Really Big Sky is a Really Nice Game to pick up if you're searching for a quick and challenging fast-paced bullet hell game!
Cheers!
This post was first published on Indiecator by Dan Indiecator aka MagiWasTaken. If you like what you see here and want to see more, you can check me out on Twitch and YouTube as well. If you find this post on a website other than Indiecator.org, please write an e-mail to me. Thank you!