With A Short Hike, adamgryu managed to create a wonderful experience that I'll never experience again in the same way I did just a while ago. The tunes by Mark Sparkling complement the carefree journey you embark on phenomenally and I absolutely adore this short little game that is all about exploration, although I also associate a certain kind of sadness with this sort of experience… but let's not get too far ahead of ourselves here.
Developer: adamgryu
Publisher: adamgryu
Genre: Exploration, Indie, Adventure
Release Date: July 30th, 2019
Reviewed on: PC
Available on: PC, Switch
Copy was purchased.
In A Short Hike, you take control of Claire, a young canary that visits her aunt at Hawk Peak Provincial Park. There she's waiting for a call but can't help but notice that she doesn't have any phone reception… Hence, she sets off on a journey to trek towards the summit of Hawk Peak Mountain in hopes that the reception there is better… but despite Hawk Peak Provincial Park's somewhat rural appearance, there are plenty of things to do on your way to the summit, which is why A Short Hike isn't exactly about reaching a certain goal or about reaching the summit of the mountain… but rather about the journey there.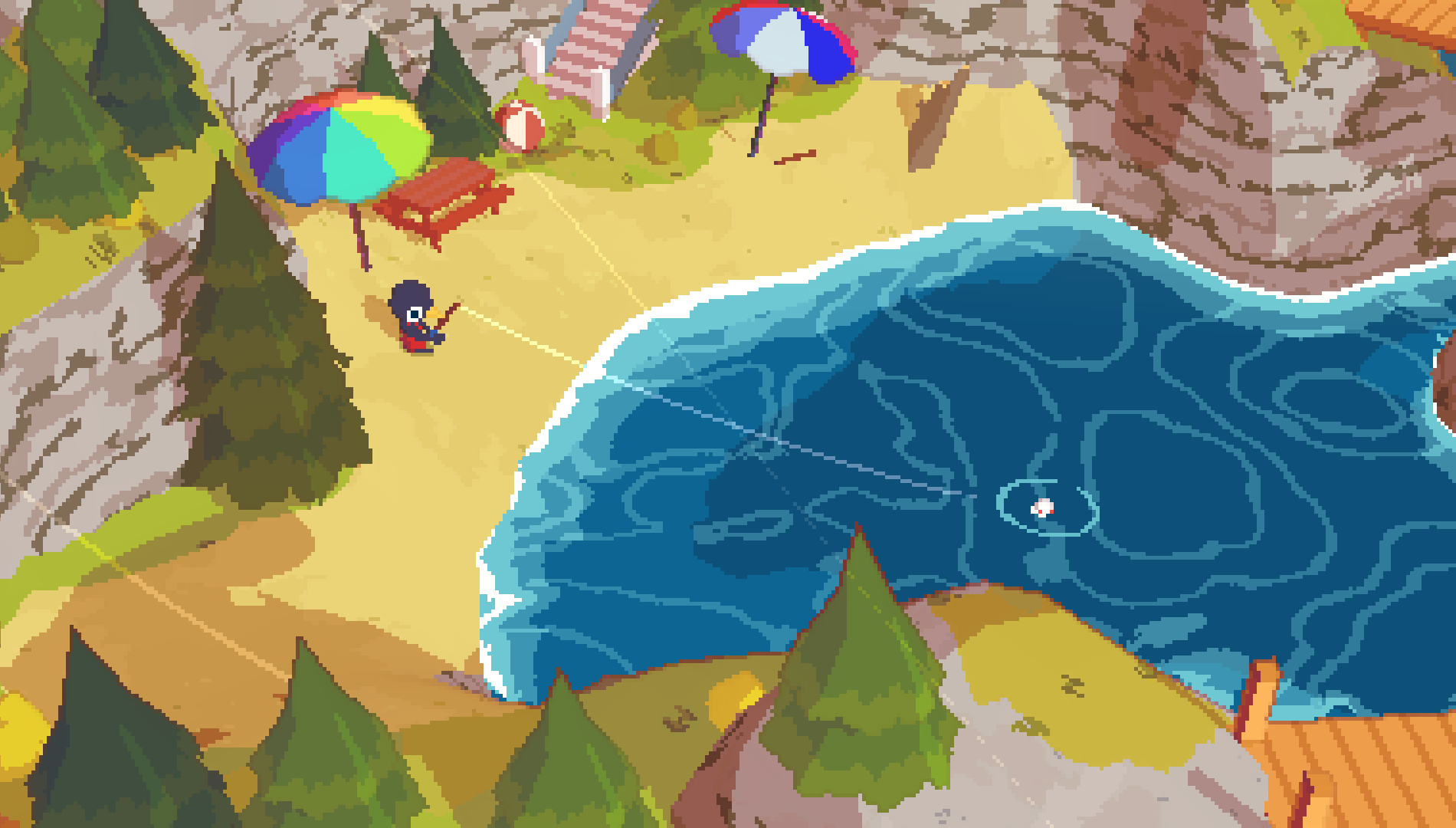 Since we're playing as a bird, we can fly up into the air, glide and dive through the valley and reach areas that we haven't been to before. Reaching the summit should be rather easy, right? Well, our stamina is kind of a limiter in that regard, which is why we have to collect golden feathers around the islands and complete quests to acquire some of them. One of the earliest encounters we find is a small frog at the beach who's trying to build a sandcastle but is struggling to do so due to him not having the proper tool for his endeavour. Instead of a regular toy shovel, he's using a full-sized shovel, which makes detailed work a bit hard for the little guy. Similarly, there is an artist around the map who is trying to find the perfect spot to paint a nice picture to submit to a gallery while another person is trying to collect shells. There are countless encounters around the map and a lot of activities to partake in. You can learn to fish or appreciate racing someone. You can collect hats, sticks and coins or even go on a treasure hunt. There are a lot of things to do but nobody forces you to. Whenever you complete a quest, you'll earn a reward of sorts that in return can help you reach the summit easier. Similarly, you can find golden feathers that expand your stamina bit by bit throughout the map, resulting in you being able to reach places that you haven't been able to reach before.
Exploration is rewarding and relaxing. I honestly forgot why exactly I wanted to reach the summit but then I got there and… it was nice. I was still able to continue with the game and fly around, collecting coins and going on fishing sprees… but the short hike really is rather short, though the many tasks and activities you encounter along the way can give you a bit more playtime, for sure. As I mentioned before, A Short Hike isn't exactly about reaching the summit but more about enjoying the way there. The journey is the goal and the goal is the journey, you could say.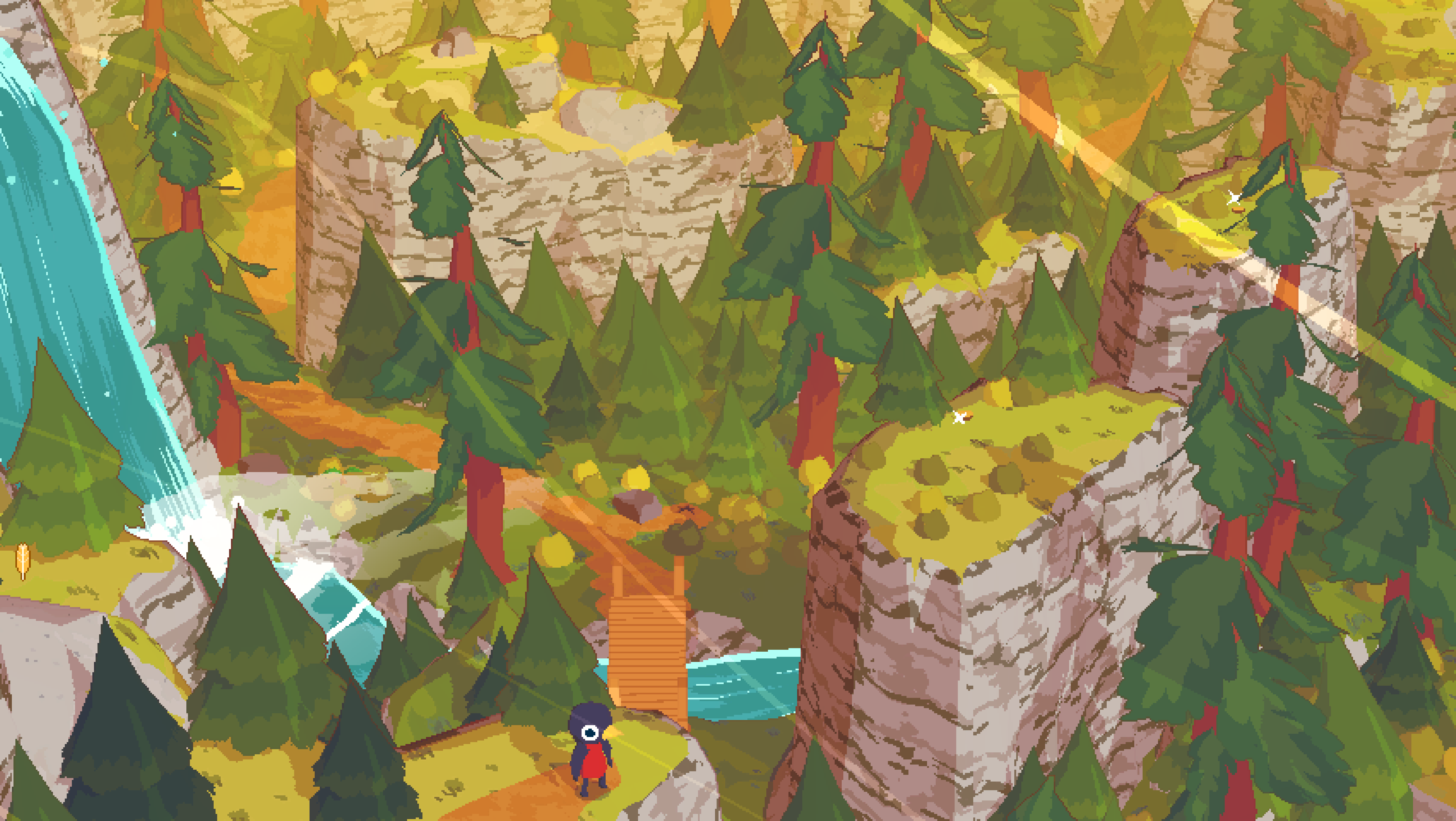 It kind of reminded me of how I would go out and explore the town as a kid and just go around town and see where different streets would lead to. I'd end up in a forest, eventually, or find a shortcut to a place I liked. I also ended up enjoying the exploration bit and the hiking, travelling and walking around a lot more than me actually finding something. Sure, when you explore a lot and end up finding a secret or a reference to a different game in A Short Hike, it's amazing and rather rewarding but there were times where I was just hoping that the map would reveal even more passages and areas that I haven't explored yet. I was just hoping that I'd end up spending all day exploring this peaceful and colourful world that I found myself in. Maybe it was that sort of nostalgia that I felt and referred to before… maybe some sort of escapism… but sadly, I had to return to the real world eventually again, which is why it was nice to find refuge in a little adventure game like this for once.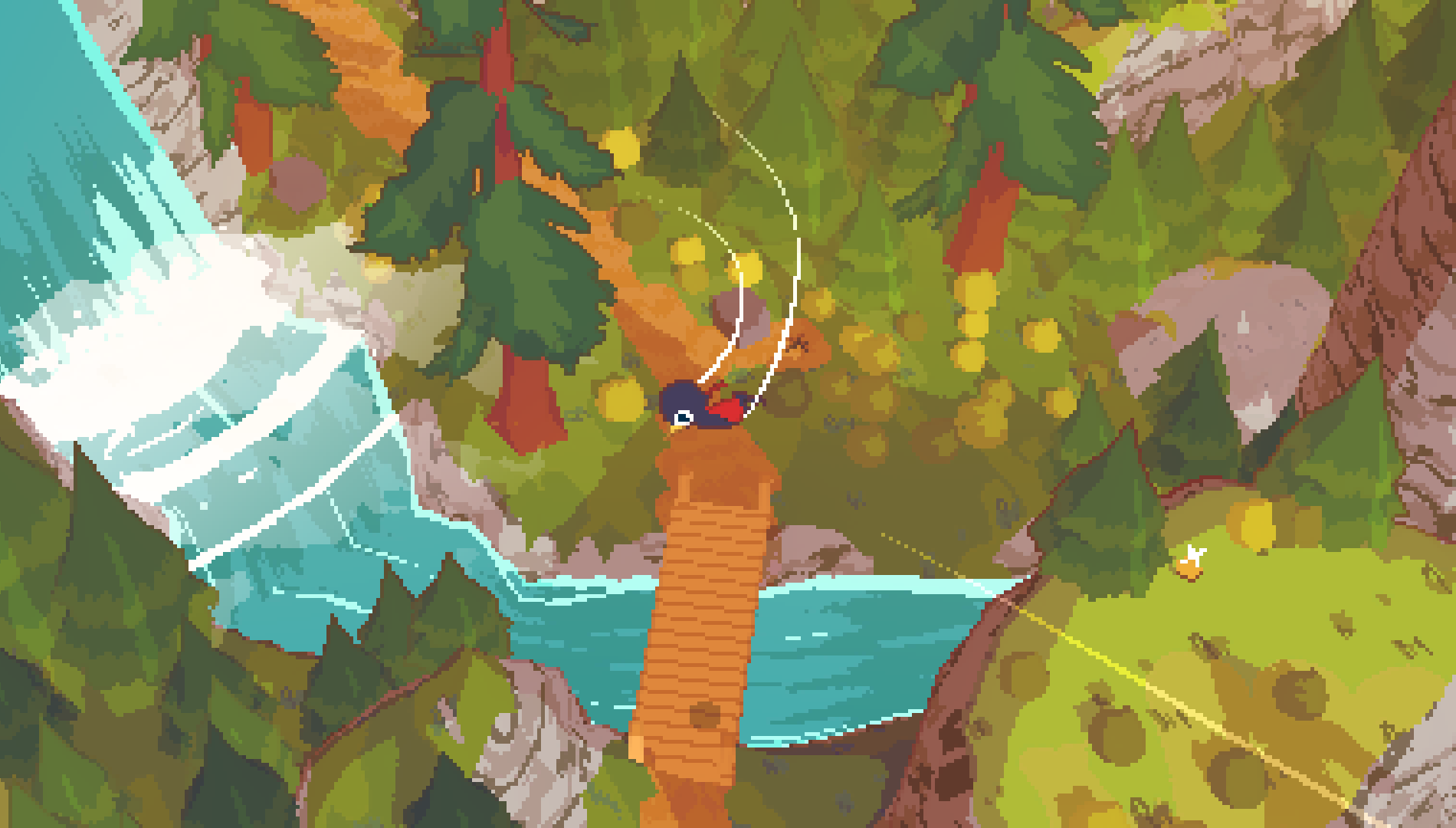 But while the exploration is fun and all, it also comes with a few points that made the experience at times nearly a bit frustrating. Not super frustrating and not so much that I'd have to ragequit or anything… but it could have been done better… For starters, you can't really move the map around too much which can be a bit frustrating. You're semi-locked into this one perspective with the map changing the direction a bit when you reach certain spots or when you dive/fly around. That's a bit tricky to use and can put a damper on the experience in my opinion. At the same time, I loved exploring the map but found it hard to navigate through it due to the lack of a map. Sure, you can get a compass if you want to but it's not exactly the same as navigating through an area with a bird's view map of sorts that you could put markers on if you wanted to. That's something that I personally would have loved in a game like this.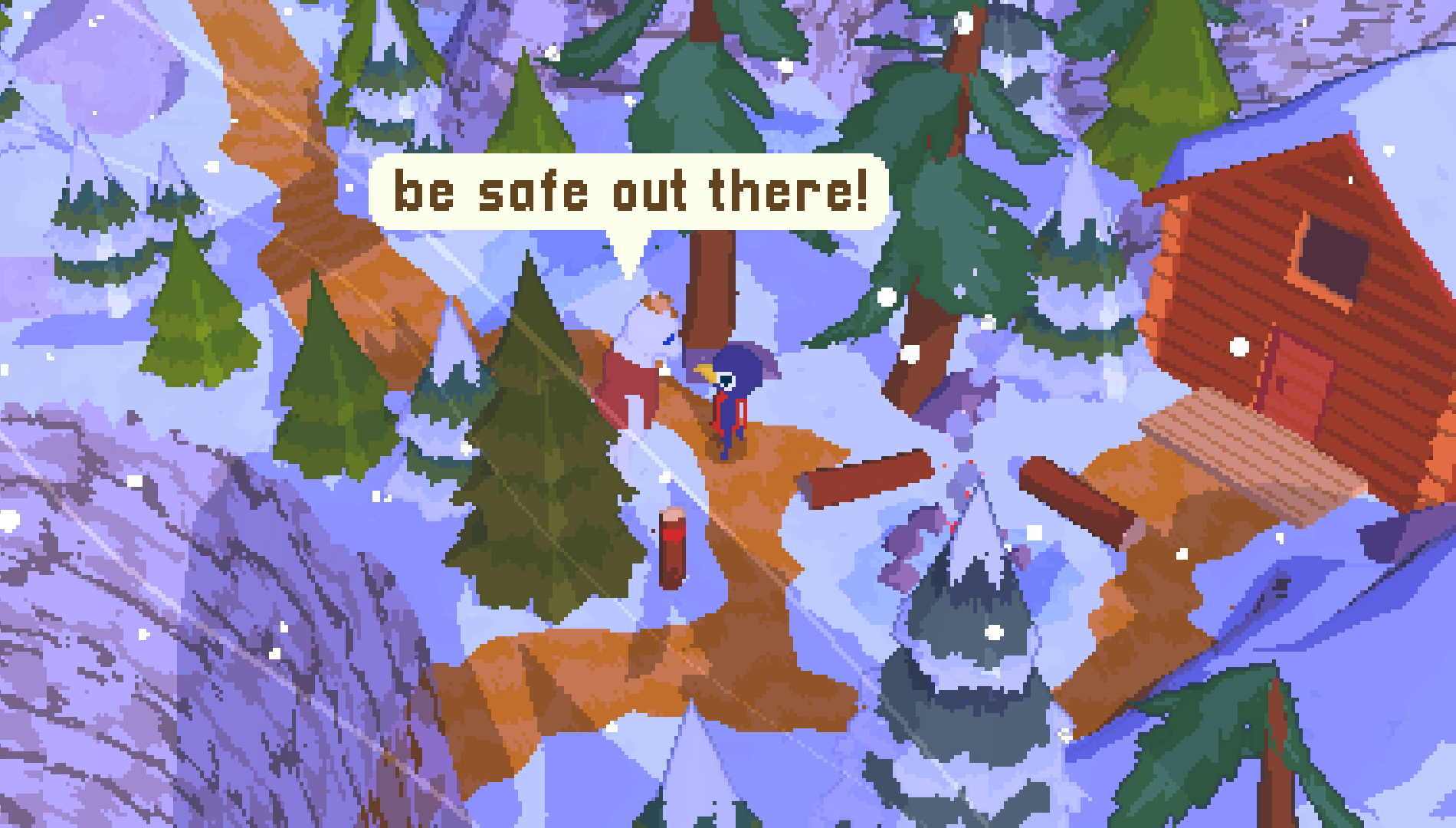 Other than that, though, I absolutely adore this chill and relaxing, gentle and beautiful game that frankly allows you to calm down and enjoy the ride as you move on. It's peaceful and lovely. The art style and the mellow tunes are perfect for this sort of game and if you ever feel like you need a change of pace from the constant distress that the outside world is putting us under, I can highly recommend this game to you… But I need to warn you that while the first playthrough (around 3 hours at most, I'd say) is great, every other playthrough may not be the same anymore, which is sad in a way. A Short Hike is a short game that comes with a nice experience at a reasonable price. In terms of replayability, it is nice to explore the map, trek along the many roads, or attempt a speedrun, but you won't be able to spend hundreds of hours in here.
Cheers!
This post was first published on Indiecator by Dan Indiecator aka MagiWasTaken. If you like what you see here and want to see more, you can check me out on Twitch and YouTube as well. If you find this post on a website other than Indiecator.org, please write an e-mail to me. Thank you!