Today we're taking a look at a very unique little title that is releasing in time for the spookiest of seasons: Inscryption! Blending deckbuilding roguelike games, escape-room style puzzles, and psychological horror into a creepy experience, Inscryption is trying to create a truly creepy yet intriguing experience that I'm really excited about! And well, since Daniel Mullins is working on this title, I'm especially hyped for the release of this one… After all, Pony Island was amazing when I played it a few years ago!
Developer: Daniel Mullins Games
Publisher: Devolver Digital
Genre: Card Battler, Horror, Roguelite, 2D/3D, Exploration, Mystery, Puzzle, Indie
Release Date: October 19th, 2021
Played on: PC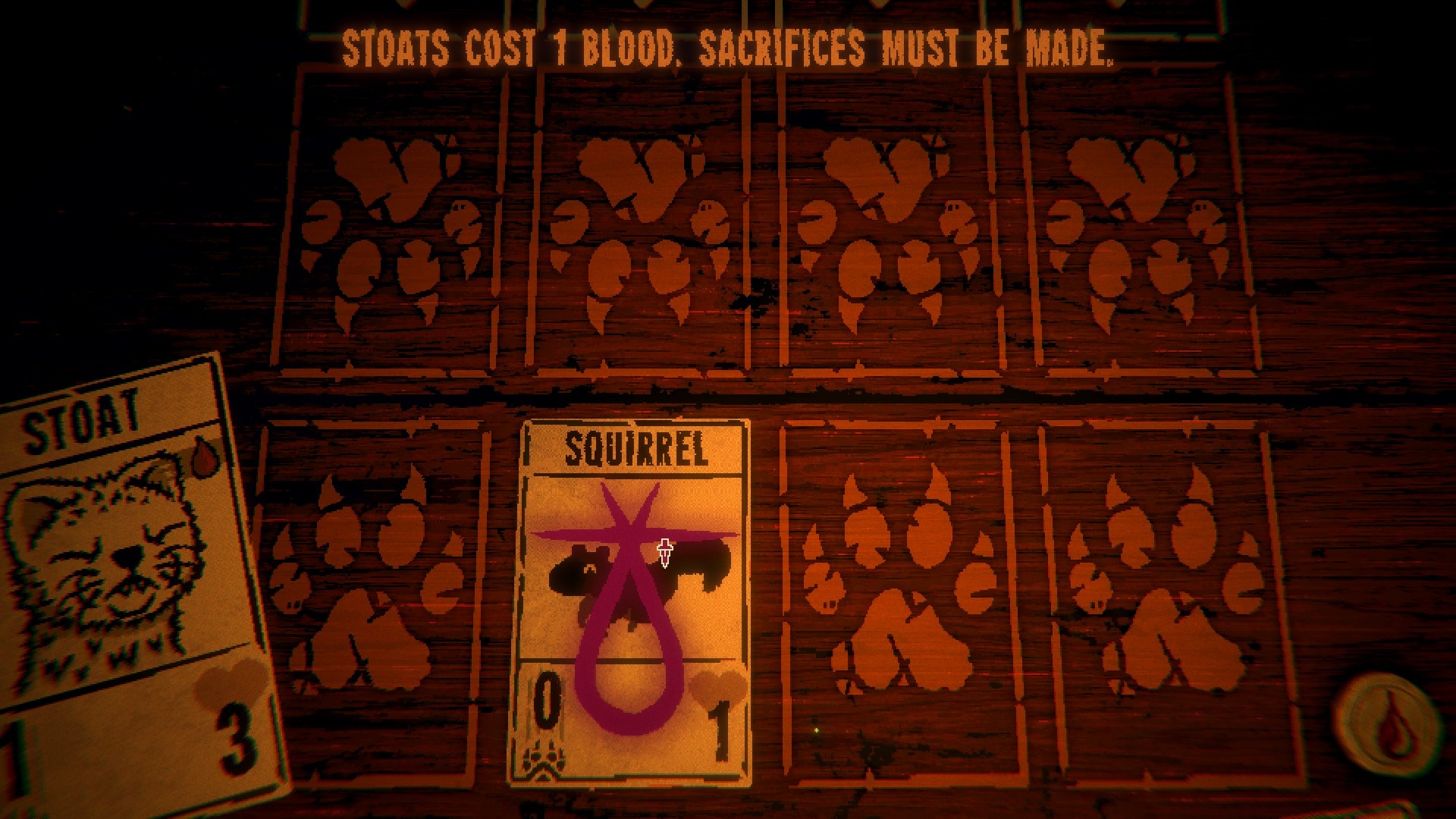 Either way, how does Inscryption actually play? Well, you seem to be stuck in a hunter's lodge of sorts and you effectively are forced to play this tabletop game with a dark and mysterious figure that is hiding in the shadows. It's not quite a purgatory… but when you lose, you end as part of the game, and I'm not quite sure what that actually entails for you as a player or for you as the protagonist. The majority of the game is centred around a card-based roguelike game that you play against the enigmatic game master and possible captor of yours where you place, sacrifice and control cards to match the enemy cards. Each of these come with an attack, health and other bonus stats and effects. You draw one card each turn, either from the bush (unknown card from your deck) or from the pile of squirrels (0/1 cards that merely act as fodder or sacrificial rodents). Cards can be placed in four lanes where they'll either attack the game master directly or an enemy if there is one in front of them. Some cards have costs that indicate how many cards you need to sacrifice/kill in order to play them, which adds to the psycho game atmosphere that the game already has… and well, you win by damaging the game master and placing his teeth (one per point of damage) on a scale that is waged against yours.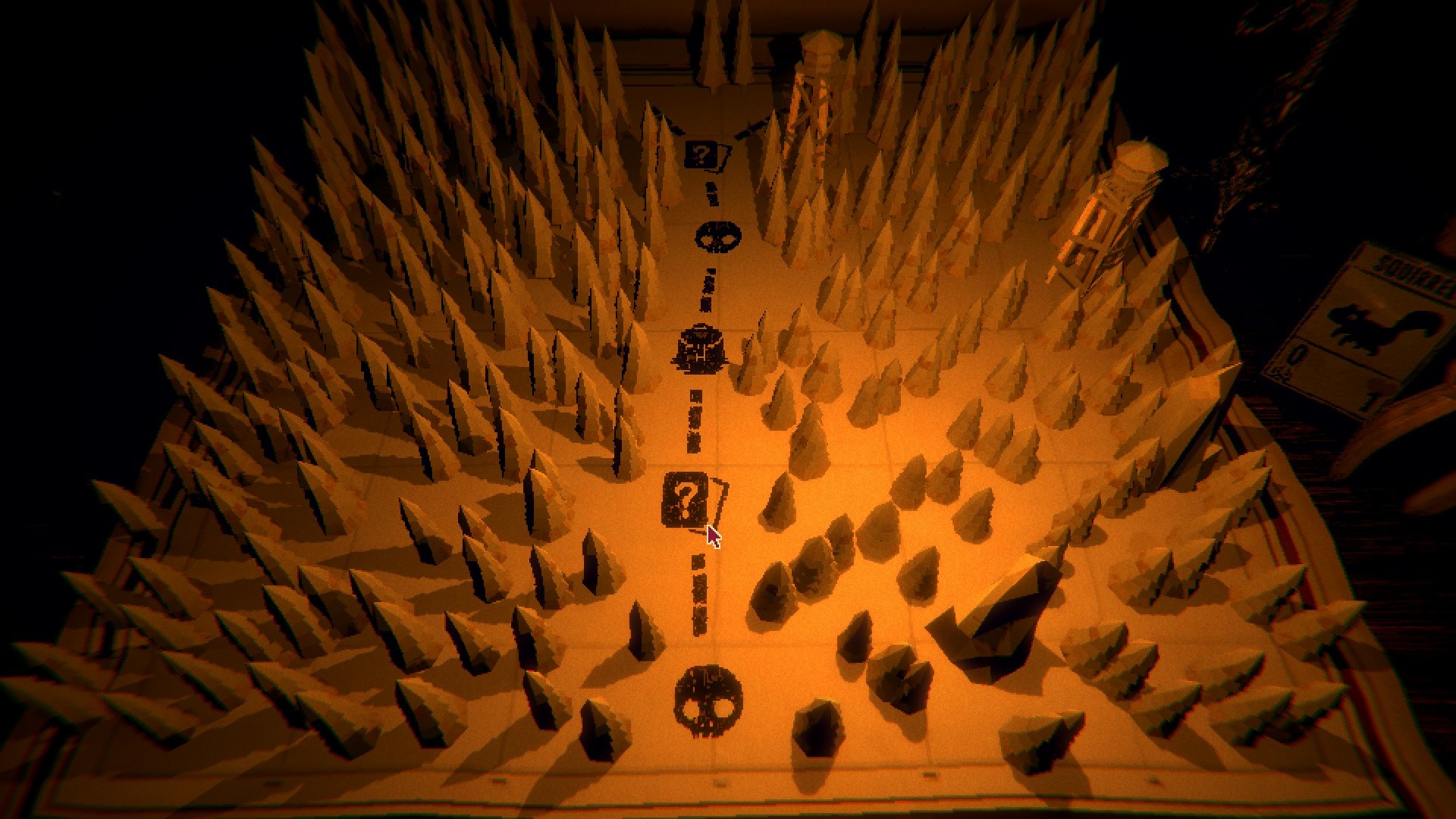 All in all, the card game is interesting with all sorts of potential strategies, mechanics and effects. What I truly love is how the game suddenly develops a story of its own by not only having you listen to the game master's DnD-like story but also having some of your cards talk to you, trying to help you escape this place. On top of that, the game suddenly shifts into a First-Person exploration game at times by having the game master ask you to bring a piece or something else to the table, almost breaking the 4th wall in a way by having you realise that you're still playing as a person that is merely playing along in his card-game. While you explore the cabin, you encounter objects that you may be able to manipulate, almost in an escape-room-like manner… and overall, I really enjoyed how the end of the demo left me with more questions than answers. It was disturbing yet intriguing.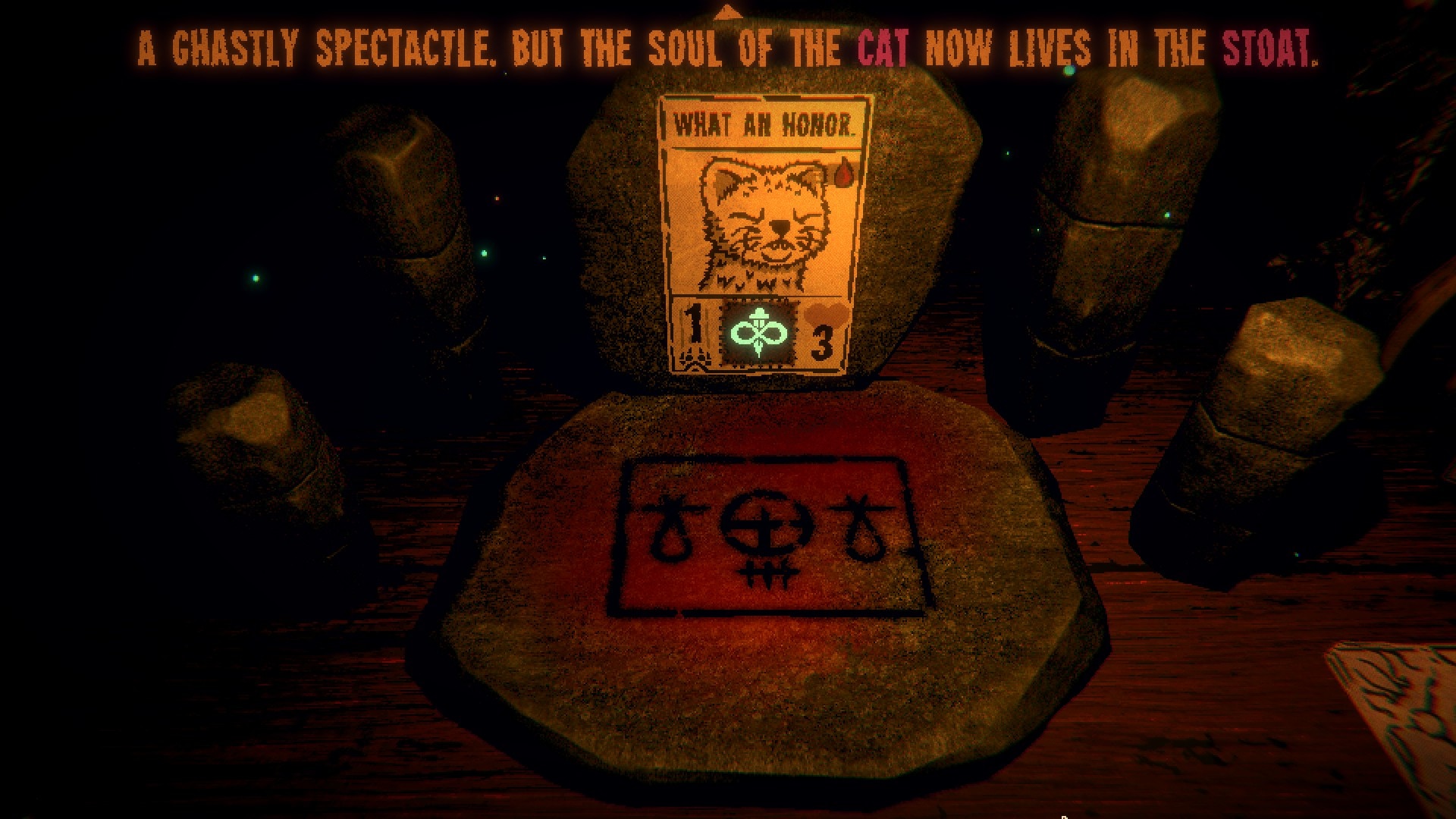 I mean, the whole aesthetic, the music and sounds, the way that the story is told, the ideas with the masks and animal cards, and the way that the roguelike portion lets you create creatures that become stronger and stronger over time. I wonder how deep the game will be eventually and if there's going to be some sort of limiter eventually or if the game maybe will just let you snowball for the sake of giving you a curveball… I'm also excited about how the game's going to blur the line between player and game, especially as it already started that by placing you in front of the screen to play a game where you're a character who's playing a game while being held captive. It's interesting and intriguing and I'm really excited to see more. On another note, I have yet to play The Hex but heard great things about it… and I loved Pony Island when I last played it in 2017 but I'll have to replay it and maybe even review it on here, some time.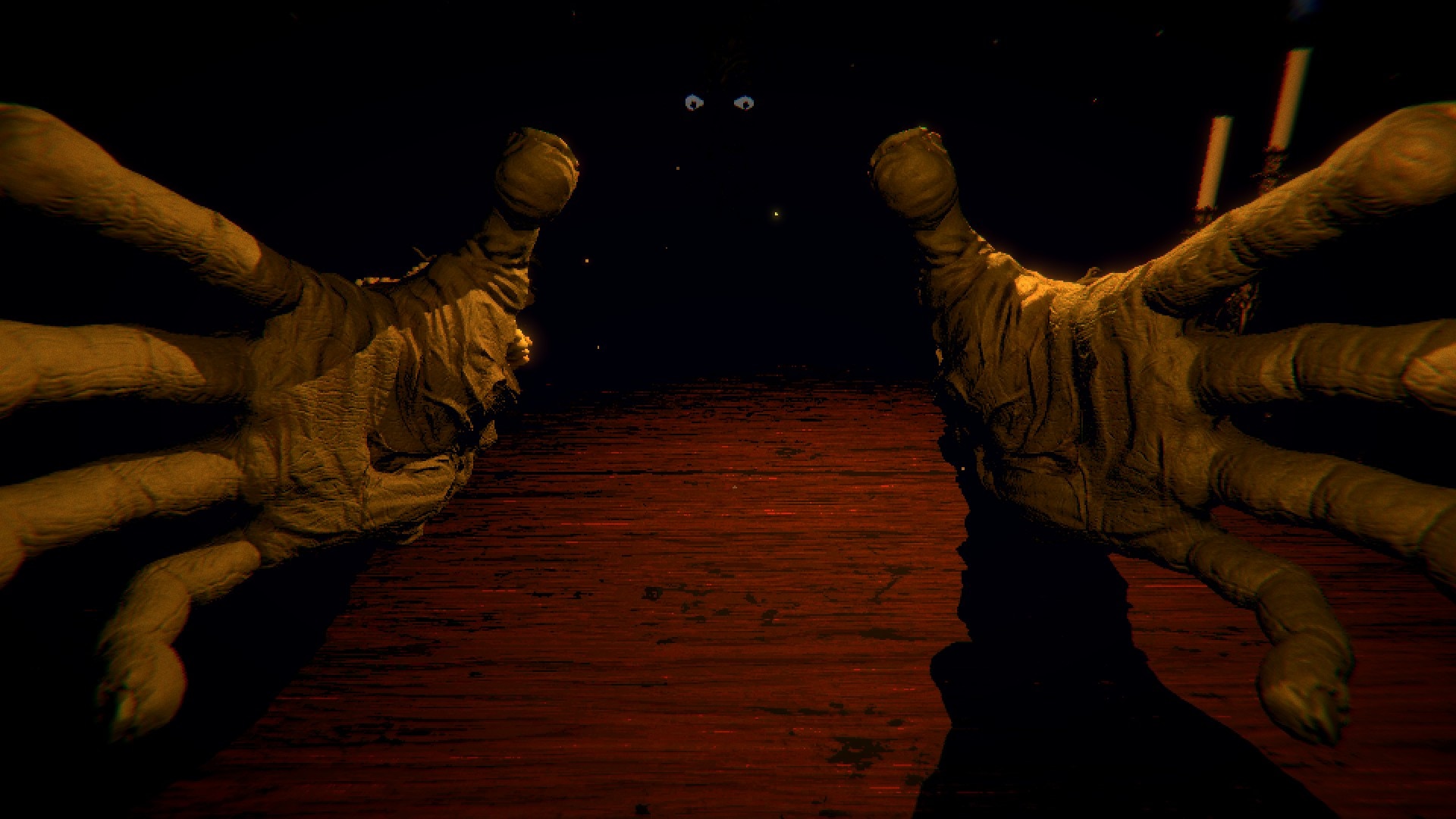 Regardless of that, you gotta wishlist and play Inscryption yourself over here on Steam! I'm really excited for this promising title and I'll probably end up buying it Day 1 once it launches on October 19th, 2021!
Cheers!
This post was first published on Indiecator by Dan Indiecator aka MagiWasTaken. If you like what you see here and want to see more, you can check me out on Twitch and YouTube as well. If you find this post on a website other than Indiecator.org, please write an e-mail to me. Thank you!