In today's Indietail review, we're talking about Original Journey: A hand-drawn, sci-fi action-adventure where we join the Ato as they embark on a mission to a distant planet, known as the Shadow Planet, to find a certain crystal that can save our own species and even our dying planet.
Developer: Bonfire Entertainment
Publisher: Neon Doctrine (formerly known as Another Indie)
Genres: Roguelike, Action, Indie, Adventure, 2D, Sci-Fi
Release Date: Aug 16, 2017
Reviewed on: PC
Available on: PC
The copy was purchased.
After a bit of an epilogue, we get thrown into the world of the Ato whose last hope, their battle-ship, has finally landed upon one of the floating islands of the Shadow Planet. The main character of the vegetable-like species of the Ato oversleeps, of course, and therefore ends up being used by the Commander as a meat shield. After beating the tutorial where we learn about movement, aiming, weapons and turret-placement, the Commander is astonished at how well we survived and did, which is why he lets us take part in actual missions that revolve around exploring the planet and beating enemies to receive resources and crystals, which are needed for new weapons and new suits, each with their own unique characteristics.
Essentially, you can fly out and explore the planet, landing on one level after another, each with randomly placed enemies and special events. On some islands, we get ambushed while on other islands we prepare and ambush the ambushers, one some islands we help out other people while on others we get healed and we receive free loot and ammo. There is a lot of variety between special events and normal islands and a variety of enemies as well, each with different strength levels and different attack/move sets. We can use two weapons at a time and place down two turrets per island, although we need to recycle turrets upon leaving an island to receive some Ammo back. Ammo and resources are limited, which is why you've got to either take a risk or frequently go back to base again to restock on Ammo and Health, store your loot and possibly upgrade or unlock new suits and weapons.
Levels get increasingly difficult and the farther you go, the more of the story you'll be able to unlock.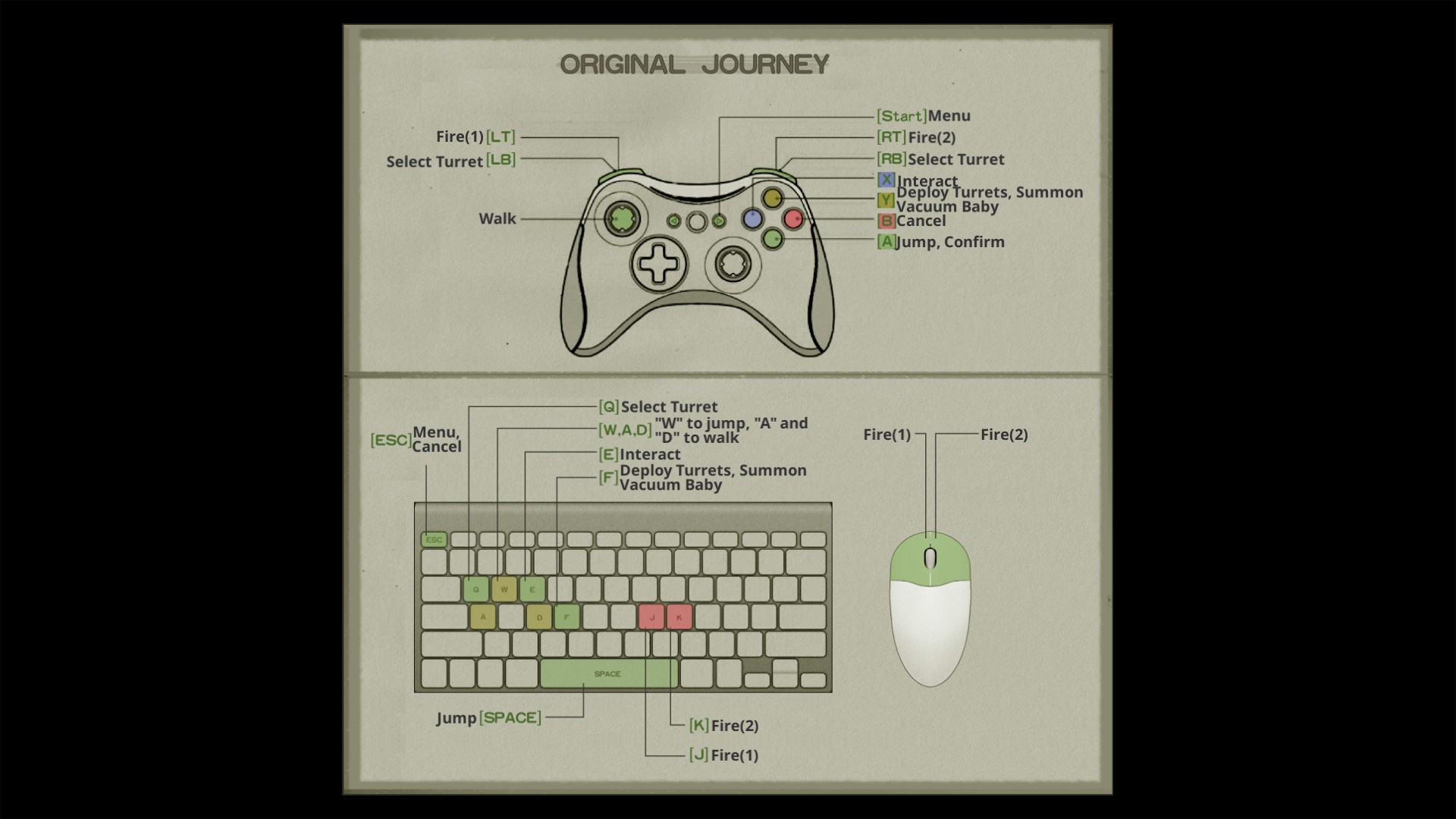 At some point, you really need to take risks. There is a fast-travel option but it requires a lot of Crystals (the currency farmed from enemies) which is also important for weapons and suits. Therefore every hit has to land on every previous island to not waste too much ammo. Sometimes you need to do base-stops and sometimes you just risk going for another island in hope that you get a supply drop on the next one to refill on ammo. At some point, levels get too difficult with way too much going on, which is why you also need to level up your character and upgrade your stuff to proceed.
The game very much relies on "rinse and repeat", which is standard for a bunch of games, I'd say, but it also needs to be done well.
While the game seems easy at first, it gets harder and harder over time, especially when you still need to grind certain rather rare materials to get your next weapon. And the worst thing: You don't know what weapon you get. You can test it out after you've unlocked it but there's no name to it before you unlock, resulting in a bit of a frustrating experience where you get something for the sake of unlocking it and don't know if you like it. While I enjoyed the Saber, for instance, the other weapons so far have been difficult to use and are absolutely not my playstyle. Thus, I'm only using the grenade launcher and the sword, mainly as the sword doesn't require ammo and alas can't run out of ammo, despite having the drawback of having to get close to the enemy.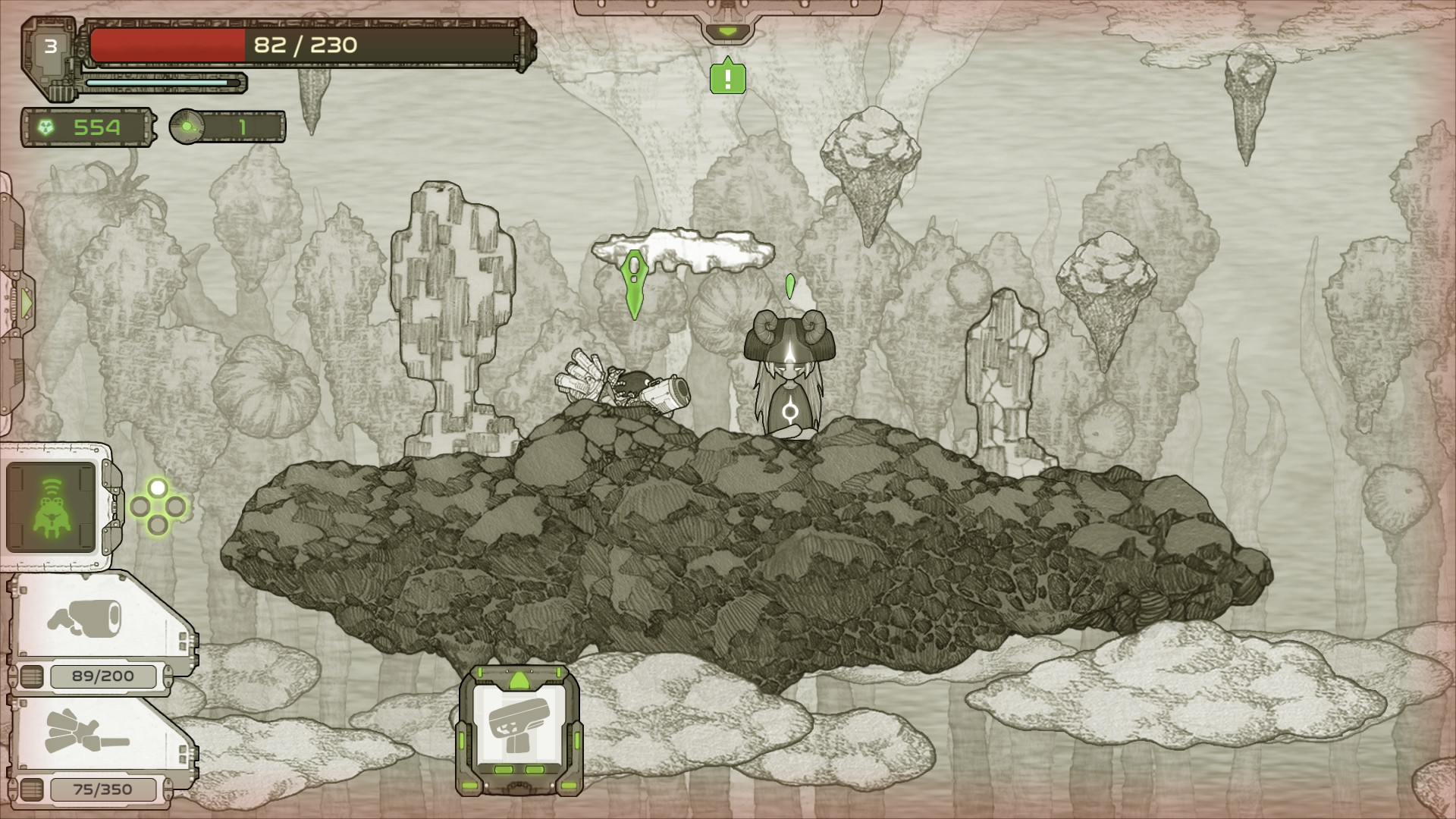 There are also other annoying elements to the game. For example, your health gets completely refilled when you level up, which can make some levels extremely close and very fun to do… but there are no enemies in some of the boss levels to give you the necessary experience to level up again and save yourself or save a run. When you die, you lose your stuff and need to retrieve it… but in boss levels, that mechanic is missing completely… and I haven't even touched upon the art style…
The art style is hand-drawn and I'd describe it as either hit or miss. You either really like it or you hate it. In my case, I liked it in the beginning and really enjoyed the interesting mix between a sepia-esque colour-scheme and the green colour as the only thing that is different (apart from the red health bar of course). BUT over time I noticed a few major flaws with the design. Sometimes you have other characters/NPCs in your levels that help you out and look fairly similar to you, making it rather hard to distinguish who your character or who the NPC is… there is a bit of a green dot above your character but it isn't really helping all that much and can be easily overlooked with a ton of enemies on the screen and all of that.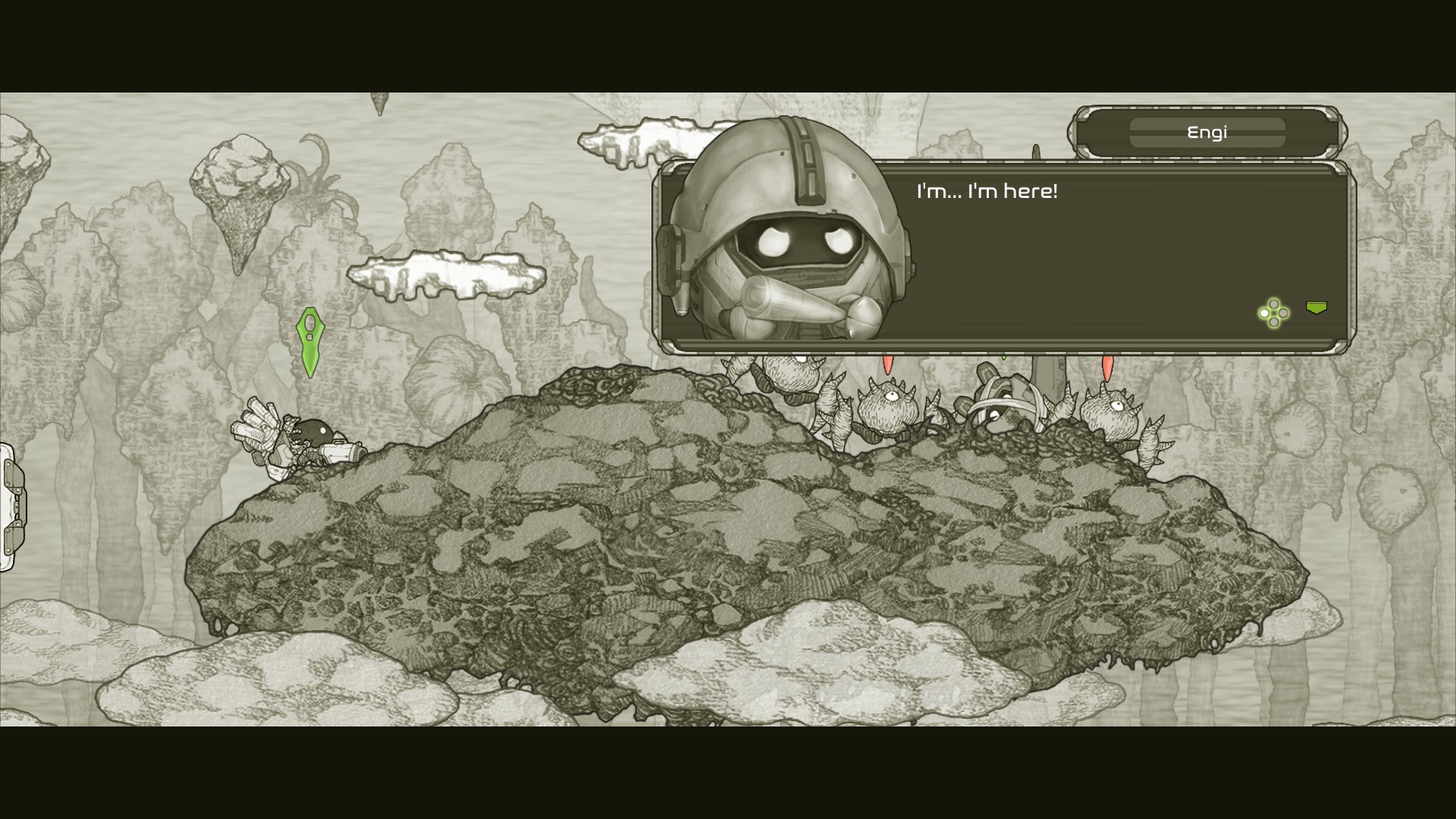 Another problem with the art style is that I couldn't really distinguish where damage was coming from in some of the (mainly boss fight type) levels. Sometimes there'd be elements to the level that were in the background and sometimes there'd be elements in the foreground, resulting in the levels being rather messy. You don't know where you can hide behind, you don't know where you can stand on. You don't know what's destroyable and you don't know what's hurting you. Especially when one of the bosses can summon stones and roots that hurt you, it's unnecessarily hard for you to dodge stuff when you don't know what's happening.
A nice and easy fix for that would have been a green (toggle-able?) outline for your character and a red (toggle-able?) outline for enemies, projectiles, traps, falling objects, etc. It would have been that easy but there's nothing like that and therefore I at some point ragequit after having seen most of the things there are to this game.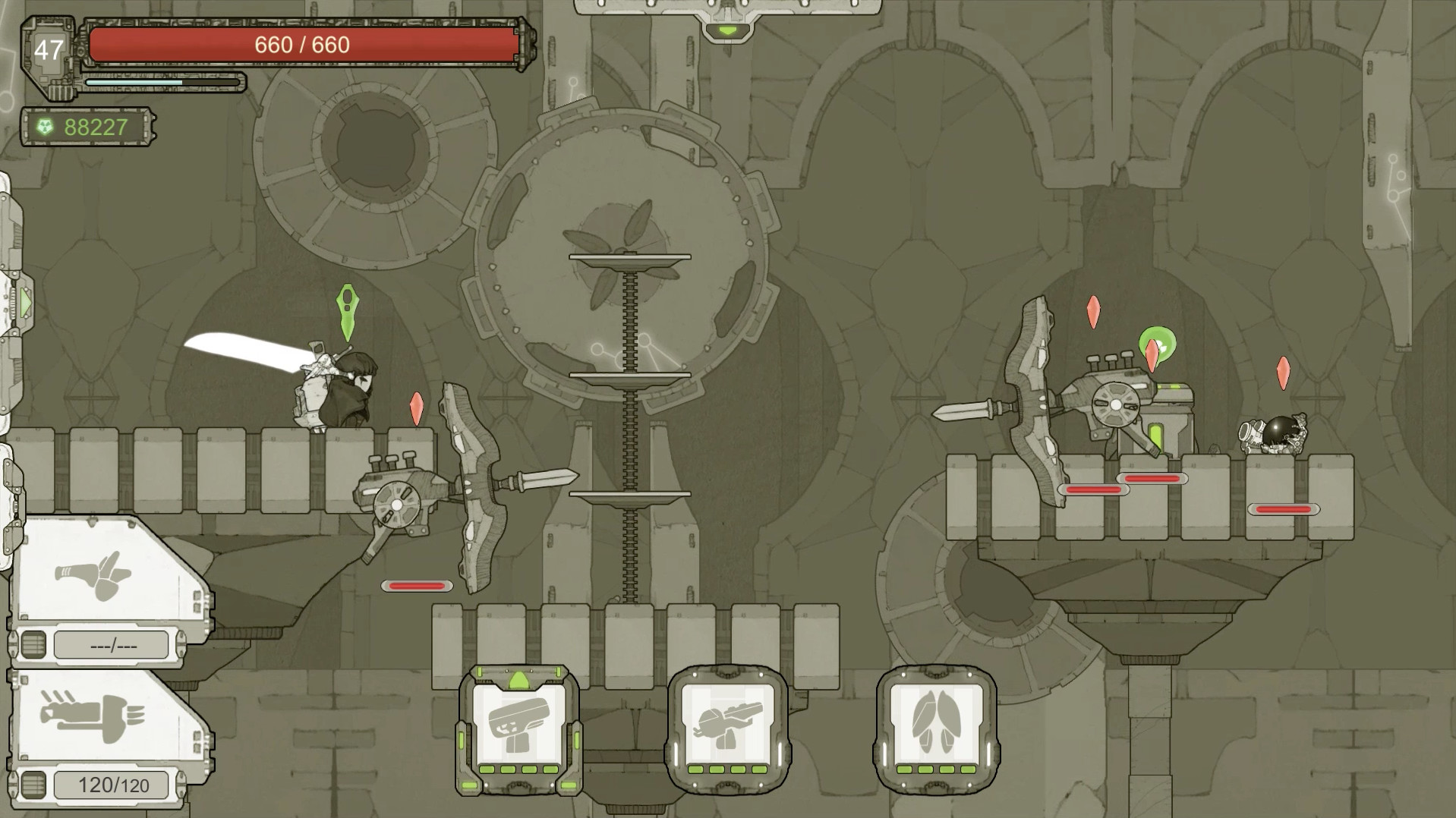 It's frustrating to lose your stuff because of dying in the boss fight without the option of retrieving it. It's frustrating to die because of not seeing your character or the damage source. And it's frustrating to not be able to distinguish between your character and NPCs or to not be able to see a trap in the foreground and some item in the background.
The game is quite repetitive and after getting used to the fiddly controls or rather after getting used to the two weapons that I wanted to use instead of the other even more fiddle weapons, I ended up being frustrated for the sole reason of the game being badly designed in a way.
I guess this might be the right game for you if you like an unnecessary challenge game that (according to steam users) can be finished in anything between six and twenty hours, depending on your skill-level and play-style… but I personally can't recommend a game that has so many flaws and isn't able to outweigh the flaws with the good sides.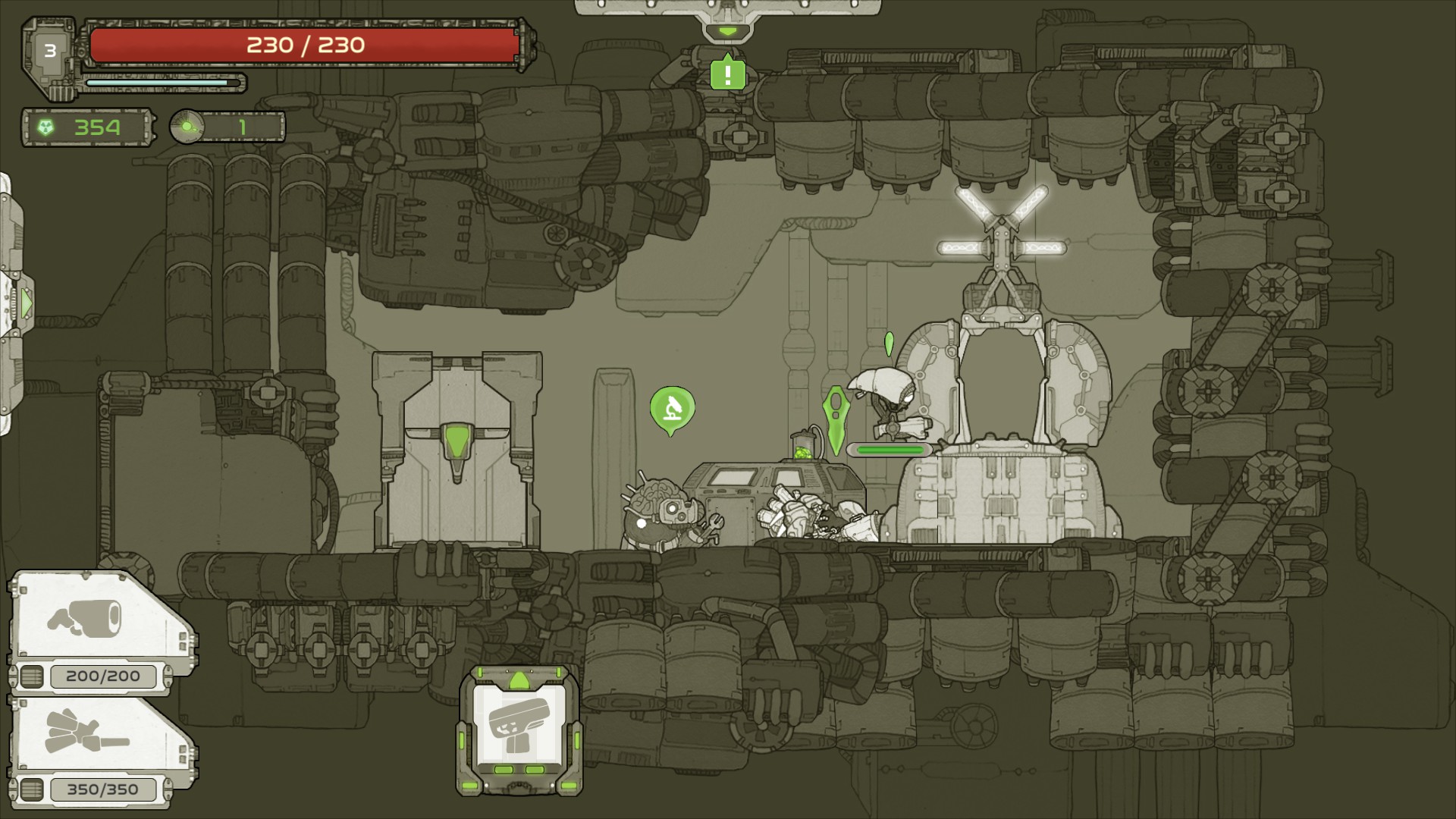 I hope that you liked this post. I was excited to play Original Journey as it has been sitting in my library for nearly two years now but sadly it kind of disappointed me, which is quite a bit of a bummer.
Until the next time, cheers!
This post is part of a challenge called BLAPRIL. The goal is to post as much as possible during the 30 days of April. There are different themes during some of the weeks and a lot of mentors, newbies and participants participating. Feel free to check this hub-post out and check out the other participants!
This post was first published on Indiecator by Dan Indiecator aka MagiWasTaken. If you like what you see here and want to see more, you can check me out on Twitch and YouTube as well. If you find this post on a website other than Indiecator.org, please write an e-mail to me. Thank you!