RNG was always has been a part of the rogue-like genre, from what I've seen. Surely, some games don't rely on RNG at all, be it in the form of items, levels, enemies or stats. Some games don't need to have that element of chance and randomness in their code but I wouldn't call "RNG" itself bad as you always, somehow, have to make it work. "Hate the player, not the game."
But in today's Indietail, we're not looking at a game that doesn't rely on RNG at all but rather one that takes the best out of a lot of rogue-likes and combines it with gambling, or more precisely Blackjack. Today we're taking a look at RogueJack!
Developer: Ponywolf
Publisher: Ponywolf, LLC
Genre: Casual, Card Game, RPG, Indie, Dungeoncrawler, Rogue-lite
Release Date: May 27, 2020
Available on: PC
Reviewed on: PC
Copy received for free.
In RogueJack we've got to crawl through a dungeon and beat enemies in order to level up and evolve our character, ultimately to find some sort of ancient amulet. In our adventure, we fight enemies, dodge their attacks, and get stronger by looting treasure chests and "trusting the heart of the cards".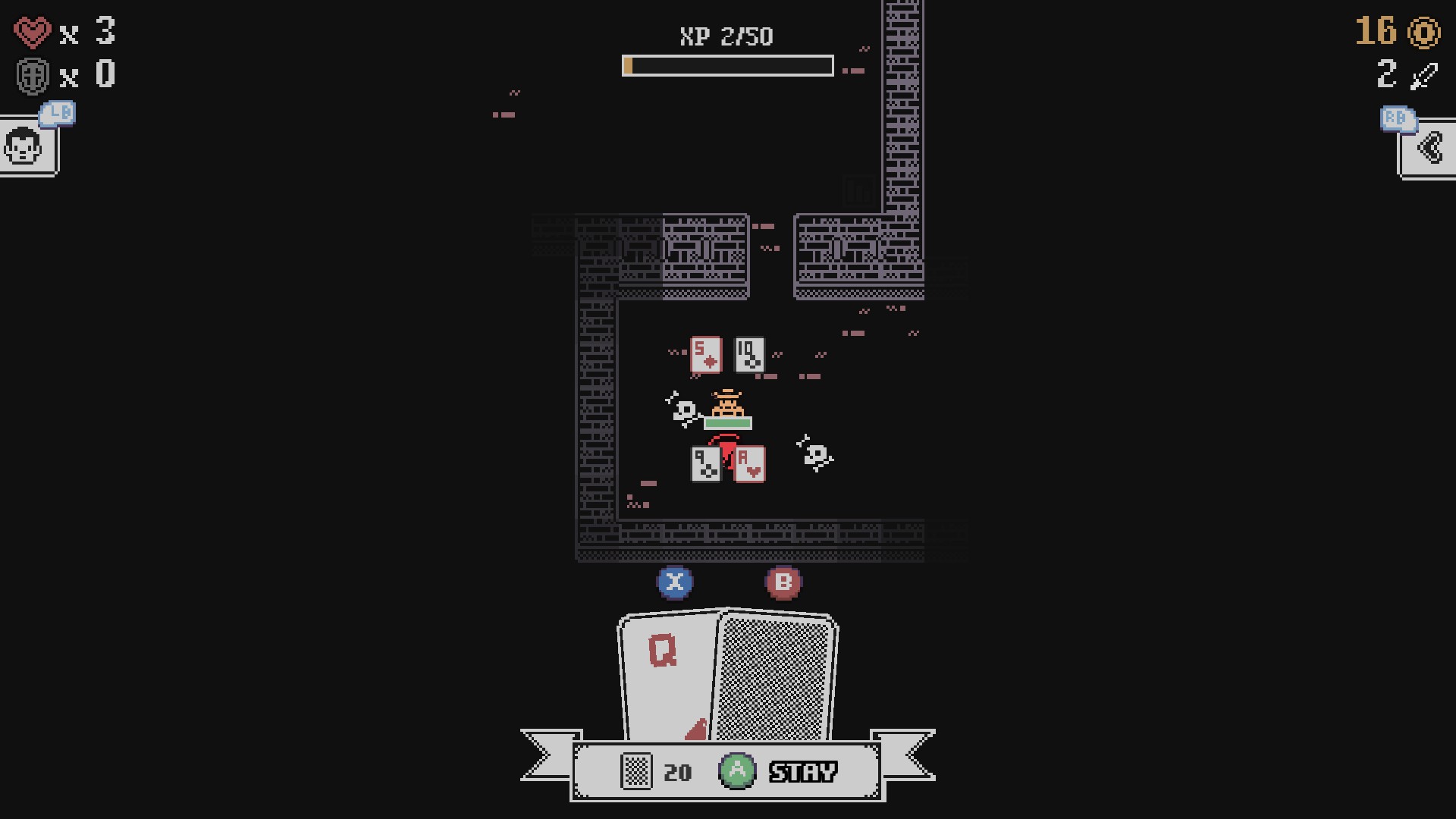 The rules are simple: You get two cards and then get to decide whether or not you draw one card or stay at your current number. Face cards grant 10 points, number cards grant their value. Some cards subtract points while others add. Before 10, an ace grants eleven points, and you win fights by getting as close as possible to 21. If you step over it, you lose the fight and the enemy damages you. If you hit 21 (BlackJack!), if your enemy gets more than 21 points or if your number is higher than the enemy's number, you damage them.
And well, of course, some enemies have bonus effects and "move-sets" of their own. Some enemies win in case of a tie, others tend to play it safe and only play until 16 while others even poison, freeze or set you on fire when you get damaged.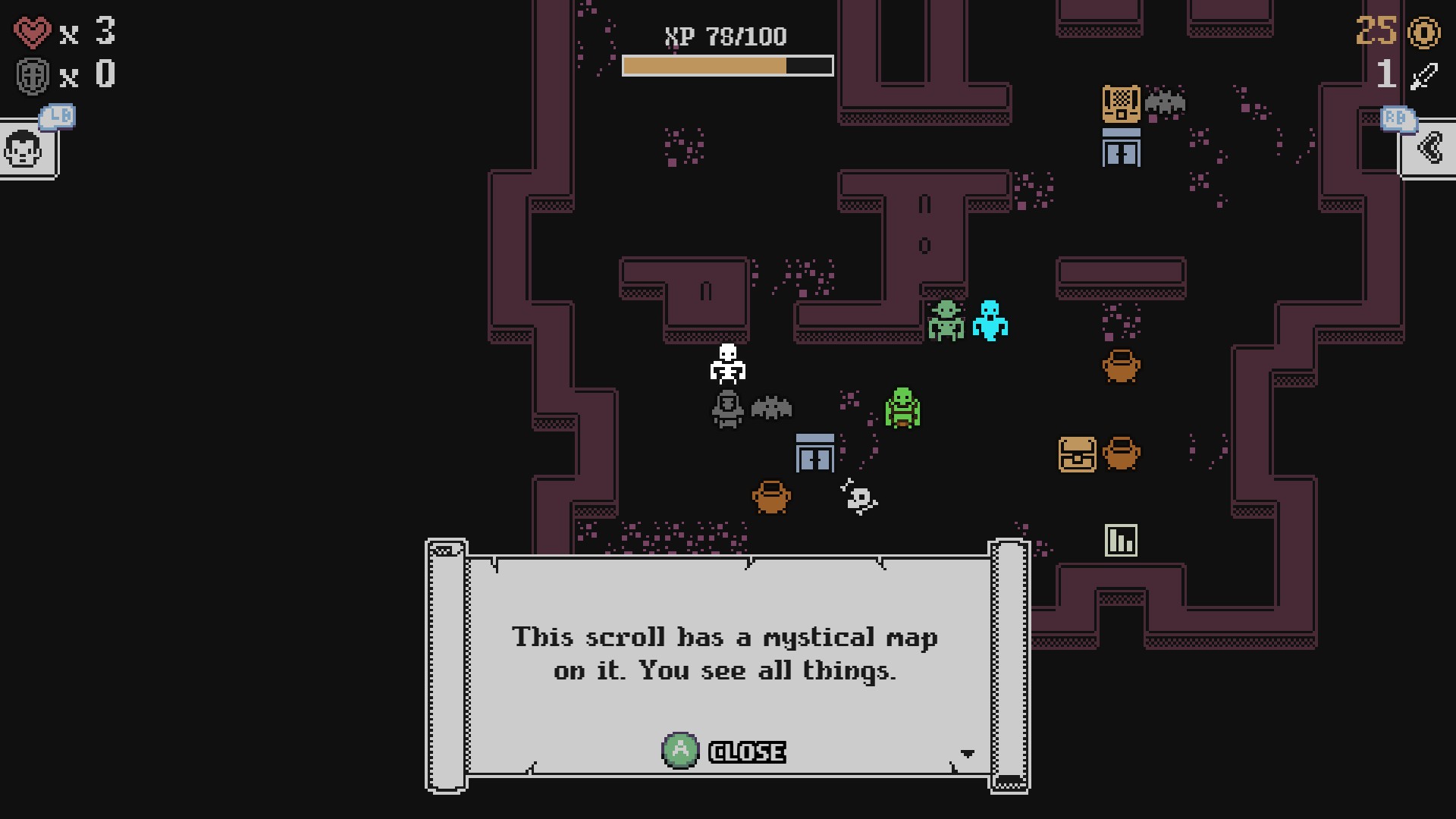 Your damage depends on the items you collect. A six-shooter-gun, for instance, grants you more damage if you're a cowboy while the Staff of Divination grants you two damage, more vision and even grants you a higher chance to actually see your cards before drawing. There are also shields that block damage before breaking, potions that heal you or cure status effects, daggers, swords and other weapons that grant you more damage and overall, it all depends on what you find and if you can make it work.
In your journey, you'll encounter a vast variety of enemies in different colours and with different properties. More often than not you'll try to fight them, to earn money, which you then may use on vending machines to gain more items. Ultimately you are not relying on item-RNG too much nor on any stats but only on your luck and the way you make the cards work. Get greedy and overstep 21. Play it too safe and the enemy hits BlackJack while you're staying at 16. Ultimately, it's a card game, but I did quite enjoy it. When you die, you'll get a second chance. Die again and you're out. You then get the chance to retrieve your exp and money and continue from the previous level or start anew from Floor 1, your choice.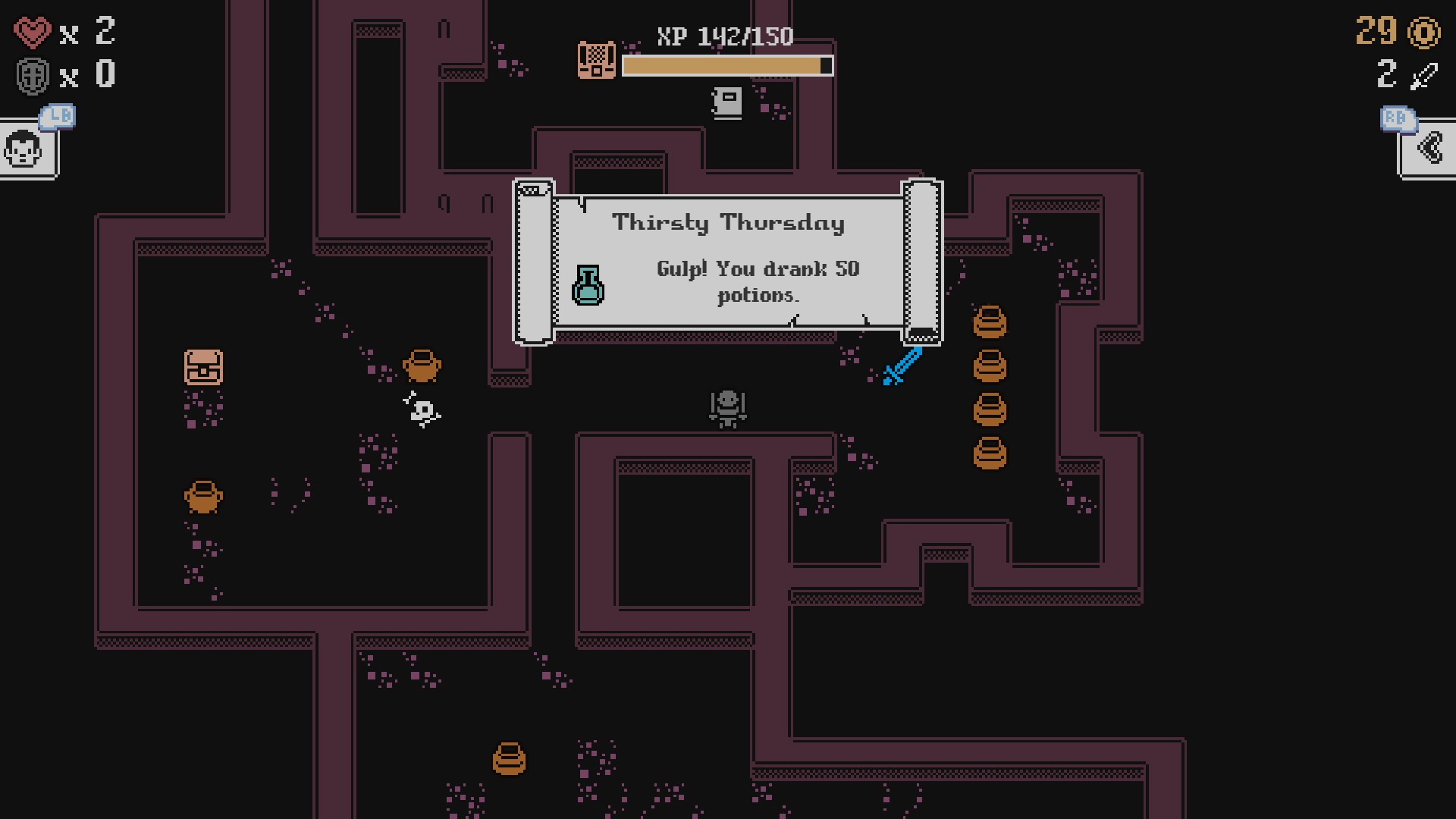 When you beat enemies, you level up and unlock new characteristics. The Rogue sees all cards, for instance, but while these effects sound over-powered in a way, they are balanced by the fact that it doesn't help you to know what's coming when you've got bad cards. After you level up, there is no coming-back either. You can't change your class. You are who you are until you're someone else. It's all a game of sorts, a gamble.
And well,… that's it. The premise is a gamble, too. It can either work out or it doesn't. I personally really liked the game and only disliked the slow turn-based movement and the unnecessary "freeze"-effect. Once you get rid of that, you can have quite a bit of fun, unless you lose to the cards, or rather the RNG. BlackJack is combining two interesting concepts: The only card-game I really understand… and dungeon-crawlers. The fact that you can't change your class unless you reset, is interesting. The variety of weapons, enemies and classes is quite fantastic.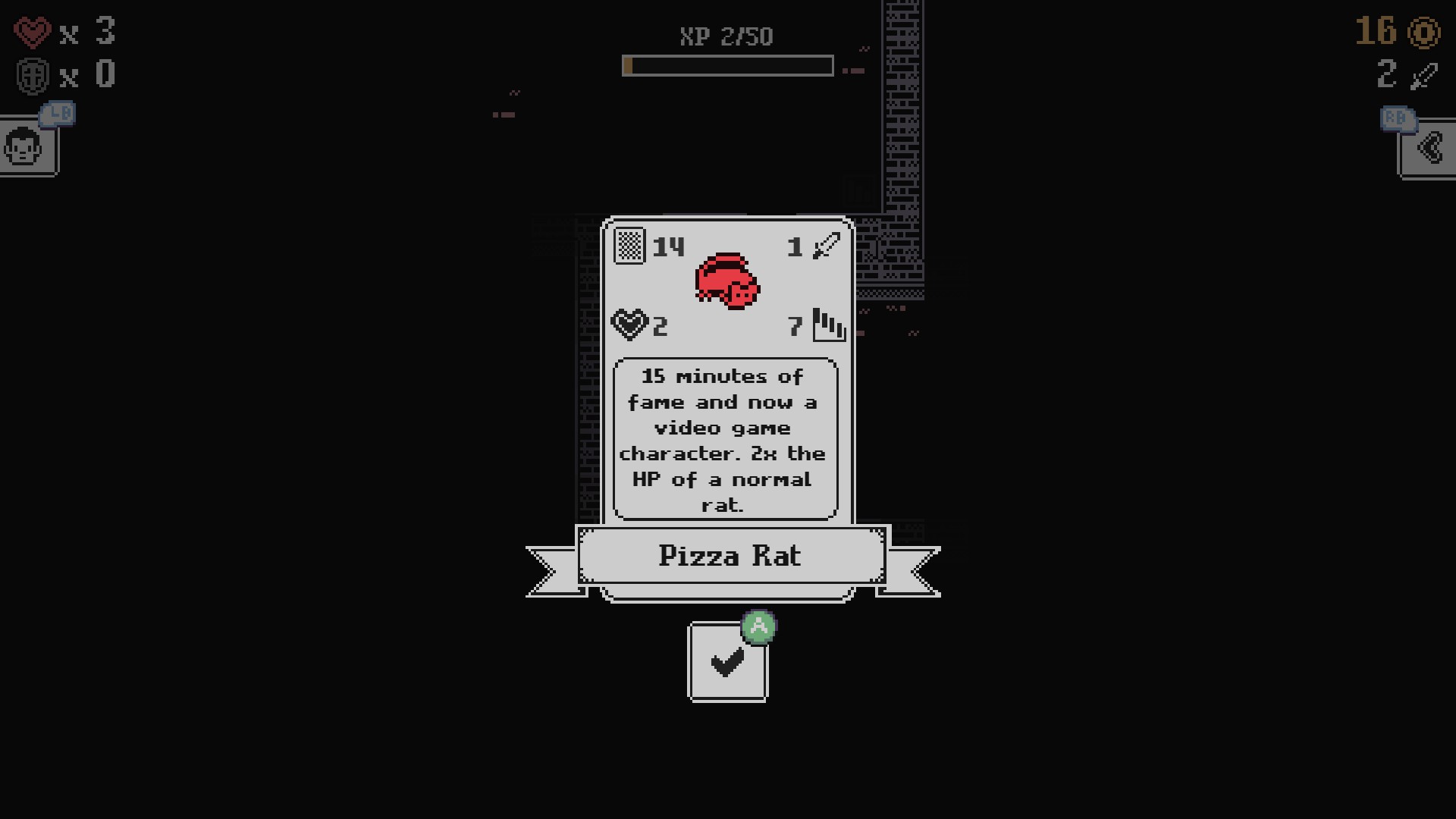 In a way, I'm conflicted on whether or not this really is a rogue-like as it actually resembles more of a dungeoncrawler-character… but I guess the borders from one to another are rather fluid and in the end a game is a game, right?
The presentation features a nice pixelated art-style that I found rather pretty while the soundtrack features… one song… that kind of reminded me of older Zelda games and which was fun at first but once it looped for the 42nd time, you probably will turn it off, too, and turn on some music that you enjoy. I would've wished for more variety in that regard.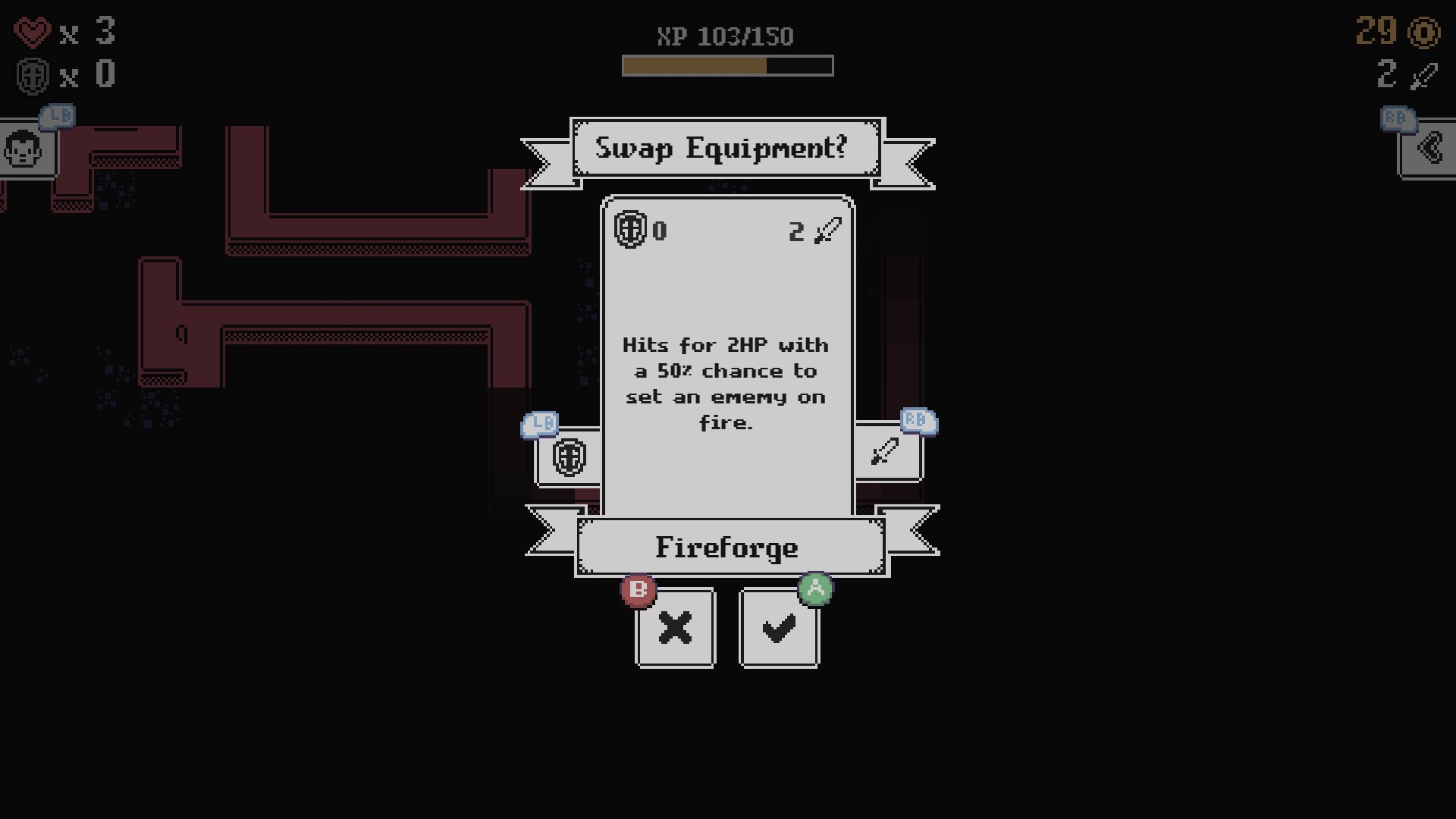 In the end, the game's premise and looks, the gameplay and the RNG-dependence of the cards are either hit or miss. You either love it or you hate it. I personally liked it so far but I wonder how much I'll play it. It's probably one of those games that I'll turn on every now and then but for not too long per session.
If you already enjoy card games or more specifically BlackJack, you're gonna love this iteration of the genre. If you enjoy dungeon-crawlers or rogue-lites, you're going to find this game interesting. So in the end, I'm recommending it and I hope that you have a nice time with this title.
Cheers!
This post was first published on Indiecator by Dan Indiecator aka MagiWasTaken. If you like what you see here and want to see more, you can check me out on Twitch and YouTube as well. If you find this post on a website other than Indiecator.org, please write an e-mail to me. Thank you!