As a kid, I used to watch "Takeshi's Castle" whenever I came home from school and I loved it. Both the candidates and the commentary were hilarious. The game modes were extremely cool as well… and then there was the final round against Takeshi himself where everyone storms the castle and it was just great! Well, today's game has a lot in common with Takeshi's Castle, so I thought I'd talk about that first.
Developer: Mediatonic
Publisher: Devolver Digital
Release Date: August 4th
Genres: Multiplayer, Battle Royale, Casual, Platformer
Reviewed on: PC
Available on: PC, PS4
Technical Beta key was received for free. 
In today's Indietail, I'm taking a look at the Fall Guys: Technical Beta!
Fall Guys could be described as a "wholesome Battle Royale" game that takes a lot of inspiration from game shows like Takeshi's Castle and that uses "mini games" to separate the winners from the not-winners!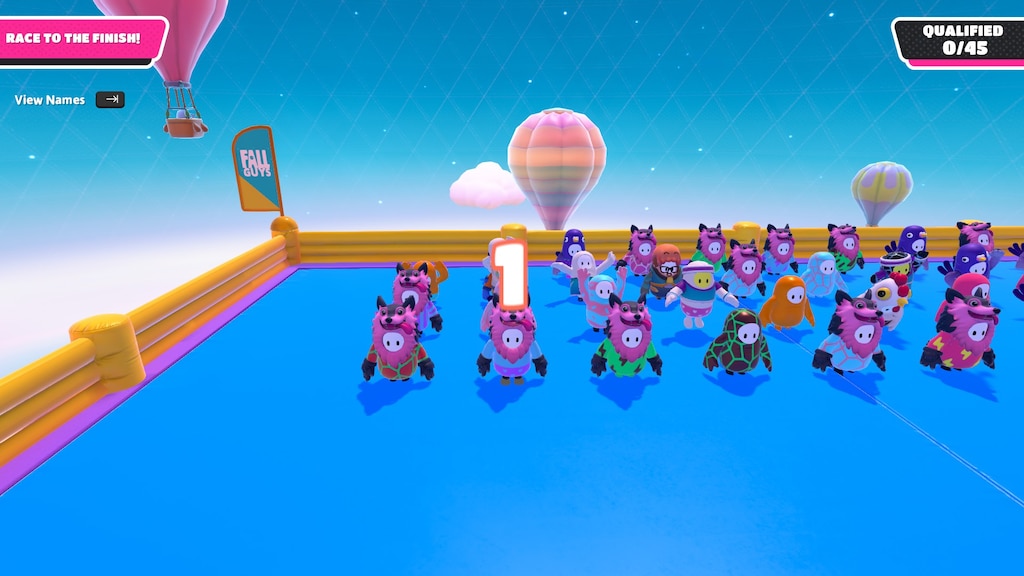 I don't usually like Battle Royale games since there is too much shooting going on and I am not too good at them. A lot of times you just get outplayed by FPS-players as a Non-FPS-player and alas, I didn't really get into it too much. BR games that I do enjoy are ones that are different, just like Fall Guys. Instead of shooting others until only one person or only one squad is surviving, you try to manoeuvre your way through a bunch of mini-game rounds with a ton of other players around. I guess it's not exactly a BR-game but due to the "Survive until there's only one man standing" aspect of Fall Guys and BR games, I would call it that… but whatever.
Controls feel quite alright. You'd expect something similar to Human Fall Flat or Octodad with cute characters like that but they actually control relatively normal with AWSD and Space as your main button on top of the mouse controls to leap forward or push others. Overall quite intuitive!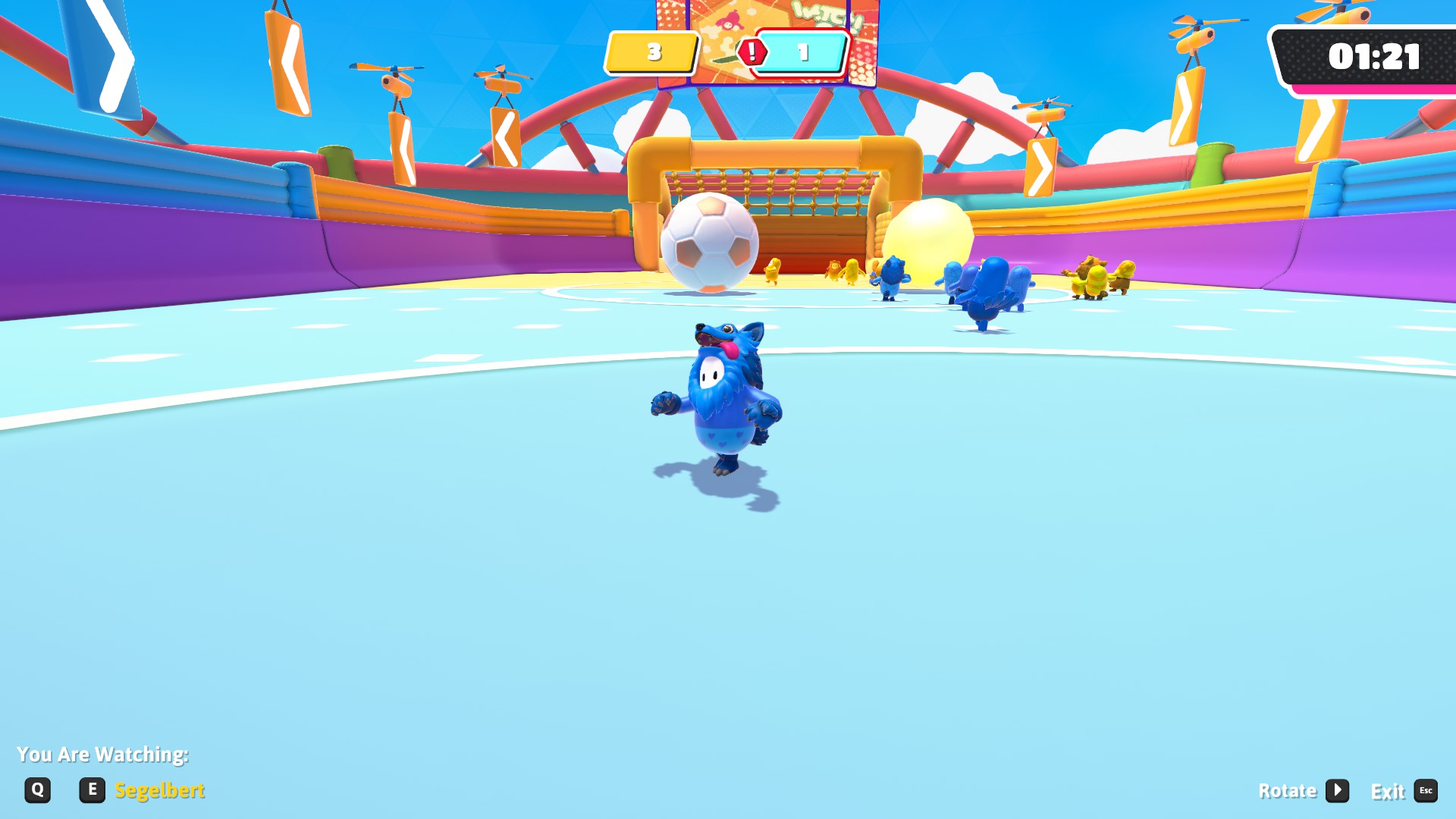 The game modes get rotated through randomly with a bunch of them queued up one after another. There are a bunch of parkour-style mini-games requiring you to reach the end of the way and dodge all kinds of moving and rotating objects. It's incredible fun to see someone in front of you getting yeeted (Yoted? Yoten? YEET!) off the platform and respawning behind you at the last checkpoint. There are also some mini-games where you just need to survive until enough people didn't… and also a soccer-style minigame where the winning team gets to proceed.
And that's cool! A bunch of variety and mostly about three rounds before you get to proceed. It's hilarious to see you and other players wobble through the game… but it still gets quite competitive. I could see myself and friends play this together but I'm not exactly sure if they'd stay friends afterwards. After all, I've seen people push other people off the ledge or jump over there head, leaping into the goal. I've seen people win with the cheapest tricks… and it can also get frustrating.
There has been one round where other people constantly where jumping over my head and where I had some latency issues as well, making some jumps quite impossible. And then there were some other rounds where I didn't have latency issues but people ganged up on me and pushed me off into some Slime… so that's been a bit of a bummer. I also had one round where my team did little to nothing in the soccer minigame, resulting in us losing and me not qualifying for the next round… And that's the spirit of Competitive Games – even when they're cute, it can get frustrating or annoying. Overall though, I really enjoyed the game.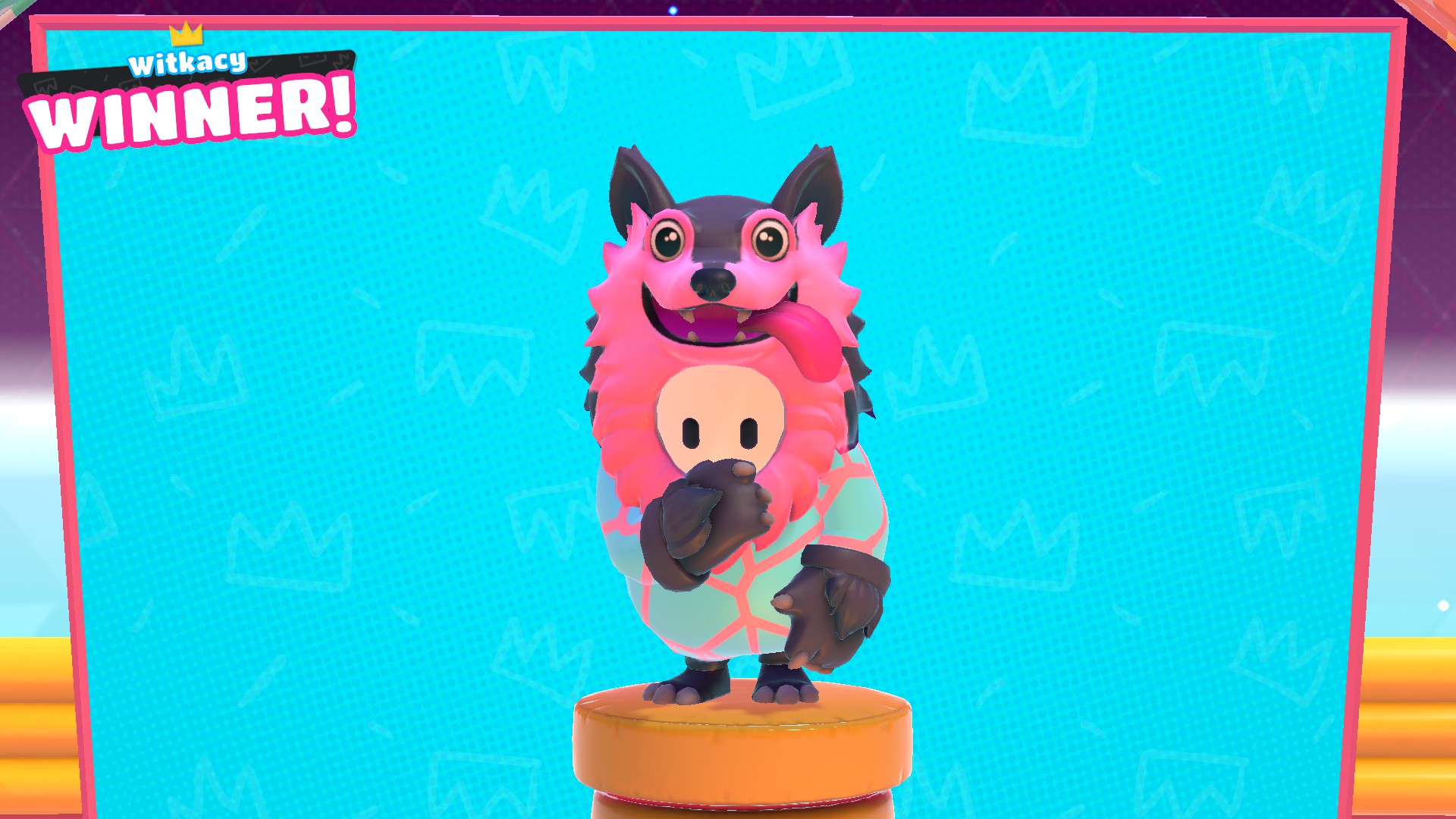 And most of my enjoyment came from the presentation probably. It's still fun to get competitive. It's incredibly fun to dwell in nostalgia, thinking back to TV shows like Takeshi's Castle. And the presentation is just fun as well – I guess that's the best way to describe it. "Fun".
After completing rounds, you're awarded Season Pass progress and you get to unlock new customs or spend your in-game currency for new cosmetics, emotes, etc.
It's got vibrant colours and a very energetic and neat soundtrack that essentially provides the optimal tunes for the game. It's fitting and enjoyable and different. And having a "different" soundtrack is important in this case as I've heard similar tunes in other games and as I got annoyed by them. That wasn't the case in Fall Guys.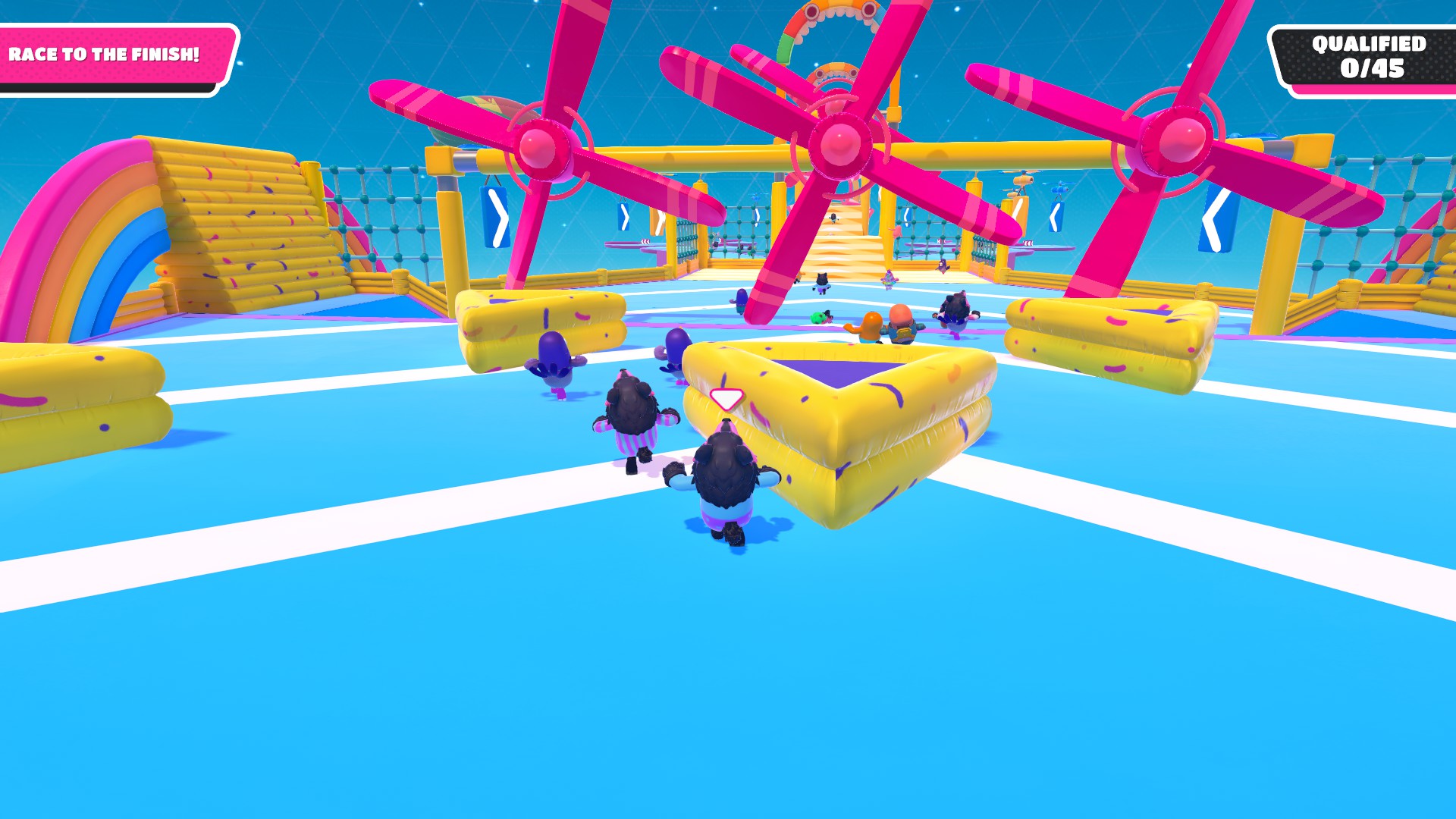 But despite all the fun I had with this game, there are some points that I didn't like or that I'm worried about.
For one, it might get a bit too frustrating when you're paired with people in team games that just don't really want to play with you or that just don't want to defend or whatever. It can be difficult and I hope that there's going to be some sort of regulation as to how many team games there will be in the game… I'd rather like this to be more of a "Survival of the Fittest" situation than a "Get lucky with the team" situation. Of course, you could say that people probably are not intentionally losing those… but if a few of the players are having latency issues, it's incredibly hard to win the round and alas, you get hindered by your team and lose the game based on something that isn't your fault.
I guess you can talk about latency issues as well in this review-section but I didn't have too many issues on that front apart from one or two rounds… and it's in the Technical Beta phase… so of course there are bugs or issues. Duh.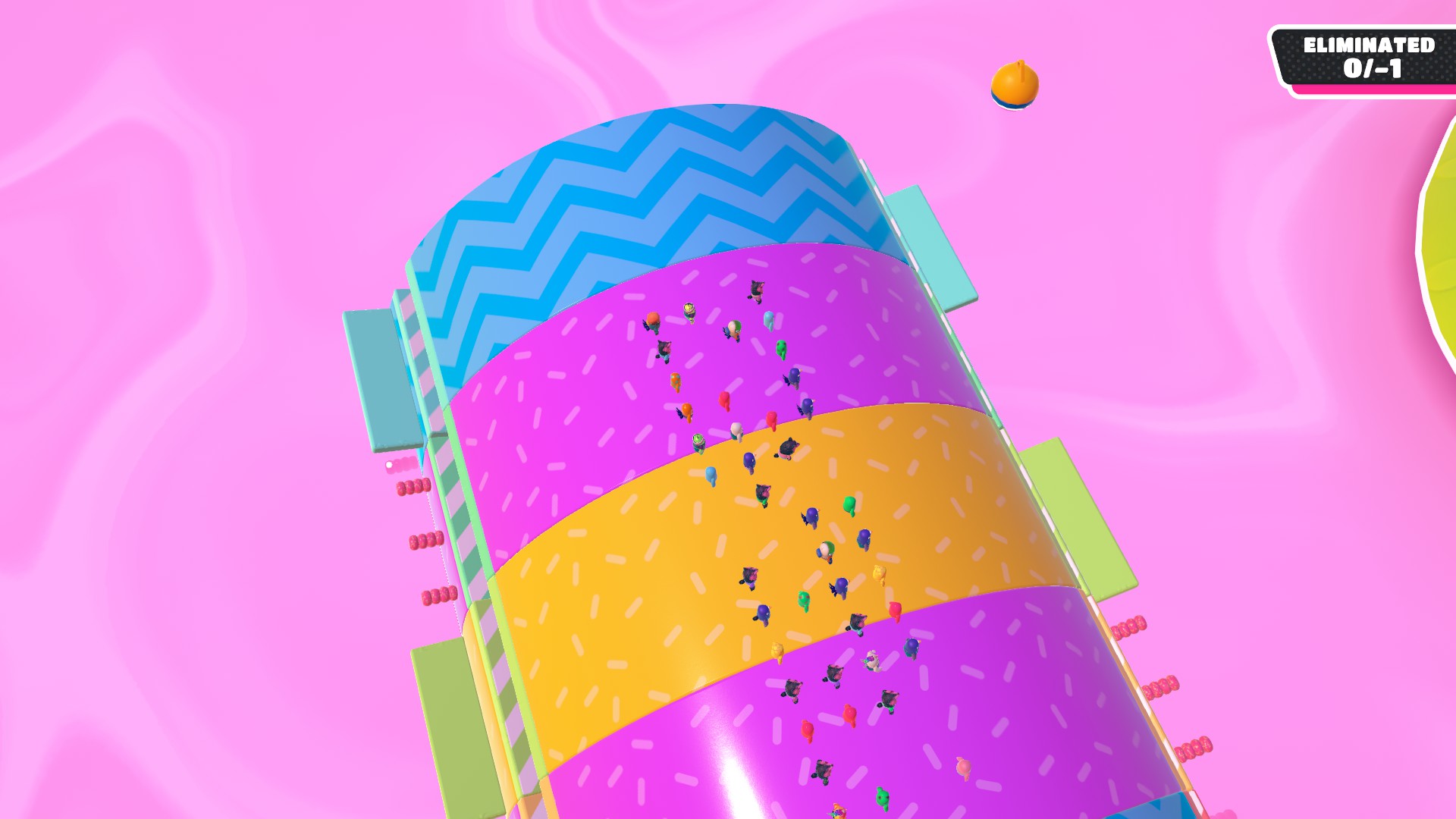 On the other hand, spectating the game after you have fallen out of the competition is a pain in the butt. You don't have to do it but I found it hilarious to watch the other participants until only one person is remaining. Betting points on participants could be quite interesting for a mechanic to make it "spicier". Queuing up only to spectate could be a fun idea. Right now… it just needs a mechanic that shows you the leaderboard and where you can choose to spectate certain players without having to click through all of them. Might be quite nice for potential tournaments as well.
So in the end, I did enjoy this game. If you like Takeshi's Castle and want to get competitive without having to "gid gud" at shooters, I'd recommend this game to you. It's quite enjoyable and I think that a lot of the issues will get fixed in the actual release.
Cheers!
This post was first published on Indiecator by Dan Indiecator aka MagiWasTaken. If you like what you see here and want to see more, you can check me out on Twitch and YouTube as well.