I don't usually play Horror games… and I don't usually play all that many FPS games either… but some games combine these genres quite well or have something special about them. Some games out there are able to provide a lot of fun and a big challenge with little to no effort and a rather simple premise… and then there's Try To Survive.
I'm honestly not too sure about how to approach this title. The game can be summed up quite easily: Shoot waves until you die.
Developer: INGO
Publisher: INGO
Release Date: August 3rd, 2020
Genre: Action, FPS, Horror, Rogue-like
Reviewed on: PC
Available on: PC
Copy was provided by the devs.
You're in a forest and have to fight off waves that get increasingly stronger. After every wave, you're able to upgrade certain aspects of your character like the range or damage of your weapon, for instance. You may also end up with equipment, like a flashlight or mines and grenades.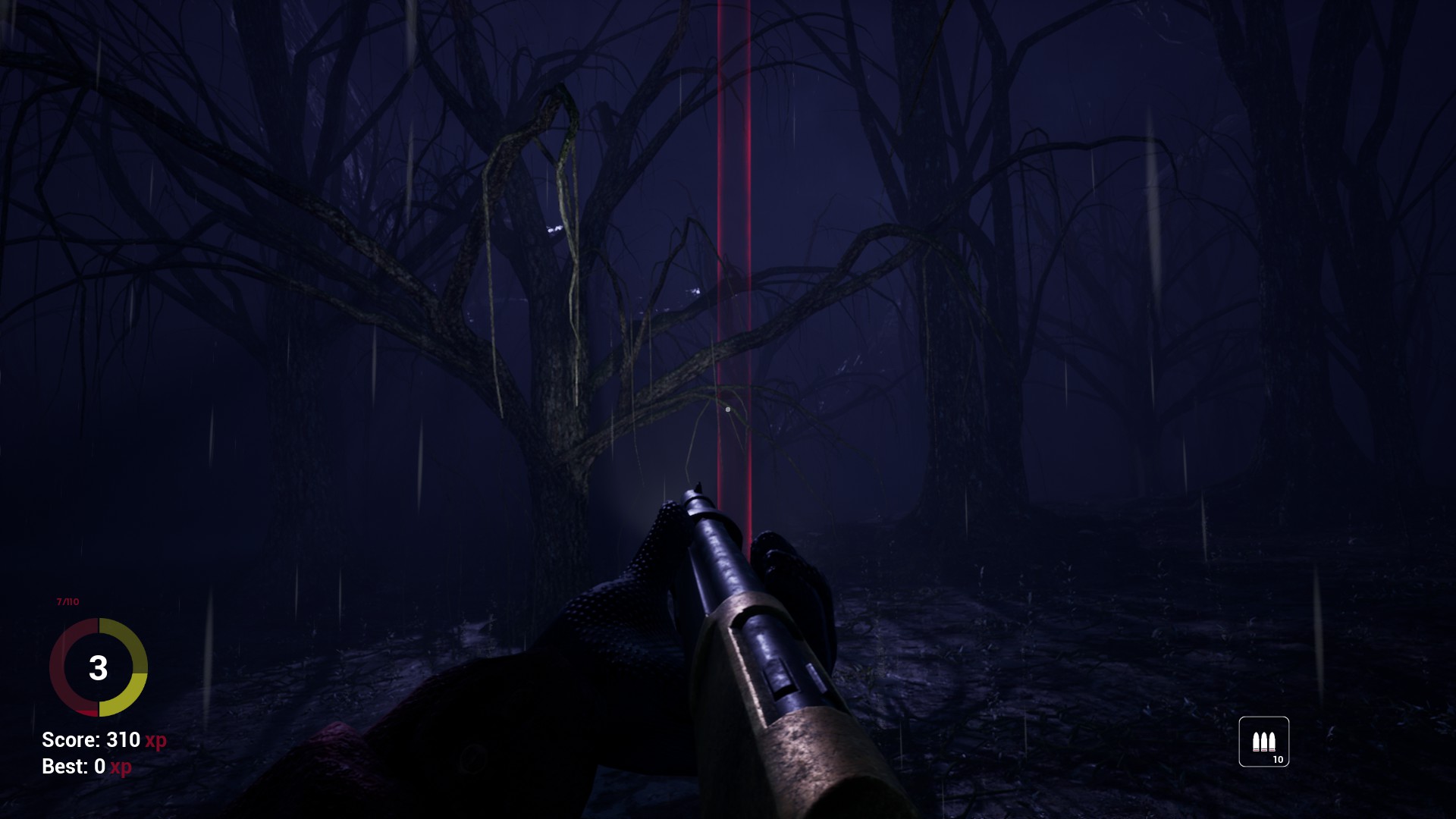 Try to Survive doesn't seem revolutionary.
It's fast-paced and dark but more than anything else it was disappointing. After half an hour, I've seen everything already. After a while I got a hang of it and just ended up kiting enemies while strafing away before grabbing health kits and damage upgrades to just continue like that… and that got boring quite quickly, to the point that I ended up losing on purpose to finally quit the game. There are games that are frustrating and that make you ragequit… and then there's this title that isn't too challenging, not all that frustrating, and for a Horror-title not exactly scary either… Is there a word for when you quit because you got bored?
And while this review may sound like a rant so far, I'm actually trying to be at least somewhat nice here since the devs sent me a key for this game and asked me to review it. There are just a lot of issues with the game – and the devs…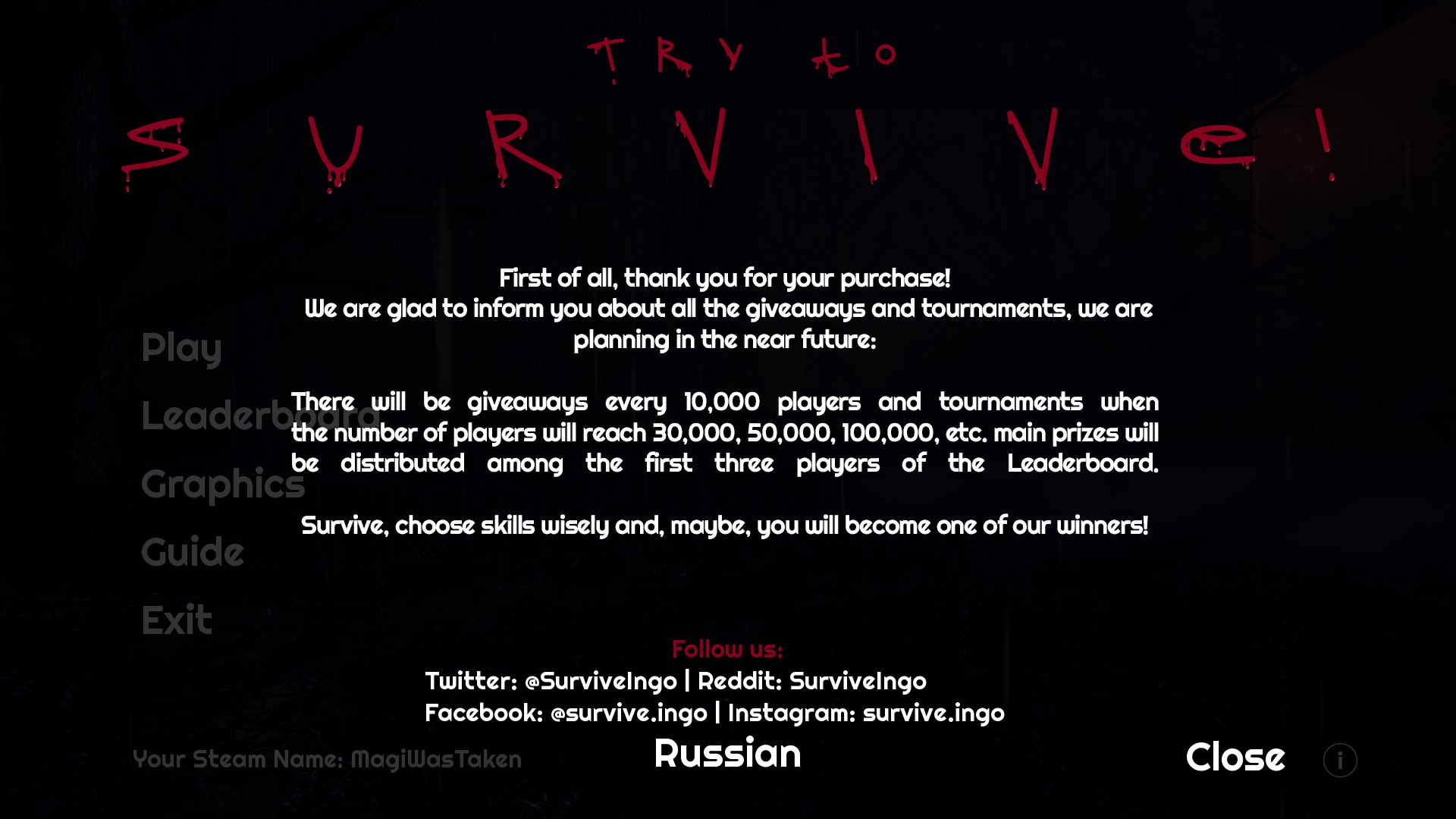 First of all, you don't have enough options and the ones available to you don't really seem like they change a lot. On top of that, the game looks kind of unfinished, no matter the options you choose. The enemies that you fight each wave don't really have a cohesive theme either… some are more eldritch while others are just flies or they look like Psychos from Borderlands. It just feels like an attempt to create something "new" out of a lot of different styles and games and whatever… but it's not new at all.
Secondly, the promotion that the studio is going for seems super sketchy. The devs noted in their mail that they'll distribute $15,000 to the top three players of the leaderboard once they have a playerbase of over 30,000 players. Every 10.000 players, they will pay $1,000 to three random players, and they are planning to have "tournaments" with bigger price pools in the future as well with budgets of potentially $25,000 and more money… And I don't think that's a good way of handling promotion.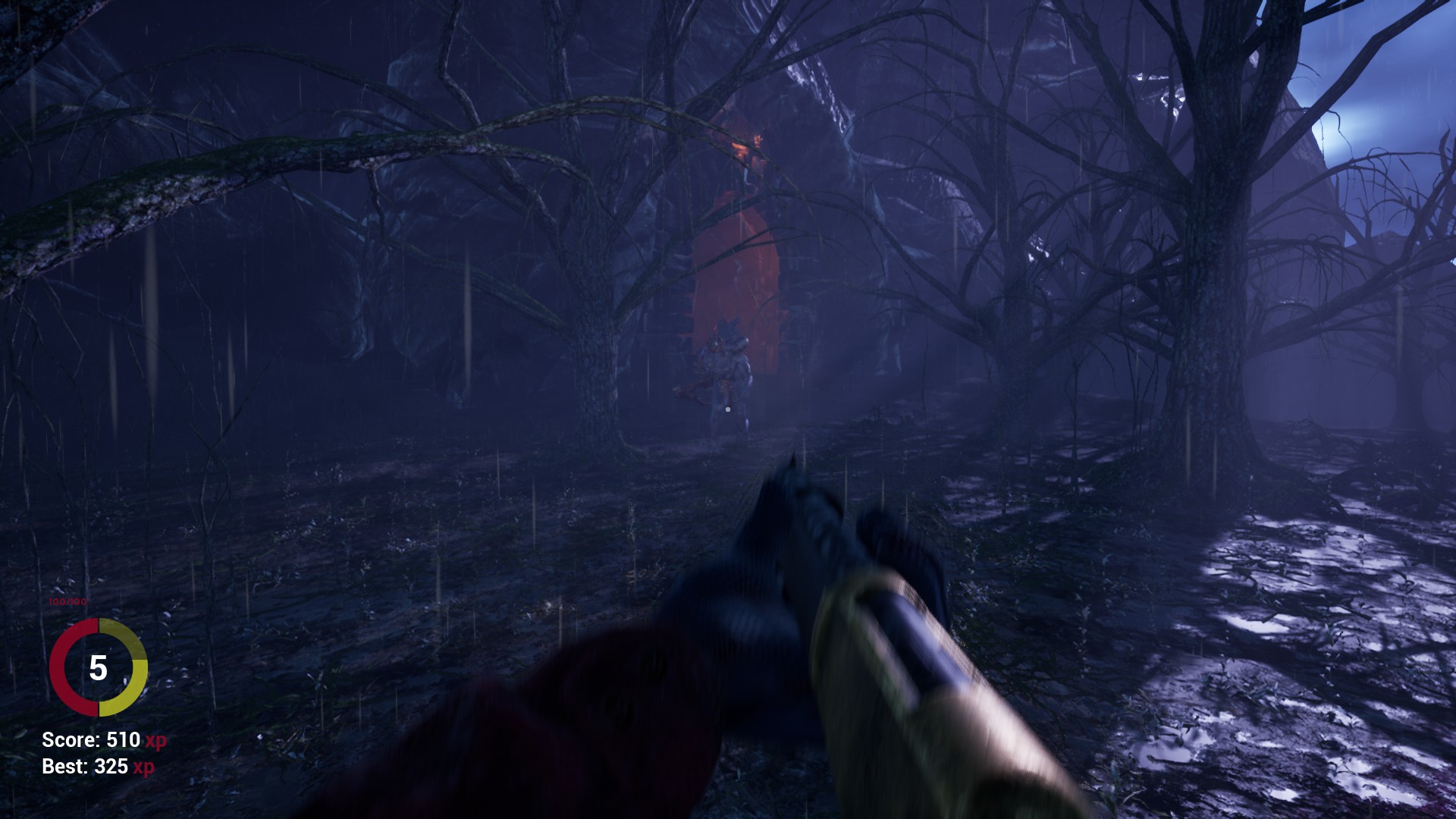 I'm not a fan of this "practice" since it just seems super dodgy. They are luring in potential players by offering a prize to them. It's not about their game anymore. And let's say they're really reaching those numbers, there is no guarantee that they're actually giving money to anyone. It's a studio with no games so far, with no actual social media pages or any websites or any other info about them. When I asked about a press kit, they were not able to provide me with anything.
Regarding my question why this game was special, unique or worth playing, the devs told me that they'll give money to the players.
That's not what makes a game good or unique or special… it just turns it into some sort of weird scheme. And it makes it sound even more as if the devs didn't care about the game at all and as if they were just trying to rip off players by luring them in, taking their money and leaving them with nothing.
And I don't think I'm reaching too much here when I say that it looks like a scam to make money with a bad game… that is being sold for 10 bucks.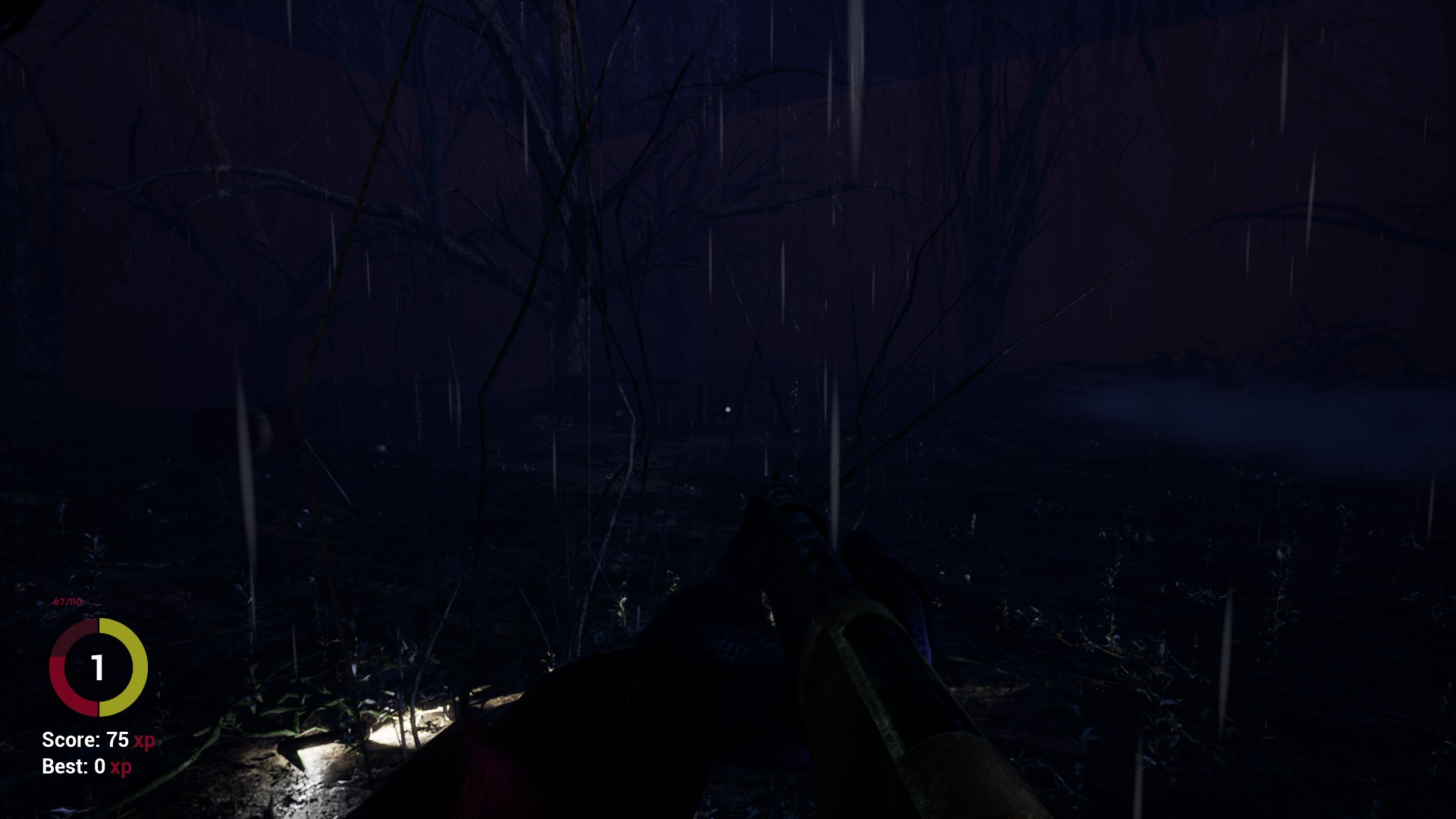 Originally, I was going to compare this game to a very similar Indie Game that costs less than half of this game's price… but I don't think I should compare games in a review. I don't want to recommend a game in a review about a different game. I'll post a separate review on that title later this month, instead.
To sum everything up: I cannot recommend this game and I tried my best to be nice about it, but in the end this game is boring and doesn't bring anything new to the table… and it doesn't justify the 10€ price tag at all.
Hence, no recommendation here. Cheers.
This post was first published on Indiecator by Dan Indiecator aka MagiWasTaken. If you like what you see here and want to see more, you can check me out on Twitch and YouTube as well. If you find this post on a website other than Indiecator.org, please write an e-mail to me. Thank you!