Are you a good person? I guess most people would answer that with an immediate "yes". After all, you wouldn't want others to think otherwise, usually. But if you had a chance to relieve your past, take a look at cases where you weren't at your best and see how you exactly acted in those moments, would you still stick to your answer? Would you still think that you're a good person?
In today's review, we're taking a look at FYRE Games' Summerland. This short narrative experience explores the question of morality and the afterlife. What comes after you die? Where do you go? Are you a good person? Summerland is aiming to make you think about these questions, and more.
Developer: FYRE Games
Publisher: FYRE Games
Genres: Adventure, First-Person, Narrative Experience
Release Date: December 2nd, 2020
Reviewed on: PC
Available on: PC
Key was provided by the developer.

But first things first: In Summerland, we take the role of the widower and single-dad, Mathew, who's hardly scraping by with his detective job alone and is hence desperately in need for money to be able to raise his son properly and afford the pills he needs to treat his own sickness.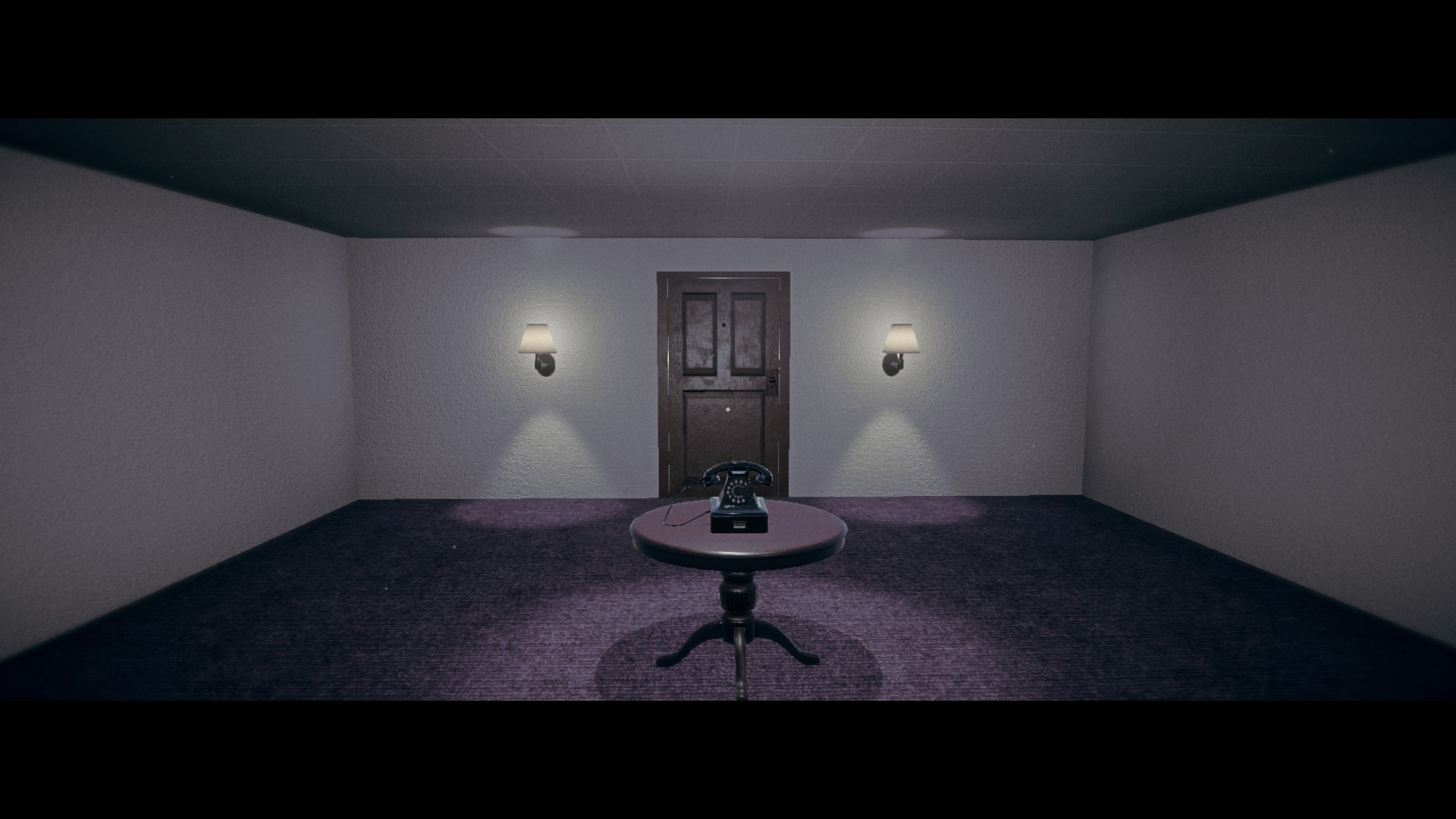 And apparently, we died. At least we're in some sort of waiting area with a corridor and several doors. In the room that we wake up in, we can only find a rotary phone on the table that suddenly starts ringing. On the other side of the phone line is a man who's telling us to go through several trials to relieve our recent past. This is important as that man needs to judge us to determine where we have to go.
It's all rather mysterious and ominous at the beginning but eventually, it gets cleared up.
The trials that we have to go through basically are cases from our job or days at home or side jobs. We need to find certain clues or items, bring them somewhere else or get other tasks done. Most of the time, you'll see a counter up at the top left count upwards but more often than not, you'll miss that and be confused. I spend a rather long time in the first level until I noticed that I needed to click on a specific item on the ground, which was a pain in the butt. Once I had the eight clues needed for the first trial, I was back at the room and ready to go into the next trial.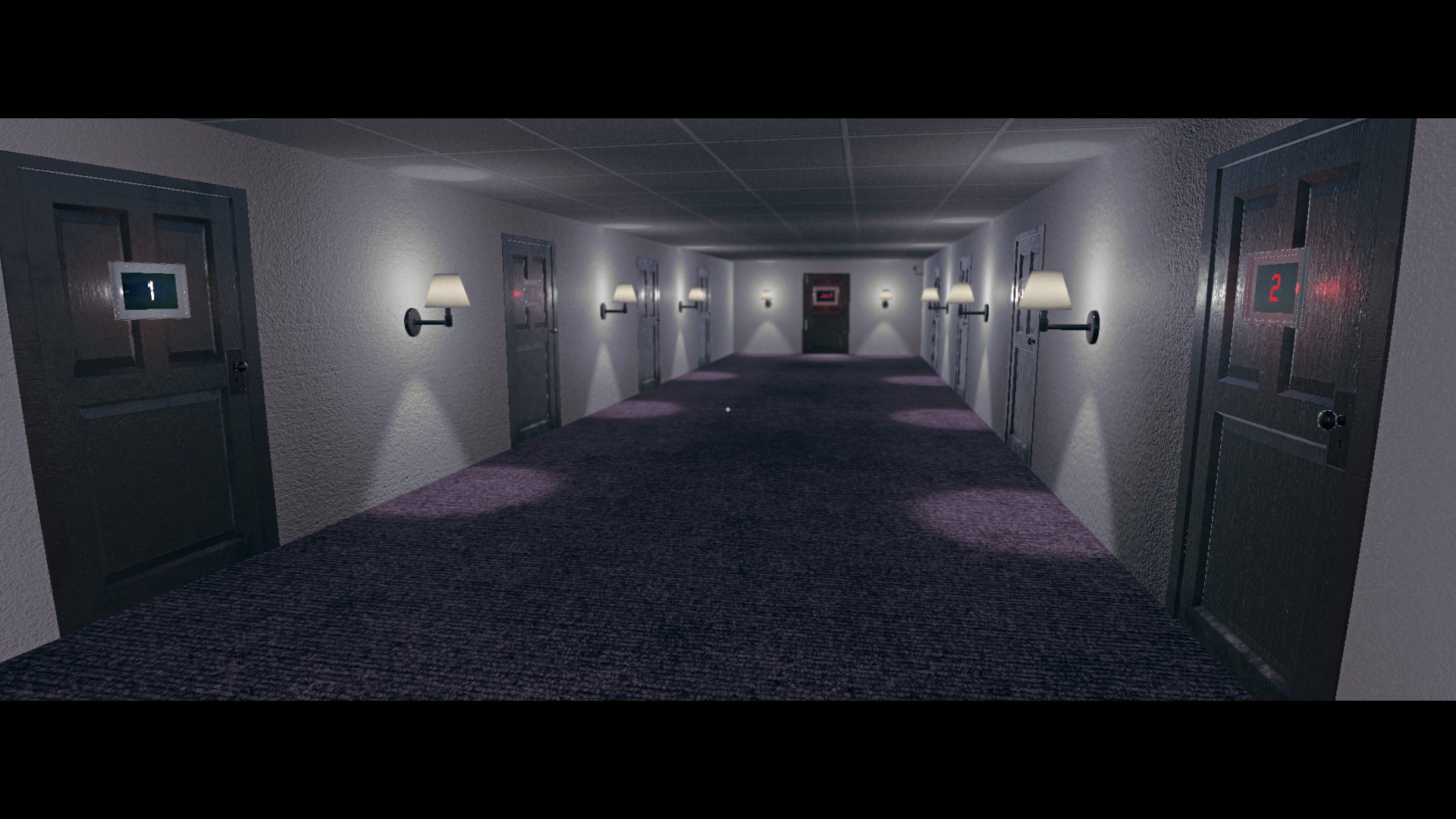 As you go on and complete these trials, you'll always find yourself back in the waiting room or purgatory or whatever you wanna call it. Yes, the room with the rotary phone. The phone rings, we get it, talk to the guy on the other side, and then we answer a philosophical question.
At one point, we're being asked about our stance on the trolley problem. Do we kill one person to let five people live or do we do nothing to not become a murderer and let those five people die? Do we follow Kant's philosophy or rather Bentham's utilitarianism? It's an interesting concept to add questions like these and as someone who does study philosophy, it was interesting to see that in this game… but I think it felt somewhat pretentious. The question didn't add anything to the thought process behind the story. The question may help some people understand the meaning of the game or whatever… but it really is unnecessary in a way, especially as I'm not sure if it actually does influence the story in any way. Similarly, we are asked a few other questions, and I just personally don't think that it adds to the experience at all.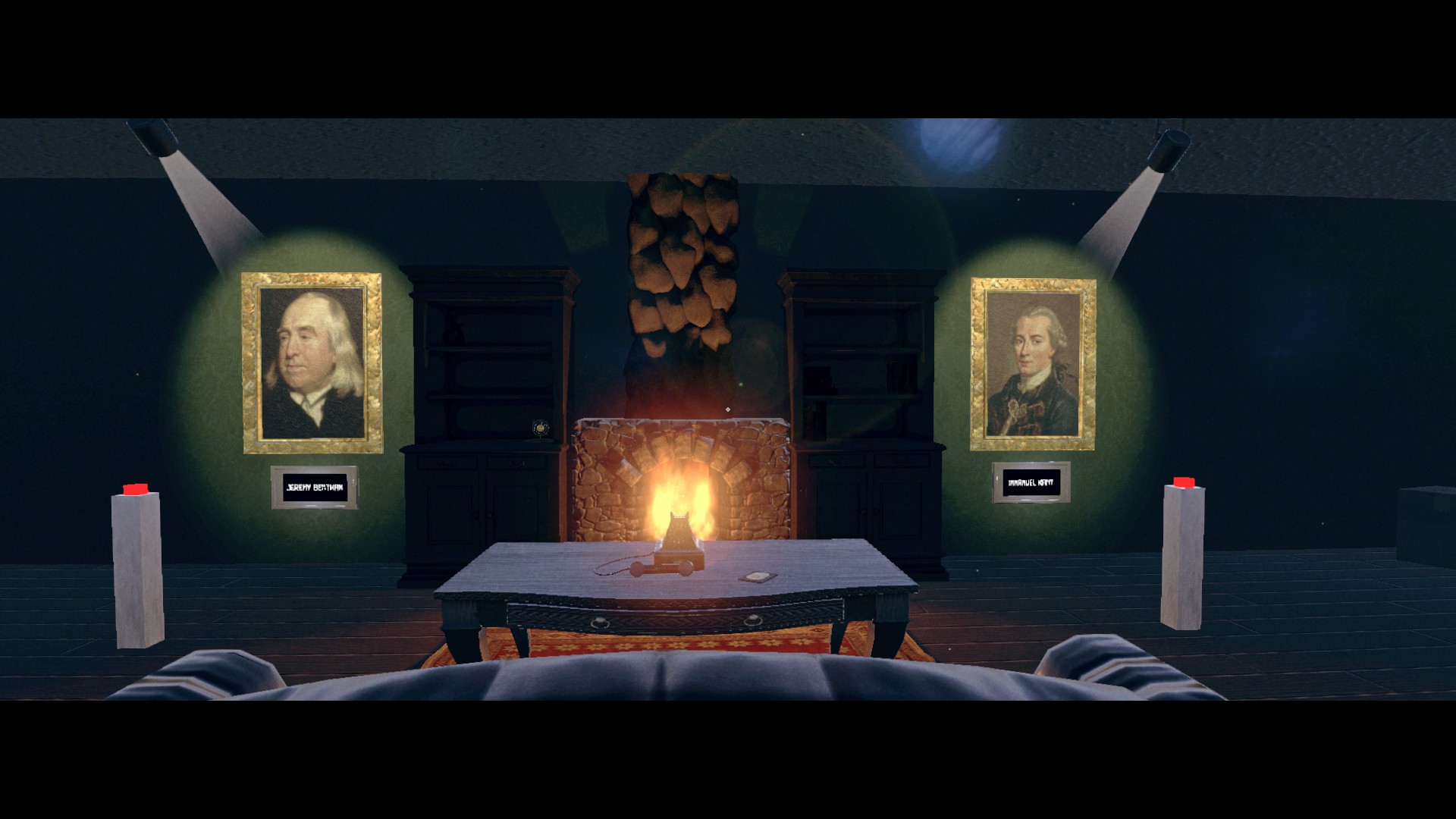 The story, on the other hand, starts off a bit slow but eventually picks up, only to deliver a somewhat interesting plot. Sadly, we don't get any choices or anything to influence the game. The puzzle-like trials break the story up too much. The characters don't really have any development to them. It's a bit of a tragedy. The choices that we take don't end up reflecting in later trials. There is also just one ending, it seems. Make of it whatever you want to.
But if we let that slide since it's a free and short game, we can still talk about the alright soundtrack and the graphics that are being powered by Unity and feel quite stunning. I found them quite pretty at first… although I had to turn off bloom and a lot of other settings since the game was making me feel sick, which is something that has never happened to me before.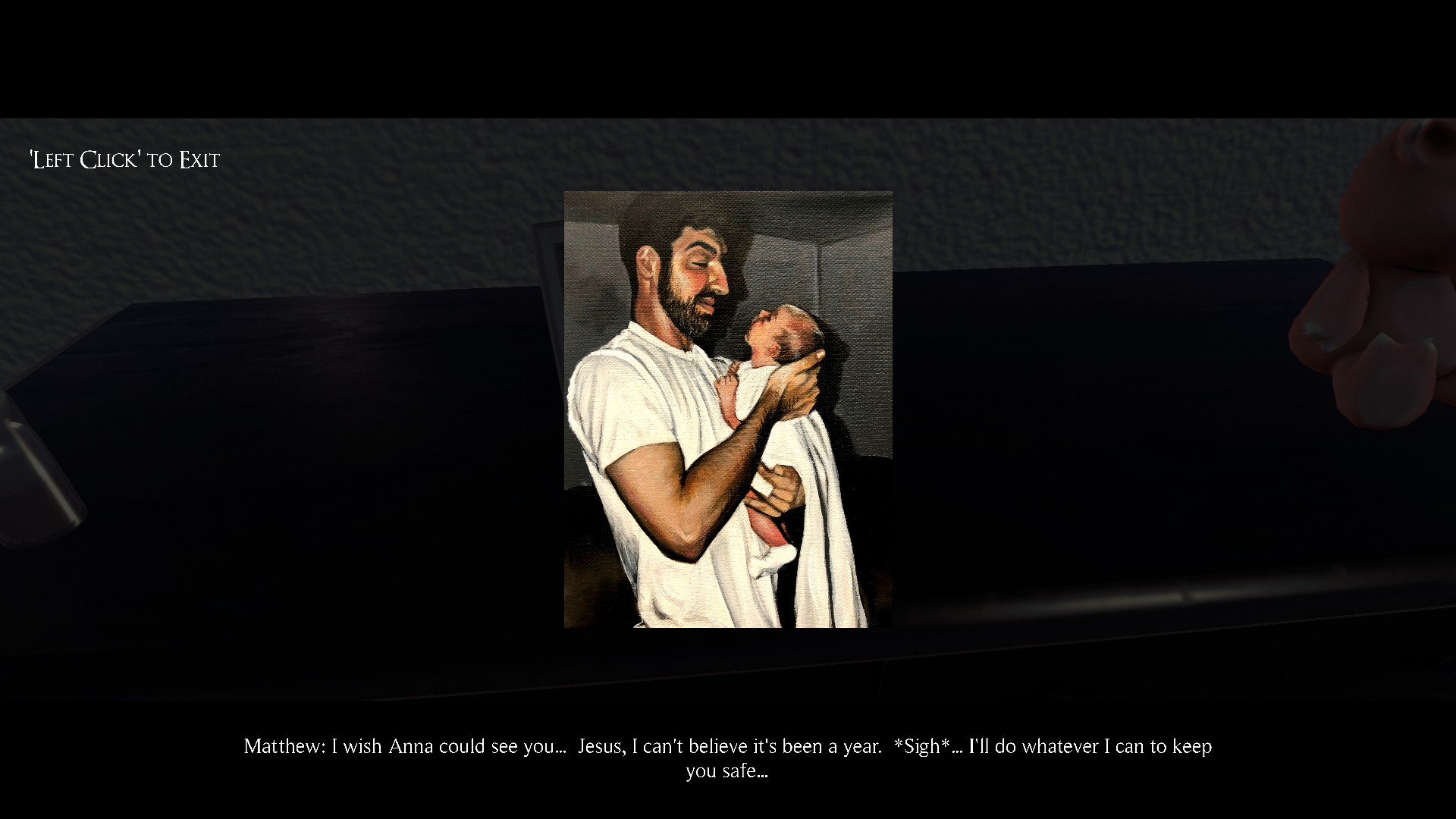 And speaking of things that I didn't like: There are a lot of things like that.
For instance, I found it incredibly hard to get into the mood to play the game after I saw that I wasn't able to change the settings IN the game. Whenever I started the game and wanted to change something to feel less dizzy but still enjoy the graphics, I'd have to go to the main menu, change the settings, head into the game and "continue"… but since the game only saves AFTER the trials, I'd have to listen to that monologue at the beginning again… and again… and again… until I found the right settings. It was annoying. On top of that, there were a lot of settings amiss like accessibility settings, keymapping and different sound/graphics settings that I would have liked to see. It's 2020 after all – and this is a new game, so I don't know why I can't customize the sound settings more, etc.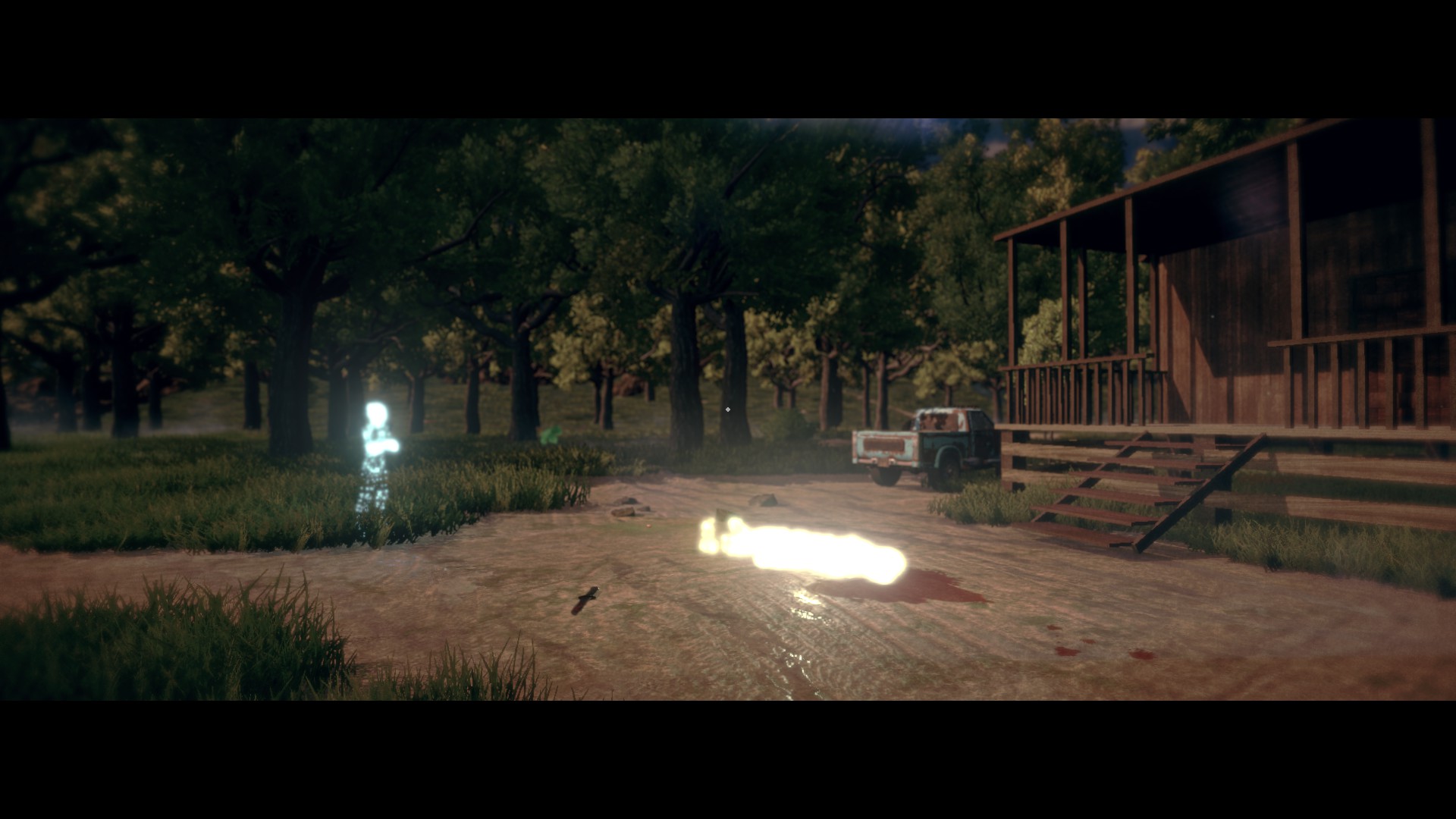 In the game, the "puzzles" felt interesting but slow. They were refreshing at the beginning but as time went on, I just didn't really want to bother with them anymore. They slowed down the story unnecessarily and ended up ruining my experience for me, a little bit. I'd rather have a walking simulator than a narrative experience that is also trying to be smart and philosophical on top of being a game with "choices" without choices – that also has puzzles for whatever reason.
The game is coming out on the 2nd of December, 2020. It's going to be a free-to-play game. While I'd imagine that it's an interesting title for people that want to think about morality without getting too deep into philosophy, I'm not sure if I'd recommend it. I just didn't enjoy it too much, personally speaking, and am hence not sure if it's worth the time spent. Especialyl when you consider that its main selling point was the questions about morality and afterlife, with the latter falling somewhat short.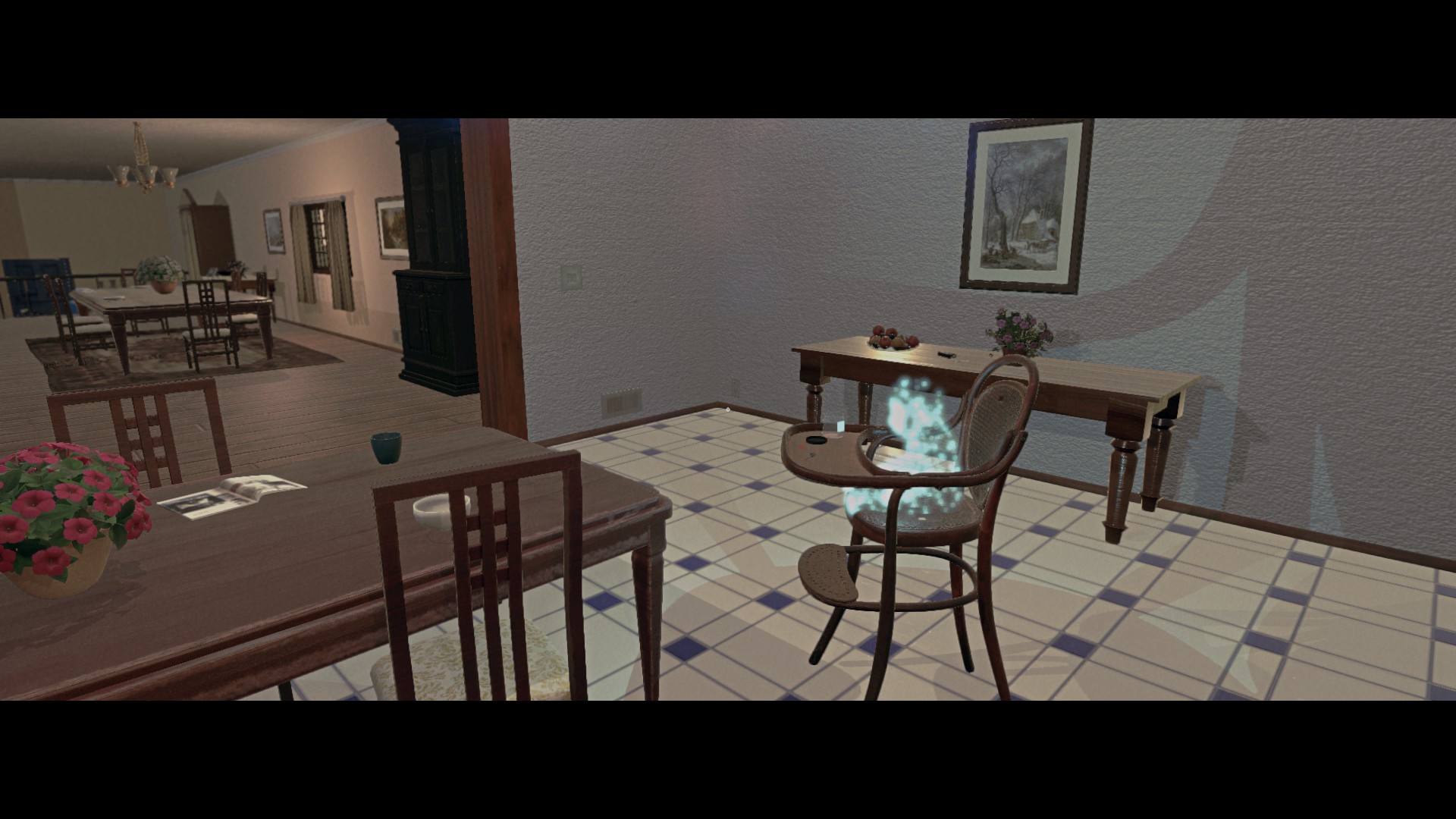 I think, I would have liked it more if you had actual meaningful choices. It would have been great if there was a dialogue in the waiting area with the man on the other line. It would have been great if I had had the opportunity to think more about these aforementioned questions but at one point they just fell short. The plot was already in progress and while the story is telling you that it's not a clear black and white thing, I just think that when it comes to morality it really is just that. I don't want to spoil anything for you, so maybe you should check it out yourself if you want to. I just personally feel didn't like a lot of the things in the game and hence am not recommending it.
Cheers!
This post was first published on Indiecator by Dan Indiecator aka MagiWasTaken. If you like what you see here and want to see more, you can check me out on Twitch and YouTube as well. If you find this post on a website other than Indiecator.org, please write an e-mail to me. Thank you!