I've always been a sucker for mythology. From Norse to Egyptian to Greek mythology, I'd take everything in and read up on all sorts of articles and myths and thoughts. I honestly loved it to bits. In the same manner, I love it when games incorporate mythology into their lore and build a universe around it that brings life to these old legends and stories. A game that does that really well is Hades!
Developer: Supergiant Games
Publisher: Supergiant Games
Genres: Action, Roguelite, RPG, Indie
Release Date: December 6th, 2018 (Early Access) - Left Early Access on September 17th, 2020
Reviewed on: PC
Available on: PC, Switch
Copy was purchased.
Dive into the underworld where the god of the dead and the king of the underworld, Hades, is reigning with an iron fist and where his son, Zagreus, is trying to escape hell. Meet a bunch of different characters, interact with them, romance some of them, gift nectar and ambrosia to your favourite people and the Gods of the Olymp themselves, and experience the story of Hades, one run at a time. Hades is an Action-Roguelite by Supergiant Games and in this review, I'll tell ya why it's such a great game!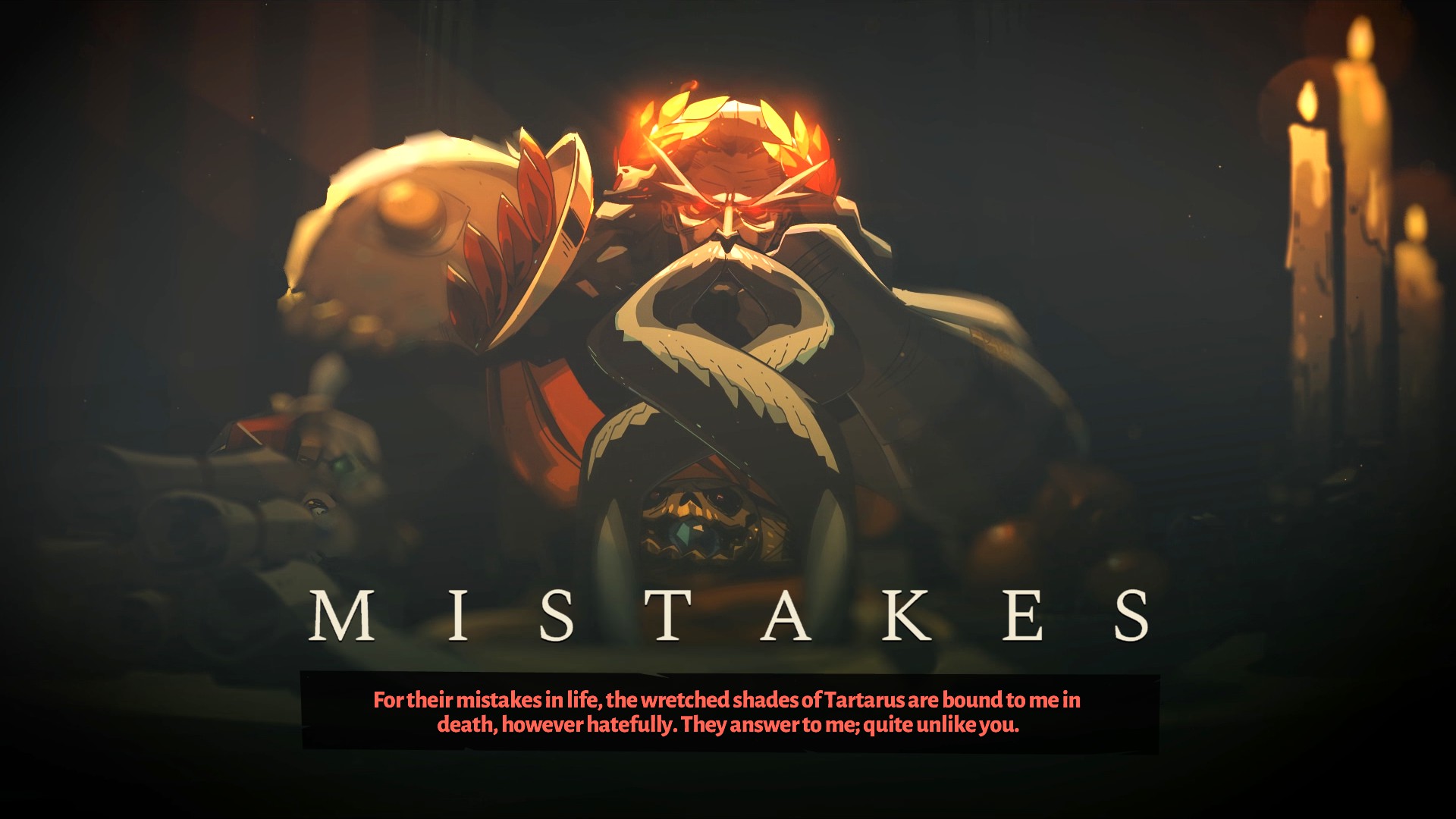 Well, in this game, we play as Zagreus, who very much has a reason to leave Hell and to be angry at his father, which I won't get into. Zagreus uses one of six different weapons in each of his escape attempts powered by Boons of the Gods of the Olymp. These weapons were used to slay the titans and are, alas, strong on their own already but as you progress further into the depths of Hell, you have to face stronger foes and more challenges, which is why the Gods help you. A variety of gods are there to assist you in your dangerous endeavour, most likely since they're bored. From your uncles, Zeus and Poseidon, to your grandmother, Demeter, there are a plethora of interesting characters ready to provide you with their assist.
Your weapon tends to have a normal attack and a special attack which both are quite unique. Each weapon has four different aspects that each play differently and make use of different mechanics. On top of that, some weapons (like the shield) have other move sets that make use of holding buttons down or timing attacks properly. On top of that, you have dashes and the ability to perform dash strikes.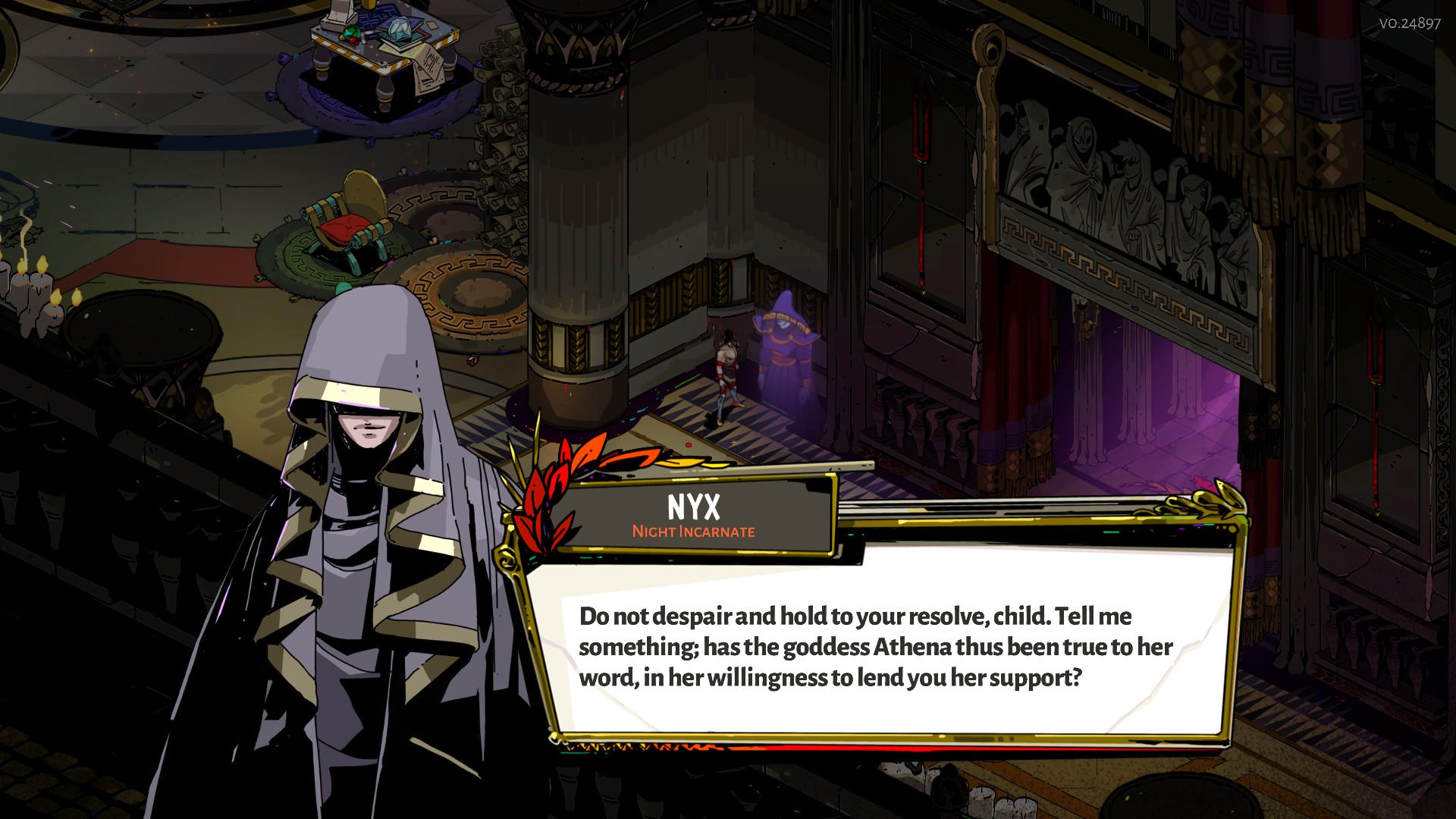 The various boons you encounter offer bonus effects to your character, making you stronger or more sturdy, or they change how your weapons work. Demeter is the goddess of the seasons, fertility, and death. Her boons help you afflict enemies with the "Chill" status effect, making them slower or dealing damage at certain conditions. Aphrodite helps you weaken enemies while Ares, Zeus and Artemis are all about that damage. There are a plethora of status boons, passive boons, and raw damage boons in the game and they all synergies quite well with each other, to the point where there's also duo boons that combine the boons of two gods into one stronger perk. If you have high DPS, you may consider stacking Dionysus' "hangover" status effect on enemies, while you may consider going for raw damage with Ares if your weapon is slower.
These boons can be acquired by getting through rooms. Gods tend to give you a selection of three boons and you don't know what you'll get beforehand. Rooms also can feature other rewards such as Gold to purchase boons and other items in the shop, gems and darkness to use after the run has ended, maximum health, hammers or other rewards. Each run can feature up to two Daedalus Hammer boons which basically change how your weapon is working, making each build stand out even more.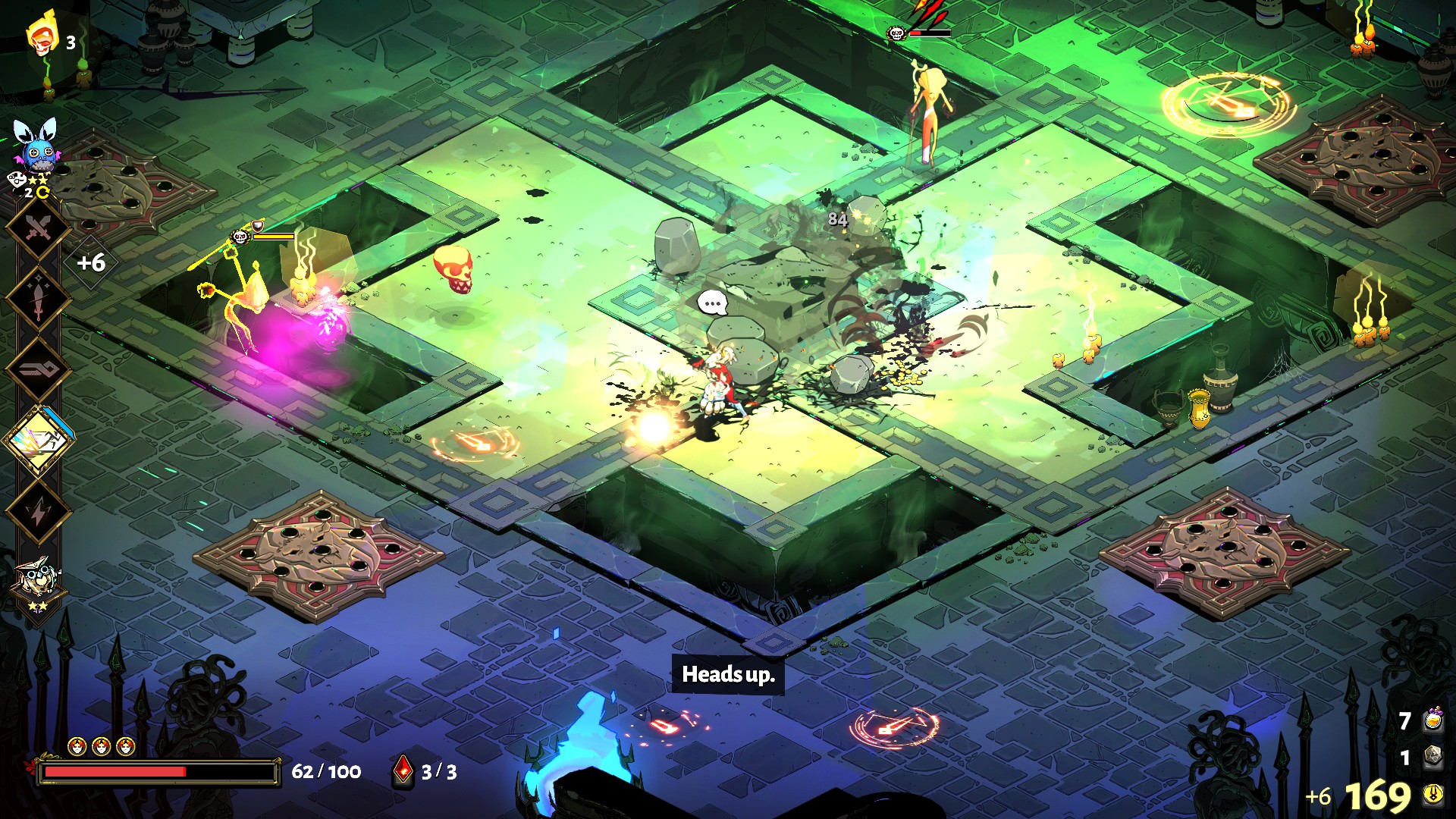 What I love about Hades is that a lot of it feels rather intuitive. You see enemies, you strike them. You see boons, so you go for ones that sound nice. You don't really have too many "noob traps" in the game and generally, you can progress quite well, especially once you invest your Darkness into that mirror of yours – aka permanent character progression that helps you get stronger after your runs.
But apart from combat being very fast-paced and fun to play with and apart from the plethora of possible builds with each of the four aspects of the six weapons available to you, the game also has another component: The Story.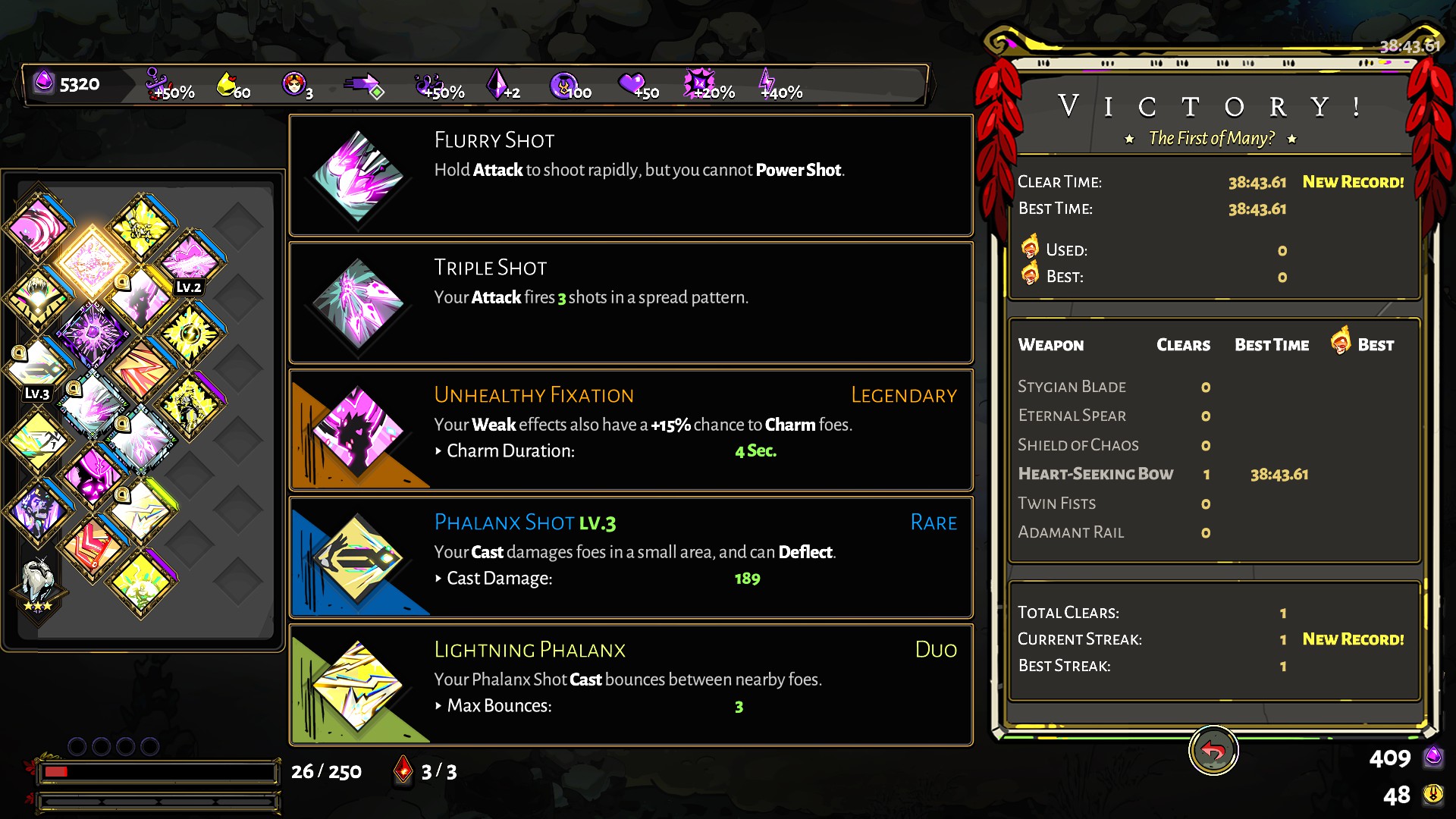 The Story of Hades evolves whenever you talk to characters. From Achilles to Nyx to Thanatos (I love him), there are a plethora of characters ready to assist you by guiding you or helping you out with trinkets. By giving nectar to the different characters in the game, you receive trinkets that grant you benefits in the run. On top of that, each of the characters in the game has a ton of voice lines and a quest of sorts where you try to help them get through some of their problems which ends up benefitting you as well. Simply speak to characters after your run whenever you see an exclamation mark on their heads and enjoy the fully-voiced and witty lines that both refer to mythology but also have a lot of character. Each of the figures that you encounter has its own problems, traits and personality, which is awesome as it brings life to the mythology that people often refer to as "boring".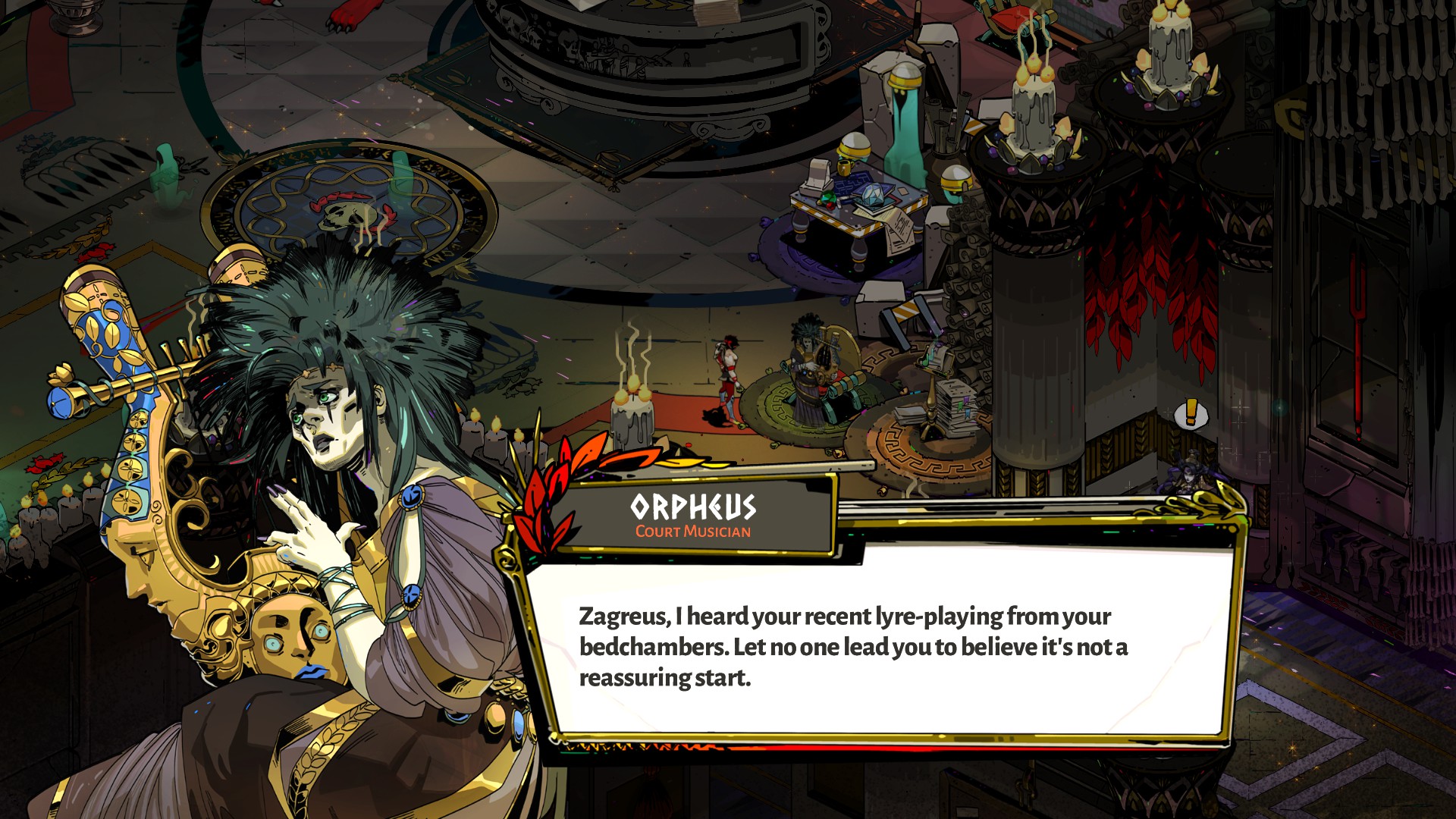 And the game isn't over yet once you've completed a run successfully and escaped Hell as there are various things to do like renovating hell, helping the characters out, fulfilling prophecies, fishing, achievements, and completing the runs with higher difficulties that you can assign yourself to the run. Once you manage to leave Hell once, Hades puts up a pact of punishment onto the gate, resulting in you being able to complete runs again with rising heat levels and more challenges such as more challenging bosses and special enemies. But if you're actually struggling with beating runs, I can also recommend activating God Mode with grants you a 2% damage reduction bonus whenever you die. You start at 20% already which is A LOT but you can gain up to 80% damage reduction to help you experience the story without getting frustrated with the runs.
And I haven't even gotten into the amazing art style or the fantastic soundtrack or the wonderful voice acting. I haven't even gotten into the romance options and the further challenges as well as all of the different secrets in the game and the different areas that each have their mini-bosses and mechanics and traps. There is a ton to talk about in Hades and while I once thought that it was a bit "grindy" at times when it comes to gems, that thought simply vanished after unlocking a few of the house contractor projects. So, I don't have anything bad to say about Hades and I can understand why it was nominated as Game of the Year, among other titles, and why it won "Best Indie" and "Best Action". I really can understand that as I haven't seen a game as polished and as wonderfully crafted as this one in ages.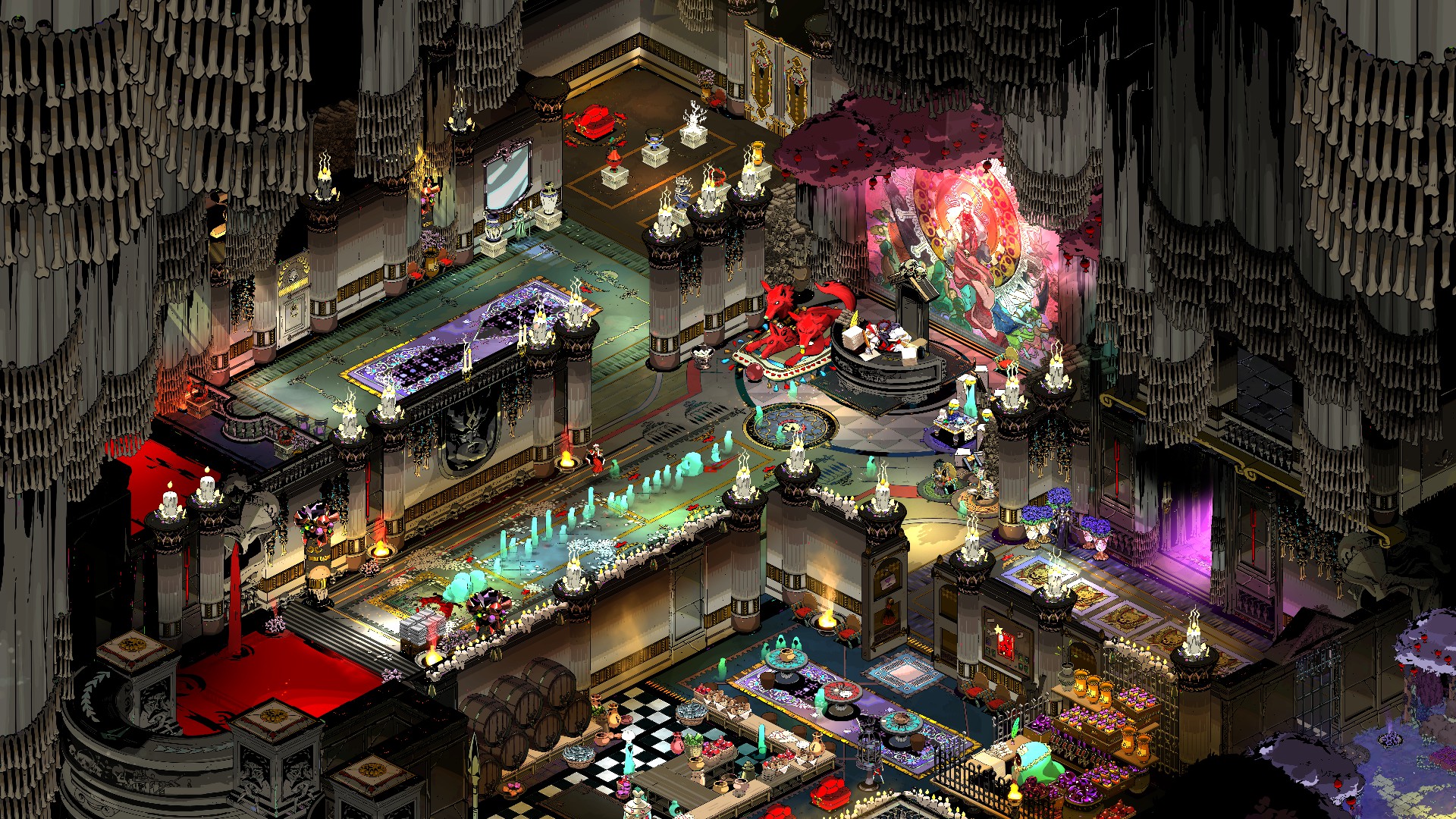 And more updates are coming out here and there, as well, adding a ton of things, which shows the love and care that Supergiant Games puts into their titles, to the point where I had to rewrite this review about nine times so far. I hope that you enjoyed reading about this game and that you're checking it out yourself eventually.
For me personally, Hades might very much be my Game of the Year 2020.
Cheers!
This post was first published on Indiecator by Dan Indiecator aka MagiWasTaken. If you like what you see here and want to see more, you can check me out on Twitch and YouTube as well.