I'm a sucker for interesting takes on the rogue-lite formula. Games that are like Rogue are roguelikes, so they're basically turn-based perma-death Dungeon Crawlers, I guess? I mean, definitions vary but a lot of people go by those while others think of roguelites as roguelikes with permanent upgrades that persist through runs. So while roguelikes may be somewhat limited to one or the other definition, Roguelites aka Roguelike-likes have so much more freedom available to them. From mythological roguelites to metal roguelites there are a plethora of games out there with similar features that bring their own twist on the genre and give people joy with the differences. Celebrating the differences is a great mantra to live by anyways.
Today, I wanted to talk about Fishticuffs by Yokcos, a game that combines the roguelite formula with the bullet hell genre and… fishing!
Developer: Yokcos
Publisher: Yokcos
Genre: Roguelite, Bullet Hell, Fishing, Arcade, 2D
Release Date: December 21st, 2020
Reviewed on: PC
Available on: PC
Copy was sent by the dev.
In Fishticuffs you're trying your best to get a high score and bring some fish back home to the dinner table… but sadly the fishes are fighting back. Play as a hook and embark into the depths of the sea where you kill enemies, dodge projectiles, collect powerups and money and become stronger.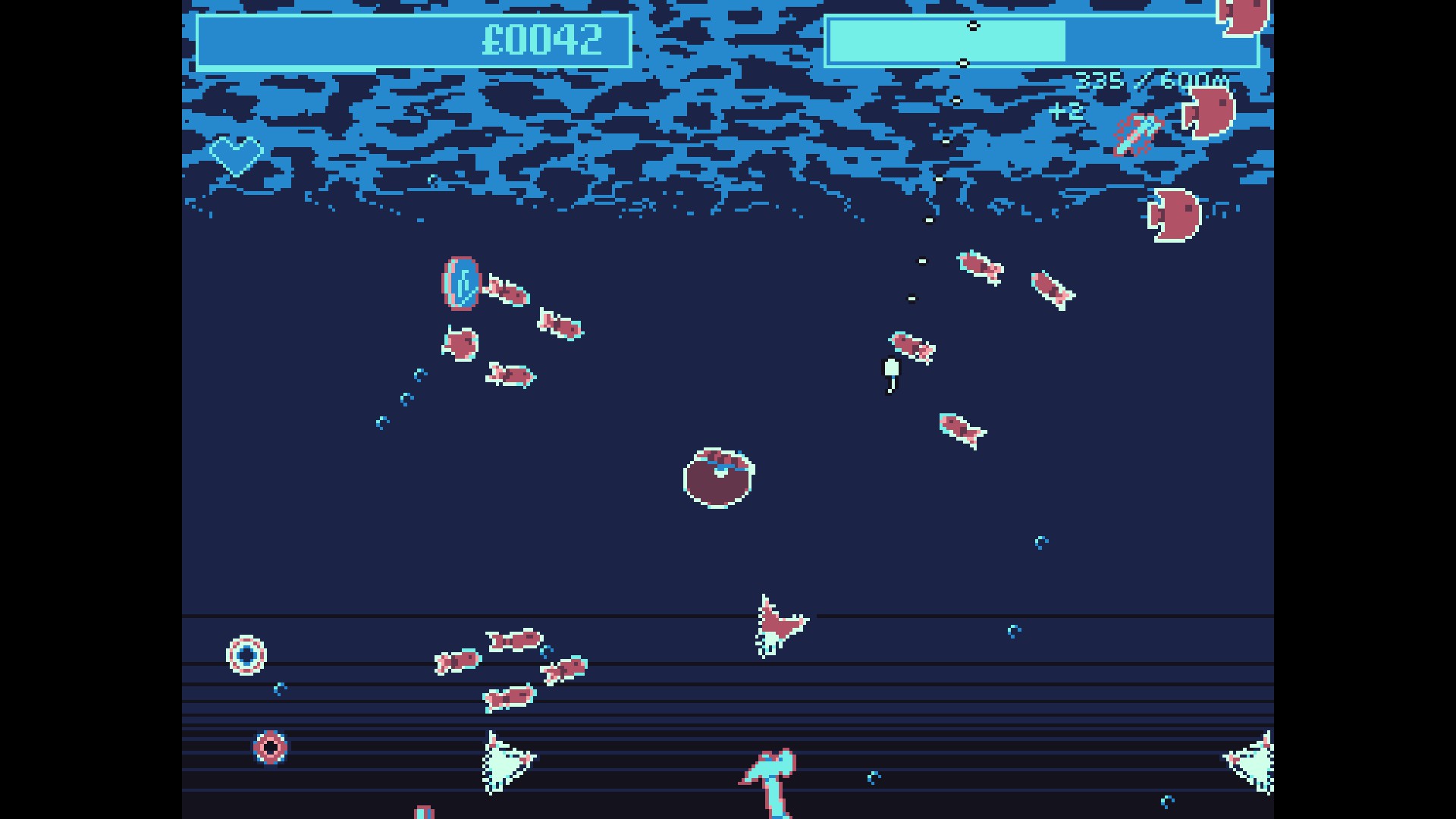 While the chill tunes at the beginning make it seem rather harmless, appearances are deceiving! The game isn't a bullet hell game for nothing, after all! Your only attack is your space/left-click ability that lets you dive a short distance downwards and strike one foe. This ability, however, goes on cooldown for a little while meaning that you may deal one damage point to an enemy but you won't be able to spam it constantly.
Enemies, on the other hand, shoot out missiles and projectiles in periodic intervals. From horizontal to diagonal shots to electric fields by electric eels, there are a bunch of different enemy types with all kinds of attacks to avoid. You only have three lives, so you've got try your best to, quite literally, dodge a bullet.
On your journey downwards, you'll be able to collect money and powerups. Powerups help you in your runs by giving you a wider hook or giving you a chance to damage enemies when you collect money. A lot of the power-ups seems a tad underwhelming but once you get a bunch of them, you'll end up with a nice build that works quite well. This has been quite pleasant overall, although I would have loved it if there had been some drawbacks to the perks you get. In other games, picking up one upgrade would, for instance, increase your damage at the cost of your attack speed while another would increase your defences at the cost of increasing your hitbox and slowing you down. In this game, you basically just have these minor passive upgrades that kind of add up and eventually feel good… but on their own, they aren't that noticeable, which is something I would have loved to see.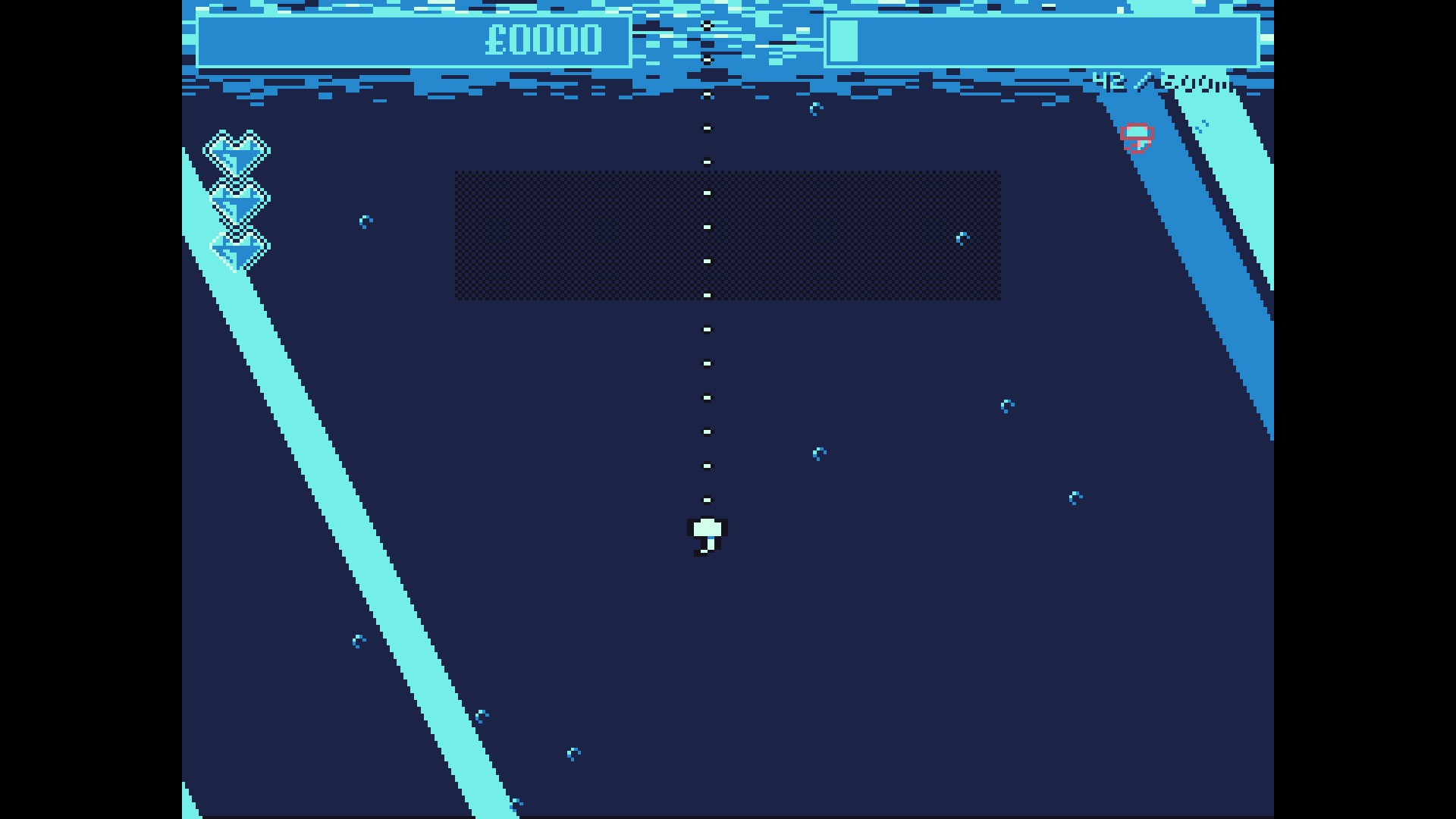 At the end of each level, you can spend your collected money on items in the shop. More often than not, you end up with only enough to buy one of two options. There is also a mushroom-like fella that tells you to not kill him and to not go into the shop… as well as a bigger enemy that drops loot as well… and while these are neat ideas, they don't really get explained anywhere and it can lead to some misunderstandings. At one point, I thought I got healed by the mushroom-fella so I hit him again in the next run and didn't healed, so that left me confused. I would love it if there was more clarity in regards to where healing comes from or what certain things do.
Once you're done with the area, you'll go onto to the next area with a completely new theme, other enemies and other items. At different depths, you have completely new experiences and other things to watch out for, which makes the game quite challenging. What I loved about the second area, as an example, was just how ominous it was. From the soundtrack to the style of the enemies to the eyes that pop out in the background… it's very dangerous and scary, all of the sudden, which is a welcome contrast to the bright and relatively friendly shallow waters that you were just in earlier.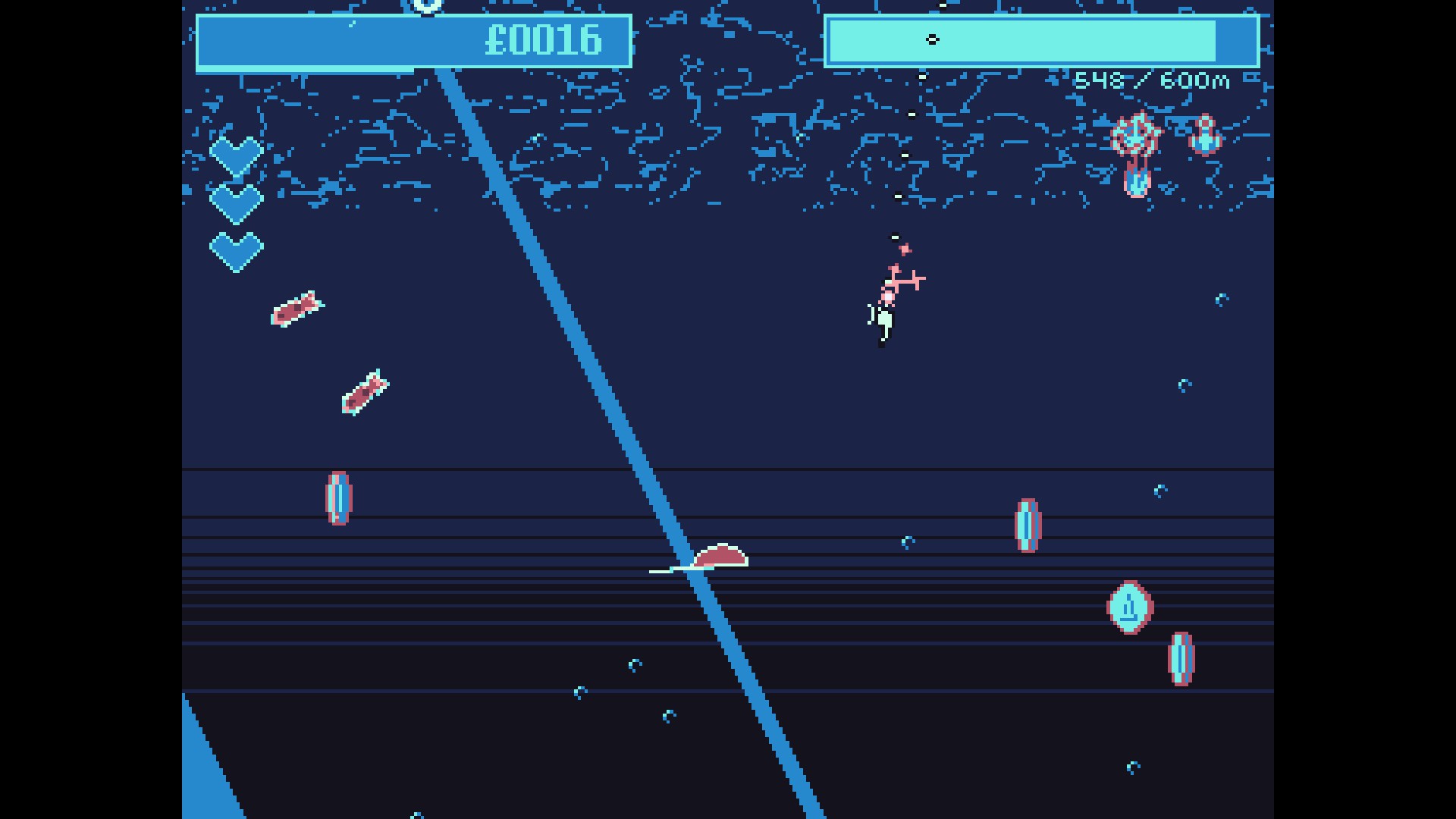 As expected, killing fish also yields money. On top of that, some items are synergizing with each other better than others. This actually results in a bit of a meta that can be found in the game… So when you lose your run and see that graph of how far you've gotten compared to previous runs, you can actually think about it… but since it's really challenging, I would have loved to see some options to maybe make it easier for people that aren't that good at games. The furthest I've gotten so far was Level 2 and I've had a few runs behind me already and really enjoyed it but if I were to recommend this game to a friend, I'm not sure if they'd be too happy with it judging from the difficulty.
Options to make the game a bit easier, like giving you a "bomb" or whatever to clear projectiles, once per level, could make it already a lot easier. Adding difficulty settings like easy/normal/hard, giving you more damage/HP or less damage/HP based on the difficulty would be another way to add more accessibility to the game. I mean, you don't have to make it harder or easier if you don't want to but a lot of games have those options and they are more fun for more people. Apart from that, I would have liked it if there were some graphics options like the brightness levels or some sort of colour-options. But at least, you're able to fully remap the controls!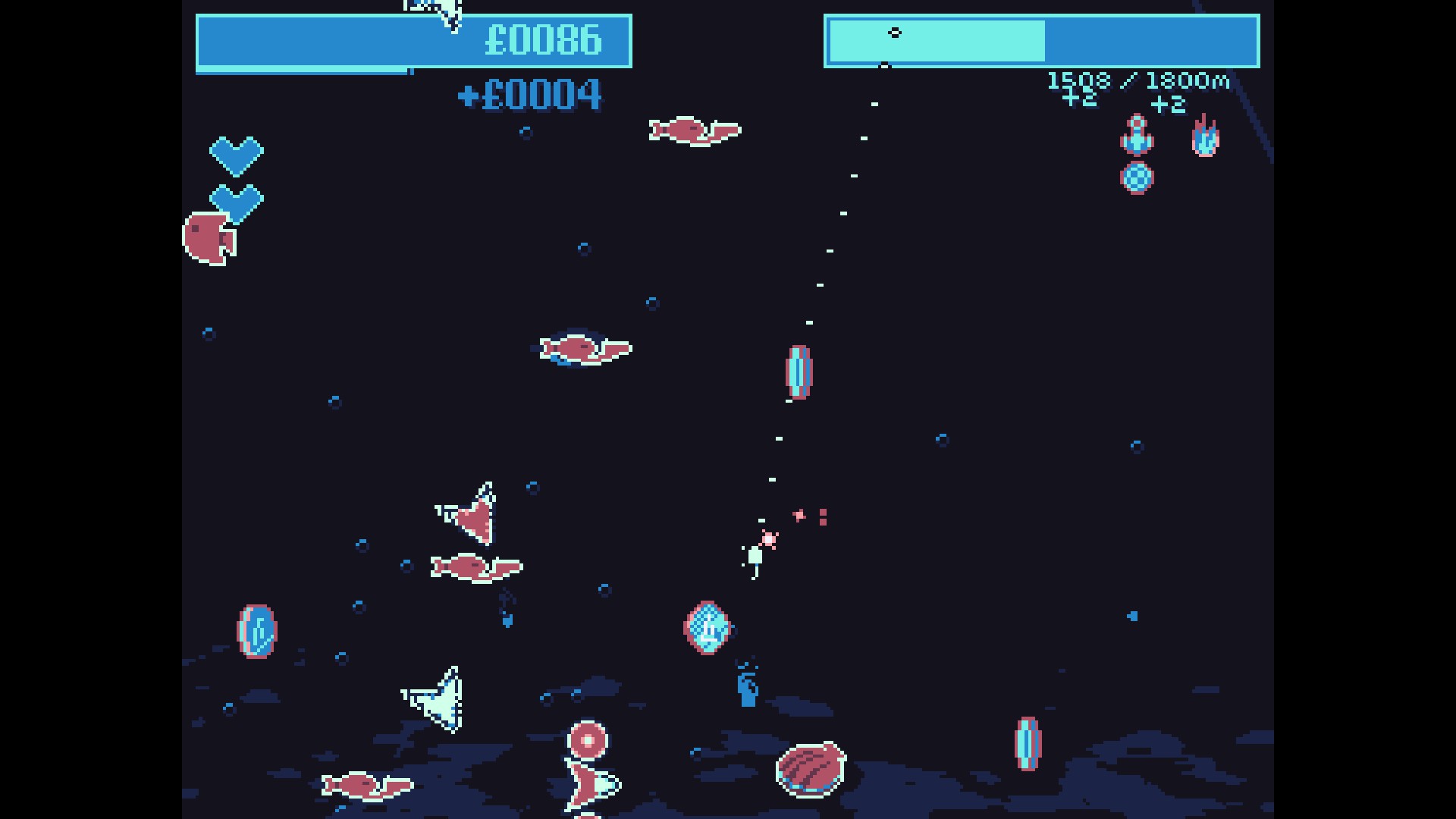 The soundtrack is fancy, the art style is adorable, the game is quite enjoyable. For the price, you get quite the challenging experience for your buck and alas, I'd say I'd recommend the game. The game has some depth to it but isn't the most complex and while it is challenging, it doesn't feel too frustrating as you're able to start up a new run in a matter of seconds, which is quite lovely.
Hope you enjoyed the post! If you want to check out the game for yourself, you can find it over here. Make sure to check out the description for a lot of fish-puns! And take care of yourself!
Cheers!
This post was first published on Indiecator by Dan Indiecator aka MagiWasTaken. If you like what you see here and want to see more, you can check me out on Twitch and YouTube as well.