For anyone that doesn't know, I'm part of a lovely community of streamers, content creators, and bloggers called TheSupportRole created by Kim. The other day, we actually managed to get a lobby together of a few people who wanted to play some Among Us. Among them, we had DanamasX and his wife, Minx, as well as MPG, Frosti, Omni, and a friend of mine called Liam. Minx joined us in the later rounds while I invited Liam as it wasn't that much fun with only five people. To my surprise, Liam and Frosti actually really hit it off and became best friends throughout each round, tightening their bond and creating a wonderful bromance that isn't limited by death or murder. Lovely!
Among Us is one of those games that I just return to every now and then… It can be a lot of fun but I've been rather rusty since the last time I played has been quite a while ago. Frosti and Omni, however, haven't played it at all, yet, so MPG and I had to teach them how it goes. Dana was somewhat experienced but in the end, everyone got the hang of it rather quickly.
During the first rounds, I was able to play as Imposter in two consecutive rounds, killing MPG first in one of them and trolling through the other one. Overall, I didn't want it to end too fast as Frosti and Omni had yet to figure out how some of the tasks worked. At the same time, I also wanted to see some fun interactions between us and teach them what's possible as Imposter, so I'd vent in and out of different places, kill someone here or there and generally, it was quite fun.
For whatever reason, though, Frostilyte was more often than not the first one to be killed, so we made it a bit of an unwritten rule to not kill him first if we have the option of not doing it. Later on, Frosti also decided to change his name to "ITS FROSTI" so that we'd know who not to kill first.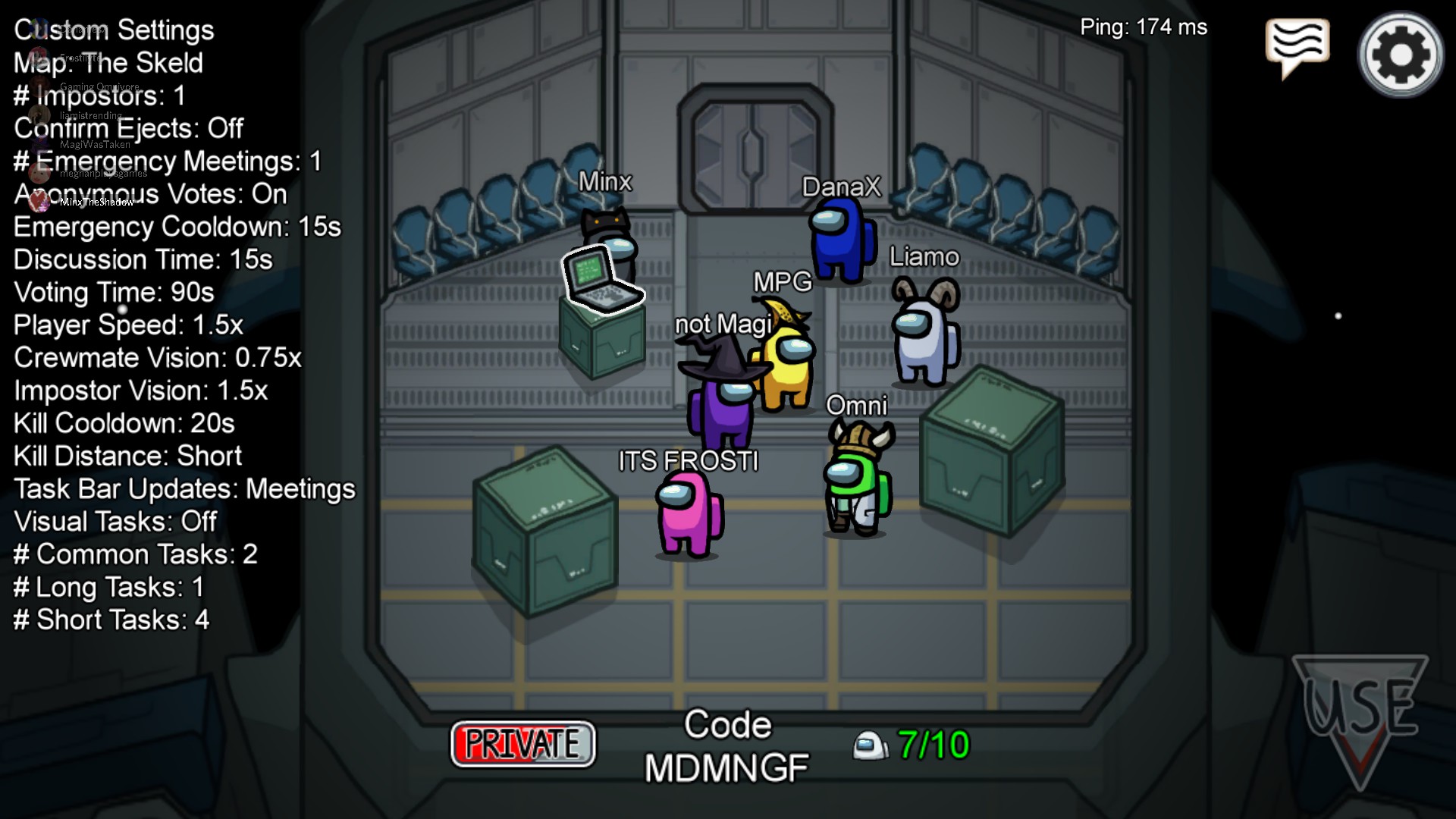 Alas, in the next few rounds, I decided to hang out with him to protect him from harm's way, only to then realise that my good intentions backfired on me, as Frosti didn't wait long to kill me first.
Later on, we had some fun rounds where both MPG and Minx were being suspicious and where everyone was set to kill one of them during the meetings. Since we were only seven people, we ended up playing with only one Imposter, meaning that we could have gone for a 50/50… but for the sake of having fun, I didn't mention that strategy of voting off one of them and then voting off the other one in an emergency meeting… On top of that, it was actually me that was Imposter, and they just stumbled across people's bodies. At last, I ended up fat-fingering and pressing "Q" instead of "W", killing Minx by accident and alas, falling into Meghan's hands who quickly reported the body before deporting my body, leading to the Crewmate's win.
Regardless of that, it was fun, though. I had a blast playing it again and since nobody was taking it too seriously, there wasn't too much gaslighting going on in most of the rounds, resulting in me looking forward to playing it again soon.
I hope we get to record or stream more Among Us next time so that we can share it with more people. I'd love to link clips of it somewhere in this post if it weren't for the fact that "recording" or "streaming" the play-session didn't come to anyone's mind. Maybe next time!
Cheers!
This post was first published on Indiecator by Dan Indiecator aka MagiWasTaken. If you like what you see here and want to see more, you can check me out on Twitch and YouTube as well.