It's always a pleasure to see well-executed world-building in games and media. Reading up on lore entries, piecing together a world and exploring every nook and cranny for potential hints at what holds the world together at its core (yes, that's a Faust reference). It's a pleasure to see games create an immersive experience that enables exploration and narration in different ways than what we're used to, and while "immersion" has become more of a buzzword as of late, I'm more than happy to have played through "In Other Waters", game that made me understand better what immersion actually is.
Developer: Jump Over The Age
Publisher: Fellow Traveller
Genre: Non-Violent, Sci-Fi, Underwater, Adventure, Exploration, Simulation
Release Date: April 3rd, 2020
Reviewed on: PC
Available on: PC, Switch
Copy was purchased.
In "In Other Waters", you play as an Artificial Intelligence (or A.I. for short) that is guiding a stranded xenobiologist through a beautiful and mysterious alien ocean. Explore the depths of Gliese 677Cc and help Ellery Vas uncover the secrets that lie beneath the secret. After being called to this planet by Minae Nomura, Ellery finds herself in an abandoned base in an ocean of secrets with only you around to keep her company.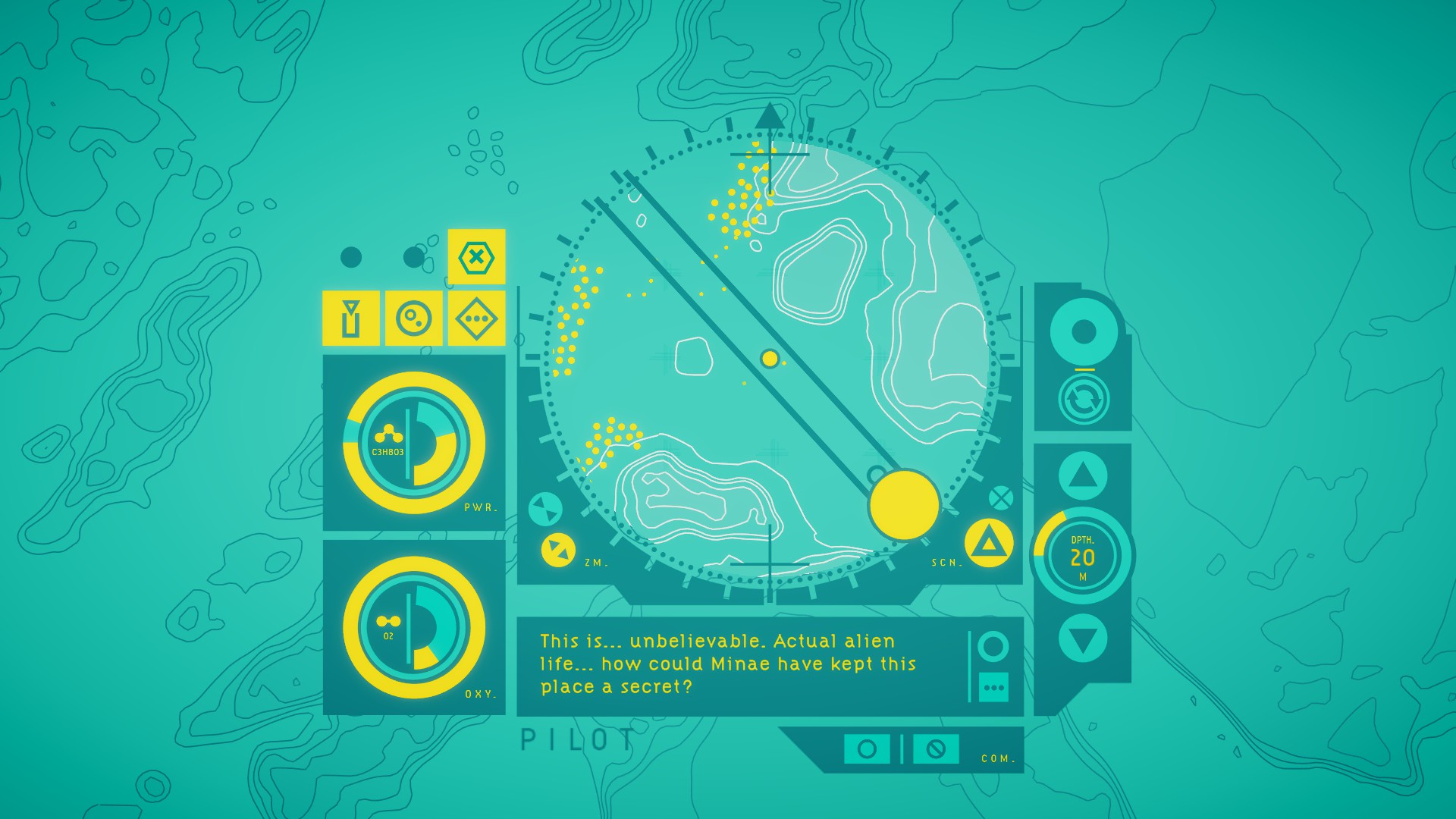 "In Other Waters"'s non-violent Sci-Fi story is portrayed through the eyes of Ellery/EV who's trying to find and rescue her old partner, Minae. To do so, she needs you, an A.I., to guide her through the ocean. Alas, you need to scan the environment, find points of interest and navigate towards them. You are experiencing the game through the UI, rendering the world around you in a topographic visual style. You only see the UI, which is interesting as a design choice. I found it rather intriguing and really enjoyed this take on exploration. These overlays, buttons and features at first feel clunky and hard to navigate through but eventually, these menus actually feel somewhat homely and suddenly, you actually know how to move through the world swiftly and what to look out for.
As time goes on, you'll encounter life on this distant planet. Creatures roam the area, plants inhabit different biomes and areas. A click on them reveals information on their behaviours and once you've scanned multiple specimens, Ellery will end up naming them and adding theses to the taxonomy as well as observations and quite possibly even a sketch of them. The game actively encourages you to collect samples of plants and other matters by tying them into the world-building or introducing gameplay mechanics around them. Some of the plant seeds can be used to open pathways while others can protect you from vicious currents.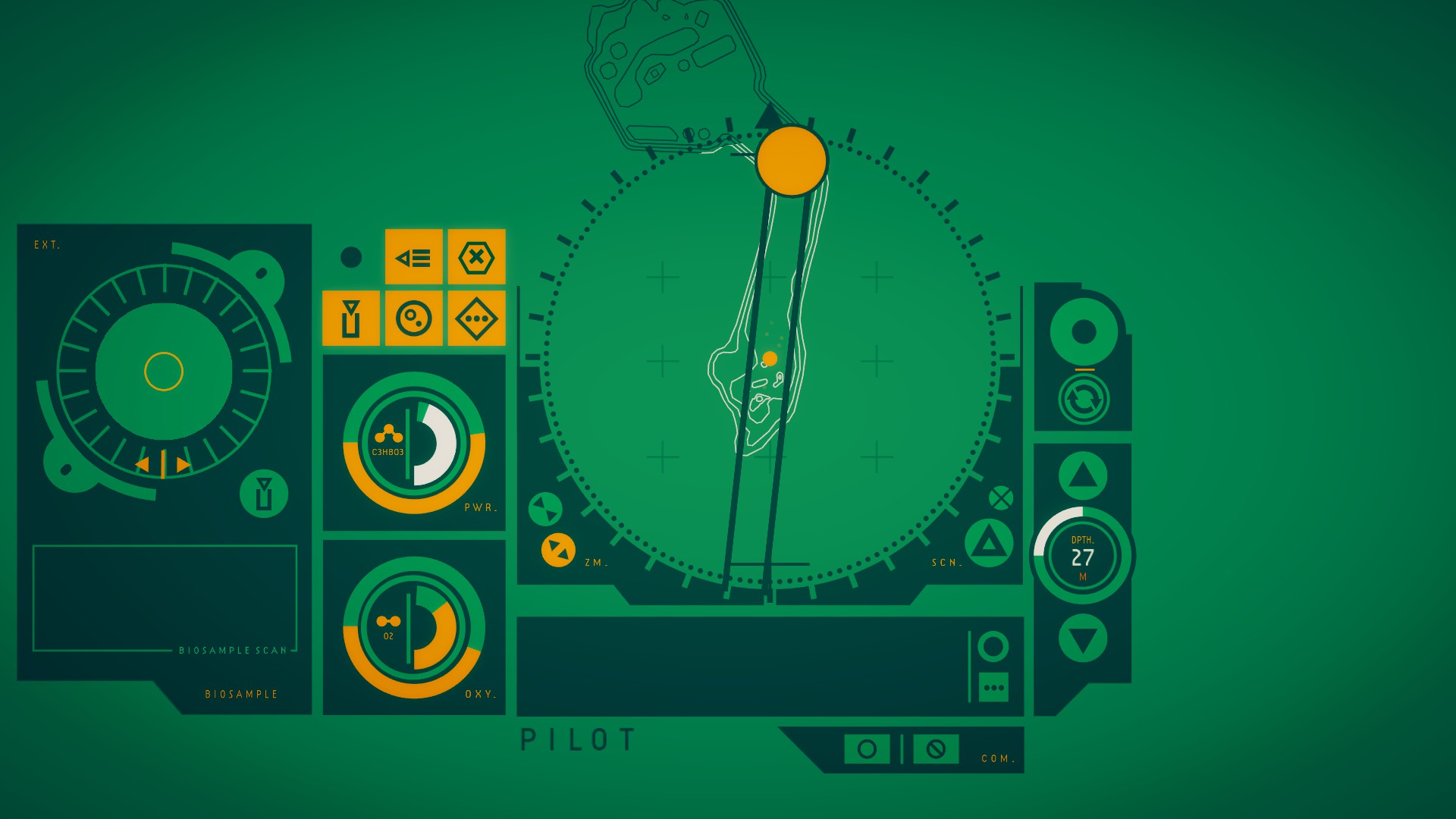 Since you're the UI of Ellery's dive suit, you've also got to manage your oxygen and power reserves and keep an eye on them as you explore more and more. Your lifelines can be resupplied with plant matter and animal tissues, among other things. There are also other ways to create safe zones or help you out in the game and I found these interactions rather amazing as they added value to what you found out about the world and to how the world works. Frankly, you make an observation of the world around you and make use of that observation, which is a rather interesting take on gameplay, but I would have loved to see more of those in the game apart from the three or four that you have in there.
The immersion is further enhanced by the fact that different areas look differently in the UI. In the abyss of the oceans, there is little to no light, so your sensors can't pick up on your surroundings that well, resulting in your UI being darker. In other areas, the colour of your UI changes completely due to rust and other materials covering your lamps and tinting them. It's an interesting mechanic and with the bright colours that usually make up the world, I feel like these UI colour changes add a bit more to the world. It kind of makes sense, after all. You're a program, a machine, after all, so you get influenced by that kind of stuff.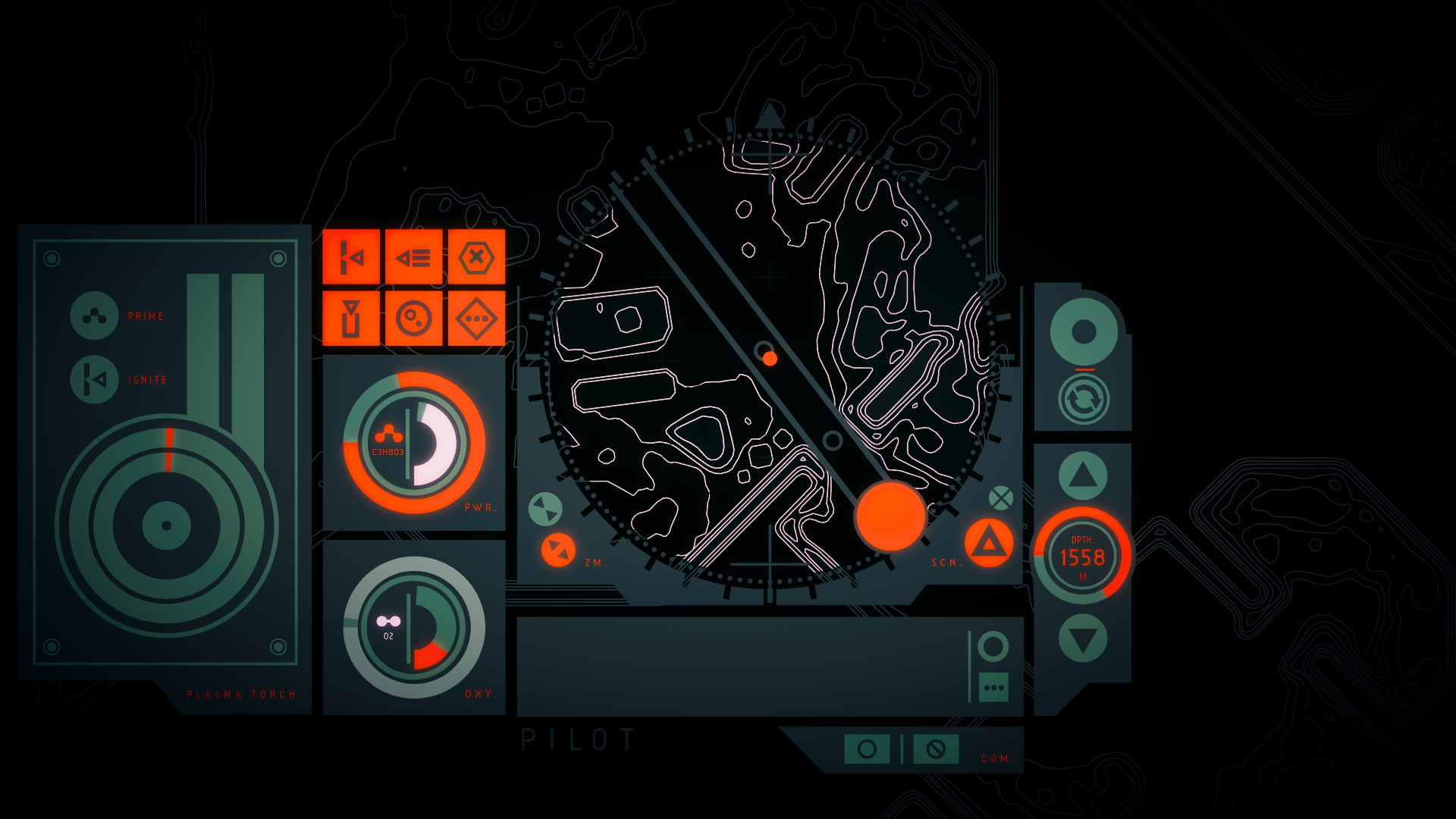 You are Ellery's eyes and legs in this world, controlling every move and action. But you're also Ellery's friend and only companion in this somewhat depressing world. Frequently, Ellery talks about the observations she makes and her feelings on the events happening to you and her. Her discoveries are shared with you. In a way, it reminds me of Robinson Crusoe's ball that acts as if his only friend for the early days before he eventually meets Friday. Talking to you keeps Ellery sane to the point where she asks you questions on speculations and theories, even if you're just an AI. She asks for your input at times and you can answer with just a no or a yes… but while your options are limited in that way, it feels truly meaningful when you get a response from EV and when you actually can communicate with her and help her out from time to time. This aspect of the game felt really meaningful and awesome to me.
The gameplay mechanics range from research and exploration to these brief interactions with Ellery. You can read up on logs written by Ellery whenever you're in your base or you can dive into the waters to collect samples and complete the taxonomy. In the lab, you're able to analyse matters and unlock more entries for the taxonomy, too. Nothing's ever forced and you can go on with the exploration and the story whenever you want to. This sort of pacing felt incredibly well-executed. If you don't like the research, for instance, you can just go on with exploration or the story. Dying brings you back to a nearby checkpoint with no losses, which is quite nice. At times, I wanted to find out more about the story… at other times, I just wanted to roam the area more and find out about the world and see places I haven't been to. When I died, I got set back a bit on the map but it didn't feel too bad or frustrating, which is great as frustration would have ruined the experience for me.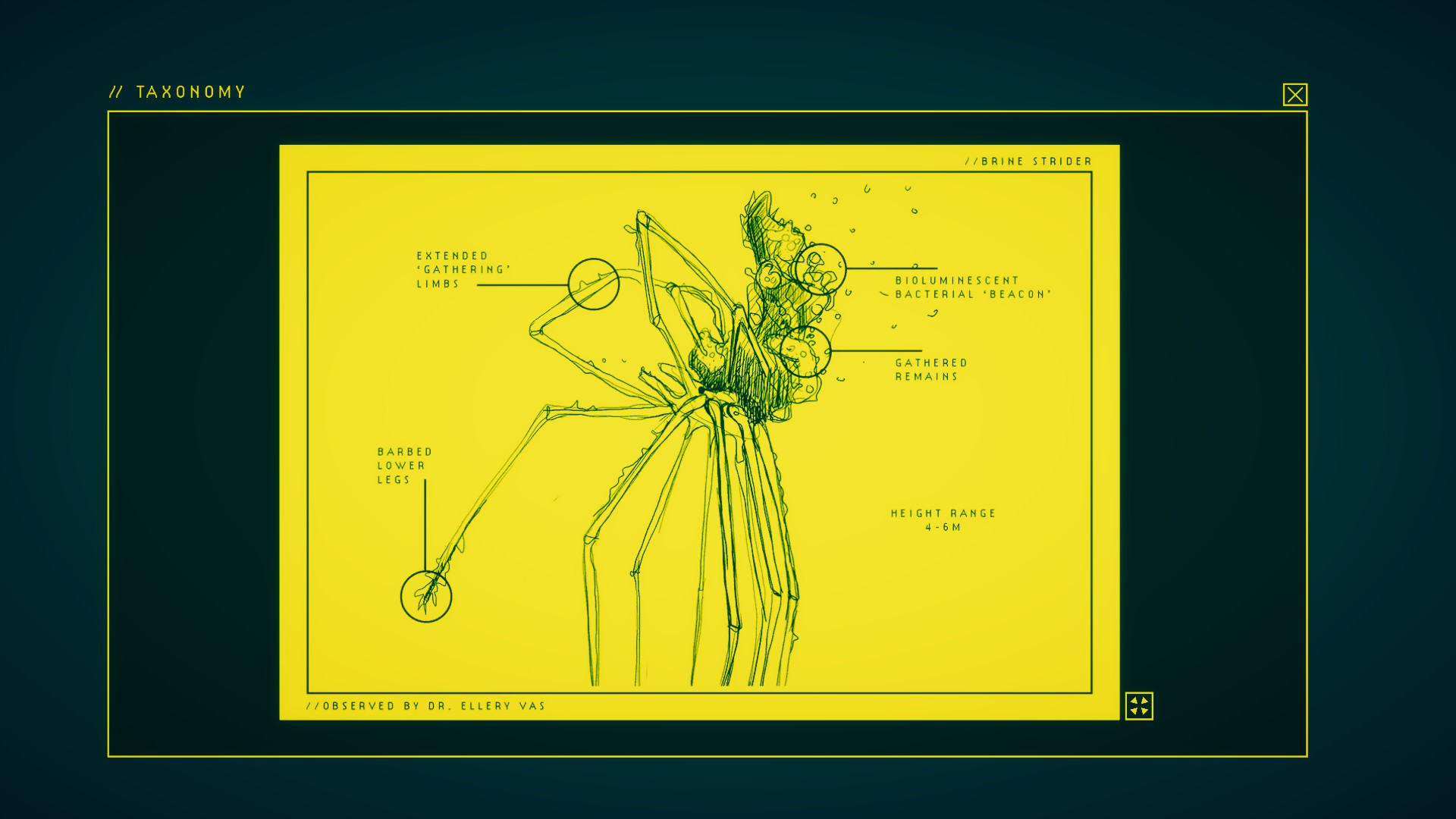 All in all, I really enjoyed the experience and was able to play through "In Other Waters" after about eight hours. Depending on how much you explore and how long you spend in different areas, you may find yourself spending more time on this title. The soundtrack is amazing, the game is pretty, the story is interesting, and the world… is alive. Being the A.I. and seeing the world through that UI makes it all fit together and enables you to experience the game differently from how other games would have handled it and while I obviously haven't been sucked into the game completely, I'd still call this "immersion". I'm sure there is more to the term than just that but all in all, I can't stress enough how great this game is and how "In Other Waters" actually is a great example of what "immersion" actually is, in contrast to the buzzword that big magazines throw around in their reviews on Cyberpunk 2077, for instance.
Alas, that's my recommendation for today. I really hope you enjoyed this review. After writing this review, I checked what the negative reviews on Steam had to say about this game and overall, I just feel like people got into the game expecting something else entirely. The story is conveyed through text. The UI is the main feature. The world feels lively. I don't get why people play a non-violent game about exploration only to complain about it being "actionless", which is a bit of a bummer… Certainly, it's not a game for everyone but if you tackle it in the right way, it can be certainly worthwhile.
Cheers!
This post was first published on Indiecator by Dan Indiecator aka MagiWasTaken. If you like what you see here and want to see more, you can check me out on Twitch and YouTube as well. If you find this post on a website other than Indiecator.org, please write an e-mail to me. Thank you!