After your grandfather's funeral ship crashed, you're stranded in space. Just you, your immortal chicken and an AI/board computer that tells way too many jokes. Welcome to Breathedge, the "ironic space survival game" by Redruins Softwork that is releasing its version 1.0 today! I've been playing it on and off ever since it came out in Early Access two years and a bit more ago… and as time went on, I really wanted to like but… you'll see.
Developer: RedRuins Softworks
Publisher: HypeTrain Digital
Genre: Open World, Survival, Space, Sci-Fi, Adventure, Sandbox
Release Date: February 25th, 2021
Reviewed on: PC
Available on: PC
Copy was purchased.
In Breathedge, you've got to survive hunger, thirst, radiation, freezing temperatures and the lack of oxygen in outer space. Easy enough. Throughout your playthrough, you'll find resources floating around that you then can craft into tools and equipment to venture further into space or to access new types of resources, such as rubber, lead or paint. Your goal is first and foremost survival… but you also want to get to safety, which is why you'll have to find ways to reach distant points of interest, such as an extraction point that is way too far away.
In the beginning, your oxygen reserves are limited. When you venture out from your shipwreck, you'll find yourself quickly running out of oxygen, which is why you'll have to come back to your ship and replenish your reserves. While this is somewhat interesting, especially with the fluid and fun movement in space, it also makes things rather tedious. Collecting resources and having to come back to base every time you run out of oxygen is annoying and while I get that resource gathering is key in these type of games… I don't see a point in tool durability and having to craft a completely new drill whenever its durability/battery runs out… It's quite maddening, to say the least.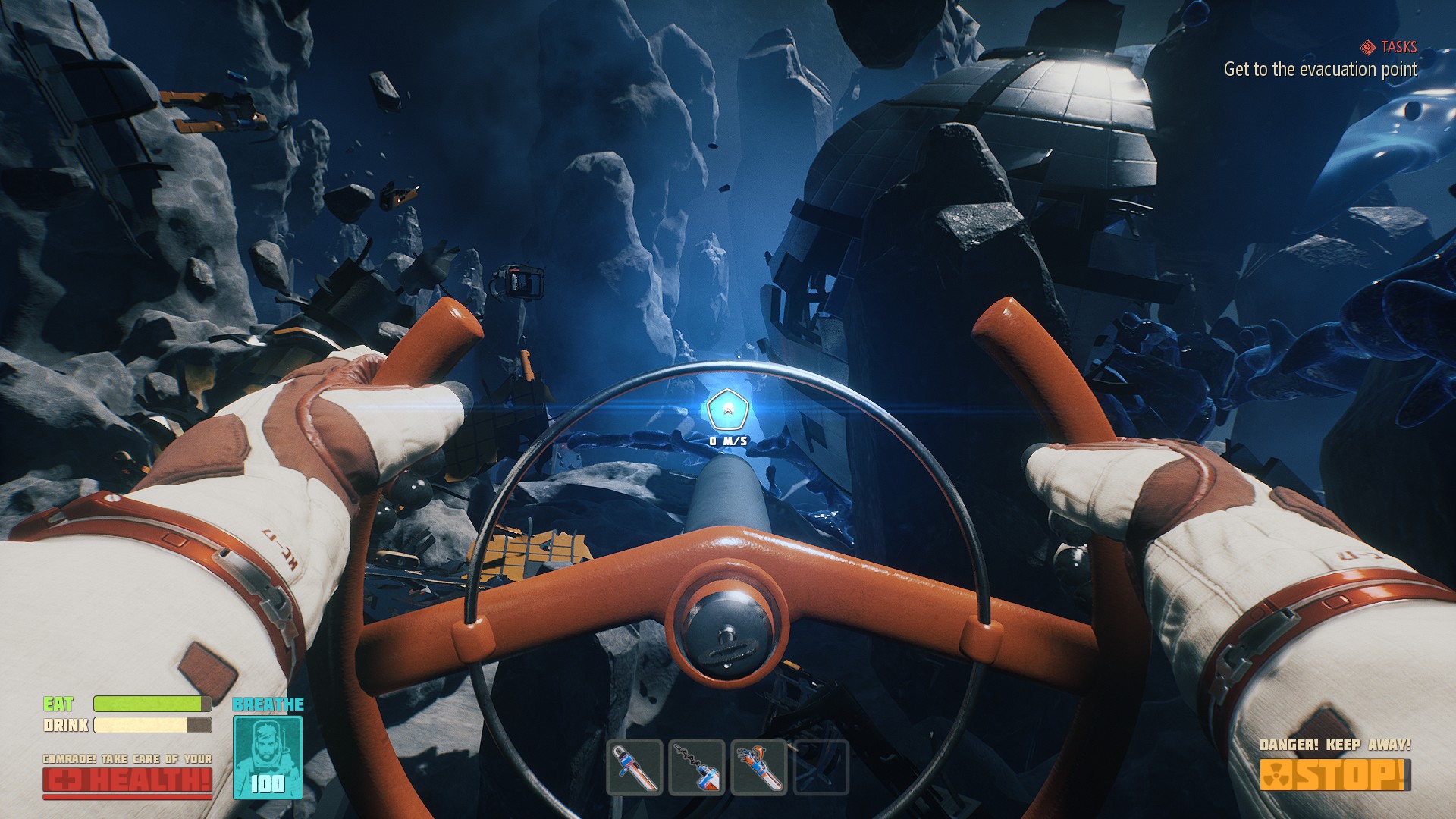 Eventually, you'll venture out and find the blueprint for the oxygen station that you can then use to set up balloons that you can refill your oxygen at, making the journey and resource gathering less annoying. You'll also craft other upgrades for your suit to withstand the radiation or to increase your oxygen reserves, but generally speaking, I feel like it all is more leaning into the annoying to the tedious side of things instead of actually adding value to the experience. The upgrades you can get for your tools merely function as some sort of band-aid that lessens the frustration… but it is not enough, in my opinion. Getting rid of the durability mechanic completely would have made the game more enjoyable in the early stages. As mentioned before, you'll also need to watch out for your food and hydration, which is standard-survival-stuff… Breathedge doesn't completely re-invent the wheel or the formula for survival with these mechanics. It just does things because other games did the same things, which isn't very exciting.
Now, where Breathedge truly shines is actually the exploration and the presentation. As far as exploration goes, you'll find different wrecks of different spaceships floating around, functioning as eye-catchers that will allow you to pin-point more points of interest. Your oxygen reserves are, as mentioned before, limited, so you'll need to test your limits, find something good to utilize in your next exploration attempts, and get back to base. Slowly, you'll learn where to find different resources and where you have to go later once you have more oxygen available. It is very much a trial and error kind of thing but I personally felt as if it was rather interesting and somewhat innovative… until I realised that Subnautica and other games did it before as well.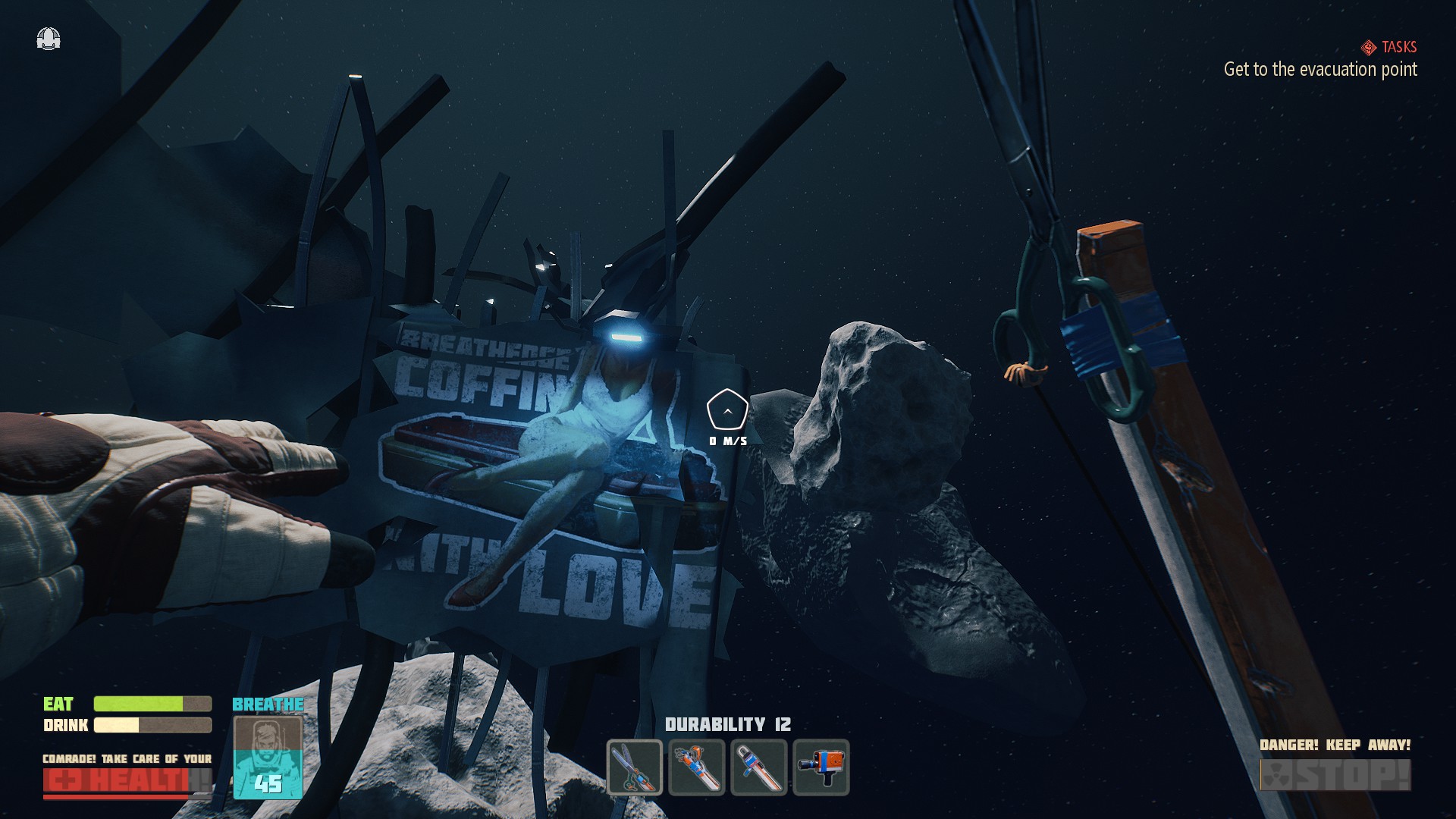 As far as the presentation goes, Breathedge delivers really well. The art style is rather pretty, outer space looks amazing, and eventually, you'll unlock base-building and you'll be able to add windows to stare out into the void… which is just beautiful when you play with the highest settings. The soundtrack features some interesting tracks… and some rather pretty tracks… all in all rather satisfying… if it weren't for the AI thing that narrates your journey.
Now, I'll have to mention that the developers label the game as an "ironic" space-survival game. See it as Subnautica… but less serious. You'll find yourself in a setting that is truly difficult to handle with depleting resources and oxygen troubles… but the AI that accompanies you constantly mocks the game and tropes of the Survival genre and the gaming industry, resulting in the whole setting being rather laughable. The plot itself is somewhat presentable and fun… but the AI makes it feel less enjoyable by constantly cracking jokes at anything and everything. Breathedge opens with a message about how the game is just trying to entertain and how it doesn't want to offend anyone… but… the jokes are hit or miss.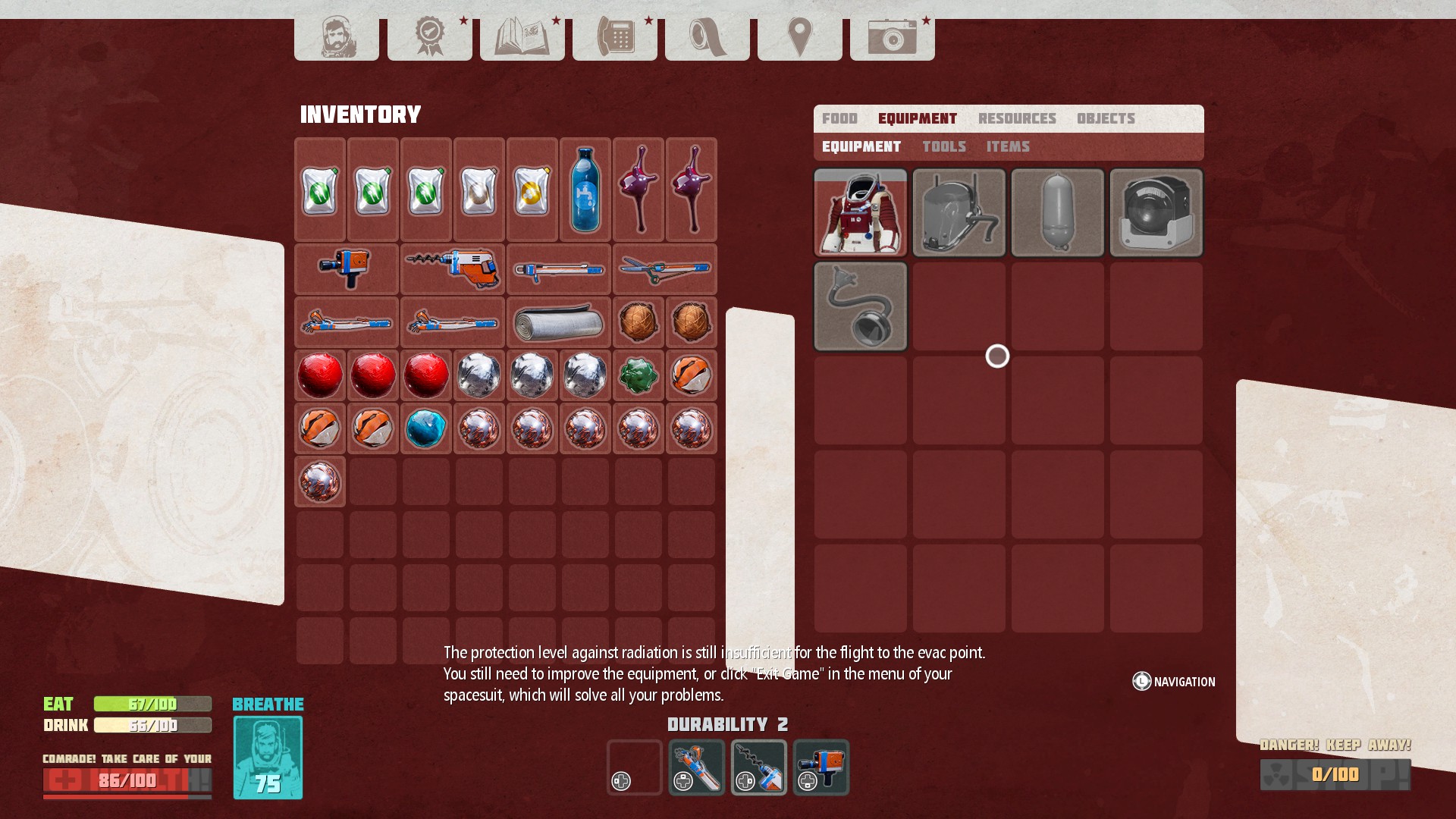 Most of the jokes that the AI tells you or that you encounter in the game are seriously offensive and inappropriate. There are some good ones here and there with references to Mass Effect or other games… There are jabs that the game takes at other games but generally speaking, you'll find yourself trying to ignore the jokes as much as possible. The notice at the beginning references some real offensive and inappropriate jokes in the game that aren't fun or anything. I'm alright with explicit or even some more offensive humour if it's within certain borders ("haha, like East Germany in"… Okay, I'll stop.) but this game is just trying too hard to be offensive and thinks that it's alright to do so if you mention it at the beginning of the game. At one point, I found the game making fun of men that wear makeup while at another part the game makes fun of "libtards"… Generally, I didn't enjoy a lot of the jokes because they were tasteless or silly. Crafting an accelerator powered by farts is something that grade-schoolers would laugh at but they are hardly the target audience of the game.
Apart from that the game also suffers from pacing. You'll find yourself held hostage and interrogated by coffin-robots that want you to tell everything that happens but as time goes on, you completely forget about it, which is just… weird. The resource grinding, the durability of tools, the constant trips back and forth for oxygen, food and water,… there are so many things that slow you down considerably and it makes the game just feel very slow to the point where you lose interest in playing more of it. When you die, you'll have to pray that there was an auto-save an hour ago or something, or you'll quickly end up ragequitting because of all the progress you lost. Alas, I just save every few minutes in case something happens that makes me want to reload the save again… or in case I die… and all in all, I really wanna like the game but it's just not that fun unless you only play it on and off…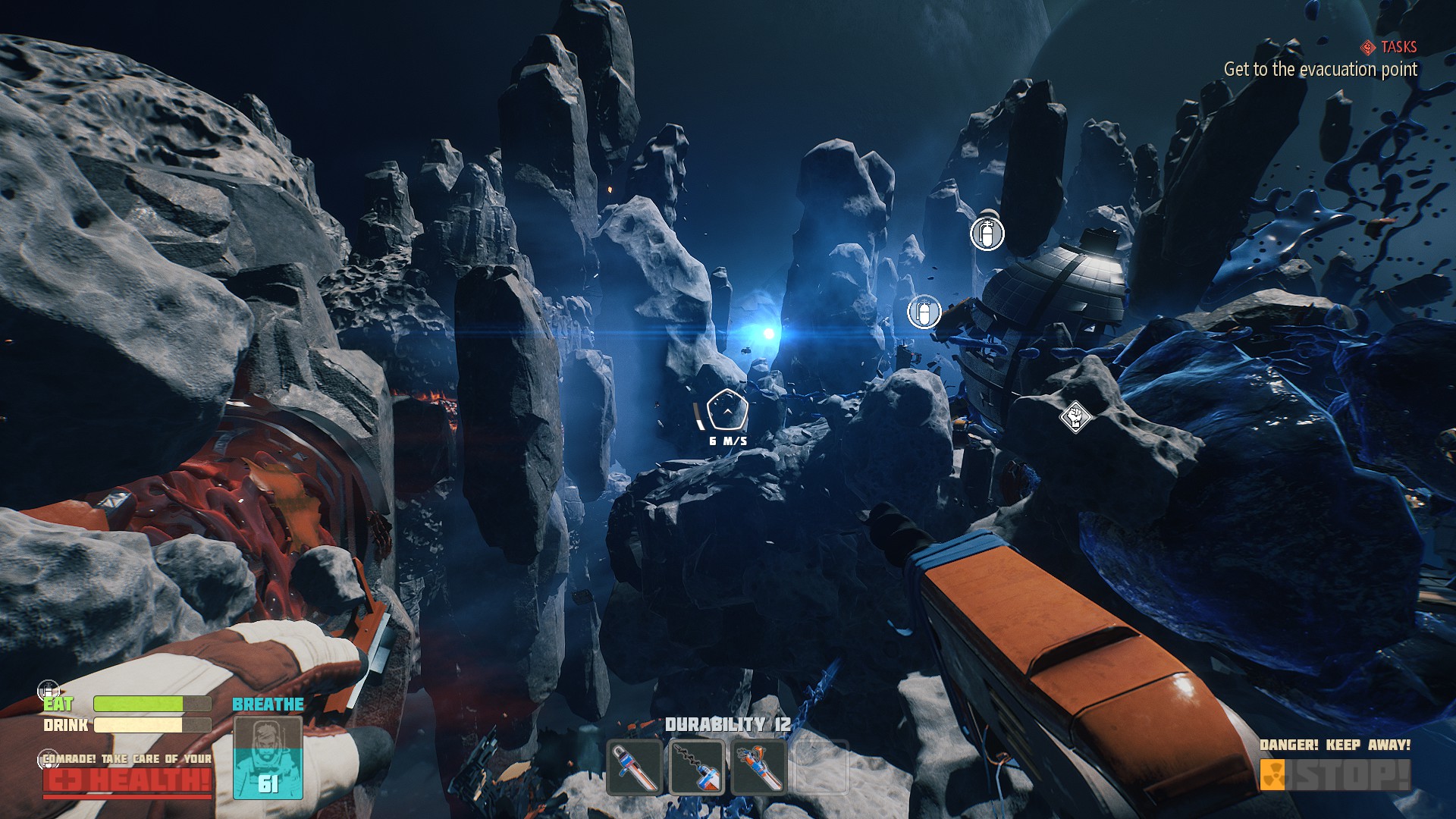 And again, the game is trying so hard to be like other games but also not be like other games. I feel like they could have tried out more innovative ideas regarding food and oxygen or other mechanics of the game. Breathedge frankly only goes where other games have gone before and it doesn't really try to do things differently or be crazy and creative around its systems. It's only a small step for the gaming industry but a big step for this Indie Studio. I mean, RedRuins Softworks are a Russian studio whose first project, Breathedge, has gained a lot of
Hope you enjoyed this post. It's a bummer that the game has so many shortcomings and I kind of enjoyed it after ignoring the jokes… but I just feel like I can't get into it for too long unless I take some long breaks in-between sessions. Oh well…
Cheers!
This post was first published on Indiecator by Dan Indiecator aka MagiWasTaken. If you like what you see here and want to see more, you can check me out on Twitch and YouTube as well.