Roguelites can be rather difficult and sometimes even frustrating. At times it's very important to see what you already and what you still need in terms of specific stats or items. Knowledge is key more often than not and can turn a bad run into a good run. That part specifically is what makes me appreciate roguelikes so much. I really like them. More importantly, it's important to remain calm and not lose your head… or maybe you need to do exactly that like in Skul: The Hero Slayer!
Developer: SouthPAW Games
Publisher: NEOWIZ
Genre: Action, Roguelite, 2D, Platformer, Indie
Release Date: January 21st, 2021
Reviewed on: PC
Available on: PC
Copy was purchased.
After the Adventurers joined forces with the Imperial Army and the "Hero of Caerleon", the Demon King's castle has fallen. All of the castle's demons were taken prisoner except for one lone skeleton named "Skul"… So, it's time for us to step into the role of Skul who's doing his best to save the Demon King by himself!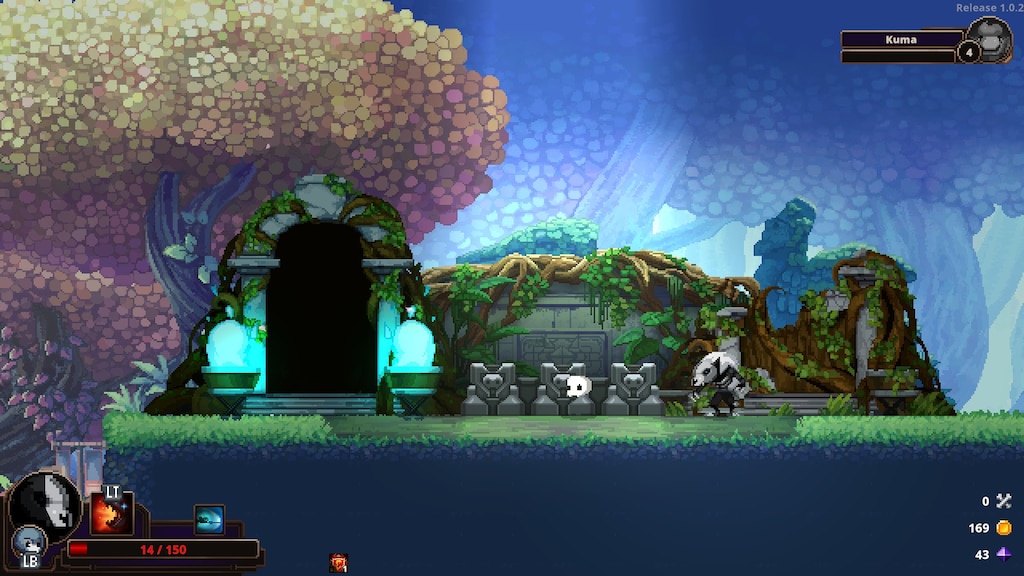 Skul is a challenging Action-Roguelite-Platformer that seems to have taken some inspiration from Dead Cells and maybe even Majora's Mask. Your character may not be the strongest but you can switch out your head throughout your journey and enable yourself to inherit its unique abilities and characteristics. There are 30 different skulls to find throughout your journey, ranging from a fast-hitting and agile thief to a slow archmage to a Dead Cells cameo. Being able to swap skulls on a button press, enables you to change your playstyle on a whim and pick a bone with enemies while covering your weaknesses with different synergies between characters. At the same time, you can enhance your character by acquiring items that on their own also feature unique abilities like dropping a bomb upon swapping or enhancing your physical/magical attack but that also feature synergies in the form of traits. Traits add another layer to builds and strategies in Skul: The Hero Slayer as they can stack and form your build as you move on. You can equip up to nine different weapons and two skulls as well as one equipment piece that you can actively use in combat. The traits you have work in a lot of different ways. The Chase Trait enhances your damage based on the distance to your enemy while the Endure Trait reduces the damage taken. There are also more elaborate traits in the game that summon spirits, magma balls or even increase the damage you take and deal by a percentage, enabling you to really add a lot of synergies and develop incredibly strong runs, which is amazing!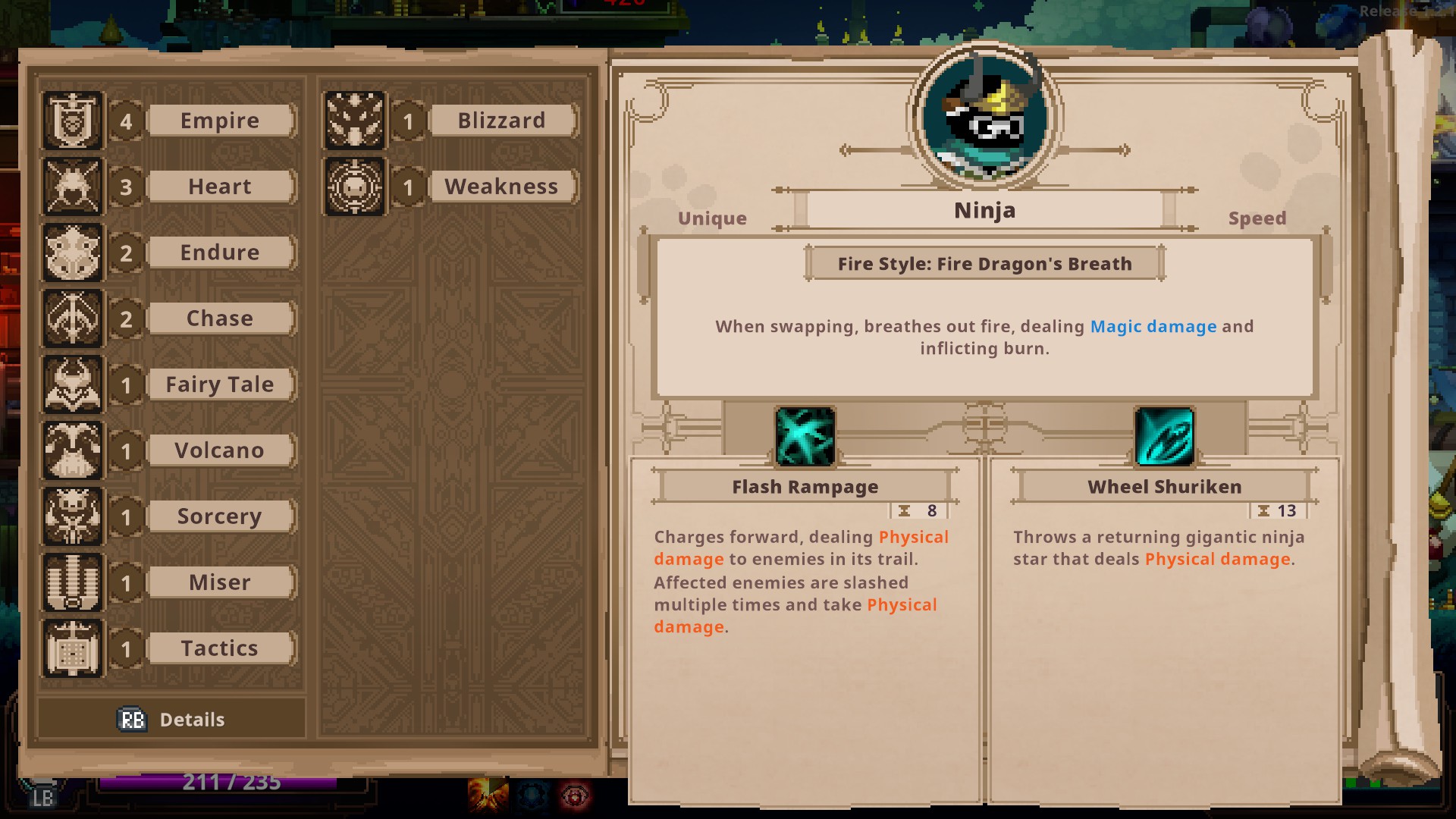 On another note, you'll encounter doors to other maps after you complete a map and clear the encounter. Similar to games like Slay The Spire and Curse of the Dead Gods, you can choose where you go and shape your build even more based on what you need. Are you in need of more gold or a new item? Do you want more bones or rather a new character? The doors lead the way. Duh. I like these small additions that on their own may not contribute to a lot but overall give you a lot of freedom as to how your build will shape out and how you want to play the game. There are also special maps like the Bazaar where you can heal up, buy items, get a skull or even other powerful pieces of equipment. There are also mini-bosses in the form of Adventurers that have been hired to deal with you, challenge rooms that can award you with amazing additions to your build but that will also pose a serious threat to you and your run, or even boss encounters where you face off against the Elder Treant or a mad Alchemist. There are five different areas in the game, each with their unique mechanics and enemies. The further you proceed, the more dark quartz and money you'll earn. Money can be spent in the run itself while Dark Quartz is a permanent currency you use to improve your skull or get a headstart into your run through the power of vendors that you unlock as time goes on.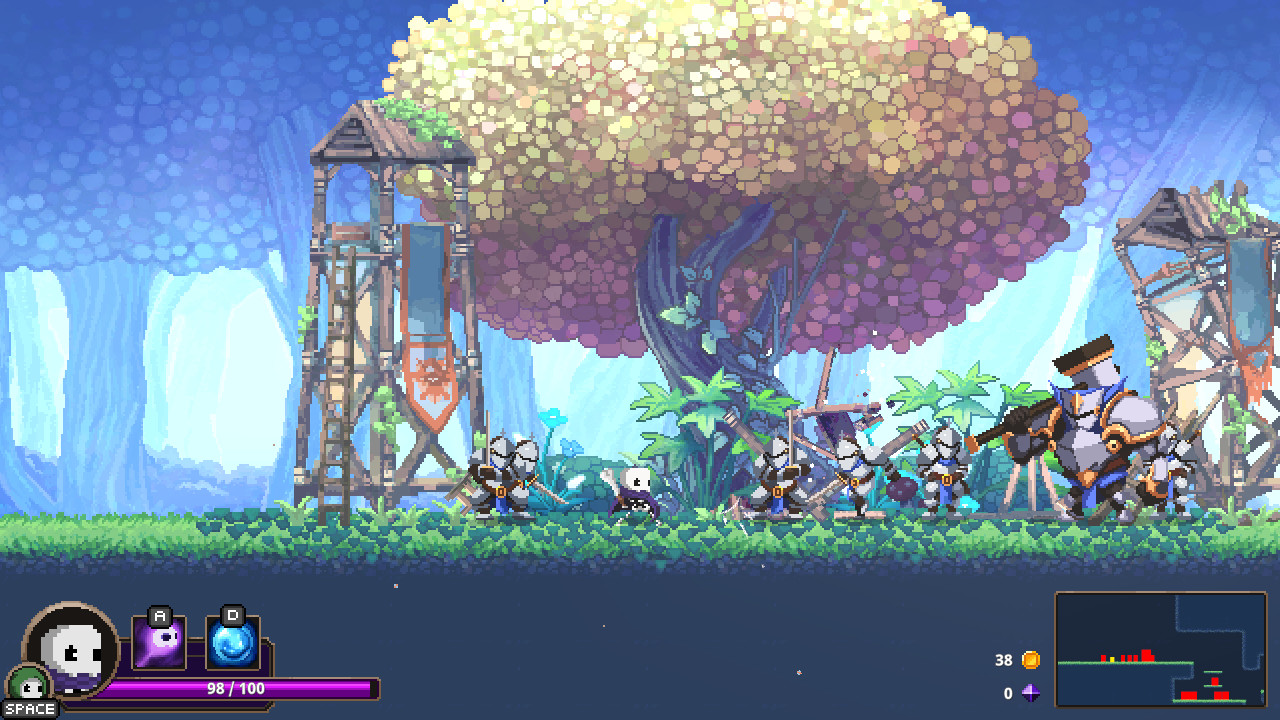 Skul not only shines through the strategic potential and the challenging yet satisfying combat but also through the Art it uses. Each skull feels unique and looks amazing. The spell effects of your skills range from powerful energy balls and summons to blink and slash effects, and overall also look powerful. That's something that is just as important to me as gunplay in shooters. If you use a spell and it doesn't feel as strong as it is, it takes away from the overall experience. In Skul, however, you can summon a giant meteor and feel the impact through the screen as you see your enemies get obliterated. Your slashes feel fast and satisfying. Your stomps feel heavy and strong. Your arrows are alright. I love the art style and the effects and while the music in the game is nothing special, it still adds to the experience, at least a little bit.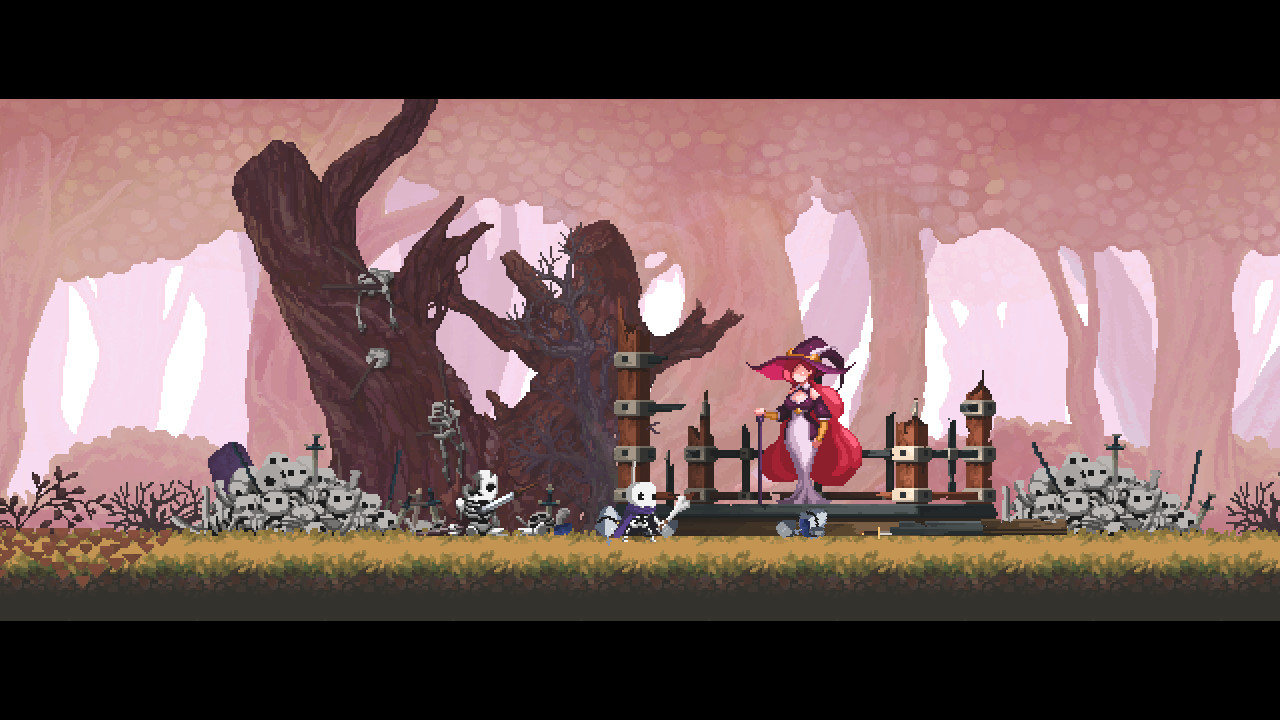 But apart from that, there are also a few weaknesses to Skul… For starters, the major bosses you encounter feel nice when you beat them for the first time but they eventually turn into annoying roadblocks instead of actual foes that you need to slay. They still are challenging but I would have liked to see modifiers in the game that make the bosses more challenging or add unique attacks to it, similar to how Hades does it or even Risk of Rain 2. At the same time, I'd like to make another comparison to Hades as that game showed how well story-telling can be done in Roguelites, so it's kind of bad to see how poorly the (rather obvious) story is executed in Skul. I either would have liked a better story with more interesting dialogue or just no story at all. It's a bit of a bummer but can't be helped.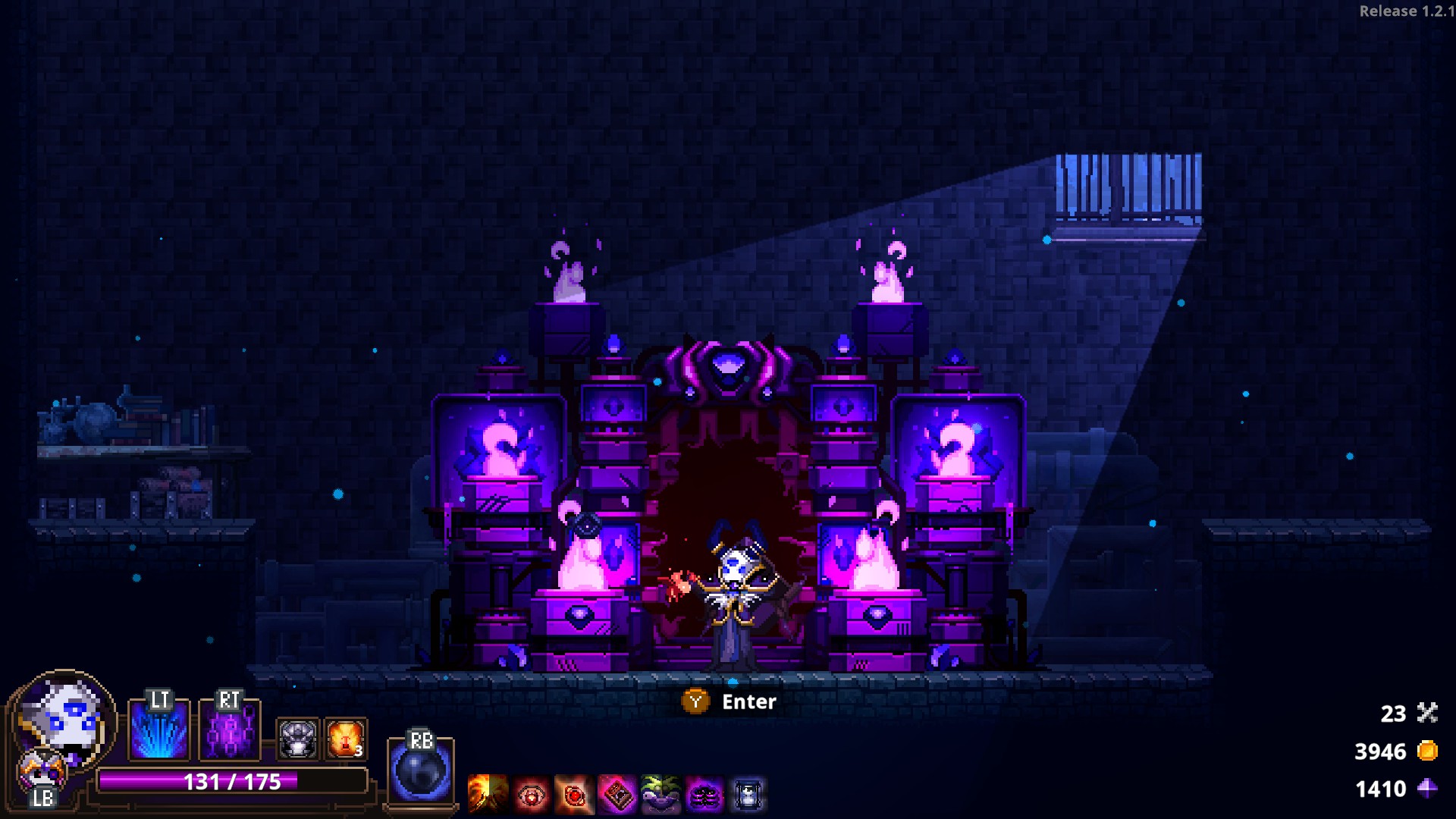 The characters in the game, though, are more than endearing and adorable. There is a shapeshifting witch and an ogre merchant as well as an evil druid that all help you out on your runs. Similarly, you get to free people and get rewarded for it and there are special encounters at times that are challenging but fun. The whole narrative of the bad guys (aka us, the skeletons, demons and the Demon King) actually being the good guys is something I love and adore and I want more of that. It's nice to see a change of pace. The Pixel Art and Gameplay are amazing and while I would have liked a better story and more variety in the boss fights… and while some of the translation errors bother me at times, I can look past those weaknesses and say proudly that I love Skul: The Hero Slayer and that I can highly recommend it.
Cheers!
This post was first published on Indiecator by Dan Indiecator aka MagiWasTaken. If you like what you see here and want to see more, you can check me out on Twitch and YouTube as well. If you find this post on a website other than Indiecator.org, please write an e-mail to me. Thank you!