Technically, I'm not all that late to the party here since Life is Strange came out in 2015 and I played through it for the first time on August 24th, 2018… buuuuuuut I haven't written about this game yet and for our Charity Fundraiser for The Trevor Project (currently sitting at 95$ BTW!), I wanted to play through it again. I still vaguely remembered the plot to a degree. I remembered most of Episode 1 but, honestly, forgot about the rest of it. It has been nearly four years since I last played it, after all. Anyway, today, I wanted to talk about my experience with Life is Strange (Season 1). There will be spoilers in this post and as this is an episodic adventure game with a focus on the story, I'd highly recommend avoiding this post until you played it for yourself. Overall, though, I'm not sure if I would recommend playing the game even though the story is pretty great due to certain content and trigger warnings as well as some design choices. If you wanna check out the game for yourself, you can do so over here on Steam. The game consists of five episodes. The first episode is actually free to play while getting the complete season (aka the remaining four episodes) costs twenty bucks. It's a fair price for about twenty hours of content (about four hours per episode, depending on your speed). Either way, given that this is a story-driven game, I'll address certain plot points and content/trigger warnings – all of which will end up spoiling the experience partially/possibly. Hence, you've been warned.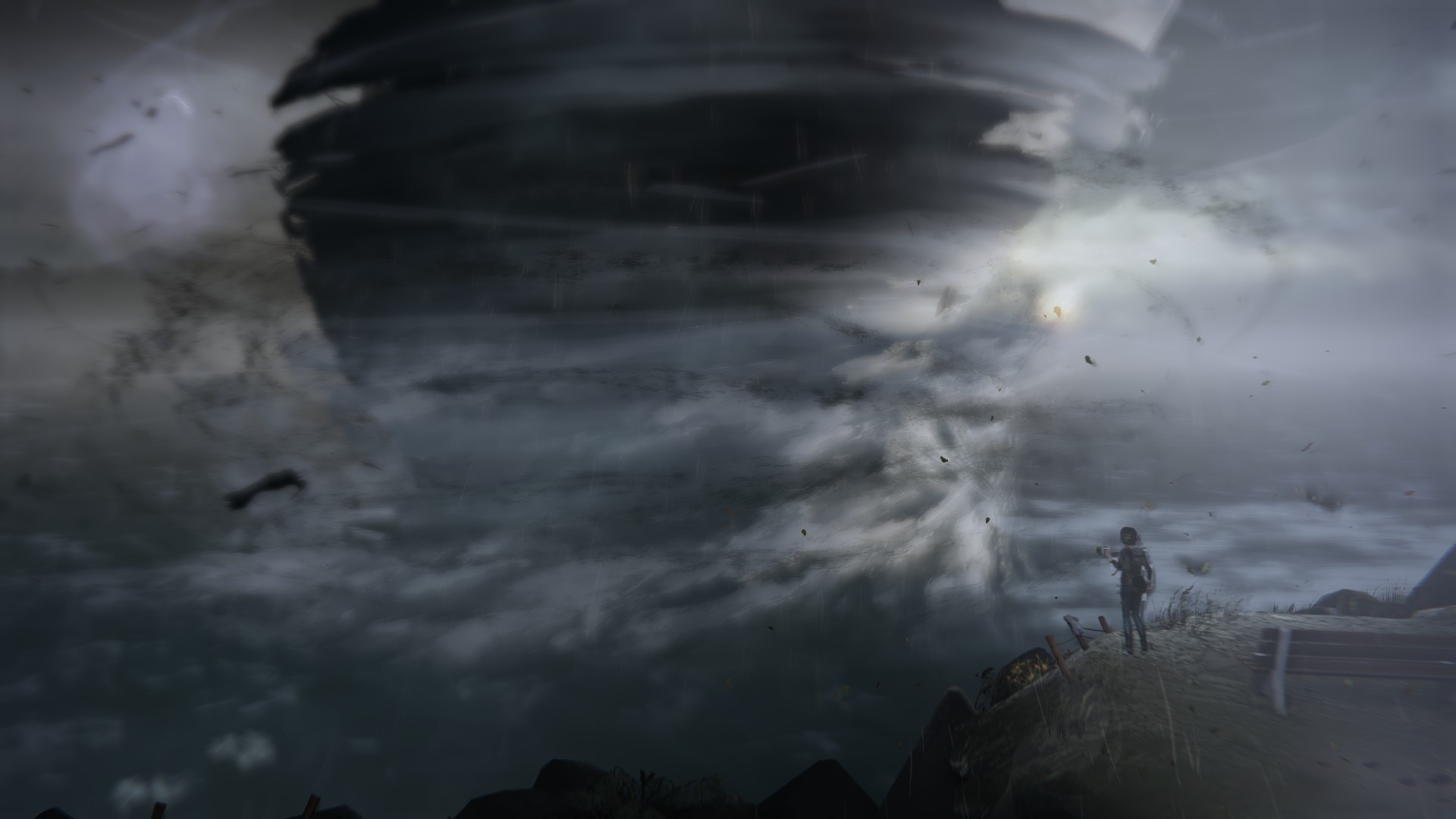 But what is Life is Strange about? Life is Strange (Season 1) is a story-driven episodic adventure game that allows the player to rewind time and affect the past, present, and future with their choices. "Choices Matter" is a tag used on Steam but generally, people often end up seeing mixed results of that. Games like Telltale's The Walking Dead, after all, don't really leave too much of a choice to the player. You have "difficult" choices that you can make throughout the game but at the end of your journey, you'll end up at the same point in the story once you've played through it all. Your experience may differ but you'll see the same story, essentially, which is why "Choices" as a concept is thrown out like a buzzword way too often. In Life is Strange, your choices do affect certain outcomes and while the game ultimately throws you at a specific ending that is the same for everyone, your choices influence specific outcomes, giving the player a bit of agency over what transpires and what they can do to change the game.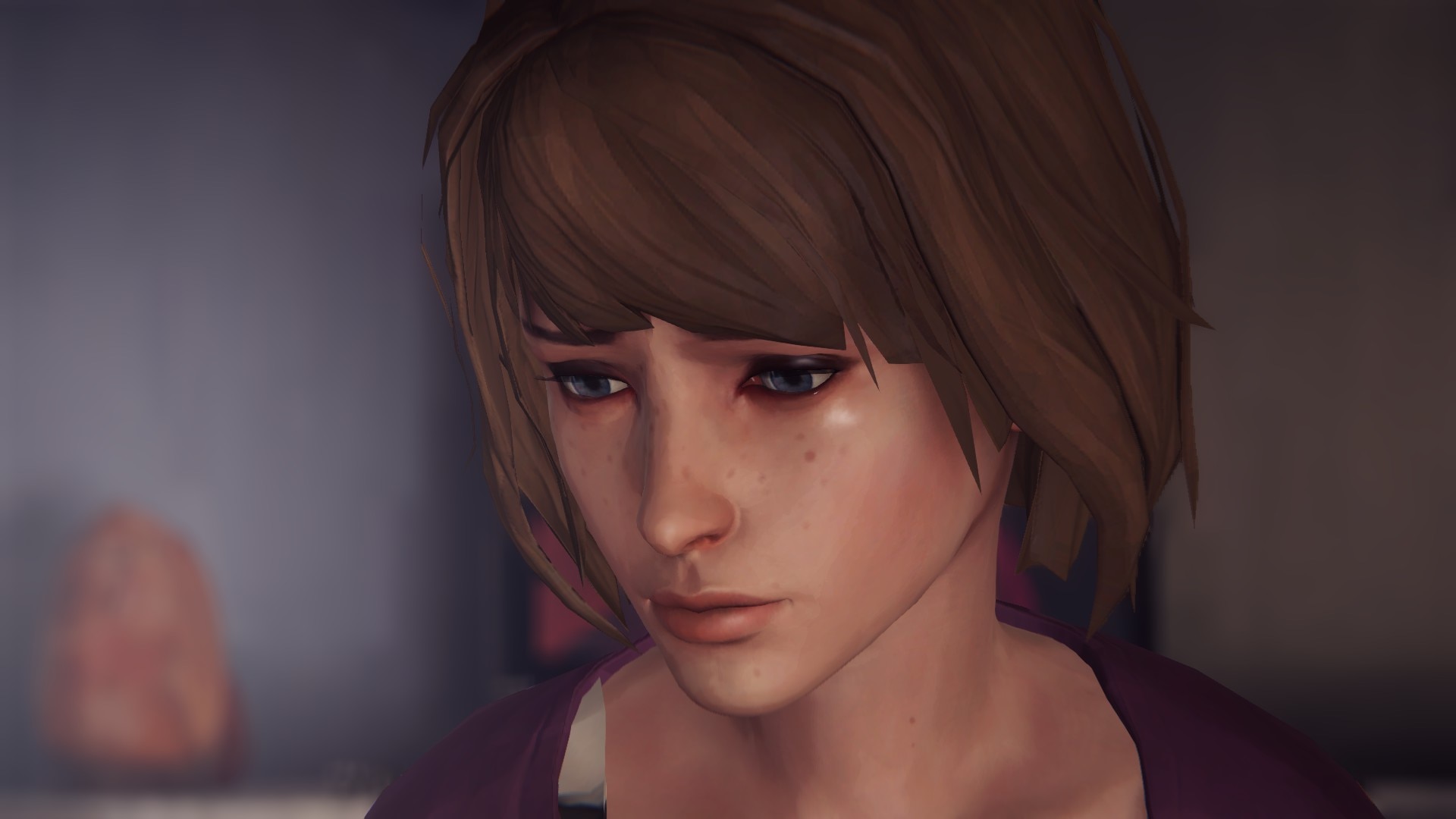 The story follows Max Caulfield, a photography senior, who just moved back from Seattle to Arcadia Bay to join the prestige Blackwell Academy and who discovers that she can rewind time while saving her best friend, Chloe Price. The pair soon find themselves investigating the mysterious disappearance of fellow student Rachel Amber and dive deeper into the dark side of Arcadia Bay. Meanwhile, Max is plagued by visions of a devastating future. After one of her classes ends, Max finds herself winding down in the bathroom only to then listen in on a dangerous exchange between a girl that is extorting money from some unstable guy with a gun. In the process, she gets shot right then and there which is when Maxine's powers awaken and she finds out that she can rewind time. This time-wind reveals itself as some sort of Deja vú but after confirming that this is indeed happening to her, Max triggers the fire alarm to save the girl who is later revealed to be her childhood friend who she hasn't contacted yet ever since moving back.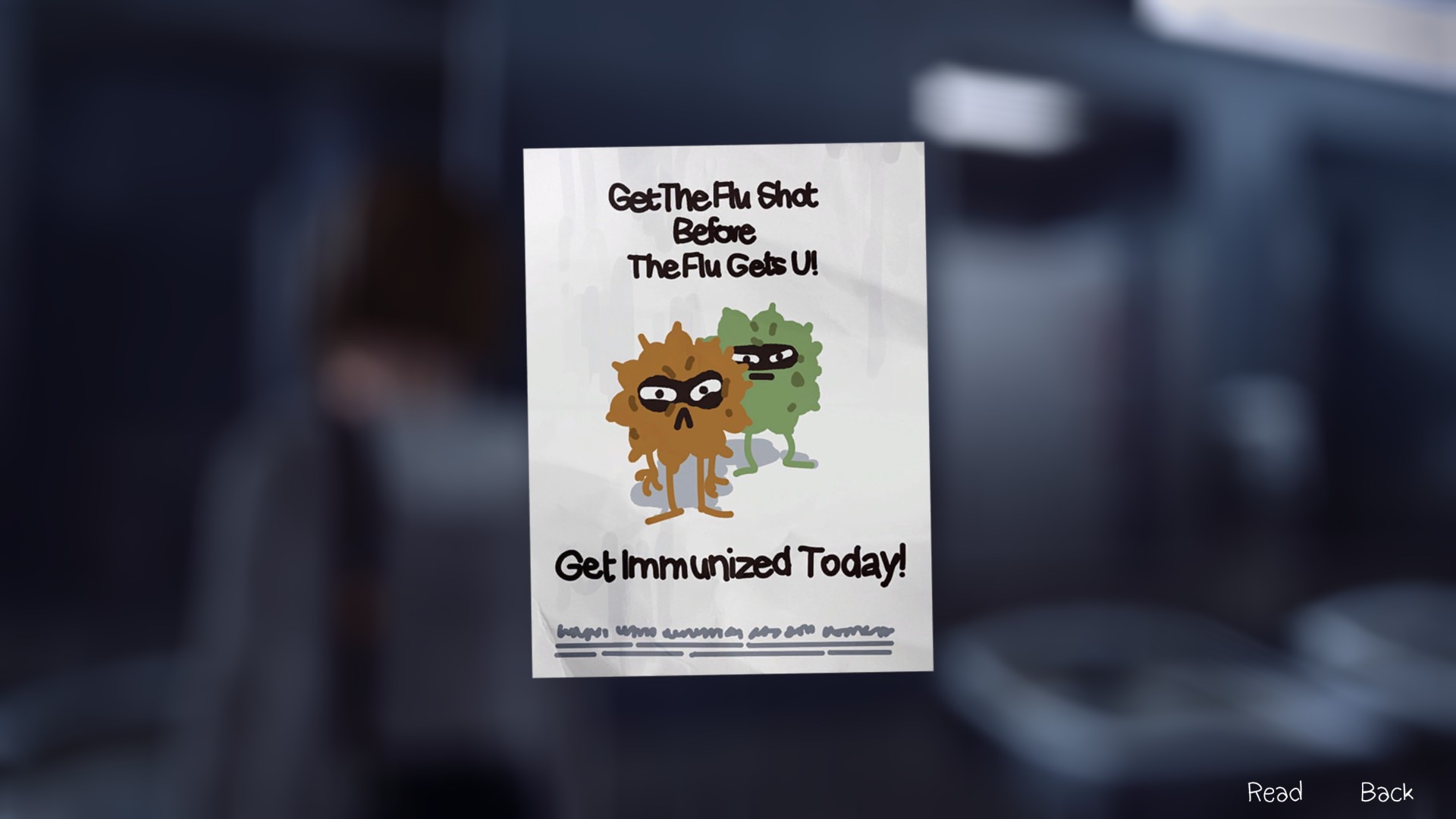 Life is Strange's plot unfolds after that. Chloe dropped out of Blackwell quite a while ago. Her best friend, Rachel, has gone missing, which is why she's frantically looking for her. Kate, a fellow student of Max, is being bullied for a video that has been uploaded of her. And then there's this "Everyday Hero" contest that Max has to submit a photo for. It's all a bit much at first and a lot of it doesn't seem to quite fit together but in the end, there are things underway and we have to find the solution to it. With a handful of suspects from the paranoid security guy (and war veteran), David Madsen, to the corrupt and dangerous Prescott family, their unstable son Nathan, as well as the local drug dealer, Frank, it isn't quite clear who would have a motive to want to see Rachel go… but one thing is for certain: Arcadia Bay is hiding something dark underneath its covers!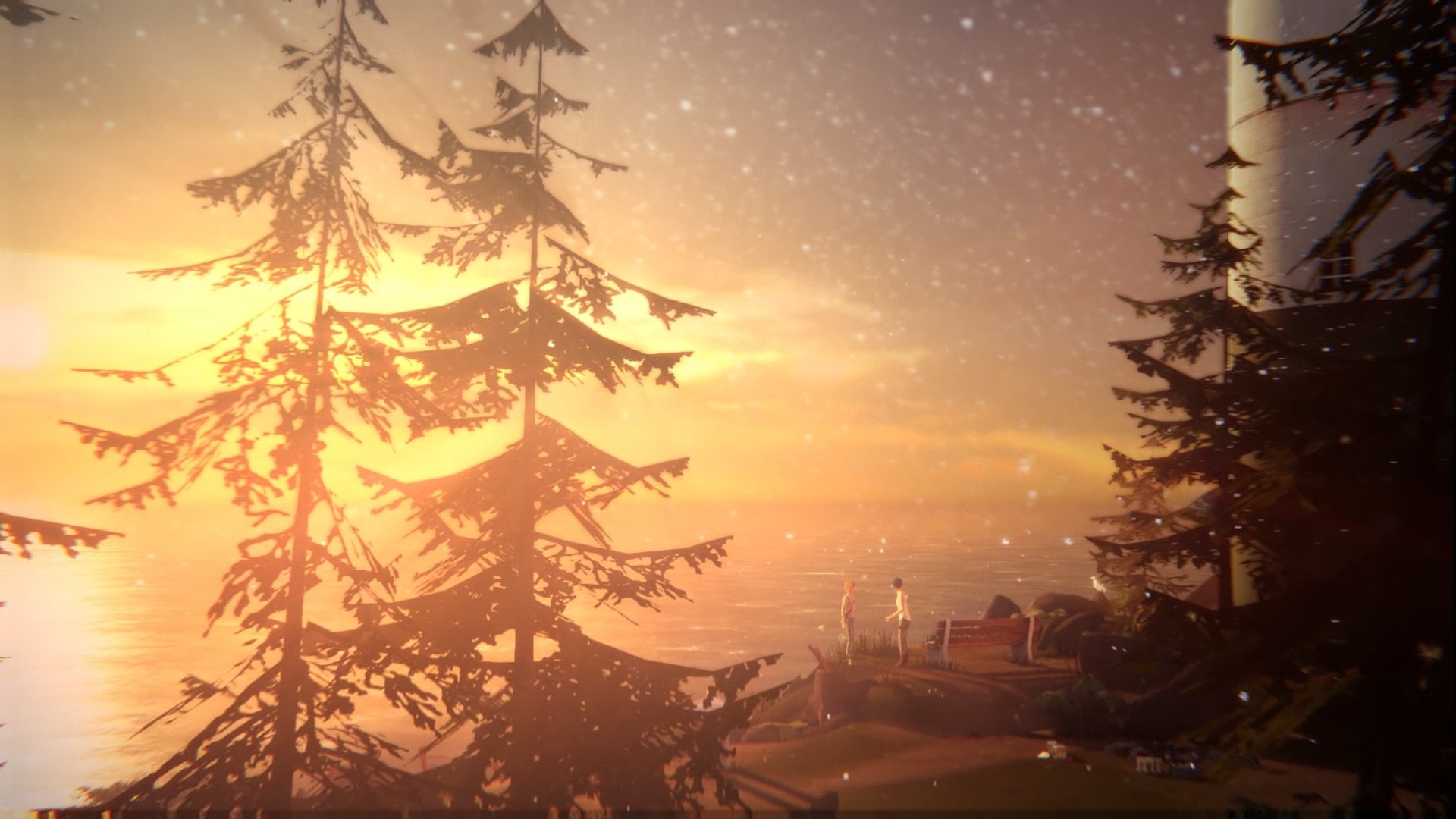 Gameplay-wise, you'll walk around in third-person following Max, a character, and conversing with fellow students, helping out others, and finding clues throughout the game. As you play Life is Strange, you'll have a lot of choices – the most important one being: Do you revert time or do you try to not mess with time? Obviously, with great power comes great responsibility… but if you use it for good and save people from getting bullied, that can't be too bad, right? It all comes down to Chaos Theory and the butterfly effect. Life is Strange's protagonist is well-aware of time travel concepts and Sci-Fi movies, often breaking the fourth wall and talking about things that you may know of. Back to the Future, Groundhog Day, Jumper, etc. – Maxine knows it all! But because of that, she doesn't always quite have a great conscious about her decisions. Should she have done something differently? Can't she go back? Always doubting your every decision, which is where the time-rewind comes in. You always have the power to go back in time and try out a different conversational option. You can bully Victoria who bullies you – and then rewind time to be an "empath". You can manipulate a conversation to make everyone like you. You can see Nathan getting beat up over and over again, brutally, only to then wonder whether or not leaving him be would have been better.
Those choices are at times not really choices though which is something that is too big of a topic to address right here which is why I want to write about the game design of choices in the near future. What I can say, without going on too big of a tangent, is that we can rewind time so we always have the freedom of fucking around and going back in time. I say "always" but your powers are limited. Some choices have consequences. Some choices will not be revertable. You can't go back in time to kill Hitler but you can stop someone from getting hit with toilet paper. You can save lives throughout the course of the game but you can't go back in time and save your plant, Lisa.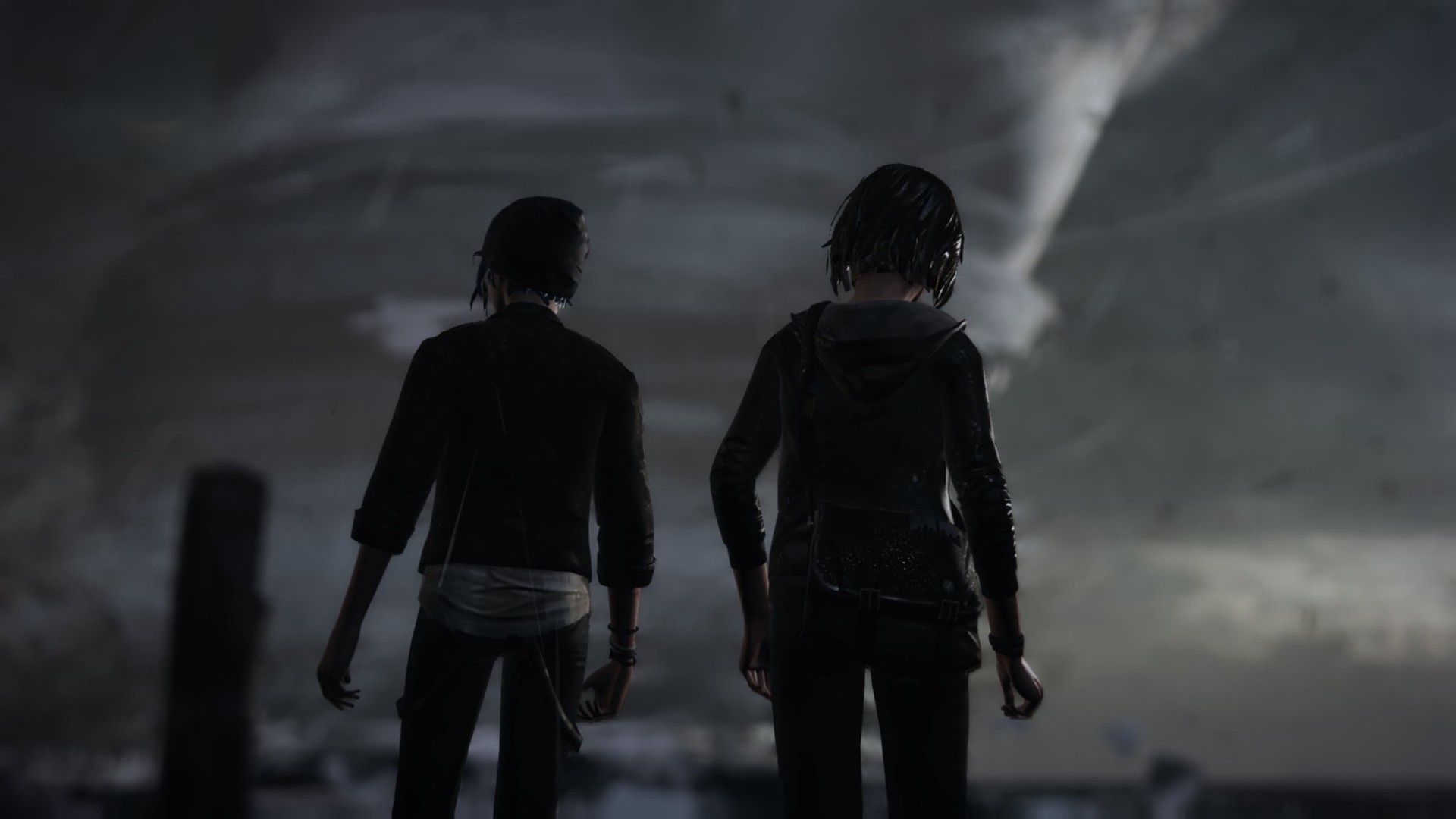 The consequences of these choices aren't completely made clear to you, though. A lot of the time, you'll see an icon at the top-left corner of the game that shows you that your choice will affect something. What that is is not something you'll know anytime soon. Sometimes, you'll realize it later. Sometimes, you won't. Honestly, I have no clue what certain things did but other options, like erasing a slate that said "Will bang for Jesus", did indeed give me more options, in the long run, allowing me to bring up that information to influence the flow of a conversation which felt nice. At the end of each episode, you're then confronted with the Telltale-Esque "your choices" vs. "the world/your friends" system: You'll see the results of each episode's major and minor choices and what other people in the world did for those. Comparing it to friends of yours that played the game as well is quite interesting and at times relatively revealing. It certainly is a conversation starter, so if you have any questions about what choices I made, feel free to leave a comment and we'll discuss it!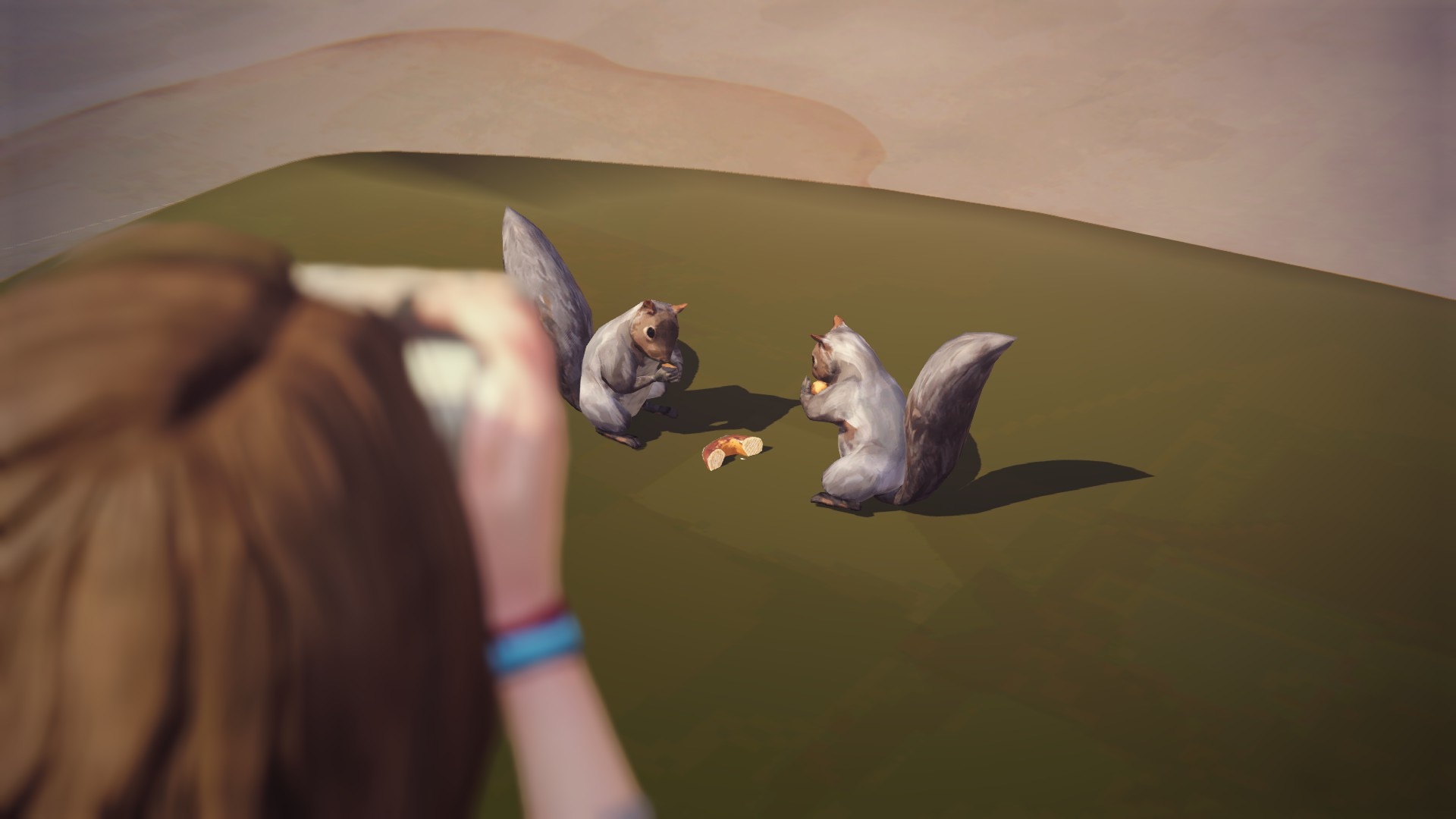 Life is Strange is a beautiful game with ugly motives. The experience is accompanied by stunning visuals that hold up quite well even now, seven years later, in my opinion. At the same time, you'll encounter an amazing soundtrack with lots of Indie music featuring artists that I love and adore such as Foals, alt-J, Local Natives, and Angus & Julia Stone! At the same time, though, it's plagued by several plot devices and content/trigger warnings that I just couldn't really deal with. It's a shame, honestly, that some topics such as substance abuse, physical/sexual assault, euthanasia, trauma, child abuse, suicide, bullying, mental health problems, and manipulative/narcissistic behaviours are just thrown in there for the shock factor. At least, to me, it felt like that… More importantly, though, the store page doesn't feature any sort of content warning at all, meaning that you could buy this game and think that it's okay to play it because of the age rating when in reality, it has a lot of problematic topics not being addressed properly in there. Again, assault, bullying, suicide, drug abuse, murder, kidnapping, people getting drugged, and more are a serious bunch of content warnings but none are mentioned in a place where people struggling with these could find or see them easily. It just feels like certain things are thrown in there to shock you, disturb you, disgust you, and feel sorry for individuals of the story – or to make you question your own judgement.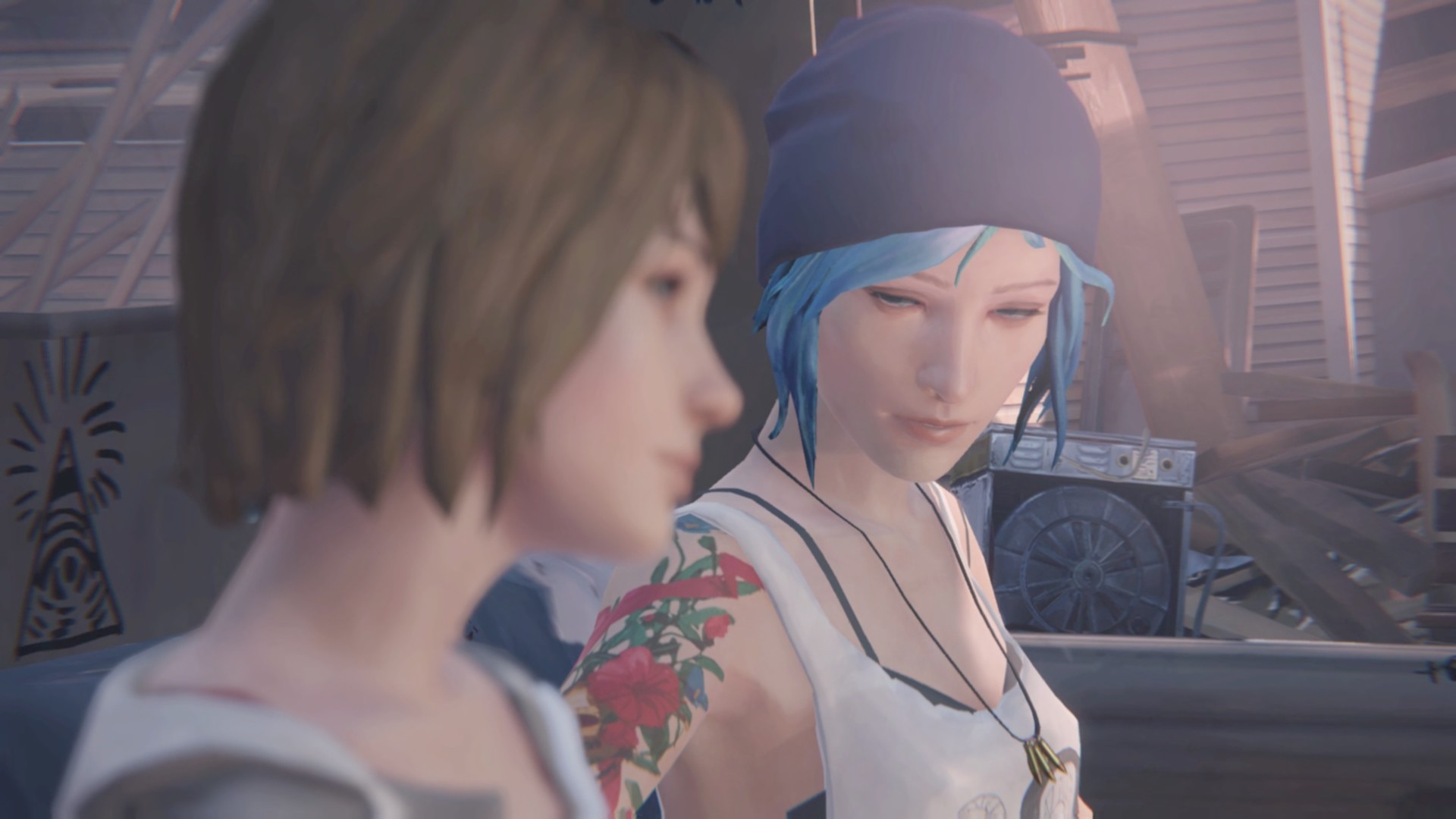 But before you go into the comments and start to attack me for criticizing such a universally-liked game, hear me out: It's still a great game. I touched on it briefly earlier and I wanna talk more about it in the future but the way that the protagonist of Life is Strange is written really made this story a great story. Without "Mad Max" (and the option to go with the female ship/Chloe), the game's story would have been an alright Mystery-Adventure with Supernatural elements. Thanks to Max's personality and the way that she was established as a person/character, however, the plot really was able to shine and the choices feel impactful even though they're either trivial or somewhat biased. The way questions are asked or decisions are formulated is genius and I love just how much thought was put into the whole series. I'm looking forward to getting to Life is Strange: Before the Storm as well as Life is Strange 2 eventually, but for now, I'd have to say that despite having already played it before, Life is Strange managed to capture my interest, leave me at the edge of the seat and at times even distressed me. It was a rollercoaster of experience and while I'm not fond of the fact that trigger warnings are omitted completely… and while I'm not a fan of the nightmare sequence near the end, I'm a bit of a fan of this game and can really recommend it to anyone looking for a story-driven experience, unlike many others.
This post was first published on Indiecator by Dan Indiecator aka MagiWasTaken. If you like what you see here and want to see more, you can check me out on Twitch and YouTube as well.